You may have developed your own system in creating content for your website or blog. Below is a sample of your content creation workflow.
IDEA GENERATION > DATA RESEARCH > PRODUCTION > PUBLISHING > LINK BUILDING > TRACK PERFORMANCE
Whereas:
Idea generation - Brainstorm for topics to write and publish on your site
Data research - Plot your outline and gather online resources
Production - Write or create your content
Publishing - Make your post live using your CMS, may include promotions
Link building - Drive backlinks from other sites to your created content
Track performance - Measure the results of your content and promotions
This process should help you produce high-quality content for your site.
But a problem you may encounter by following this process is the inability to do proper link building.
Link Prospecting
Once your content gets published, you will look for sites where you can gain backlinks. This process is known as link prospecting.
Below are some basic link prospecting tactics that work:
Writing comments on blogs that suggest your content and adds value to the discussion
Identifying relevant resource pages and emailing site owners to add your content (to increase chances of getting a backlink, indicate the broken links on the page in your email)
Finding competitor backlinks and getting your content to be added on these pages
Leverage your relationships with publishers to score an interview or a guest post opportunity with their sites
By placing link building at the end of the content creation process, you lose out your chances on getting more links for your content.
Below are examples of wasted link building opportunities.
Wasted Opportunity #1: You want to link back to your content from a blog comment. You have found blogs to comment on but can't find a way to include a link to your content. This is because the posts on the blog have covered your content topic. Even if you did link back to the content on your comment, there's a small chance that it gets approved by the blog owner - your link adds no value to the discussion since it's been covered by the blog post.
Waste opportunity # 2: You plan on using the broken link building tactic. After collecting resource pages that you can link to, your content isn't a fit to the needs of the site owner because it doesn't answer a specific need of the pages.
From these examples, we can conclude that your content needs to (1) add a specific value to readers and (2) answers a specific need of site owners.
To make your content more specific and increase the chances of getting backlinks, you need to reverse-engineer your content creation. This can be done by moving link building at the second stage of the content creation process.
IDEA GENERATION > LINK BUILDING > DATA RESEARCH > PRODUCTION > PUBLISHING > TRACK PERFORMANCE
Link Building Before the Actual Creation of Content?
Just to clarify, you won't be building links before the actual publishing of the content.
What you will do at this stage is search for pages that you can link to. Upon collecting the pages, determine what other points you can raise on the content you will be creating that answer the specific needs of the pages.
By doing this before the production and publishing of content, you are able to accomplish two crucial factors in link building: (1) boost content by providing information not provided by other pages with the same topic and (2) increase chances of getting a backlink from your target pages because your content adds value.
I will discuss how you can implement the content creation process that guarantees more backlinks to your content. I will also talk about the different tools used for each stage to make the process much easier.
Idea Generation
Use Feedly to follow topics related to your blog and track the latest and most popular content that you can draw your content ideas from. You can include the RSS of your favorite websites to receive updates from them on your home feed.
If you wish to create viral content, use BuzzSumo and enter the topic keyword on the search bar. The site will show results with the most social shares. You can refer to the results as template for the content you are creating to boost your social shares.
This tool is also used for pulling off the Skyscraper Technique, something that you should consider using to drive more site traffic.
For a more comprehensive way to brainstorm for content ideas, sign up for an account at MyBlogU. The site lets you ask members for topic ideas to discuss with your content. You can also crowdsource their answers as content for site. To increase karma and build relationships with site members, link back to their sites on your content.
If you already have a topic idea in mind but can't find the right title for your content, use Portent's Content Idea Generator. Enter the topic on the text bar and let the tool generate a title for you.
Link Building
Type in your target keyword on Google Search and list down the top five-to-10 sites from the results.
Once you have the sites, log in to your SEMrush account and go to Backlinks > Backlinks.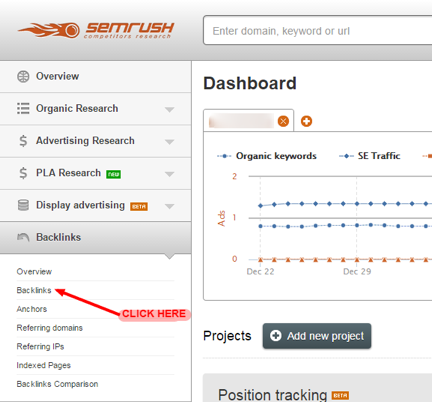 Enter the URL of your competitors and export the backlinks into a spreadsheet.
Compile all spreadsheets into a single file and visit each backlinks for each site. Determine the good sites that you can get backlinks from and dispose the bad ones.
From the sites you plan on linking to, read their content and see topics they haven't covered yet. Include these topics once you're plotting the outline of your content.
You can also use Open Site Explorer to get more backlinks from competitor sites to include in your spreadsheet. Here is a short guide on how you can poach links of competitors using this tool.
Data Research
Using the content you found using Feedly, Buzzsumo and SEMrush, you should be able to piece together the outline to your content. Use Google Search to find more online resources and fill out the holes in your content online.
Make it a habit to plotting an outline first before writing the content. This will make the actual writing easier since all the details and information that need to be mentioned on the content have been organized. If you need help with this, here's a simple guide on how to outline your blog post by Enchanting Marketing.
Production
The writing style of your content is a personal preference. A conversational tone is employed to attract more readers with your writer. But it depends on your branding and tone you feel comfortable using.
When producing your content, you need to watch out on two important things: the headline and the layout.
The headline is what appears on Google Search when your content is indexed and social media when users share your content. To get more clicks from readers, you need to write an irresistible headline. Buffer Blog identifies the different headline strategies that you can test and use for your content.
Employing the best layout for your content can help increase your conversion rate. Social Triggers has posted about the perfect blog post, which should help you optimize your content on a page.
Publication
Once your content has gone live on your site, you can use social media to drive more traffic to your content.
Use social sharing platforms like Oktopost to manage all your social media accounts in one dashboard and schedule promotional posts at times that generate the most engagements. You can find the best times using Tweriod (for Twitter) or by reading this post at QuickSprout.
You can also share your content on online communities at Google+ Communities, Facebook Groups, and LinkedIn Groups. This lets you build relationships with your target audience and industry influencers which you can leverage in the future.
At this point, you can view the spreadsheet of your competitor backlinks and reach out to these pages. Depending on what the pages require you to do, you can gain backlinks from these by doing the link building tactics mentioned above. This time, expect the approval rate to rise since your content fills the void of information missing in their content.
Track Performance
Google Analytics and Clicky are tools that should be installed in your site. Over time, you can see data analytics from these tools and determine the course of action to take to improve and optimize your content.
If you're not familiar with using Google Analytics to collect and use website data to improve your content creation, read this guide by McMurry/TMG.
If you want a website analytics tool that focuses on improving your content creation and marketing, SearchMetrics is for you. The insights from the tool helps you create better content, analyze your social media performance, and check backlinks to the pages on your site, among other features.
By learning how to track your content's data analytics, you can improve your content creation process and make more compelling content that can drive more backlinks.
Conclusion
Gaining backlinks for your content is hard work. But integrating link building into your content creation is smart work, which is what I explained above. You get create content based on the needs of the pages you're planning to link to later. This way, you create more opportunities and increase the chances of your content to gain links from relevant pages.