On April 24, after more than a decade of link building without consequences, Google rolled out Penguin. The update, like an anti-spam filter, wiped out sites for aggressive link building. It hit the SEO scene like a meteor.
Far from being dead – link building just became different. 
Link building adapted with an emphasis on using outstanding content to get backlinks: infographics, white papers, viral videos, reports, and the skyscraper technique became the standard.
Fast forward and other signals, such as user experience, technical SEO, and user behavior signals now have as much importance as links. But, backlinks still remain one of the most vital parts of SEO. You need links to rank a page.
And, one of the best places to find backlink opportunities is your competitors' backlinks profile. Why do all the hard work when they already did it for you!
Reverse engineering competitor backlink profiles can tell you:
What content campaigns are working in your niche (and what isn't)
Where are your competitor's weak spots (to take advantage of)
Who is linking to the leaders in your niche (so you can copy their links)
Knowing what is working for your competitors not only shows you what to replicate but it will also stimulate new ideas for your content campaigns and where to find backlinks your competitor hasn't found yet.
---
To start reverse engineering your competitor's backlinks, read this article to:
---
Learn What Content Campaigns are Working in Your Niche
When you know the links your competitors created and what content marketing campaigns are working for them, you can create something similar or better.
Instead of browsing through a competitors site for hours, SEMrush has a handy function to use for reverse engineering.
(For this example, I used Wordstream, Quicksprout, Search Engine Journal, and Content Marketing Institute)
In SEMrush's backlink gap tool ("Gap Analysis" > "Backlink Gap" or click here) you can link gaps by comparing which sites link to others but not yours.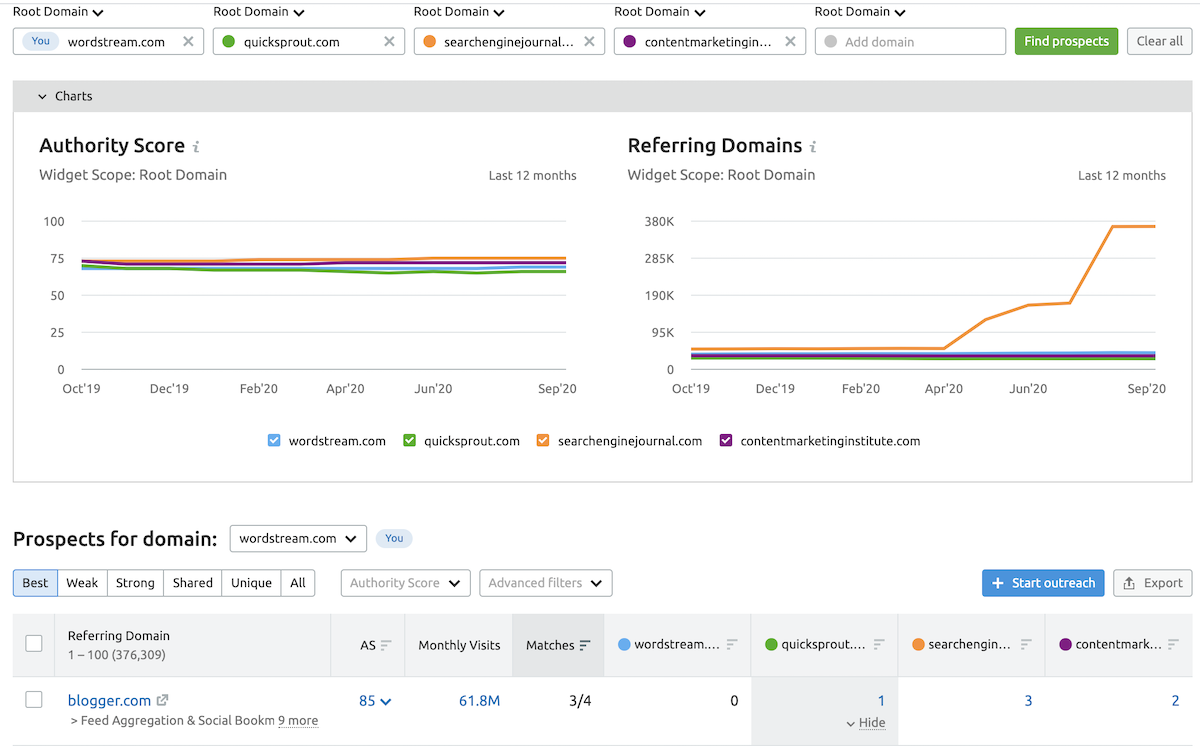 What you are looking for is a competitor who stands out by having a lot of referring domains. It's often an indicator of something that was actively done to get so many backlinks.
In the screenshot below, you can see that Wordstream has sent many links to SEJ, and Geekwire has sent many to Quicksprout. You can click on the number in the tools to see all of the links. 

When you click on the number, you get this view. You can click on the "source" link to see the pages they get the backlink from.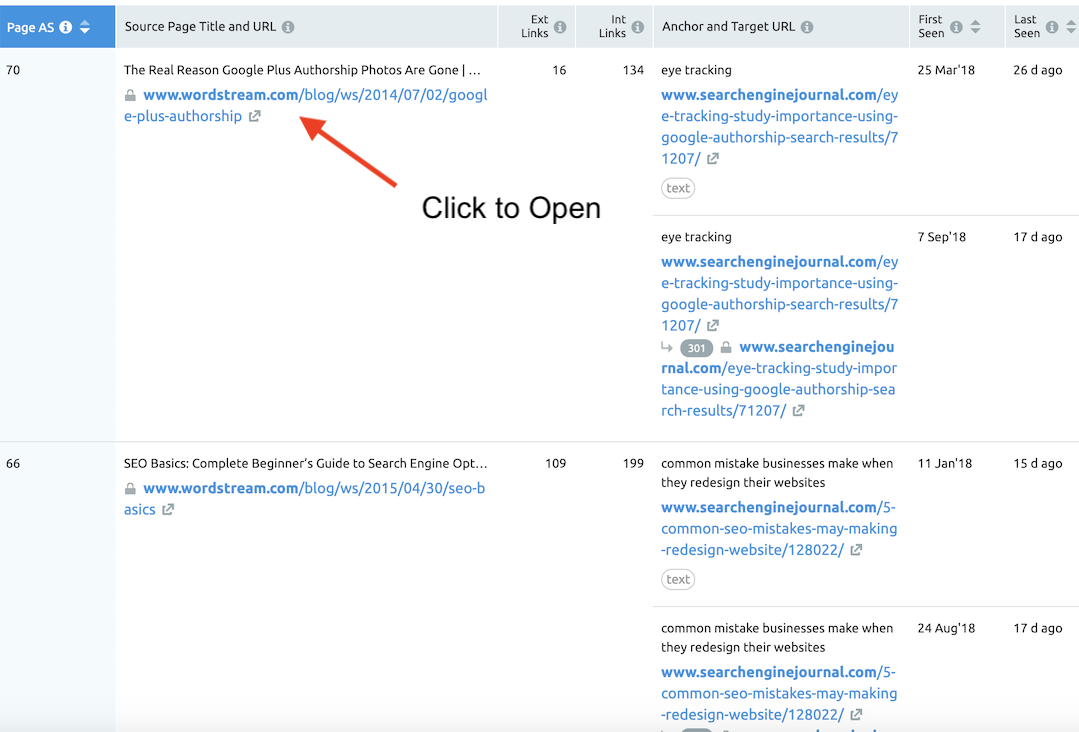 I was able to find that CMI is cited as a source in LinkedIn articles with a B2B report ("B2B Content Marketing Benchmarks, Budgets, and Trends—North America")! They surveyed over 5,000 marketers to create a report full of statistics, graphics, and strong statements that are easy to share - perfect content fodder for backlinks.
Another example of a content marketing campaign I found with this method, is an infographic from Wordstream about projects that Google stopped pursuing. It got shared by many sites, like Mashable.com: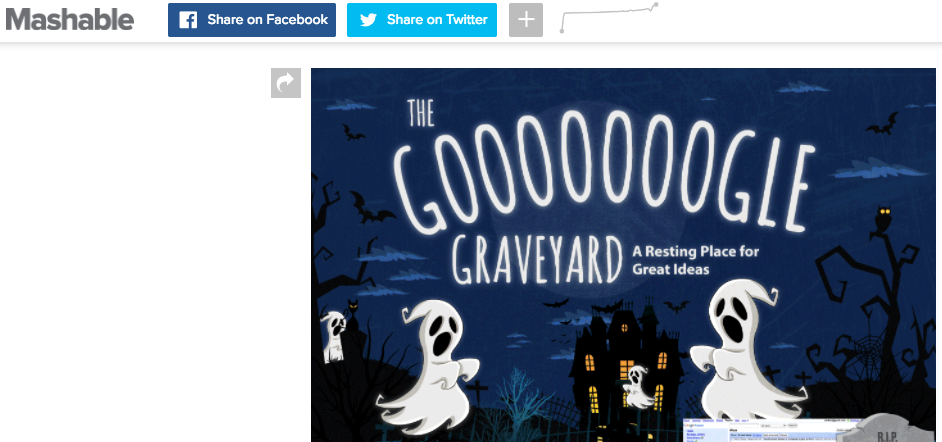 To zoom in on a single competitor use the "Referring Domains" feature ("Domain Analytics" > "Backlinks" > "Referring Domains" or click here) and sort the list after "Authority Score". Again, look for a number of backlinks from a domain that sticks out. Then, click on the number in the "Backlinks" column and check the pages that are listed.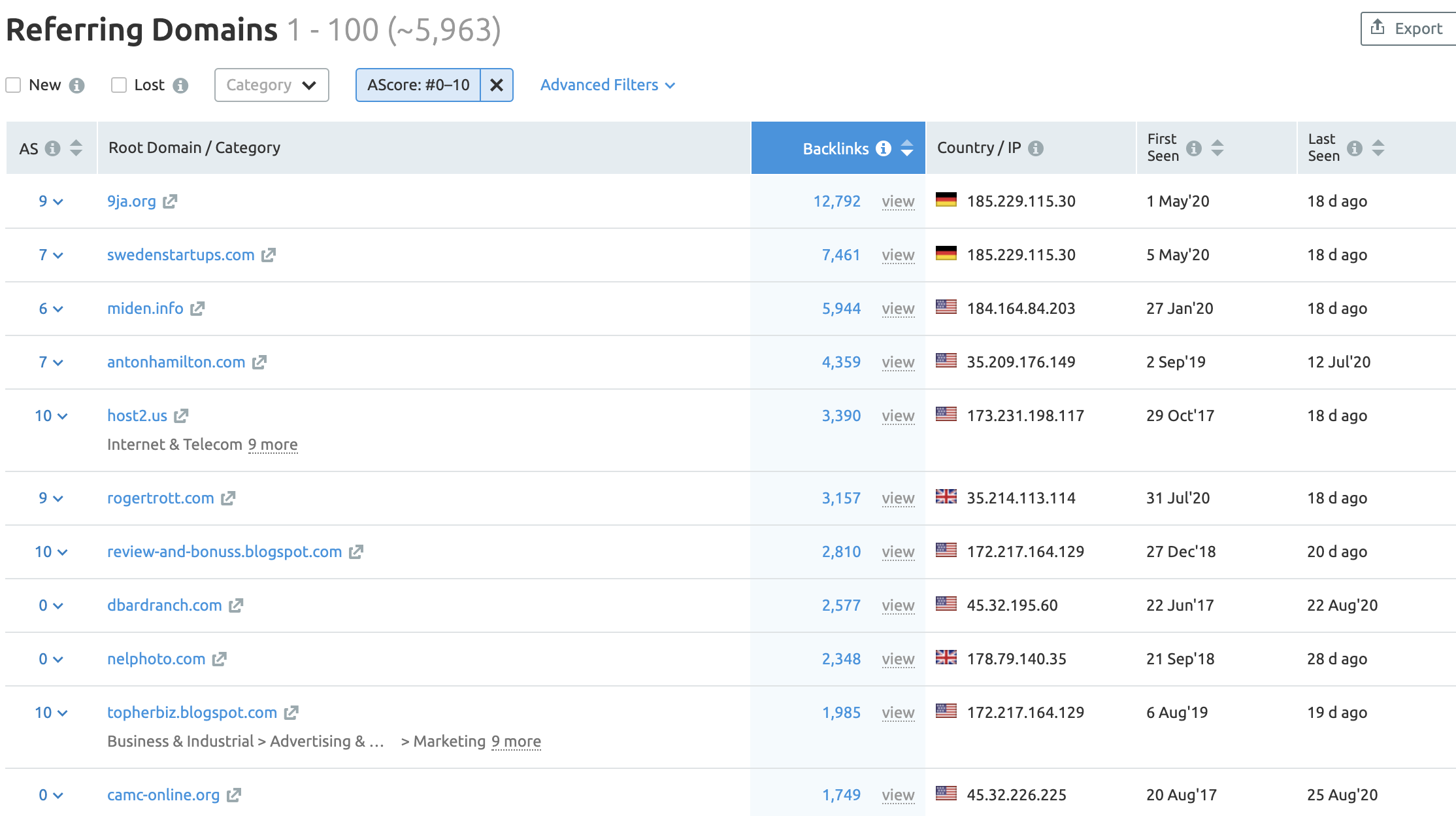 This is how I found out that Quicksprout got 15 backlinks just from addthis.com to an article about "15 Types of Content That Will Drive You More Traffic". It had over 150 links total.
One important tip:
Always write down the contact details of the authors who cited your competitor's content: social profiles, e-mail address - anything you can find. Because once you created (better) content, you can reach out to them. You already know they publish content and are willing to link out.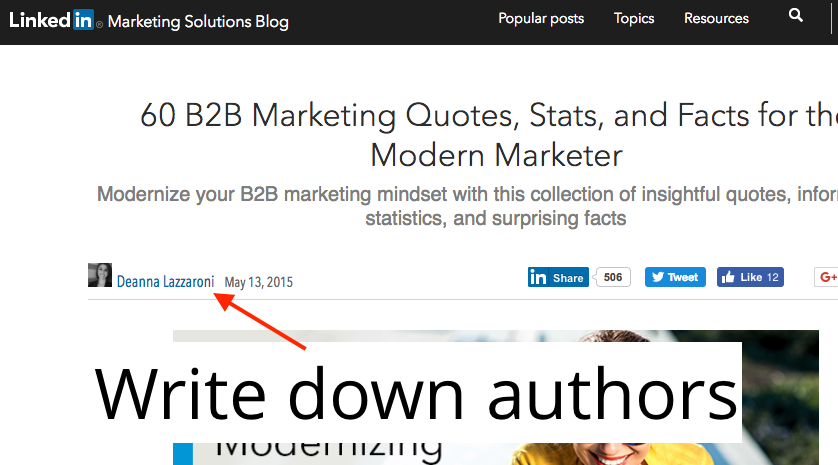 Use this free backlink author database template to track author details.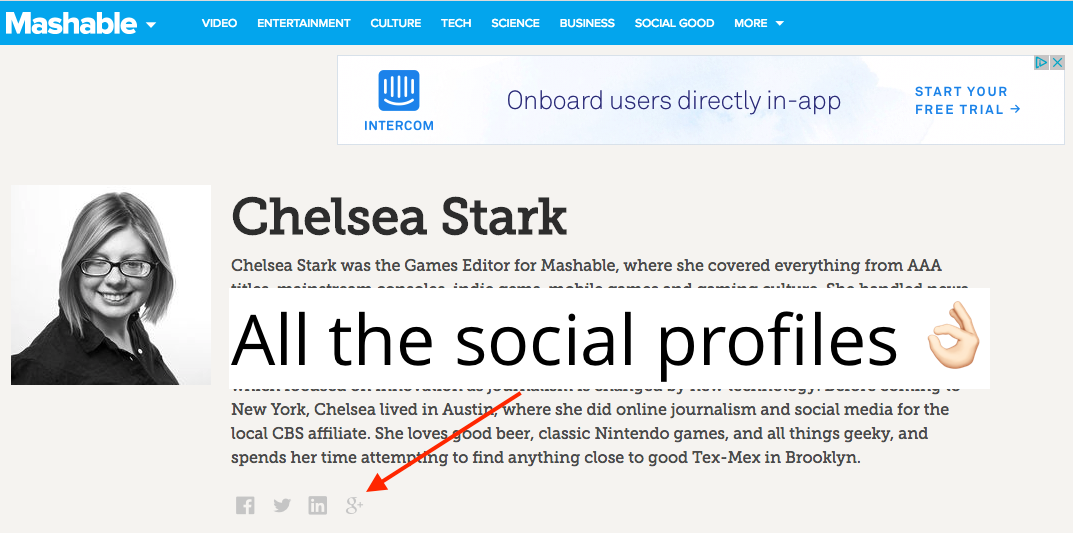 ---
Find Your Competitors' Content With The Most Backlinks to Replicate
Another perspective on your competitor's best backlinks comes from the "Indexed Pages" section ("Domain Analytics" > "Backlinks" > "Indexed Pages" or click here). It shows you how many backlinks each page of a site gets. That makes it easy to identify assets like tools, white papers, infographics, and articles that attracted a lot of backlinks.
To get started, sort the list after "Domains".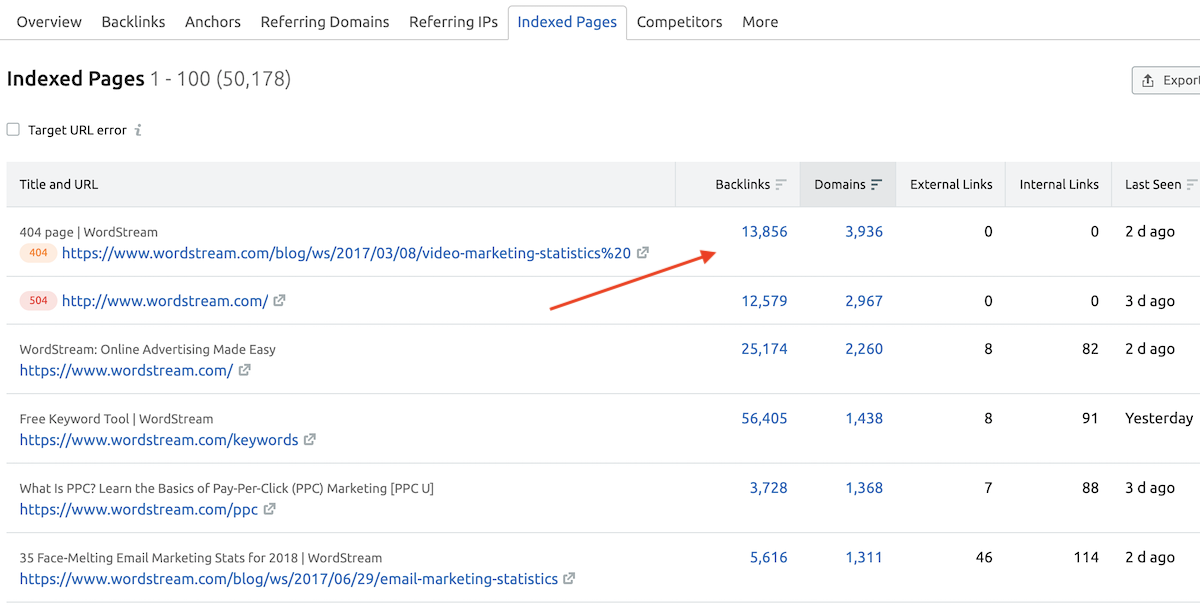 Look for patterns in the pages' topics, style, length, and format.
What does your competitor write about: how to style questions or controversial subjects?
What is the format, long-form or short?
Do they use a lot of pictures, videos, graphics, and memes or just plain text?
Is the style casual or formal?
In this example, we can see that an article on Wordstream about conversion rate got a ton of backlinks.

The headline is very provocative: "Everything You Know About Conversion Rate Optimization Is Wrong". The article has almost 6,000 words. And it has a "content upgrade", a free template/spreadsheet/guide, at the end of the article!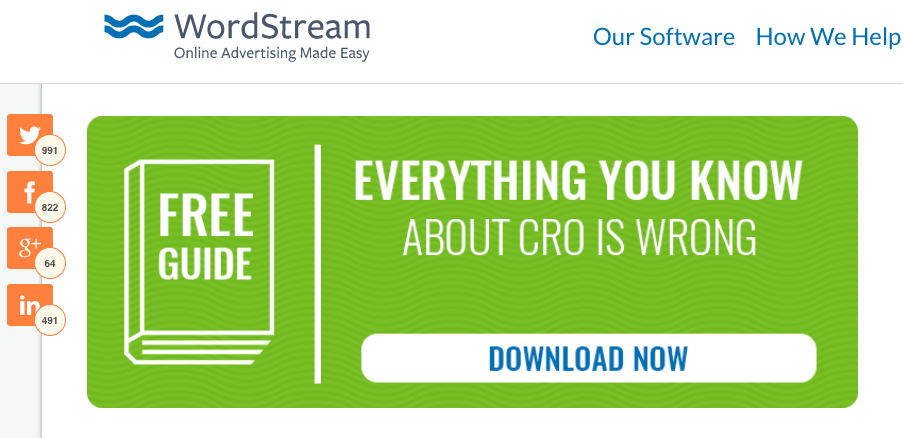 These are all important things to notice because they should guide your content strategy. We now know that this topic and format worked well in the space. We want to either replicate that better or in a similar way. 
To see which other sites that piece of content resonated with the most, click on the number in the "Backlinks". Export all linking URLs so you can extract the author details and reach out to them later.

Let's look at an example from Wordstream. Going back to our "Indexed Pages" overview, you see that it has a page called "/keywords".

It is a free keyword tool!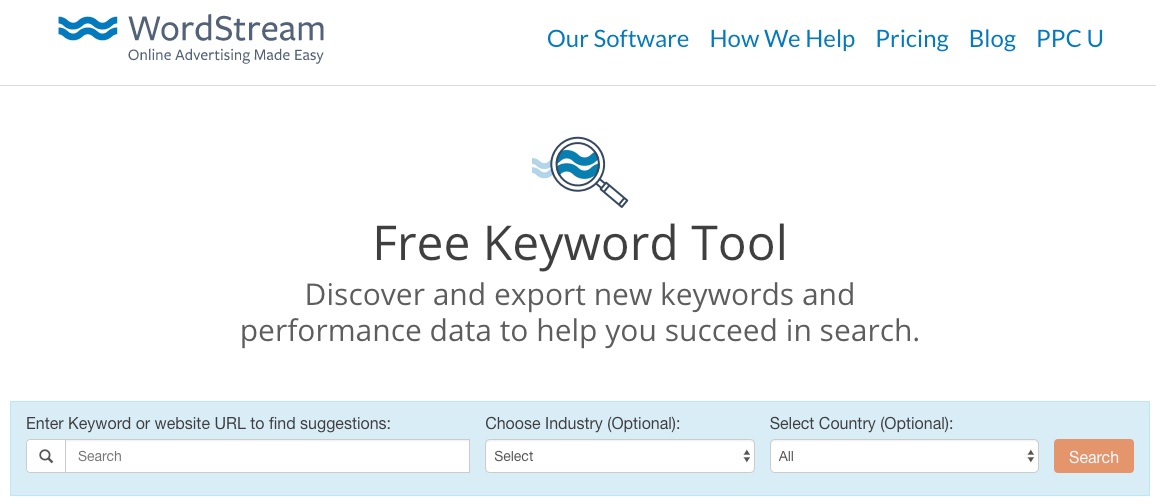 The landing page collected over 56K backlinks, but it also ranks for hundreds of thousands of keywords, for example, #4 for "keyword tool".
So, if I were a competitor to Wordstream I would now know that tools seem to work well in the space. I could then go on and look at the pages that link to Wordstream's tool, build something similar and reach out to them.
This is basically a version of the Skyscraper Technique, starting with a pre-qualified topic by scanning your competitors.
---
Find Your Competitors' Weak Spots to Create Something Better & Outrank Them
Using a little Excel magic, SEMrush can help find your competitor's pages that lost the most links. The idea: to find out which pages of your competitor's content lost backlinks and then to use this vulnerability to create something better and rank higher.
If you can do that often enough then you have a chance of passing your competitor. Whether the content lost links because it is outdated or for another reason doesn't matter. The end goal is the same.
First, go to the backlinks section ("Domain Analytics" > "Backlinks" or click here) and punch in a competitor's site.
Then, click on "lost" to sort the list for lost backlinks and export it. SEMrush's database includes only lost links from the last three months.
Open the CSV in Excel or Google Sheets. Select all (CMD + A on Mac) and create a Pivot Table (under "Insert" in Excel; under "Data" in Google Sheets).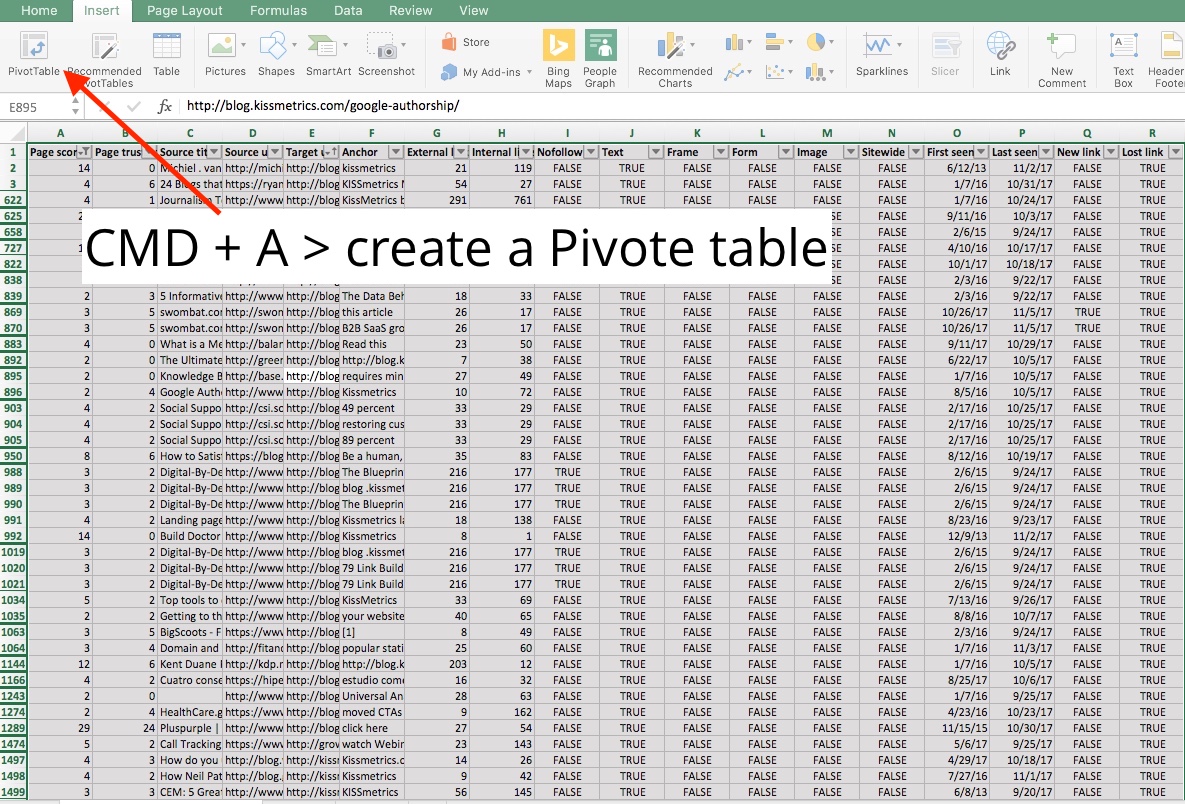 Add "Target URL" to the rows and "Lost Link" in the values.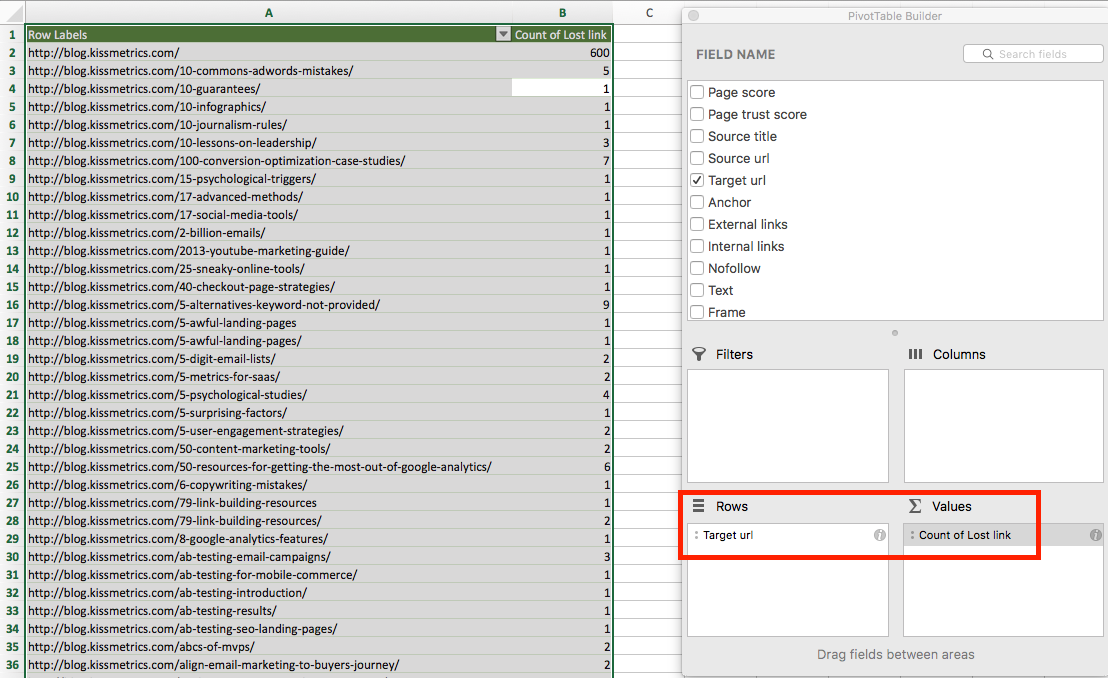 Sort that table after "Count of lost links" - and voila, you know the pages of your competitor that lost the most links.
The final step is to find out what links to the URL so you can reach out and get the link. To do that, copy + paste the URLs with the most lost links one by one back into the SEMrush "backlinks" section and filter after lost links.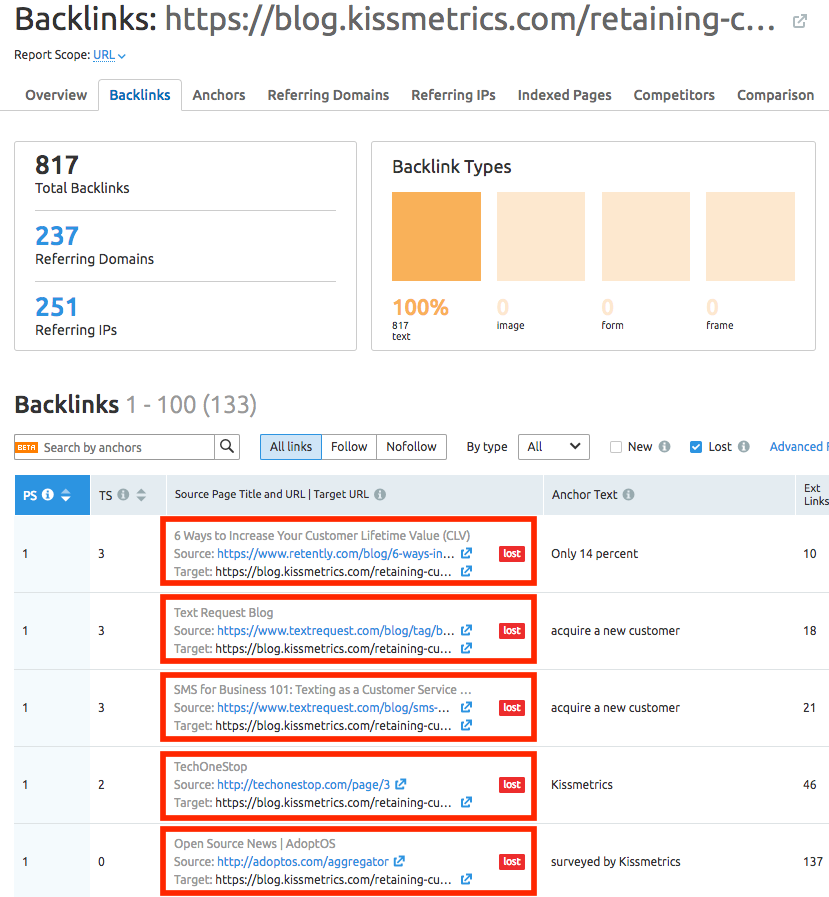 Now you can go to the page, find the author data, create better content, and share it.
---
Find The Backlinks to Industry Leaders & Catch Them Up
From an SEO point of view, industry leaders often have the best backlink profile, aside from doing other things better. So, for us, it makes sense to find the links that only the leaders have. Because then you can mimic their tactics and catch up. 
Looking at some SEO news blogs, for example, Search Engine Journal, Search Engine Land, Search Engine Watch, and Marketing Land. 
If you want to know what competitors you should look at, SEMrush gives you suggestions in the "Backlink Gap" section, once you entered the first domain. 
Our five domains for this example have many overlapping keywords (chart from the " Keyword Gap" tool):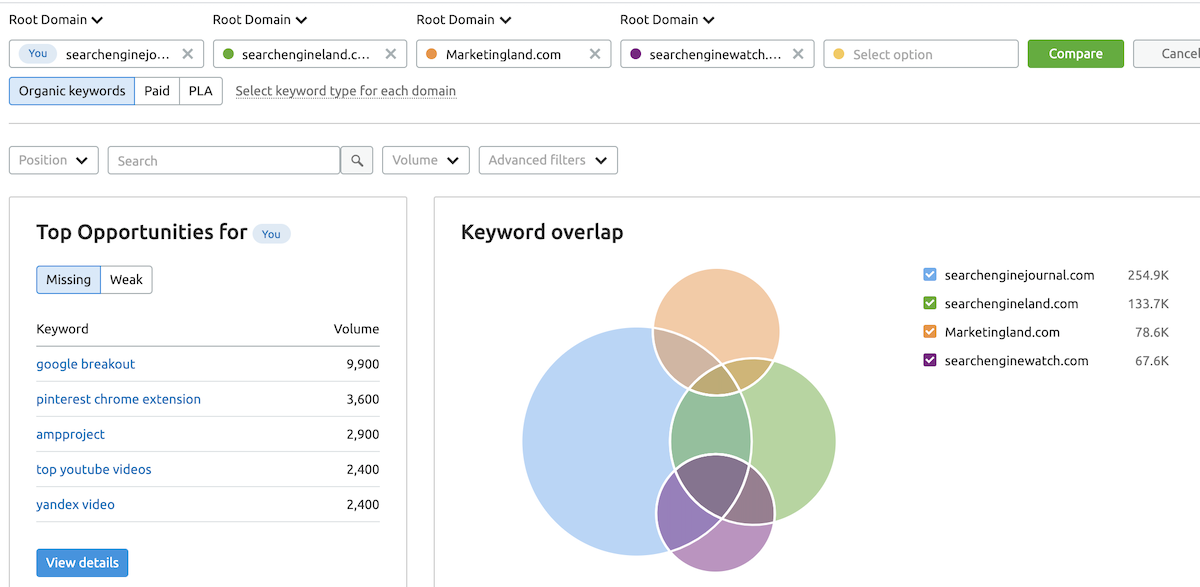 Search Engine Journal has a clear lead, and Search Engine Land is far ahead of the other two sites. And when you look at backlinks gap, you can see that SEJ has really picked up the links in the last 6 months.

If you were one of the other four players, the question would be "what quality backlinks does Search Engine Land have that I don't and how did they get them?"
You can find that out by sorting the backlink comparison table in the "Backlink Gap" section and filtering the Authority Score as 1-10.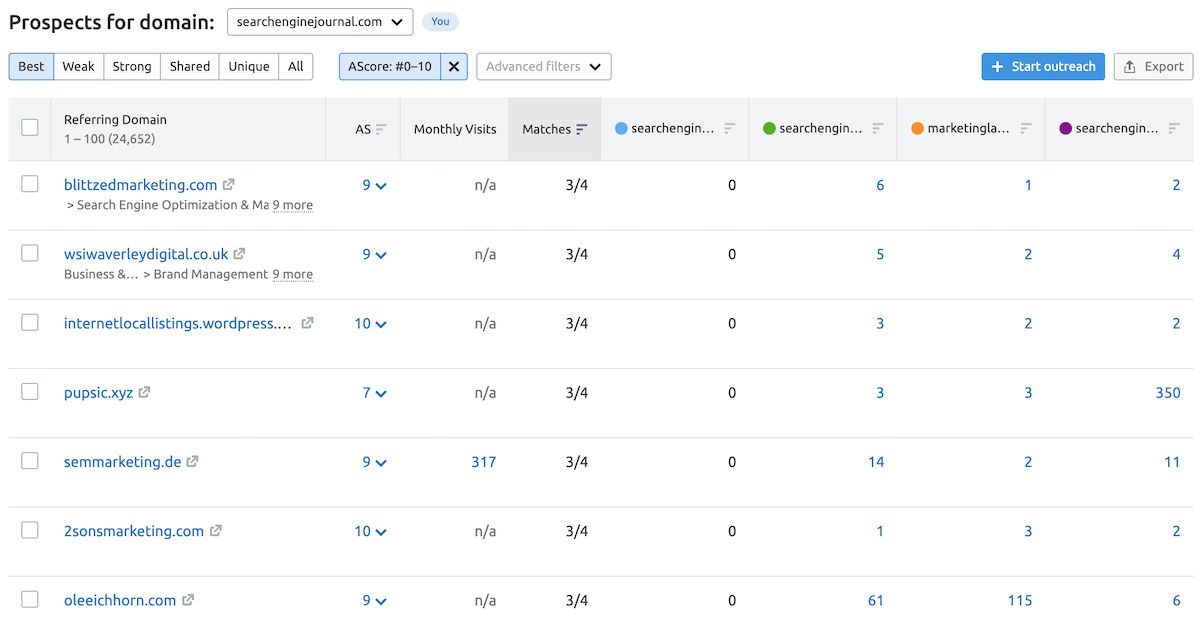 All you have to do is click on the backlinks and see where they are coming from. Search Engine Land got a link from Google (UK), for example, which is very powerful.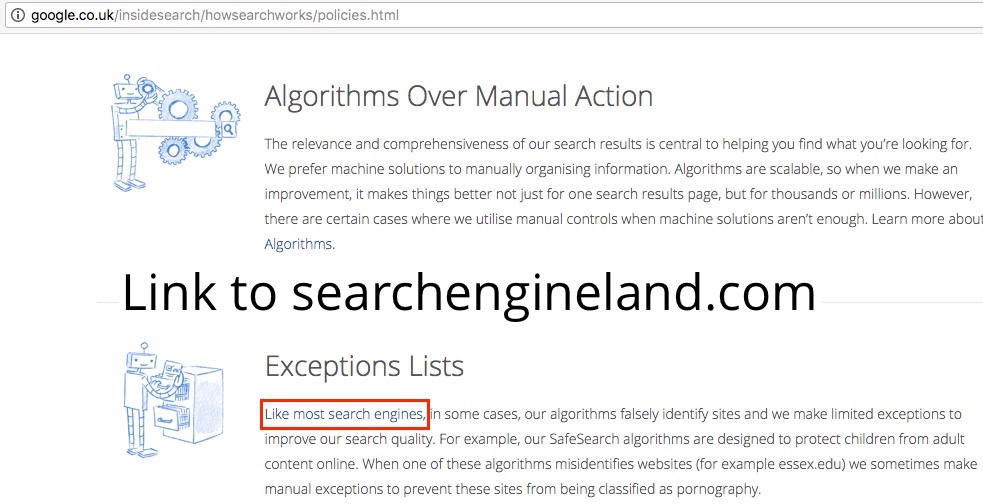 And from Bloomberg: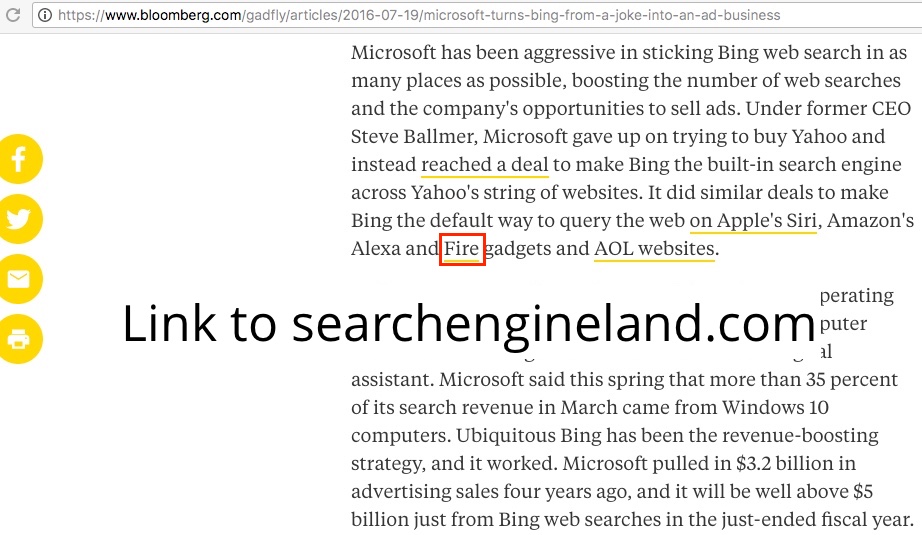 Those are links that the other four competitors don't have and that gives Searchengineland.com an edge. 
---
Build the Links Your Competitors Want to Get Ahead
In SEO, it is not just about catching up with your competitors but also getting ahead of them. The best way to do that is to chase the backlinks they chase. 
The idea is that you want to rank for the same keywords as your competitors (and others) but higher. To find out which words those are, you start with the Keyword Gap tool and punch in your competitors. (Let's hypothetically say we are Search Engine Land and compete with Marketing Land and Search Engine Journal.)
Use the advanced filters to show only keywords that rank better than position #10 and sort after search volume. This way you can see which keywords bring your competitors traffic but not you (yet). Ignore keywords that your competitors are ranking on #1 for.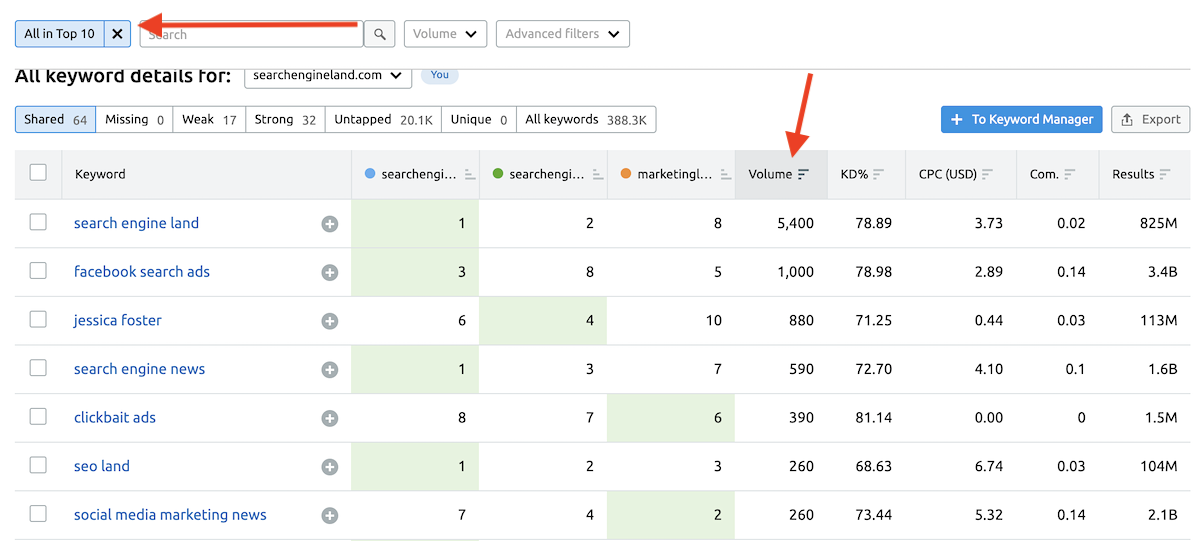 For this example, I chose the keyword "SEO data" that Search Engine Journal ranks #2 for, and Search Engine Land #7.

Clicking on the keyword brings you to the "Keyword overview" section so you can check out the top 10 organic rankings.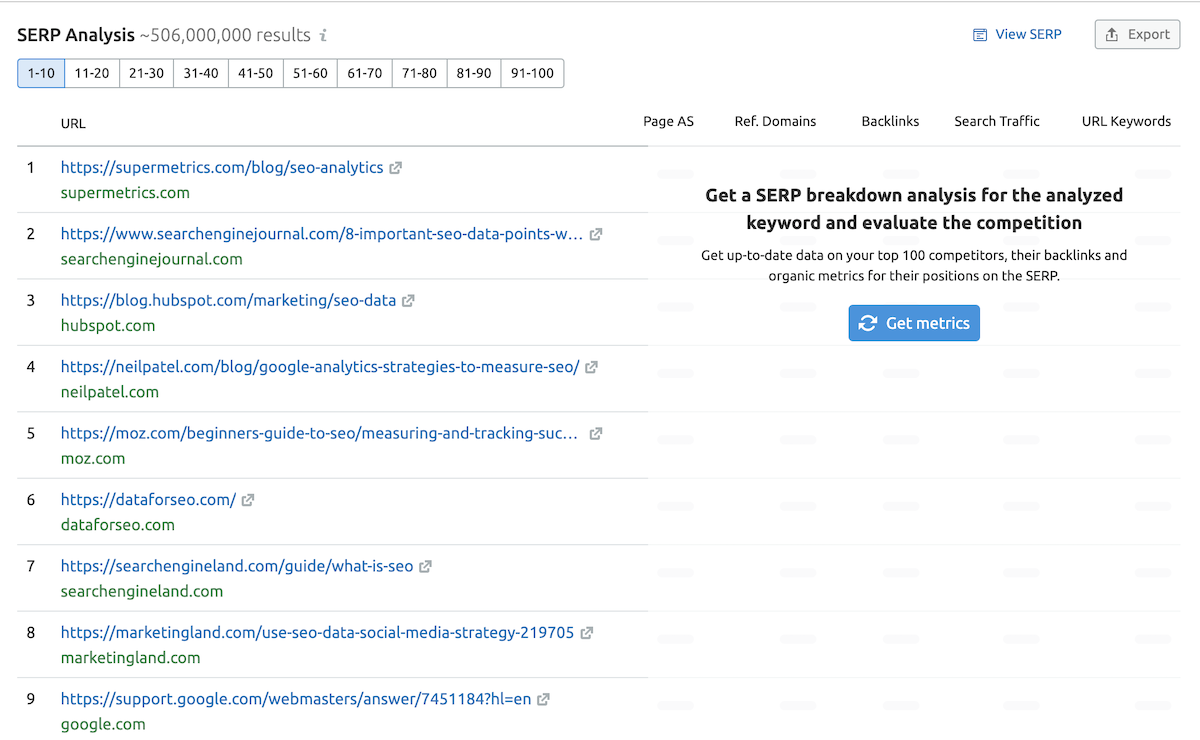 Next click "Get Metrics" and you see how many backlinks each of the top 10 URLs have (from different domains). Since your competitors aren't ranking #1, they probably chase the backlinks from the URLs that rank higher than them*. Those are the links your competitors want to build - unless you are faster.

*Granted, backlinks are not the only factor for rankings.
Click on the number (in the "Backlinks" column), and you get a list of all backlinks to that URL.

For example, Vertical Measures created a video on top of an article about H-tags that got them to rank on #2.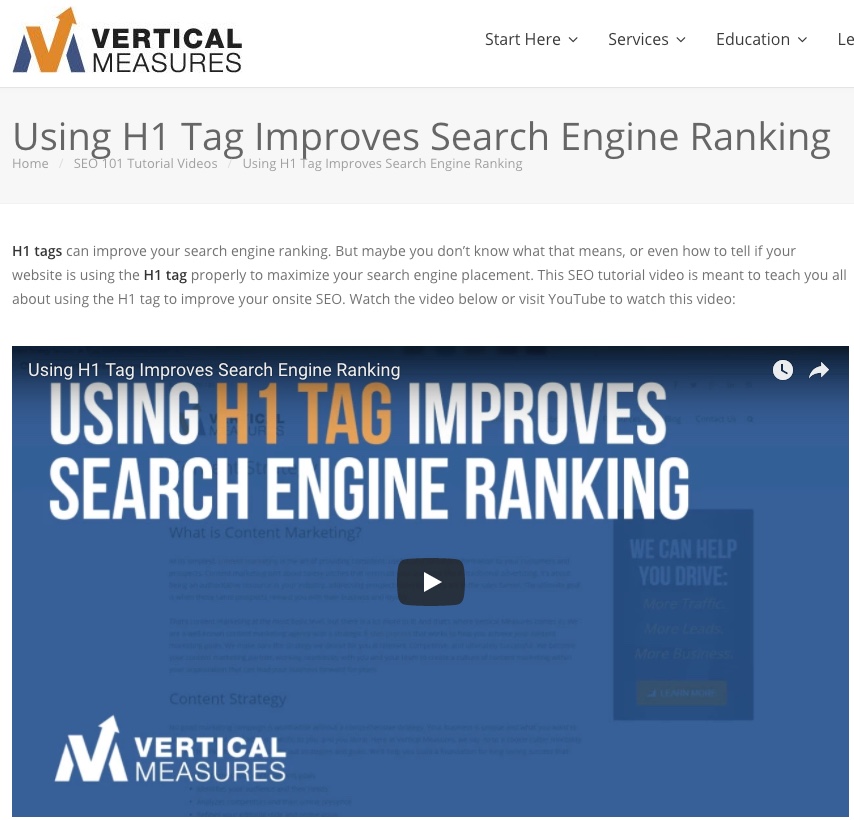 The page gets links from sites like Tech.co or blogs like nathanbransford.com (total # of links: 34).

Once you have identified the links your competitors want to build, follow the standard procedure of creating (better) content and reaching out to the link-givers. 
---
Wrapping Up: How The Shift to Content Makes Reverse Engineering Easier
Reverse engineering your competitor's backlinks might feel like you are gaming the system or taking something away from someone. But, in reality, you are creating something of value for your audience. 
I may have given you five ways to reverse engineer your competitors' backlinks, but you have to create the content that is good enough to be better than your competitors to secure links.
Let's not forget, backlinks are ultimately votes. The tactics are nothing but ways to find out what content of your competitors was most often voted for. 
Takeaway: How to Reverse Engineer Competitors' Backlinks (to steal their links):
Learn what content campaigns are working in your niche
Find your competitors' content with the most backlinks to replicate
Find your competitors' weak spots to create something better & outrank them
Find the backlinks to industry leaders and catch them up
Build the links your competitors want to get ahead
---