Developing a marketing strategy for a SaaS product is hard.
Developing a strategy that works is even harder.
It is often said that we should try out different marketing channels before picking those that work best for your business. This sounds great, and this approach is good in theory, but not in practice. Being self-funded, our team at Chanty couldn't afford to spend endless resources on experiments.
My experience told me that we had to focus on content. We figured, digital marketing today is a non-stop content creating machine. If you want your business to survive, not to mention outperform competitors, there is no choice but to constantly produce high-quality, engaging content.
Inbound Marketing Made Easy
To confirm this assumption, we analyzed our competitors and read the best practices to make a decision for our marketing direction. Finally, we trusted the concept of inbound marketing which is all about attracting organic visits with superb content along with converting, closing, and delighting your customers.
What you see on the SaaS blogs these days is a variety of pop-ups, sign up forms, or call to actions that invite you to download an ebook, guide or a white paper in exchange for your email. Once you sign up, you will be receiving automated email marketing campaign updates. Hopefully, they provide you with some knowledge or value. Ultimately, the goal is to convince you to use their product.
If you are following this popular inbound marketing concept, that is probably what you are doing for your blog too. But what if you could skip this step and go the short way – from a blog visitor to a customer ready to try your product? Luckily, our team has found the secret to this shortcut.
Traffic is Good, But Conversions are Better
The competition for the Google top 10 search results is insane these days, and it isn't an exception for our communication, collaboration and productivity niche. Luckily, there is still a good chance to get some organic traffic if you start a quality blog and optimize it for long tail keywords.
The truth is, we weren't looking for traffic that much.
We needed conversions.
In our case conversions are emails of early adopters ready to participate in beta testing our business messenger tool. We had to figure out the keywords to focus on in our blog articles. Moreover, our #1 task was to think of the main keyword to determine what Chanty actually is. Is it a team communication tool? A business messenger? A chat for teams? We were up to find out.
Not All Keywords Are Made Equal
Our team figured we should consider high intent keywords with at least 100+ per month search volume and words that shouldn't be too difficult to rank for in Google. It wasn't an easy task to find keywords matching this criterion.
What would users type into Google to search for our product? Initially, I was using formulas like these to come up with a list of keywords:
Keyword Formulas
Ending up with more than hundred keyword phrases, I put them into Google Keyword Planner and filtered out those with less than 100 search queries per month. This left me with about twenty keyword phrases. Google keyword suggestions also helped me find a few phrases that could work.
The moment of truth was when I saw THIS highlighted keyword among other Google suggestions: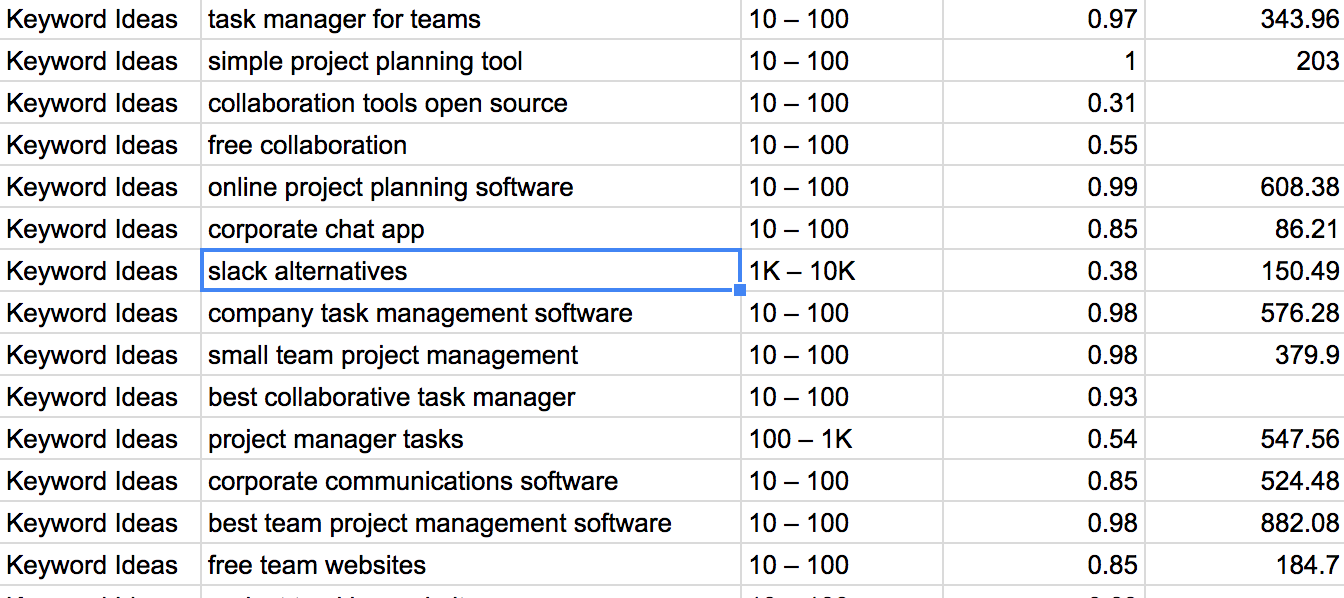 Keyword Suggestions by Google Keyword Planner
Needless to say, Slack is our #1 competitor. The user intent of this keyword is obviously higher than all other options we had considered before.
My first thought was, "Is it ethical to optimize for this keyword?"
I did some research, and it turned out some of the SaaS companies don't mind following this strategy – developing 'alternatives pages' for their competitor keywords. Considering the popularity of our main rival, we just couldn't miss a chance to attract and convert visitors looking for our rival's alternatives.
Our next step, we opened SEMrush and checked the keywords we had chosen for their difficulty.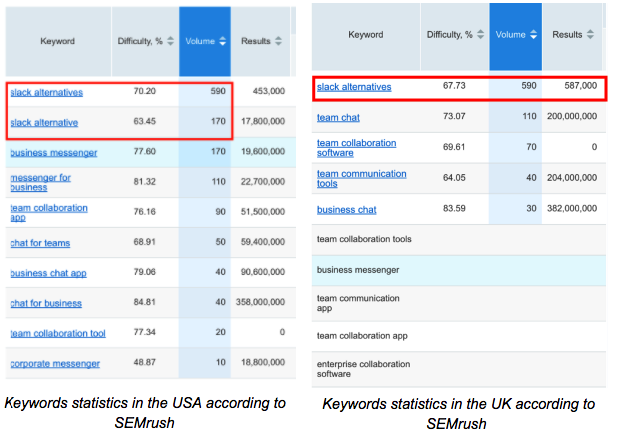 SEMrush analytics determined our choice. The keyword we chose was great from all angles:
More than 1K searches per month.
It sounded like a jackpot.
From Research to Action
After we had chosen to bid on the 'alternative' keywords, we created two pages – a blog article and a static landing page to see which performs better. Since our ultimate goal was to convert the organic traffic, we had to put a "sign up for our beta test" form inside of the article, as well as a few sign up forms on the landing page. 
Then we published several guest posts referring to both these pages. As a result, our pages moved from the fourth page of Google search results to the first. We have also worked on improving our CTR by including a personal attitude (Our Team Experience), numbers (4 weeks, 4 alternatives) and the brackets to our article title.

'Slack alternatives' keyword position change according to Google Search Console.
The results?
The blog article received three times more traffic than the landing page. Moreover, it started converting at almost 10%. It also showed good results in terms of time spent on the page. At the same time, the landing page converted at half the rate of the blog article.

Google Analytics statistics for the past few weeks.
Considering this success, we have created several other pages, e.g., HipChat alternative, Flock vs. Slack, Yammer alternatives, etc. Even though they don't convert as high as Slack, they are still adding up to quite a percentage of our community of early adopters.
Takeaways
If you have decided to stick with inbound marketing, it is not always necessary to create ebooks, ultimate guides, and white papers for your visitors to download. Start with a low hanging fruit which is the 'competitor alternatives' keywords. They have proven to convert well due to their high user intent.
We placed a bet on the 'alternative' keywords and didn't miss. I believe this strategy would work for every bootstrapped SaaS startup. If you are a DIY solopreneur, you don't have finances for the broad PR campaigns. Sometimes, all you have is one shot. You need to focus and get the most results with the least amount of effort. The strategy we have described here is exactly what you need at the start of your 'next big thing'. After all, why not satisfy the needs of those looking for your competitors' alternatives?