There is so much negative information regarding SEO that when it comes to the big box retailers, it can be difficult to understand how to outrank them. There are so many gloomy articles covering how Google favors the big companies, and that can't be farther from the truth. This article will explain why it's easier for smaller websites to outrank larger websites and put to rest the notion that Google favors the big box retailers.
Google Likes Niche Websites
Believe it or not, Google loves smaller niche websites. We know because we work on websites for both smaller merchants and larger retailers. Google generally gives faster increases in rankings for our smaller merchants than the big guys.
This is because Google wants to give users the best experience possible and, generally, niche websites do just that by giving fresh ideas and perspectives to anyone searching. The big box retailers, although trusted by searchers because of their brand name, are generally performing worse than smaller retailers from a usability standpoint and are too lethargic (our opinion).
Your Link Profile Isn't High Enough
If there is one reason why small sites do not outrank the IE 500 websites, it's because their backlink profile is not yet strong enough. This is generally why smaller retailers get frustrated with Google. It's not because Google favors big box retailers; it is because Google sees a strong link profile from the larger companies and sees a very subpar link profile from you. All you need is an adequate backlink profile, and you can outrank the big guys easily. Here is an example: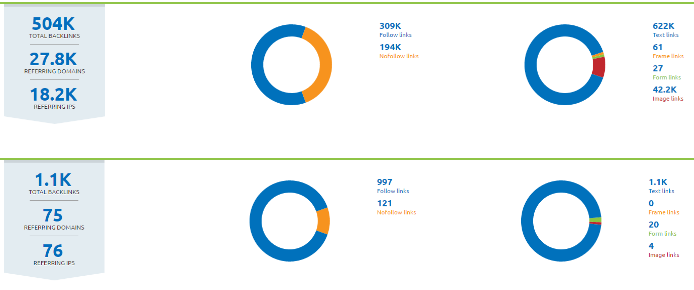 SEMrush backlinks overview
Obviously the first profile is much better (IE 500 website), but they both rank in the top 4 for a main heavy keyword phrase (15,000 monthly searches). How is that possible? Here's why:
Big Companies Have Huge Websites
Big box retailers have gigantic websites with thousands of categories. Their navigation bar and subpages within it create link authority that spreads throughout the website. Their main issue is that the website is so big that their link authority gets diluted across the entire website.
A category that is five levels deep usually is so diluted they have a hard time ranking compared to the company in the second screen shot, which has very few categories.
Big Companies Are Slow to Make Changes/Adapt
Big box retailers are notorious for being slow to adapt and make changes. Being a smaller retailer enables you to be more flexible and move faster than your larger competitors. You can update meta information, make good URL structures, and perform better on page SEO than they can. For instance, here are the URLs for the big box retailers who popped into the top 5 for "Men's Tassel Loafers":
All of those URLs are terrible for SEO. They have probably heard this many times, but there is nothing they can do from an IT perspective as it would be too difficult.
This is a good opportunity for smaller retailers to take advantage of and perform better on page SEO. Of course, having good keyword-rich URLs won't be the only thing you need, but it is a step in the right direction.
It takes slow-to-adapt big box retailers a lot to make decisions. As a smaller retailer, you can make decisions, try more things out, and perform SEO work much quicker than the big box retailers.
Linking to Categories
Another way you can win is due to your flexibility. You can get links much easier to your category pages or product pages than the big box retailers. Performing any linking outreach or linking program is near to impossible for them.
This is a huge opportunity for smaller retailers to create great content focused on their categories and products and get this content to send quality signals back to their categories to help them rise in relevance.
Relax! It Takes Time
The largest issue is that retailers might not have realistic expectations. You can't build a website and expect Google to just push you over everyone else who has been doing SEO much longer.
Those other people who rank in Google have been working on improving their SEO for years. You have to understand that, whether you're starting out or are just now trying to compete with these larger retailers, it takes time, because you're having to play "catch up" with them.
Final Thoughts
It's not impossible to outrank the big guys, and smaller merchants do have an edge when it comes to search engine optimization. Larger retailers own a lot of the space, but the opportunity is available for small and middle retailers to capture more of the market, so don't let it pass you by.