Many marketers think that digital PR is not for small business. They see it as a costly and lengthy game plan, though a thoroughly set campaign may turn critical for success. Of course, there is more than one way to reach the primary goals of any entrepreneur. For instance, you can take an easy route and use PPC as an immediate result strategy, but this must be just the first step. Or you can choose content optimization strategy, but this plays out in the long run.


The success you bought is very different from the success you earned in terms of stable traffic. If you don't want to lose a lot of precious visitors as soon as you cut off your PPC funding or wait till your SEO-friendly content will start paying off in traffic, you will have to shift gears and explore a strategy that will help your brand win the loyalty of the clients in the long run.
Let's say you own a small organic food shop that needs a little help in getting off the ground. See what SEMrush has to offer to help you get through to both regular and potential customers and beat as many rivals as possible.
Discover Referral Sources
All brands want mentions, but it is also important to get mentioned by influential websites and media. One strategy is to check out the blogs and media that have already talked about your competitors and try to win their attention. Finding these may require a great deal of research, but SEMrush can make it easy for you.
Start with choosing a successful rival. Of course, you may already know some of them by the name, but SEMrush Domain Analytics reports can help you discover the competitors that might have escaped your notice. 
Tools to use: Domain Analytics Reports & Brand Monitoring Tool
Go to the SEMrush Competitors Report of Domain Analytics and type your domain name in the search window to see your position in Organic, Advertising or PLA search. Your most successful competitors occupy the upper right corner of the displayed graph. These are the domains to look at.

Then we need to identify who is talking about these 'sharks of local business' and check what they are saying. 

Set up a Brand Monitoring campaign for each rival you found using Domain Analytics.

Go to the 'Web' sub-tab of the 'Mentions' tab and see who referred to them within last 90 days.
The blogs and media you found are your target audience, if the ideal customer exists, he/she should be reading one of these. So let's get those blogs and media sources to talk about you!
To reach these sources, you need to start speaking their language and deliver engaging content. Will you target teenagers? Pregnant women? Health nuts? Check, if the content on your site suits them? If not, improve it. For example, if you see a lot of yogi among those who mention your competitors, you can become more attractive to them posting someAyurvedic eating plans on your website.
Useful tip: If you are aware of your competitor's advertising campaign, or some other promotional activity, you can easily check whether it was worth it by monitoring mentions for a certain period. See if there was increased activity by looking at the Mention Volume Trend in 'Statistics' tab.

Pick Out the Leading Channels
Unfortunately, depending on the niche, you will never have enough time to get through each and every blog and media site you find. So focus on targeting the ones that have a high level of trust and be ready to provide their readers with as much information about your brand as possible.
Tool to Use: Brand Monitoring Tool
To measure the trustworthiness of a site/blog sort them by brand monitoring (BM) score and focus on the ones with a BM higher than 60 first.Of course, any source with BM score higher than 22 should be considered reliable, but we are focusing on the ones with the largest.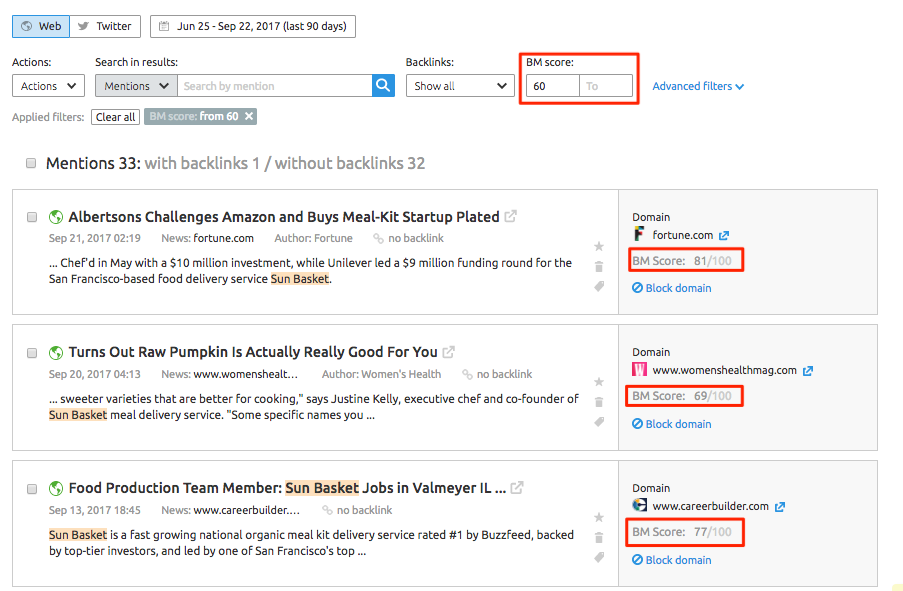 Then let's see which of the selected sources offer the highest-quality mentions. 
Sort the mentions by the presence of backlinks, as a mention leading directly to your site will bring you more traffic, and an extra ref domain may increase your Google ranking.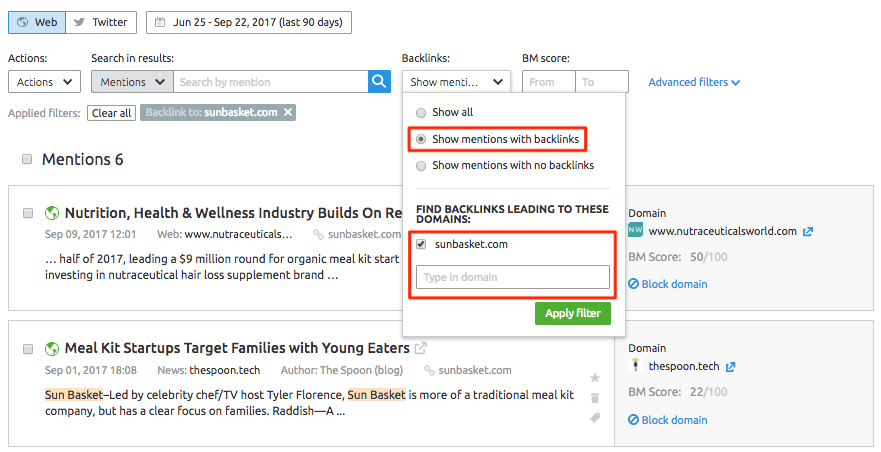 Sorting mentions by title can help you find who might be eager to put your brand name right in the heading of their post.
There are some more useful things you can do:
Group the mentions with the help of the tags by topic or type (sponsored/not sponsored, positive/negative, audience demographics etc.) to plan the stages of your PR campaign.

Mark sources you want to target first as favorites in order not to lose them.

Exclude irrelevant mentions by blocking the domains you are not interested in (domains with low BM score, the audience you will not be able to reach, possible scammers etc.)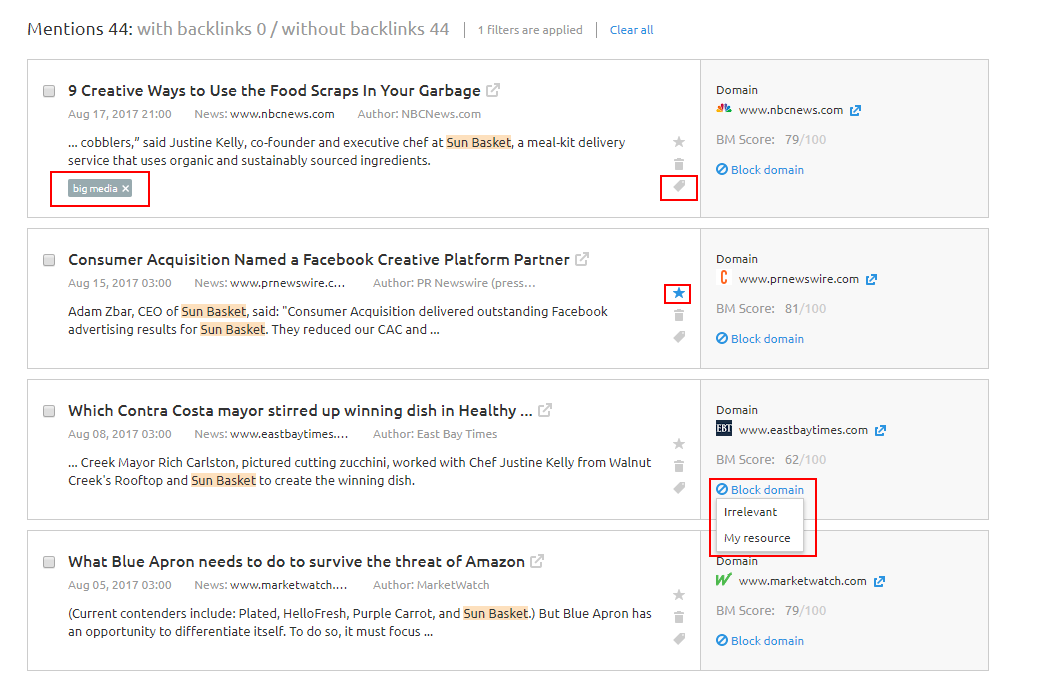 Now when you have found the perfect outlets to start building relationships with, offer them more than your rivals do.
Check if your target sources have anything in common and start supplying relevant information on the topic. For instance, if eating healthy is important to your audience, you could discuss organic food options.

Mention the source you want to attract in your blog posts or share their content. 
Contact the owner of the source directly and tell him/her what great things you have to give.
Useful tip: The range of your competitor's goods and services may differ from yours. Sorting mentions by a certain keyword will allow you to limit this range and only see mentions which are relevant for you.
Reach Out In Real Time
The last, but not least, thing you could do is reach to your current and potential customers and try to offer them the best services you have. Twitter has stood out as an ideal leverage for marketers who want to keep in touch with their buyers. This social networking platform is the place where you can find the most recent and relevant news, opinions, and reviews.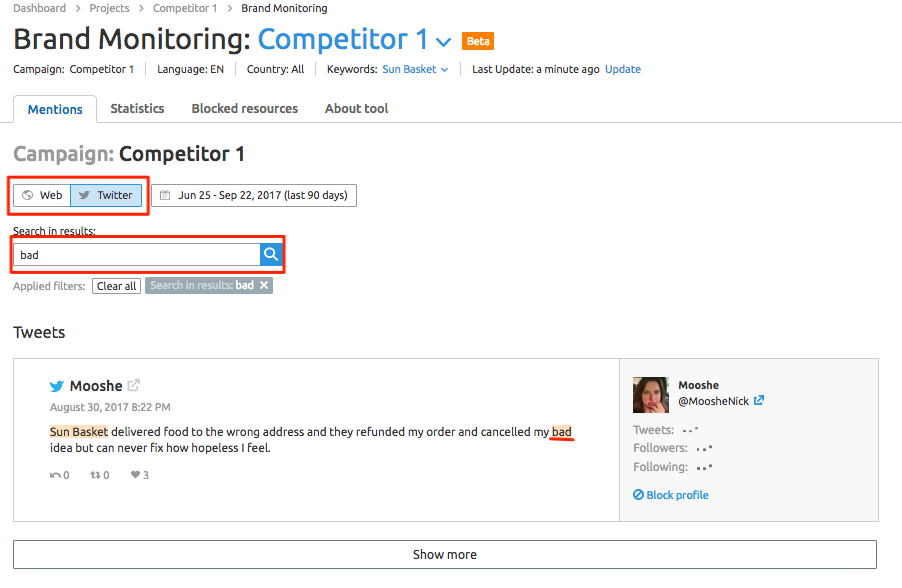 We all know that customers tend to leave negative feedback a bit more often than positive. Reach out to your rivals' disappointed customers and offer to solve their problems; they could become your customers.
Tool to Use: Brand Monitoring Tool
Go to the 'Twitter' sub-tab to see your competitor's mentioners, look at their tweets, and address their concerns.

Enter the keywords and hashtags you are using (or going to use) in the search window and have the mentions sorted by this word. Use the words expressing emotions to find positive or negative reviews. 
Check the status of each mentioner's profile and the popularity of each tweet. Start making friends with the right people.
The number of Tweets you will have to deal with is likely to be huge but they are worth looking at. You might not be able to catch a local celebrity, but you will find a lot of potential brand advocates who are easy to please. Be rewarding, offer them discounts, repost their content or just add them to your regular holiday mailshot.
Useful tip: Tweets appear at the speed of light (around 6,000 every second, Google says), so being swift can really become your advantage. SEMrush refreshes the Twitter mention list once every 30 seconds. The most recent mentions will be shown on the top of your list in a separate green colored badge. Reach out to the authors of these tweets, be helpful and polite and the success will come quickly.
After testing new strategies for a while you should go back to your own Brand Monitoring campaign. Compare your progress with your rivals' in the Campaign Comparison report. 
Results don't happen overnight, but if your strategies are working you will start seeing a gradual increase in traffic, which, in turn, let you save on paid clicks. 
To cut some more costs stay tuned for the third article in the series and see how SEMrush can help you boost your content.