If you have used SEMrush, then you are familiar with what screen you see when searching a domain. But do you really know what it means?
The best way to find any information on a domain would be to enter it into the search bar and then press "Search." But once you do so, you will immediately be presented with all of the data we have on the particular domain. This may be overwhelming to you at first. This is a vast amount of information to take in all at once. The best way to understand and engage with competitor website analysis is to break it down piece by piece and analyze each section. (To view images, please click to enlarge.)

Organic Search
When looking strictly from an organic standpoint, this is the report you will want to see. In this case, we can see that Facebook has 740 million visits in traffic, specifically from Organic Search. Now when looking at this number, please keep in mind that this is an average monthly number, based on the keywords we have found for this domain. If you are not familiar with how we get our data, please review this blog post.
With this in mind, we can determine based on the 12.9 million keywords (listed for keywords) we have Facebook ranking within the Top 20 results for, they receive 740 million visitors on average per month.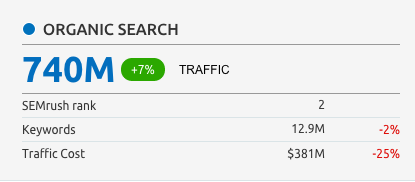 The SEMrush Rank for Facebook is listed at 2. This is a custom metric SEMrush uses to rank domains. For more information on how SEMrush Rank is determined, please see our FAQ page.
The last section of this box would be the Traffic Cost. This number refers to if you wanted to bid in Paid Search on the keywords this domain is ranking for in organic search, on average per month you would need to spend $381 million dollars.
What this is saying in this example is if we wanted to rank for these 12.9 million keywords in AdWords, on average per month we would need to spend $381 million.
You will also notice next to each number in this list there is a percentage. This is telling you what percentage change has been made to the given category based on the last update conducted. Positive changes will be shown in green as negative changes will be listed in red. When was the last update? Well, this depends on the keywords the domain is ranking for.
Keywords are updated differently depending on search volume. For more information on how we update our keywords, please take a look at our FAQ page.
Paid Search
When were looking from a Paid Search standpoint, this will reveal your competitors' bidding information. In this example, we can see that Facebook has 85.8K visits in traffic, specifically from Ads
 Traffic. This traffic is coming from the 12.5K keywords we have found them ranking within the Top 11 results, same as how the Organic Search is represented.
The Traffic Cost listed, however, is different. This is based on these 12.5K keywords we have found. This is revealing based on these 12.5K keywords, on average per month Facebook is spending $124K. Now, if we look closer at this, you can see there is a negative 41% change in traffic since the last update.
If we want to see how this occurred, we can go to the Advertising Research Position Changes report to see what changed in their keywords since the last update was conducted.
Backlinks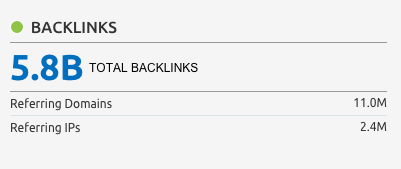 Under Backlinks, you will find the websites that are linking to the domain you queried. In this case, we can see that 5.8 billion backlinks exist for Facebook. This is based on the backlinks that we currently carry in our system. We do not carry all of the backlinks for domains in our system.
To see how we get our data, please review our FAQ page for the article on Backlinks. Based on these 5.8 billion individual backlinks, we can see that these are coming from 11 million different domains. This means that multiple domains are providing multiple backlinks to Facebook. We can also see that these 5.8 billion backlinks are coming from 2.4 million different IP addresses.
Display Advertising

Display Advertising refers to AdSense data. For those who do not know, AdSense is advertising on other websites. SEMrush has a crawler that will go out and verify the information presented in this report.
If we are looking at the Display Advertising section of this Overview report, we can see that our crawler found 81 ads today for Facebook. Among those 81 ads, we found them displayed on 157 websites. This information can be important if you do advertising yourself.
By researching your competitors, you can then determine where they are doing advertising and take advantage of this information. As with the other sections, we can see the percentage of change since the last update for the domain.
Charts

These charts reflect the Organic and Paid Search data you see above them. The first circle chart here breaks down what keywords are coming from what database. As you can see, most of Facebook's Organic keywords are coming from the US Mobile database. By hovering over each section of this chart, you can see how much of a percentage of the keywords number listed in the top box is coming from that particular database.
For example, if we hover over the US database (displayed in orange) we can see that 28.35% of the 12.9 million keywords are ranking within the US database. This same concept can be applied to the Ads Keywords section for the Paid Search box at the top.
The very last chart listed to the right is comparing Organic Traffic to Paid Traffic. Clearly, we can see that Facebook has more Organic Traffic (blue) than Paid Traffic (orange). We can then break this chart down to a month, 6 months, 1 year, 2 years or all time.
By clicking the title of either Organic Search, Paid Search, Backlinks or Display Advertising, you will be brought to the designated section of the Domain Overview for that specific report.
Organic Search Traffic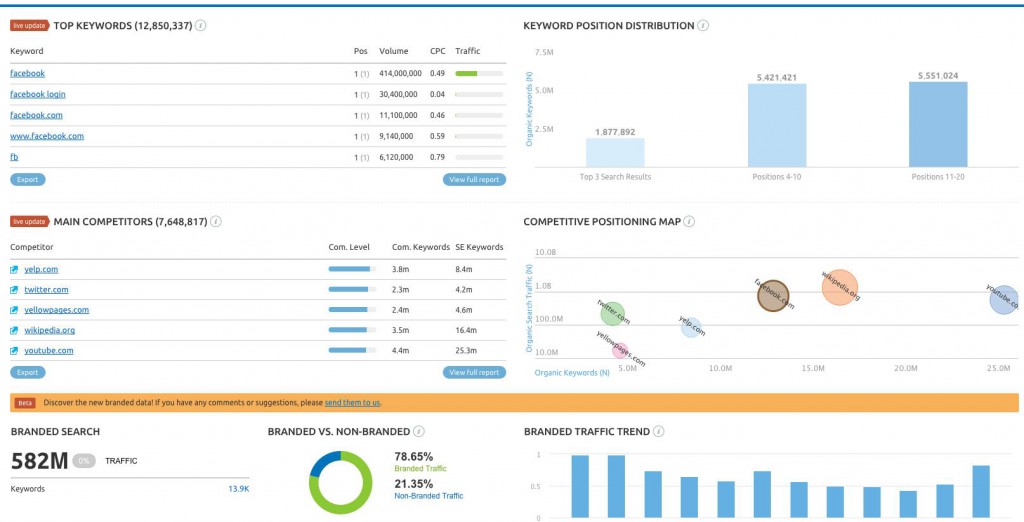 If you keep scrolling down, you will see the Organic Search part of the Overview page. You will notice that this report begins with the blue bar at the top. Each section will begin with the designated colored bar which the dot shows for each section at the top of the Overview page. This will show you the top keywords bringing in traffic to Facebook. This will be sorted in descending order, which shows us that the keyword "facebook" is bringing them the most Organic Traffic.
If we move to the right, we can see how their positioning is distributed amongst their keywords. This shows us how many keywords they have that they are ranking within the Top 3 positions, how many within positions 4-10 and how many keywords they are ranking within positions 11-20.
Moving further down will reveal Facebook's competitors. Based on common keywords, we can see Facebook's top competitors and who they should be focusing on most through their Organic SEO. We can see these competitors displayed in the graph to the right, representing each competitor in a bubble. Each bubble's position will vary based on their keywords they are ranking for and their traffic. The more the bubble moves to the top, the more traffic they will be receiving from Organic Keywords. The more the bubble moves to the right, the more keywords they will be ranking within the Top 20 results.
The last portion of this report refers to Branded Traffic. This is based on the Organic Keywords the domain is already ranking for. By reviewing the keywords the domain is ranking for Organically, SEMrush reports how many of those keywords are branded keywords and reports the information associated with them.
We can see the amount of traffic coming from these keywords, how these relate to the non branded keywords for the domain, along with the traffic trend the keywords have been experiencing.
Paid Search Traffic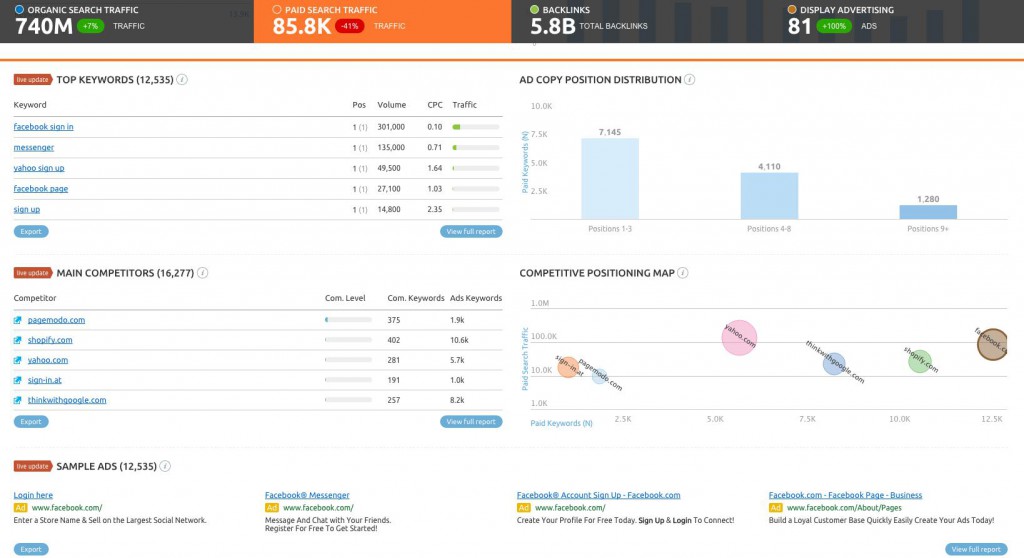 The same concept we applied to the Organic Search section can be applied to the Paid Search section. The main difference between these two reports will be the Ad Copy Position Distribution along with the Sample Ads. The Ad Copy Position Distribution is referring to where ads are positioned within the Top 11 results. They are broken up into three categories as shown: Positions 1-3, Positions 4-8 and Positions 9+.
The same information that was displayed in Organic Search for Competitors is displayed the same way for Paid Search.
The other main difference between Organic and Paid is the Sample Ads section. This will show you your competitors' Ad Copy for their Paid Search efforts. By selecting the "View Full Report" button on any of these sections, you will be redirected to another report in our software and reveal more information on the given section you selected.
Backlinks
The backlinks section of the Overview page will reveal a snapshot of what backlink information we were able to find for a domain. The first subsection listed will be the backlinks, which will list out a sample of individual backlinks pointing to the queried domain. Within this section we can review the Link URL along with the type of backlink it is. Next to this data, we can see a circle diagram breaking down keywords by follow to no-follow. We can then also see what type of backlinks this domain has pointing to them through the diagram listed below.
We can reveal more about the domain's backlinks by reviewing the Top Anchors section. This will show us what anchor text is used the most in their backlinks. This can help when determining what a domain uses to draw in their audience. This will also tell us how many domains use this particular anchor as well as how many backlinks use it. Next, the referring domains will be shown, which coincide with the backlinks shown. This is telling you how many domains are linking to the domain queried. We can then review the domain's indexed pages. When reviewing these pages, this does not necessarily mean what Google has indexed. This information is coming from our own sources so this is telling you what indexed pages SEMrush found for the queried domain.
Display Advertising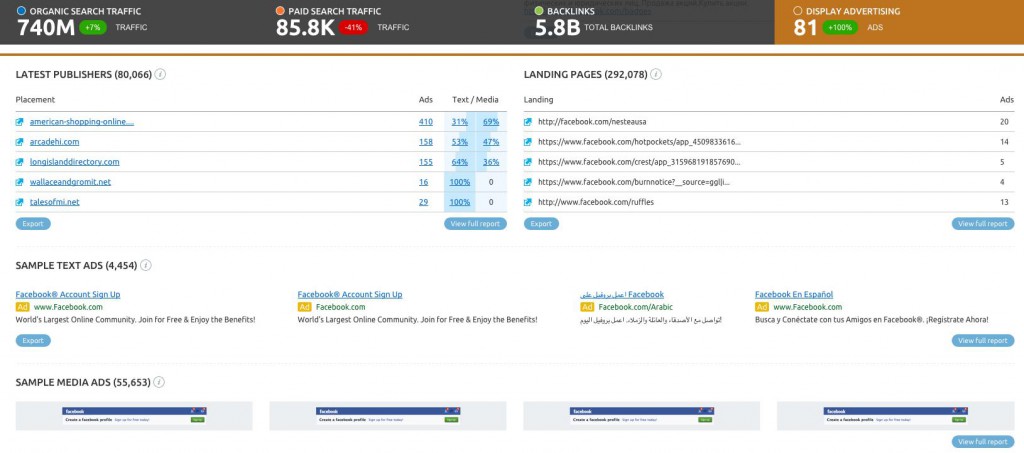 The last part of this Overview page lists the Display Advertising information. The first section of this report displays the Latest Publishers. This tells us what websites are publishing ads for the domain that is being queried. We can see how many ads the domain is displaying along with how that ad total is split between text ads and media ads. We can see the samples of these ads below for each type.
The Landing Pages section tells us which landing pages the domain is using in their advertisements. We can also see how many ads are being used on that particular page. This can help with determining what is used most by your competitor and tell you what information they are using in order to convert their advertisements.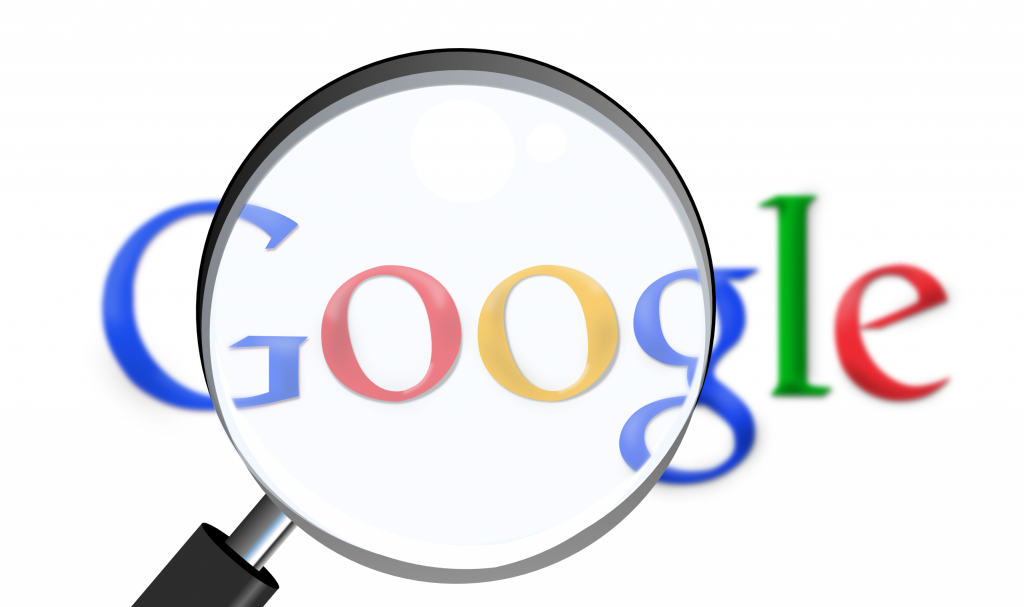 This should help you better understand the information you see when entering a domain in SEMrush. You can now break down each section piece by piece and better understand the information we are reporting for a particular domain. Now that you are aware of this information, you should take full advantage of it and see what you can dig up on your competitors. You don't want to be on the other end of your stick being exposed.