Easter is a great time for family get-togethers, exciting games, and other fun activities!
This year, SEMrush community members got a unique chance to take part in our experimental Egg Hunt Game to make Easter even more fun. We decided to challenge our users, so we came up with creative ways to hide 15 Easter eggs in different SEMrush tools. Those who were lucky enough to go all out and find all 15 eggs will be awarded with a list of the 10,000 most searched keywords for 10 countries. The game was not easy and we congratulate all winners who participated!
Are you curious to know where the participants found eggs most often and which parts of the game turned out to be the most challenging?
The infographic below lists all the tools in increasing order of difficulty — from those that were easily searchable to those that were the most difficult to find. We noticed that the Notes egg hidden in Domain Analytics was found by the lowest number (0.50%) of participants, while more than half of all participants managed to find an egg in Position Tracking Tool, one of the oldest SEMrush tools.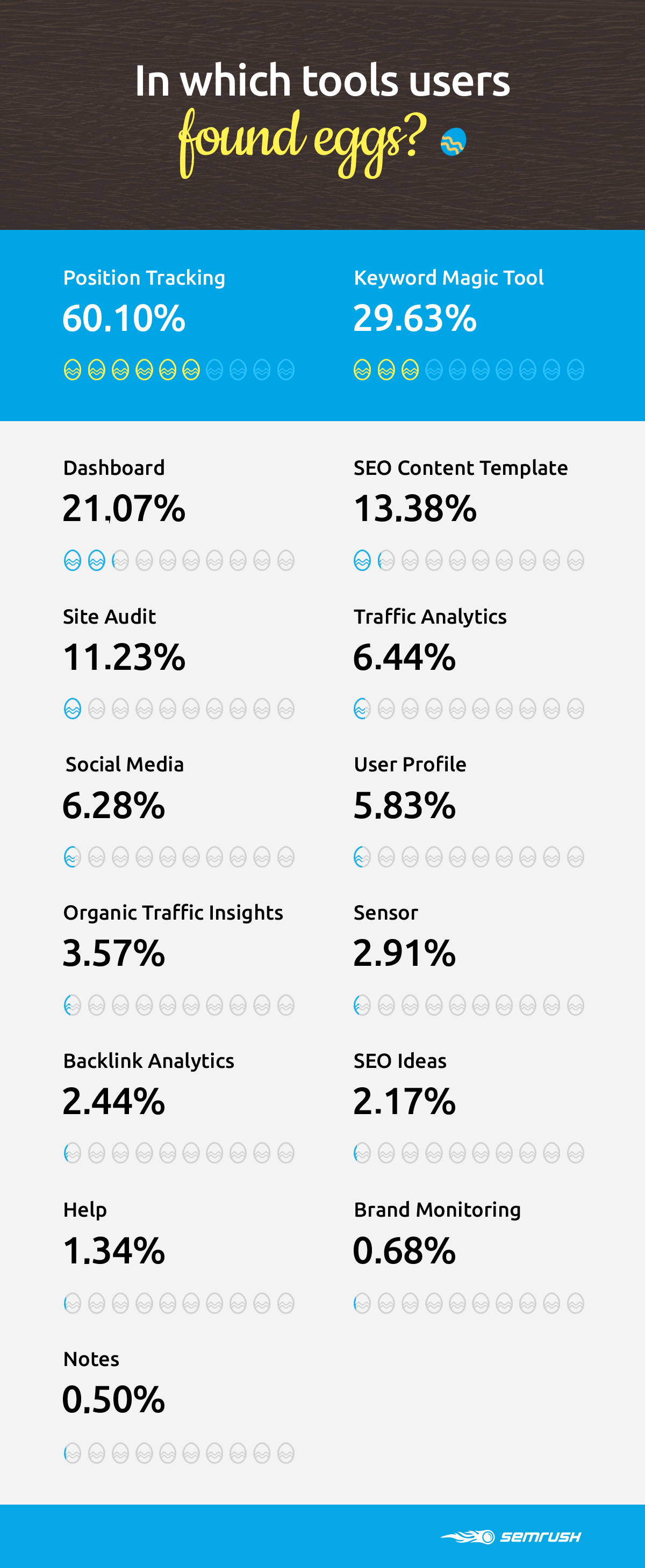 Take a Virtual SEMrush Egg Hunt Tour!
Take a virtual tour with the following video and check out every nook and cranny where all the Easter eggs were hidden: you will discover every location from the easiest to the most difficult.
As you can see, each Easter egg was concealed in a particular type of place, i.e., one of the many SEMrush tools. Below are all 15 tools where Easter eggs were hidden and explanations of how you can make the most of them!
Keyword Magic Tool
The very first egg was hidden in the SEMrush Keyword Magic Tool, which helps you conduct dynamic keyword research and create profitable SEO and paid search campaigns. The service provides up to 2 million keyword ideas and helps you pick the best ones. It's perfect for exploring topics, finding semantically related subtopics and building a list of keywords to target.
Did you know that in 2016 there were 18.9 million Tweets related to Easter and 4.6 million Tweets related to Easter candy, according to Twitter
SEO Content Template
Another egg could be found in the SEO Content Template, which helps content writers and SEO specialists create SEO-friendly content and outrank their competitors in SERPs for their target keywords. When you enter a keyword or a group of keywords, SEO Content Template will analyze the top 10 domains ranking for these keywords and offer you a list of recommendations for creating your content.
Site Audit Tool
Another egg was hidden in the Site Audit Tool's statistic report, which helps users analyze in-depth technical data on your website. The Site Audit Tool's reports will help you make your site more accessible for search engine bots, recover your site, and breathe new life into it by boosting its SEO optimization.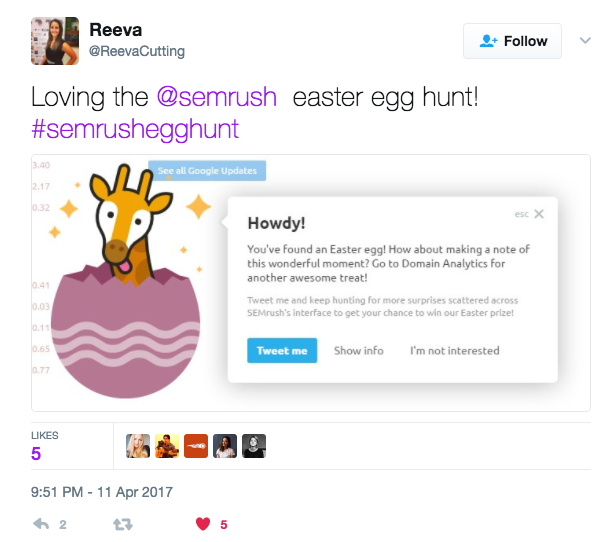 Organic Traffic Insights
This Easter egg was next to the filters of the Organic Traffic Insights report, which shows keywords that lead search traffic to each landing page. These filters allow users to quickly get a list of keywords that are most valuable for their websites.
Position Tracking 
When using Position Tracking, users can set up a campaign with location-specific volume and location-specific results. You could actually have found an Easter egg right next to this setting! The feature allows you to choose whether local (city) volume or national (country) volume data should be displayed. In fact, local volume provides you with more detailed insights, because it helps you track results in the areas you're actually targeting with your website. 
SEO Ideas
SEO Ideas provides you with a structured list of precise optimization tactics that can improve your search rankings for certain webpages. This Easter egg was hidden next to the Top 10 Benchmarking Report, which gives you a wealth of data on the top 10 URLs for each of your target keywords, including both on-page and off-page aspects. This will help you conduct a deep competitive SEO analysis of your rivals' campaigns.
Did you know that the idea of the Easter bunny bringing candies and eggs is said to have originated in Germany during the Middle Ages?
Social Media Tool
To find this Easter egg, users had to check out the Top Content section of the Social Media Tool. The section allows you to see the most engaging posts on each social media network. By default, the tool shows posts with the biggest overall impact (Total Engagement metric). However, you can change the settings to see posts with the highest engagement rate (Engagement Rate metric). A post's Engagement Rate is a very helpful metric, because it enables you to compare posts to each other, regardless of the audience size of this social profile.
Brand Monitoring Tool
This Easter egg was hidden near the 'Backlinks' filter ofthe Brand Monitoring Tool , which enables you to find out the number of mentions that contain backlinks leading to your or your competitor's' domain.Users can evaluate whether or not a particular source is linking frequently to their domain and if it is good enough to use as a marketing channel.
Dashboard
Dashboard is the place where all the SEO magic begins. From there, you can easily navigate to all the SEMrush research reports and project tools. Get a quick look at the big picture by looking at modules and informative snapshots that contain previews with marketing data for each of your domains.
SEMrush Sensor
You found another Easter Egg if you went to the SERP Features Usage section and then clicked below the report on All SERP Features. Tracking SERP Features usage statistics in SEMrush Sensor allows you to learn more about current Google Updates and how they might affect traffic to your website.
Notes
Notes is one of our newest services, and it helps you track all major SEMrush and Google updates. You can easily keep track of all important events that have influenced your website's metrics, since SEMrush automatically adds notes for both Google updates and SEMrush database updates that could have an impact on your rankings. Also, you can add your own notes.
Backlinks Analytics Tool
With the help of Backlinks Analytics reports, you can discover everything about your and your competitors' backlinks. There are seven different reports within the Backlink Analytics, and an Easter egg was hidden in the Comparison Report, which allows you to compare up to six websites and see which domains refer to them.
Did you know that an estimated $14.7 billion is spent in total for Easter in the United States?
Help
To find this Easter egg, participants should have gone to the Help section, which is located in the top-bar menu of the SEMrush website. There you can easily find important information about SEMrush reports and tools, API, the SEOquake plugin, our company and our community.
User Profile
If you checked the User Profile and then clicked Subscription Info, you stumbled upon one more Easter egg. This section of the website allows you to check and manage your limits,purchase additional users, and contact your sales manager.
Traffic Analytics
Another egg was hidden in Traffic Analytics, which offers a wide range of services for keeping track of different sources of traffic driven to a specific domain. Knowing where certain sites are getting most of their traffic from can help you adjust your online marketing campaigns accordingly and increase your own traffic.
We hope that you had a lot of fun and enjoyed the game!