The following strategy that I am about to share with you shows you how to find affiliate marketing or product buying opportunities in 3 easy steps.
Part of the reason for this post is to try and help SEO experts understand their true value and show them that their knowledge and experience can be used in areas outside of search engine optimization.
I have used this process to help ecommerce businesses pick the best products to stock, I have used it to help inform automotive retailers of which products are in demand in specific areas, and I have also used it to find affiliate marketing opportunities.
Step 1 - Find the Products
The first step involves finding products that you may want to sell online or list on your affiliate website. This is a fairly simple step, and for the purpose of this blog post, we will pretend that we own an e-commerce business that sells road bikes online.
We will start off by visiting a competitors website and compile a list of products that they have listed. You can literally do this manually by copying and pasting the name of the product, or for quickness, you can use a tool such as the Scraper extension for Google Chrome to help you.
In this example, we have chosen a website at random called Evans Cycles and navigated to the road bikes category within the website. To get a list of products listed on their first category page, simply right-click on a product name, as can be seen in the screenshot below and hit 'scrape similar'.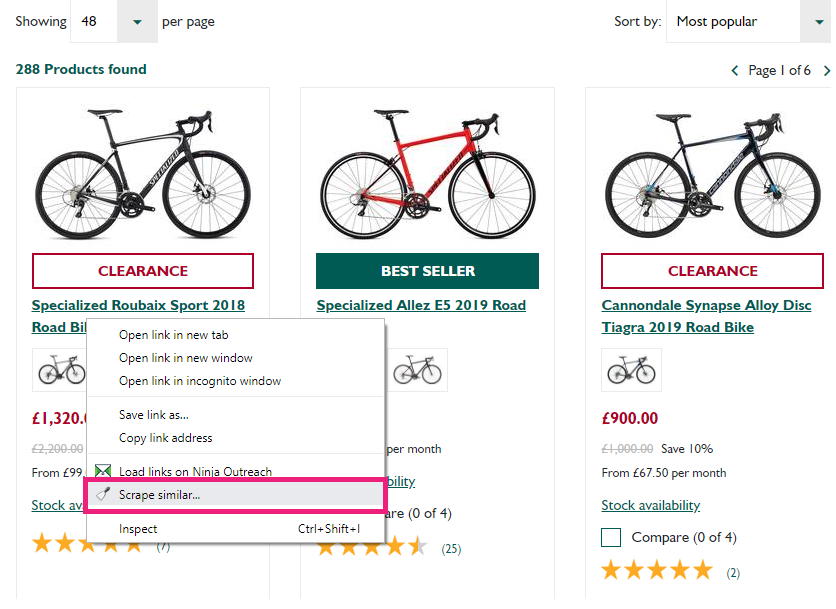 This is a great time-saving trick, and it works about 95% of the time, and the information will be presented to you in a similar way, as can be seen in the following screenshot.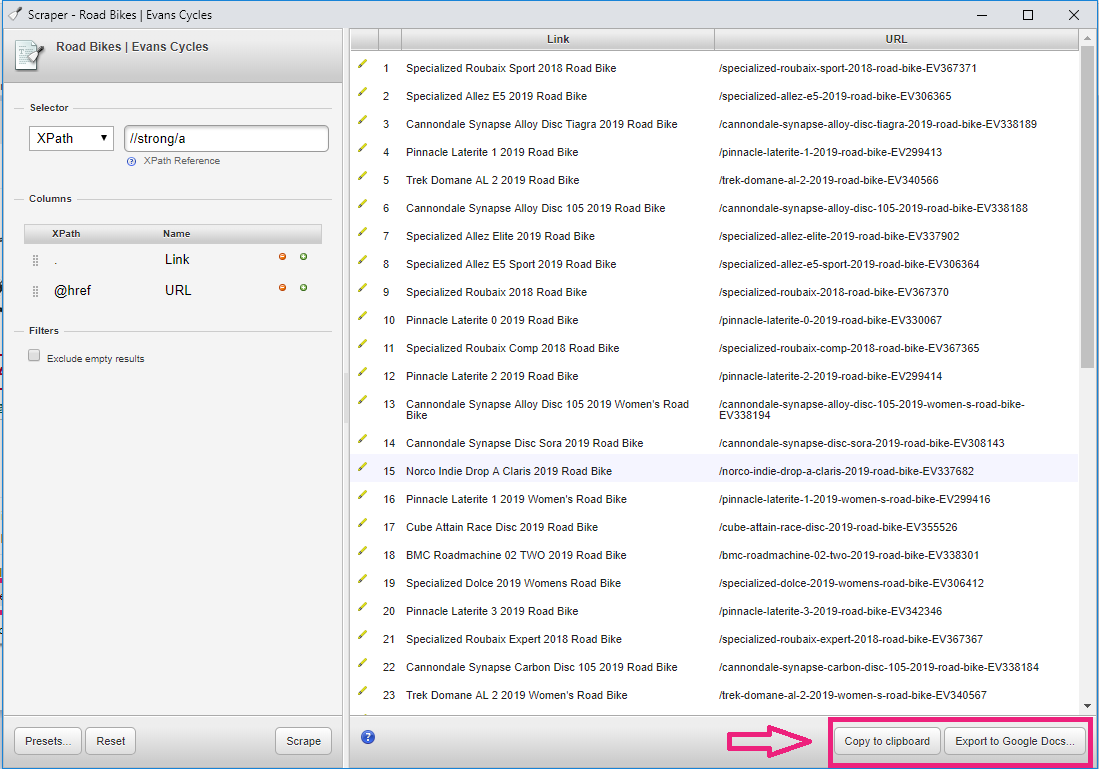 If you wish, you can copy the information to your clipboard so that you can edit it in Excel or open it within Google Sheets by clicking the 'Export to Google Docs' button.
This information will now be used to carry out keyword research, and what I like to do, is drop a few examples into SEMrush to get some initial search volume information.
After analyzing a few examples it was clear that these keywords were far too specific (or long-tail) and the product names have likely been modified by the website that published them, so I modified the data slightly by removing '2018', '2019', 'women's' and 'road bike'.
For example, 'Specialized Allez E5 2019 Road Bike' was stripped back so that it became 'Specialized Allez E5'.
Step 2 - Narrow Your Search
If you are following along, you should have a list of product names in a spreadsheet, and now you simply need to paste the data into the SEMrush Keyword Difficulty tool.
Although this report is normally used to gauge the ranking difficulty of any given keyword, I am not using this report for that. Instead, I am using it as a quick way to get search volume for a large volume of keywords at once.
We now have a report that gives you a pretty good indication of search demand for any given product which can then be easily exported as a spreadsheet.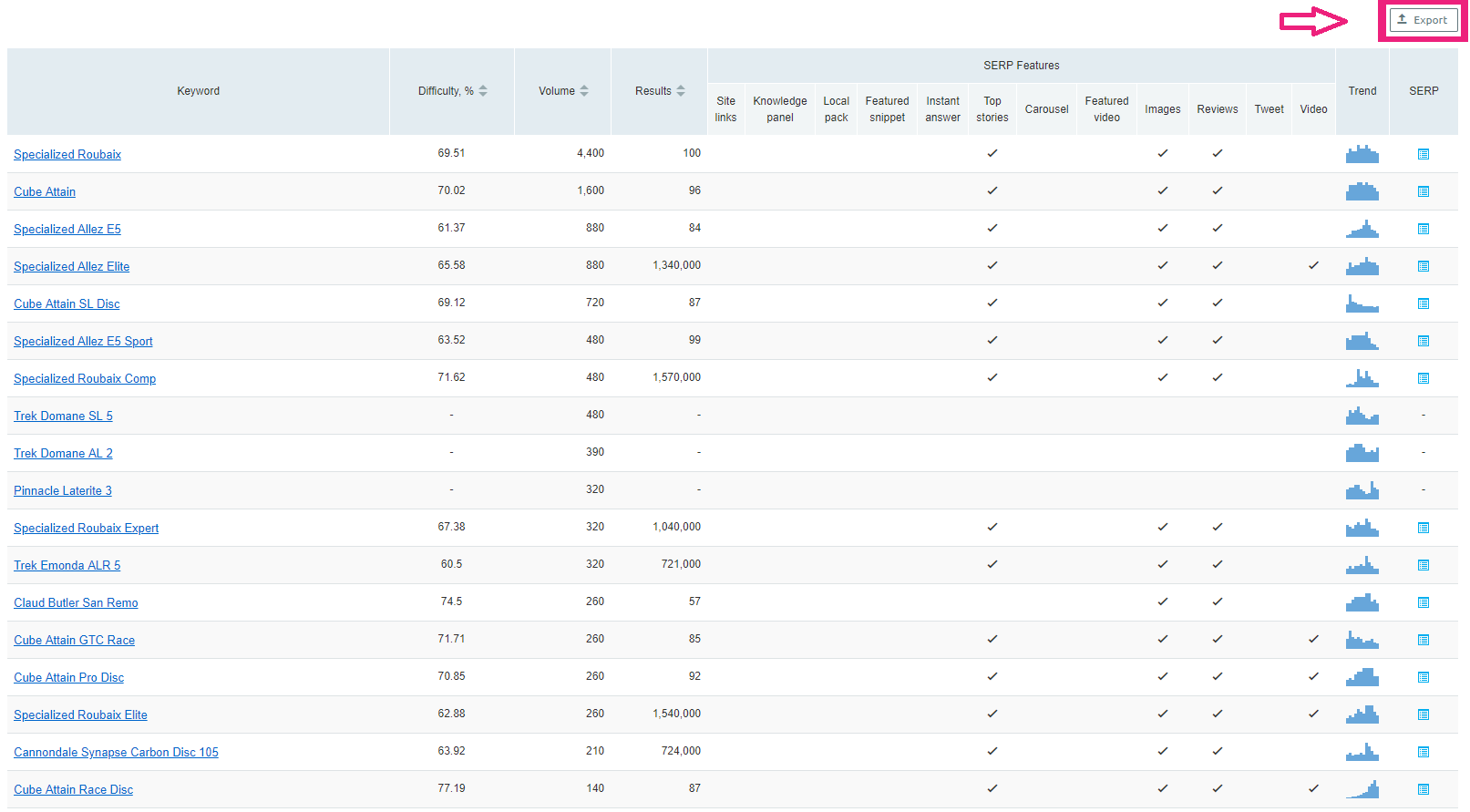 Once I have exported the data into a spreadsheet, I eliminate all product names that have a low search volume and carry out some further research on products that indicate high demand.
Now, in my opinion, the search volume alone can be an absolutely fantastic way to gauge the popularity of any given product, but it is not foolproof. In step 3, I will show you how to increase your level of confidence that people are actually buying the product online.
Step 3 - Gather Additional Evidence Of Sales
To increase my levels of confidence that people are actually buying a product online, I like to gather review data from several websites and use it to supplement the search volume data that I gather from SEMrush.
I then like to visualize this in a spreadsheet so that I can tell which products appear more popular.
To do this, I simply get the average number of reviews for each product within the spreadsheet and use conditional formatting to highlight products that have a higher than average volume of reviews on each competitor's website.
For example, Competitor A that can be seen in the following screenshot below got a total of 80 reviews across 17 products; this means that each product got an average of around 5 reviews each. Competitor B got 128 reviews across 17 products, which give us an average of 7.5.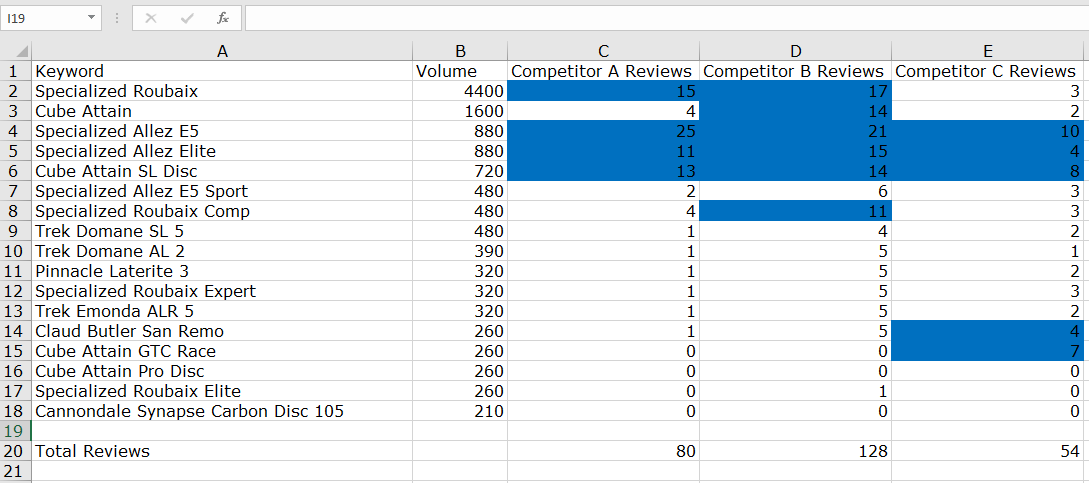 Notice how the Specialized Allez E5, the Specialized Allex Elite, and the Cube Attain SL Disc all have a higher than average volume of reviews on each of the competing websites, this indicates to me that this is potentially a popular product as the search volume is high as is the volume of reviews. 
If, for example, you have an affiliate website that reviews bikes, compares prices, or offers discount codes, this data should give you a good insight into which products you should be adding to your site.
If you are a buyer for an e-commerce business, you would likely want to carry out some additional research and add it to your spreadsheet such as cost price, competitor selling price, margin information, etc.
How can you use this data? 
For Affiliates
Say, for example, you have an interest in cycling and would like to start a website reviewing bikes, this type of research will help you determine precisely what people are searching for, and buying online This will help you better understand the type of content that you should be publishing on your website.
I know people that I have taught this technique to some that have gone on to launch niche affiliate sites relating to their hobbies and interests, and it has helped them make additional income. 
For eCommerce
If you work for or own an eCommerce business, it is sometimes difficult to determine exactly which products to sell via your website. Often there is an element of risk involved as if a product is bought, but there is no demand for it, that could potentially result in a considerable loss for the business. 
The method described in this post helps reduce that risk as you can be relatively sure before making any significant purchasing decisions that the products you purchase are likely to sell online. 
For SEO
If you own any type of retail business and have an in-house SEO team or you work with an agency, it would be very useful to include them in any discussion that relates to stock buying decisions.
They will be able to either verify that there is demand for a particular product or they will be able to help you find new products to stock on your online store. 
SEO Consultants really are an under-utilized bunch!