Until recently, SEO theory and advanced optimization never occurred to most of the world's bloggers. All they knew was that they loved writing, conveying their knowledge and wanted to help others through covering various projects and businesses. So when bloggers began having to take SEO and optimization seriously, they found all the information being presented to them was written in, well, a somewhat complicated manner.
This article will demystify SEO for those bloggers who want to know what it is, what's it for, and how to apply it to their own sites and content.
What Do Bloggers Need to Know About SEO?
When Google wants to present practical and relevant SEO results to users, they use 'spiders.' Spiders seek out and analyze web pages, then choose the higher caliber ones that fit with the search being performed. The search engine's algorithm (or automated way of reasoning) considers a blog content's popularity, ranking its pages and presenting the results in a list. This is usually a blogger's biggest fear. But if you're already aware of SEO and what Google wants from your articles/blogs, you can begin positioning yourself to be first, instead of settling for 58th.
What's the reason behind being Numero Uno on Google? There are two, really:
It says you're excellent at writing and that people think your content is invaluable. It gives you authority and popularity, making you feel that all the work and determination you put in your blogging is worth it.
It also opens you up to the possibly of making cold hard cash. I know this is cold water in the face of some bloggers, but it's true. If you're in the first spot or hovering in that area, you've got more of a chance of people clicking on your link than the guy ranked 58th. This means more traffic, more clients, more sales, subscribers, sponsors, advertisers – and money.
What to Optimize in Your Blog and How to Do It
On-page optimization is everything you can do on your page or in your article in order to optimize it and get Google to find and analyze your content. It's how you get the search engine to rank your blog higher on the results list related to the topic or keyword of your post. Off-page optimization are the external factors influencing the position of your article – popularity within the social networks and if other sites have backlinks to your article(s). The search engine considers all this and then measures the relevance and quality of the content to decide if it's worth showing users or not.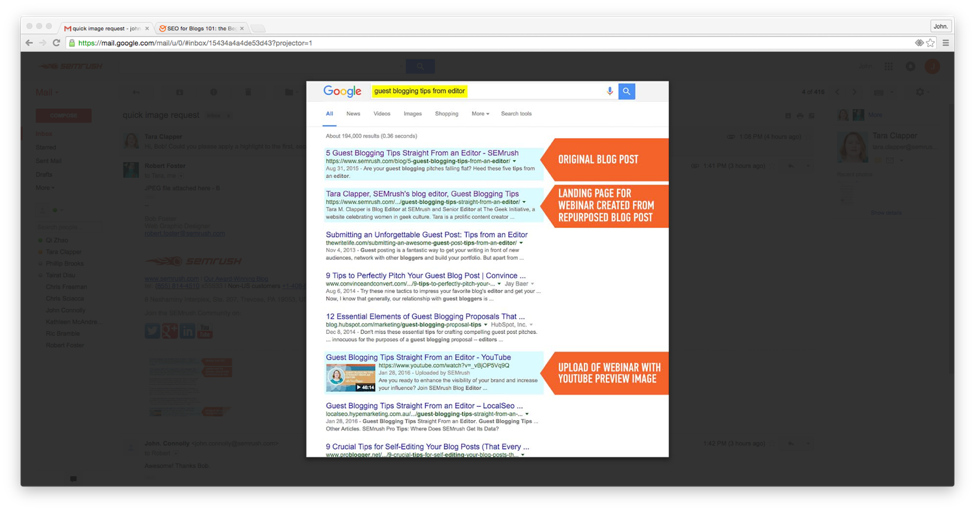 Example of a Google search engine site for 'guest blogging tips' showing original blog post, landing page and an upload of a YouTube webinar preview.
Keywords and Content Writing Gains Readers
Keywords are the one of the cornerstones for optimizing your article. That's why it's important to use them in ways that Google spiders will find you and be able to show you to the world. But balancing keyword placement with natural sounding copy is the blogger's biggest challenge. If you want to build your blog audience, you've got to get smart with content and keywords.
Bloggers need to score two goals here – first, appeal to your end users. Second, rank well with the search engines because, while your content might be king and you might be touted by some as an outstanding writer, if you're not being discovered by Google or readers, what's the point, right?
Here are additional tips bloggers need to file in the back of their minds:
Use relevant internal links.
Use alt tags and captions with images.
Make sure external links are relevant, natural and contain no spam. Link to sites you trust.
For CTAs (calls to action), ask users to sign up for email lists.
Use meta tags. They are snippets of text used to tell search engines what a web page is about. This information is essential to selling the content to search engines and the reader, so make it brief and accurate.
Always repurpose strong content and provide informative copy. Fluff and excessive 101 content results in high bounce rates that may result in lower Google rankings.
Use bulleted and numbered lists.
Write for the readers, not search engines.
According to SEMrush blog editor Tara Clapper, most of a blogger's SEO can be done on the back end of their sites.

A good CMS like WordPress has [a lot] already built in. You don't need to be an expert to set up Yoast SEO on a self-hosted WordPress site. Google has a guide on SEO for webmasters. Yoast can help you determine whether your meta description or title is too long, and you can use the CoSchedule Headline Analyzer to write a stellar title," she said, adding, "As an editor, headlines are the element of a blog post I change most often, usually because bloggers submit titles too long for a Google SERP [search engine results page] preview – or too lengthy for a Twitter share.
Backlinks and the Blogger
If you're a blogger and want to do well with the search engines, developing powerful backlinks is critical to your success. There are two types of backlinks you can generate for your blog. The first is low-quality backlinks. Remember, if you collect too many of these, Google could penalize your blog. Then there are the powerful backlinks, which have several distinct characteristics –
Relevant websites associated with your niche
Hooking up with a major PR website or blog
"Natural" backlinks, i.e., when someone likes your content or website and links to it.
Google Penguin and Google Panda have made previous SEO techniques like link farming, over-optimizing keywords, and thin content obsolete. But backlinks have remained a primary search engine ranking factor – the third most important ranking feature for Google.
Here are several more ideas you can use in building backlinks to your blog:
Create Free Content Resources – The idea here is creating valuable content for blog readers then sharing them free of charge. Go with popular topics or pieces that have already been written. These resources can be in any form; blog posts, whitepapers, reports, e-books, guides and so on.
Guest Blogging – For new blog sites, one of the most difficult thing is acquiring loyal readership while stamping your authority on that niche. Being a guest allows you to get in front of your audience and prove your credibility. It also is the best way get relevant backlinks.
Interviewing Other Influential Bloggers – Though difficult, interviewing a successful blogger from your niche is an awesome way of acquiring power backlinks.
Create Expert Roundup Posts – Expert roundup posts are forums where professionals and established bloggers share opinions, with those opinions making the entire post. With those experts and established bloggers sharing your post with their followers.
Begin it to Win it
Establishing a blog isn't done overnight or on the fly. Optimizing your site is a continuous process that takes time, commitment, and a lot of patience waiting for people to arrive. But soon enough – if you follow these simple steps – you'll find your blog is carrying enough firepower that it will catch on with the search engines and your audience.
Tell us all about your blogging success stories in the comments!