At SEMrush, we love to create products and maintain a startup mindset. We work in teams that are free to come up with their own ideas and actually get to implement them. And if the idea passes the users' "like test" it can become a part of the toolkit.
From time to time, we like to shuffle things around and give people the freedom to get out of their work routine, as it really encourages people to think outside of the box. So, to bring even more innovative spirit to the table, we decided to organize an internal hackathon.
One of SEMrush's goals is to make the lives of marketers more manageable, so the company challenged our hackathon participants to develop more helpful tools for marketers. 
Hackathon: What Was It About?
Our developers, UX designers, and marketing specialists united in teams of 5 to bring their brightest ideas to life. Teams only had 60 hours to fulfill this challenging task, and to give you a heads up, they all made it.
SEMrush is all about listening to its users and their feedback, so to stay consistent with our fashion we agreed that it would be up to our users to decide the most worthy hackathon project. All of the tools were made available for the users to test out, and we let the public vote for the projects they like best. There were two nominations:
The Most Useful Project
The Most Popular Project
The public voting lasted a month, but before we take a look at the winners, let's take a look at all of the submitted projects. Note: some of the following tools could eventually become a part of the SEMrush toolkit; once you have checked them out, leave us some feedback in the comments.
PPC Spend Analyzer
There is a lot to keep track of when it comes to PPC, so having a firm understanding of what will cost you more or less when running your campaigns can help you to make educated decisions that will increase your ROI long-term.
The PPC Spend Analyzer can help with this. It allows you to optimize your PPC ad spend by geo-targeting your AdWords campaigns by quickly identifying both the most and least expensive industries and keywords to advertise in within your particular state or region.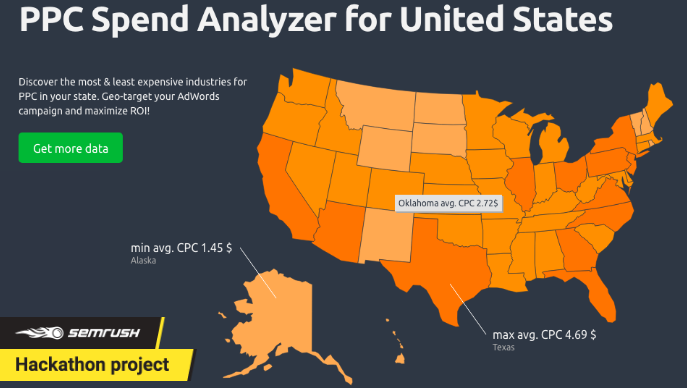 The data in the PPC Spend Analyzer is available for seven different countries. These are the US, the UK, Canada, Australia, India, South Africa, and Russia.
SEMpie
Infographics are a valuable part of content and social media marketing. It allows you to turn your data into an engaging and highly shareable visual. One picture is indeed worth a thousand words with SEMpie, a tool designed to make data and visual storytelling beautiful.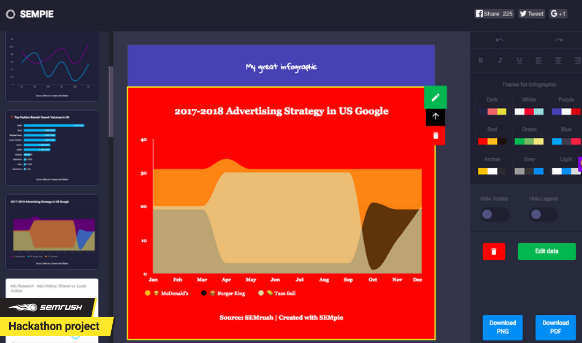 SEMpie has an intuitive interface, making it easier for you to create informative and beautiful infographics quickly, with no design or coding experience. Once your customized infographic is created, you can download it in a PDf or PNG format, and use it across multiple marketing and promotional channels.
Trends
Staying on top of trending topics can help you create relevant, timely content for social media, blog posts, thought leadership articles, and more. Knowing the trends can help you take advantage of conversations happening around a topic, and you can leverage that information to increase your brand's visibility.
The Trends tool can help you find those trending topics that will get you that visibility, showing you the most popular trending topics in your area.
The Trends Tool recollects data several times a day to help you find the most interesting topics on the web and suggests related ideas for them using SEMrush Topic Research integration.
SEO Writing Assistant WordPress Plugin
SEO Writing Assistant is a WordPress plugin created by one of our hackathon teams. As you are writing in WordPress, the plugin will give you instant recommendations based on the qualities of Google's top 10 ranked pages for your specific keywords in a given location.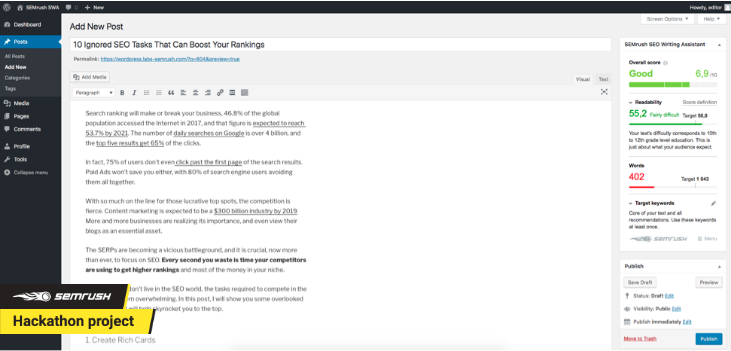 Content professionals, bloggers, and marketing experts alike can use this tool to evaluate whether or not the text meets the SEO requirements they want to enforce on the content on their blog. It takes just a few clicks and only a few seconds, and it can help you improve your writing, too.
Signa
We are relying more and more on email communication, so finding a way to make your emails stand out can make all the difference in the world. Welcome Signa: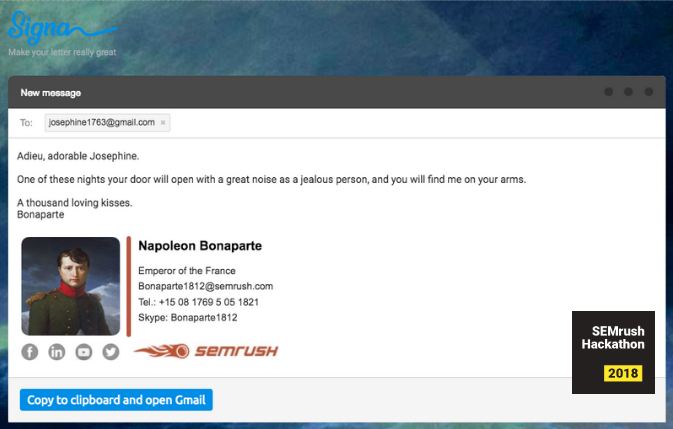 Signa will help you make sure that your digital letters are all visually strong thanks to a well-formatted signature that can include your name, links to your social profiles, other contact info, and even a headshot.
To use this tool, all you have to do is fill out a quick form and then copy your signature to Gmail.
MasterCalendar
One calendar to rule them all sounds pretty great, if a little Tolkien-esque, right? Nonetheless, the MasterCalendar is the one stop shop that you need to solve all your planning needs.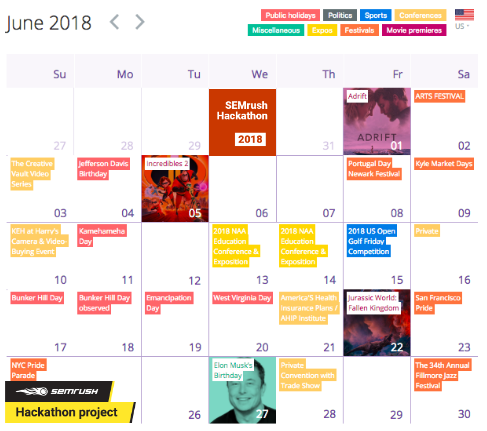 Master Calendar makes it easy to find global events relevant to your business and add them to any calendar that you use. Because you can share events across multiple calendars, you can save time planning marketing campaigns, and any other promotions you need to keep track of. Everything can stay in place on one calendar, and make your life much easier.
Cohort Analysis
Being able to create custom marketing cohorts like user retention and LTV figures based on your own real data is invaluable. Our Cohort Analysis tool can help you do just this.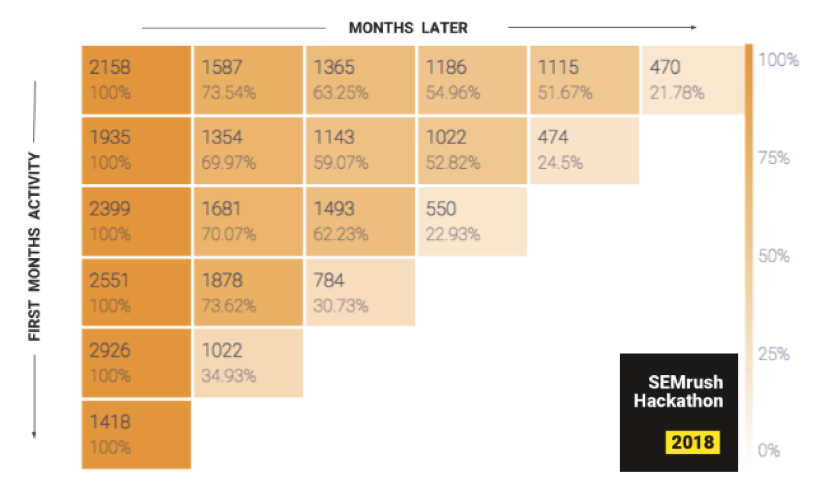 What's more, with Cohorts you can evaluate the seasonality of the inflow or churn rate of users. This tool can help you better assess the long-term value of a customer, and understand when (and thus possibly why) users are no longer purchasing or using your products or services.
So Which Products Won?
We closed voting on May 31st, giving the public a full month to choose which products they liked best. And thewinners are:
Our Gold winner was the Cohort Analysis tool, which allows users to build marketing cohorts like user retention and LTV based on your data.
The most popular product was SEMpie, which allows users to turn their data into colorful infographics.
Conclusion
Our hackathon turned out to be a huge success, with a large number of amazing projects created in a short time. The event was popular and well-liked by all participants, including both our internal teams and the users who voted, so there is definitely another one coming.
Do you have any suggestions for projects in the next round of our Hackathon? Feel free to share them in the comments below, and make sure you subscribe to our email list, so you are up to date when it is time for the next event!