Programming is all about creating something that solves specific problems. We at SEMrush develop our tools with the user in mind, focused on providing people with solutions that can help them meet digital marketing challenges and achieve their goals. And we are well aware that our users always want to know how we create our products. So, we have decided to reveal some secrets and lift the veil on our internal processes to offer you an inside look at how our development teams create and innovate. If this kind of information interests you, let us know in the comments, and we can make a series of blog posts on this topic.
Today we want to tell you about the development of Authority Score — our recently launched metric in SEMrush's Backlink Analytics reports.
It is not going to be a typical story about how any project requires time, effort, and good teamwork. In the case of Authority Score, we are going to tell you about a hot mix of in-depth research, machine learning, and collaboration with 40 industry experts from around the globe.
What Is An Authority Score?
First, let's figure out what this score means and what value it provides to website owners. In a nutshell, Authority Score is a SEMrush proprietary metric that scores the overall quality of a domain. You can use it to estimate how beneficial a backlink from a particular referring domain is (or would be) to your website's SEO.
Authority Score is measured on a scale from 0 to 100, with the latter being the strongest, and is based on the compound data provided by SEMrush, including backlink data, organic search data (organic search traffic and positions), and website traffic data.
Historical Background: How It All Began
Every product development process includes a series of stages: from ideation and concept generation to product launch. These include:
Brainstorming ideas and determining the innovation goal of a new product.

Exploring the market to get ideas.

Analyzing and evaluating the new product concept.

Prototyping your product ideas.

Testing and collecting feedback.

Preparing for launch.
Behind every feature, even a small one, is a long path consisting of formulation, calculation, testing, and hard work. Authority Score is not just a formula, but a set of complex activities and tasks that require careful coordination and attention to the tiniest detail. 
How We Applied Machine Learning to Create a More Accurate Metric
For our research, we used comprehensive data that we had at our disposal and applied machine learning to determine the importance of ranking factors. Machine learning has been a very hot buzzword these days. But what exactly does it mean?
Machine learning is an application of artificial intelligence that enables computer systems to automatically "learn" and improve. Simply put, it was developed to provide computers with the ability to learn from experience and make decisions and predictions based on data without being explicitly programmed. And even though there have been many discussions about AI takeovers and how robots are going to enslave people in the near future, machine learning still largely remains a human-supervised process.
Our Backlink Analytics team manages the massive backlinks database, which is also the largest one in SEMrush, so it seemed logical that they take on the task of calculating the brand new metric. For Authority Score, the team used a machine learning application named Learning to Rank. The algorithm was trained on a substantial scope of data. To teach their model to evaluate domains, the team went through multiple experiments and trained their model on various datasets provided by SEMrush, such as organic search data and website traffic data. They aimed to teach the model to understand how backlinks from a popular domain differ from backlinks coming from a less popular domain.
First, they collected multiple datasets for a domain, including numerous backlink metrics, data on organic search traffic and positions, and website traffic data. After that, using these datasets, they taught the model to predict which domain is the strongest — in other words, gets higher rankings and attracts more traffic.
However, the technical element is not the only ingredient of new feature development. When aiming to build something that will be valuable to your users, it is important to experiment and test.
WNSM 2017: Great Minds, Great Products
As part of our corporate culture, our teams are eager to learn something new, improve, and experiment. We take part in various international workshops and conferences. One day we thought it would be great if we could organize our own event and bring together SEO and digital marketing professionals from all over the world. We know it could provide us with an excellent opportunity to grow and nurture the SEMrush tribe.
To make it happen, we hosted the White Nights SEMrush Meetup, which welcomed 40 experts from 16 countries, including the US, UK, France, Germany, Spain, Australia, Italy, Brazil and more. Thanks to the event, we had a chance to talk to world-renowned professionals in the digital marketing field and collect their feedback about our tools.
During the meetup, we ran roundtable discussions, where we received many valuable comments and suggestions from the experts. In fact, who else but they could provide us with valuable ideas on how to create a perfect tool?
Here's a snapshot of our roundtable sessions.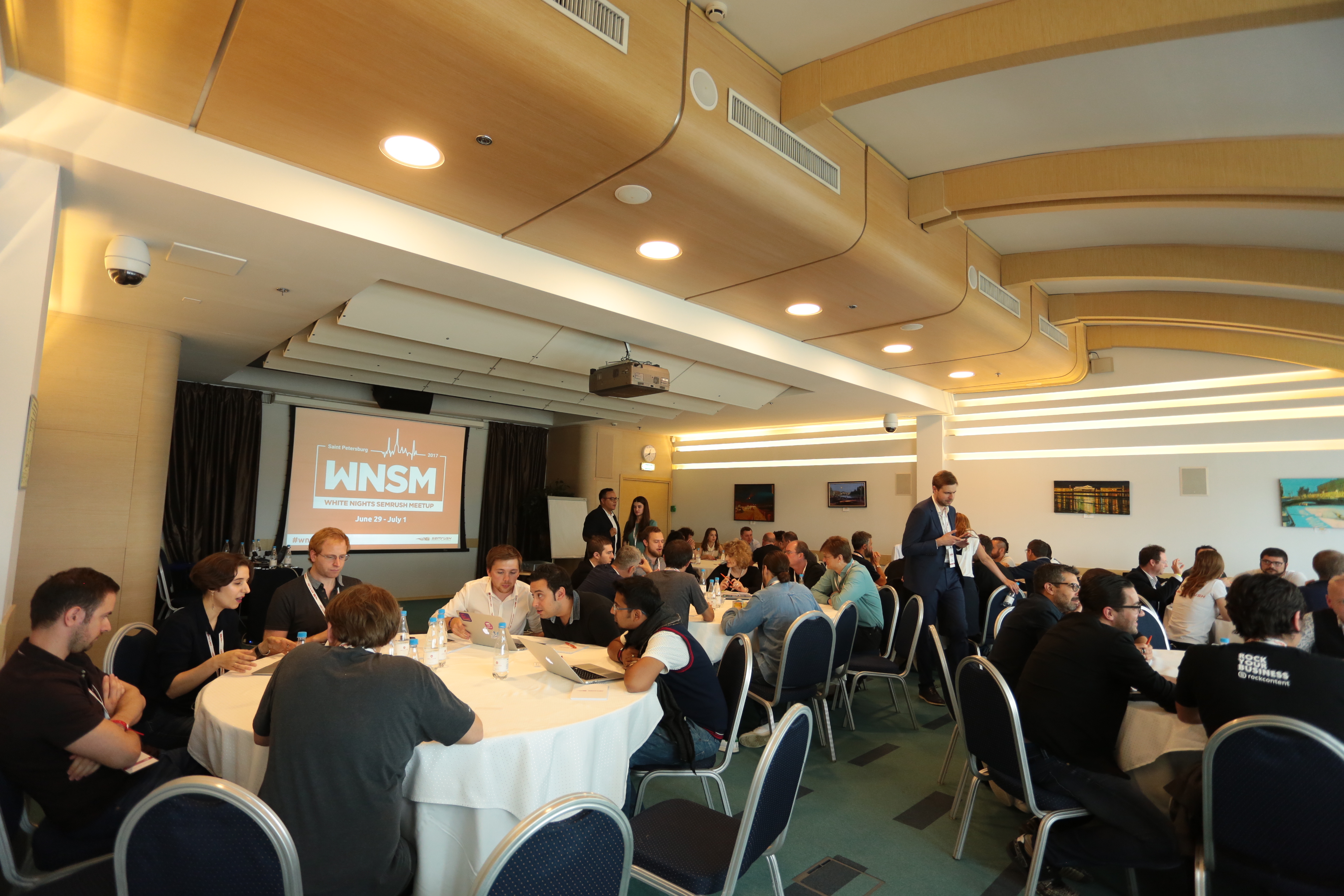 When talking about our Backlink Analytics tool, we addressed the topic of our Trust Score metric, which we used to measure the trustworthiness of a domain — we asked the experts about the missing components that could make Trust Score a more accurate metric for evaluating backlink profile quality.
To allow the experts to check our new metric, we created a test page with Authority Score, where they could enter a domain and see the results. The Product Owner of SEMrush's group of Backlink Analytics reports told the roundtable participants what data was used for calculating Authority Score.
Below you can see what the test page with the score looked like before going into production: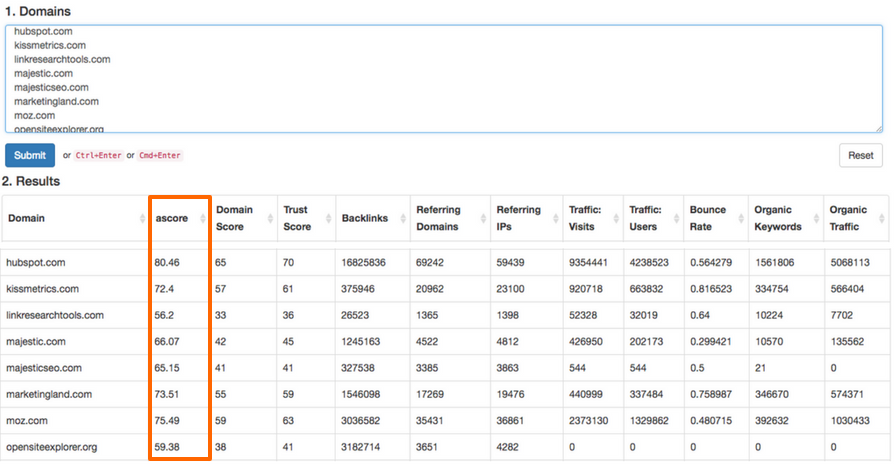 All 40 guests who joined the event had a chance to test the new metric. They checked the initial data and the results and then shared their feedback on different aspects. Thanks to the suggestions provided by the experts, we collected multiple ideas:
Quality of data: We had a chance to see where the algorithm made mistakes and understand the cause of those errors, which helped us improve the algorithm.

Sources of initial data: We got multiple ideas for what we should pay attention to make the score more accurate and less affected by manipulation and 'naughty' SEO practices.

Authority Score perception: We discussed how marketing specialists use metrics like Authority Score and what problems they face while using them. These ideas helped us make the metric easier to use and to understand.
Develop, Test, Love
In product development, many tasks are unique and project requirements constantly change. To manufacture a single metric like Authority Score we carried out extensive work — we conducted research, performed experiments, applied a machine learning algorithm, and talked to 40 international, digital marketing specialists and our users.
However, all this extensive work would be worthless without one vital element of any product development process — customer feedback.
That is why we encourage you to share your thoughts and ideas on how to improve our product, so we can keep on building the best digital marketing tool on the market.
So if you have any suggestions or feedback, please share them on our social pages in Twitter and Facebook or mail us at backlinks-analytics@semrush.com.