Keeping up with Google is a struggle. Do they have to make it so difficult for SEOs? That is a rhetorical question, but it is really hard to analyze the ever-changing SERPs with all the variations for different devices and locations. Adding to the misery are constant algorithm alterations and never-sleeping competitors.
You can't just sit back and marvel at your growing rankings, not in this environment. You have to stay alert! To help you with this SEMrush designed the Position Tracking tool which has everything you need in a keyword tracker. Take note; surveying positions is only one part of its functionality.
Today I will show you 13 of my favorite Position Tracking features that you have to try out.
Here they are:
#1 Hyper Targeting by ZIP Code
For a local business, it is essential to focus SEO efforts on the area in which it operates. Online visibility is critical, and nowadays it has a lot to do with proximity. So, having the ability to track and manage your search engine performance in an exact location is extremely beneficial.
Editor's note: If you want to start with some local SEO basics, head to our guide on What is Local SEO.
The most recent addition to this keyword tracker tool allows you to track down your local SEO results on a ZIP Code level for more than 98,000 locations taken from Google Maps. That means you are getting the most accurate data and can focus on the most relevant local queries, attract more clients, and save your time and money.
To try this feature, set up a new project or add a new location to an existing one. Start typing your postal code, or the name of your street, and get the drop-down list of suggestions.
#2 Devices and Locations Report
More on this Desktop vs. Mobile: The Difference Between SERPs Post Nikolai Boroda
Businesses keep going global, while users keep going mobile; this makes an SEO's work a lot tougher because it is not just a simple position changing for the group of keywords anymore. Those positions change in a very chaotic way in various geo locations because they vary by device, and in some cases positions depend on the language that people use when searching for things.
What would make it easier is the opportunity to have all your rankings in one place! Once you have added the pool of keywords you want to target to Position Tracking, you can track them for up to 10 targetings — by targeting we mean the combination of location, device, and language. We also offer you the choice to copy them in 1 click, as well as a list of your local competitors.

#3 Competitors Discovery Report
They say you need to know your enemy; this applies to SEO as well. Many of your on-page optimization or content creation decisions strongly depend on your rivals in the SERPs. Stop looking for your local competitors manually or any other way. Take a look at our Competitors Discovery report, instead. We keep track of all of them for you. If you find some kind of Wikipedia-like giant, just blacklist them in one click. Important to mention that for each location selected, you will get a relevant list of competitors.
Find as many rivals as you can and add them to your Competitors list. Thus, you will see who is winning in the Top 3, Top 10, Top 20, and Top 100 positions in our Ranking Distribution report.
Another suggestion, come back to this report often and see which company has unexpectedly improved its performance. Talented start-ups and old market players surprise us all the time.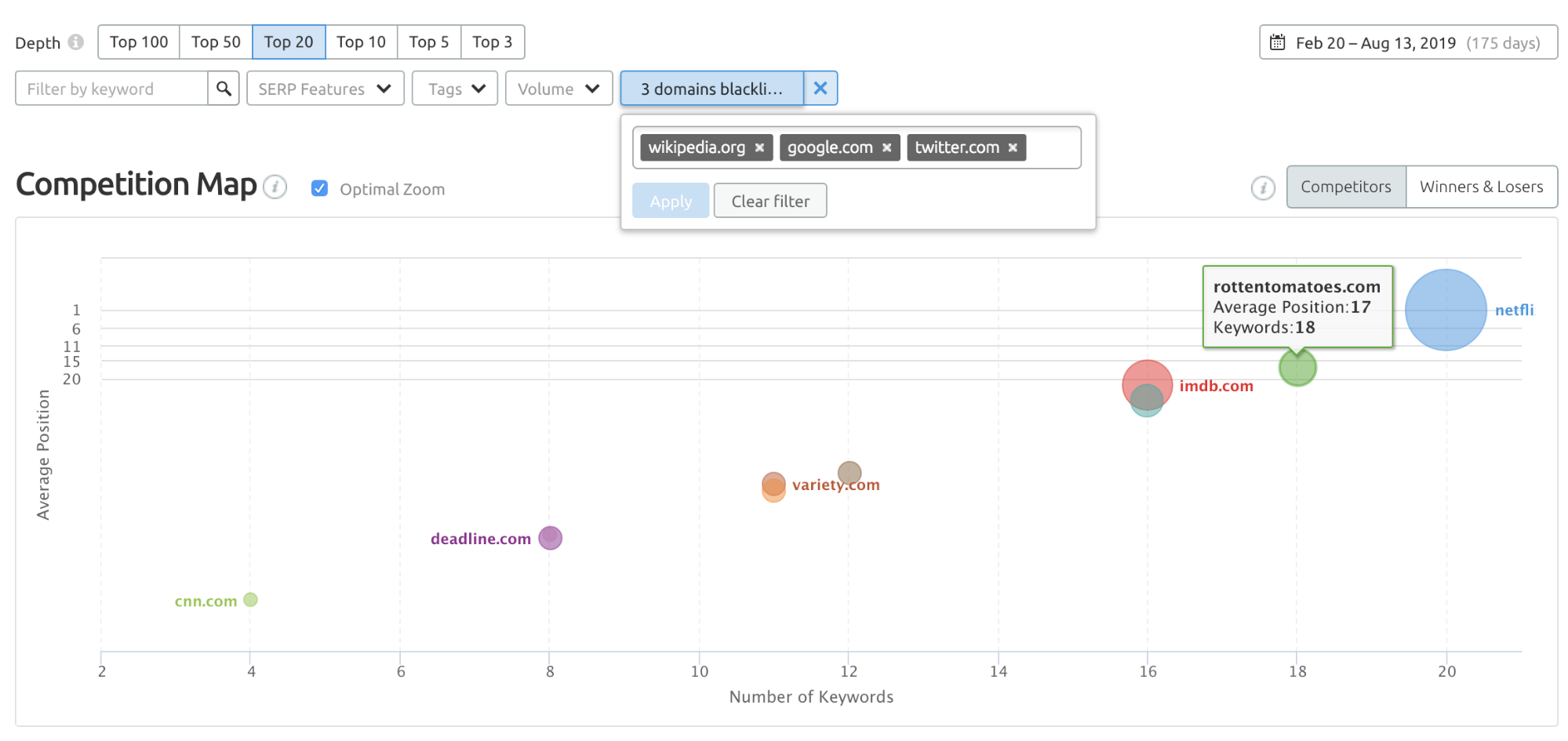 #4 Unlimited Competitors Tracking (all of them, in fact)
Our competitor tracking tool allows you to see up to 20 rivals in a table at once. You are free to remove or add competitors at your will. We keep track of top 100 results for all keywords, hence you will be able to see historical data for newly added rivals.
#5 Projects Merge
This option is very useful for those of our users who already set up many projects with Position Tracking — in one click you can merge all the previous projects in a new multitargeting project. Which means you won't have two projects for desktop and mobile, and five projects for five cities. You will get one with all the rankings accumulated in one table with the opportunity to play around with filters.
#6 Filter by SERP Feature
SERP Features are a great addition to organic results, but you might have doubts whether trying to win Featured Snippets, for example, is a good strategy or not because of the controversial information on the web. Tim Soulo's study says that chasing the SERPs with Featured Snippets is not a good idea since the number of clicks you can get from them is less than the number of clicks you can get from the first position on Google in the SERPs with no Featured Snippet.
It could be the case for those big brands who have already carved out many first positions for many queries. In the meantime, we can find many success stories, like Glenn Gabe's, which proves the fact that they actually help you gain new website visitors. SERP Features results change so frequently that it can be difficult to accurately check if they reduce the click-through-rate to the domain or not. Moreover, the quality of the answers provided in the snippet highly influences the user's decision whether or not to jump to the website to "read more."
There are plenty of special Google results that can help you to attract users' attention to your snippet on the SERP. I would even call them "must-haves" for the mobile SEO strategy, where at times the size of the screen means SERP Features are the only chance to stay visible. Bastian Grimm is also 'feeling thoughtful' about this:
With a smart approach, you can choose SERP Features that will help you gain traffic, and avoid those that do not link to your domain but occupy the real estate of the SERP. In the Position Tracking tool we detect SERPs with or without the following SERP features, as well as a combination of them:
Featured Snippet
Local Pack
Reviews
AMP
Site Links
Video or Featured Video
Top Stories
People Also Ask
Images
Twitter
Instant Answer
Knowledge Panel.
In addition, you can see the queries with paid results. It is not actually a SERP Feature, but information about the presence of paid ads on a SERP help you estimate how visible your domain could be in organic results, or you can choose to invest in PPC for some particular keywords.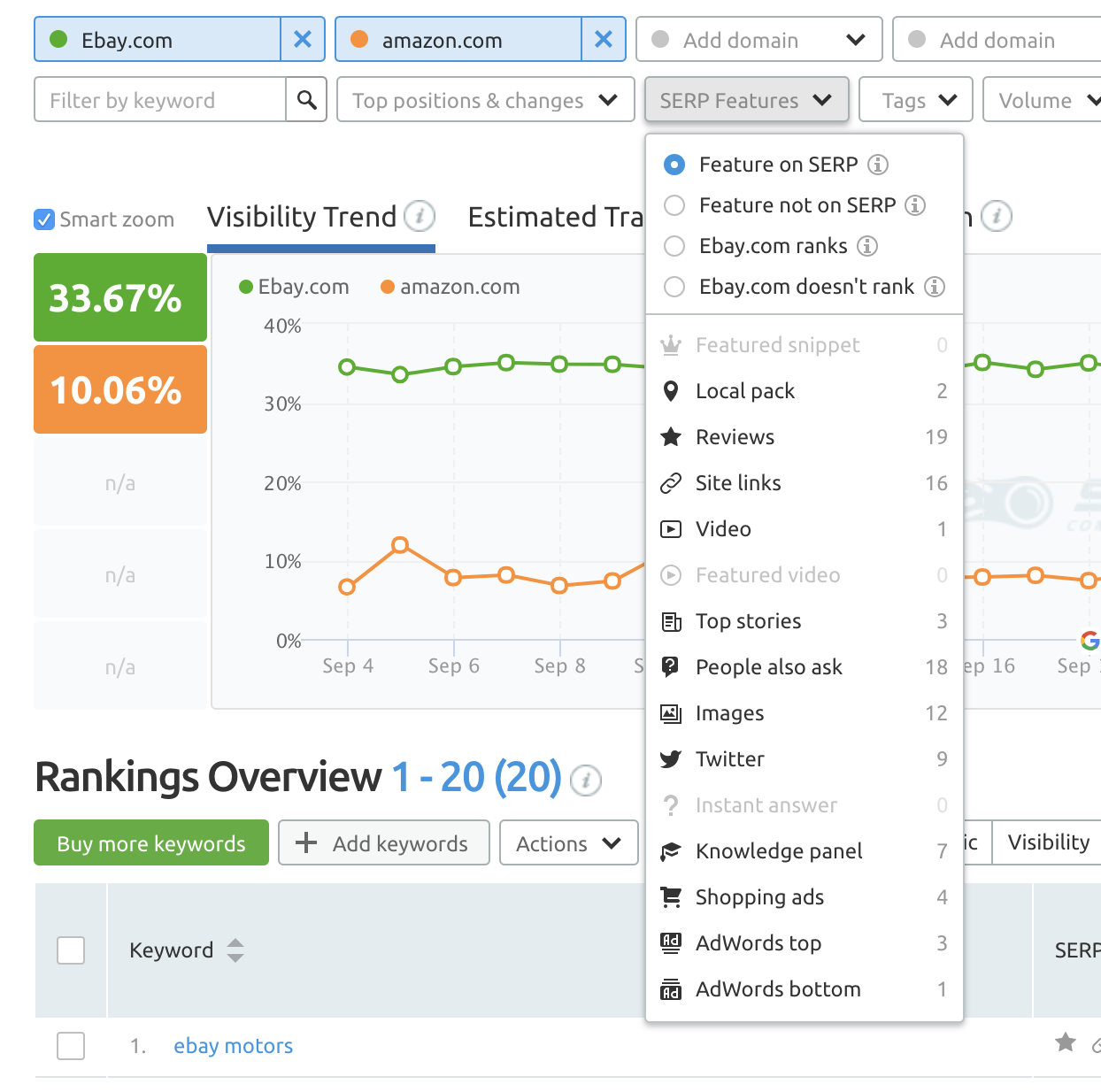 So, how you can play around with these filters? Here are some scenarios you might want to try out:
1. Check which keywords in your campaign trigger a "Target SERP Feature" to see where you should focus your efforts.
Choose in the SERP Features drop-down menu → "Feature on SERP" → select the target feature.
2. Check to see which of your target SERP features are already occupied by your rivals. There will be times that you will see some giant is in a SERP feature and you won't have a chance to move it. Don't give up - find those queries where you can have a fighting chance to win.
Set your domain as the first in the top menu, choose in the SERP Features drop-down menu →"your domain doesn't rank"→ select the target feature.
3. Check where you managed to earn a SERP feature. It is a good way to show your client or boss that your strategy is working.
Set your domain as the first in the top menu, choose in the SERP Features drop-down menu → "your domain ranks" → select the target feature.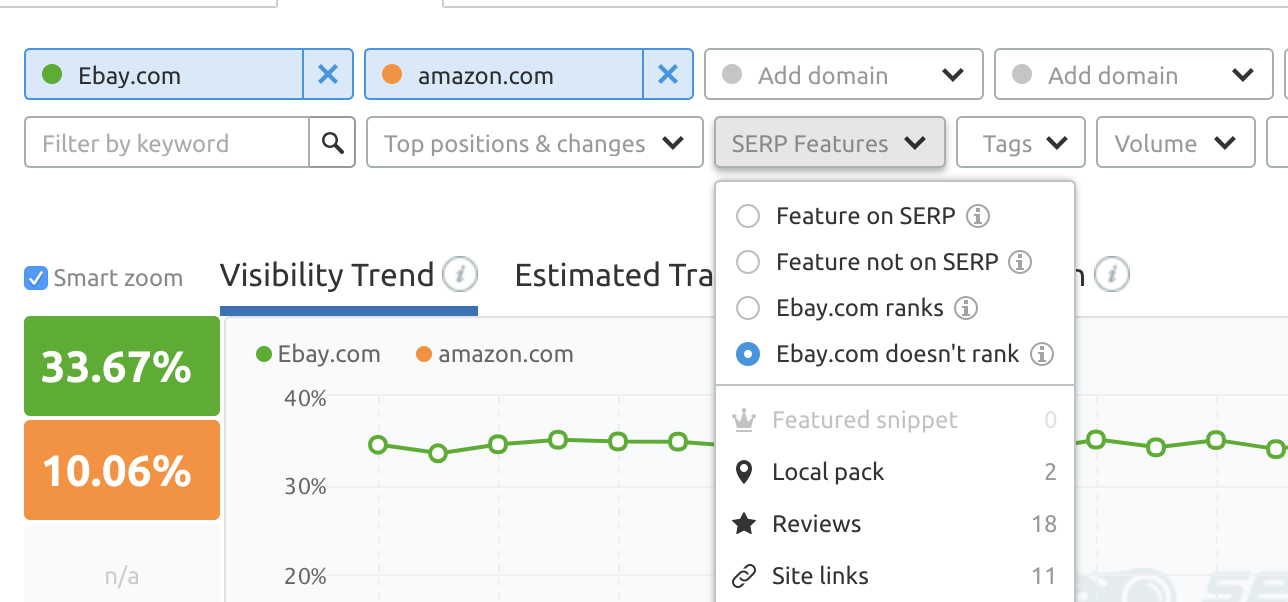 Check out our blog post on how SEMrush toolkit can help you win SERP features if you want to learn more.
#7 Featured Snippets Report
If you have already jumped to Position Tracking to play around with SERP features filters, there is a chance you may have started with Featured Snippets. Featured Snippets is one of the most popular explored SERP features and to simplify the process of finding all your low hanging fruits, we added this new report.
So how does it save you time?
First, you will want to open this report and stay in the Opportunities tab. The 'Difference' column will show you where you hypothetically have the same or even better chances of winning a Featured Snippet position (a positive number means you rank higher in organic results than the domain that occupied Featured Snippet).
Go to your rivals page and analyze what is so special about it. These values could range from on-page SEO elements, the structure of the content, the way it answers user's question, and other aspects that you have missed together with 'position zero'.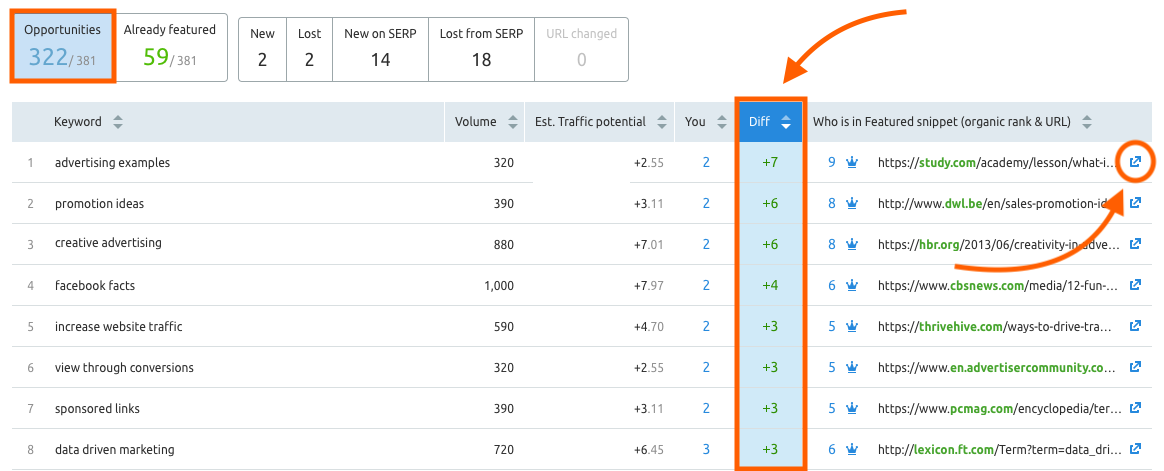 On top of that, this report will automatically show you all the Featured Snippets that you won, where you have lost them, and which keywords started or stopped triggering Featured Snippets in your location. With constantly increasing SERP's volatility you have to remain flexible in your process.
#8 Tracking Results in Local Pack Using Business Name
The other 'good to win' SERP Feature is Local Pack, especially if your business operates in different cities and your customer flow strongly depends on geolocation. Getting into local packs requires a lot of off-page work, this includes Google My Business page optimization, correct and consistent NAP data usage, citation management and tuning up your website for local search.
Making sure you are accurate in your position tracking efforts is very important!
If the Local Pack is an opportunity that applies to you, don't forget to set up your business name for all your locations to see where you managed to get into those Local Packs and where Google doesn't include your domain. This area is especially important when you target mobile devices. If you notice that the spelling of your business name doesn't match the one that you currently have in Local Packs, that is a red flag that could mean you need to go back to the previous steps and recheck the information you provided.
#9 Interface Language Selection
Picture yourself as an SEO specialist who works on improving a website's visibility on desktop and mobile in the following countries: USA, Switzerland, Canada, Belgium, UAE, or Thailand.
In this instance, there are many challenges. Your customers speak and search for information in different languages. To help people get relevant and easy-to-understand results, Google detects both geolocation and a browser's language. So, to track the most accurate results, make sure you specify the language in the setup stage.
#10 Tags
Let's imagine we work on the optimization of an online store that, for example, sells sports equipment, clothing, and offers a big assortment of goods. In this case, we have thousands of keywords for various product categories, various locations, seasonal occasions, genders, ages, and colors. I am sure you realize that this list can go on and on. You have two options here: give up or use tags. Let's stick with the second one. Assign the right category to the group of keywords, and you can easily sort them afterward.
Also, circling back to the Competitors Discovery report, you can click on one tag and see different rivals for different niches. You would have to compete with different companies when aiming to get to position 1 for the keyword "cheap bikes" and for the keyword "summer swimming suits sale." Using these examples, you will get a much clearer picture.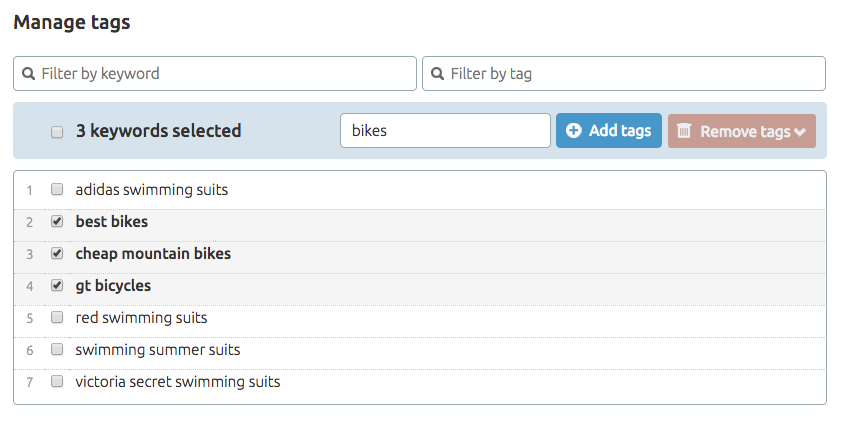 #11 Customized Alerts
A very passionate SEO specialist might want to check all the queries daily and chase every opportunity for improvement. But with the increasing madness on SERP, there are fewer professionals that can handle this much work. Especially in the case mentioned above, when you have over 1000 keywords in one campaign. Save your precious time and set up custom alerts to receive email notifications only when you have the type of changes that are important for you. For example, major gains or drops in your SERP position might need your attention.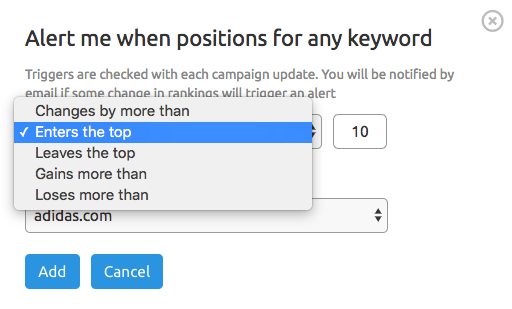 #12 Stunning PDF Reports
No matter how hard we try, most of the time we face the challenge of proving that our efforts bring valuable results. Numbers do talk, but when you show them to your boss or client - the 'picture' also matters. With our PDF builder, you can make a visually appealing report in a few minutes. This add-on eliminates the need to create reports manually, automatically updates your results, and sends it out to everyone you choose. Moreover, you would just need to set it up once, and then you will receive customized updates for as long as necessary to achieve your goals.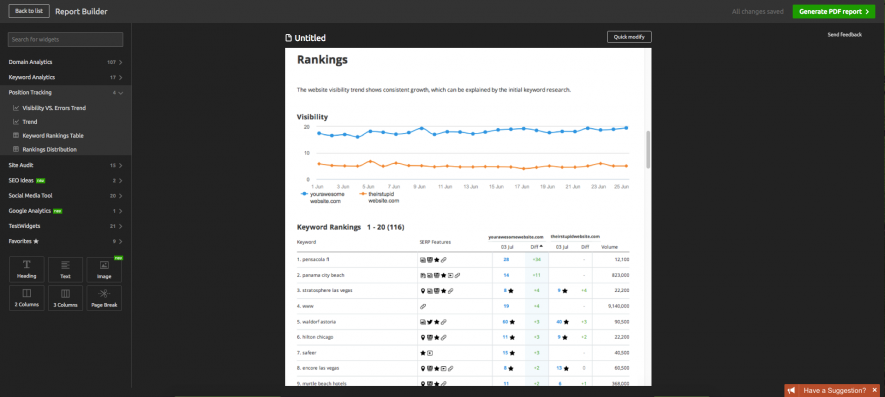 #13 Track it down on the go!
How to stay vigilant 24/7? Just track your website positions right on your mobile device with the light view-only mobile version of the Position Tracking tool. Free, and available for Android and iOS, the app lets you to monitor all your set up projects in all locations, wherever you are. Once logged in, you can view all your projects running in the tool. Check all the basic metrics (Visibility, Estimated traffic, Average position) to stay up to date with ranking fluctuations. 

Share your ideas with us!
Keep up with our product news in the News Section, here on our blog in the Discover SEMrush category or on our official Twitter account.
And don't forget to share with us all your thoughts and suggestions at tracking-tool-feedback@semrush.com.
Let's make our Position Tracking Tool even more awesome together.
In order to meet your SEO campaign objectives, you must develop effective strategies across multiple activities. Tools play an essential part in reaching this goal, but with many different tasks to complete (including link building, keyword research, and site auditing), you can quickly find that the cost of subscribing to SEO tools becoming very expensive. The solution is our SEO toolkit,...
Get Free PDF