SEO Analysis Drives Major Trucking Company Hiring 100s of Drivers — Semrush Reality Show Episode #1
Mar 10, 2021
7 min read
The Semrush SEO Reality Show is lining up to be a big hit! Our preview episode and blog post has already had many views and a lot of folks are now primed and ready to dig into the substance. 
This week in Episode #1, we're introducing the first SEO Reality Show client and the agency Semrush paired them with — and we'll dig deep into the SEO analysis and competitive benchmarking that will be used to solve big marketing challenges that confront many businesses. This is a first-of-its-kind look behind the scenes to get perspectives of the agencies and brands that face real-world challenges every day.
First Brand Client: Halvor Lines
Based just across the Minnesota/Wisconsin border from Aimclear's home office, Halvor Lines is a family-owned trucking company that has become a powerhouse in transportation and logistics across the Continental U.S. and Canada.
Halvor's steady, purposeful growth has put it in a highly competitive space of big transport and logistics players. Some stats about Halvor:
Founded in 1968 to haul snowmobiles and Christmas trees across the U.S. and Canada
500+ trucks 
1,350 trailers
500+ drivers
6 terminals across four states (WI, MN, IA, IN)
Hauling and logistics serving 49 states and all Canadian provinces
Halvor is great at driver retention. They operate a fleet of state-of-the-art rigs and follow transportation best practices for efficiency and safety. A driver-focused company culture ensures drivers feel valued and have great flexibility for work-life balance. Drivers can start with Halvor as their first over-the-road job and build a long and rewarding career. 
Challenge is, a booming transport industry means virtually all trucking companies are vying for drivers. However, the biggest and best players in the market are seeking drivers with deep experience alongside the up-and-coming top truckers who are fresh out of driving school and may or may not have a commercial driver's license ( CDL). 
Winning the search battle for prospective drivers is key.
First Agency Up: Aimclear
Minnesota-based Aimclear has been a leading digital marketing firm for a decade and a half. Known around the world, the agency has a history of being a trailblazer in all aspects of digital marketing. With 17 US Search Awards under its belt over the years, this agency has made waves globally from its home office in Duluth, Minnesota. Led by founder Marty Weintraub, the Aimclear team is tasked with helping a major trucking company win in the highly competitive market to hire qualified, talented drivers. 
Reaching prospective truck drivers for jobs in a market where openings often far exceed the number of qualified applicants, has huge implications for multi-million dollar trucking companies.
The Marketing Approach — Capitalize on Competitors' Weaknesses
Episode #1 introduces the agency's employee recruitment strategies and outlines other fundamental objectives. Beyond the competition for drivers, Halvor Lines encountered challenges typical for many businesses. 
Overall, the Halvor website was good as Aimclear took it on, but needed the SEO structure required to compete in 2021. The content of the site was also relatively good, but still wasn't drawing in the views that would lead to conversions (clicks to the " Drive with Halvor" page). 
With highly competitive SERPs and other challenges, this project is made a little easier by having a client that understands there are gaps to close and is open to new ideas to do so. Forward-thinking brands like Halvor are the ones that can win in digital channels. Key aspects of the Aimclear-Halvor project:
Client and agency alike are data-driven
Clear goals and targets create a foundation on which to advance
Buy-in at the highest levels on the client side
The Halvor team and Aimclear set out to maximize the things that are working well and matter most to prospective drivers. Remember those beautiful, fully-appointed rigs with Halvor logos all over them? 
Halvor typically buys 150-200 new tractor units every year and retires trucks after 48 months of use. Halvor wants their drivers in the nicest big rigs on the road. The company's training is top notch and is geared toward drivers already licensed AND those who are moving right from trucking school into training to help them get their necessary CDL. Drivers should WANT to drive for Halvor.
Competitive Benchmarking Using Semrush's Tools
Aimclear's SEO lead, Lea, is tapping Semrush extensively for this project to create a powerful program. Key areas of focus:
ID the competitors that were winning the SERPs
Determine gaps in the competitors' approaches to make them vulnerable to smarter SEO strategies
Use data to inform the content that reaches targeted driver types
The Aimclear team tapped several tools within Semrush for this project, but three specific reports from the Position Tracking tool really came into play as critical elements:
Landscape: Aimclear's top SEO will use this report to get a rolled-up view of the site's overall performance, from keywords to pages. It also measures the Halvor site against top competitors. By analyzing Halvor's trends in visibility (changes in searches against specific keywords over the last 12 months) and estimated traffic, the Aimclear team can craft SEO strategies to capitalize on missed opportunities. 
Overview: This report allows the team to monitor the keywords Halvor Lines needs to rank for the most against competitors. This provides insight to know when Halvor gains rank over each competitor and measures the effectiveness of new content being created. 
Ranking Distribution: The team uses this report to see a clear overview of rankings for Halvor and competitors for the top 3, top 10, top 20, and top 100 organic results in Google.
How the agency launched Position Tracking reports for Halvor Lines — 6 steps
To get the full benefit of Position Tracking reports, the Aimclear team took some foundational action in this order:
Before going directly to the Position Tracking tool, the team started with keyword research to compile an effective list of targeted keywords. Starting with the Domain Overview section, Aimclear dug into the Organic Search Positions report to see what types of keywords the client was ranking for at the start. It became evident the client was only ranking for branded terms ("Halvor Lines", "Halvor Lines trucking"). The information gathered underscored the opportunities ahead. 
With core ranking data in hand, the team asked the client to identify who they felt were the other big players in the space. The team turned to the Organic Research Competitors report to more deeply assess who the key competitors really are.
The Aimclear team did the same domain analysis and used the Organic Search Positions report to see where the identified competitors rank and what they rank for. These lists boiled it down to the keywords in the account that the team now had in hand. The final competitor list included some regional companies and a nationwide publication that has a lot of content about the industry but isn't hiring drivers.
To compile the list of effective keywords, Aimclear used the Keyword Gap tool. By simply adding the halvorlines.com domain and the domains of competitors into the tool, they were able to determine which keywords were missing, which keywords were unique, and the ones that would offer a great opportunity. For Halvor, this resulted in a list of 77 keywords ranging from the obvious ("truck driver jobs" and "trucking jobs") to high-value keywords associated with deeper terms about driver licensure and other attributes. In the interest of protecting the client's competitive edge, we can't share the full keyword list.
With the final list of keywords to target and the list of competitors to track, the Position Tracking tool was used next in the process. The team set the parameters for the Halvor Lines website ( www.halvorlines.com) and explored location targeting broadly because Halvor can recruit drivers from virtually anywhere. The team set the device option to "focus." This will shift to mobile tracking, because moving forward, Google is all about mobile indexing. 
We've added our list of 77 keywords and 8 competitors during the set-up settings.
Finally, the team launched tracking and collected data for further analysis. After the initial work was completed, the team kept a finger on the pulse with the Position Tracking section's Landscape, Overview, and Ranking Distribution reports. Be sure to check in on the upcoming episode to see the types of data obtained, how it was treated, and recommendations derived.
Infographic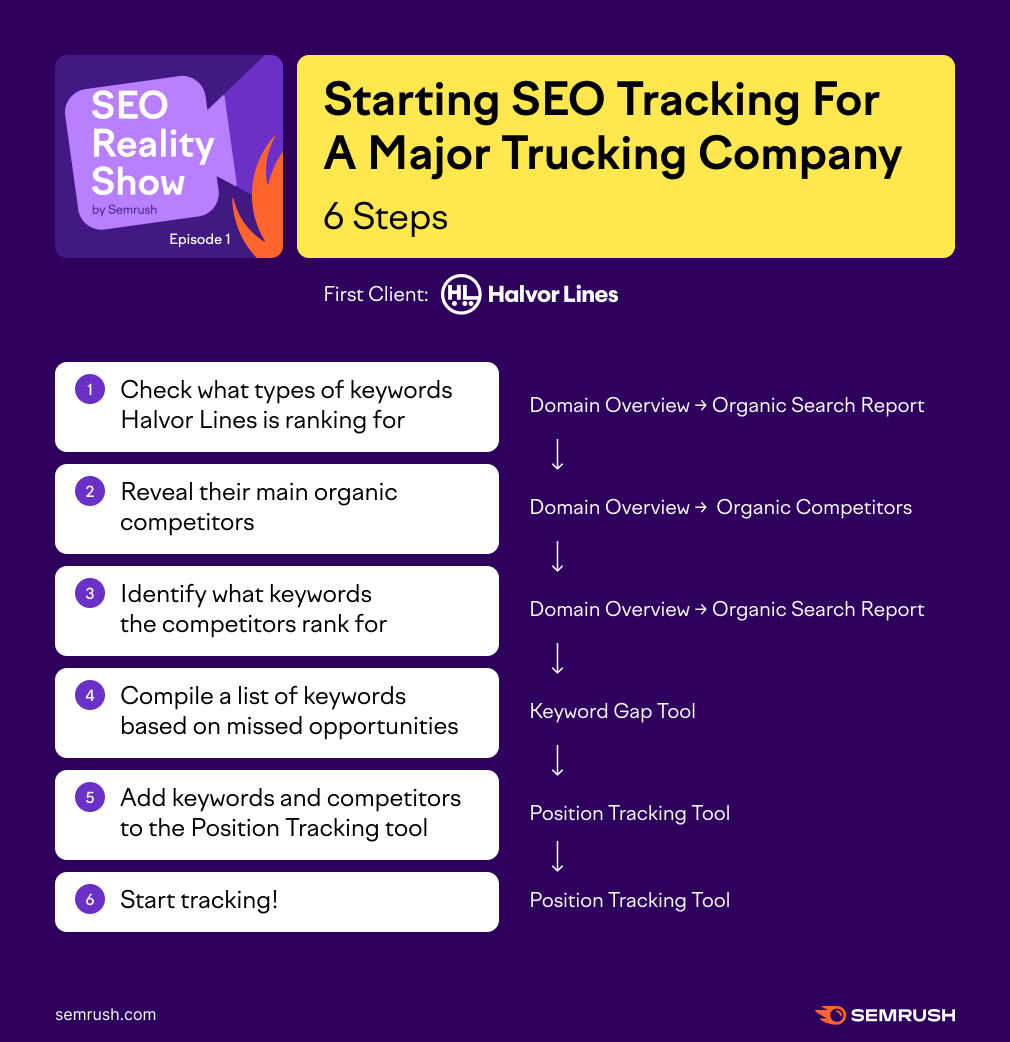 What's next?
Using data from these reports, the agency is serving up core recommendations that require collaboration and some heavy lifting by the client and agency teams. These recommendations focus on content that appeals to the specific needs of prospective drivers, based on the type of research they are doing online.
Aimclear's content recommendations and deployment will be outlined in greater detail in an upcoming post in this series. But as a preview, you'll see how the keyword research and other competitive benchmarking deploys for great improvement in SERPs and conversions. You'll also see how the data informs content decisions, including real-world driver stories that put a relatable human face to the issues of greatest interest.
Telling stories that appeal to their interests (and searches) is essential. 
Of course, the content is being deployed infused with the powerful keywords and terms pulled from Semrush, which is the assignment!
Without giving everything away, let's just say we expect Halvor's huge fleet just might not be big enough for what's ahead in 2021! The teams are still working feverishly on content deployment, measurement, and reporting. But you'll see the outcome later in March.
Meanwhile, be sure to watch for the next installment of Semrush SEO Reality Show when you'll meet the other agency in this series — Re:Signal out of the UK. The Re:Signal team is another award-winning, industry-shaping group of top-notch marketers who exact their own digital wizardry, powered by Semrush's tools. 
Anna Kochegura
Bringing over 5 years of marketing experience to Semrush awesome products in France. Now exploring new horizons of the digital world and shaping inspiring data-driven projects.