During the past year our SEMrush Site Audit tool has become more powerful. We have added a lot of new checks and have made a lot of upgrades that you will find very useful.
So now is the perfect time to tell you what has changed in our audit tool. We are going to give you a brief overview of some of the changes and then dig deeper into each one. 
New Statistical Data and Three New Thematic Reports
International SEO report - one of the best International SEO reports on the market for sure which includes 13 hreflang checks wrapped up in a great UX/UI for more convenient work with a large amount of data.

HTTPS implementation report -a new thematic report, which includes 10 checks for monitoring a site's security state.

Crawlability report. Overall statistics - around 15 parameters altogether regarding your website crawlability.

New data in statistics page - HTTPS status code, AMP links, hreflang usage, markups, crawl depth, etc. Now it contains around 20 parameters for a greater picture of what changes should be made.
Integration with Other Tools
Integration with Google Analytics- connect GA and sort all pages by the number of unique visits to ensure you fix any possible mistakes on the most important webpages.

Integration with SEOquake - when your Site Audit campaign is set up for a particular domain, you will be able to see stats about a page's mistakes in the SEOquake toolbar.

Integration with Trello - you can send info about mistakes on specific pages to your webmaster or team members for correction.
Flexible Settings
Ability to run a daily monitoring - once a week or once a day, now it is totally up to you. This feature can be very handy during complicated projects, like moving to a HTTPS version, for example.

Ability to hide issues you don't care about - if there are specific issues you consider insignificant you can now just exclude them from your report.
International SEO Report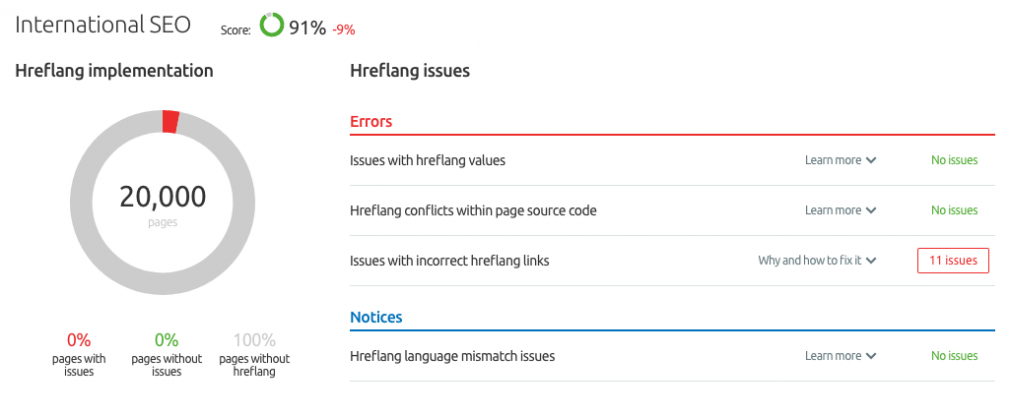 These reports offer a large amount of data that is presented in a clear format, and they provide not just a list of the pages where mistakes were detected, but also point out the mistake.
All 13 checks can be combined into 5 categories:
Issues with hreflang values

Hreflang conflicts within a page source code

Bad hreflang link

Potentially missing hreflangs

Hreflang language mismatch
Data about how often these mistakes appear and how to fix them can be found in our study - 13 Most Common Hreflang Mistakes - SEMrush Study.
HTTPS Implementation Report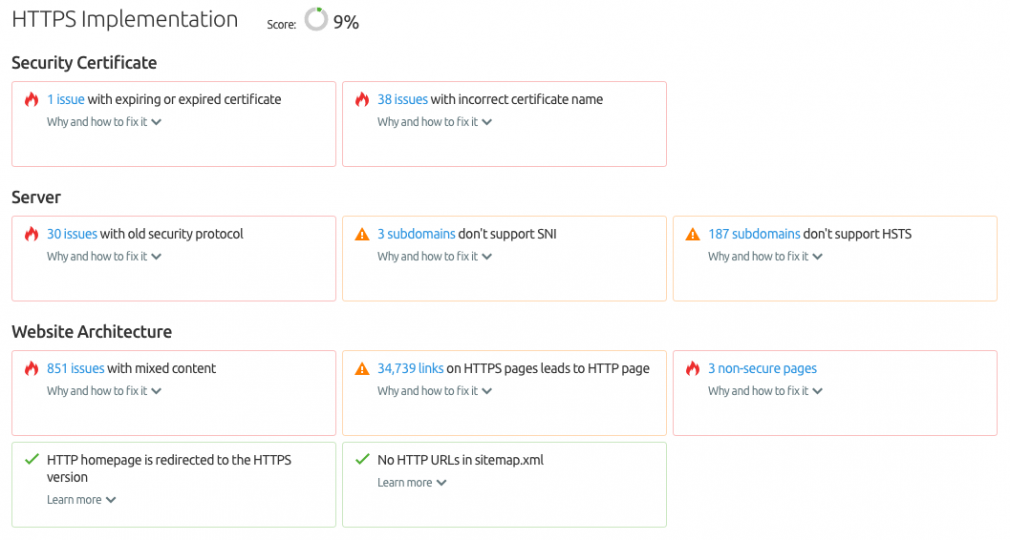 I believe that the IT industry has never had to face the avalanche of security problems like it did this past year. Website security is a top concern to many, and our contribution to help combat security threats is in our HTTPS implementation report.
Whether it is mixed content issues, non-secure pages, expired SSL certificates, no SNI or HSTS support - it is all in the report.
For more information about what mistakes our Site Audit can detect and how often they appear, see the  10 HTTPS Implementation Mistakes - SEMrush Study.
Crawlability Report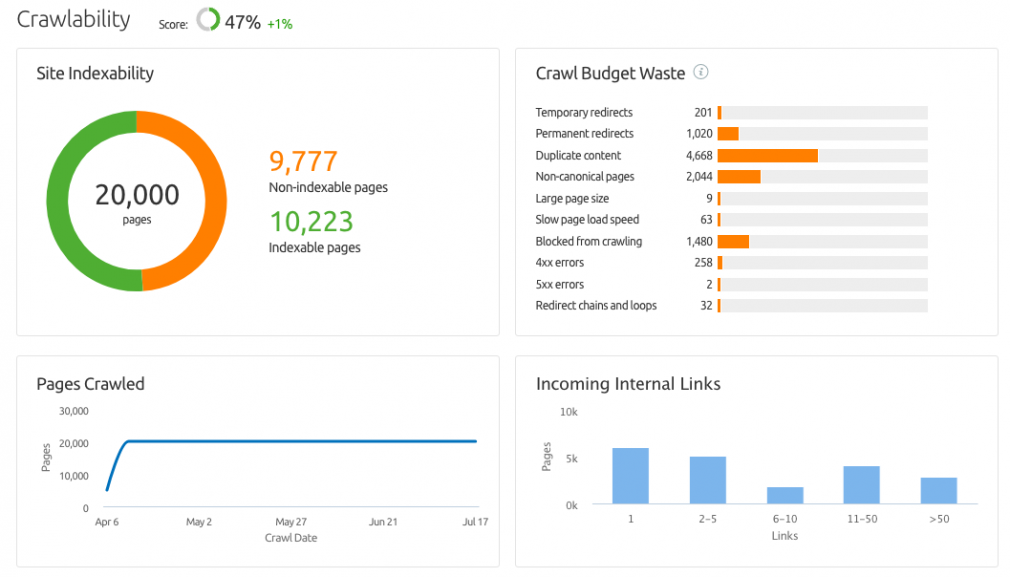 This is a brand new report, recently launched, and it is all about crawlability: it does not just cover mistakes, but also offers valuable knowledge on page crawl depth, linking, redirects, HTTPS status codes, and more. There are around 15 parameters altogether, and it offers an important new check for redirect chains and loops.
New Data in Statistics Page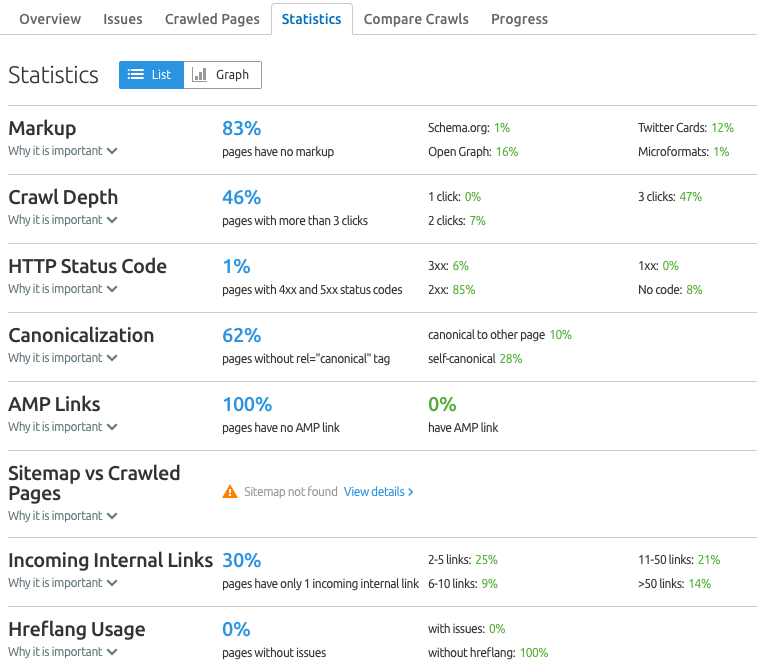 This isn't really about mistakes, but offers useful website data you need to know for an overall picture:
Markup
Crawl depth
HTTP status code distribution widget - was added this year
Canonicalization
AMP links - we didn't found another site auditor providing this info, by the way
Sitemap vs. Crawled pages
Incoming internal links
Hreflang usage - also was recently added.
Integration with Google Analytics
Thousand of mistakes on thousands of pages can frustrate anyone, so try and help make your work easier we added integration with Google Analytics.
After you connect your Google Analytics account, you will be able to see the number of unique visits in Crawled Pages report. By the way, this report contains advanced filters - you can filter pages by URL, and also by 8 additional parameters (listed in the Statistics page- you can see them above).
Integration with SEOquake
GIF
The SEOquake toolbar provides SEO information for a specific page, but with the integration of our site audit tool, it will also display a number of problems detected on a particular page. Сlick on the 'Site Audit' icon on the SEObar and you will see a dropdown menu with a list of issues for the current page and a 'View Details' button leading to the Site Audit report page.
Integration with Trello

The big green button will make your life easier. You can go to the Issues Report to see the data about different types of mistakes, choose the ones you need to be fixed, and send them to your webmaster. You also have the ability to add comments.
Ability to Hide Issues You Don't Care About
This option is right next to the Trello button; you can see it in the previous screenshot above. There are times when something pops up in a report that is not a priority for you or your clients, so you can now hide/exclude the issue.
Another bonus, whenever an issue is "hidden" that issue will not be a part of the "total score calculation". The excluded checks will appear on the top - right next to the information about the project, and you can easily restore excluded checks or choose more data to be hidden.

Ability to Run a Daily Monitoring
The work on websites never ends and, with constant changes, it is important to make sure that the modifications are not hurting the website. Some people want to run daily site audit reports to keep a record of the overall health of their site, while others need to make sure a big change is handled correctly. You can now set the scheduled for how often you get these reports.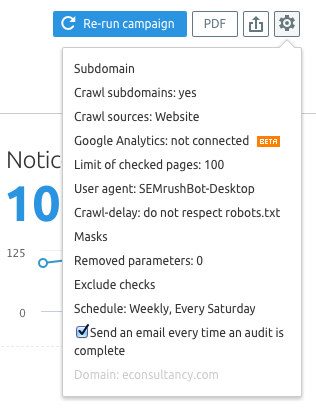 Just a quick note about where you can find this setting - it is in the top right corner with all the other info about your project settings.
If you like to know more - check our series of webinars where experienced SEOs review sites submitted by the public using SEMrush Site Audit Tool. 
Thank you note!
We want to send our appreciation to many industry experts that helped us to improve and develop our new reports. Thank you so much for your emails, video calls, LinkedIn messages, posts on the SEMrush blog, feedback and support! The experts that helped us are:
Alex Chris- Digital Marketing Manager at Reliablesoft.net
Aleyda Solis -  International SEO Consultant & Founder at Orainti
Dan Kern - Owner of Acne.org and DanielKern.com
Dawn Anderson - Digital Marketing & International SEO Consultant - CEO and Founder Move It Marketing Digital Agency
Fili Wiese- SEO Consultant at SearchBrothers.com, leading SEO expert and ex-Googler
Guy Levine - CEO and Founder of Return on Digital
Joe Robison - Founder, Consultant at Green Flag Digital
Kaitlin McMichael - Senior International SEO Strategist at Getty Images
Lukasz Zelezny - SEO and Social media speaker and consultant 
Martin Kura - Freelance International SEO Strategist  
Tom Caulton - Digital Growth Specialist, SEO Consultant and Digital Marketing Executive
[ create-campaign bg_images="https://static.semrush.com/blog/uploads/media/9f/4e/9f4eebb206604bf5c4b6b367c17d9e0a/banner-site-audit.jpg" bg_button="-success" header="Check out your website health" text="with SEMrush Site Audit"]