This summer SEMrush celebrated its 10th birthday!
We have come a long way from a small startup to a globally recognized best digital marketing toolkit. We are very proud that now, with over 30 tools, we can cover you on all fronts of the marketing battlefield, from SEO and PPC to social media and content marketing. And we continue to grow! But just like a startup, we remain hungry keeping the spirit of innovation, and striving for continuous improvement.
We could have allowed ourselves a little rest and taken a break, but instead, this summer turned out to be full of updates for us! Today we are very happy to share with you the fruits of our anniversary summer.
Keyword Research
New Databases In the Keyword Magic tool
The first feature SEMrush offered its users 10 years ago was keyword research. And for years we have been known as one of the best solutions for SEOs. Yes, we are growing and expanding, but we do remember our roots and continue to provide the best keyword research service on the market.
It is very symbolic that the summer of our 10th anniversary we have made a giant leap and extended our keyword databases up to 118 countries and 7.7 billion keywords, which makes us the biggest keyword database available on the market right now!
We know you are going to love it!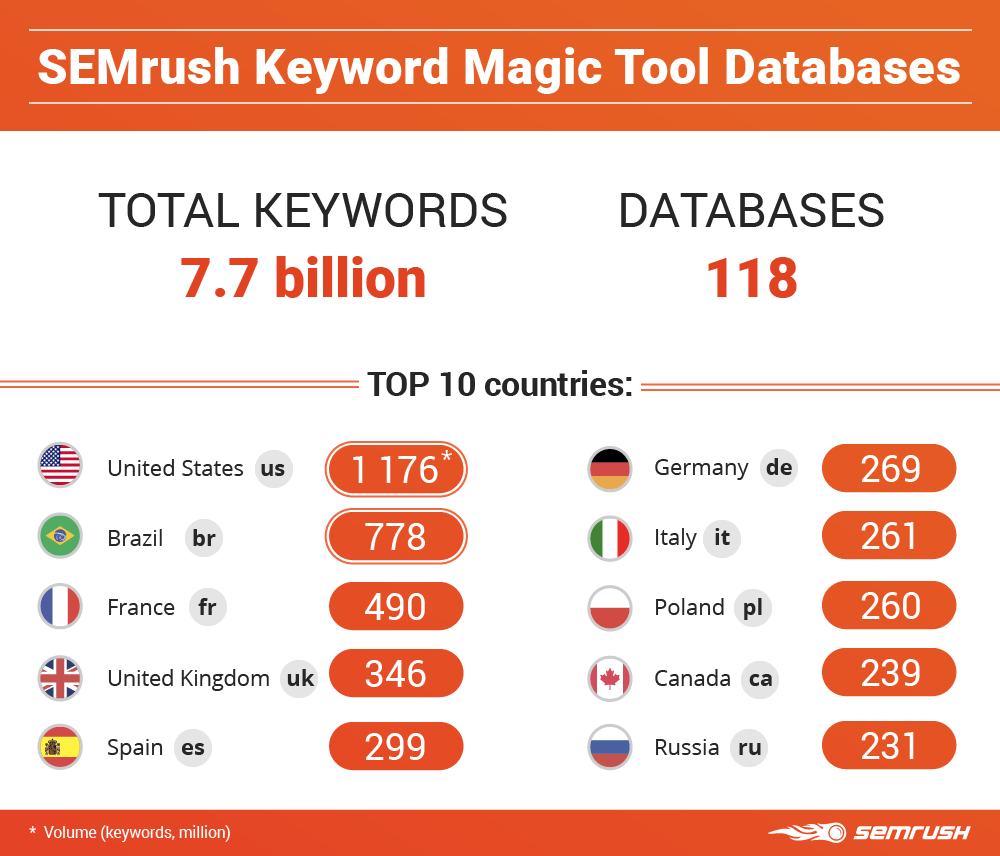 We also know that it is not enough to just provide great data; to employ it, you also need assisting metrics, features, and filters within a friendly interface.
So, if you have never tried our Keyword Magic tool, try it now. This tool gives you opportunities to explore niche topics, find semantically related question and long tail keywords, identify what triggers SERP features, and refresh all metrics in real time.
Check all of the databases available in the Keyword Magic tool.
If you are new to the Keyword Magic tool, see how to make the most of its capabilities in our guide.
New PPC Tool to Give You a Bigger Picture at the Local Level
Of course, keyword research is not just about organic; it is about paid traffic as well.
The brand new CPC Map tool, released just a couple of days ago, gives marketers an opportunity to approach keyword research from a global perspective. CPC Map goes beyond single-keyword metrics, giving you a more complete picture of advertising costs in your niche. Moreover, we provide this data at a local level.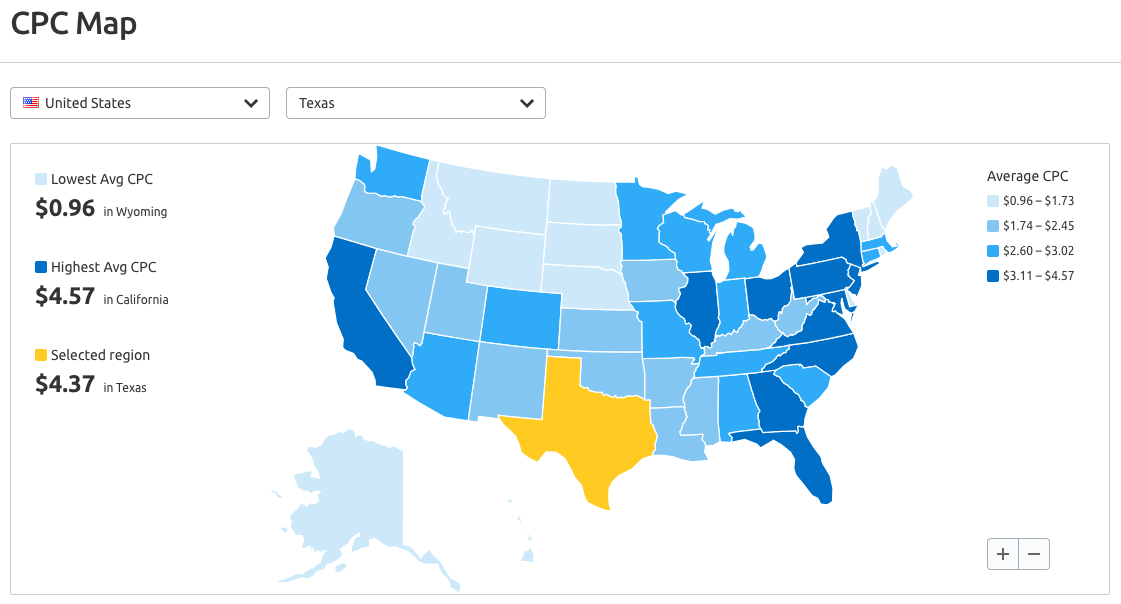 With over 2 million keywords analyzed, CPC Map gives you an overview of how expensive it is to advertise in a particular niche (the data is available for up to 20 verticals, depending on the country) in a specific state or region. The icing on the cake is the top-3 most expensive and most popular keywords in each state and niche: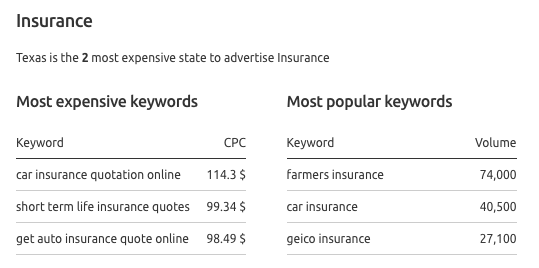 Beyond the United States, CPC Map is also available for the UK, India, Canada, Australia, South Africa, Russia, Italy, and Brazil (with more countries coming soon).
Mobile Data in Traffic Analytics: The Jet Engine for Your Business
Mobile internet usage has surpassed desktop web browsing worldwide, even according to the most conservative studies. And the way people engage with content on various devices is very different.So if you want to stay competitive in 2018, it is vital to understand the impact of mobile traffic on your marketing niche.
Our revamped Traffic Analytics tool is now your right hand for this. We added mobile data analytics and can now provide you with a full picture of any rival's or prospect's website traffic.
In the Traffic Overview, Geo Distribution and Subdomains reports you can now choose to see mobile or desktop data or have both traffic sources in front of you at the same time.
To let you fully enjoy the new mobile data, we have prepared a special promotion. All paid users are temporarily getting full access to all Traffic Analytics reports until the end of October. Take a look at our plans and choose which one suits you best!
SEMrush for Local SEO and SEM
Brand New Listing Management Tool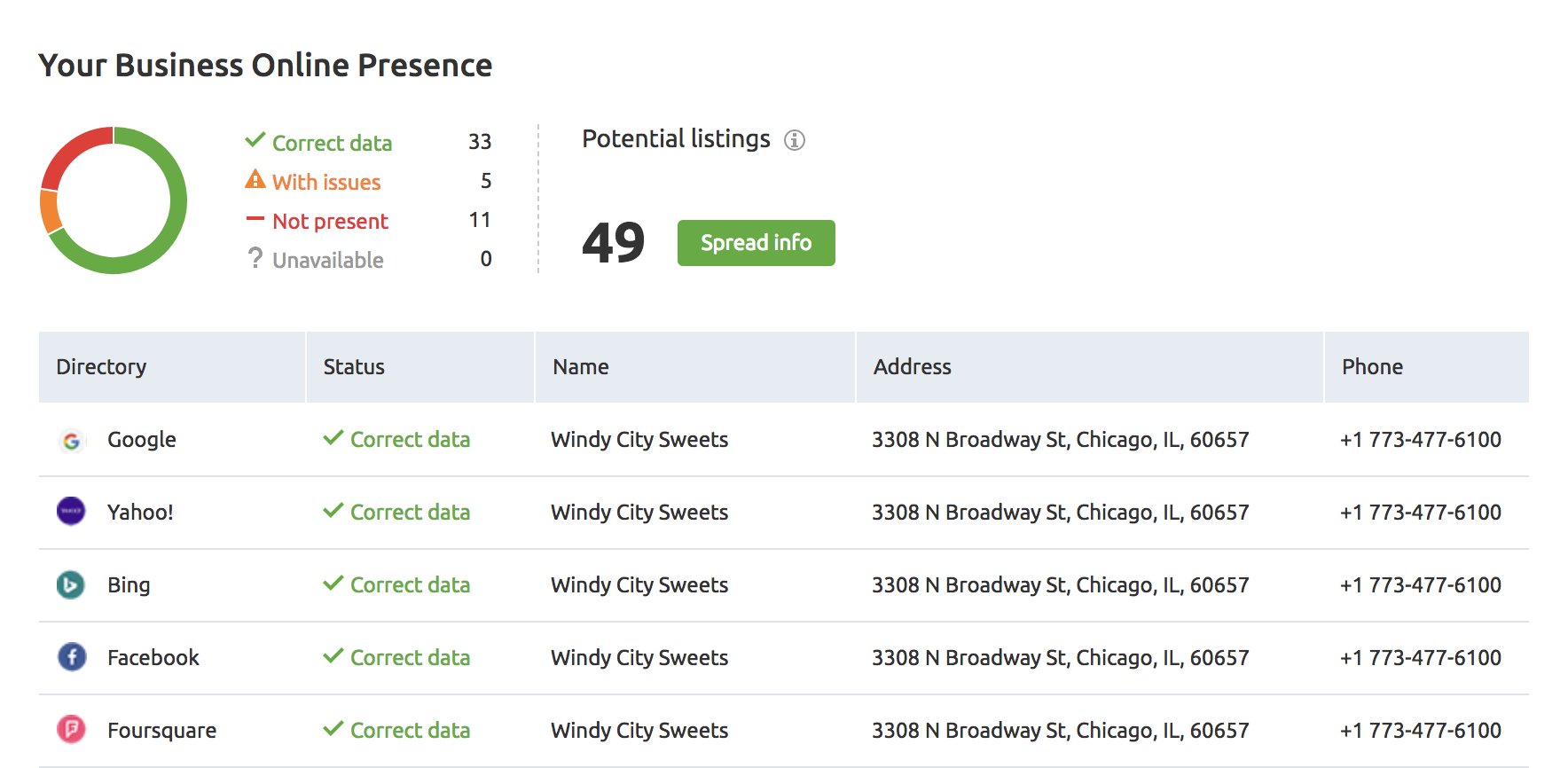 For local SEO specialists, we have prepared not just one but two significant updates.
Presenting your brand new tool — Listing Management, a simple solution for automatic distribution of your NAP on 50+ directories including Yelp, Foursquare, TripAdvisor, Facebook, Apple Maps, Yahoo, Bing, and the most recent addition — Alexa.
No manual changes needed, high speed of data update, and a great price — we hope the Listing Management tool will be your indispensable helper.
If you want to learn more details, check out our new guide Four Ways to Improve Your Local SEO with SEMrush.
Position Tracking: Hyper Targeting by ZIP Code
And there is another great feature which can help with local SEO. The new setting in Position Tracking will allow you to narrow down the targeting by the ZIP code. More than 98,000 locations are currently available for tracking!
With our unique Position Tracking feature to identify and show SERP features for particular keywords, you have a powerful tool to track your local competitors' efforts, find more opportunities to appear in local pack and be visible to the audience right in your neighborhood.
Learn more about  12 Features You Have To Try Out In SEMrush Position Tracking Tool.
Remastered Domain Analytics reports
Our Organic Research and Advertising Research reports have always been among the most popular SEMrush tools. We have been working hard during the last months to update their look and feel, but also to add new features to make these reports even more useful to you.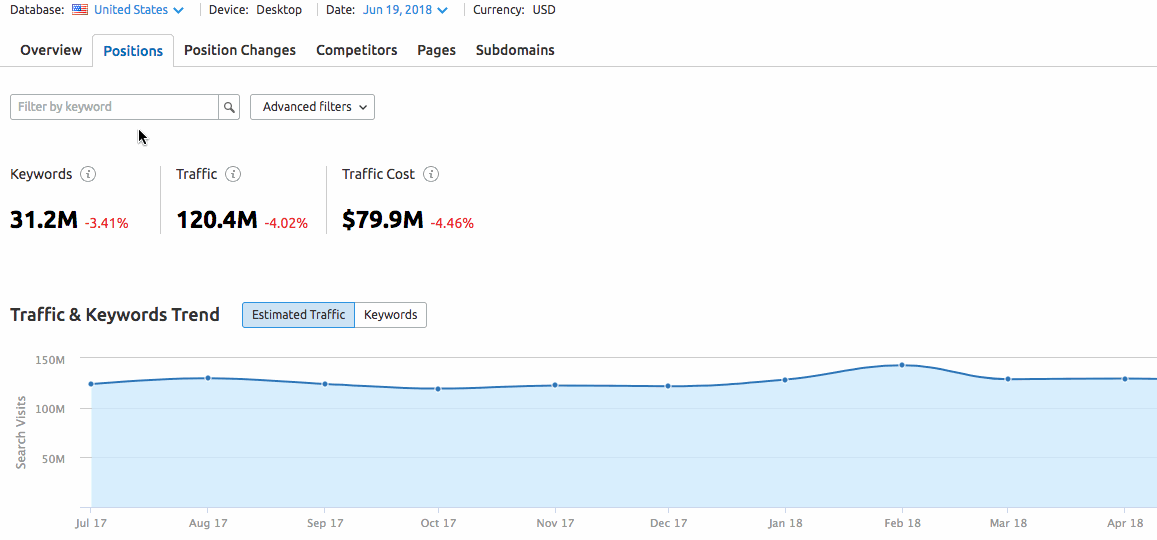 As a result, you can now enjoy the enhanced reports with dynamic charts and more up-to-date traffic data flow.
Along with the Organic Research and Advertising Research reports, we have also revamped the PLA analytics, to give you a better overview of your competitors' Shopping campaigns.
Internal Linking Report in Site Audit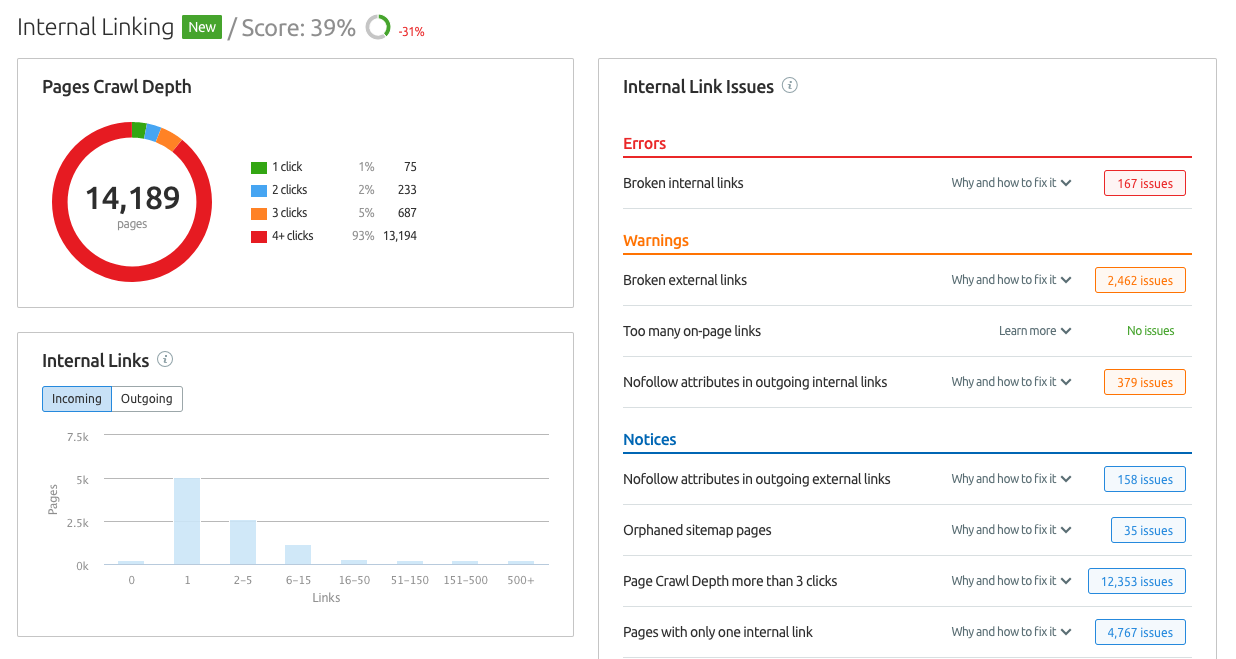 Taking care of website health — from surface level to in-depth analysis — is an indispensable task of every SEO specialist. To make it easier this summer we've added a new thematic report to our Site Audit tool — Internal linking.
This is our fifth report along with Crawlability, HTTPS, International SEO and Website Performance reports.
Measure PR effectiveness with the Brand Monitoring tool
Evaluate how successful your PR activities are with our new features. Monitor where and how often your brand is being mentioned, see the amount of referral traffic from all of your backlink mentions, or check the estimated reach that you potentially get from each mention.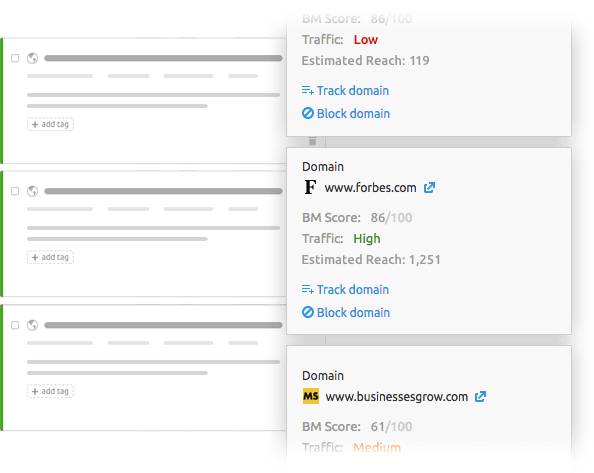 Plagiarism Check in the SEO Writing Assistant
Now you can not only get actionable recommendations for content optimization but also check the text for uniqueness. This plagiarism check feature detects the total percentage of copied words in your text and identifies original sources of content from across the internet. The feature works for all languages and is available for Guru and Business plans.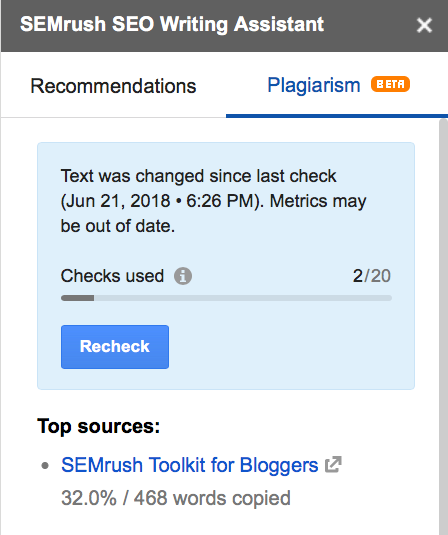 What do you think?
Let us know what you think of all the new tool options. If you want to stay updated, you can always check our News Feed and follow us on social media. Leave us your comment below — send us your feedback, suggest your ideas and let us know any changes or additions you would like to see.