You may have seen the new Video Advertising report within Semrush. It's a lot of information to take in! Maybe you feel unable to get a firm grasp on the data. Well don't you worry! Keep reading and you will soak this information up like a sponge in no time.
First, start by going to the Video Advertising section. For demonstration purposes, we will be looking at toyota.com. As with our other reports, you will be first brought to the section's Overview page. Here we can see an overview of how many ads we discovered, how many channels Toyota appears on, the amount of videos Toyota appears in, along with the first, last and amount of times we have seen their video ads.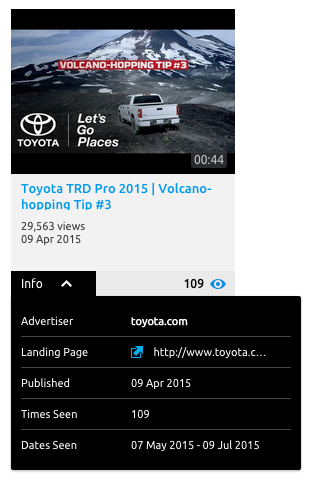 In the summary box, you will see this data broken down. To the right, you will notice a line graph breaking down times seen, video ads, channels and videos. The same information is displayed to the left, however, you see a clearer visual with the graph here. As with the other graphs we feature, you can change your view to 1 month, 6 months, 1 year, 2 years and all time.
Below, you will see these actual video ads. The amount of views the video has will be displayed as well as the date it was posted. The number listed next to the eye icon will tell you how many times Semrush saw that particular ad. By clicking the info dropdown, we can see the advertiser, the landing page associated with the given ad, when it was published, the amount of times it was seen (again) along with the date span of when we saw the video.
You will see the various tabs listed above the chart to reveal more information on the advertiser. You can view all of the landing pages the advertiser has been seen on, the channels the advertiser has been seen as well as the videos these advertisements have been displayed. You can filter these videos by the times they were discovered, the amount of views for the video or by when it was published.

By clicking a video, you can reveal every landing page that is associated with the given video, along with the channels and videos in which the advertisement appears. This is broken down into different tabs on this page. In the top left corner, you can play the video advertisement. To the right, you will see a line graph breaking down views. This will assist you in determining what pages Toyota is using in their advertising efforts and if these pages are really relevant to what they are displaying in their videos.
Advertisers Report
We can next move on to the advertisers report. Searching by keyword, we can find all of the advertisers associated with that keyword. For example, if we were to search the keyword "food" in this report, we would see all of the advertisers that have the keyword "food" within their domain. Through this report we can see how many video ads the advertiser is running as well as how many times Semrush has seen the advertiser placing ads. We can also see a trend graph displaying how the advertiser has been placing videos over time.
Channels Report
The channels report will show us all of the channels associated with a given keyword. Just like the Advertisers report, we can see what channels contain a particular keyword in their channel name. This can be helpful if we are looking to advertise for certain industries. For example, you may want to advertise in skateboarding channels. By searching "skateboard" in the Channels report, we can see any channels that contain this keyword and reveal possible advertising space.
Video Ads Report
The video ads report will show you the actual ads that are being displayed in YouTube. You may have a particular industry you are focusing on in your advertisements. By using the Video Ads report, you can search this industry as a keyword and reveal the various video advertisements picked up by Semrush. For example, if we search the keyword "pizza", we can see who else is making video advertisements about pizzas. This report many help reveal competitors that you were unaware of. We can also sort these videos by times seen to see who may be leading the pack for this particular type of video. By comparing your video ads to these results, you can find relative competitors and find who may be falling behind in their efforts.
If you do any type of advertising on YouTube, you will want to take a look at this report in Semrush. You can find valuable information on your competitor and determine which areas are performing better than others. For example, if we see that an ad has been running for quite some time, most likely this is one of the competitor's better-performing advertisements and thus reveals what industry has been working best for them. Through analyzing this information, you can make sure you are targeting the right markets and putting on a show for your audience.
If you still have questions about any of this information, please feel free to reach out to our Customer Success Team at: (855) 814-4510 or by email at mail@semrush.com.