What is SEO? Search engine optimization is a key component of any digital marketing strategy. It is the science and art of boosting a site's search engine page rankings, increasing its visibility, and getting more leads for the company or organization. Aimed at search engines such as Google, Bing, and Yahoo, an effective SEO campaign can create compelling on-page content, attract backlinks, improve the site's architecture and underlying code, and get more organic traffic.
Although no two SEO campaigns are alike, this step-by-step guide will get you started by highlighting the importance of high-quality content, quality backlinks, and other important ranking factors to get your site on the first page of Google. 
What Is an SEO Campaign?
An SEO Campaign is an organized effort to improve a website's rankings in search engines like Google. Common activities in an SEO campaign include finding the right keywords, optimizing content, and building backlinks.
Let's look at these activities in more detail.

Step 1: Find the Right Keywords
Keyword research is about finding the most important search engine queries related to your site and customers. The keywords need to be sorted and prioritized in logical groups to better create new content against them and refine or dramatically change existing site content.
With a keyword research tool such as our Keyword Gap, you can see which keywords competitors are ranking for, and you're not, in organic and paid-for traffic. The tool offers a side-by-side comparison between keyword profiles of up to five competitors, showing you all of the best opportunities for each site, total keyword overlap, common keywords shared among the sites, and much more.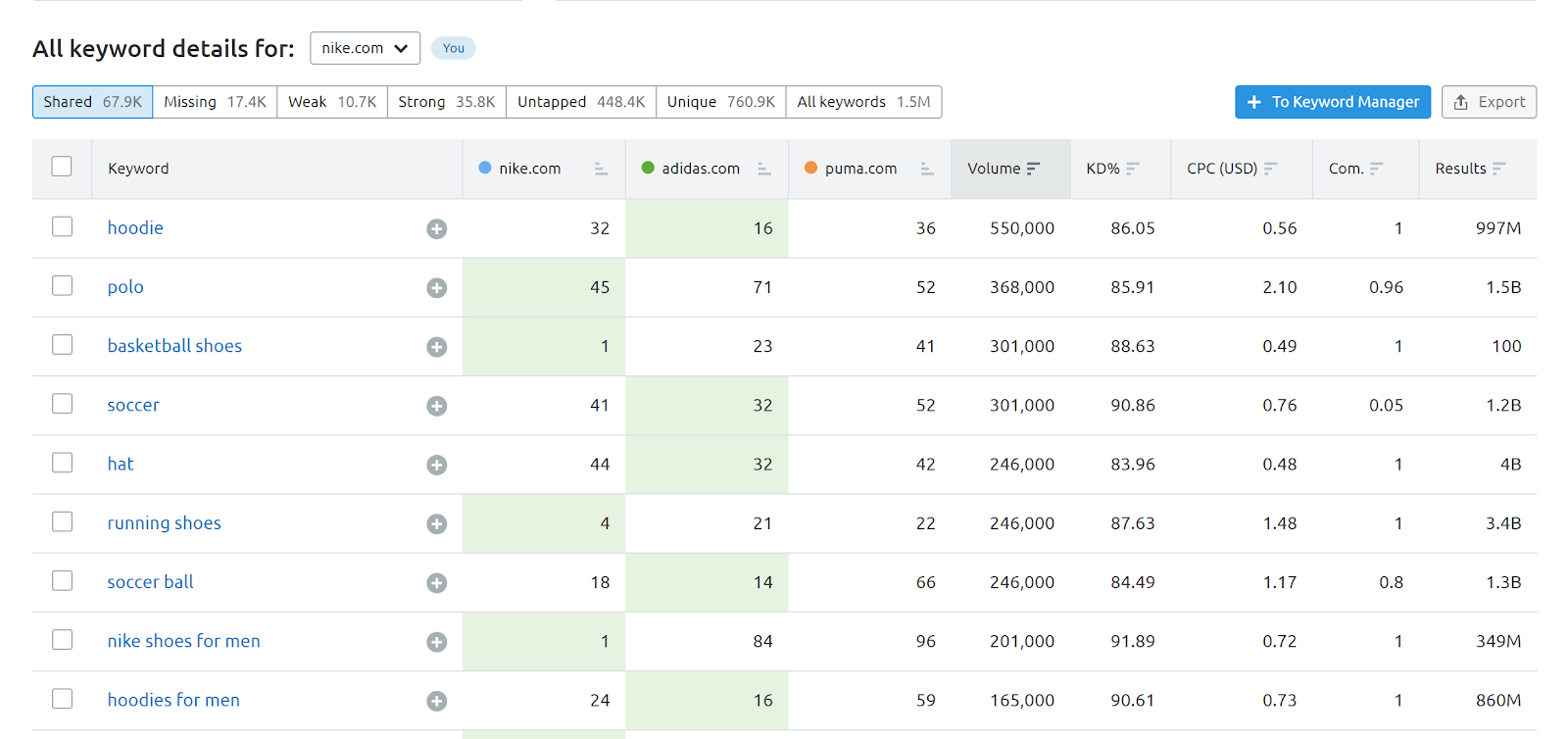 When looking to create an SEO campaign, keyword research involves accumulating all possible variations of search terms that might be relevant to your current site, content, products, services, and relevant to the customers you're targeting.
Step 2: Publish and Optimize Your Content
When looking at how to run an SEO campaign, content optimization plays an important role. To do this, you need to understand what users are searching for, why they're searching for it, and what they expect once they find it. 
It's not just a matter of using the right keywords but using them in the right way. They can't be thrown haphazardly into content but need to be incorporated with care, keeping the language's natural flow and meaning intact. You also want to make sure it's accurate and well researched while including thoughtful internal and external links. 
Your content also has to appeal to the demands of the search engine algorithms for the best chance of appearing in the top rankings. Some on-page ranking factors to page optimize include:
Meta descriptions

Page URL 

Title tag

Images and their respective alt tags
Fortunately, there are several SEO tools to help with the creation of SEO-friendly content. Our On Page SEO Checker offers a writing assistant, for instance, to provide actionable SEO tips on how to improve your content, including any keywords that might help you rank higher.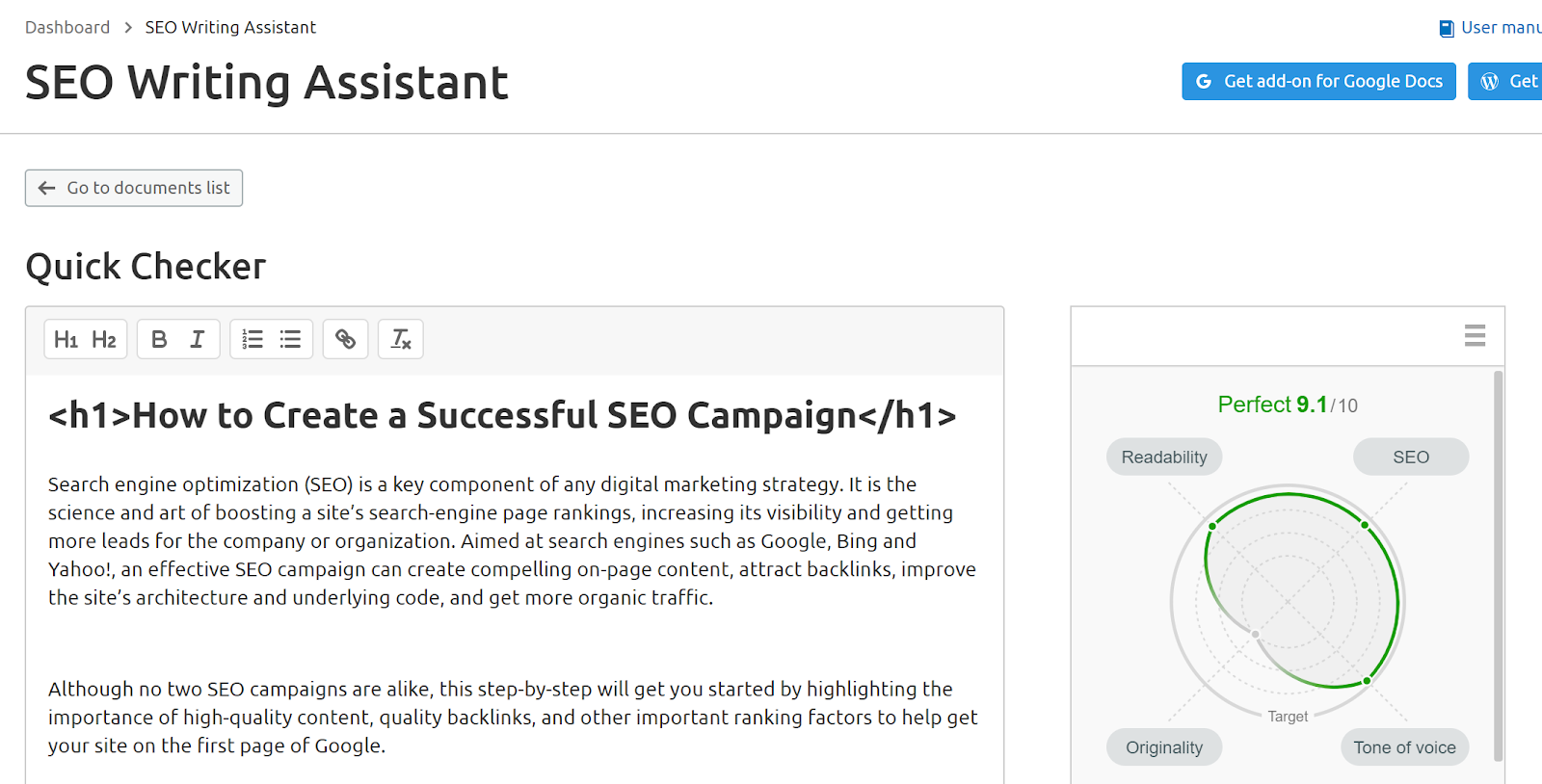 Step 3: Build Backlinks
Link building, or creating backlinks, is the process of attracting inbound links to your website from authoritative sources. In building backlinks, you have to consider how relevant the linking site's topic is to yours, how fresh the link is, how the anchor text is used on the site, how many other links on the site link back to yours, and more.
Getting organic backlinks can be a challenge, so it's a good idea to incorporate this process into your content creation and social media strategies. Creating blog posts that people read and cite and social media posts that get widely shared is a great way to get organic backlinks.
With our Backlink Gap tool, you can compare up to five competitor sites at once, seeing who links to them and not to you, and looking for gaps in their link-building strategies that you might be able to exploit. 
Other ways to get backlinks include:
Identifying and repairing broken backlinks: You can go to the webmaster of a site to report a broken link and then suggest a link to your site as a replacement.

Guest blog posts: Blogging on other sites helps you build backlinks and builds your reputation, which can increase traffic to your site.

Creating infographics: People love to consume information through the easy visual hierarchy of infographics. Creating infographics that people share, with accompanying embed codes, is a good way to get backlinks.

Promoting content: Get the word out for your best content. Look for sites that do weekly or monthly roundups of related content, and submit yours. If you have a database of subscribers interested in your content, don't forget to send them an e-blast. 
Step 4: Monitor Results
You don't usually create an SEO campaign in isolation. What you learn from one SEO campaign helps you improve what you do in the next. So, monitoring the results of each campaign is important to future success.
Some of the important metrics, or quantifiable measures, to include are: 
Organic traffic: This measures the number of visitors to your site through organic search. If you're picking the right keywords and creating good content against them, the visiting numbers should increase.

Bounce rate: This is the number of visitors to your page who leave right away without engaging with it. If you have a high bounce rate, your content isn't delivering against visitor expectations.

Clickthrough rate (CTR): This measures the number of people who proceed to your site from a search page result. If two people in 10 clicks go to your site as a result, that is a 20% CTR. The CTR shows how you're grabbing people's attention on a search engine results page (SERP).

Keyword rankings: How your keywords rank against others.

Site authority: Your site's authority in Google's eyes can be determined by its backlink profile.

Page loading speed: It's important to know this because slow-loading pages will prompt impatient users to jump off before completion.

New referring domains and backlinks: The number of new backlinks you get from a number of unique domains is important measures of how your site is doing.
With SEMrush's Position Tracking tool, you can check your page's rankings over time and compare them to your competitors, helping you find new ways to improve search engine results. To set up the tool, just select a domain (or subdomain), target keywords, location, and device. Then, it starts collecting the data from the specified search engine and gives you fresh information on that domain's positioning.
Run an Effective SEO Campaign
To create an effective SEO campaign, you have to be prepared to grind through a marathon and not just blast a fast sprint. To be successful requires patience, methodology, insight, and a proven set of SEO tools. The right tools used by the right hands can yield results that turn an SEO campaign into an SEO triumph.