What Is SEO Certification?
You can earn an SEO certification from education platforms, digital marketing agencies, or other SEO-related businesses. SEO certificates are awarded after you complete the assessment at the end of a specific course.
Because there are no university degrees in SEO, certifications are a popular way to prove your knowledge of SEO basics. Especially if you are just starting your career as an SEO specialist.
In this post, we'll examine the best free and paid SEO certificates. Read on.
Best SEO Certificates
The following are some of the best SEO certifications out there. 
These companies and organizations have strong credentials. And their courses are thorough, well-structured, and taught by knowledgeable professionals. 
Upon completion of any of these courses, you'll receive a certificate you can share with your prospective employers or on LinkedIn. 
1. SEO Crash Course by Semrush
Best for: beginner and intermediate SEOs
Duration: 2 hours
Cost: free
Certificate: yes
Instructor(s): Brian Dean
At Semrush, we offer a full range of online courses and exams. A great place to start your SEO learning journey is the SEO Crash Course. 
This course lays the groundwork for more advanced training in different areas of your expertise through the Semrush Academy.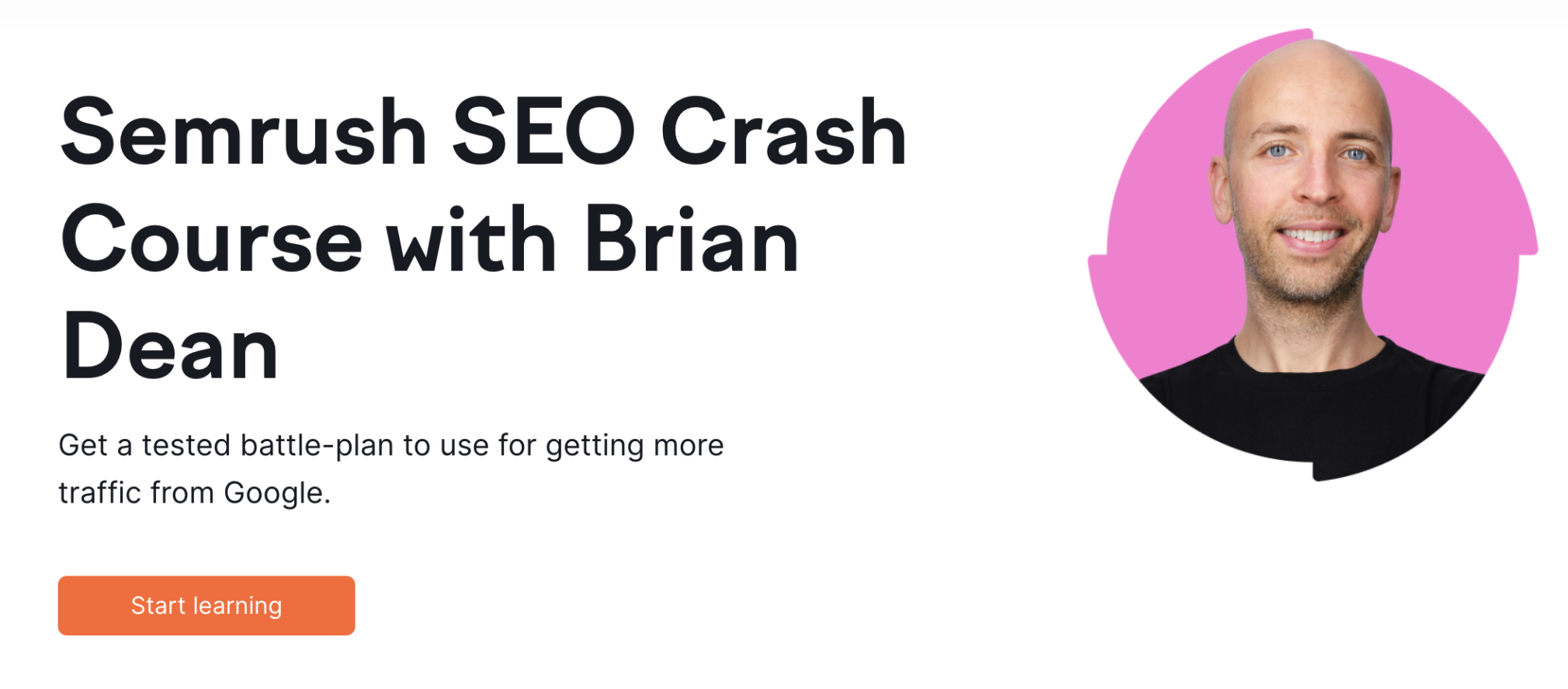 After finishing the course, you can take the exam. If you pass, you'll be awarded a certificate:
Continuing to build on your knowledge by taking other Semrush courses, you can also try to get other certifications. Including ones for intermediate and advanced users and digital agencies.
Here are some other popular courses from Semrush Academy: 
2. Google SEO Fundamentals by UC Davis
Best for: SEO beginners
Duration: 29 hours
Cost: free
Certificate: yes
Instructor(s): Rebekah May, Eric Enge
Google doesn't provide a Google SEO certification. If anyone claims they are a "Google Certified SEO Specialist," they misspoke.
However, Google recommends a free online SEO certification course called Google SEO Fundamentals which is part of an SEO Specialization series created by the University of California, Davis, and powered by Coursera.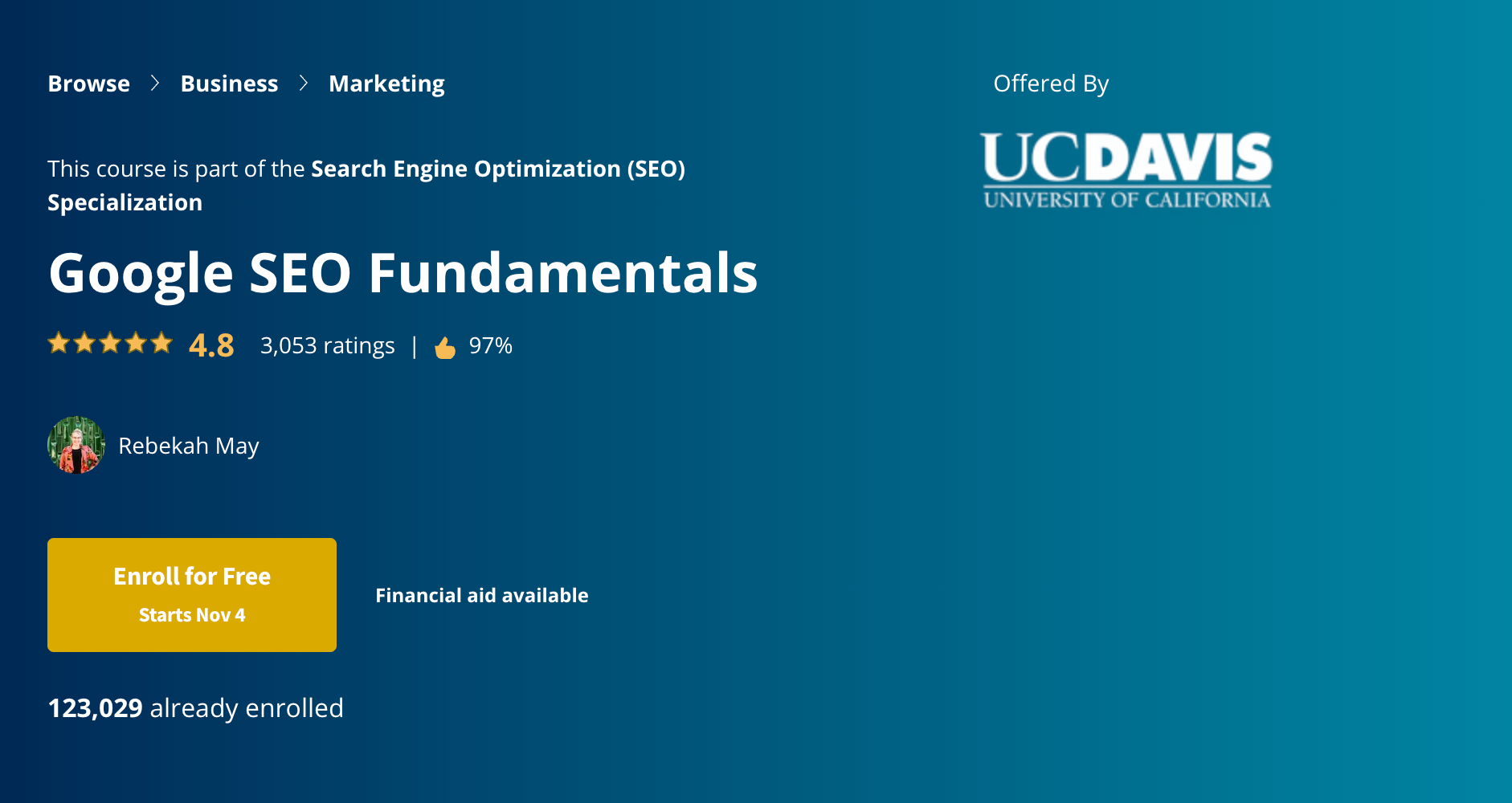 This course is broken down into four modules and takes about 29 hours to complete, with a certification offered after completing the final exam.
Each learning module includes a "bite-sized" video tutorial. And a quick quiz at the end to test your knowledge.
Tip: If you need to learn digital marketing basics, check out the free course by Google Digital Garage called Fundamentals of digital marketing. 
3. SEO Certification Course by HubSpot
Best for: SEO beginners
Duration: 4 hours
Cost: free
Certificate: yes
Instructor(s): Rachel Sheldon, Matthew Howells-Barby
This SEO Certification Course is given by HubSpot, a company known for its inbound marketing and sales software. 
The video course, which lasts almost four hours, teaches SEO basics through six lessons, 25 videos, and five quizzes.
The well-produced videos cover topics like on-page SEO, technical SEO, keyword research, link building, optimization for rich snippets, and SEO reporting. 
Tip: Also take HubSpot's Inbound Marketing Course, which is aimed at novices who want to learn more about inbound methodologies and strategies.
4. SEO Training by ClickMinded
Best for: beginners to intermediate SEOs
Duration: 5 hours
Cost: $997
Certificate: yes
Instructor(s): Tommy Griffith
The SEO Training by ClickMinded has helped "8,702 startups, agencies, entrepreneurs and students learn SEO, get higher rankings, and more traffic."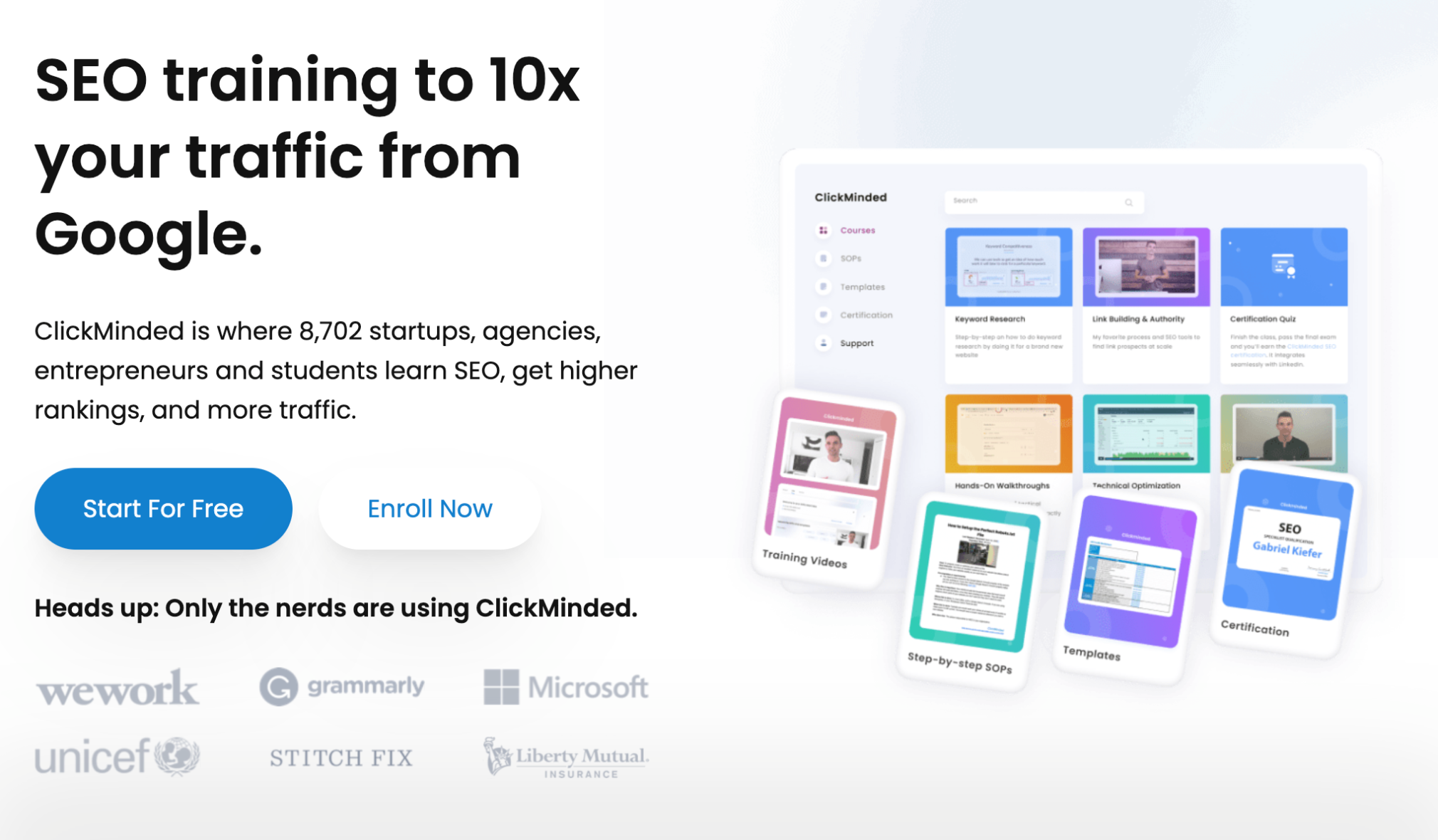 This training includes the following:
SEO fundamentals
Introduction to SEO tools
How to optimize for any search engine
Keyword research advice
Introduction to Google Search Console
Certification exam
ClickMinded also offers training in paid advertising, content marketing, email marketing, social media marketing, sales funnels, and web analytics.
5. Advanced Search Engine Optimization Program by Simplilearn
Best for: beginner SEOs
Duration: 36 hours
Cost: free
Certificate: yes
Simplilearn is a leading certification training provider with over 400 courses in various areas. Within their platform called SkillUp, they offer free courses that help beginners build strong foundational skills for career growth.
The Advanced Search Engine Optimization (SEO) Program offers 36 hours of self-paced videos covering all the basics an SEO beginner needs to know. Topics include keyword research, competitive intelligence, website planning, and tips on how to build a career in SEO. 
6. Google Analytics 4 Course by Google
Best for: intermediate to advanced SEOs (or anyone who wants to learn Google Analytics 4)
Duration: 10 hours
Cost: free
Certificate: yes
The current version of Google Analytics—Universal Analytics—will stop processing data on July 1, 2023. It will be replaced by a next-generation analytics solution called Google Analytics 4.
Now's the time to learn the new platform so that you can smoothly transition. 
Google is happy to help in this process. They created an interactive Google Analytics 4 Course on Skillshop that will help you get to know the new platform and earn an official Google Analytics Certification.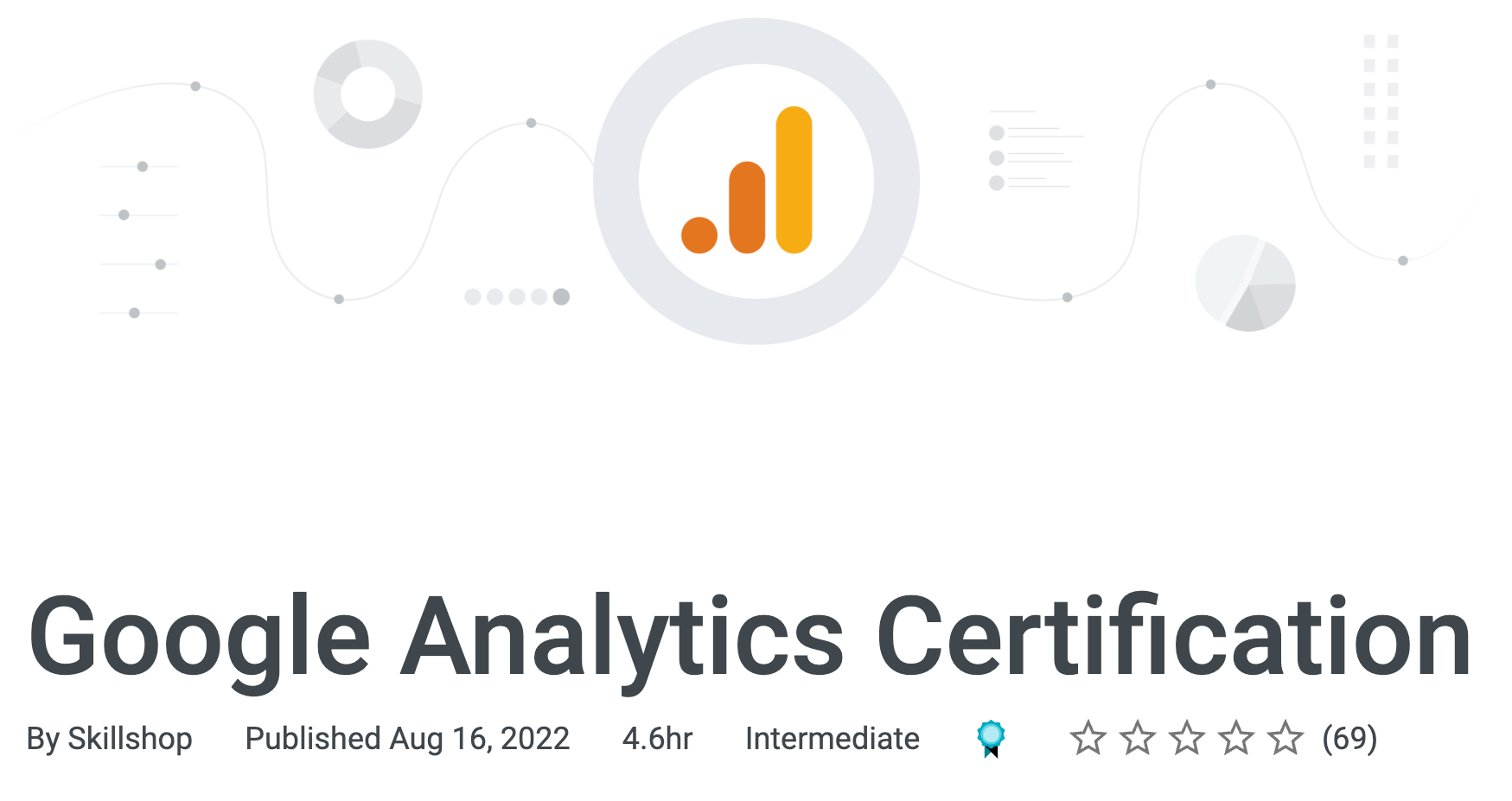 In a series of lectures, you'll learn how to set up a Google Analytics 4 property, how to use its various reporting tools, what the key measurement features are, and how to work with the data in the most effective way. 
The full series takes up to 10 hours to complete.
7. All-around SEO Training by Yoast
Best for: beginner and intermediate SEOs
Duration: 3 hours
Cost: $99/year (includes other courses in the Yoast Academy + Yoast SEO Premium plugin)
Certificate: yes
Instructor(s): Joost de Valk and other SEO experts from Yoast
The All-around SEO Training is a simple, easy-to-digest video course by the creators of the world's most popular WordPress SEO plugin—Yoast. 
The course includes over three hours of videos, sliced into 39 short clips. The lessons are taught by SEO professionals from Yoast, including their founder Joost de Valk.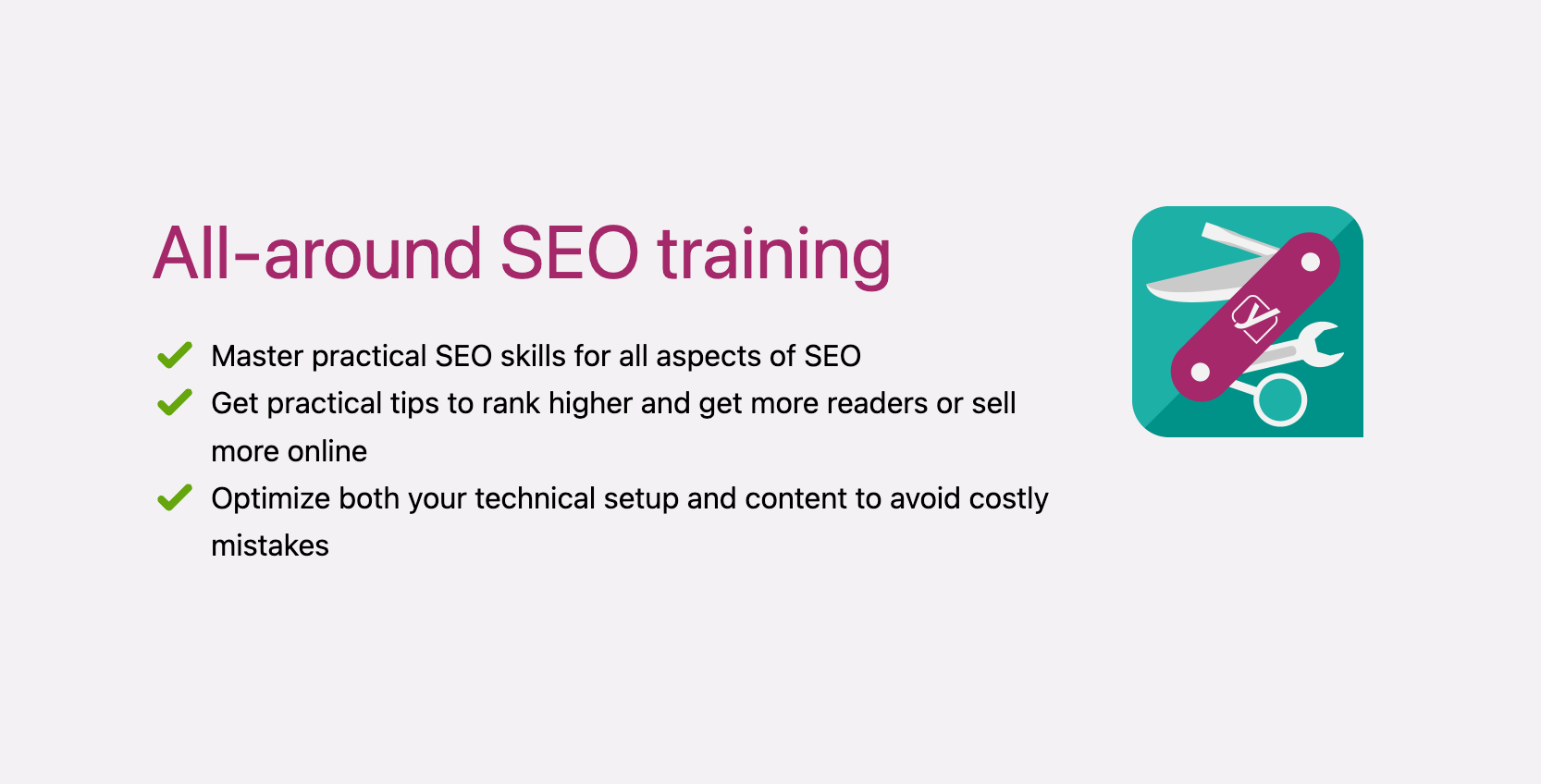 You can test your knowledge with several quizzes throughout the course that will help you train your newly gained knowledge. You'll need at least an 80% score to pass each quiz.
After completing the course, you'll get an SEO certificate. And you'll be able to download actionable PDF files for further reference. 
8. Advanced SEO Certification Training by Market Motive
Best for: intermediate SEOs
Duration: 30+ hours of videos and 15+ hours of live online classes
Cost: paid; $1,199 for self-paced learning; $1,499 for the online boot camp (the price also varies based on your location)
Certificate: yes
Instructor(s): Matt Bailey
Market Motive, an internet marketing training company, offers their Advanced Search Engine Optimization (SEO) Certification Training to help "master the process of organically driving traffic to your website by learning critical components such as keyword research, on-page and off-page optimization, and SEO analytics."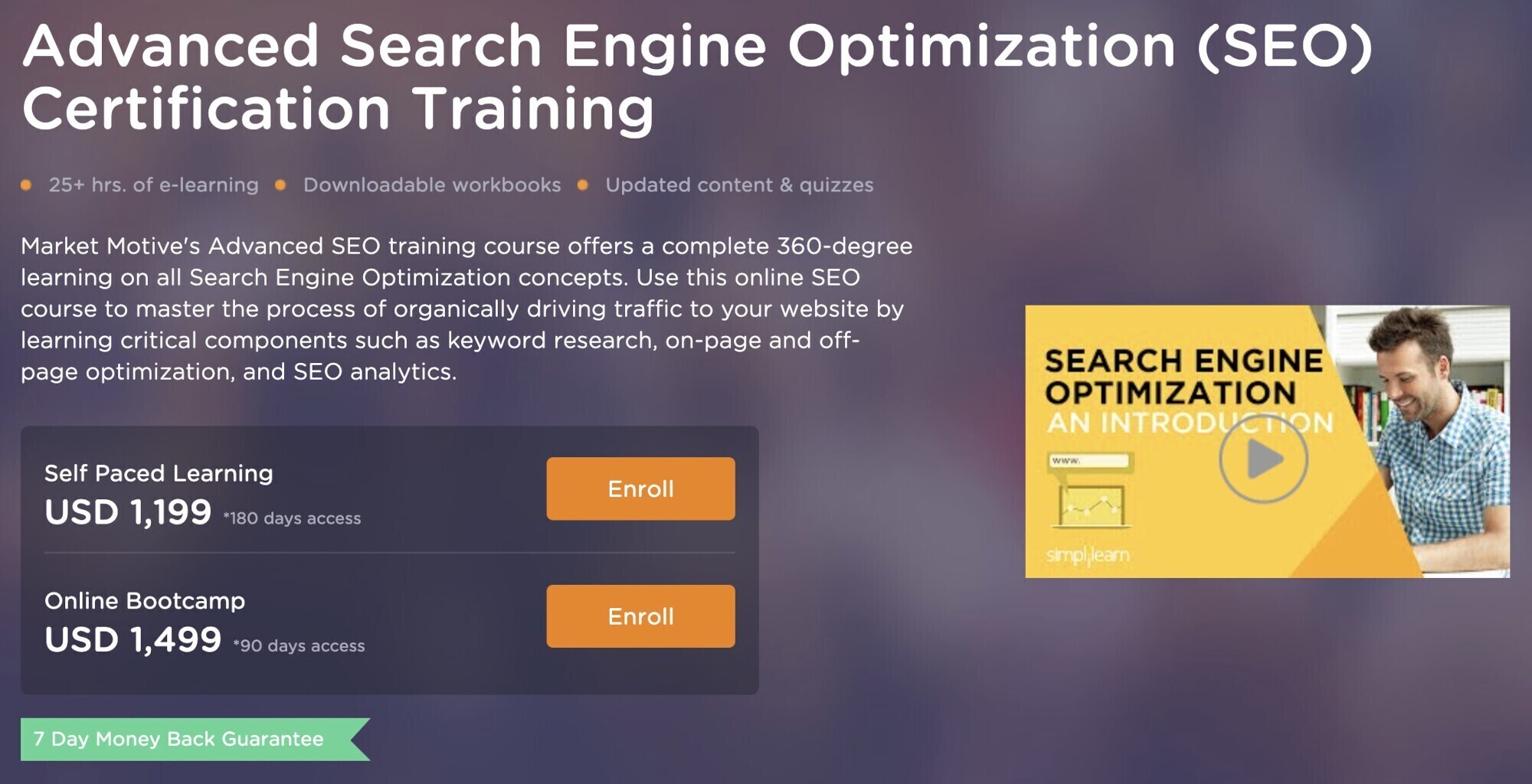 The course is provided in self-paced training and online boot camp formats. Those who would benefit most from this training are marketers, content writers, sales professionals, entrepreneurs, and business owners. 
To get certified in advanced SEO, you need to complete three projects and one simulation test with a minimum score of 60%. 
There are no minimum requirements to take the course, but Market Motive advises anyone interested to complete its SEO foundations course first.
FAQs
What Is an SEO Certificate?
An SEO certificate is a document that confirms that you have successfully completed an online SEO course or training. It is usually issued in the form of a PDF document so you can attach it to your CV or LinkedIn profile. 
Is SEO Certification Worth It?
If you are just starting or want to improve your qualifications, a structured program taught by an SEO specialist can be a good idea.
If you already have a lot of SEO experience, clients, and proven SEO successes, you probably can do without it.
True SEO expertise comes through a combination of:
Theoretical training or learning
Hands-on experience 
Getting outstanding results for real-world businesses
While SEO courses and certificates may be helpful, they are not enough to make you an SEO expert. 
Does Google Have an SEO Certification?
Google does not provide any kind of general SEO specialist certification. However, they do recommend some SEO courses and have their own learning platform called Digital Garage, where you can improve your knowledge in the areas of digital marketing, career development, and data analysis.
How Much Does SEO Certification Cost?
The costs for certifications range from nothing to thousands of dollars. The price tag does not always reflect the value of the course, so make sure to pick a course created by a reliable institution and taught by an industry-acknowledged SEO expert. 
How to Get an SEO Certification?
A simple way to get certified in SEO is to take some of the free courses provided by Semrush Academy.
You can take courses and get certifications in beginner SEO, advanced SEO, link building, competitive analysis, keyword research, content marketing, and much more.