We've put together the ultimate SEO checklist to help you increase your site's organic traffic and boost your rankings. 
The checklist includes 41 best practices and tasks you need to complete.
Tip: Create a free Semrush account (no credit card needed) so you can follow the steps in this guide.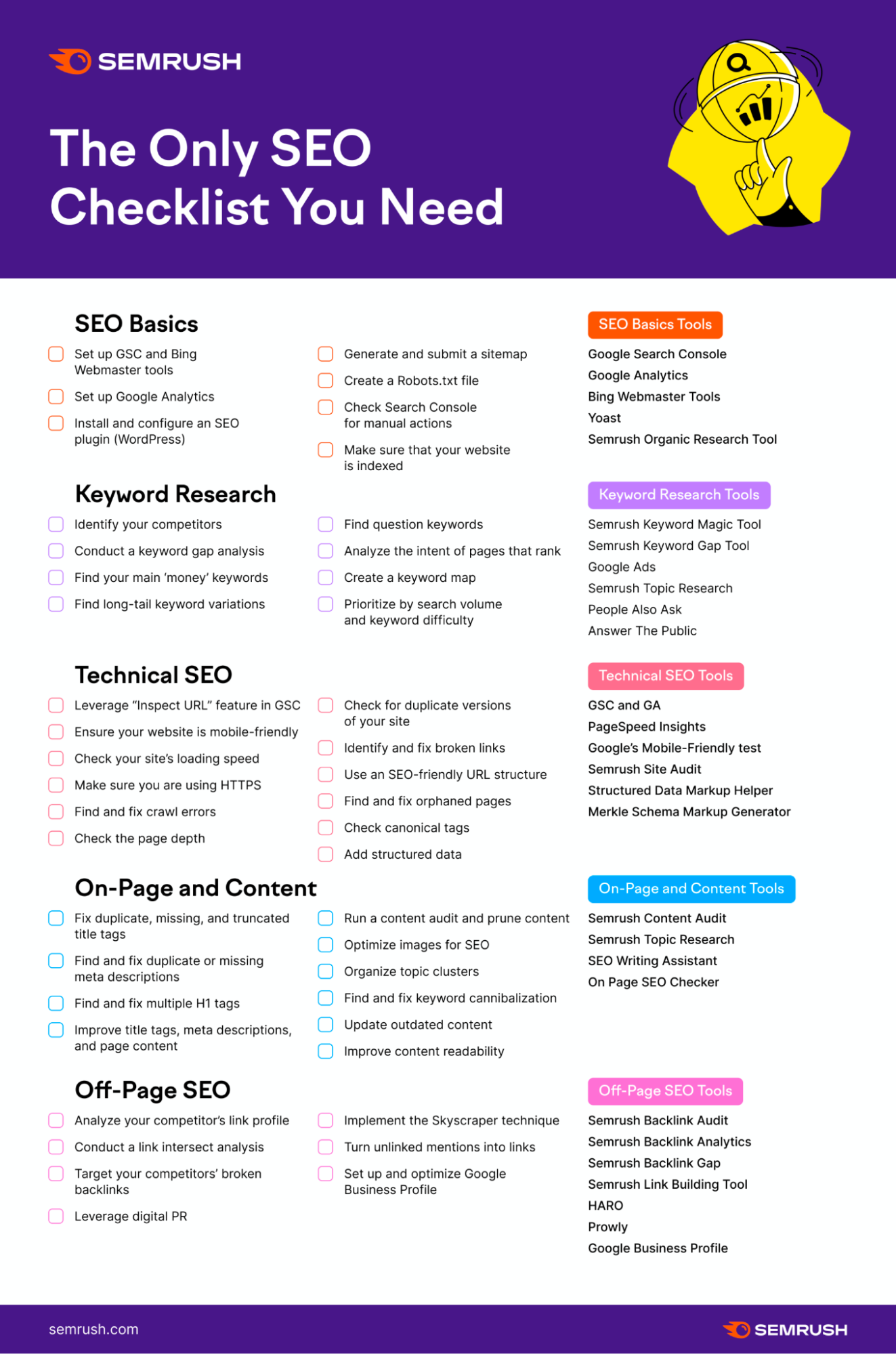 Download a copy of the checklist here. 
How to Use This SEO Checklist
We've broken this checklist down into sections that cover the main focus areas of SEO:
You'll need to focus on all of the above for a holistic SEO strategy. Make your way through our checklist to follow SEO best practices.
SEO Basics Checklist
To see SEO success, you need to have the basics covered. Fail to do so, and your site may struggle to rank. 
The following tips are basic SEO tasks but serve as the foundation of a successful SEO strategy.
1. Set Up Google Search Console and Bing Webmaster Tools
Google Search Console (GSC) is a tool that helps you monitor, maintain, and troubleshoot your site's performance in Google search results. 
It's one of the best tools to better understand how Google sees your website.
Read our definitive GSC guide to learn how to set up your account and leverage its different features.
Bing Webmaster Tools, on the other hand, is the equivalent platform. But for the Bing search engine.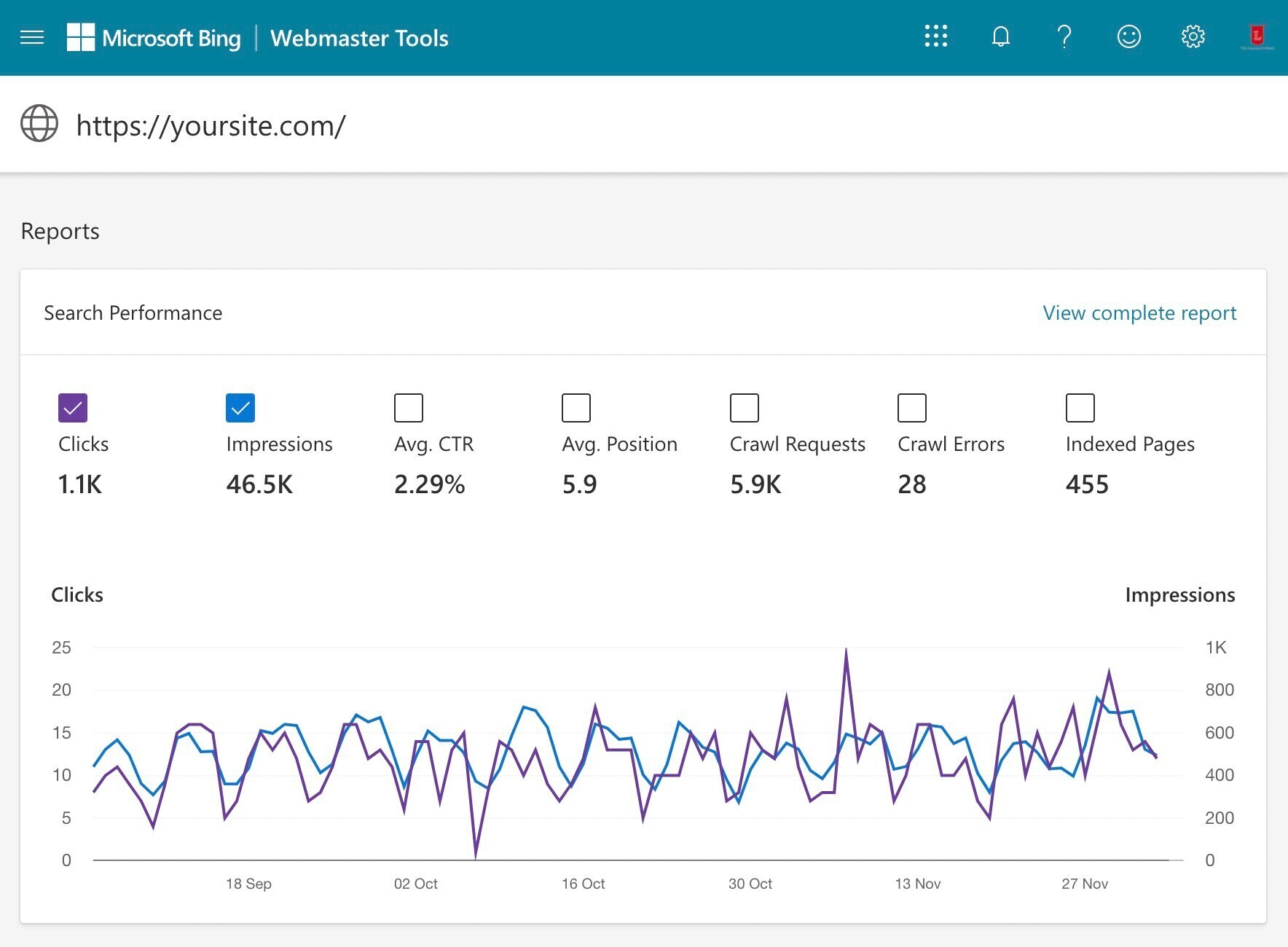 Both these tools allow you to see which keywords users are searching for to find your site, identify crawl errors, and lots more. 
If you don't have these set up, we highly recommend you do so.
2. Set Up Google Analytics
Google Analytics is a free web (and app) analytics tool. It helps track and report how much traffic you're getting, where it's coming from, and what your users are doing.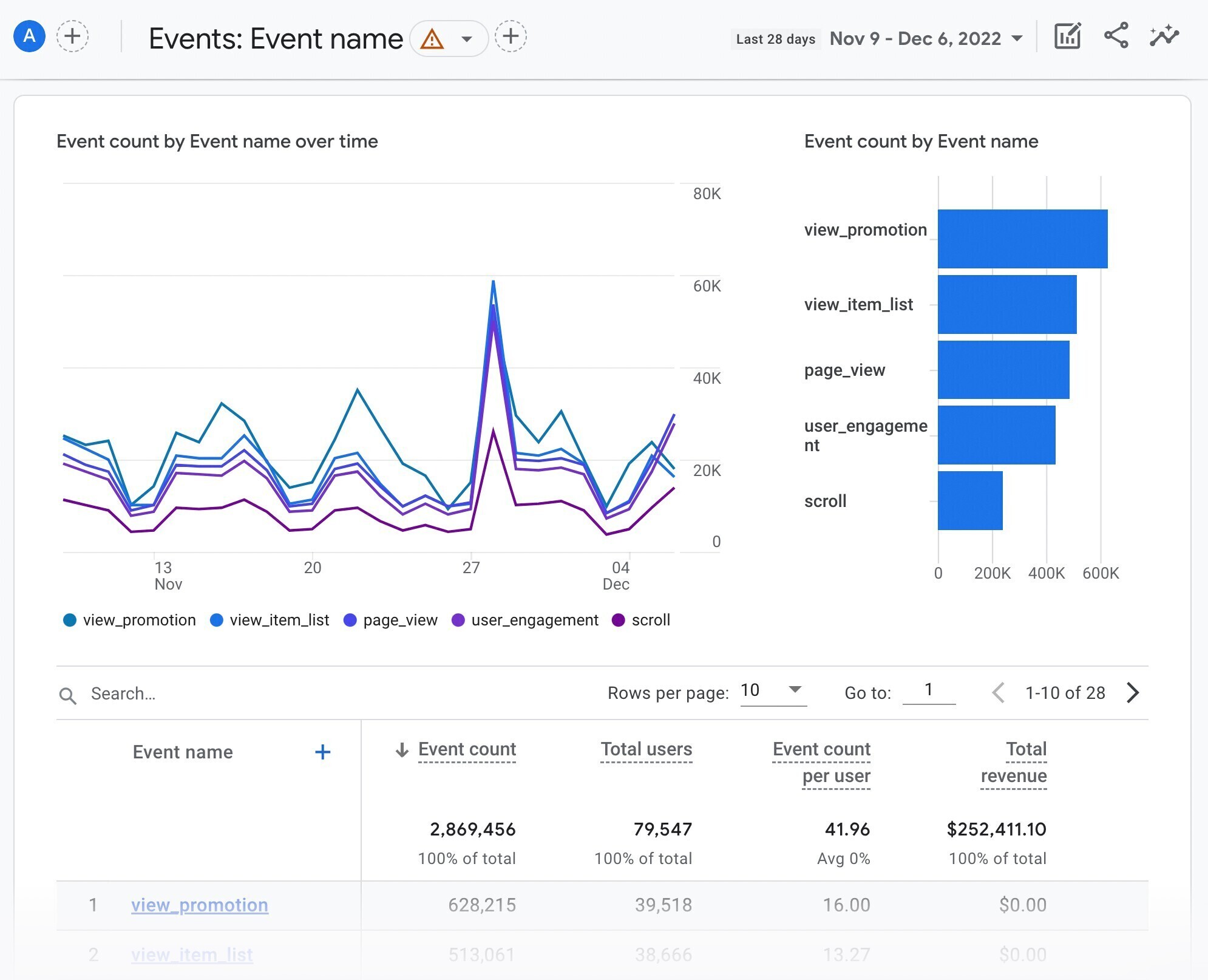 Its helpful features include:
Find the pages on your site that bring in the most traffic (or the least)
Identify other sites and search engines that send you traffic
Track your average bounce rate, page views, and time on site
Read our Google Analytics guide to learn how to set up your account and get the most out of it. 
Pro tip: Connect your GSC to Google Analytics to see helpful SEO information inside of your Google Analytics account.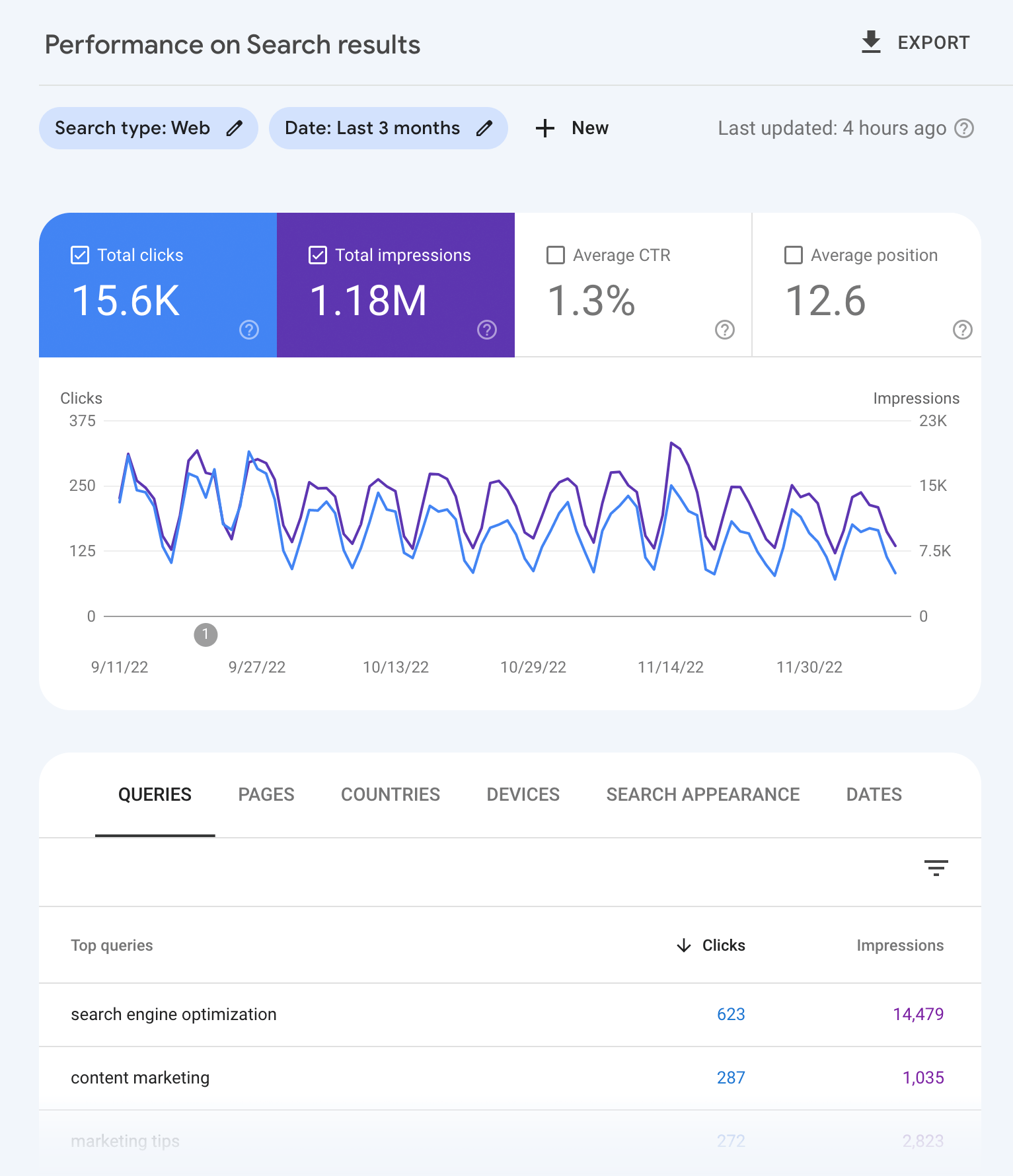 3. Install and Configure an SEO Plugin (If You're Using WordPress)
If you use WordPress, you should install and configure an SEO plugin.
It'll make it really easy to optimize your site for search engines. And help you with technical SEO aspects, like implementing robots.txt and XML sitemaps.
The most popular options include:
For example, this is what the SEO Writing Assistant looks like within WordPress: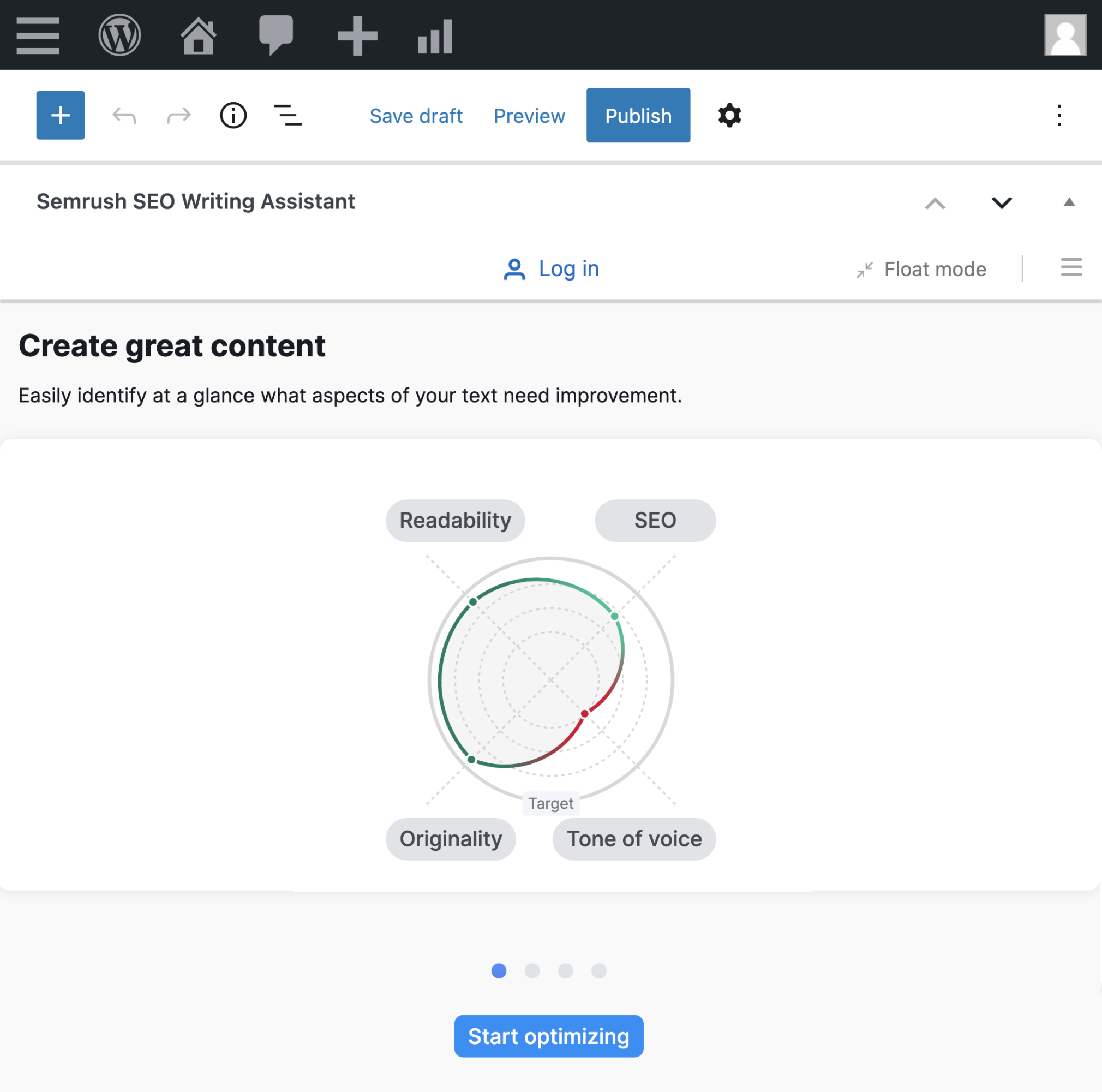 You can use this plugin to optimize your web copy and content for SEO.
Note: If you're using a different CMS (content management system), check if you need to install a dedicated SEO plugin. The features you need may already be included. 
4. Create and Submit a Sitemap
A sitemap is a file that helps search engines find, crawl, and index all of your website's content. 
It highlights which pages and files you think are important and provides valuable information about them.
For example, when the page was last updated. Or if a page has any alternate language versions.
Here's what the sitemap looks like for our blog: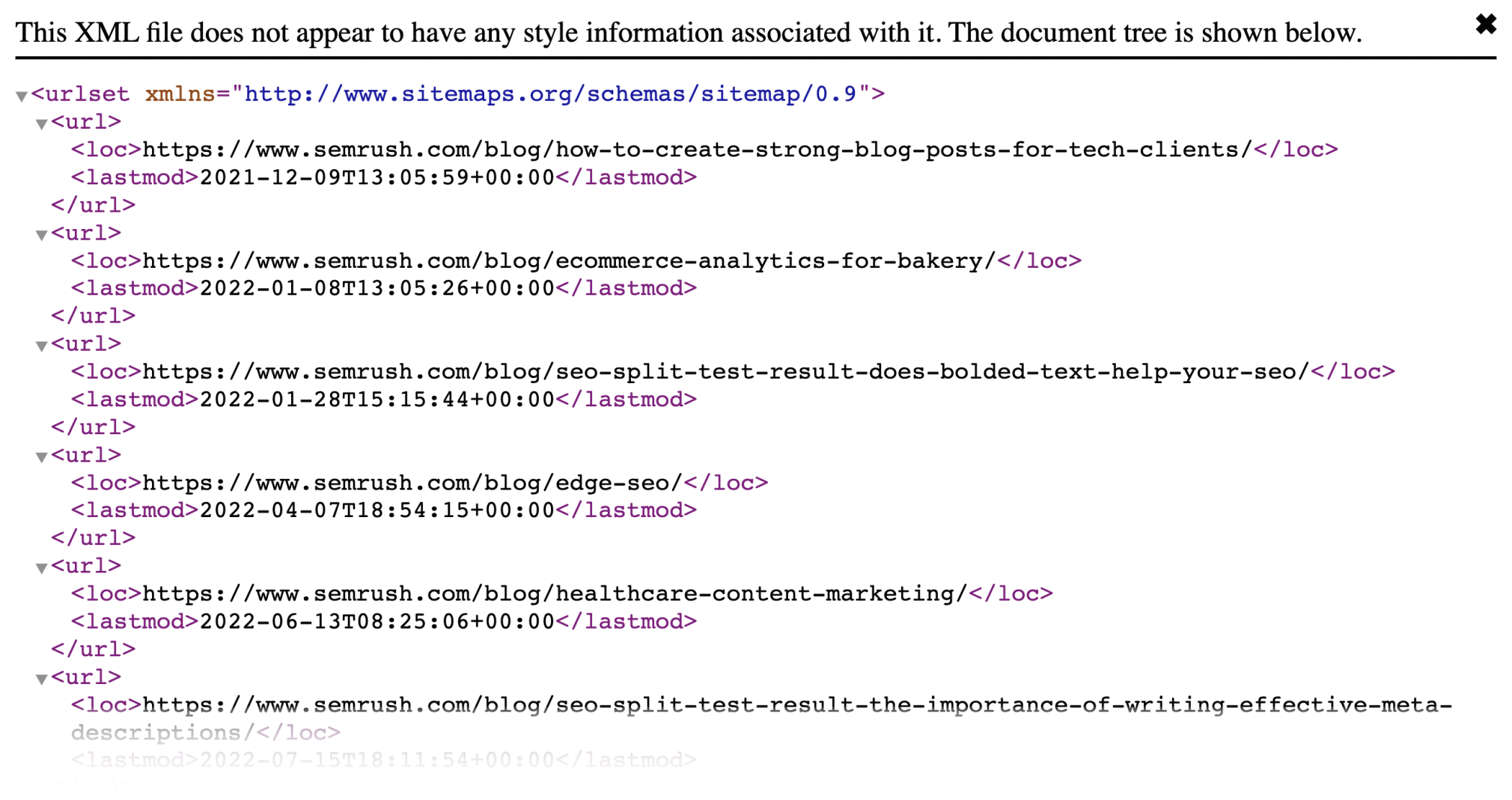 If you're using WordPress, the sitemap will be automatically created.
If you're not, creating one is relatively straightforward if you use a sitemap generator tool. 
Once you have your sitemap, submit it to Google Search Console and Bing Webmaster Tools.
Like this: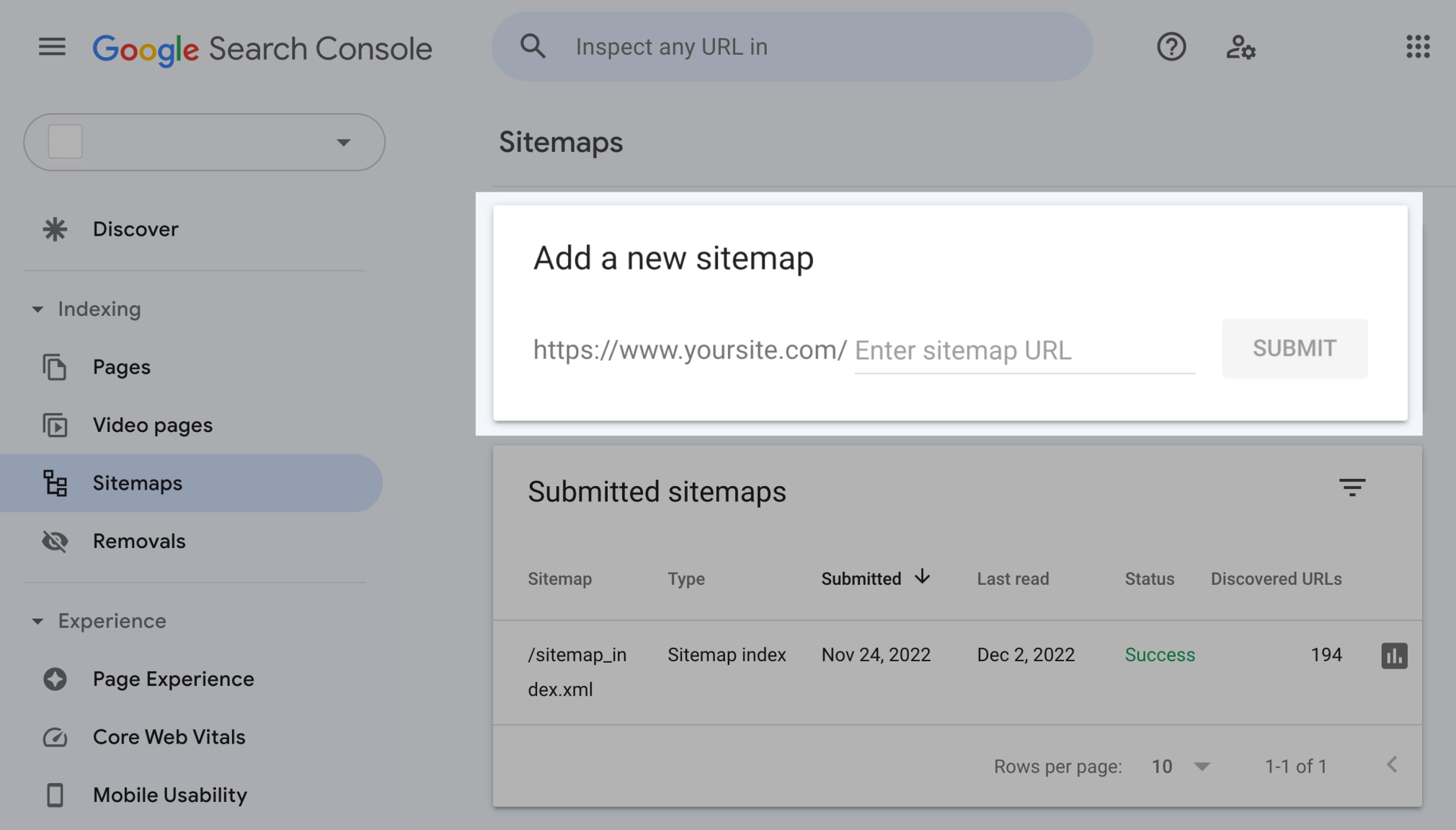 And you can use Semrush's Site Audit tool to find and fix issues that affect your sitemap and more.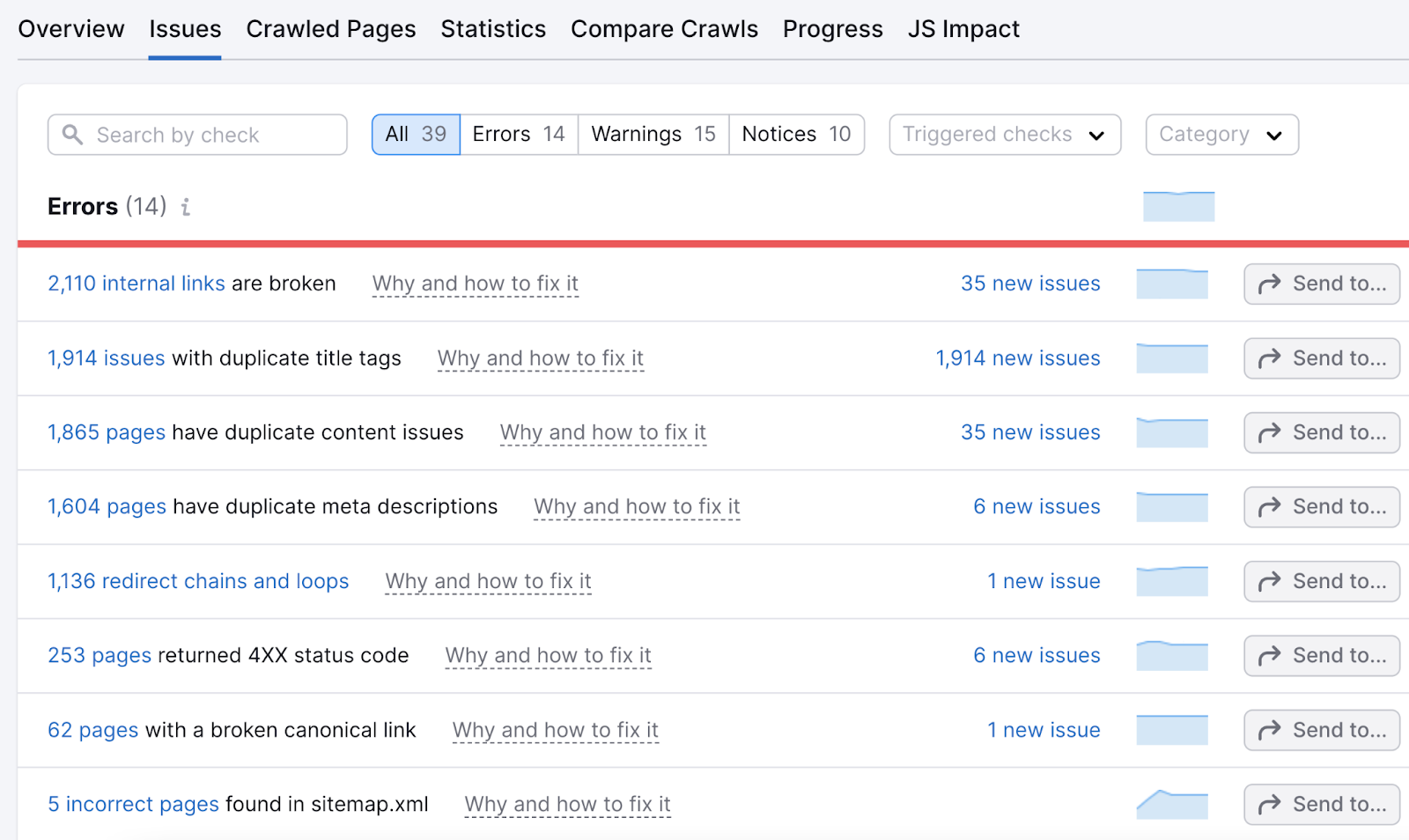 5. Create a Robots.txt File
Robots.txt is a file that tells search engines which pages and files they should or shouldn't crawl. 
This is what it can look like: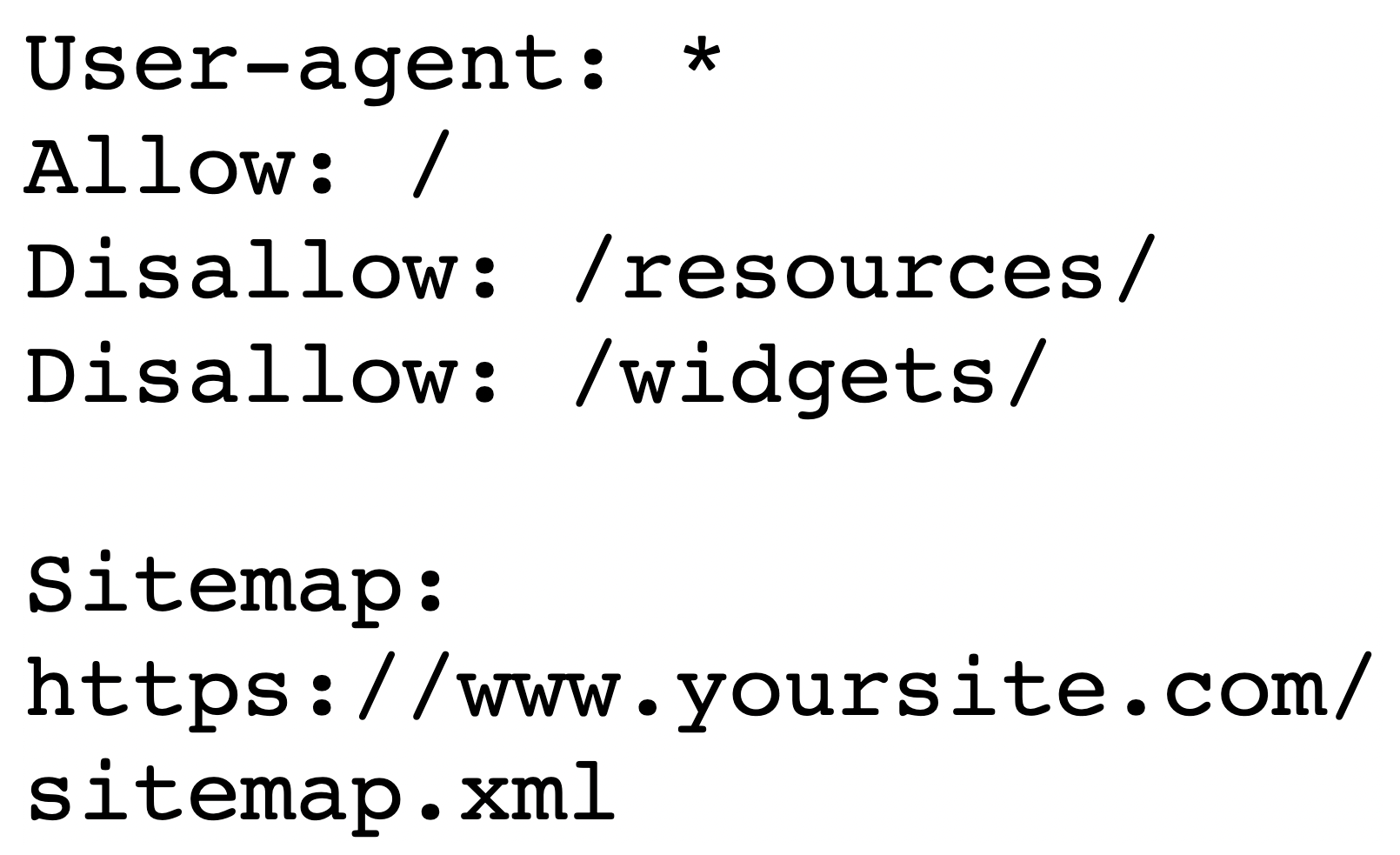 And they're really important. They coordinate how web crawlers access and index your site and show your content to searchers. 
You can see your robots.txt file by typing your homepage URL and adding /robots.txt.
For example, https://semrush.com/robots.txt. 
Learn more about creating one, what the syntax (computer language) means, and best practices in our robots.txt guide. 
You can use Semrush's Site Audit tool to help you find and fix robots.txt issues, too.
6. Check Search Console for Manual Actions
A clear attempt to violate or manipulate Google's Webmaster Guidelines causes manual actions. 
And if your site has a manual action, some or all of it won't appear in Google search results.
Manual actions include user-generated spam, structured data issues, unnatural links (both to and from your site), thin content, hidden text, and more. 
It's a good idea to check for any manual actions in Google Search Console. 
To do that, scroll down the tool's sidebar navigation until you find the "Security & Manual Actions" menu section. Click on it. Then click on "Manual actions."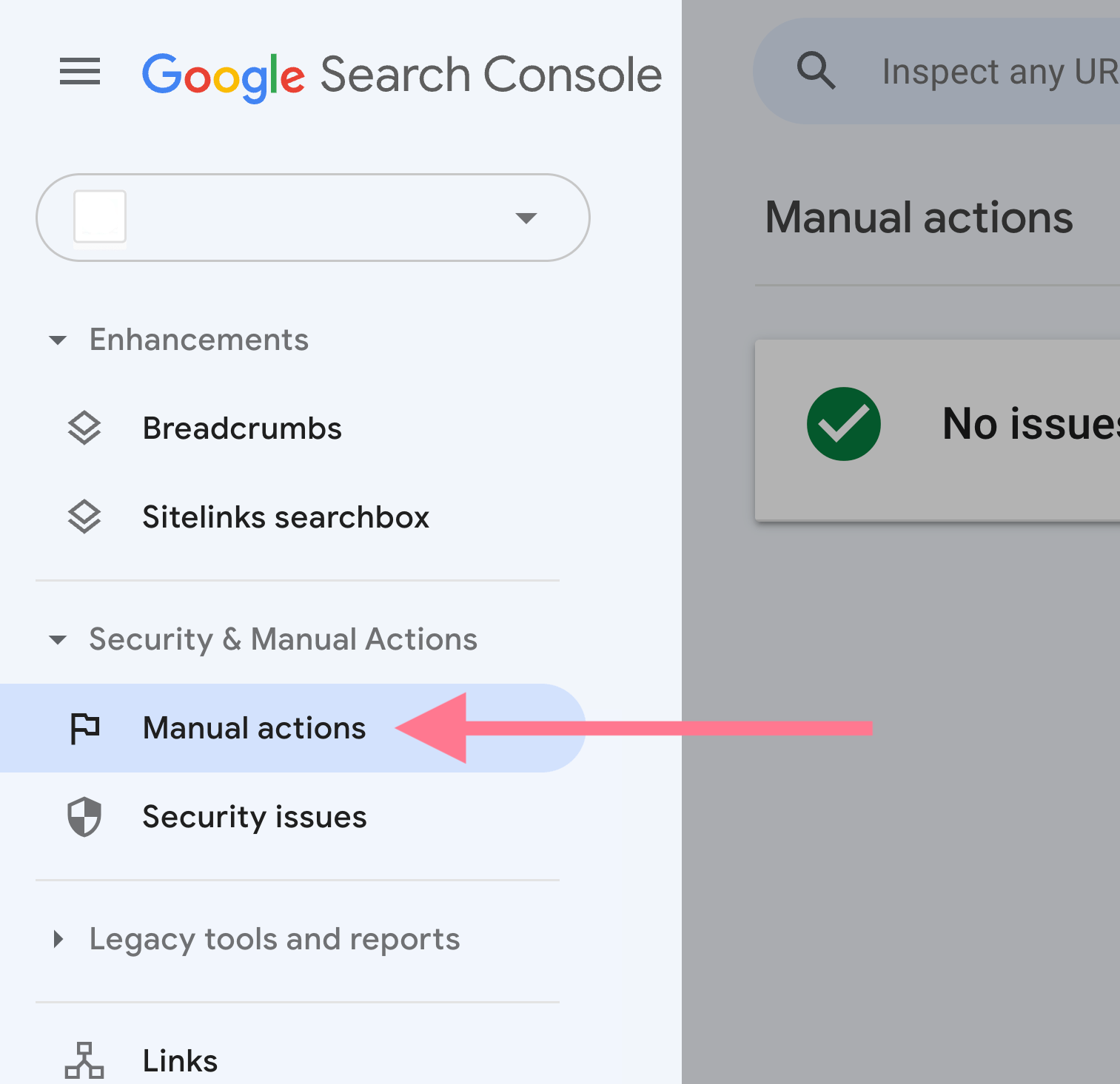 That should pull up a report with detected issues. If any.
Google will notify you in a GSC report if your site receives a manual action. 
But if you're working on a new project or taking over a site, manual actions should be one of the first things you check.
7. Make Sure Google Can Index Your Website
Part of having your SEO basics covered is making sure that Google can index your website.
Indexability is a search engine's ability to analyze and add a page to its index. So it can show up in search results. 
To quickly make sure search engines can crawl and index your site, use our Site Audit tool. 
Start by entering your domain and creating a new project. 

Then, select how many pages you want per audit and "Website" as the crawl source.
And click "Start Site Audit."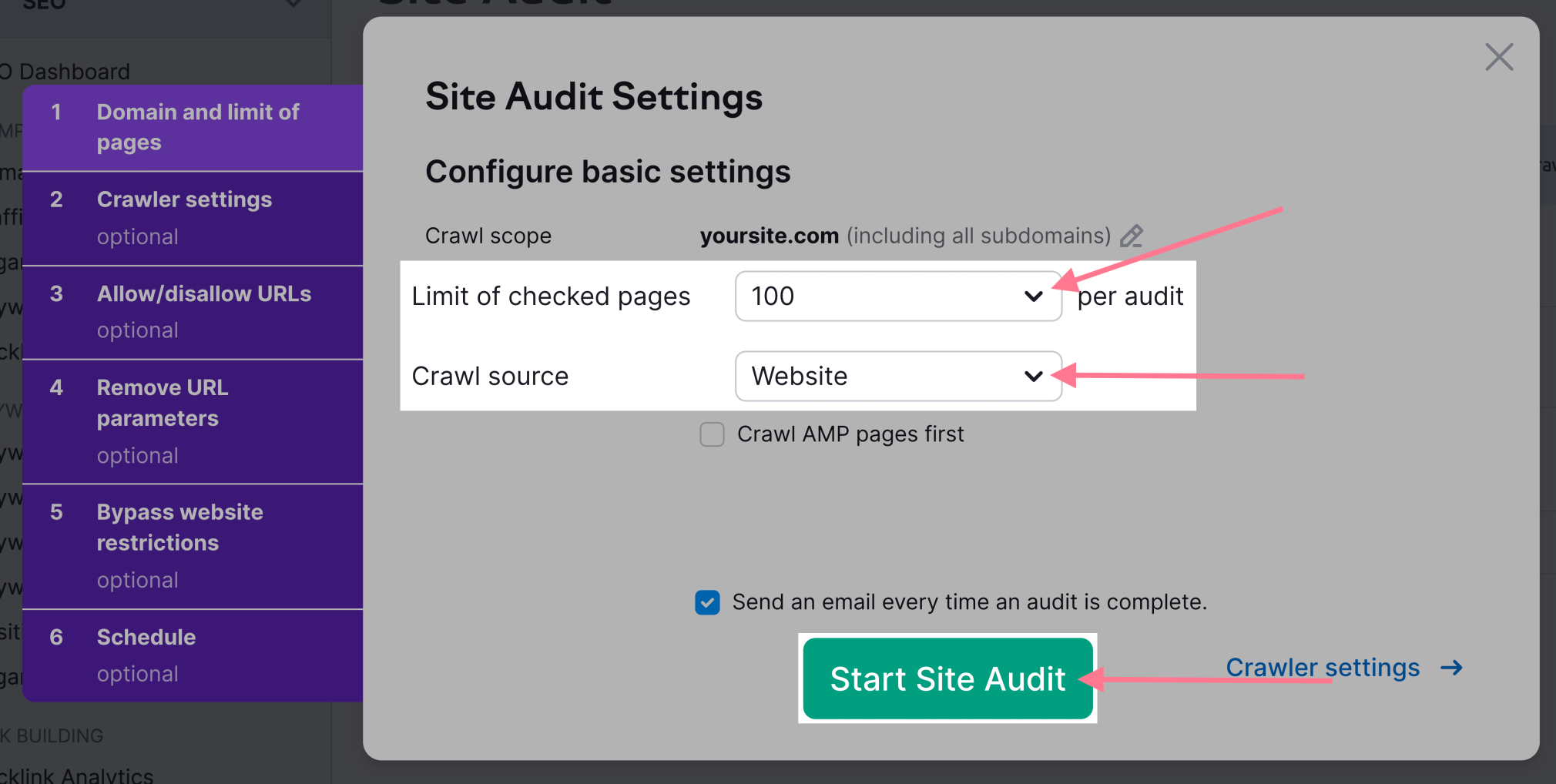 Look for the "Crawlability" report, and click "View details."
Like so: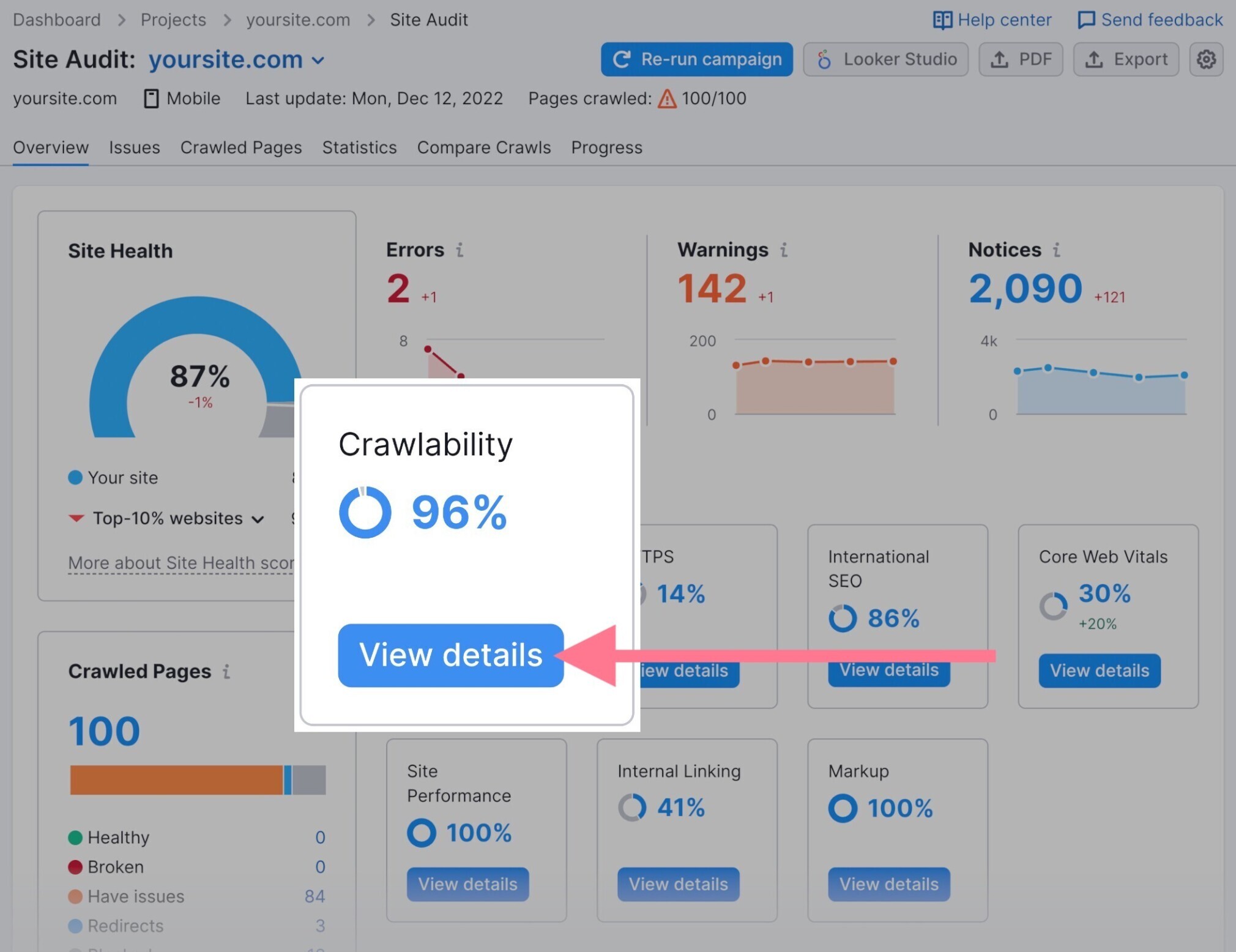 Then, double-check that your site's main pages that should be indexed are, in fact, indexed. This can save a lot of troubleshooting later on. 
Keyword Research Checklist
Keyword research is the process of finding possible search queries that may be relevant to your business and your customers. 
It includes finding, sorting, and prioritizing keywords. To then feed your keyword strategy. 
Here is a checklist of the essential keyword research tasks you need to cover for SEO success. 
Tip: Remember to create a free Semrush account (no credit card needed) so you can follow along. 
8. Identify Your Competitors
One of the most efficient ways to start with keyword research is to identify competitor keywords. 
These are keywords your competitors are currently targeting to improve rankings and traffic. 
If those keywords are working for them, they can work for you, too.
Start by opening up Semrush's Keyword Gap tool. Then, enter your domain and up to four of your competitors' domains. 
And click "Compare."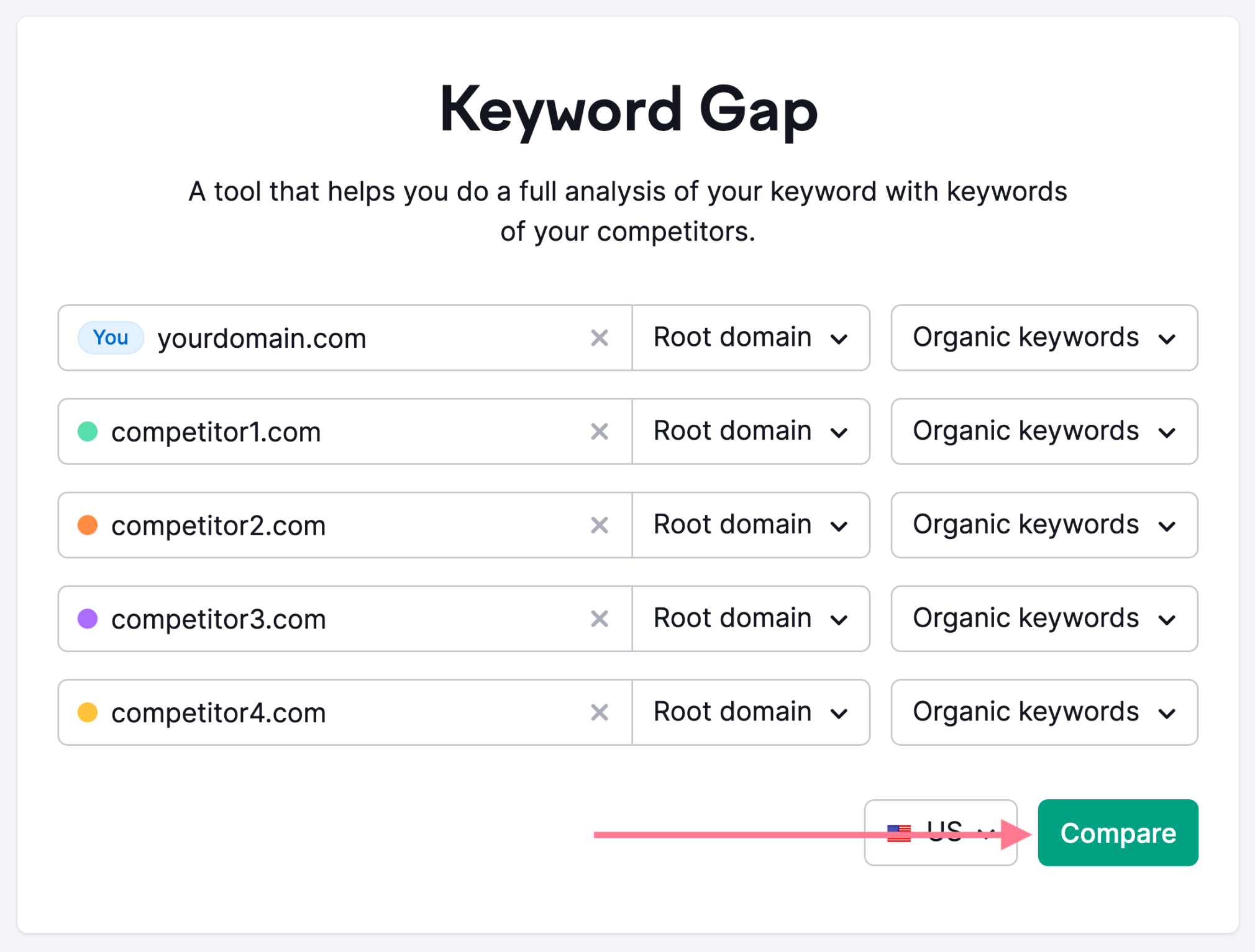 Scroll down to the table and focus on two labels, "Missing" and "Weak."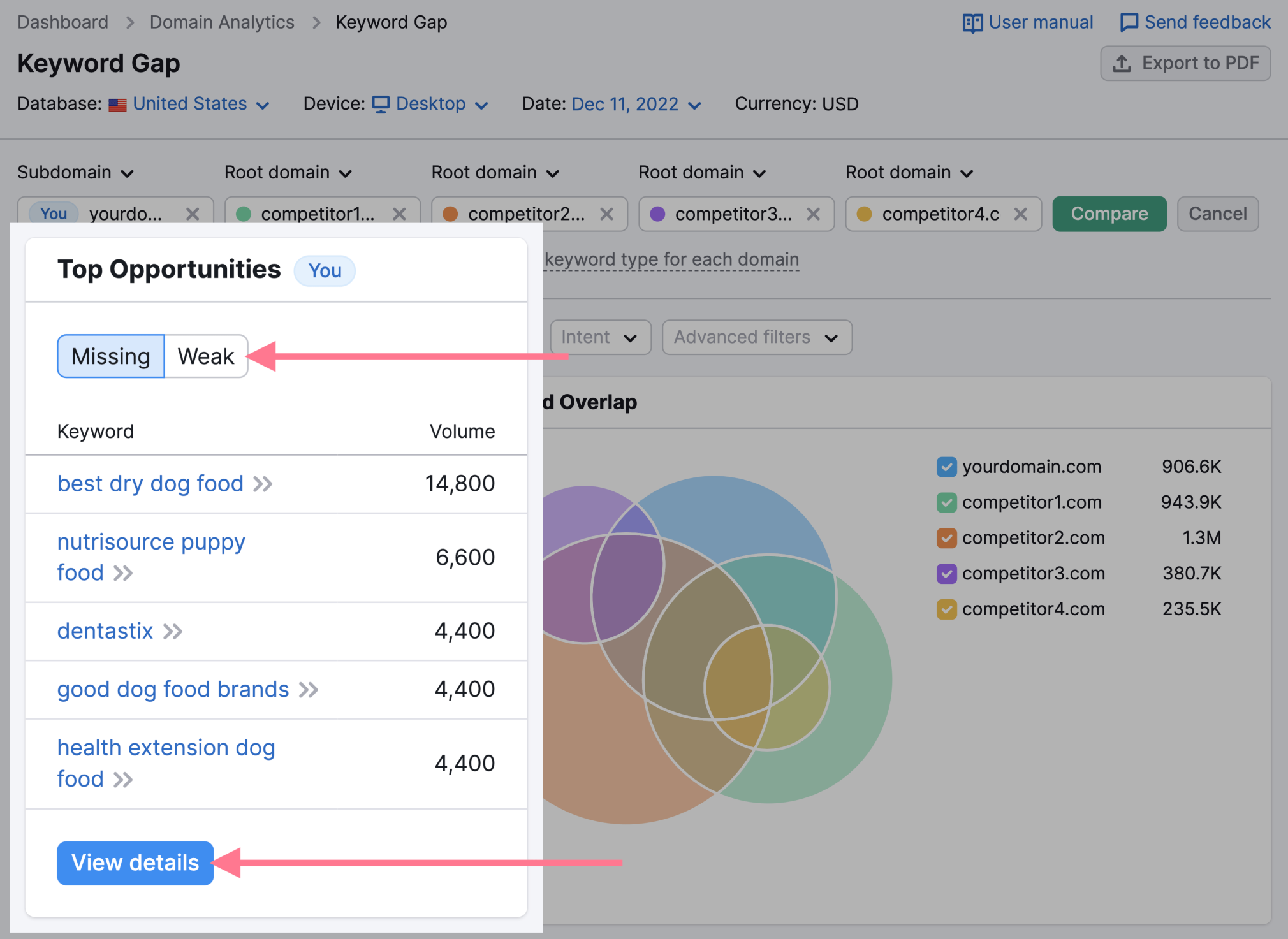 The "Missing" label shows keywords your competitors are ranking for but you aren't. 
The "Weak" label shows keywords you rank for lower than your competitors. 
Use these keywords to plan a keyword strategy around these terms. And try to win back some traffic from your competitors. 
9. Find Your Main 'Money' Keywords
Your main "money" keywords are those that can drive leads, sales, and conversions.
Generally, these are high-volume, high-competition keywords that outline what you offer. 
You will also find these referred to as head terms and pillar page keywords.
To find your top organic keywords, or your competitor's, open Domain Overview and enter your domain. 
Scroll down to see your "Top Organic Keywords" and click on "View details."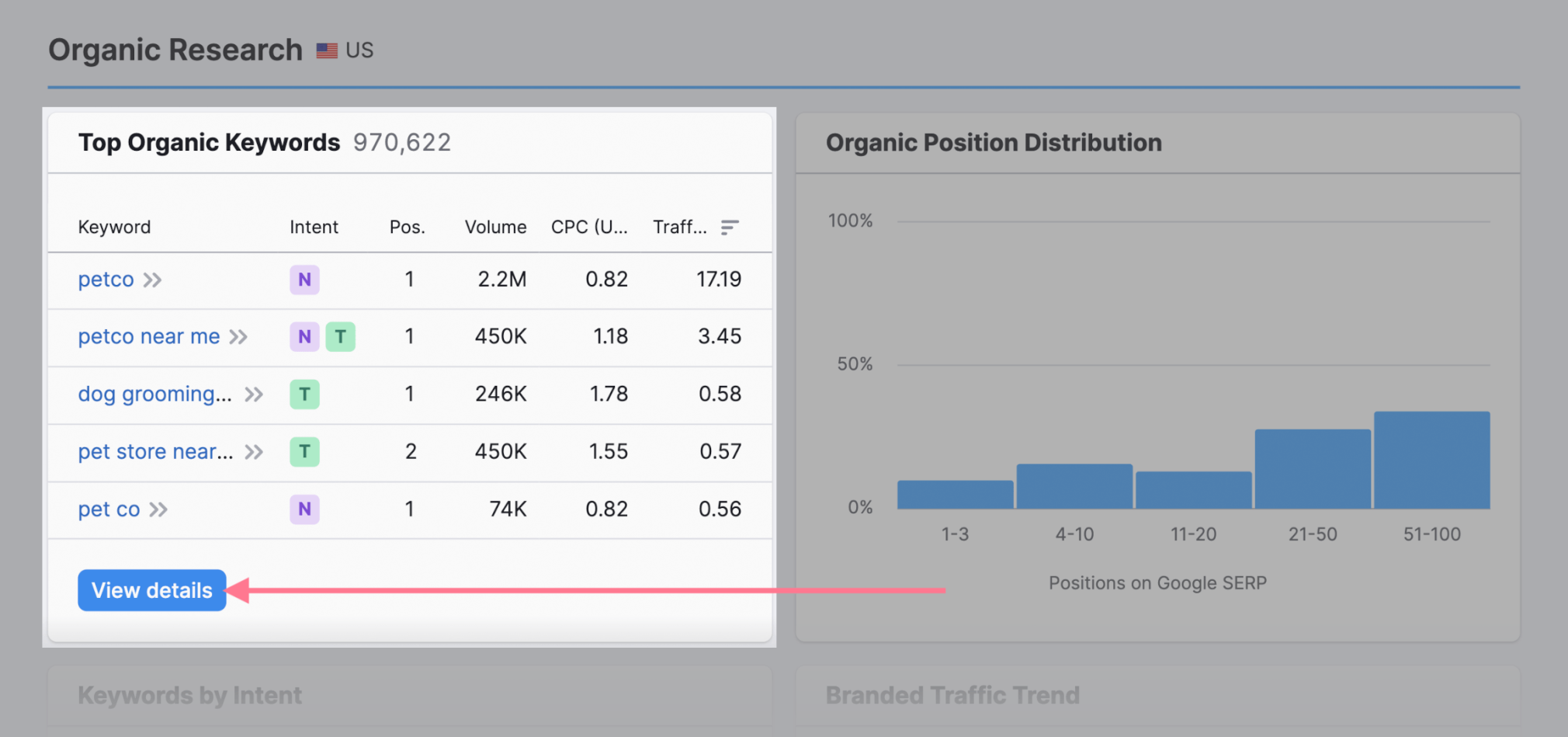 These are the keywords that drive the most organic traffic to your site. 
Tip: You can also use Google Search Console to find more keyword data for your own website.
Pay special attention to keywords with commercial and transactional intent. These tend to lead to more leads and conversions.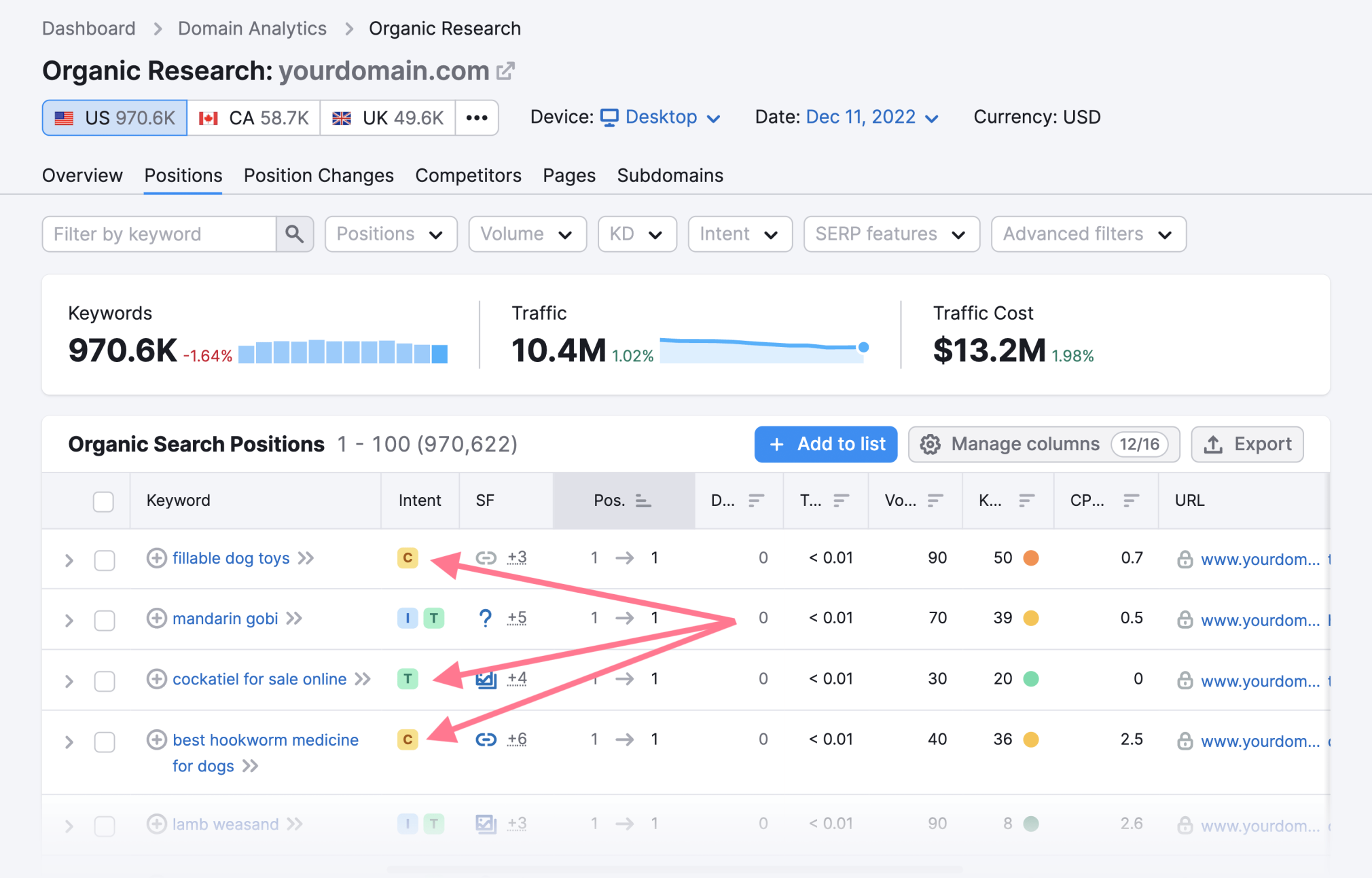 If you're ranking high, great. If you aren't, optimize and improve the content on these pages.
10. Find Long-Tail Keyword Variations
A long-tail keyword is a specific search query with a relatively low search volume. 
Users search for them less often. But they make up a large percentage of overall searches and have higher conversion rates. 
Plus, they're usually easier to rank for.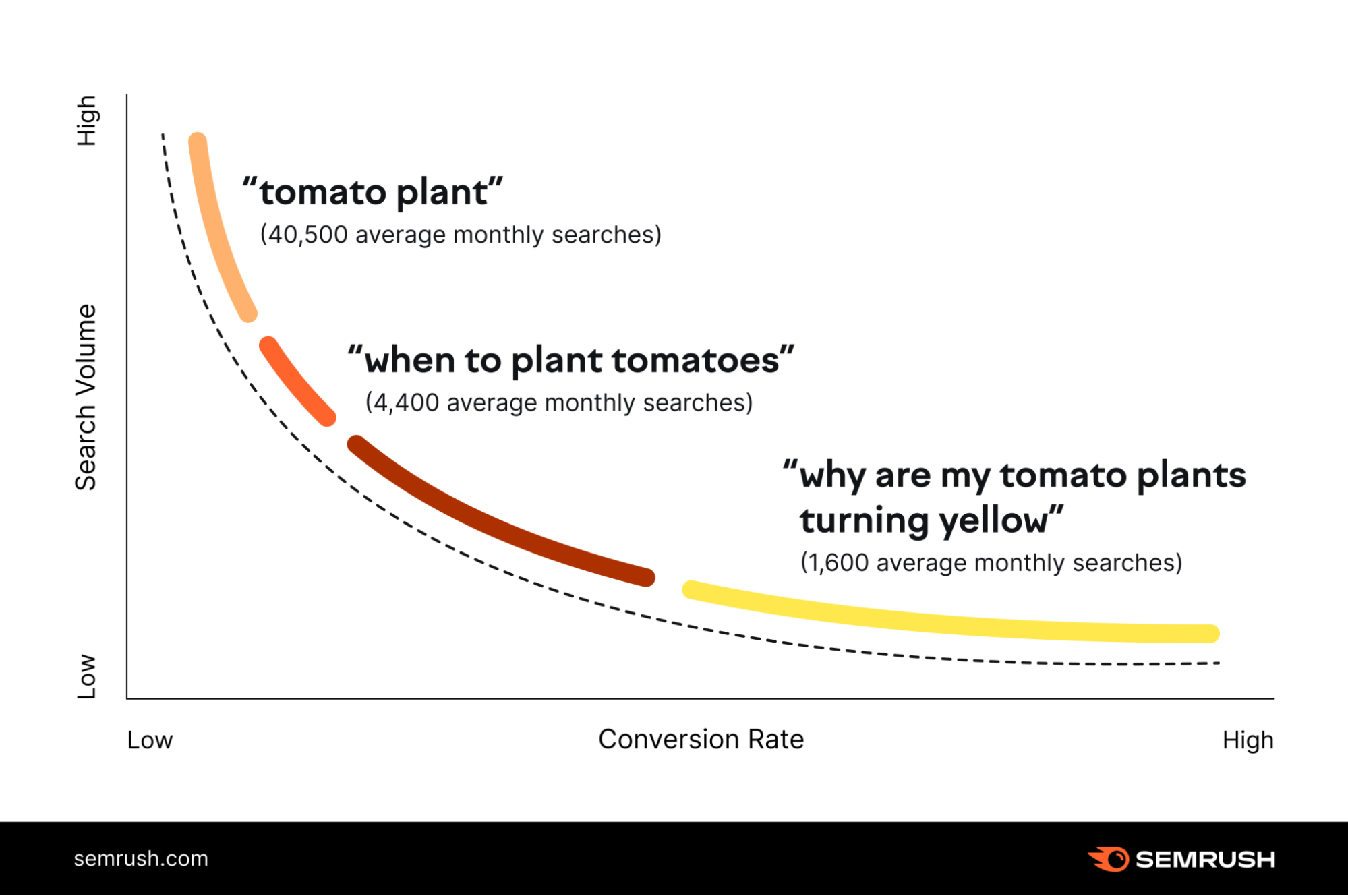 Which means:
You need to ensure your SEO strategy targets long-tail keywords.
Start by defining the main keyword you want to target. 
For example, using the graph above, suppose that keyword is "tomato plant." 
Go to Semrush's Keyword Magic Tool and enter your keyword.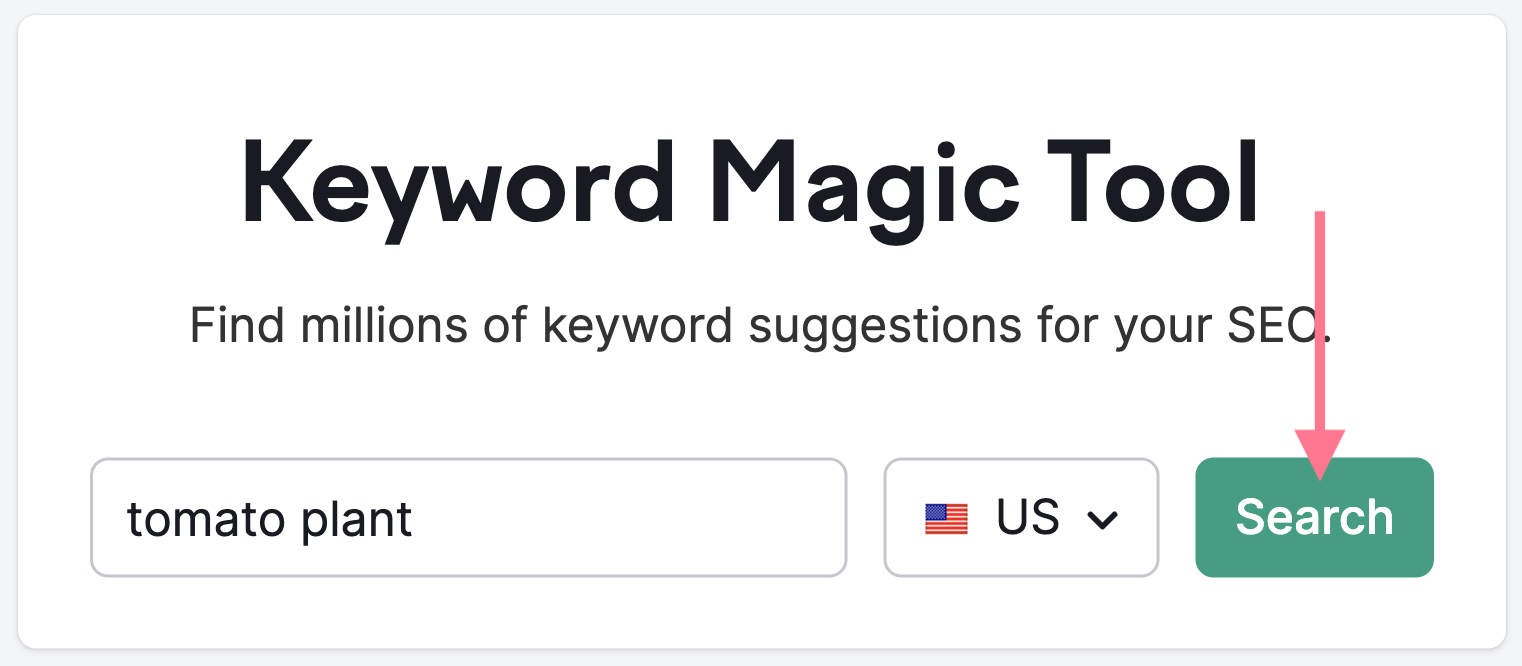 Make sure "Broad Match" is selected. And use the search volume and keyword difficulty filters.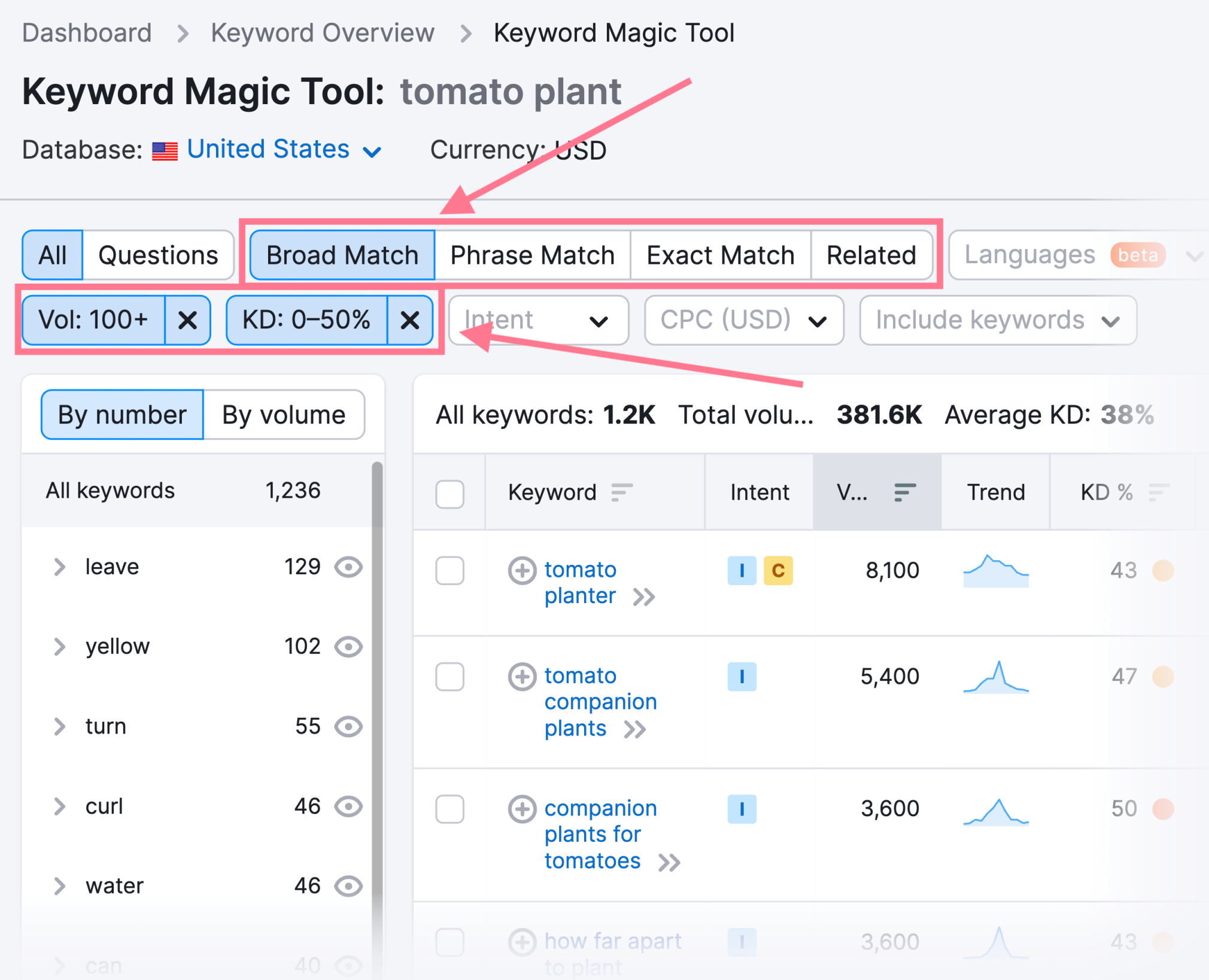 Also, check the "Questions" filter. It often returns interesting long-tail keywords phrased as questions.
Like so: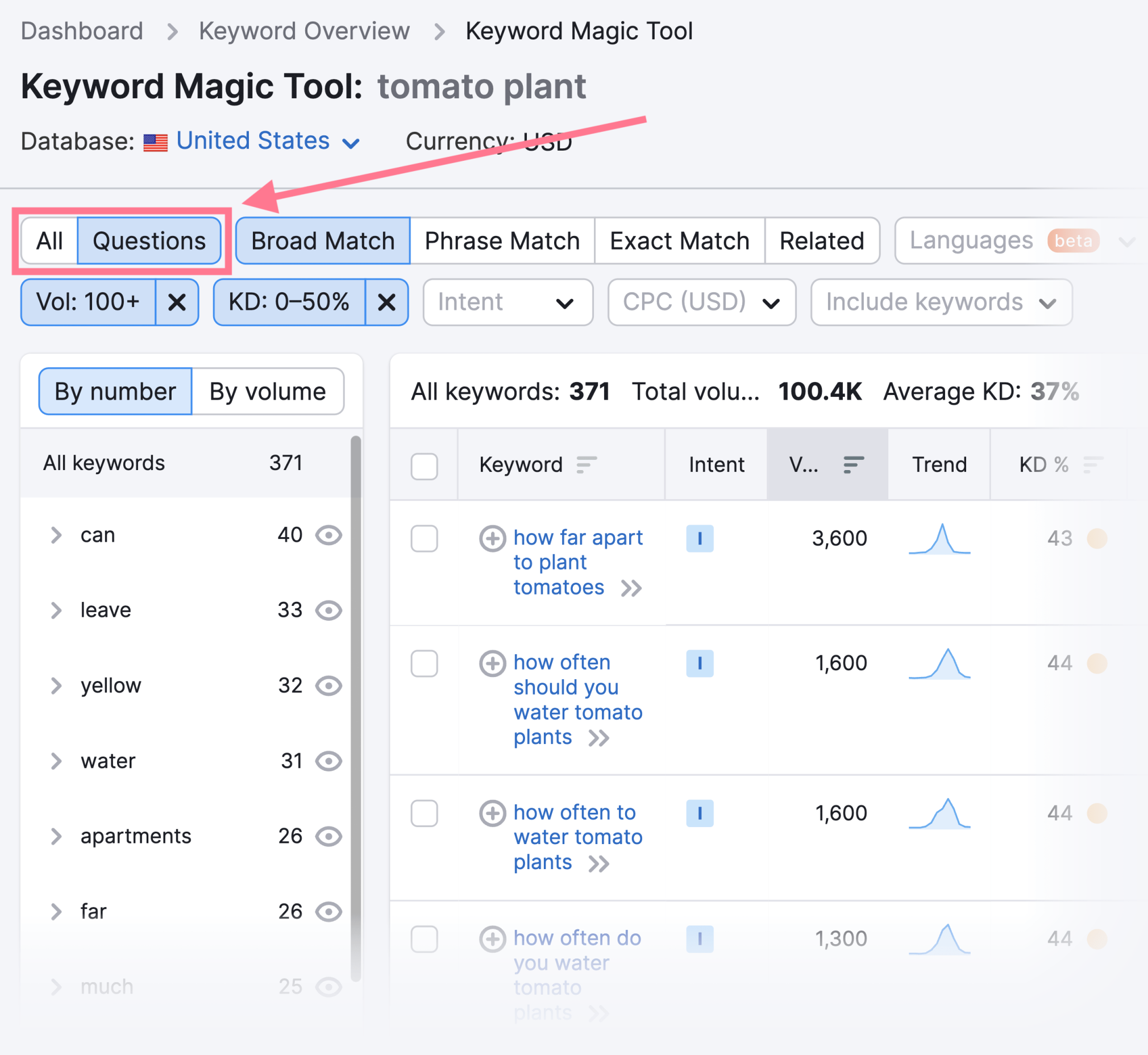 11. Create a Keyword Map
Once you have identified your target keywords, you need to "map" (assign) them to pages on your site. 
Start by using one keyword to identify a larger set. 
Open Keyword Overview, enter your keyword, and hit "Search." 
What we're looking for are the "Related Keywords."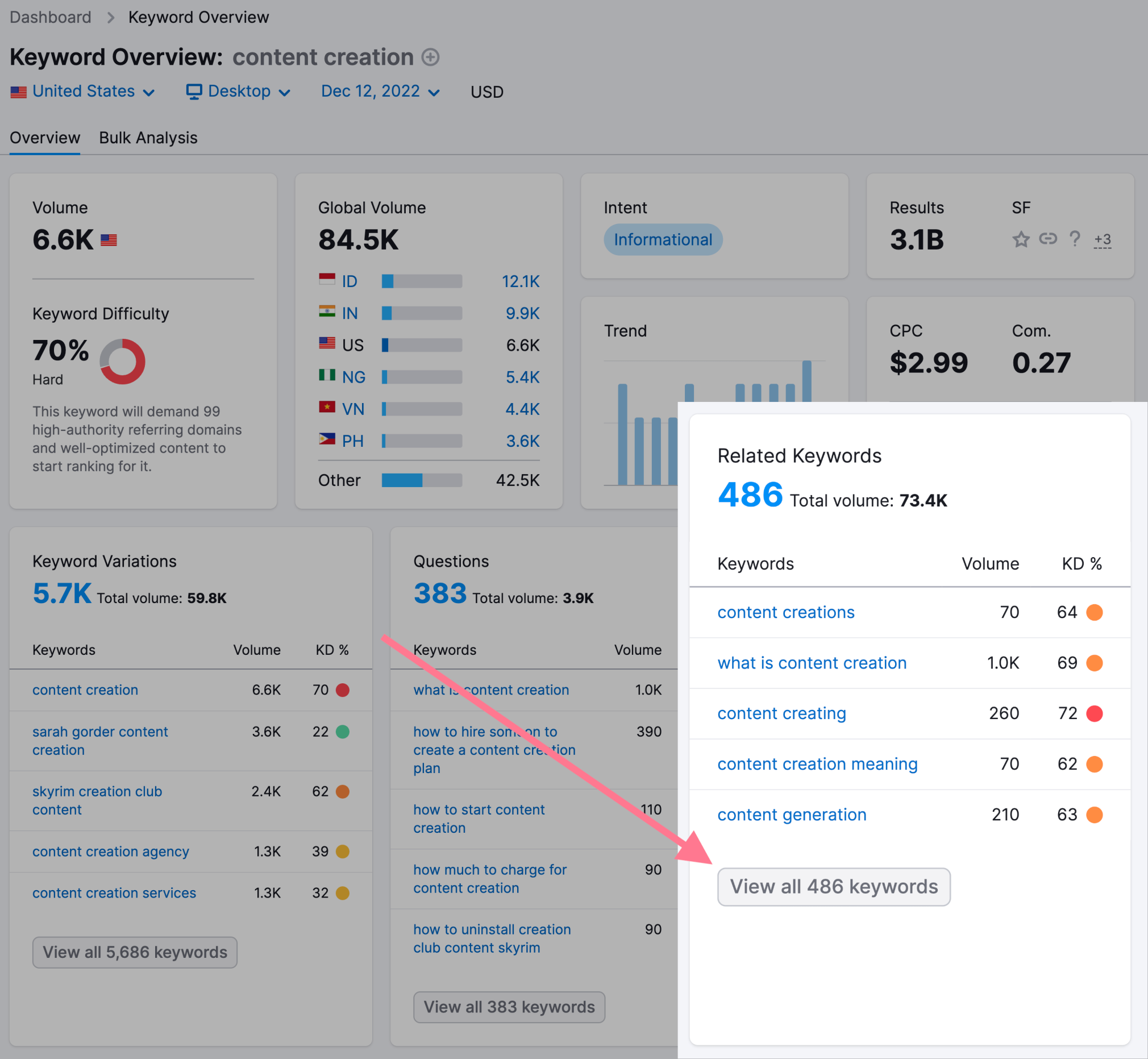 Export the keywords onto a spreadsheet and group keywords that answer the same question.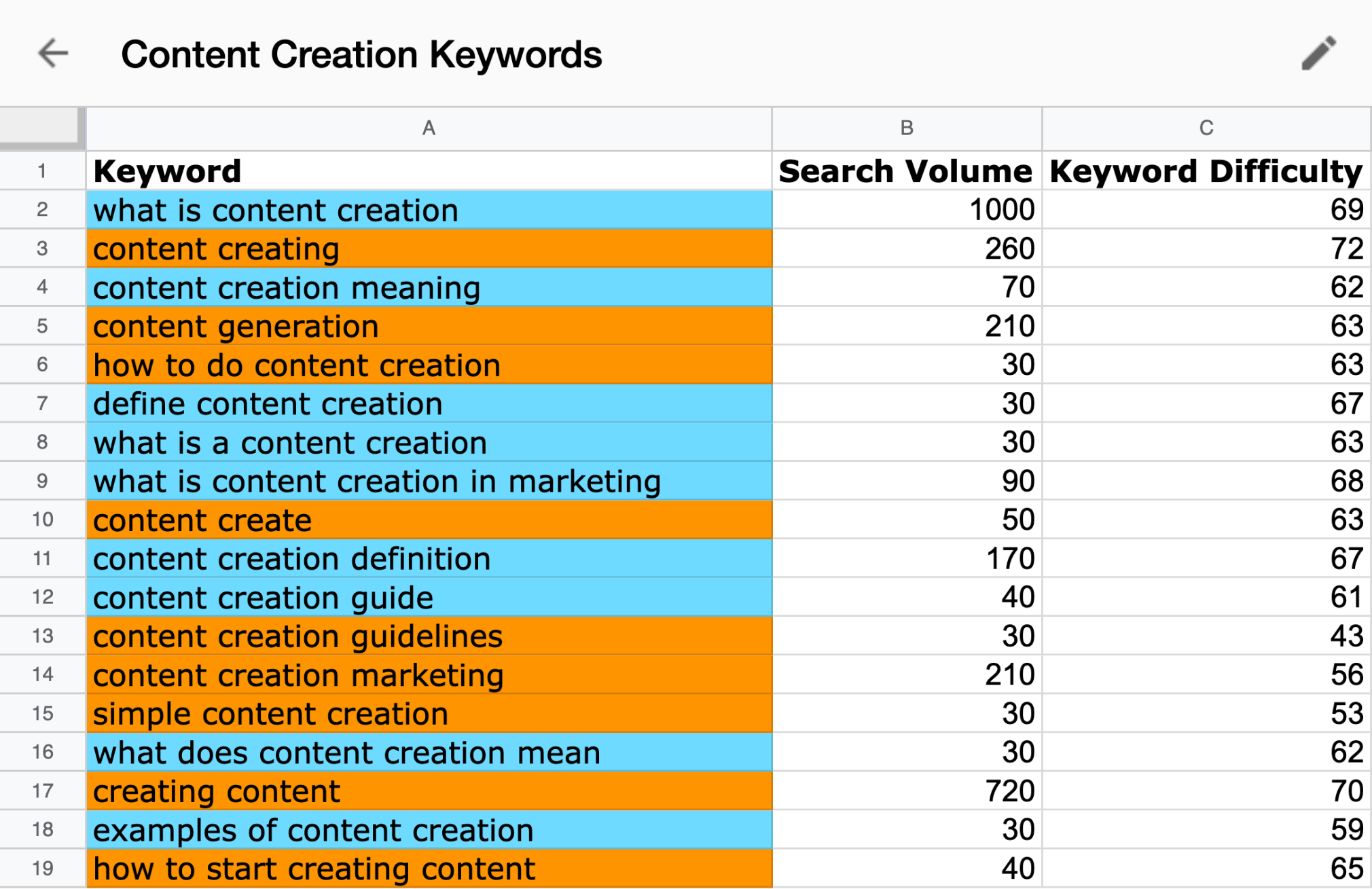 Then, you want to focus on using each set of keywords to visualize your site's structure and potential pages. 
Your last step is to categorize keywords accordingly.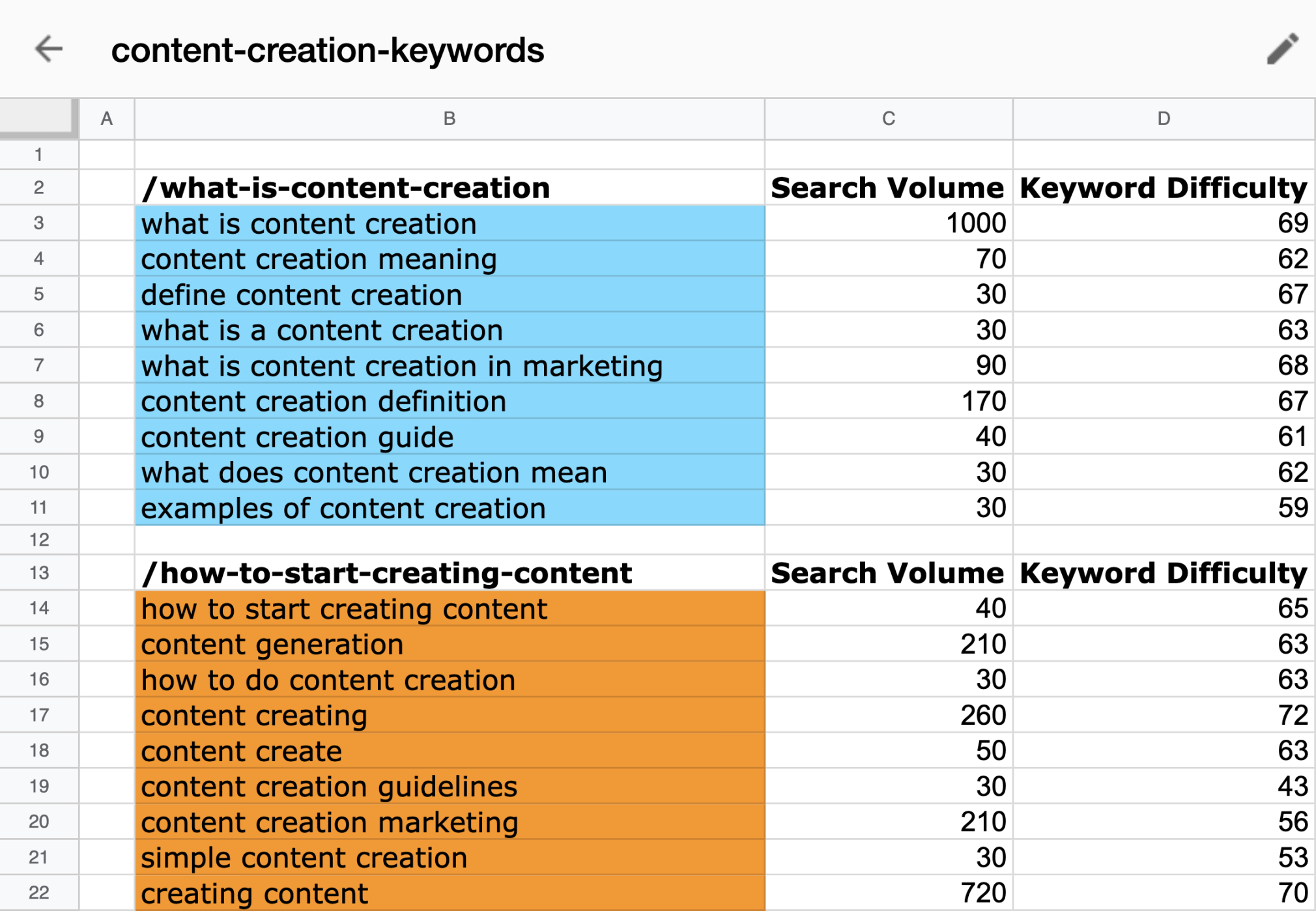 To learn how to map your keywords in just four steps, see our keyword mapping guide. 
Pro tip: Organize your keywords by sending them to Semrush's Keyword Manager.
12. Analyze the Intent of Pages That Rank
Search intent is simply the reason behind a user's search.
There are four types of search intent:
Navigational: Trying to find something 
Informational: Trying to learn more about something 
Transactional: Trying to complete a specific action
Commercial: Trying to learn more before making a purchase decision
And matching users' search intent is one of Google's main goals. 
So, always make sure your page's content matches the searcher's intent for the keyword you're targeting.
To quickly find a keyword's intent, use our Keyword Overview tool.
Enter your keyword, hit "Search," and you'll see a box labeled "Intent."
Like this:
If your content matches the search intent of the keyword, you'll likely see more traffic and higher rankings. 
13. Identify Questions People Ask
Knowing your audience's questions can help you better answer them in your content. 
Use our Keyword Magic Tool to find a list of related questions for any keyword.
Start by entering a keyword, hitting "Search," and clicking the "Questions" filter.
This is a great starting point and can provide great inspiration. Especially if you enter more specific keywords as a starting point.
You can also filter the keywords by SERP (search engine results page) features, including "People also ask." 
That'll show you keywords that trigger a "People also ask" box in the SERP. Like this one:
This will help you know which keywords to plug into tools like AlsoAsked.com.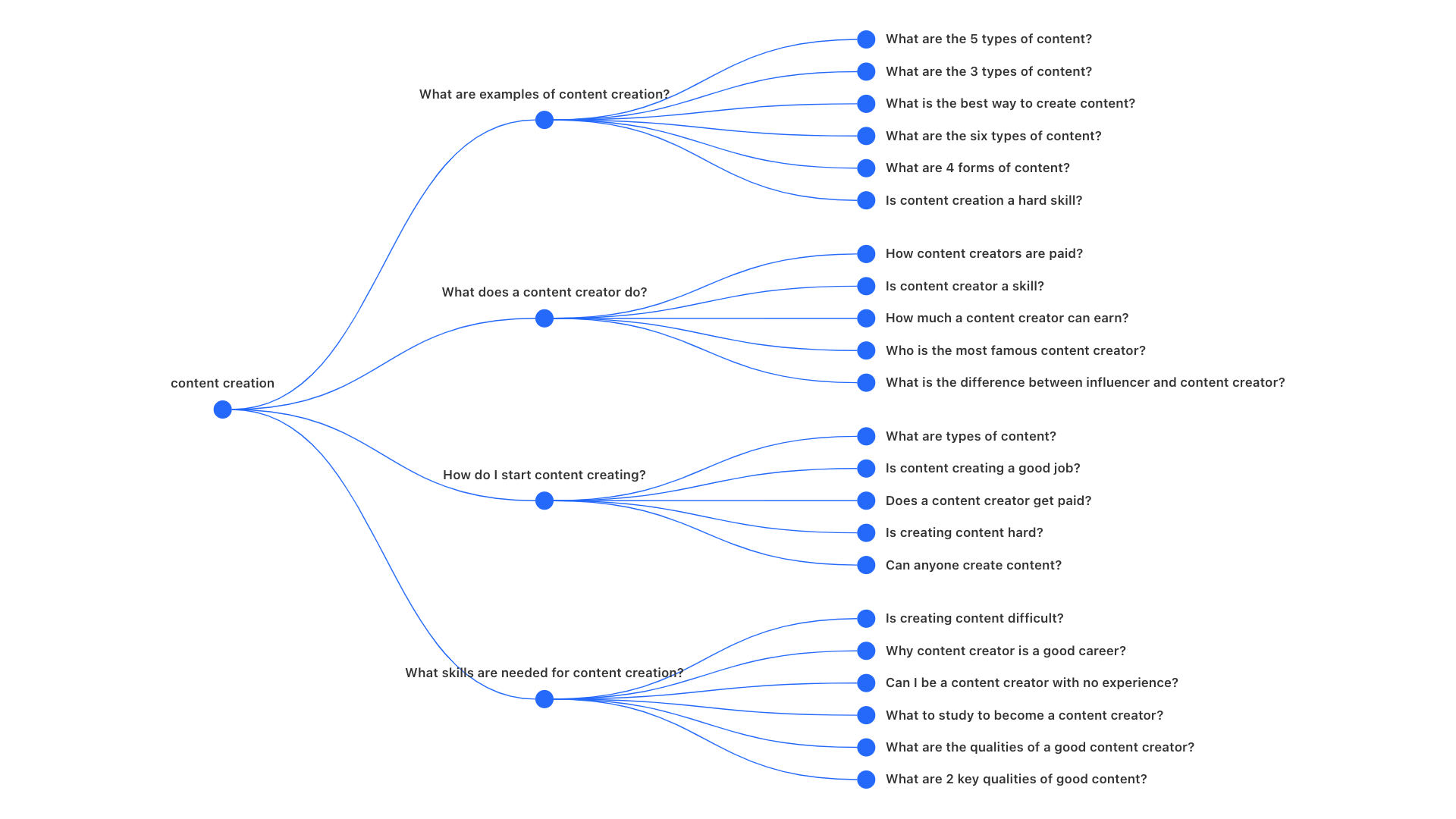 14. Understand Your Ranking Difficulty
Assessing your chances of ranking for a keyword helps you prioritize tasks. And set expectations as you begin your SEO strategy. 
For a quick estimate, use the "Keyword Difficulty" score in Keyword Overview. 
Keyword difficulty (KD) shows how hard it would be for a website to rank in the top 10 organically on Google for that keyword. 
The higher the percentage, the harder it'll be. 
So, when you choose what to target, keep in mind both keyword difficulty and search volume. Try to balance opportunity with ease of ranking. 
Technical SEO Checklist
Technical SEO helps you create a solid foundation and ensure that your site can be crawled and indexed. 
Here are the most common technical best practices to keep in mind.
15. Make Sure You're Using HTTPS
HTTPS has been a ranking signal since 2014.
You can quickly confirm that your site sits on HTTPS by looking at your browser's URL bar.
If you see a padlock to the left of the URL, you're using HTTPS. If you don't, you're not. And your connection to that site may pose a security risk.
For a more detailed report on possible issues, use our Site Audit tool.
Start by adding a new project, entering your domain, and clicking "Start Audit."
Then, once in the dashboard, go to the HTTPS section and click "View details."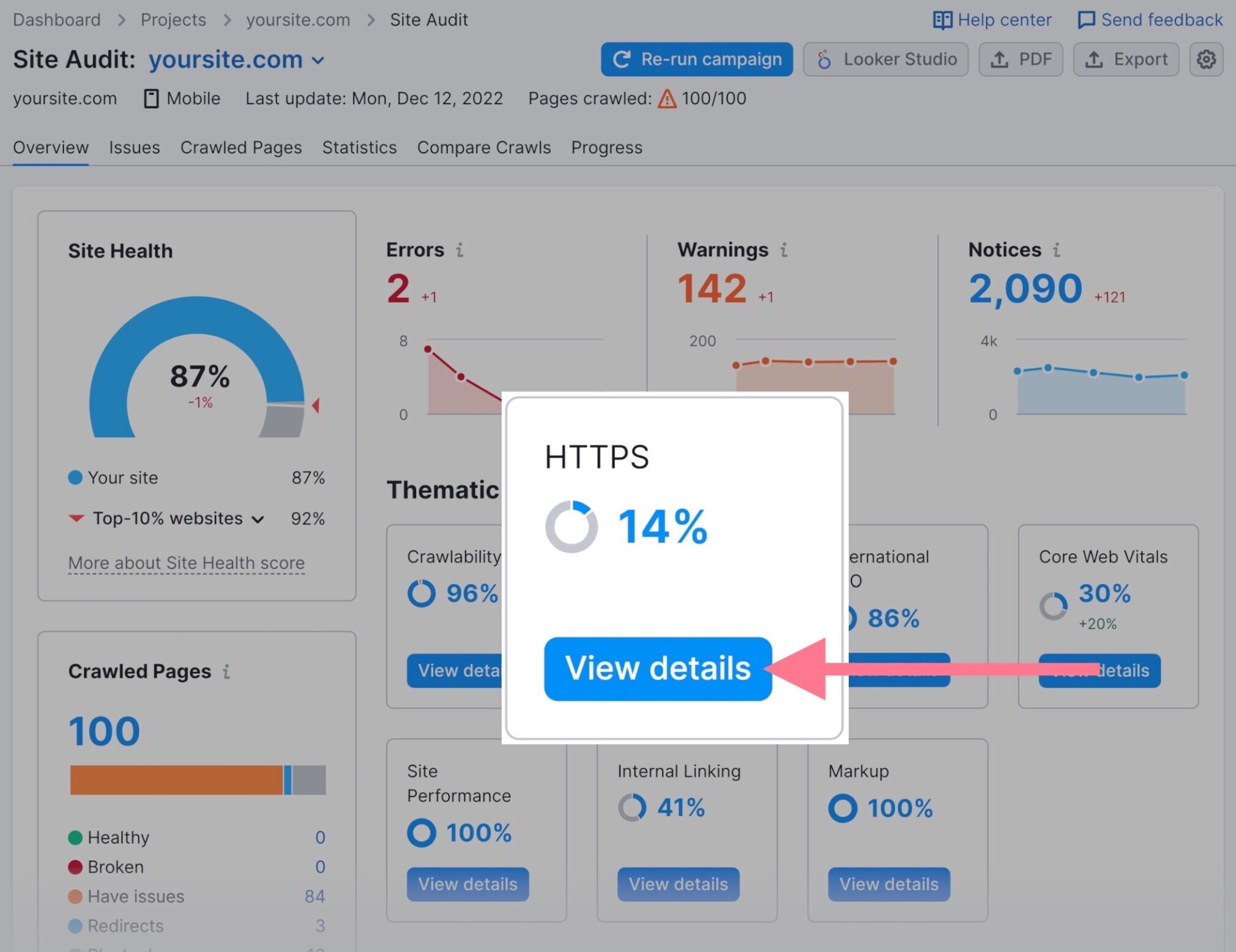 You'll see a dashboard with information about your site's HTTPS status. Like security certificates, server protocols, and website architecture.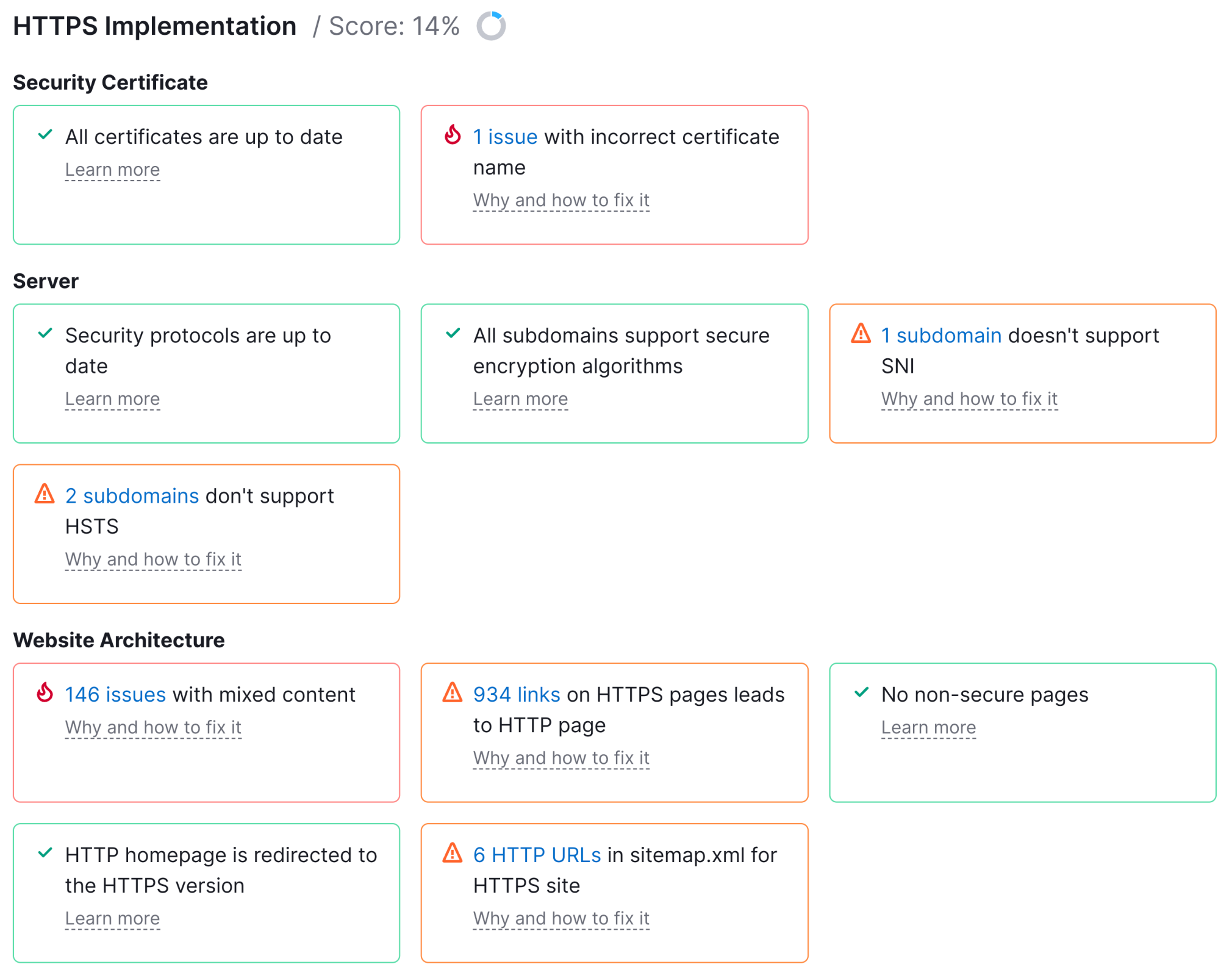 Address any and all issues in this section. It's critical for your site's SEO health. 
16. Check for Duplicate Versions of Your Site in Google's Index
It's important that you only allow Google to index one version of your site. 
Your visitors should also only be able to access your site at one location. Otherwise, it can lead to crawling, indexing, and security issues
For example, the following are all different versions of your site. But they should all point to one.
https://www.domain.com
https://domain.com
http://www.domain.com
https://domain.com
Whether you choose a non-www or www version is up to you. But you should settle on one or the other.
All other versions should 301 redirect to the primary one. 
You can quickly check this by entering each variant into your browser bar. If you're redirected to the primary version of your site, you should be all set.
17. Find and Fix Crawl Errors
A crawl error is when a search engine tries to crawl your site but encounters an issue. And it can be counterproductive to your SEO success. 
Issues include 404 errors, incorrectly canonicalized pages, and others. You want to avoid these errors at all costs. 
You can quickly identify any crawl errors through Google Search Console.
Head to the "Pages" report under "Indexing." 
Like so: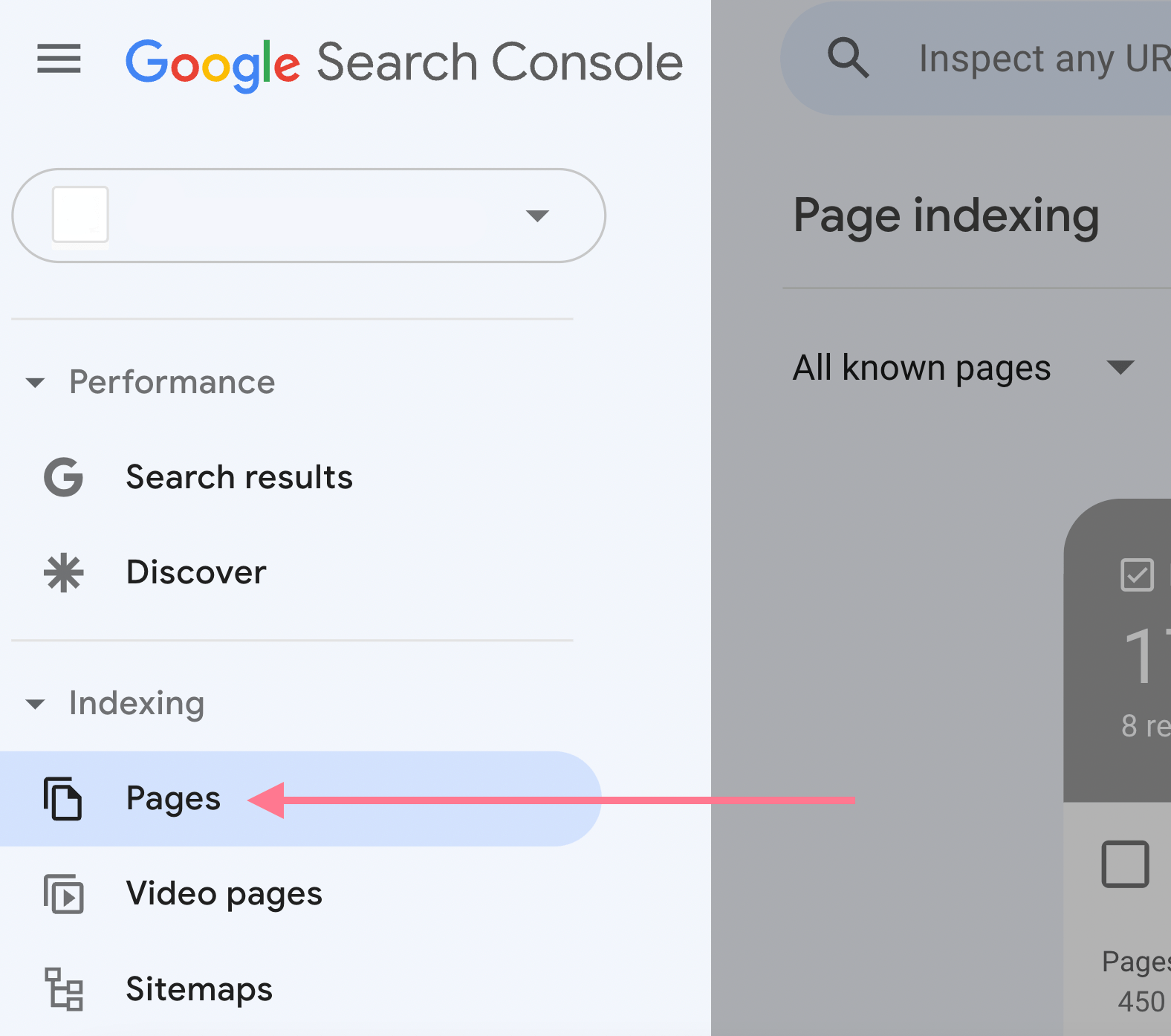 You'll see two categories, "Indexed" and "Not indexed."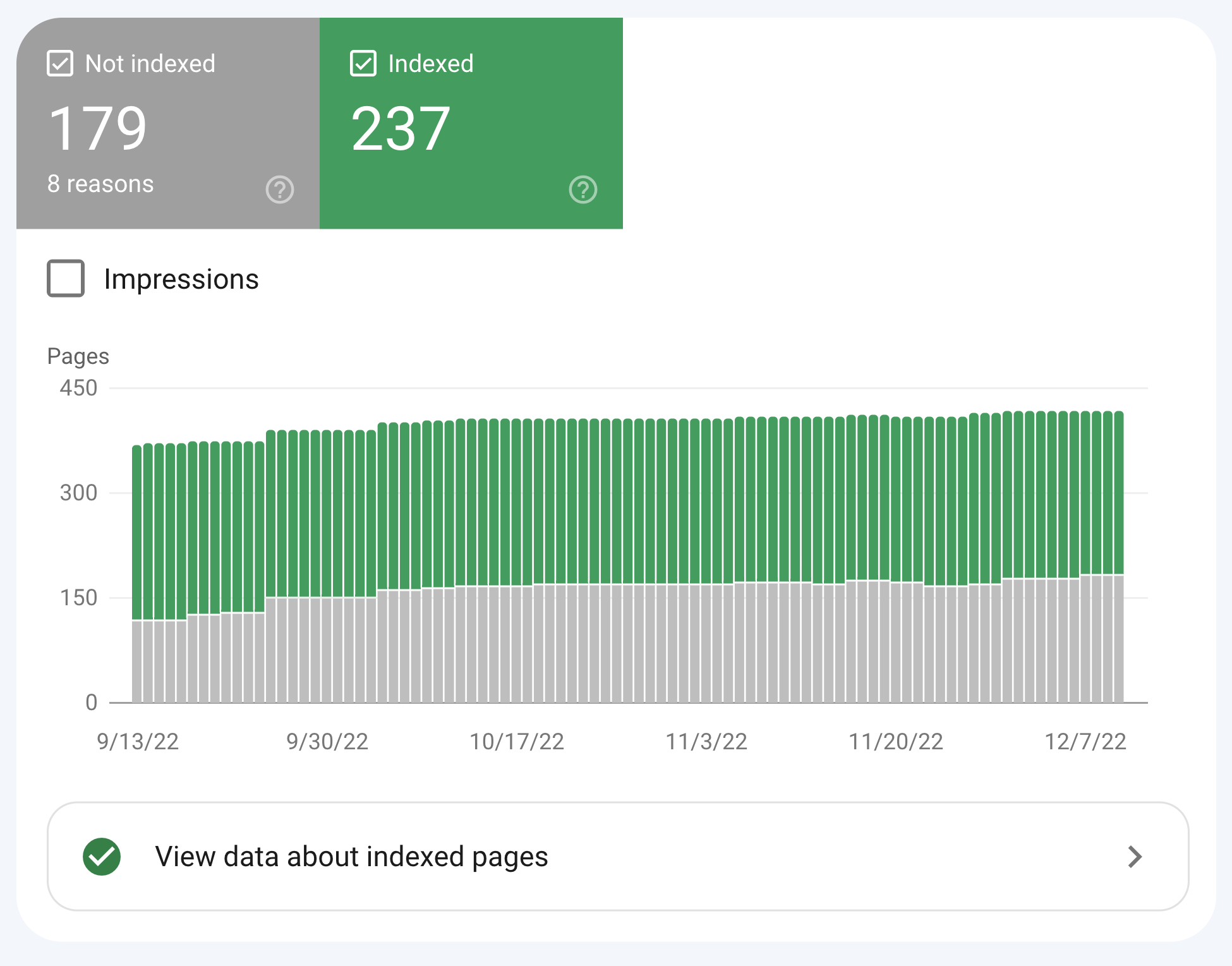 Crawl errors will be under the "Not indexed" category. 
Take the time to resolve any errors you find. And explore the cause of excluded URLs in more detail. 
18. Improve Your Site Speed
Slow sites make for poor user experience (UX). And UX is an important ranking factor for Google. 
You need to make sure your site loads quickly and acknowledge that users continue to expect more. 
No one's waiting around for a slow site.
You can use Google's PageSpeed Insights tool to gauge page performance and Core Web Vitals stats. 
Enter your site's URL, click "Analyze," and scroll to see your site's performance score and list of suggested recommendations.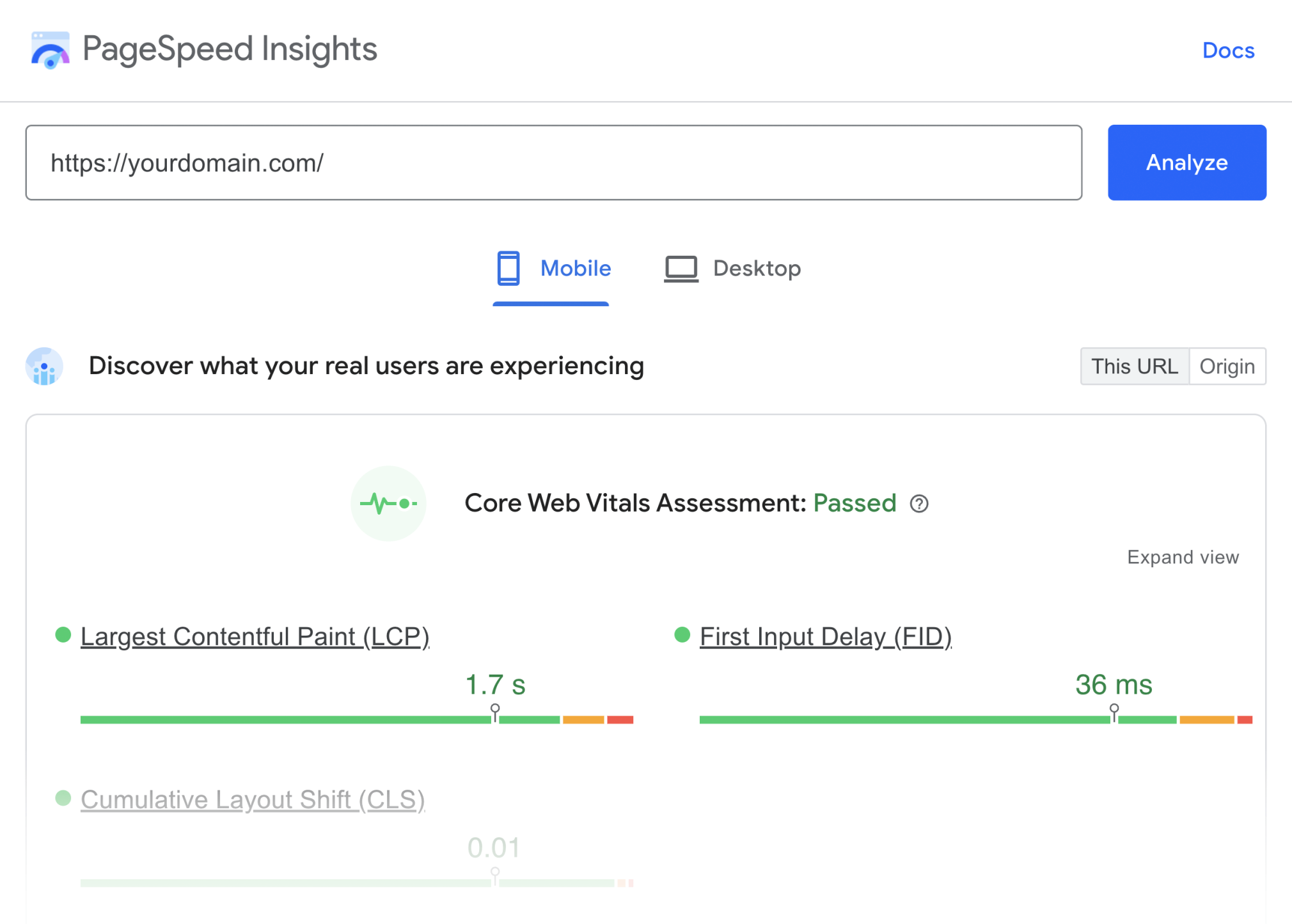 For a more detailed report, head over to Site Audit and click "Core Web Vitals."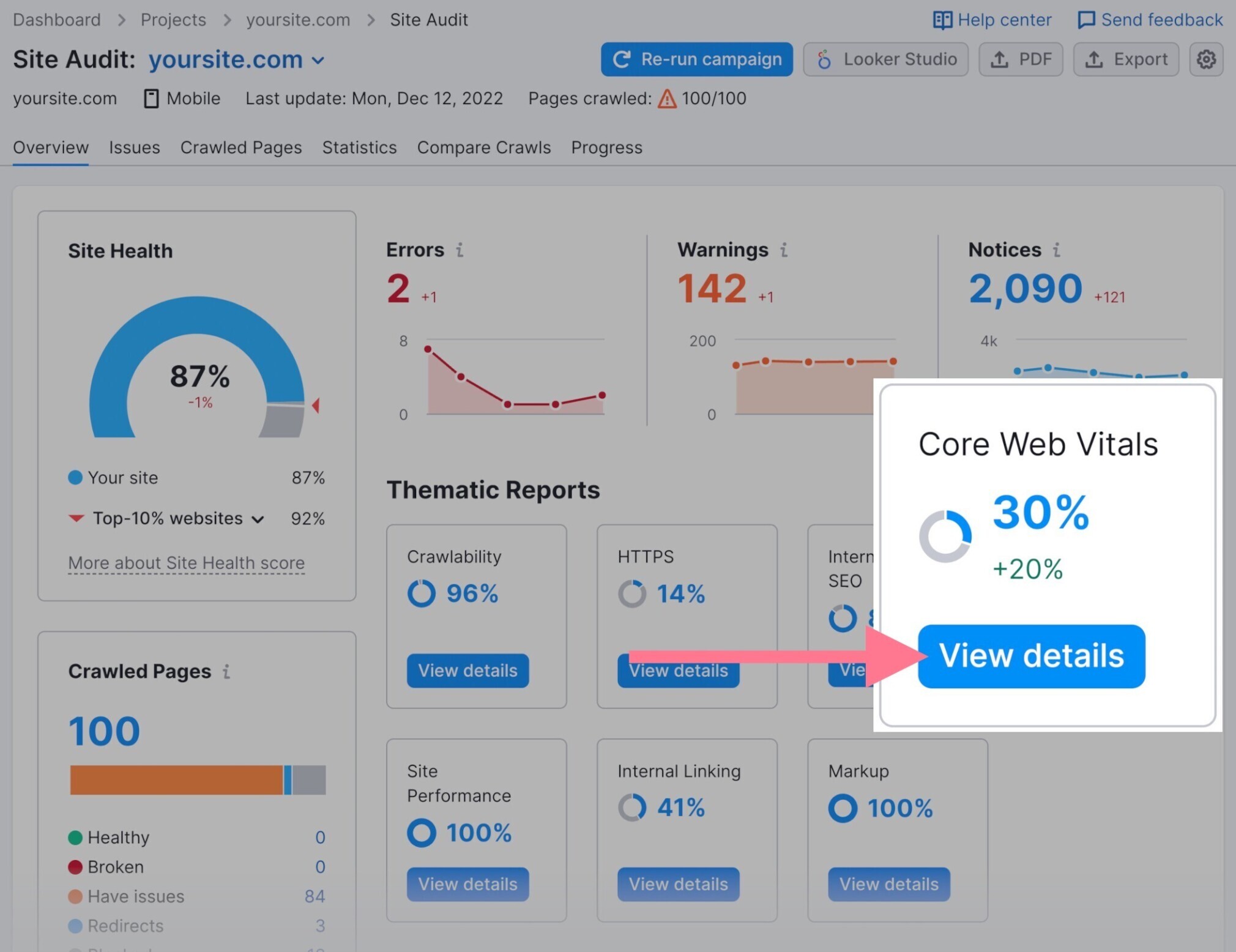 You'll see a snapshot of your Core Web Vitals and recommendations for improvement.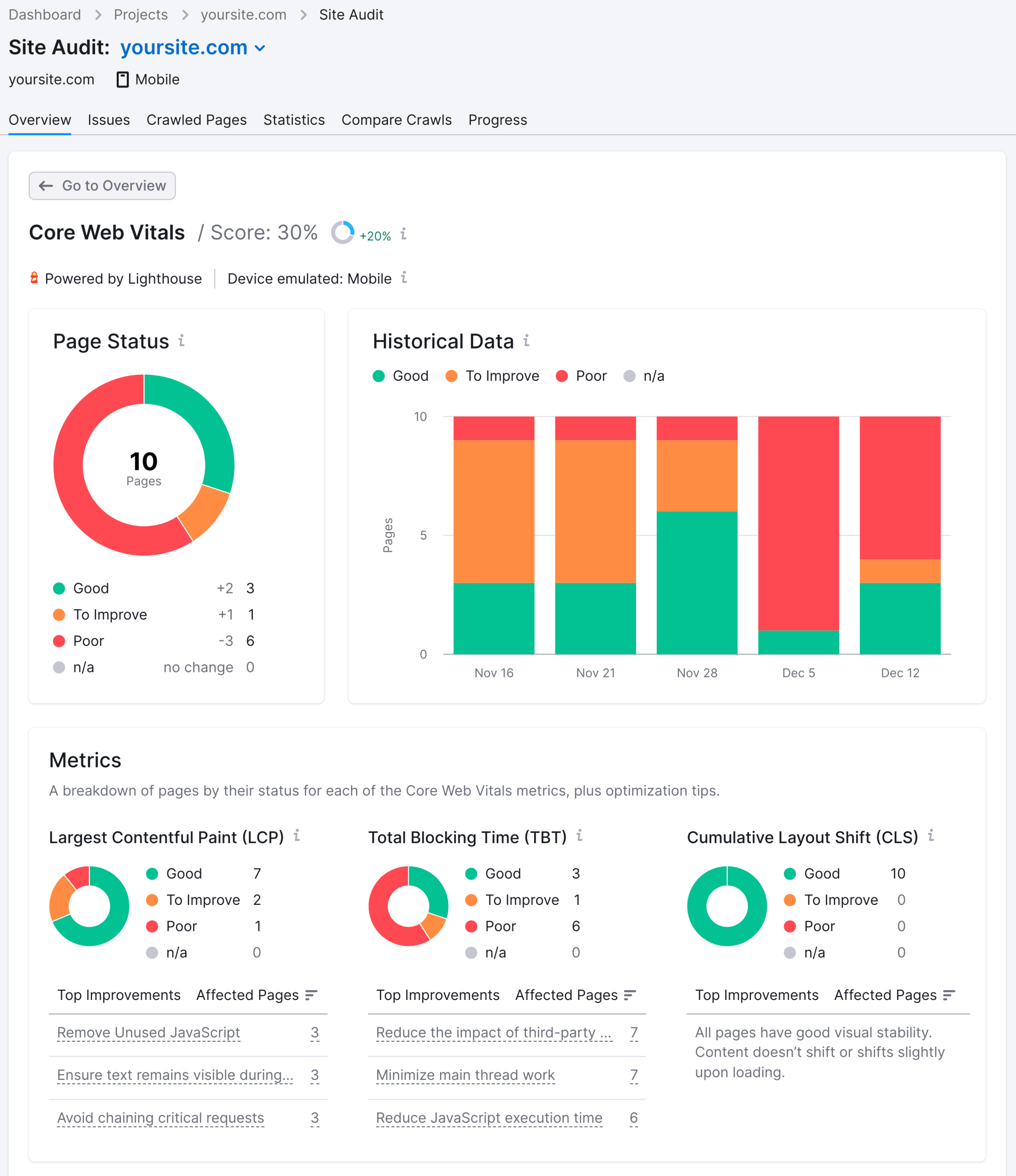 Including which pages are affected. So you can focus your efforts.
Read our PageSpeed Insights guide for more information.
19. Fix Broken Internal and Outbound Links
A broken link is a link that points to a page that doesn't exist anymore. Usually because it was deleted or moved without a proper redirect. 
The server returns a 404 (page not found) status code when the user or crawler follows a broken link. 
Like this:
Broken links are another signal of poor user experience. No one wants to click a link and find that it doesn't take them anywhere.
To quickly find (and fix) broken links, head to Site Audit. 
Look for the "Internal Linking" box and click "View details."
You'll see a list of broken internal and external links. 
Fix all issues by either updating the target URL or removing the link altogether. 
20. Find and Fix HTTP Links on HTTPS Pages
Most sites migrated from HTTP to HTTPS a while back. 
But it's still common to find internal links that point to HTTP pages. And not the current HTTPS version.
Even if there's a redirect to take users to the new page, these are unnecessary. You should update these as soon as possible.
Head to the "HTTPS Report" in Site Audit to reveal any HTTP link issues. As well as how to fix them.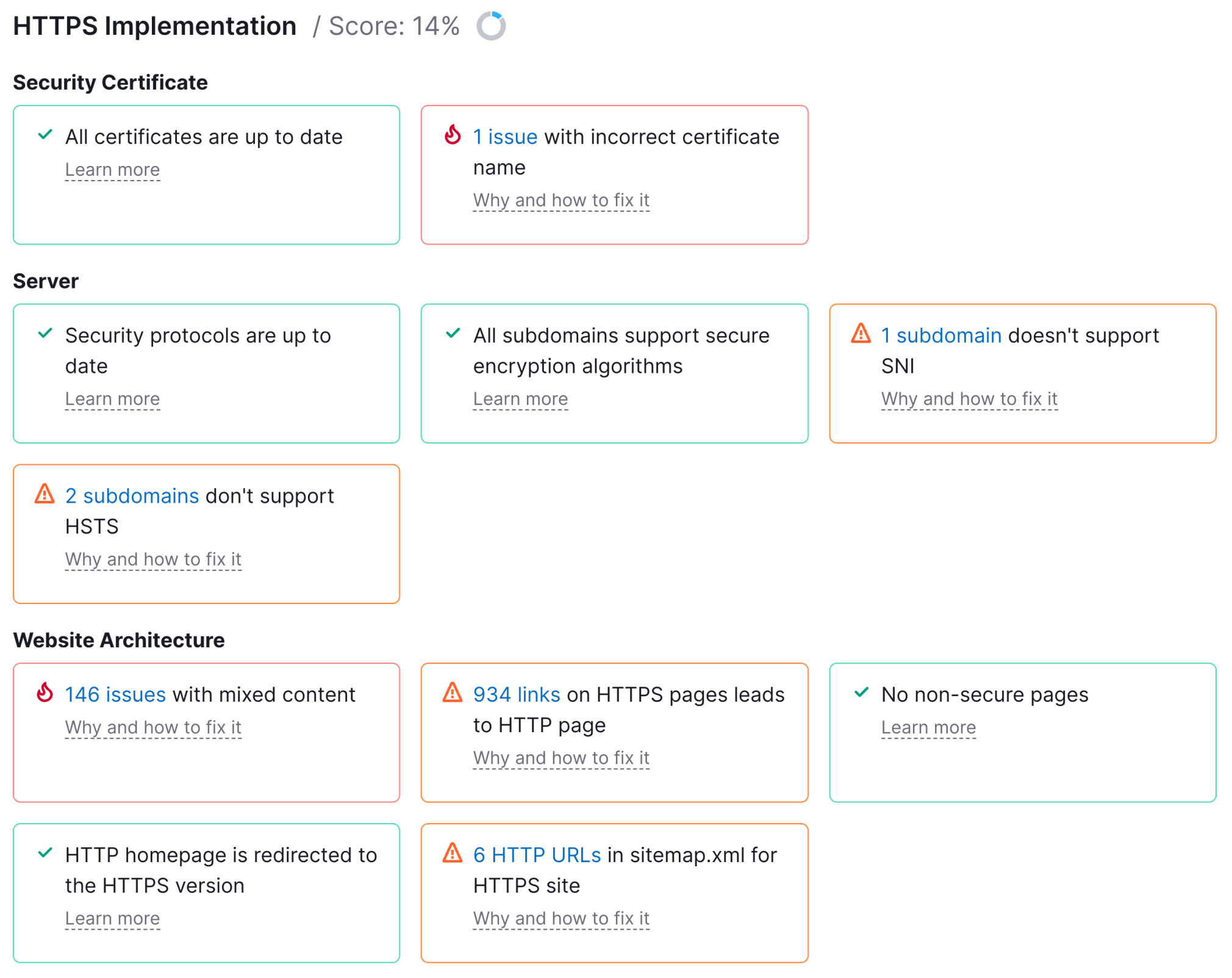 If there are only a small number of incorrect links, update these manually in your CMS. 
On the flip side, if these are site-wide (which they often are), you need to update page templates. Or run a search and replace on the database.
Speak to your developer if you're unsure.
21. Make Sure Your Website Is Mobile-Friendly
Mobile-friendliness is a key factor in Google rankings. In mid-2019, Google officially switched to mobile-first indexing for all sites.
You can test your site's mobile-friendliness using Google's Mobile-Friendly Test tool.
Start by entering the URL of the page you want to test and clicking "Test URL."
And after a few minutes, you should see the test results. It'll look something like this: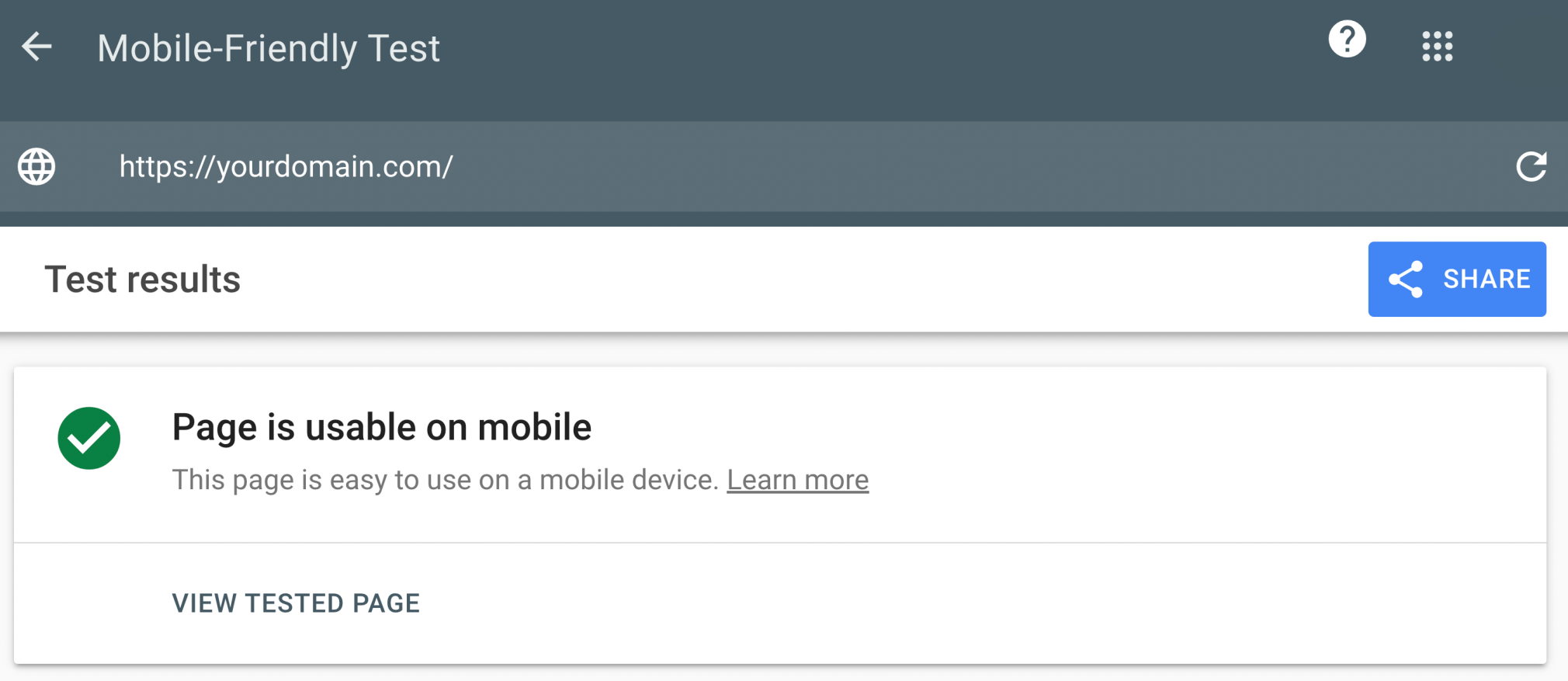 Here are a few mobile-friendly best practices to follow:
Pick a website theme that is responsive (mobile-friendly)
Make your site easy to navigate (and read) on mobile devices
Optimize titles and meta descriptions for mobile SERPs
If you want to dive deeper, check out our guide to mobile SEO. 
22. Use an SEO-Friendly URL Structure
SEO-friendly URL structures make it easier for search engines to crawl your pages. And understand what they're about. 
Your page URLs should be simple and descriptive. For search engines and users alike. 
Here is what an SEO-friendly URL looks like:
https://www.domain.com/red-shoes/
As opposed to a query string that isn't descriptive:
https://www.domain.com/category.php?id=32
Do use hyphens in your URLs to separate words. Don't use underscores.
Do keep URLs as short as possible. (A study by Backlinko showed that shorter URLs tend to rank higher.)
23. Add Structured Data
Structured data is a standardized way of providing search engines information about a page. 
It requires a special HTML vocabulary called schema. (See more at Schema.org.) Schema presents content in a way that search engines can understand. 
For example, you can use structured data for recipes, events, organizations, books, local businesses, and reviews. 
Using structured data helps your listings stand out on the SERPs.
For example, this is what schema markup can look like for reviews: 

Check out our structured data guide to learn about the different types of schema markup, why it's important for SEO, and how to create and test your own.
24. Check Your Site's Crawl Depth
Page depth refers to the number of clicks between a page and the homepage. The shorter the path, the easier it is for Google to crawl.
And ideally, pages shouldn't be any deeper than three clicks. 
If they are, it's a sign that you must spend time reworking your site structure to flatten it. 
The deeper a page is in your website structure, the less likely users or search engines will find it.
You can quickly find your site's crawl depth in Site Audit under "Internal Linking."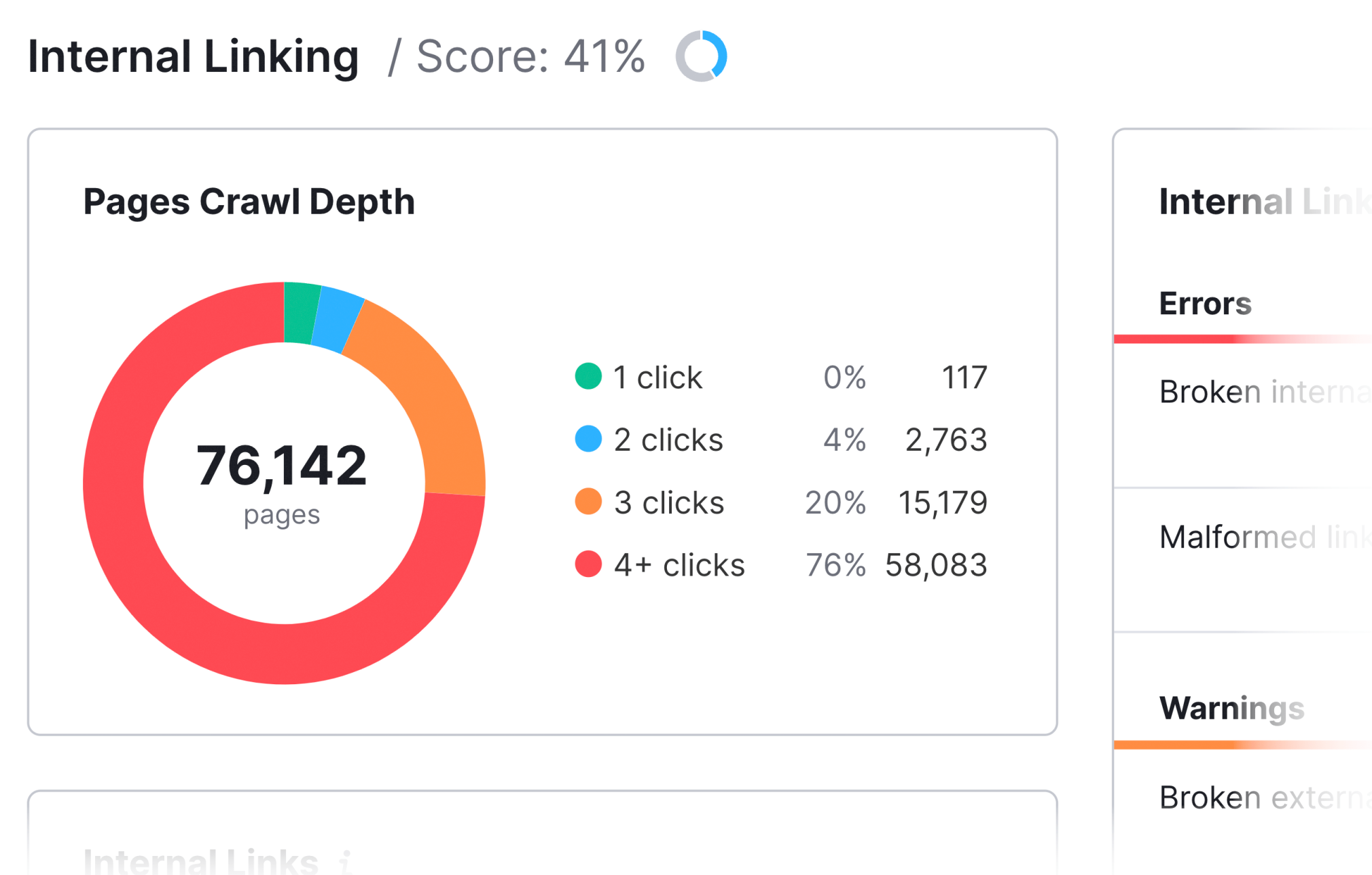 25. Check Temporary 302 Redirects
302 redirects indicate that a redirect is temporary. While 301s signal that the move is permanent.
It's fairly common to see 302s used in place of 301s. 
And though Google has confirmed that 302s pass PageRank, they should be updated to a 301 when you know the move will stay in place forever. 
You can find your site's 302 redirects using Site Audit. 
Go to the "Issues" tab and search for "temporary redirects." 
Like this: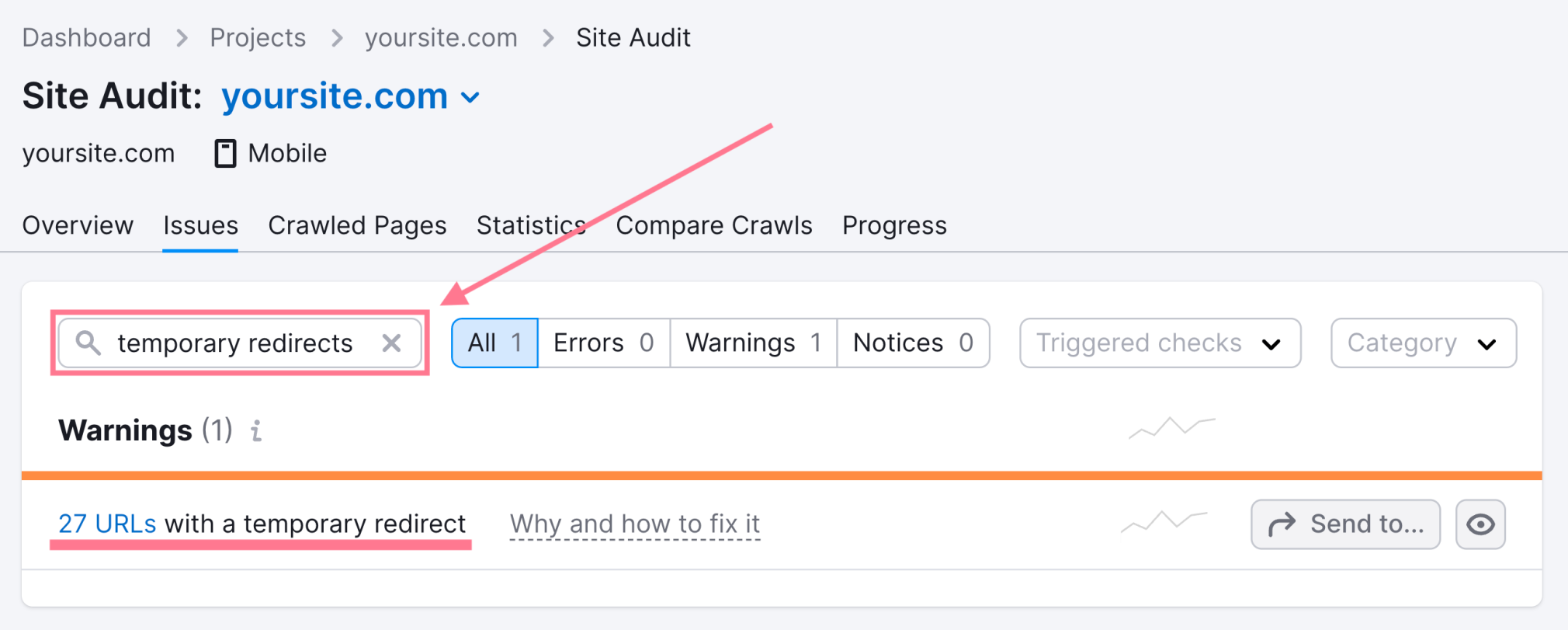 26. Find and Fix Redirect Chains and Loops
A redirect chain is when a page on your site redirects to a page that's already redirected.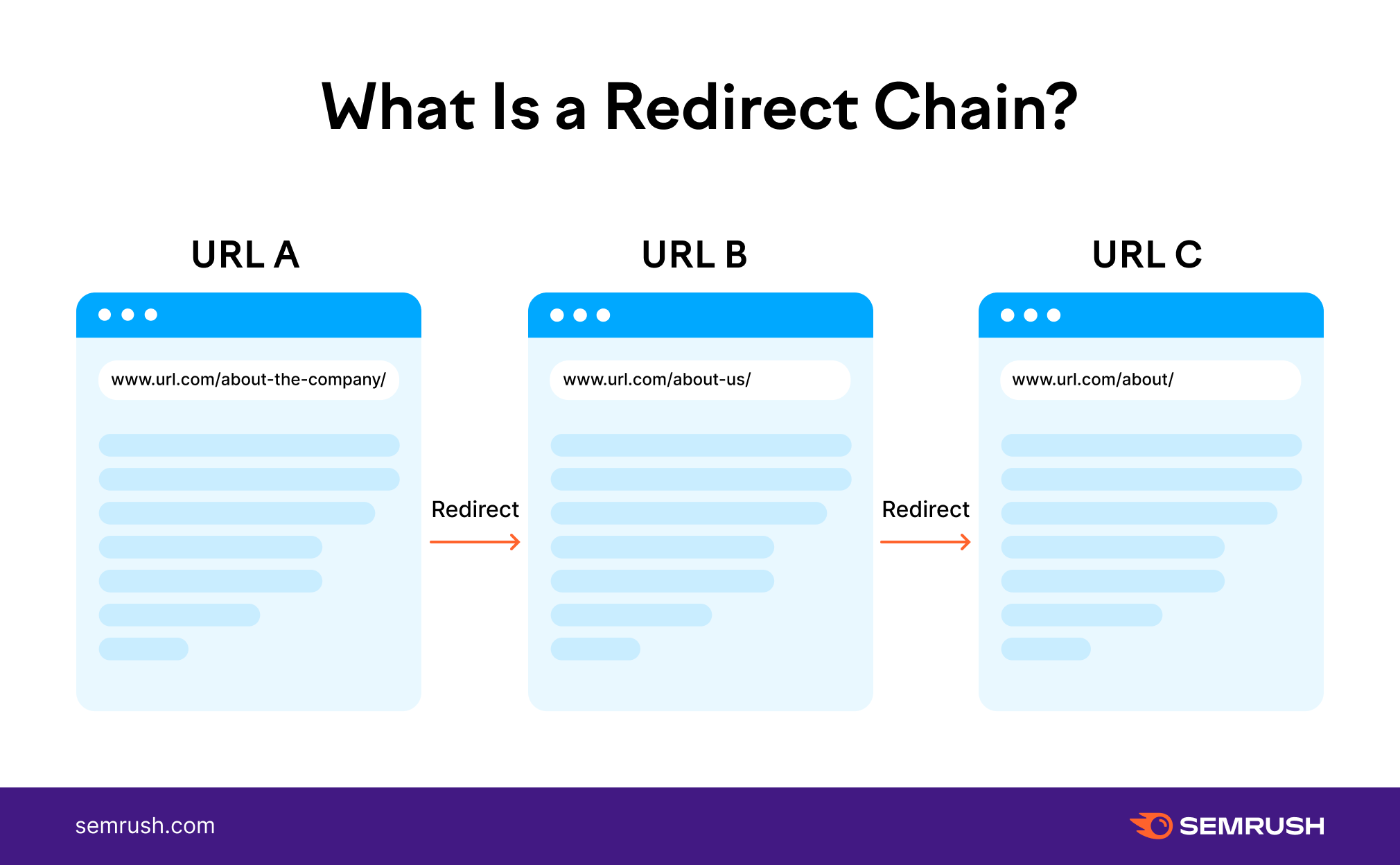 Your site shouldn't send users (or search engines) across multiple redirects. 
Nor should redirects create a loop.
Redirects should just go from page A to page B.
The "Issues" tab in Site Audit will highlight any redirect chain or loop issues. Just search for "redirect chain."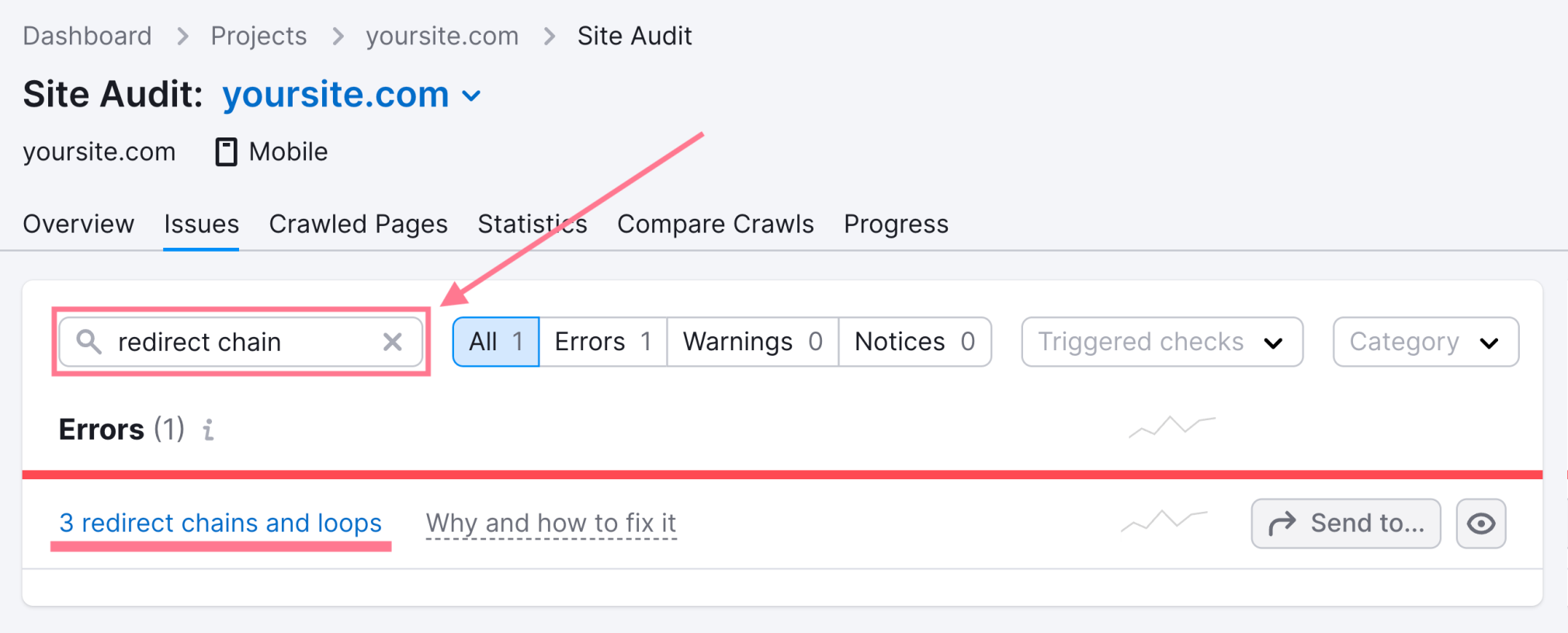 You can resolve these issues by updating all redirects in a chain to point to the end target. Or by removing and updating the redirect causing the loop.
Content & On-Page SEO Checklist
Without useful content and a great on-page experience, your site will struggle to rank and get organic traffic. 
Make sure your site ticks the boxes below. And focus on creating great content for users rather than solely for search engines.
Here's the on-page SEO checklist: 
27. Find and Fix Duplicate, Missing, and Truncated Title Tags
Optimized title tags are an important (and basic) part of SEO. In fact, they're often the first thing any SEO professional looks at to help a page rank.
Title tags inform search engines what a page is about. And impact whether a user will click on it.
You definitely want to avoid:
Duplicate title tags
Long title tags (should stay under roughly 60 characters)
Missing title tags
You can quickly audit your title tags in Site Audit under the "Issues'' tab. There, search for "title tags."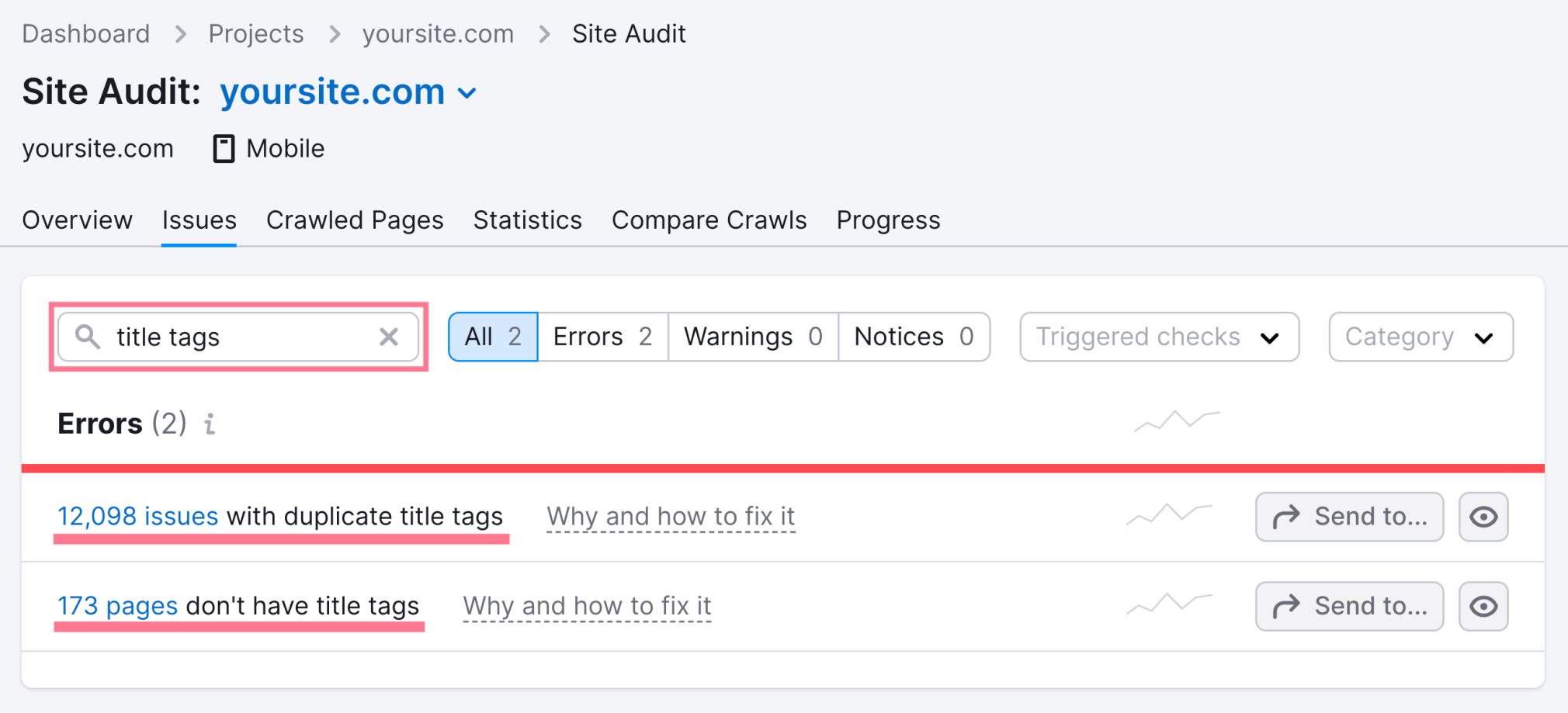 You can click on "Learn more" to read more about each issue and get tips on how to fix it. 
28. Find and Fix Duplicate and Missing Meta Descriptions
Meta descriptions are not a direct ranking factor. But they do help searchers understand what your page is about.
Like so:
They encourage folks to click on your listing over someone else's. And can positively or negatively affect your organic click-through rate (CTR).
Similarly to title tags, you want to avoid:
Duplicate meta descriptions
Long meta descriptions
Missing meta descriptions
You can audit your meta descriptions in Site Audit under the "Issues" tab. There, search for "meta descriptions."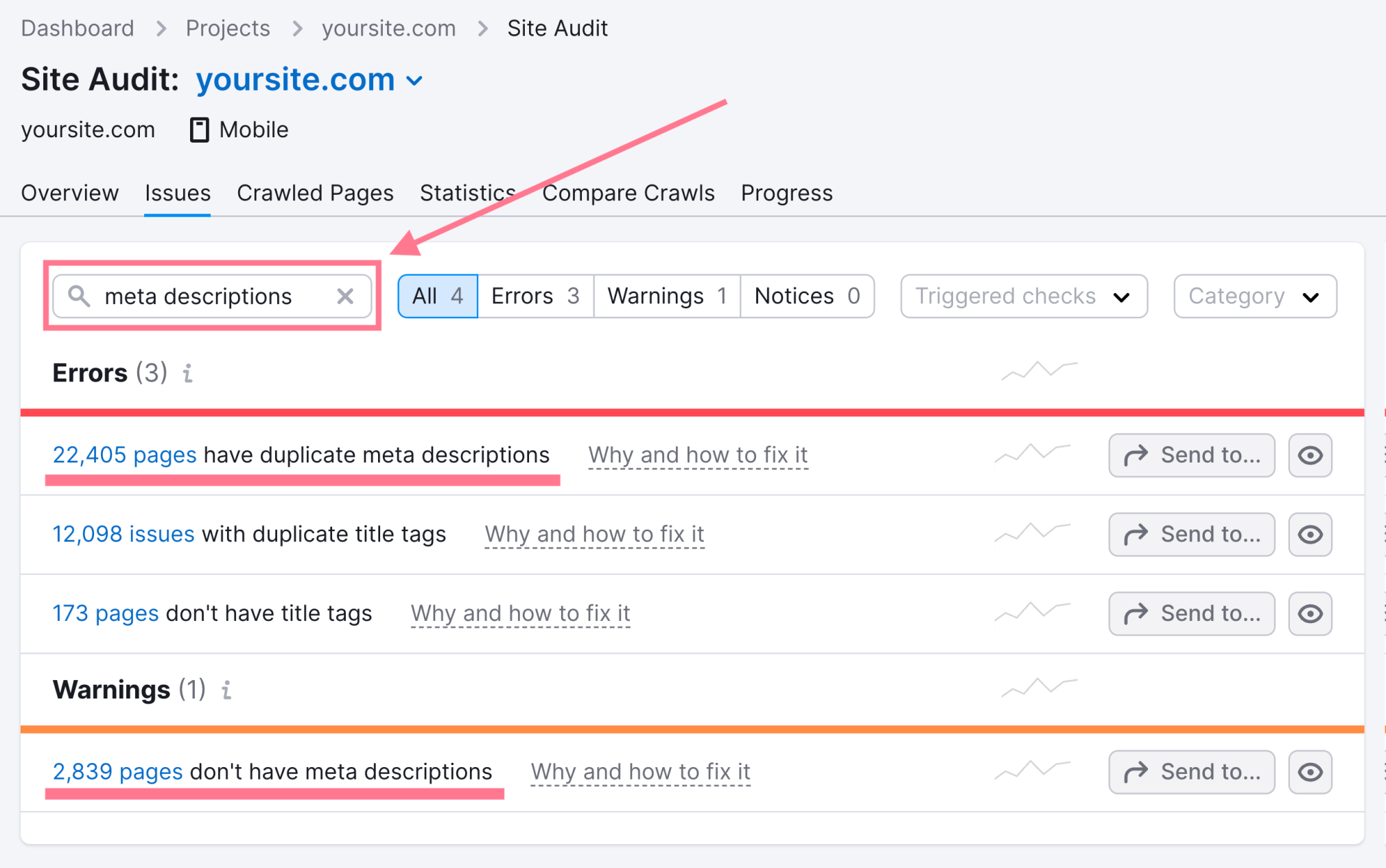 Note: Google rewrites meta descriptions over 70% of the time to best match search intent. However, you should always write one that encourages users to learn more.
29. Find and Fix Multiple H1 Tags
An H1 tag is an HTML heading used to mark up a webpage's main subject. And there should only be one per page.
H1s are important because they improve UX, improve accessibility, and help search engines interpret content.
As a rule of thumb, you want to avoid:
Duplicate H1s
Long H1s
Missing H1s
Site Audit's "Issues" tab flags pages with H1 tag errors. Just search for "h1."
Like so: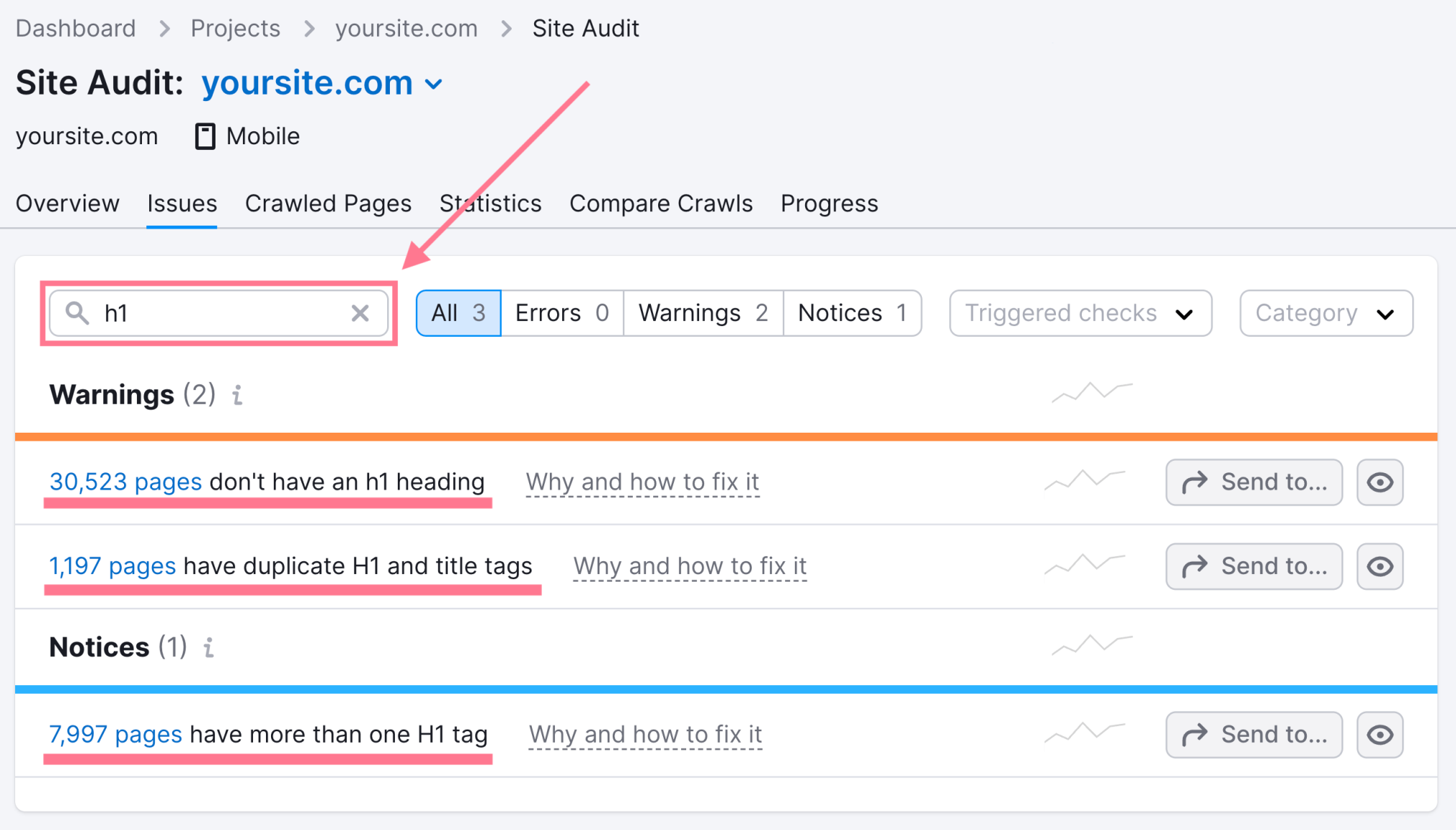 And you should take the time to resolve any issues regarding your H1s. 
Note: Make sure to include the page's target keyword in the H1.
30. Improve Title Tags, Meta Tags, and Page Content
If you aren't properly optimizing your page titles and meta tags, you're missing out on an opportunity to rank. 
Not just for your main keywords, but also keyword variations.
Start by going to Google Search Console and going to "Search results" under "Performance."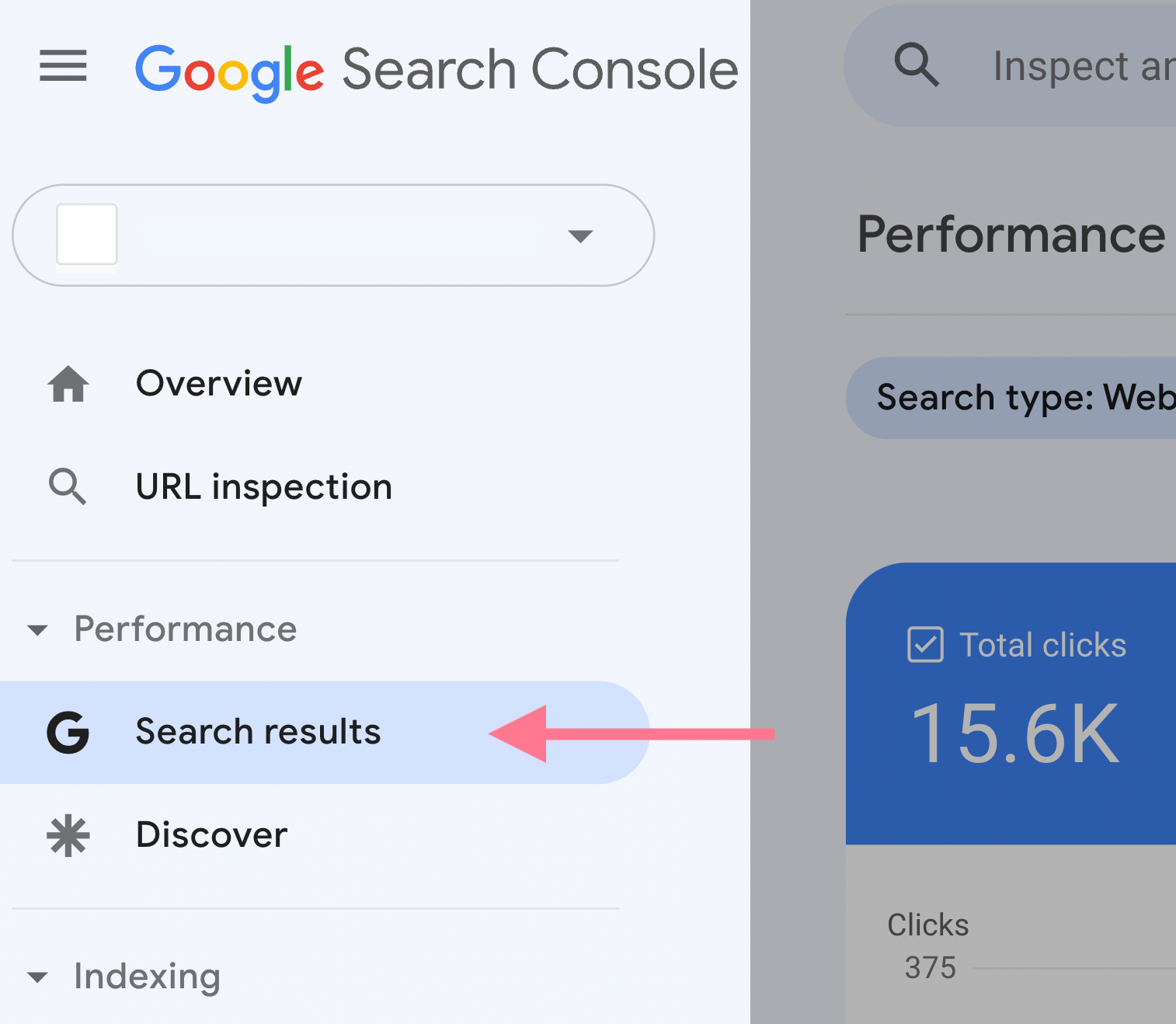 Make sure "Average CTR" and "Average position" are checked. 
Scroll down and look for keywords with significant impressions but low clicks and a low average position.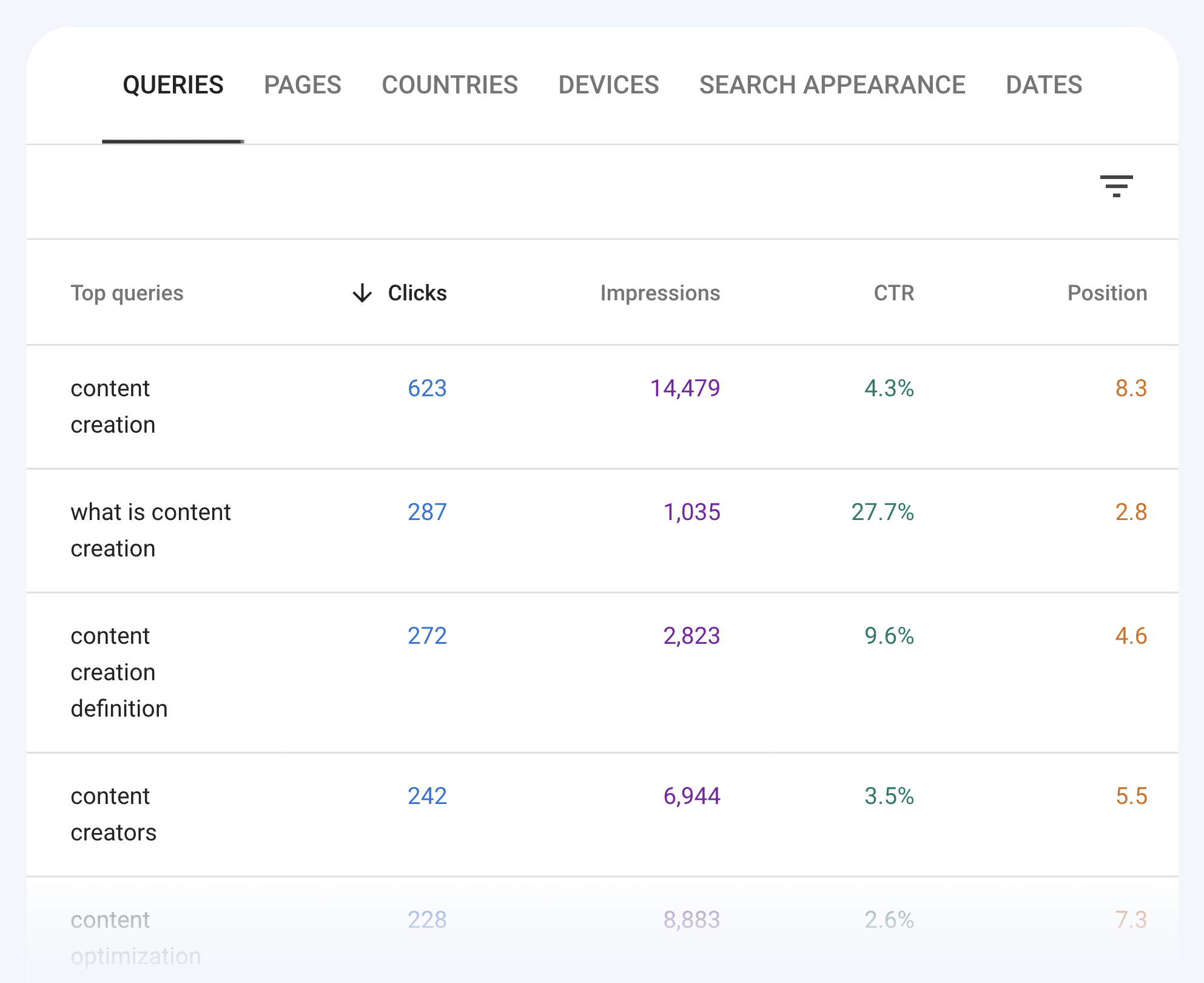 This usually means that your page is relevant for the queries and is ranking. But you haven't optimized it by including keyword variations in your content or tags.
Keep in mind that simply adding keyword mentions won't do much. 
Think of these additional keywords as topics for additional H2s or subsections.
Rework and re-optimize your page with this in mind. And you will likely see an uplift in clicks and ranking position.
31. Audit Your Site's Existing Content
A content audit refers to analyzing your content to find opportunities for improvement. 
Running an audit is important to help make sense of how you can improve your site's SEO performance. 
You can audit your content by using tools like Google Analytics. Or Semrush's On Page SEO Checker to get optimization ideas.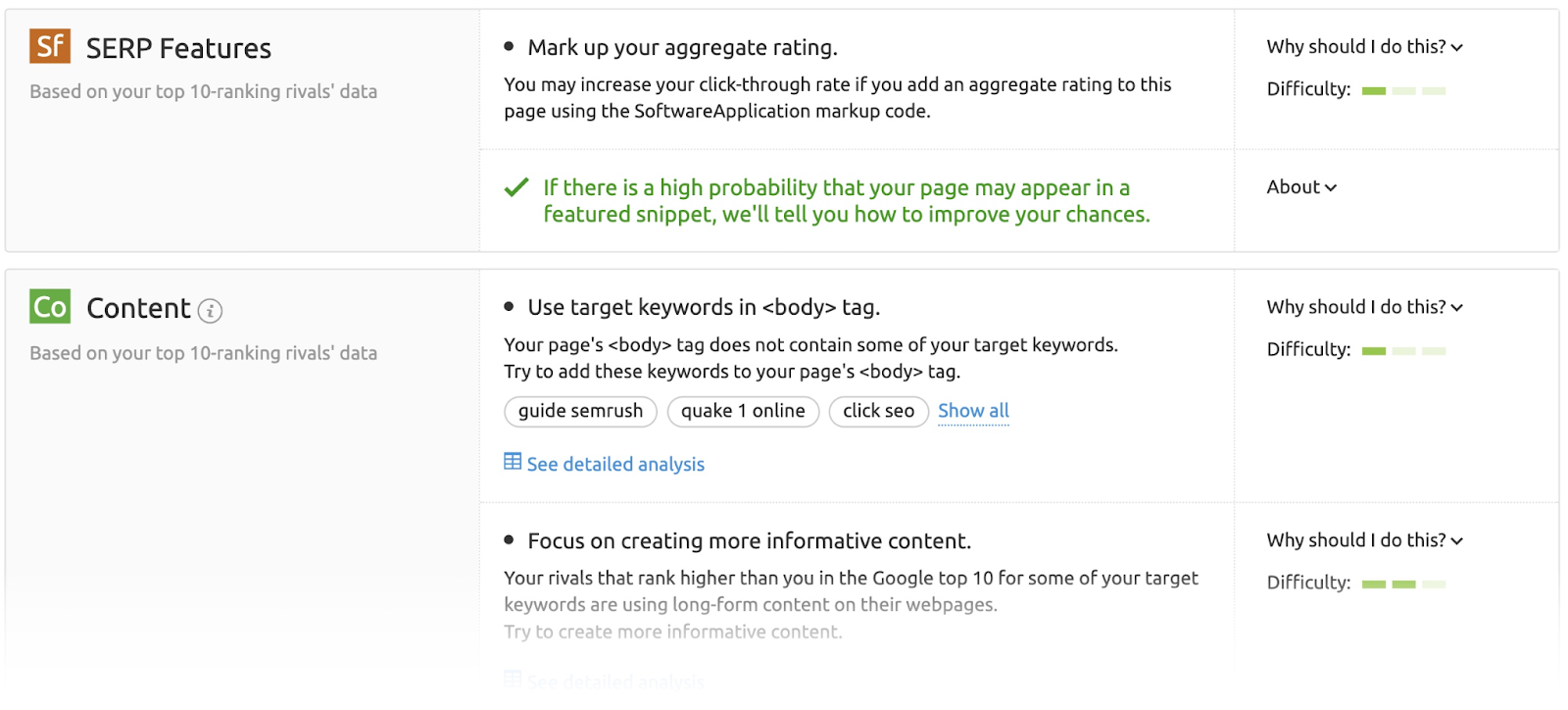 Start by regularly tracking traffic and engagement on your pages. Besides, make sure your content stays up-to-date and add changes as needed.
32. Ensure Images Use Alt Text
Alt text (short for alternative text) is text included in a page's HTML code to describe an image.
It's really important because it helps search engines and those with blindness or limited vision identify images.
And optimizing your image alt text can lead to more traffic from both Google and Google Images.
You can quickly find images without alt text using Site Audit. 
Just go to the "Issues" tab and manually search for "alt attributes." The tool will quickly show how many images don't have alt text. 
33. Improve Internal Linking
Internal links are arguably one of the most neglected link building tactics in SEO marketing. They help users (and search engines) navigate your site. 
Spending time improving your site's internal linking strategy can quickly drive noticeable gains.
Some marketers see quick wins from adding one or two internal links from authoritative pages elsewhere on your site.
Site Audit's "Internal Linking" report shows which pages have only one internal link. 
Look for them in the "Notices" section. 
Add more internal links to these pages. (If and where it makes sense.) 
Learn more about identifying which pages need internal links with our internal linking guide. 
34. Find and Fix Keyword Cannibalization Issues
Keyword cannibalization is when one or more pages on your site are targeting the same keyword and intent. 
One of the two affects the other's ability to rank. And neither will perform as well as it could.
You don't want that. 
You'll struggle to rank for those keywords because search engines will have difficulty determining which page to show in the SERPs.
To find out if your site has keyword cannibalization issues, use the Position Tracking tool. 
Start by entering your domain and clicking "Set up tracking."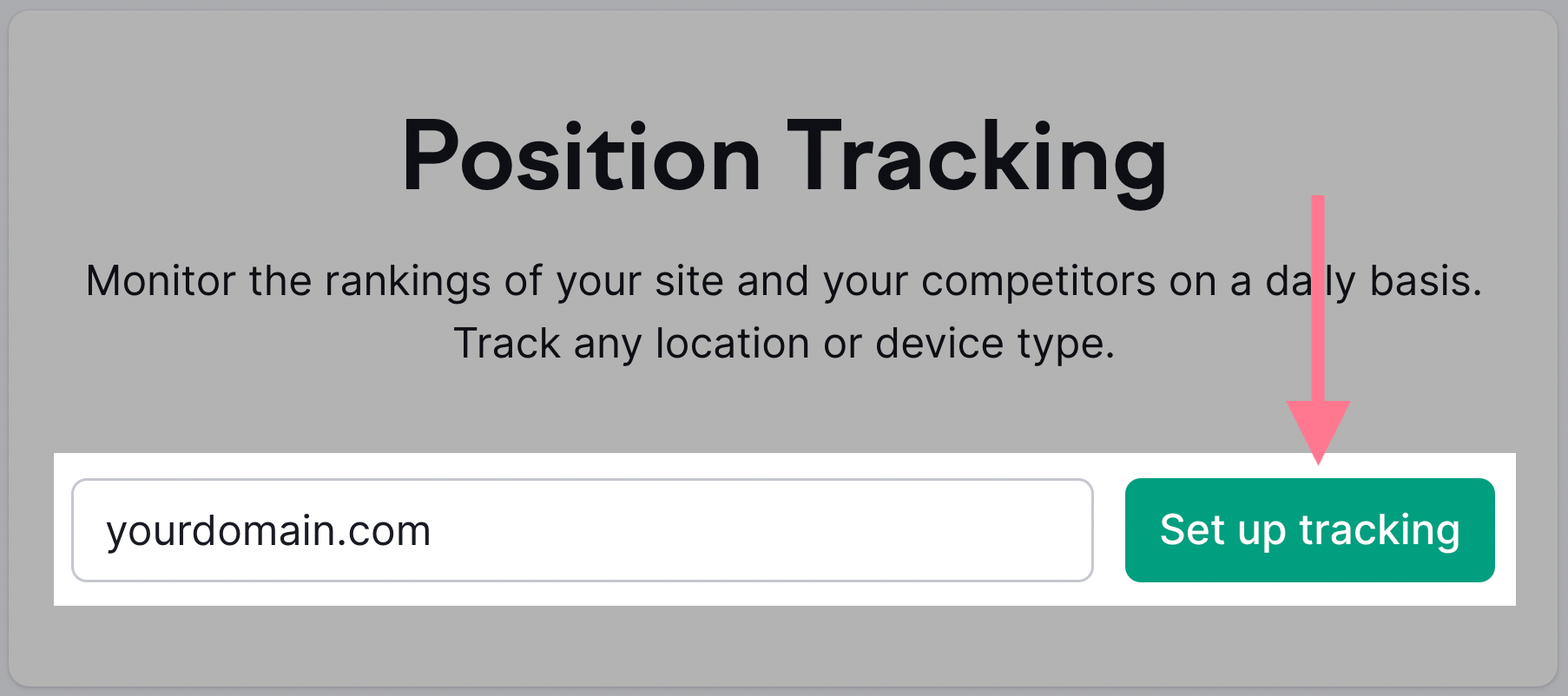 Then, select the search engine, device, and country you want to check. 
Like this: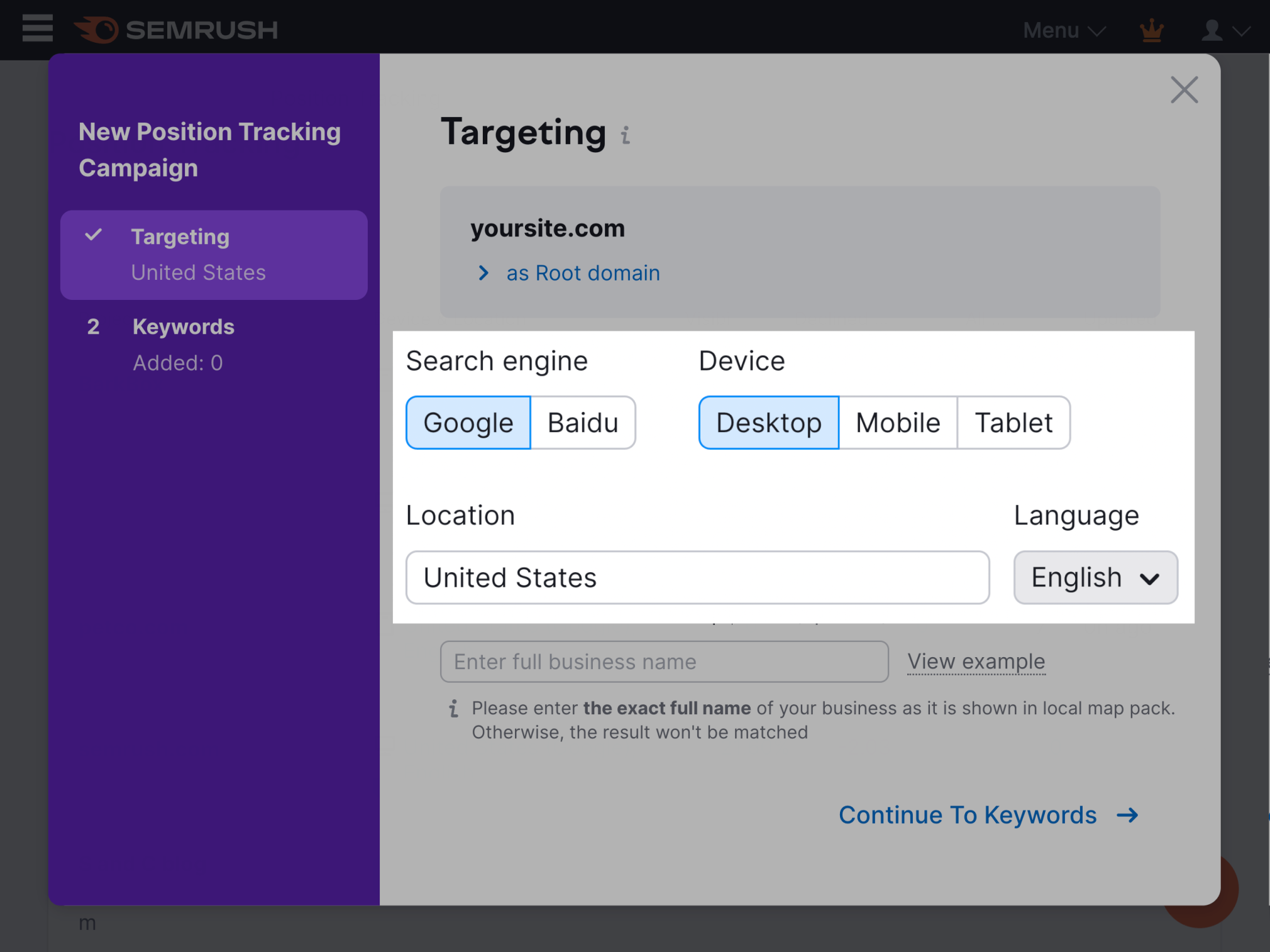 Next, enter the keywords you want to track. Click "Add keywords to campaign" and then "Start Tracking."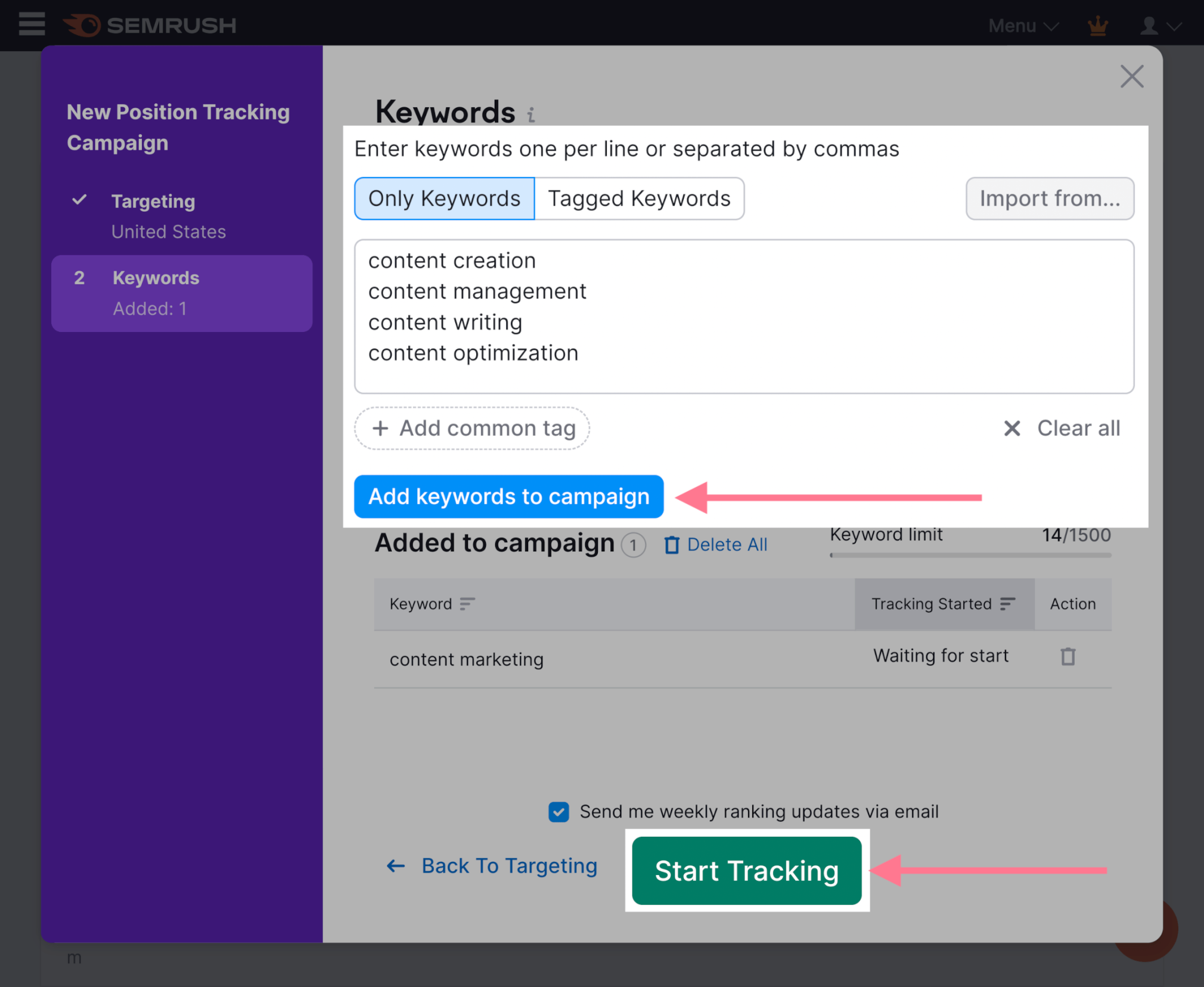 The "Cannibalization" tab shows which keywords and pages are affected.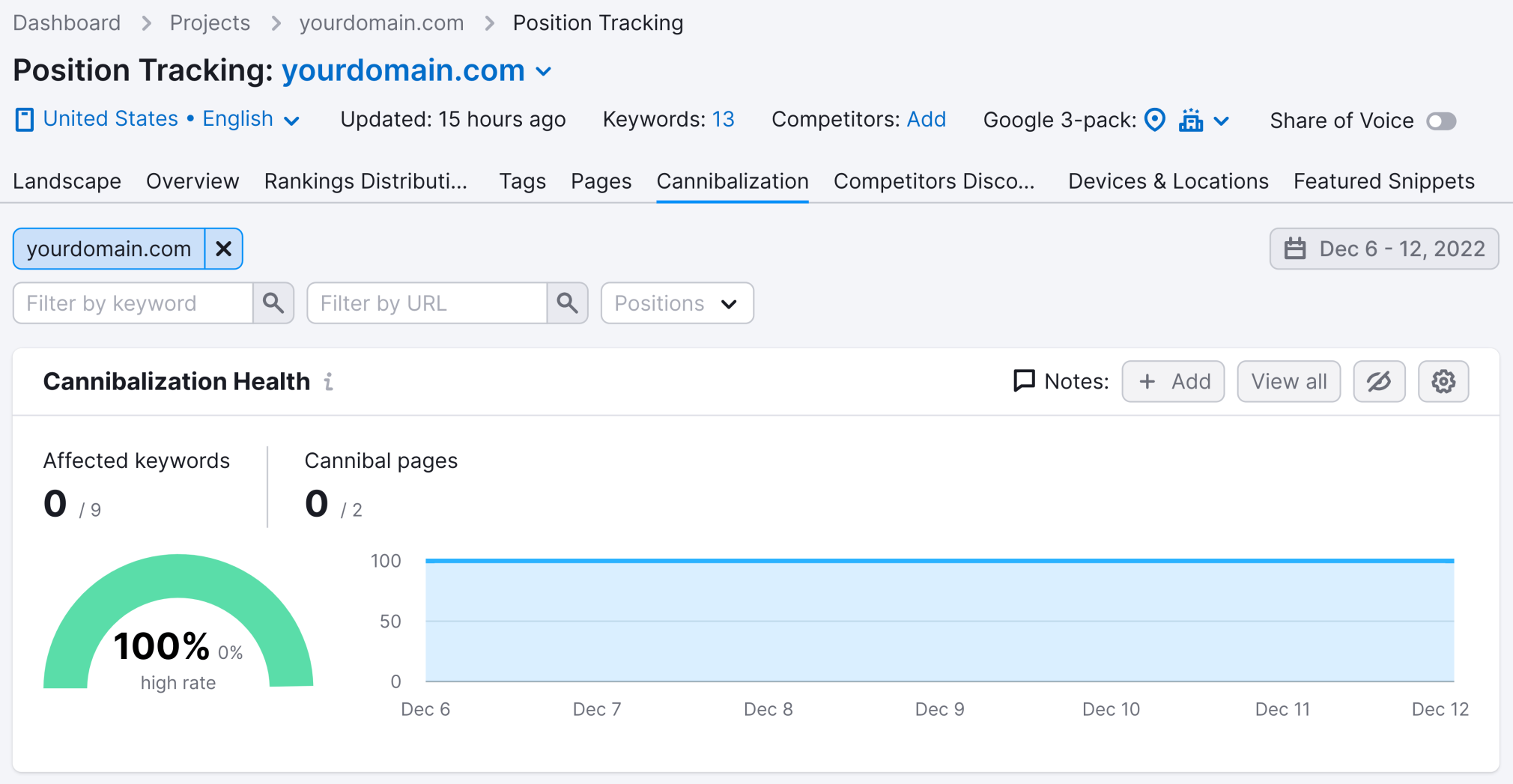 There are several common approaches to fixing keyword cannibalization:
Remove and redirect cannibalized pages
Canonicalization (tell Google which URL to prefer)
Re-optimize pages
Merge pages
To learn more about how to spot and fix keyword cannibalization, check out our guide.
35. Find and Fix Orphan Pages
An orphan page is a page without any internal links to it. 
These pages tend to have very little value because search engines can only discover pages from the sitemap file or through backlinks. 
And visitors can only get to the page if they know the URL.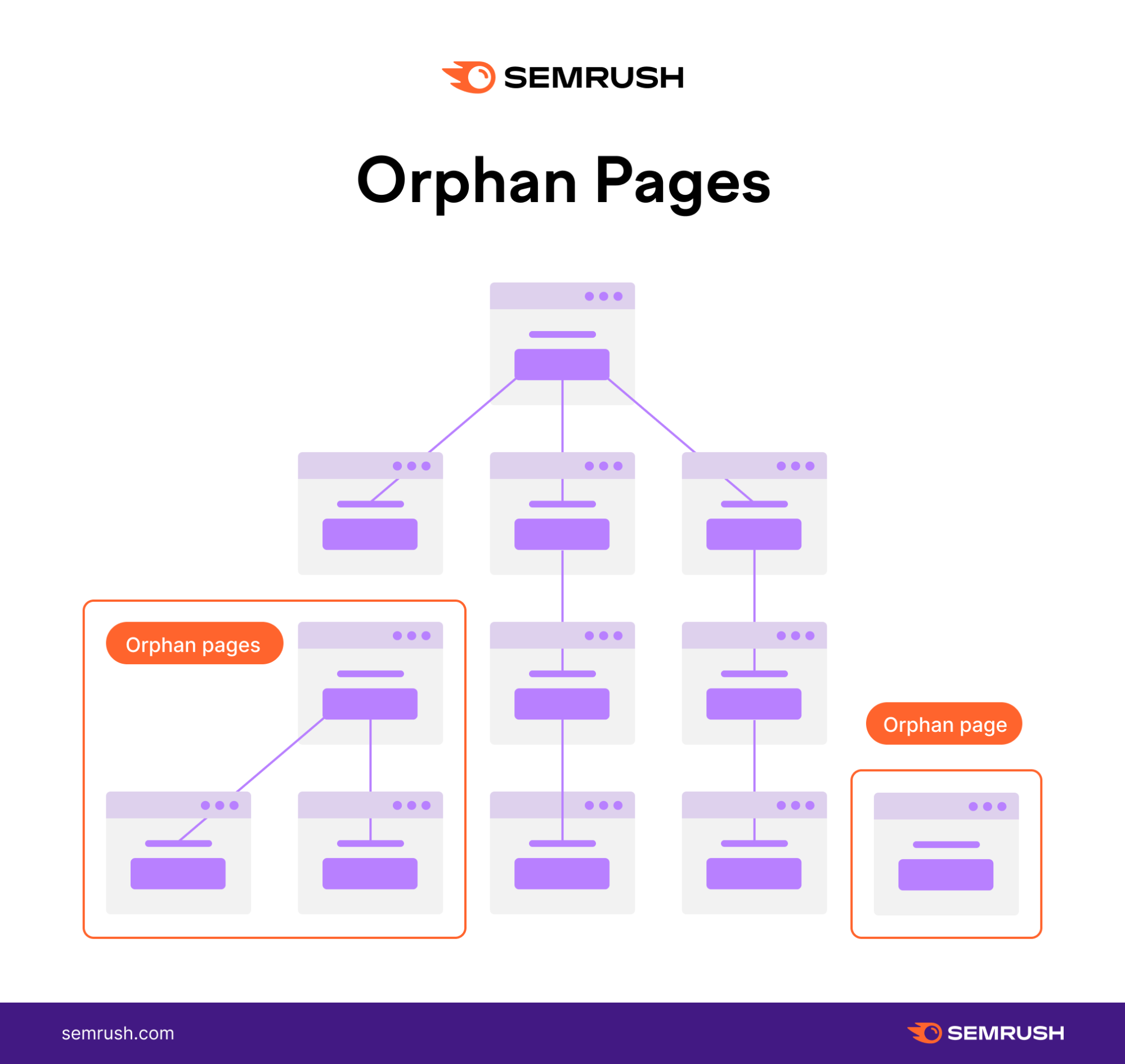 So, all pages on your site should have a link from at least one page. 
To find orphaned pages, open Site Audit, go to the "Issues" tab, and search for "orphaned pages."

Link to all orphaned pages from at least one relevant page. 
36. Ensure Your Site's Content Is Up to Date
Content naturally ages and becomes outdated. 
And updating old content is one of the easiest tasks you can implement to see big SEO wins.
If the content on your page contains outdated information or could be improved with a fresh perspective, it's time well-spent. 
After all, outdated content usually doesn't offer the best user experience. So, why would Google continue to rank it unless it's updated?
Use a tool like Semrush's On Page SEO Checker to make sure your content is updated regularly. 
After configuring your project's settings, the tool will give you optimization ideas to help you improve your pages' ranks on Google.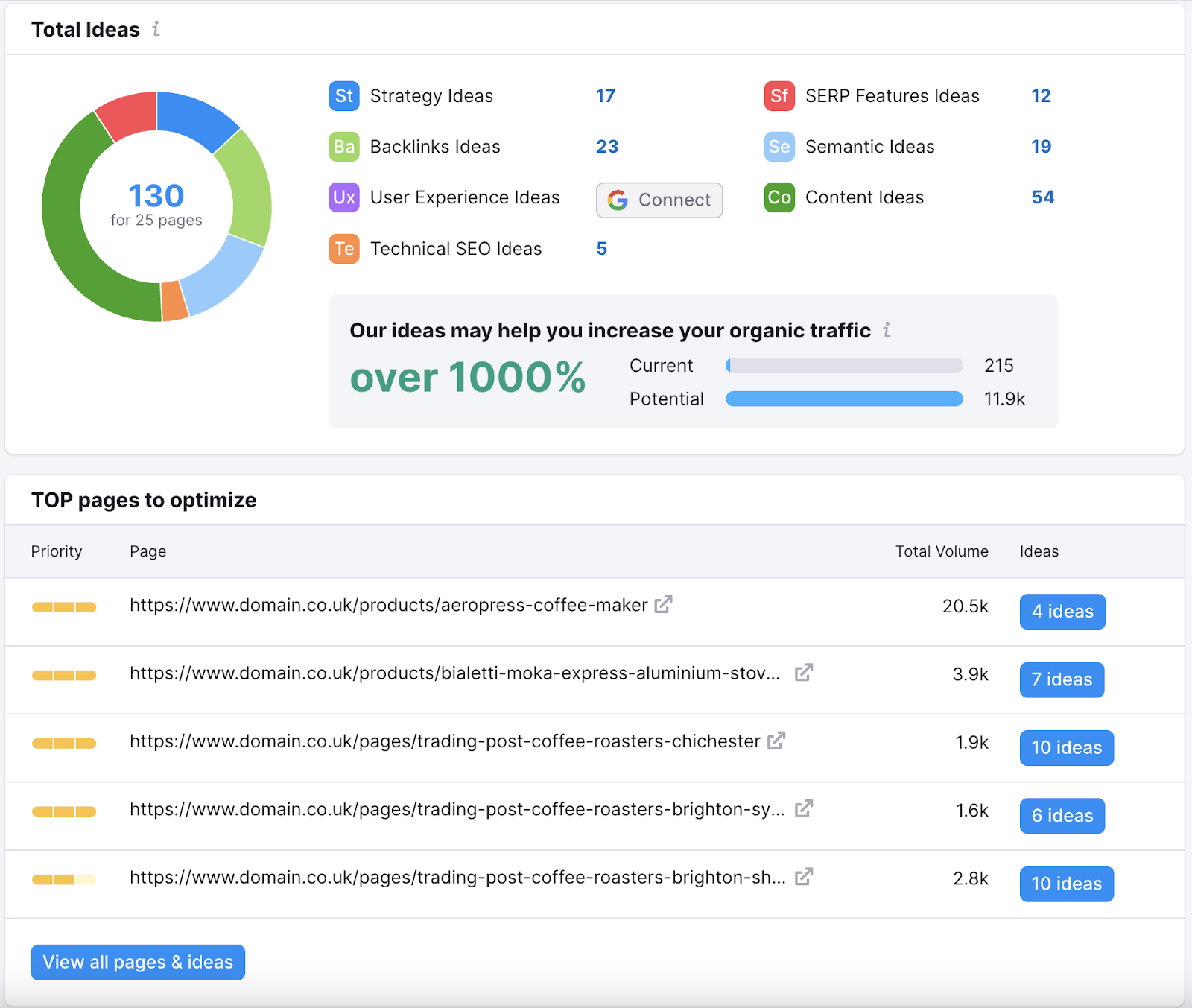 You'll see the "TOP pages to optimize" by total search volume.
Click the "X ideas" button.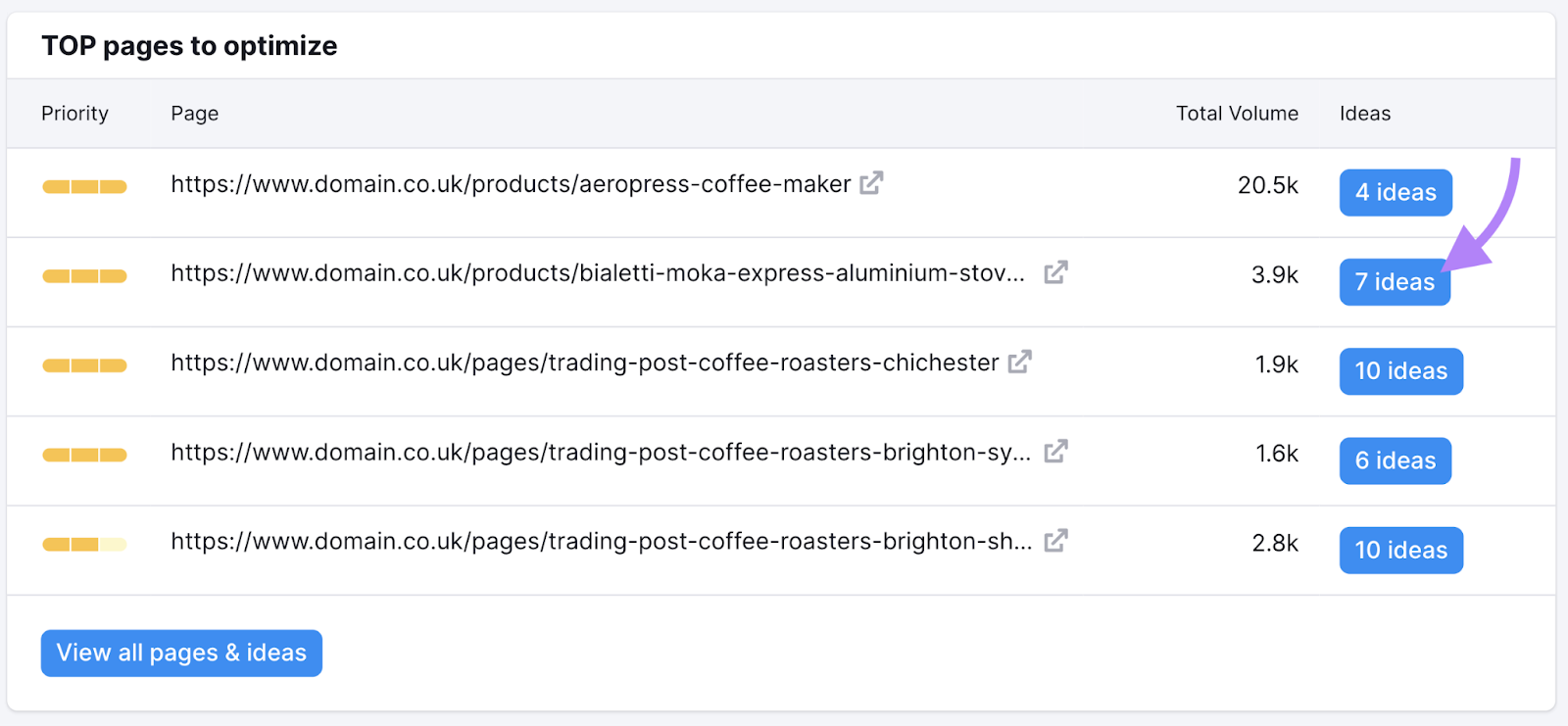 And you'll see ideas to improve your page based on your target keywords' search engine results pages.
Link Building & Off-Page SEO Checklist
If you want to drive SEO success, you can't turn a blind eye to off-page SEO. 
While this is often thought of simply as link building, there is more to it than that:
37. Analyze Your Competitors' Link Profiles
If you don't have insight into your competitors' backlink profiles, how can you outrank them?
Just as it's important to analyze your competitors' content, you should also dig deep into their link profiles.
Tip: Create a free Semrush account to see your off-page SEO opportunities.
Enter any competitor's URL into Backlink Analytics, click "Analyze," and go to the "Backlinks" tab. 
This list can give you a good idea of the overall quality and authority of the links that point to their site. 
38. Conduct a Link Intersect Analysis
You can also conduct a backlink gap audit to find websites linking to your competitors but not to you. 
Why?
If they're linking to your competitors, they'll probably be happy to link to you, too. 
This is especially true if your content is better. 
Start by going to our Backlink Gap tool, adding your domain and your competitors' domains, and then clicking "Find prospects."
The table lists all the different domains that send backlinks to the sites you entered.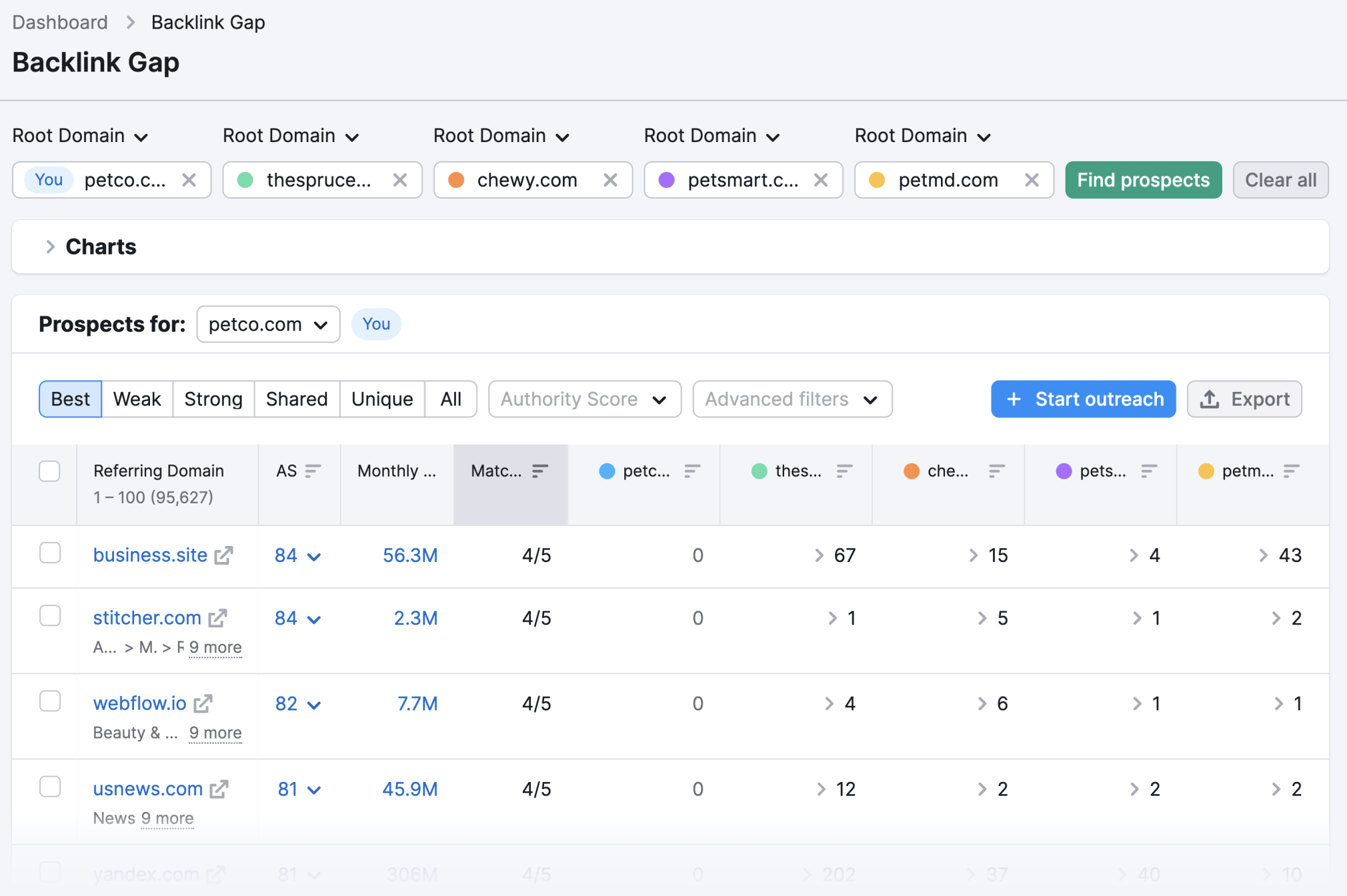 39. Turn Unlinked Mentions Into Links
An unlinked mention is when a website mentions you or your business without linking to you. 
This strategy works really well because they've already mentioned you. Chances are they'll be happy to turn it into a link.
To quickly find unlinked mentions, use Prowly's News Alerts.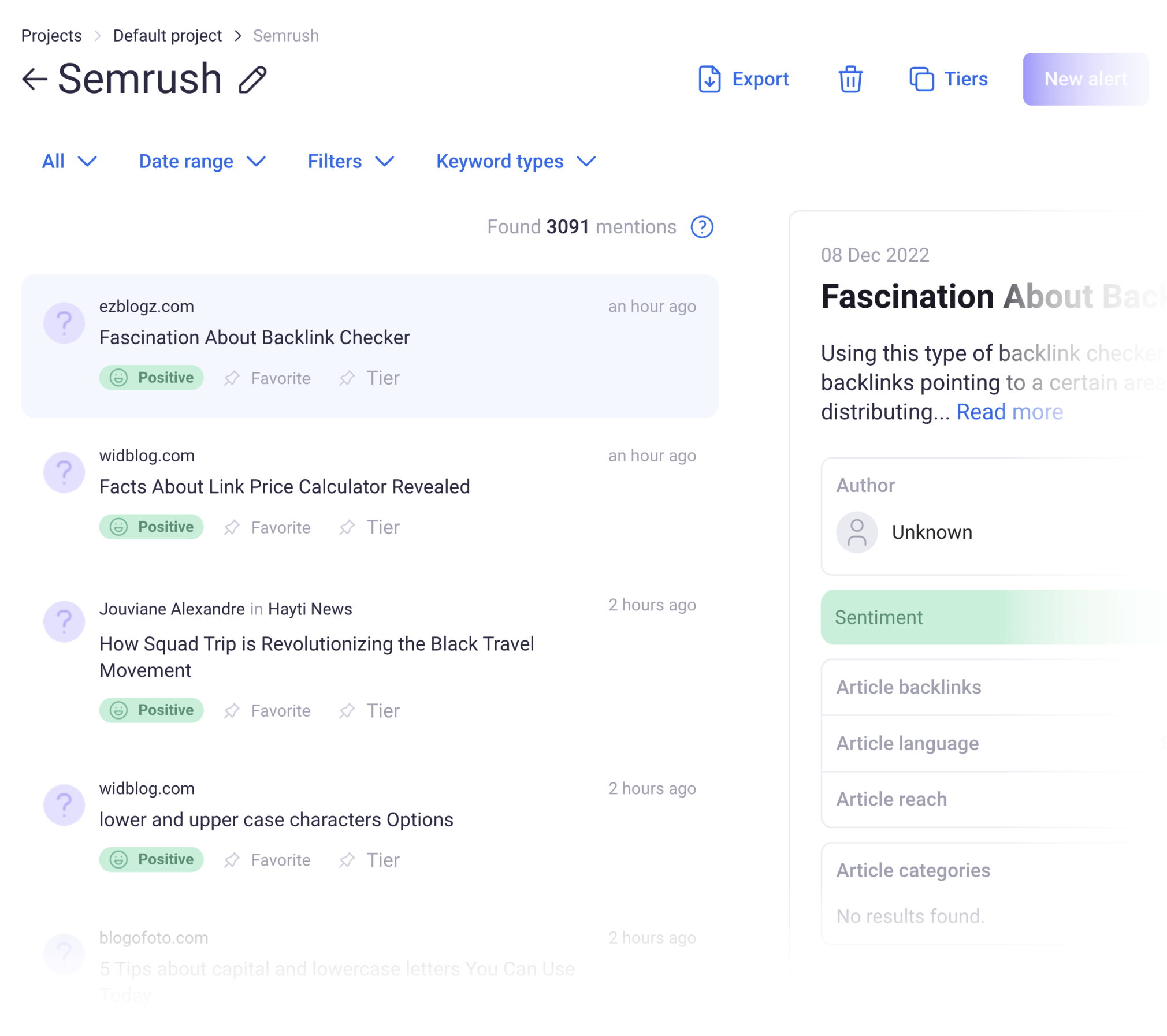 For every unlinked mention you find, reach out to the page's owner or author and kindly request a backlink. 
40. Find New Link Building Opportunities
There are always new link building opportunities to explore. 
It's important to build a high-quality backlink profile. And using the right SEO tools can make the task of finding these opportunities a little bit easier.
Our Link Building Tool, for example, shows a list of prospects you can reach out to for backlinks. 
Like this: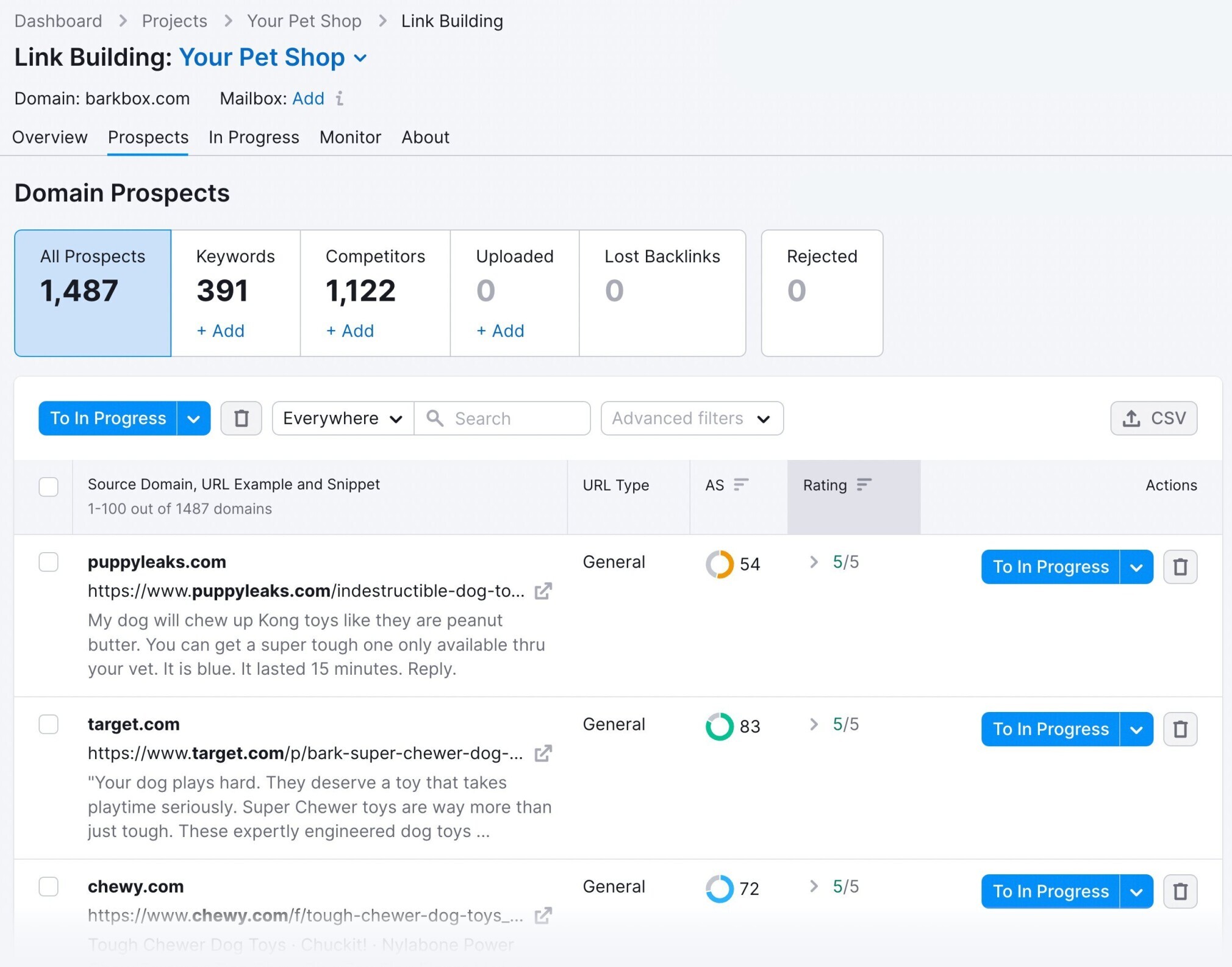 41. Set Up and Optimize Google Business Profile
If you run a local business, make sure your business has a Google Business Profile (formerly known as Google My Business). 
It's one of the best ways to reach customers via Google Search and Google Maps.
Otherwise, you'll essentially be handing visits to a competitor. 
This is what a Google Business Profile can look like: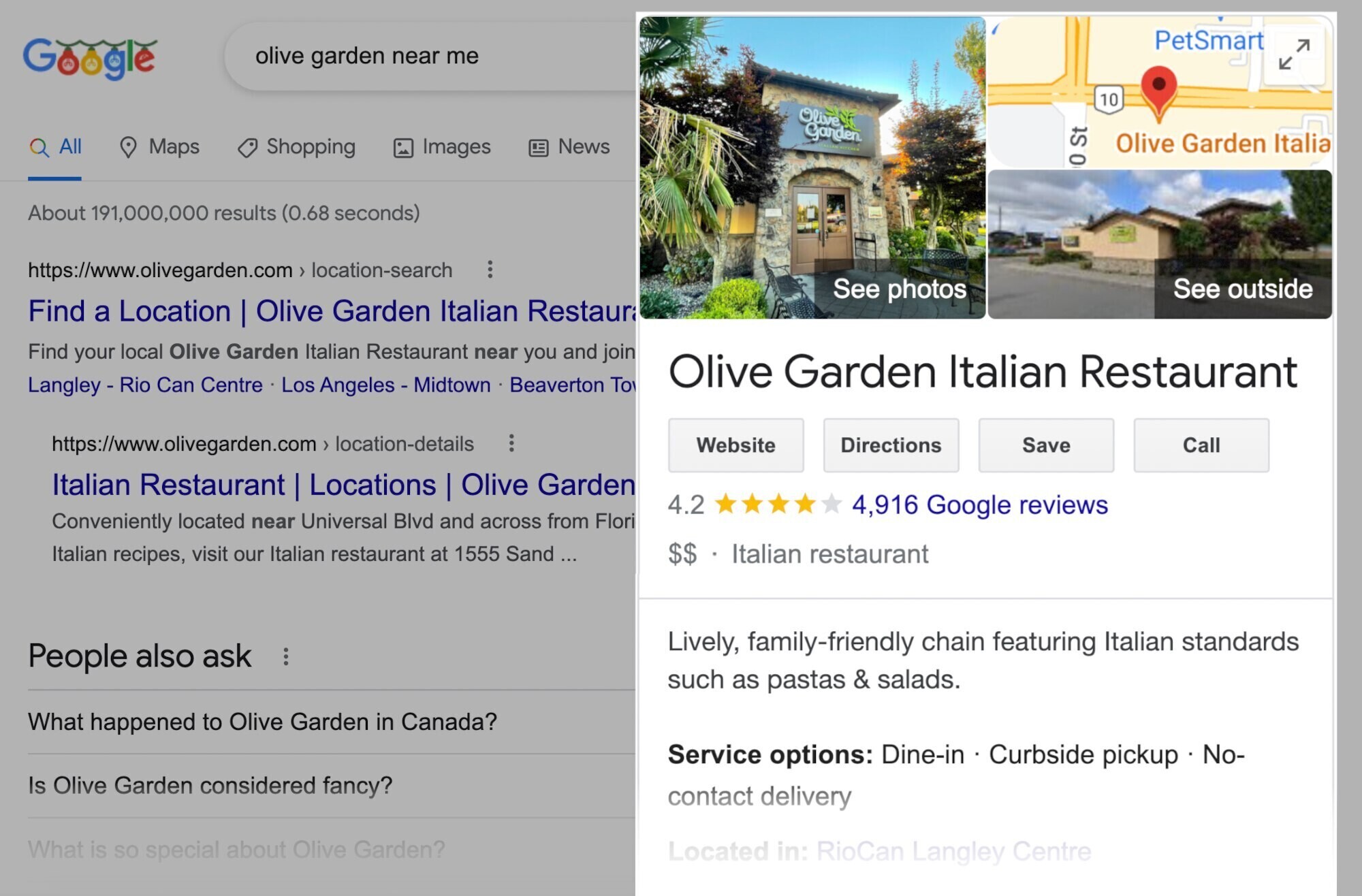 And here are a few Business Profile tips:
Reflect your business as accurately as possible
Highlight what makes your business unique
Upload (and frequently update) photos and videos 
To start improving your brand's local visibility, read our Google Business Profile guide.
And connect your Google Business Profile to Semrush's Listing Management tool for insights on your performance.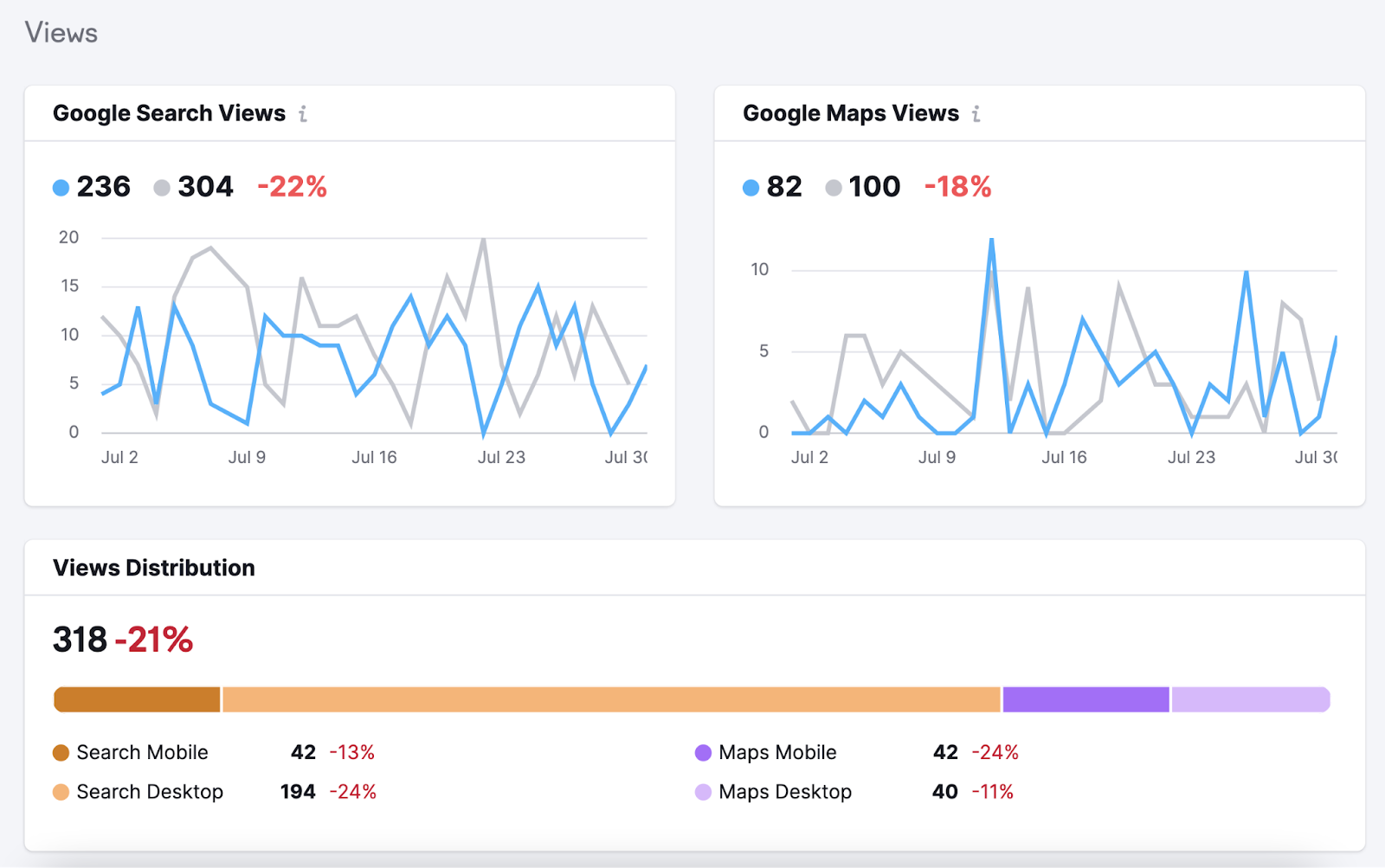 Execute on the SEO Checklist
SEO is constantly evolving. So it's nearly impossible to include every single aspect of SEO in one checklist. 
But if you tackle the items above, you'll be well on your way to higher rankings. And well ahead of your competition. 
If you're looking to execute on this checklist, sign up for a free Semrush account. 
By simply signing up, you'll be able to:
Perform keyword research
Conduct a competitor analysis
Run a technical site audit
Audit local listings 
Manage your social accounts
Plus more.