More and more charities and nonprofits rely on search engine optimization (SEO) to assist their fundraising efforts. 
SEO is the practice of getting traffic from search engines organically. By optimizing your site and marketing practices — often using strategic keywords and phrases — you can drive up your rankings on search engine results pages (SERPs), getting more charity and nonprofit site traffic that can be converted into paid donors or volunteers, and helping to get out charitable awareness messages.
Some of the benefits of adopting an SEO strategy include:
Remaining competitive against bigger names: Even if you are a small charity competing against others for limited donor dollars, SEO fundraising can level the field, ensuring your site ranks high for the right keywords. 

Helping donors find you: Online giving has increased substantially in recent years, making it more important than ever for donors to find you in online search results.

Generating more local attention: If your charity or nonprofit hosts local events, an effective local SEO strategy can help you rank higher in your area for those looking for volunteer opportunities.

Making your social media more effective: SEO practices can work hand in hand with social media channels — an increasingly important method of staying in touch with existing and new donors.
This guide is aimed at charities and nonprofits doing important work on a tight budget, showing how they can make every dollar count by implementing an effective digital marketing strategy that will get their name on the first page of Google. Here are the key points for SEO for nonprofits: 
1. Keyword Research Should Drive Your Content Strategy
Whether you're an SEO expert or new to the field, you know how important quality content is to any content marketing strategy. However, high-quality content won't improve your search engine rankings if it's not based on the right keywords. 
Are you unsure where to start? Luckily, there are a ton of SEO tools to help you find and prioritize the search terms that will mean higher rankings. Begin with a keyword relevant to your nonprofit or charity and your potential donors. You can add this keyword into SEMrush's SEO keyword research tools, where you'll find how difficult it is to rank for that keyword and related keywords to identify which keywords have the best opportunity to rank. 
2. Use Link Building to Generate Brand Awareness
Familiarity with a nonprofit organization is key when it comes to earning donations, so you want to ensure your SEO strategy includes a way to get your name in front of new eyes. This can be done by content promotion and link building. 
Effective link building relies on creating new content that other sites want to share and link back to. Within the nonprofit world, a great place to start would be repurposing any annual reports you produce to make them shareable. 
For instance, WaterAid produces an annual "State of the World's Water" report. The landing page includes a link to the report that features infographics and hard data, and there is also a video that discusses their findings. A content promotion strategy would include reaching out to publishers within the industry who'd find this information useful and authoritative and are likely to link back to it — providing backlinks to your nonprofit website. 

Source: WaterAid
3. Ensure Your Site Is User-Friendly
Although you want to ensure the more technical SEO aspects of your site are optimized to maintain your donors' attention and generate donations, your site should offer a great user experience. 
Below are a few easy ways to enhance user experience:
Optimize page speed: No one wants to visit a slow site. Check your page speed using Google's free PageSpeed Insights tool.

Use thoughtful anchor text: When including internal links on specific webpages, make sure that the anchor text indicates the topic of the content that the link is directing the visitor to.

Prioritize website design: Another thing people like to see is an aesthetically pleasing site. Work with a design team to ensure your brand colors and tone is consistent throughout your site.

Break up text: Content structure is an important ranking factor for the Google search algorithm, so be sure that you don't have text-heavy pages. Break up blocks of text with bullet lists or images. 
The Leukemia and Lymphoma Society's (LLS) main site is a great example of a nonprofit website that prioritizes user experience. There are multiple calls-to-action (CTAs) to help visitors do what they want to do (whether they donate or search for something more specific on the site). There is also a good balance of images and text, and the site is quick to load. 
Source: LLS
We offer the On Page SEO Checker to help you identify specific areas of improvement, including technical SEO aspects and specifics related to your content. 
4. Prioritize a Local SEO Strategy
When it comes to SEO for charities and nonprofits, getting results in a local geographic location can be important. For example, it can help get volunteers to your closest offices to work or get people to a fundraising event in a specific locale. 
For example, if you enter "Cleveland dog shelter" into Google, the first local result is the Cleveland Animal Protective League. You can tell they've prioritized a local SEO strategy not only because they have a local Google listing, but the listing also has multiple questions and answers listed, images of the facility, and more than 1,000 Google reviews. This all helps the organization land on the front page of Google for this specific search query.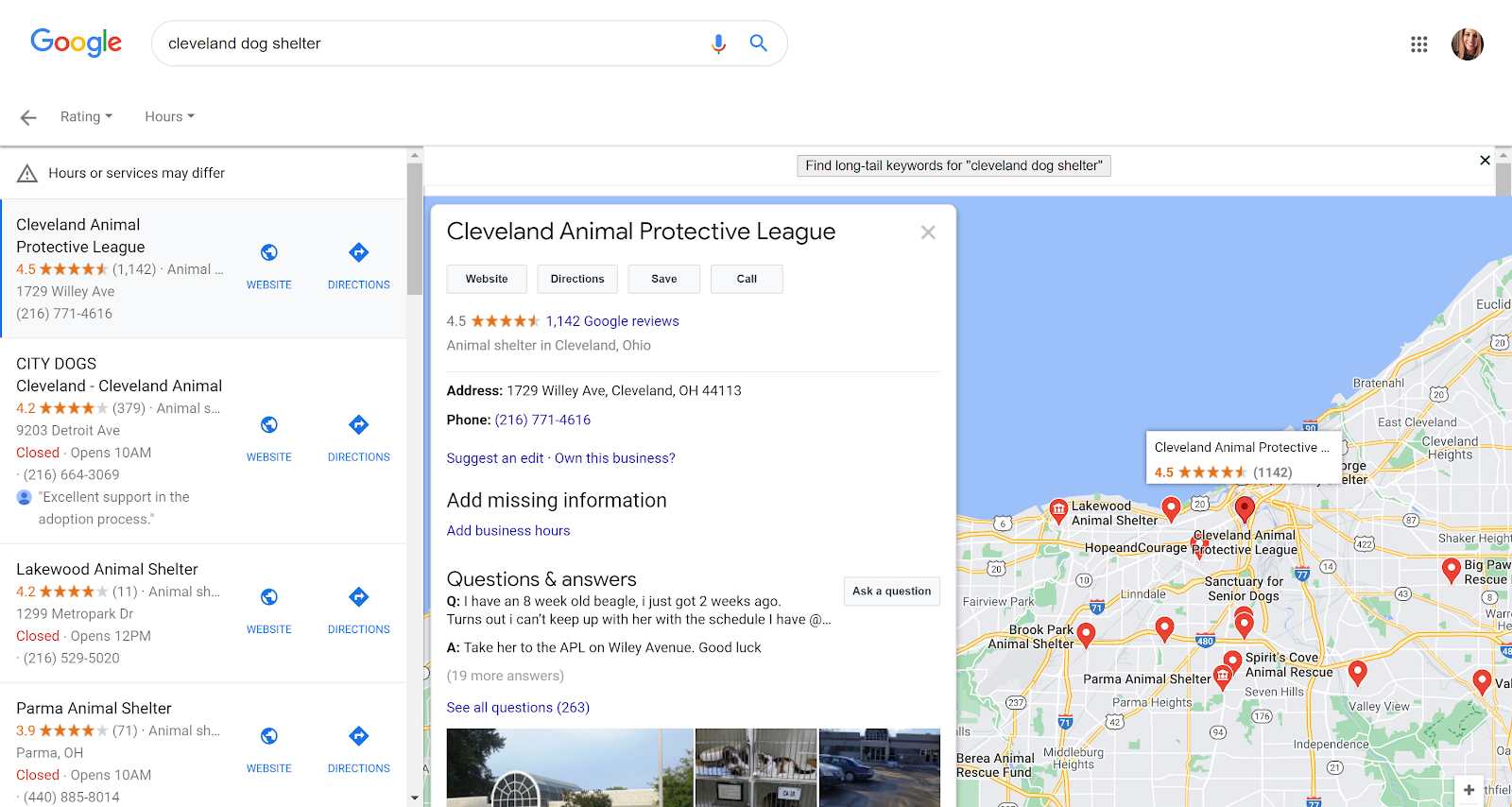 Some of the ways to optimize your local SEO include:
Creating a Google My Business listing

Entering your center or branch locations on Google Maps

Listing your charity or nonprofit in local directories
5. Maintain a Strong Social Media Presence
Social media is becoming an increasingly important part of any SEO strategy, in large part because these pages tend to aim high for search rankings. Not only do the various channels now have more features aimed at charities and nonprofits — such as Facebook's "Donate" button — but they also provide effective ways to spread the word about your cause to supporters. Using share buttons, they can spread your cause and content to their friends and family.
The World Wildlife Fund is a great example of a nonprofit with a strong social media presence. They have accounts across four social media channels — specifically Facebook, Twitter, Instagram, and YouTube — and optimized each for donations. For instance, there is a "Donate" button at the top of the World Wildlife Fund's Facebook page.
Source: World Wildlife Fund/Facebook
Use SEO to Get Your Organization in Front of Donors
When you work for a charity or nonprofit, you must rely on the most cost-effective ways to get in front of donors, and SEO is a great way to do this. If you are thinking about incorporating SEO into what you do, you might want to start with our
site audit tool
, which can analyze the health of your website and suggest what you need to fix to boost your rankings. By implementing the SEO tips listed above, you can convert visitors to donors and volunteers — the lifeblood of your organization.