There is nothing inherently wrong with the old way of generating sales leads. Personally, I am sure it strengthens the character of individuals.
You built a sales team. Had them make cold calls and sales by phone by letters or by email. But from the standpoint of the technology we have at our fingertips today, it is, unfortunately, an inefficient way to find new business and sell.
It is also expensive to employ salespeople, as well as time-consuming to train them for these roles, for one. And in general, potential customers have changed their habits and prefer either to seek out the information themselves or at least use the Internet for communication.
That is why capturing the power of SEO as part of an inbound marketing strategy helps you take advantage of both ends of the spectrum: promoting content to build rapport with potential clients instead of old-style sales calls and cold outreach.
Qualifying a Lead
As a word of caution: the principles of the old way of selling don't go away — we just have to be able to adapt more quickly. You still want to know if this lead is worth your time and investment.
It is best to set up a quick way for the user to interact or submit information to you to show they really are interested.
Beware that level of interest can vary depending on the type of content:
Applications for webinars or sales presentations: This requires applicants to submit personal information, so the deal must be a no-brainer for them.
Coupons or deals: It is a good sign when someone clicks one of these. You just need to get, at the least, their email address.
Blog: You need to make sure that every article on your blog has a lead magnet – PDF, checklist, infographic or whatever your site's visitors might want.
Now, how do you make sure the content described above generates leads month over month?
Use Content to Generate Leads via Inbound Marketing
If you are no stranger to Search Engine Optimization but struggle to convert site visitors into customers - this is a game changer.
To make sure your webinar, sales presentation or blog posts get a potential customer's attention and their contact information, you can start by following the four steps I will review in this article:
Do keyword research.
Optimize the content after the 10-step, on-page optimization guide.
Make sure the content ranks high on Google with link-building.
Create a lead magnet and add a Call to Action.
To start, think of yourself as a credible expert in the field who is seeking to cultivate a community, instead of trying to appear immediately as a salesperson.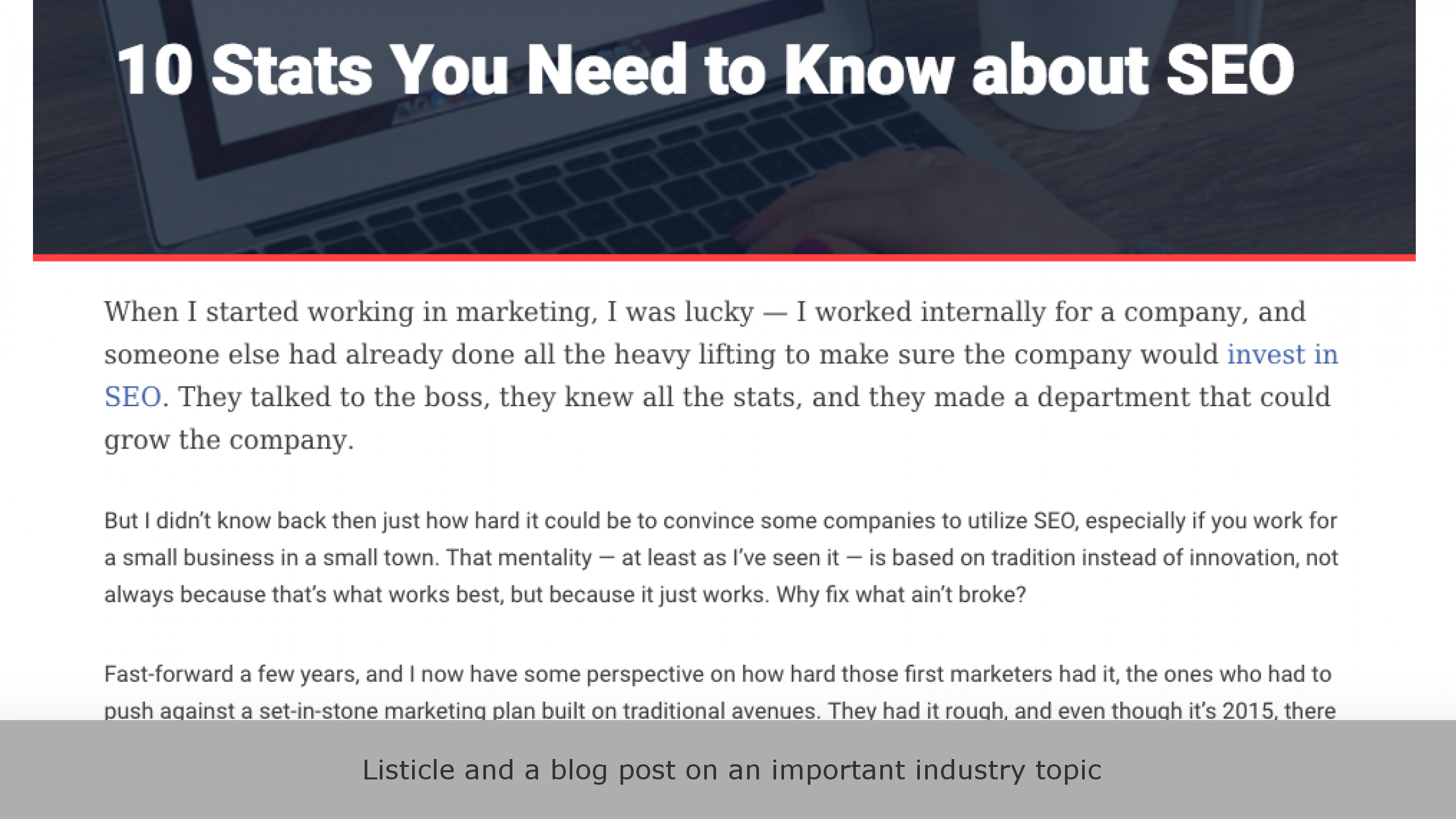 A blog post or listicle like this takes the pressure off of you internally and externally, so customers don't feel like, "Hey, they just want me to buy what they have, and they don't care about me."
So focus on writing the content that people would be interested in.
Writing Content Based on Need and Demand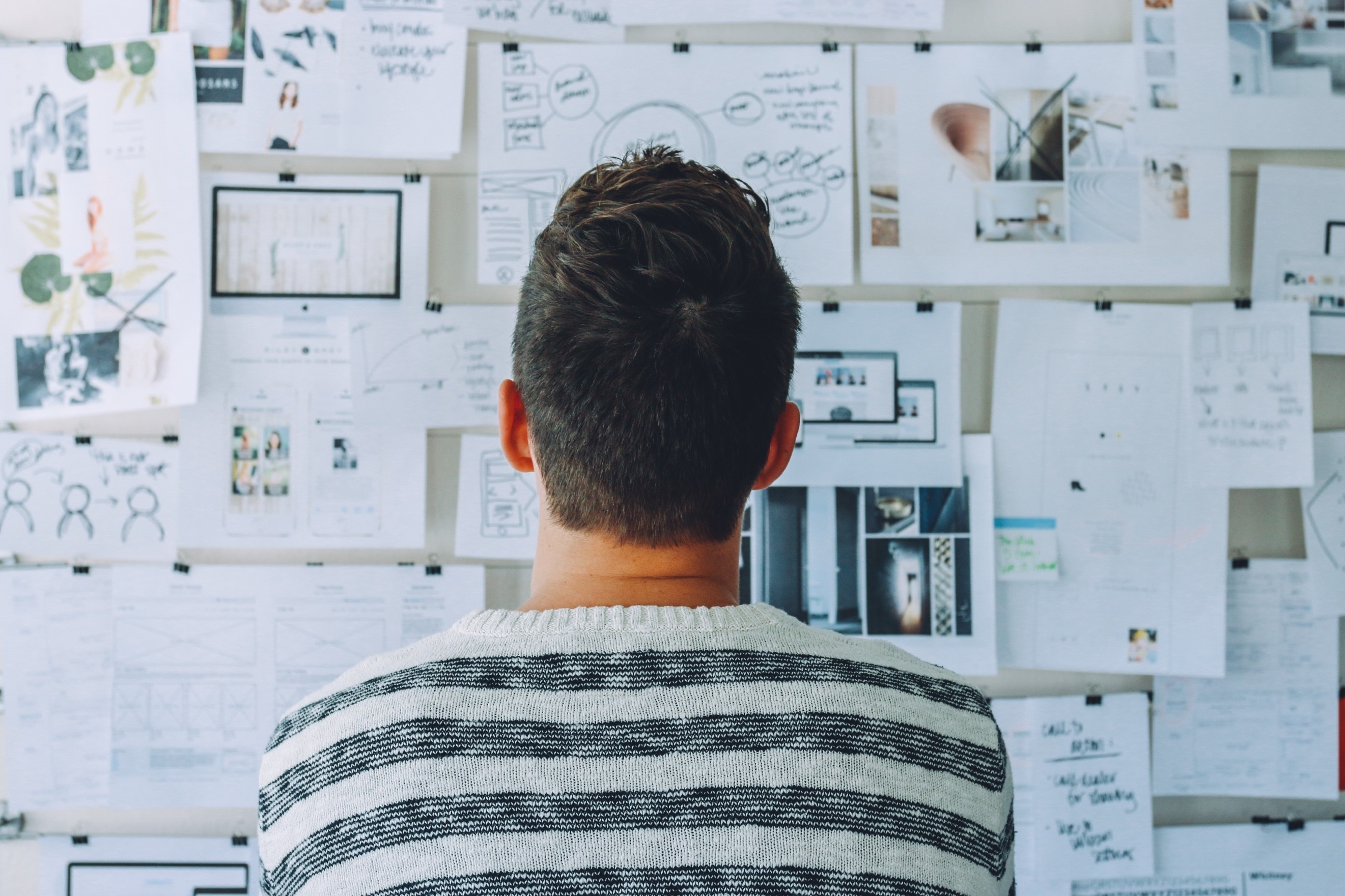 Finding the topic that people would be interested in is the most important part.Everyone has heard of the importance of keyword research – finding keywords with relatively high search volume and low-keyword difficulty score.
Then you must make sure this content addresses the buyer's persona and fits into the right buyer's stage – discovery, awareness or consideration. If this sounds too complicated, let me walk you through the process.
Keyword Research
First, let's find a topic with low difficulty score. This score is a metric that shows there aren't that many articles on this topic. So you might have a chance to create an article that is better than the rest. Moreover, this indicator basically shows how many backlinks you should get to rank on the first page:
0-10 difficulty score: <10 backlinks
11-20 difficulty score: 10-23 backlinks
21-30 difficulty score: 24-50 backlinks
31-40 difficulty score: 51-80 backlinks
41-50 difficulty score: 81-150 backlinks
51-60 difficulty score: 151-250 backlinks
61+ difficulty score: a lot of backlinks
Finding the Topic
Let's say we have a real estate company that is looking for new clients. First, we use Google to find the most popular real estate blogs.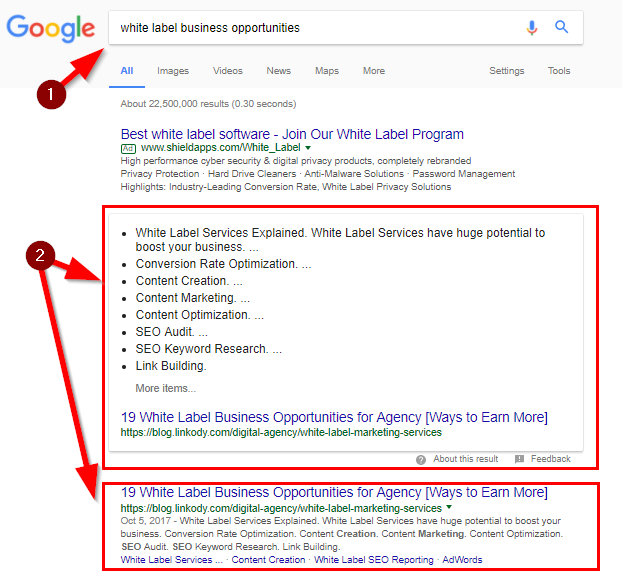 The "Home Buyer's Blog" looks interesting. Let's copy the Website's URL and see if we can find some good topics with a low keyword difficulty score that brings them traffic.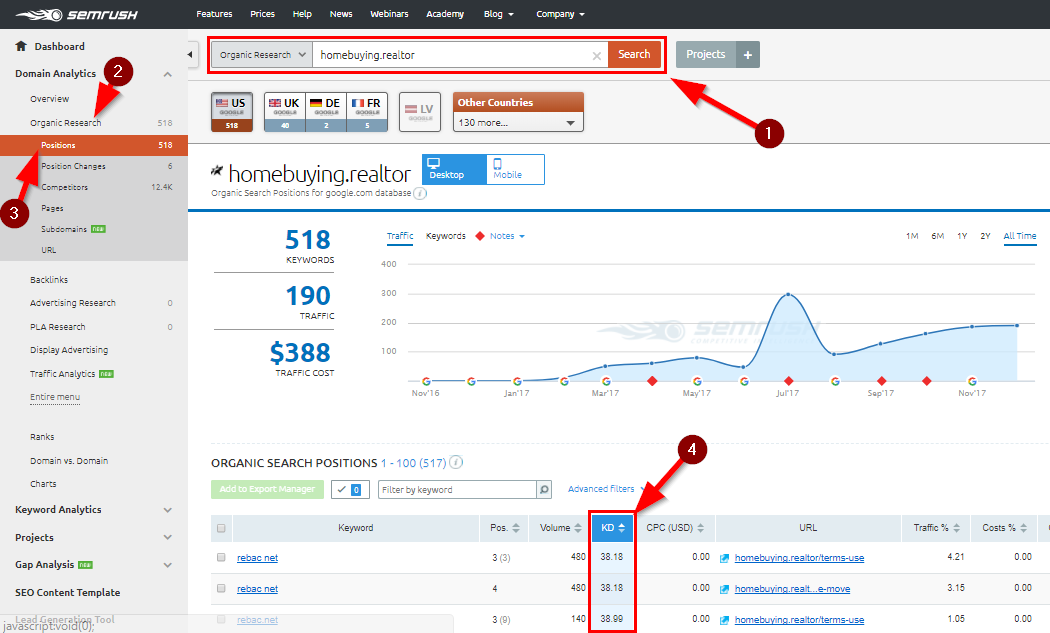 Semrush.com is all we need – copy the URL (1), head over to Organic Search (2) and click on Positions (3). Once you sort keywords after the lowest keyword difficulty score, you will be able to see the topics according to the niches that are the least exploited.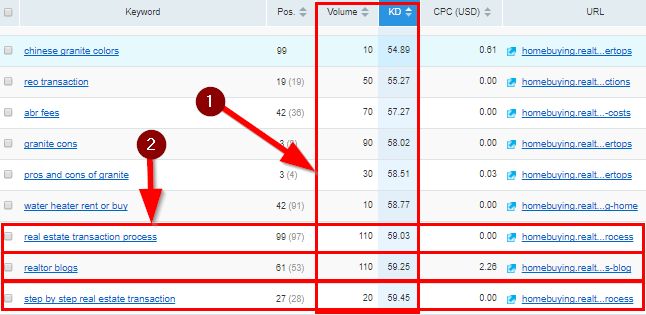 Within 10 minutes we have been able to find three interesting topics with relatively high search volume and low difficulty score.
Note: You should focus on keywords that have search volume from 10 – 1000 per month and keyword difficulty score from 0-60. Otherwise, it will be extremely hard to rank your content on Google's first page.
So now, when you have the topic you should find 3-4 related keywords.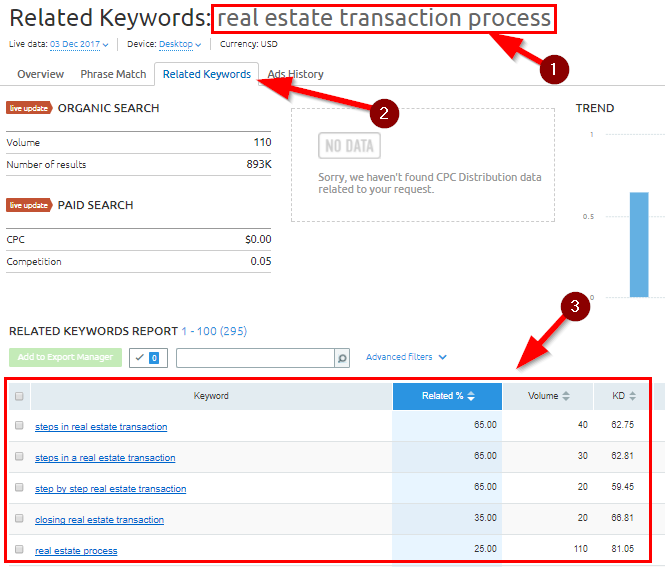 All you have to do now is click on the keyword you would like to write about (1), go to related keywords section (2), and you will be able to see all the keyword synonyms you might need (3).
Once you establish a clear topic, it is time to start writing.
Content Creation and Topic Optimization
It is important to create the best content on this specific topic to ensure that the article you are writing provides the reader with the information they are looking for.
Find Similar Articles
Start by finding similar articles on your chosen topic. Review what has already been said and look for things that have been missed or could be done better. You don't want to be repetitive; you want to be better than your competitors, so review their content and see how you could make your content stand out. Keep a list of your researched pages (we will tell you why later).
Make sure the content is SEO friendly.
One thing that is crucial when writing content is on-page optimization. When you have defined your focus keyword and related keywords, you have to make sure they appear where it is necessary within the text.
Here is the 10-step procedure we use to rank the content well on Google.
The H1 headline should start with or include the focus keyword (make sure the headline is less than 70 characters).
Make sure your SEO title is the same or similar to your H1 headline and also includes the focus keyword.
Add a clickbait keyword to your Headline – best, epic, awesome, deal of the year/month, etc.
Make sure there is an image in your post with the focus keyword as the alt-tag
Drop your focus keyword in the first paragraph.
Add 3-4 related keywords in the content.
Make sure your focus keyword appears from 0.5% to 1% from the total content.
Add keyword at the beginning of the URL. Important: If you edit the URL, make sure to create a redirect
Add a meta-description that includes your focus keyword.
Use sub-headings with your focus keyword.
If you follow these rules and create an outstanding article (at least 1,000-1,500 words), your content will be ready for backlinks.
Before we get into link-building, I need to stress one important thing.
The Importance of Topic Research and On-page Optimization
Keyword research and on-page optimization are the keys to doing well.
We used this some content strategy that included only the topics with low-difficulty score and search volume from 50 to 1 000. All this made our link-building super easy. With just a couple of backlinks we were able to accomplish this:
With this and several other topics, we rank on Position 0 as well as on the first place on Google.
Pretty impressive, huh?
Now let's get into link-building. Without this, your content probably will never reach Google's first page. 
Why You Need to Get Backlinks
Google views backlinks as votes – the more votes your content has, the more important it is and thus ranks higher. And so, to get your page on top of the SERPs all you need to know is this link-building strategy. You will see – it will do wonders.
Remember in the Content Creation and Topic Optimization phase you made a list of pages to help you write the best article the web has seen? Now, pull out this list because it will help you with the link-building.
The goal is to find pages that link with posts that are not as good as yours and email them asking if they would consider adding an additional resource.
When you head back to SEMrush and search for each of these URLs (1). you will be able to find these mentions (2). Make sure you search for backlinks that are made for one specific page (3).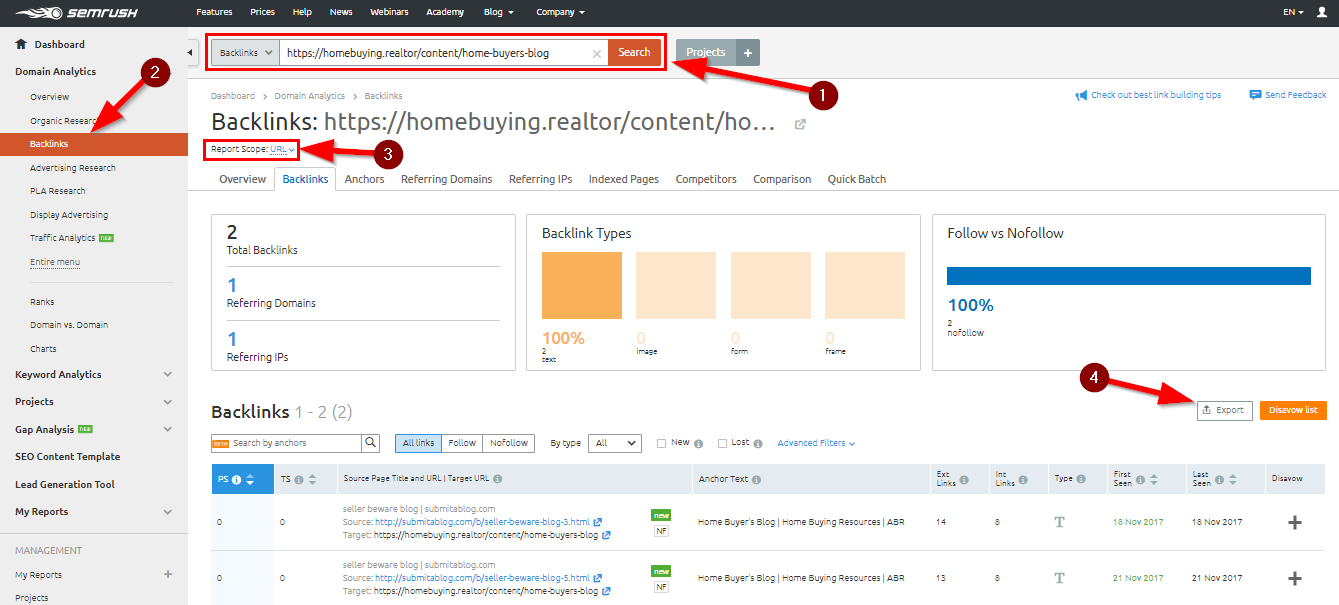 Then you should make a CSV export (4), so you can go through the sites and search for their contact information. More often than not, from reaching out to 30-100 sites, you will get enough backlinks to reach the top of Google's results.
Leads, Leads, Leads, Leads
Now it is the time to create the set-up for leads. The best part is, this entire process will be automated.
Lead Magnet
So now, you have the article published, and you have a couple of backlinks. Thus, your post is climbing the SERPS. The next step is to add a Lead Magnet and a Call to Action that will help you to collect customer's contact information.
Before creating the Lead Magnet, it is important to imagine the customer's journey:
When the person has a problem – they will use Google to find a solution.
This is how they will find your article (that provides a solution).
If you create an article where you explain real-estate transactions – how do you create enough interest for the lead to give you their contact info?

You could add a checklist with all the transaction steps to get the email.
Make people schedule a call with a professional real estate agent.
Or create a PDF with negotiation secrets real estate agents use to drive up the price – that would establish the trust and get you the email.
All you have to do is – visualize the marketing funnel, and the stages people go through so you know what could come next.
If you do that and offer the site's visitor a Lead Magnet that is impossible to say no to – you will get the contact information.
Call to Action
Last but not least, you have to add a form that the potential customers must fill out with their contact information.
There are several types of CTAs that you can choose to better capture leads. So here are few options depending on your business's characteristics:
Popover Call to Action
This type of a CTA comes in handy when you want to isolate users attention on one site's section. It is extremely effective if you have something good to offer.
Exit Intent Call to Action
Once the site's visitor has decided to leave the page, there is almost nothing that could keep the person from leaving. If you have a high bounce rate on your lead capture page - exit intent CTA is what you need.
Embedded Call to Action
If your page is so exciting that readers spend lots of time scrolling through the post then embedding the call to action is a really good idea. 
Welcome Mat Call to Action
If you know that your readers are spending very little time on your page, and usually get distracted quickly from what they should be doing - then welcome mat is the perfect CTA. 
Note: There isn't one perfect call to action. You must test them all, and hopefully, you will find one that works the best for your audience. Moreover, the top performers will change over time - so keep testing.
But don't overdo it ;)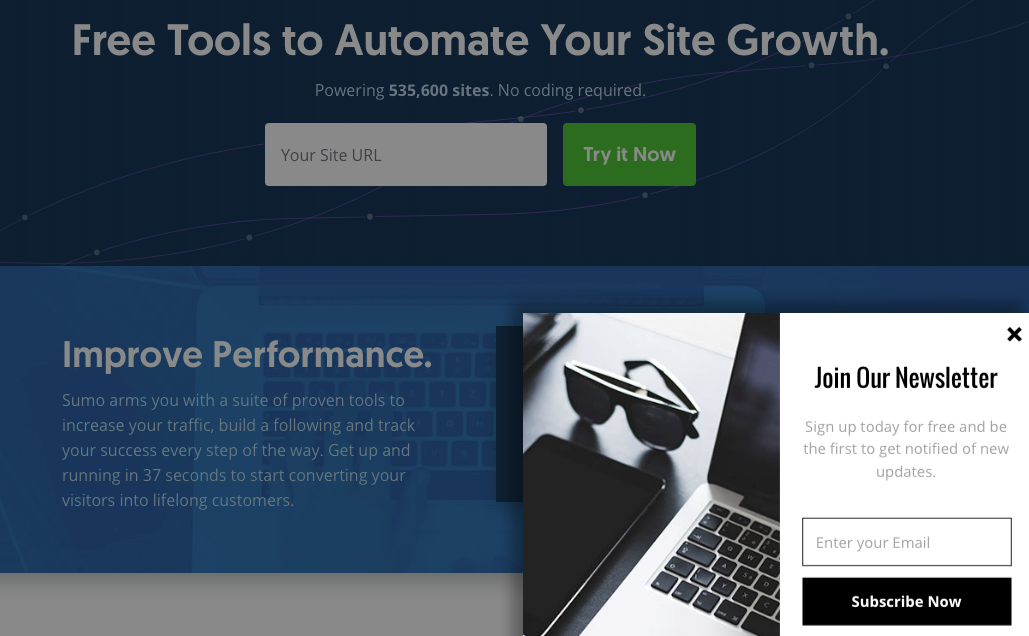 The more, the merrier - doesn't apply to CTAs. In most cases, less is more, unless you want to annoy your site's visitors...
How to Add Call to Action
There are ready-made services with easy integration, amazing tracking, and several segmenting features.
On WordPress and the biggest e-commerce platforms, you can use Mailmunch. And for a pain-free setup make sure to check out this guide.
No matter which plugin you choose to use, the integration is quick and intuitive. And when it is done, you will have the ability to collect potential customers' contact information without spending a penny.Moreover, once you implement the CTA, you will have the final piece in place to ensure a steady flow of new leads month over month.
Compare that to before when to find people interested in your product or service, you needed a team of salespeople, a ton of time and a considerable amount of money.But now, we can automate all of that.
Pretty neat, huh?
Now It Is your turn
So, now you know the basics of SEO. Use this knowledge wisely and offer something of value to your potential customers.
Before you leave, let's recap what you have learned:
Topic research is of the utmost importance – you should find a focus keyword from 10 to 1000 search volume per month and keyword difficulty score from 0 to 60.
Then distribute focus keyword and related keywords according to the 10 step guide mentioned in this post.
Moreover, seek out a few backlinks by contacting websites that mentioned inferior posts
And add a lead-magnet with a CTA to automate your marketing funnel.
There you have it. It is a never-ending game, but you are ready.