Many businesses I work with host a variety of local events. Whether it be a networking night, a conference, or a social event, there is an opportunity to leverage SEO strategies to ensure you get the most out of your event.
This guide will take you from start to finish with a supporting template you can use to track promotion of your next event and keep you organized and efficient when measuring success.
Get the Google Sheets template here and follow along with the rest of the post. There are paid tools out there to leverage, such as Buzzstream, if you have the budget and require scale, but for those that don't, a spreadsheet is a great place to start.
Establish Your Target Audience 
Before starting, ensure you know who you want to attend. This will give you direction and focus.
Identifying your target market will help you build audiences to target if you are going to be utilizing any paid promotion channels, especially on social. 
Set Realistic Goals for the Event
Your goal could be the number of tickets you want to sell, the exposure in impressions, or the sales you receive at the event.
Map the goal to a KPI Metric. Some example KPI's may be:
Ticket Sales
Ticket Revenue
Event Impressions
Social Mentions
Sales at the Event
Regardless of what you pick, be sure to document this since you will be measuring to them later.
Tips for Building an Event Page
Be sure to build your page before you start marketing. Otherwise, you are giving people nowhere to link back to!
If this is an annual or recurring event, keep the same URL and update with new information to build an evergreen page. This will ensure you build your authority on one URL rather than starting over each time.
Key elements to include on an event page include:
Event Name
Date & Time
Location
Directions
Specific Event Details & Schedule
Ticket Information
Prominent CTA
Social Integration
Relevant Imagery
Contact Information
Event Schema
Optimized URL
Title/description
Event Schema
Schema.org is a structured data markup supported by search engines to add extra context to your content. Event schema can gain rich snippets in the search results.
Get more specific with event subtypes including BusinessEvent, FoodEvent, MusicEvent and more. Find a full list on the Schema.org Event page.
Schema can be implemented as either in-line microdata or JSON-LD. JSON is the preferred implementation for Google, but other search engines do not currently support the method.
There are some tools out there to help you generate and test Schema for your event:
Facebook Events
I have seen some businesses only using Facebook events instead of putting up a page on their website. A Facebook event could be useful to reach a better audience on Facebook, but you miss the opportunity to build authority on your own website. Do both if you can.
If you build a Facebook event, be sure to link back to the main event page and monitor it regularly to answer questions in a timely manner
Identify Influencers & Third Party Promotion Websites
Influencers will be the ones that help amplify your content. Influencers could include local blogs, news sources, social influencers, or industry insiders.
The first step to identifying these is to identify who your target audience trusts and listens to. There are a few quick resources you can check to build this list.
Relationship Audit
Before you start the extra leg-work, see what current relationships you or others in your organization have.
Ask your team to document what organizations they work with, their news sources, who they follow on social, or any personal connections. You may uncover some easy opportunities you may have missed without this step.
Typically, you will have better performance with outreach if you have an existing relationship.
Social Media Tools
Some influencers are entirely on social media. There are specific tools out there to find influencers depending on the platform. Followerwonk is go-to for Twitter. Tools such as Revfluencer and Neoreach can match brands with Instagram influencers.
Fair warning, the big names in influencer marketing may have high costs or require a go-between to leverage existing relationships. If you wish to do more than a small-scale organic outreach you may want to find the help of experts.
You can do organic research if you don't want to pay for tools or influencer costs. Use the built-in search functions of each platform to find relevant profiles. Start posting regularly and interacting. Build up an organic relationship, and then reach out for a potential partnership.
Competitor & Related Events Audits
It is a good idea to see what relevant websites are linking to your competitors or related events. Put your and their websites into research tools, such as SEMrush's organic research and backlink audit. Other easy tools to check – Moz, Ahrefs, Majestic SEO.
Let's say I was marketing a best taco competition. The event has a non-direct competitor, the food truck festival. You can look at the keywords they are ranking for by inputting their event page URL into the organic research URL field.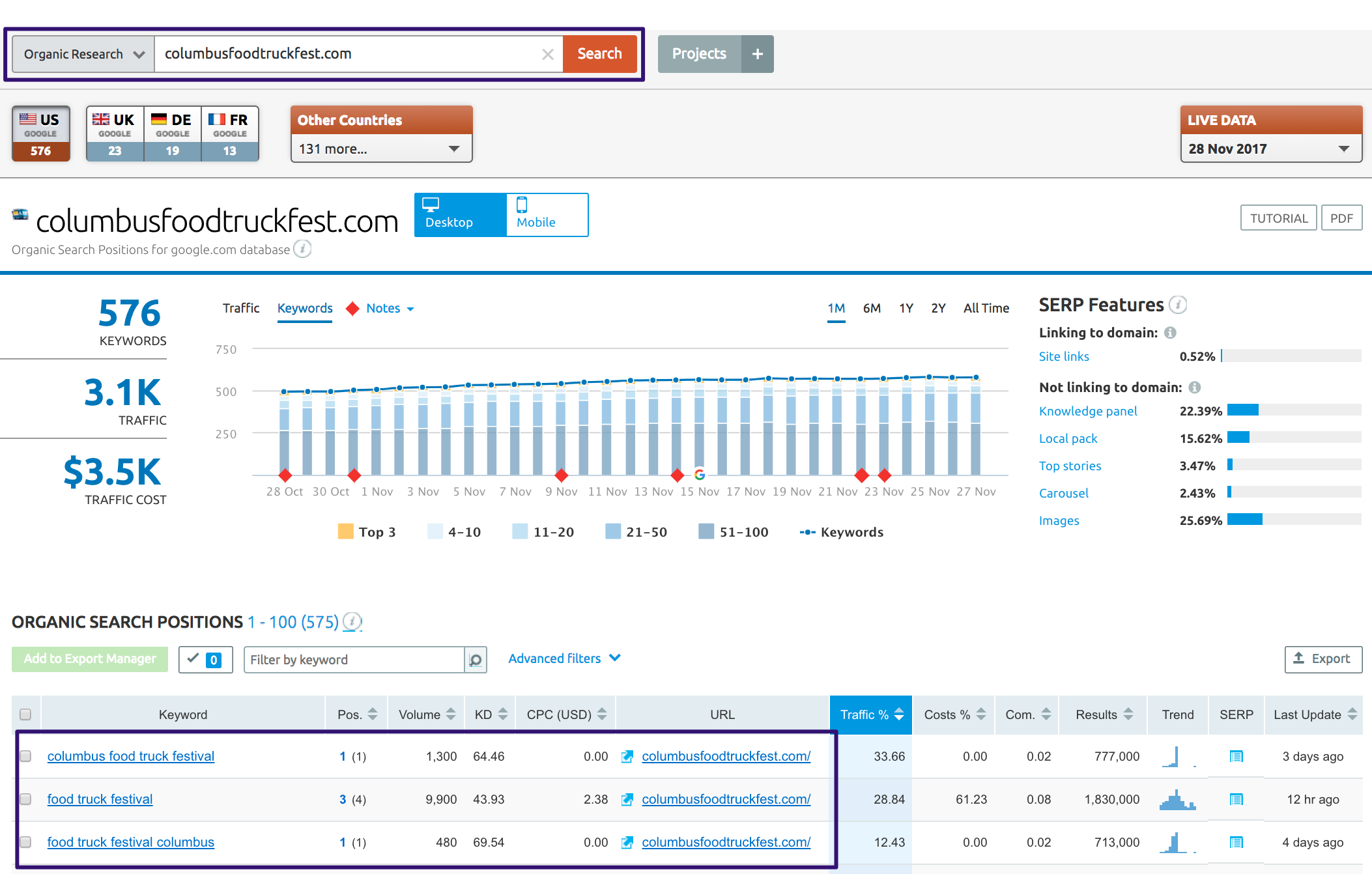 Next, use SEMrush's Keyword Magic to do extra keyword research to find other relevant terms.
Look at who is ranking in the SERP's for these terms to uncover more potential sites. SEMrush's SEO content template will help you analyze the SERP in more depth.
Check out the competitor report for your competition. This shows domains with common terms. Some of these could be competitors, but some may be places that could help promote the event.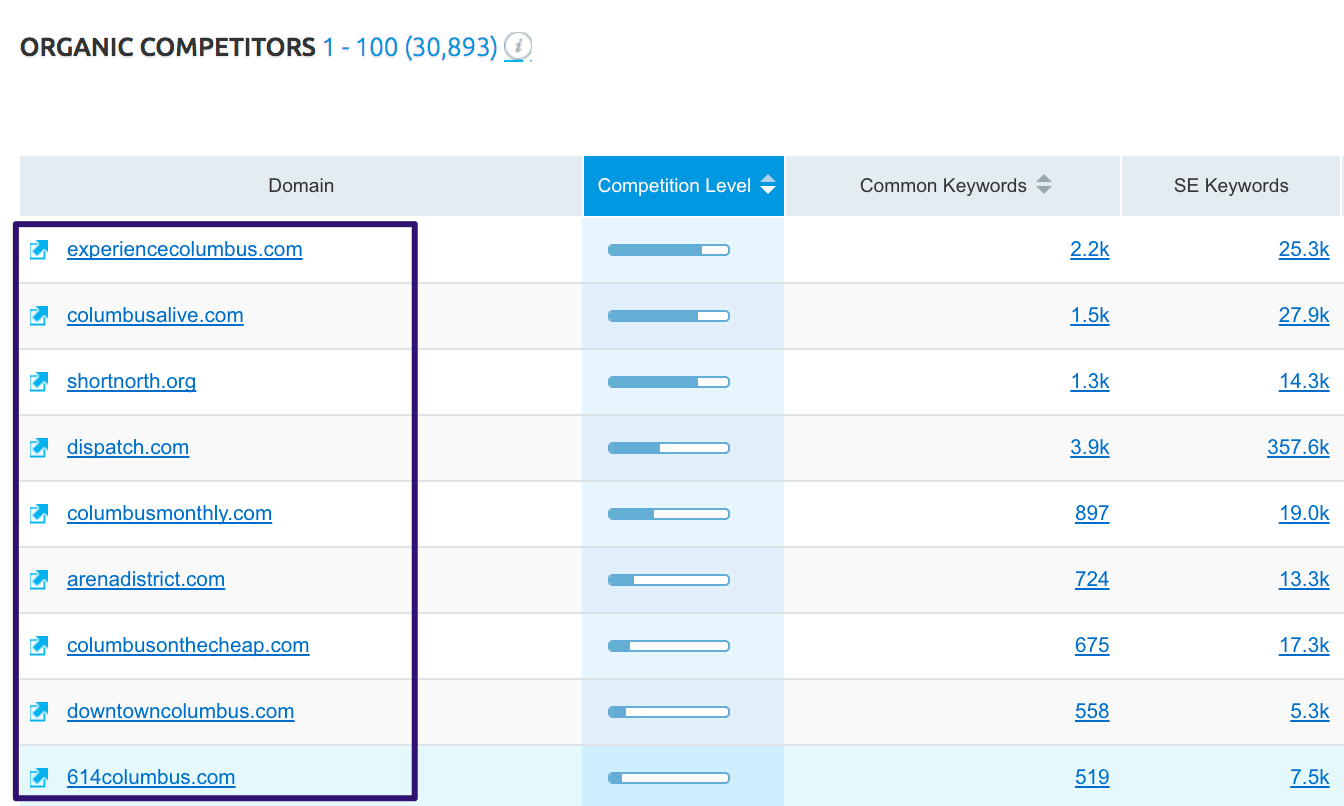 Lastly, look at the backlinks pointing directly to their event page within the backlink report. These may be places that could link directly to an event page.

Continue repeating these steps to build out a full list of relevant sites to build your starting outreach list. Consider if any of these could help promote your event, sponsor, or participate in any capacity.
Online Communities
See if you can tap into any existing online communities. Facebook groups, Reddit threads, meet-ups, and community forums are all great places to see what your audience is talking about and how you can promote your event to them.
Search for relevant or related terms to find potential communities. Go back to your audience to get related topic ideas.
For my taco event, I uncovered an active Columbus Reddit, a Facebook group for Columbus young professionals, and a meet-up for those that want to try new restaurants in Columbus. I joined these and started monitoring activity.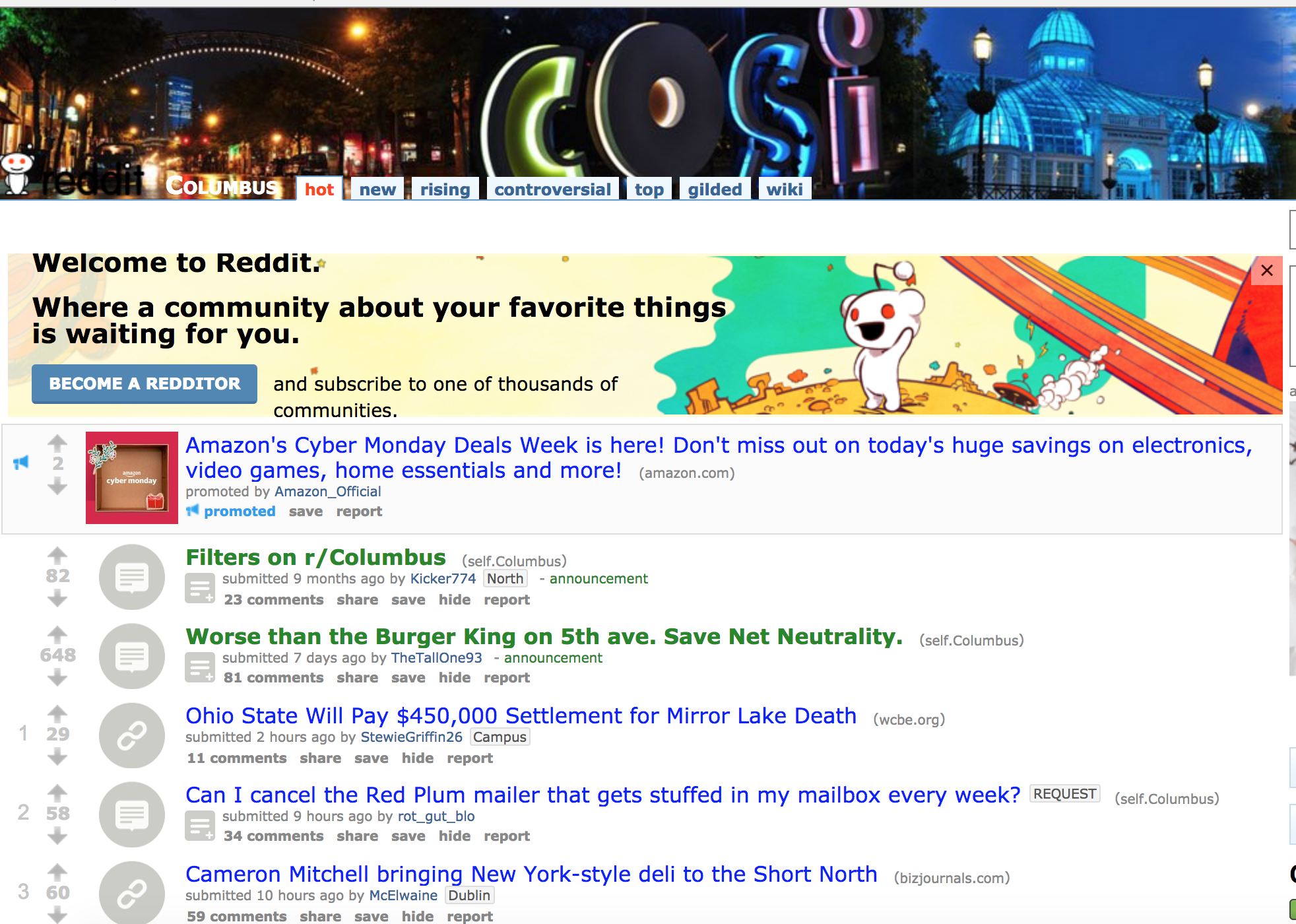 I would advise creating relationships and a presence before you start self-promoting. Use their conversations as a cue for how to converse and interact. Online communities can be a great place to understand your audience and what content they will react to.
If applicable, connect with local in-person communities as well. Go out of your way and attend a meet-up or related event if possible to start getting your brand name out there. Be sure to not come at this too salesy though and give people a bad impression.
Press
Connect with the local press in the event area. You will have more luck targeting local press than targeting national press unless you are a strong national brand with PR connections.
Don't just think digital. Community newsletters and traditional papers can still benefit you. They may have a digital equivalent that can provide you with a link or the value of a linkless link brand mention.
Look at what the news source typically writes about and decide if it is the right fit.
Most press sources have easy to find contact information on their website. Be sure to present them with all the information in a format that caters to their needs. Make them interested in the story and limit the amount of work they must do to create a good story.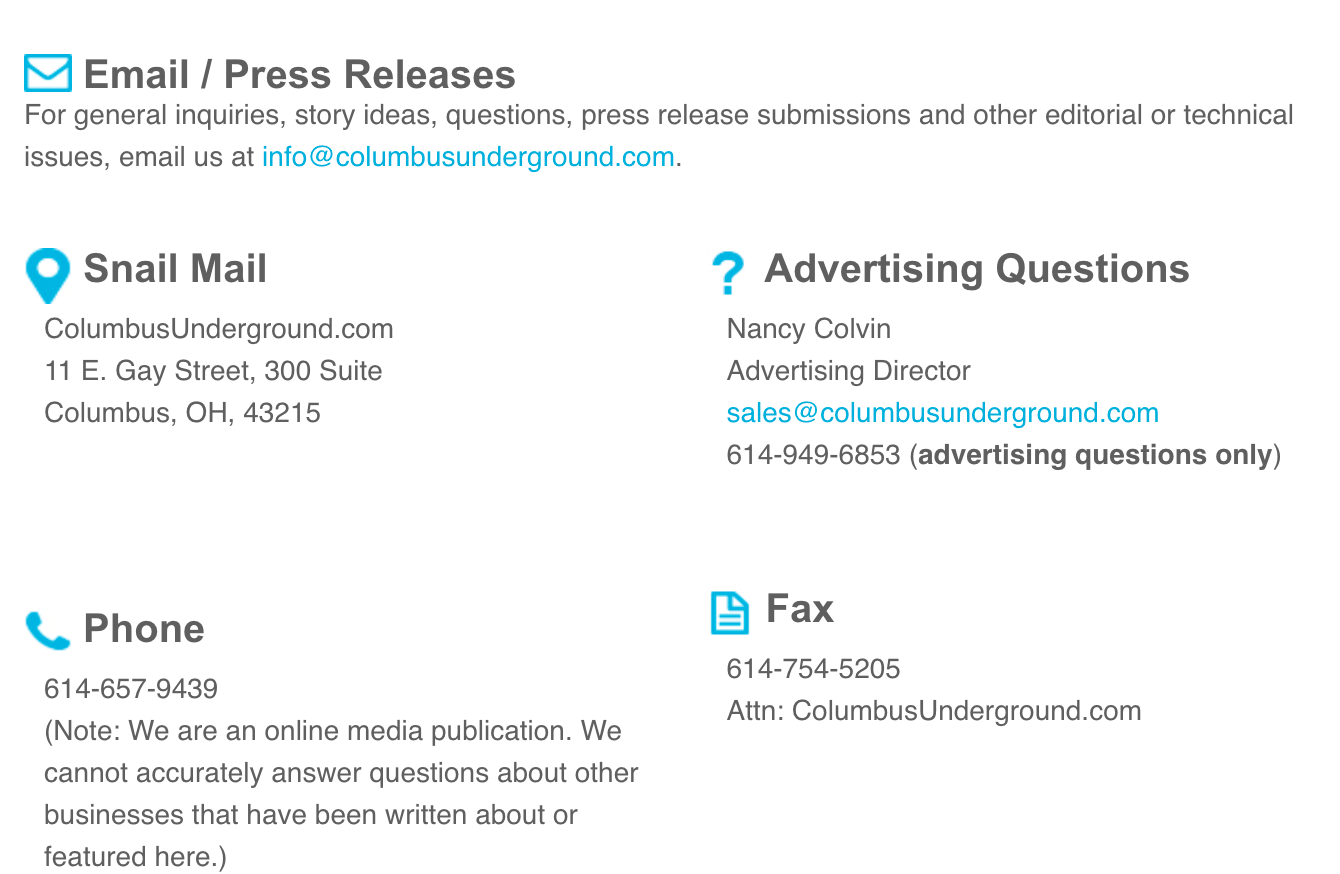 Summarize Your List & Prioritize
Add anyone relevant to the outreach tracking tab and document as much information as possible. This will help identify how you should be pitching in your outreach and the strategy for each influencer. Go through and identify who is a priority, who isn't, and your starting strategy for outreach.
Document Potential Pitches
Before outreach, decide what your team is comfortable pitching to the influencers. Are you okay providing free tickets up to a certain amount, giving a promo code away, or providing an interview previewing the event?
Document this now so you don't run into roadblocks in the future when you are performing outreach, and so the entire team is on board with potential costs. For example, I was comfortable providing up to 20 free tickets throughout all my pitches and an unlimited amount of unique promo codes for $5 off. I adjusted my ticket goals to account for the potential loss of revenue from the promotions.
Note – I am not telling you to buy links! The whole point of this isn't to get links to your website but promote interest in your event. Be sure to follow SEO best practices and no follow any links that exchanged money.
Check out these resources for how to create a good pitch:
Plan Your Other Promotion Channels
Leverage your organic research before promoting on other channels.
Paid
Leveraging paid channels on top of organic outreach will amplify your event exposure. 
Paid promotion can reach people organic may not be able to and ensure they see the content on platforms with algorithms that hurt organic reach, such as Facebook and Instagram.
If you are going to do paid, be sure to include event specifics in your ads. Don't make people click and hunt down when an event is occurring. Give them the details as quickly as possible.
Pro-Tip: Use paid promotion to target your influencers if traditional outreach won't work. Certain networks make it very easy to target a small group to ensure they see your content.
Email
If you have an email list be sure to use it early and often. The sooner people know about your event, the more likely will put it on their calendar. Build an email calendar to identify how many emails you are going to send and when.
Consider other emails people may be receiving. You don't want two reminders from you and three from the third-party ticket platform.
Build a plan for a final email reminder about the event. Provide specifics on the event, directions, parking, any last-minute changes and if applicable make sure it is linked to a ticket, so people don't have to look back for it.
Offline
Yes, offline can still work. I wouldn't put all your eggs in this basket, but use what makes sense for the event. Align offline to your digital content if possible by including a hashtag, social handles, and vanity links when relevant.
If you are a local business in a new town, mailers may work, so that people can be introduced to you. If you know your audience frequents coffee shops, hang a flyer up. 
Be reasonable and thoughtful as you considered offline and be sure you can track it.
Track Your Success
Use URL tracking for paid and non-paid channels. UTM is the most common and easily built using Google's UTM Campaign builder.
Identify your common UTM naming best practices beforehand to ensure your tracking is consistent. This step will ensure you are measuring and reporting on the correct data.
Tag all the channels you control, such as email, paid, and social media. Provide influencers and news sources with tagged links for use if possible.Use vanity URLs redirecting to tracked UTM URLs for offline channels.
Think About Supporting Content
So you have an event page, you have reached out to your influencers, and you are utilizing your execution plans for other promotion channels. Awesome! But is there supporting content you can be creating or planning?
Ask yourself how you can be leveraging all of the content and effort you put into the event for all it is worth.
Is there a supporting blog post series you could be writing to drum up interest in the event? Could you be planning to video the event so you can be sharing short clips afterward? Could you be repurposing a networking panel Q&A into a blog post? Is there a hashtag you should be following to gather user-generated content to repurpose?
Think about everything you can leverage now and plan for how to execute it prior, during, or after the event.
Build a Wrap-Up Report
Since event campaigns will most likely be cross-channel, you will need to look a few different places to get a complete picture of your data.
Utilize SEMrush's mentions, Google alerts or paid mention tools to watch for brand mentions and key terms. For a more robust option, awario.com can provide smarter analysis.
Use content tracking tools for your event page to see how many shares and backlinks it received. SEMrush has the built-in content analyzer within projects to track content performance for keywords, shares, and backlinks. 
Use social monitoring tools for social conversation and engagement. Hashtagify.me is a great resource for tracking social mentions via hashtag. Hootsuite can be set up for social listening. There are plenty of other paid and free tools.
Of course, use analytics to see what traffic and conversions came from what campaigns. Third party event tools should be able to give you details event analytics as well.
Use all your metrics and data sources to build a report that summarizes all your key strategies, how you executed and what the outcome was. There is a sample report draft in the template provided at the start of the article. Feel free to take this to the next level with visuals.
Reflecting on everything you did will help you learn what to change and what worked for next time. If you didn't meet your goal, own it and be accountable for why not. This will help you plan better for the future.
Now you are equipped to go out and plan your own event and leverage SEO strategy in the process! Have any other tips I missed? Share them in the comments below.