SEO podcasts today are a dime a dozen. But if you look closely, you'll see many are no longer updated.
When it comes to the ever-evolving SEO industry, you need reliable podcasts from experts with their fingers on the pulse—now.
We scoured forums, social media, and our own podcast catalogs for the very best (and latest) 10 SEO podcasts.
1. Search Off the Record
Search Off the Record is a monthly podcast from the search gods themselves: Google's Search Relations team (including the revered John Mueller and Gary Illyes).
Listen to learn how the Google search engine works, upcoming Google feature announcements, and the team's take on current SEO debates.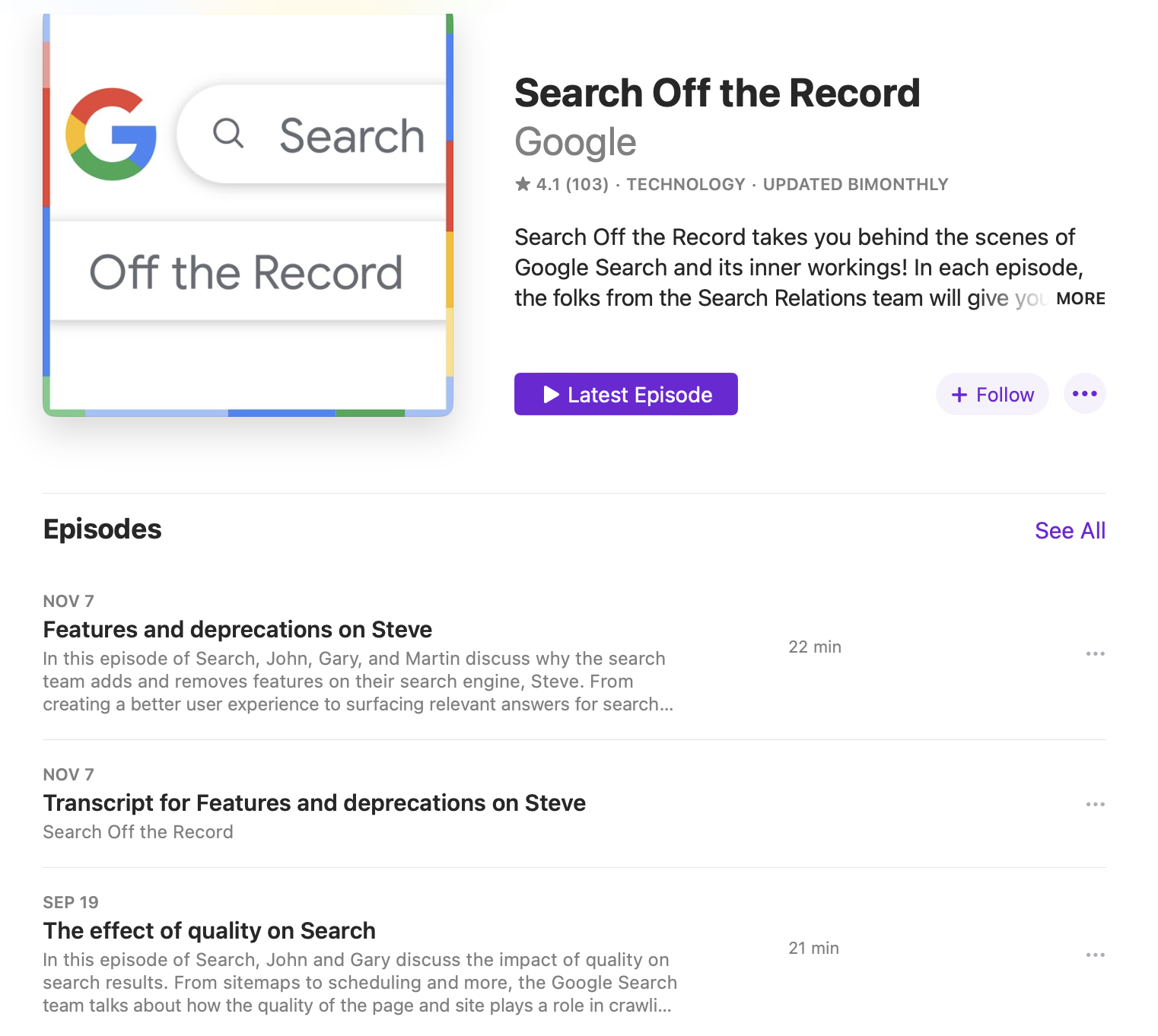 Each host is a marketing powerhouse from different Google teams, including:
Gary Illyes (Google Analyst)
Lizzi Sassman (Tech Writer)
Martin Splitt (Developer Advocate)
John Mueller (Search Advocate)
A rotating combination of hosts come together to discuss current SEO topics that impact their search engine.
September's episode addressed the influence of quality on where you rank in search results. Gary revealed to John that quality not only impacts ranking, adding that it's also the "biggest driver" for most of the system's decisions on crawling and indexing.
In an earlier episode, Gary, John, and Martin explain why Google may not index parts of your website (i.e., why it isn't appearing in search results). They go on to discuss the Google Search Console tools that can help fix the problem.
Other recent topics include:
The latest Google Search algorithm update
How to choose the best top-level domain name (e.g., www.examplesite.com)
A Q&A session from Gary's LinkedIn
How to stage and launch a new website
Get behind-the-scenes insights and Google-specific tips from the SEO experts who optimize it daily.
Prefer to read the discussion? You can download a transcribed document of each episode on the site.
Average run-time: 30 minutes
Hosts: Gary Illyes, Lizzi Sassman, Martin Splitt, John Mueller
Listen for: Google-friendly tips on on-page SEO, off-page SEO, and technical SEO
Available platforms: The official website, Google Podcasts, Spotify, Apple Podcasts, Pandora
2. Best SEO Podcast (The Unknown Secrets of Internet Marketing)
Best SEO Podcast (formerly known as The Unknown Secrets of Internet Marketing) is a weekly podcast from digital marketing expert Matt Bertram.
Listen for his expert tips and industry secrets for beginners on all sorts of SEO topics.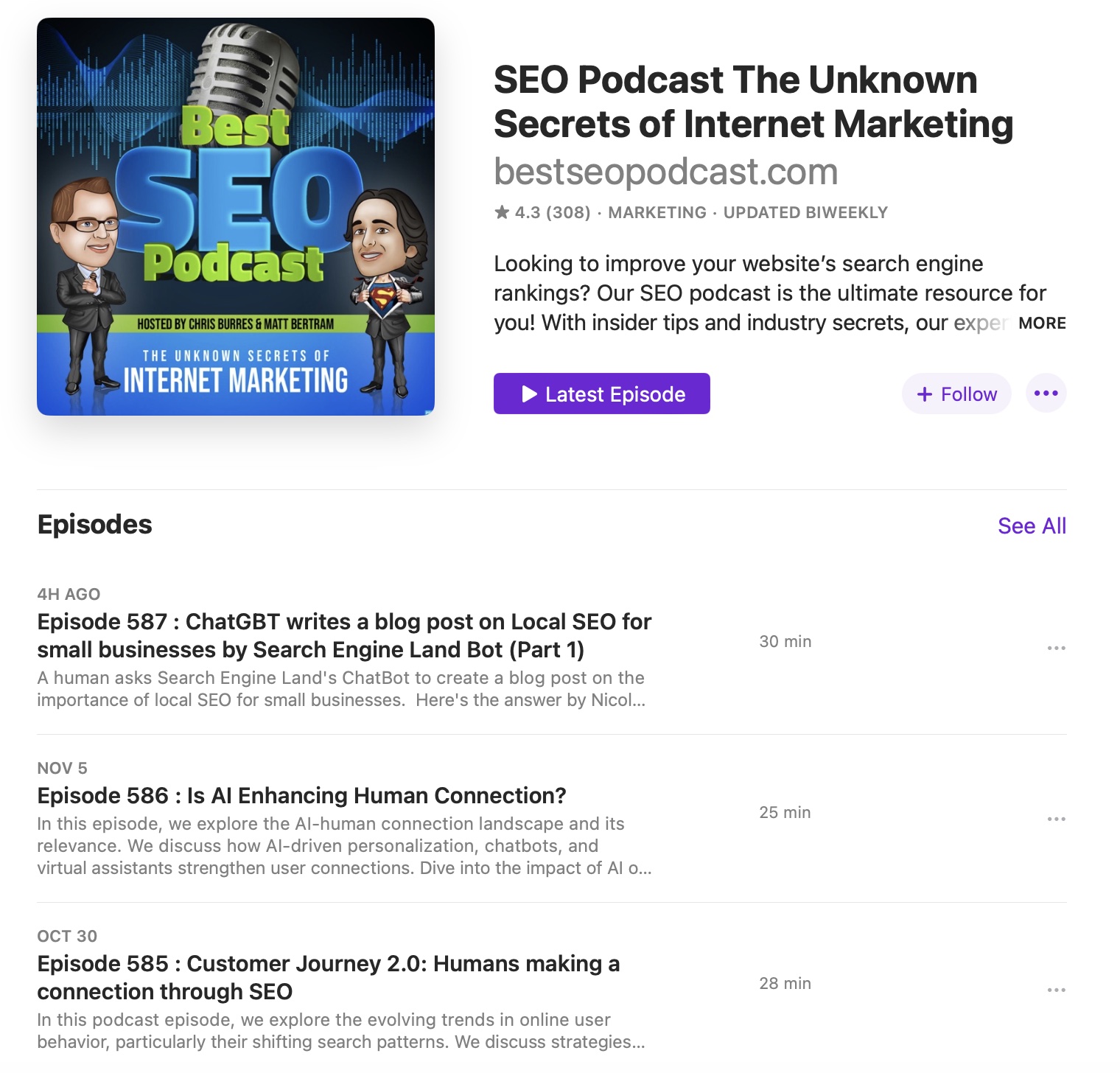 In a recent episode, Matt discusses his experiences with SEO plugins like Yoast and Rank Math.
He also says in the episode that he's unsure where the character limit "rule" for meta descriptions came from. Because he finds longer descriptions work better.
Why?
More characters mean you can give the search engine a more detailed description. This helps search engines better understand the page's context and more easily rank it.
In other episodes, he breaks down recently published SEO articles into talking points.
Like when Matt walked through a keyword research HubSpot guide, sharing his own opinions and tips. Such as manually assessing successful sites to supplement data from tools.
Other recent episodes cover:
How SEO is evolving as the marketing landscape changes
How to combine both SEO and paid search
A guide to Google's PageRank for beginners
The importance of rich media in content marketing efforts
Matt has only been a solo host for a short while, with former host Chris Burres leaving the podcast in August 2023. Matt's insights are strong though as he breaks down how to get more traffic to your site and build your online presence with experience-based tips and engaging commentary.
Average run-time: 30 minutes
Host: Matt Bertram (and formerly Chris Burres)
Listen for: SEO, pay-per-click advertising, email automation, and social media marketing strategies
Available platforms: The official website, Spotify, Google Podcasts, Soundcloud, Pandora, Apple Podcasts, iHeart, Amazon Music
3. Search With Candour
Search With Candour is a weekly podcast from British digital marketing agency Candour. Listen for the most up-to-date tips on search marketing to ensure your strategy stays relevant.
In-house SEO specialist Jack Chambers-Ward hosts a different SEO professional from the industry each week.
Some of the most recent episodes include Optmyzr's Head of Marketing, Ashwin Balakrishnan, and semantic SEO consultant Dave Ojeda.
Each episode focuses on a different topic related to each guest's specialty. For example, most know Dave Ojeda for his schema markup audit service.
And so his episode discusses the state of schema in 2023, including its importance as an SEO tactic, often overlooked schema types, and the best tools to implement your own.
Other recent episodes cover topics like:
How to think like an SEO product manager
Which content management system (CMS) you should use to build a website
How voice assistants understand different accents
Freelancer tips for growing an international client base
Jack also occasionally collaborates with other podcasts in the SEO field, including The SEO Mindset, where he discusses managing your energy levels at conferences with hosts Sarah and Tamzin.
Listen to Search With Candour for Jack's take on major and more niche marketing topics from across the SEO industry. It's also one of the most regularly updated with new episodes and insights.
Average run-time: 50 minutes
Host: Jack Chambers-Ward
Listen for: Discussions on all things SEO and PPC
Available platforms: The official website, Spotify, Overcast, Apple Podcasts, Google Podcasts, Pocket Casts, Anchor, Public Radio. 
4. Authority Hacker Podcast
Authority Hacker is a weekly podcast hosted by business partners Gael Breton and Mark Webster.
The pair use each episode to share how they've built and sold top-ranking sites using SEO and marketing tactics over the past decade.
Gael and Mark both now run online marketing education site Authority Hacker. And the podcast is one of its most successful resources.
Each week, the pair discuss experiments, case studies, and discoveries they've tried recently and over the years.
Forget beginner-friendly, top-level topics. This marketing podcast gets into the weeds on more specialized subjects.
For example, Mark sat down with guest Doug Haines to discuss one of the best (and underutilized) locations to hire remote marketing and SEO staff: South Africa.
Another explored how PR firm Bright Valley Marketing got Authority Hacker over 30 backlinks (including some from extremely authoritative sites).
Other recent episodes have covered:
The impact of AI and inflation on the website market
Why Gael and Mark no longer support paid link building
How to create a map of interrelated sub-topics around your brand
Tactics for building authoritative sites with a 90+ domain rating
Occasionally, expert SEO guests join them. Including founders like Backlinko's Brian Dean and SparkToro's Rand Fishkin.
In Brian's episode, he shares his method for planning and structuring content. And how he optimizes for Google's E-E-A-T best practices. 
Are you a blogger or business owner who wants to grow and monetize your site? Learn what to do and avoid from Authority Hacker's personal experience.
Average run-time: 1-1.5 hours
Hosts: Gael Breton and Mark Webster
Listen for: Advanced SEO strategy, content marketing, and digital marketing tips
Available platforms: The official website, Spotify, Soundcloud, Apple Podcasts, Google Podcasts, YouTube. 
5. Confessions of an SEO
Confessions of an SEO is a short-form podcast released by SEO researcher Carolyn Holzman at random intervals. Listen for Carolyn's personal thoughts and stories on everything from Google updates to conferences she's been to.
You won't find in-depthpodcast episodes on beginner topics here.
Instead, Carolyn covers more niche subjects in a relatable (and often funny) way that seasoned SEOs will appreciate.
For example, a recent episode celebrates the second anniversary of her personal indexation research project which analyzes how Google's bots crawl web pages and rank them in the SERPs.
Carolyn casually chats about her subjects informally. Saying in one episode, "Backlinks are pretty cute, but I'm married to on-page."
It's this conversational tone and bite-sized episode length that sets her podcast apart from others out there.
Some other recent subjects include:
"What Would John (Mueller) Do" if his livelihood depended on the success of a new site
Her thoughts on a volatile summer of Google updates
A "rant" about the code of ethics working as an SEO
How to stack parasite (setting up pages on other people's websites) SEO properties
Sometimes, episodes are bi-weekly. Other times, they're monthly. But if you're prepared for the haphazard release dates, you can learn a lot from Carolyn's quick on-the-job insights.
Average run-time: 15 minutes
Host: Carolyn Holzman
Listen for: Short, personal SEO stories
Available platforms: The official website, Apple Podcasts, Spotify, Amazon Music, Podchaser, Anchor. 
6. SERP's Up
SERP's Up is Wix's weekly podcast hosted by two heads of the SEO team, Mordy Oberstein and Crystal Carter. Listen for a more unconventional, entertaining take on hot topics and industry developments.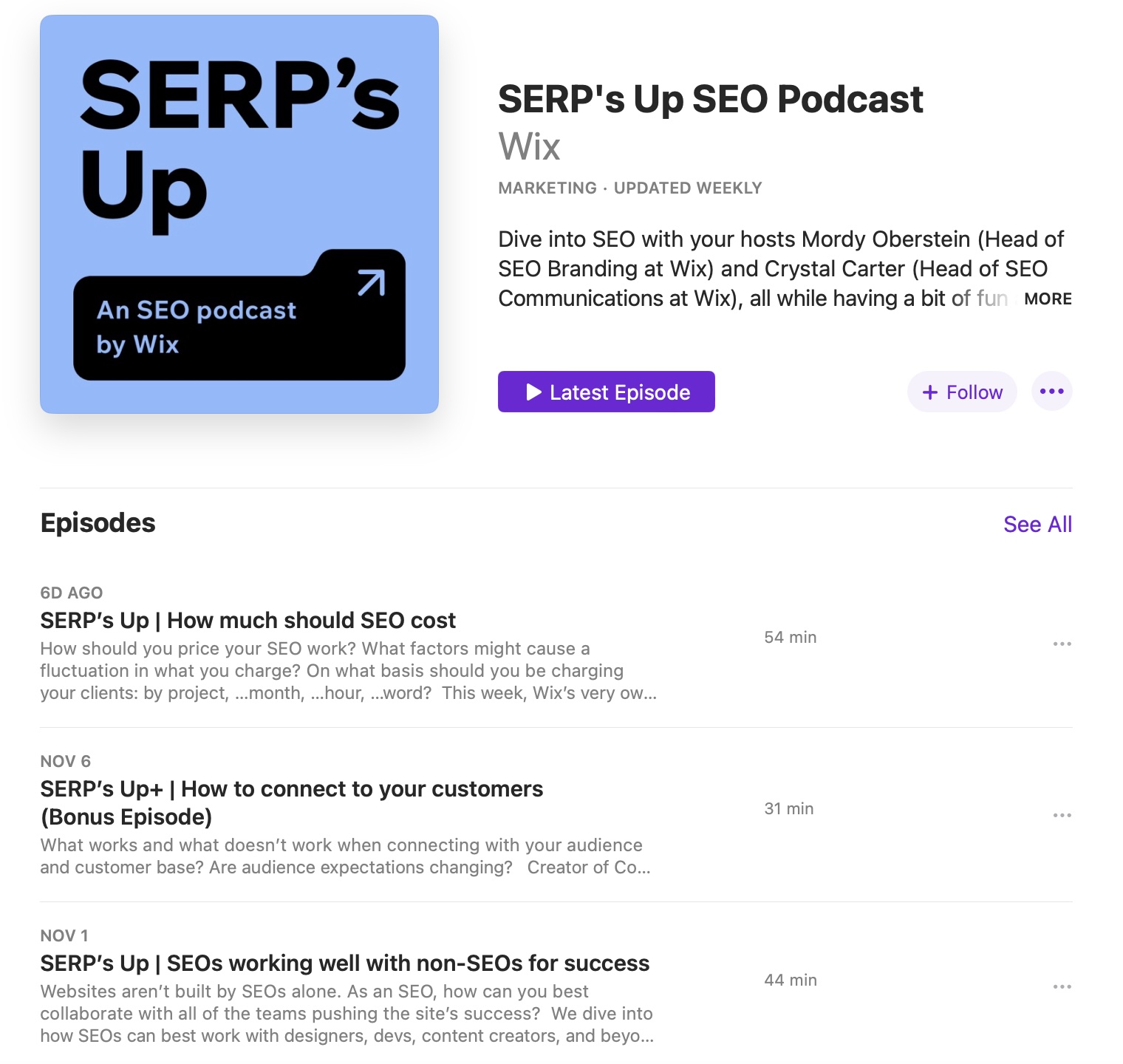 SERP's Up proves that SEO news doesn't have to be boring. And Mordy and Crystal feature a different expert guest (or two) each week to share ideas on a wide range of topics.
The pair tends to cover the background of the episode's subject first. Then, they play a monologue clip from a guest sharing another strategy or next steps.
For example, a recent episode delved into how to train your SEO team. With insights from Sterling Sky's Conan Nielsen on the importance of auditing learners to ensure you've taught something of value.
In another episode, the pair introduced SEO Zoe Ashbridge as part of their discussion on keyword cannibalization. Her segment revealed how she diagnoses these cases by searching for her desired keywords and analyzing the type of content that should be ranking.
Some more recent subjects of SERP's Up include:
How to leverage artificial intelligence as a marketing tool
How to get your content into Google's "People Also Ask" (PAA) feature
Trending SEO topics coming up in 2024
How to set and prioritize your own SEO tasks
It's a format in which both beginner and seasoned SEO professionals can find value as the hosts sprinkle nuggets of wisdom throughout plenty of fun back-and-forth.
That means you don't have to listen intently throughout the episode. Which can be helpful if you're tuning in while completing other tasks.
Want to listen to an informal discussion with helpful advice dotted in? Give SERP's Up a try.
Average run-time: 45 minutes
Hosts: Mordy Oberstein and Crystal Carter
Listen for: Entertaining SEO insights on a wide range of topics
Available platforms: The official website, Apple Podcasts,Google Podcasts, Spotify, Amazon Music.
7. EDGE of the Web
EDGE of the Web is a weekly digital marketing podcast hosted by agency founder Erin Sparks. Listen for tips on every area of marketing your online business, including SEO, content marketing, and social media.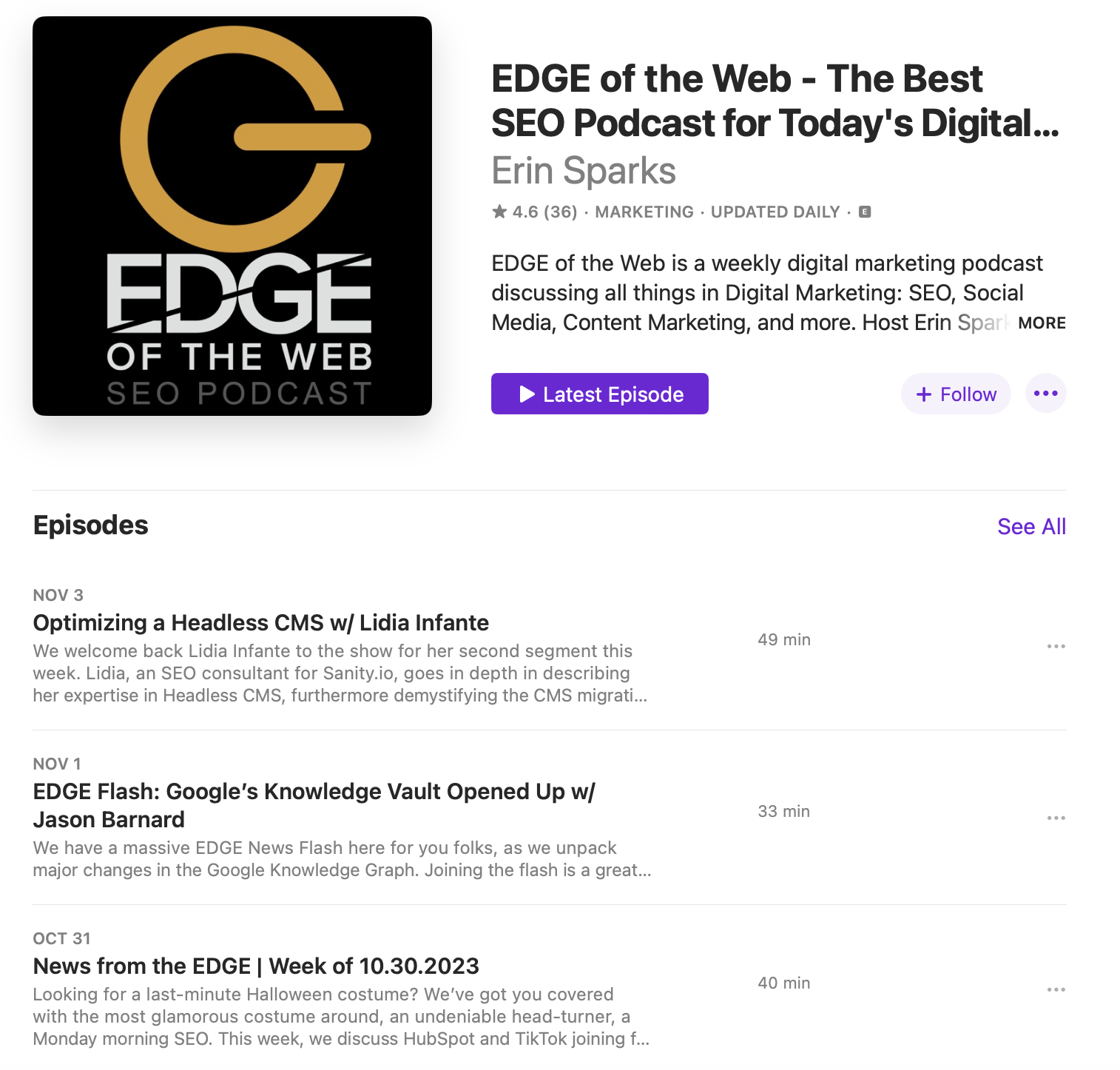 Episodes here aren't just once a week. Usually, they're every two or three days—sometimes, back to back days.
Erin regularly interviews big names in the SEO space, from Search Engine Roundtable founder Barry Schwartz to Google's John Mueller. And the podcast covers various topics related to the latest SEO news.
For example, Erin used one of the latest episodes to speak with consultant Natalie Arney about Google's Search Generative Experience (SGE) and how the experiment impacts your content creation efforts.
Erin and the podcast guests have also recently covered the following topics:
Google's antitrust lawsuit and its impact on Google Ads
Exploring the nuances of singular vs. plural keywords on search intent
Creating a foundational product-led SEO strategy
Advanced tips for Google Analytics 4
Each week also contains "News from the EDGE" compilations of that week's SEO updates. Usually on subjects like AI, new social media platform features, and advertising tools.
There's something for every type of listener on EDGE of the Web. And it's usually one of the first to cover big, breaking SEO news items.
So, try it if you pride yourself on being up-to-date on the latest announcements.
Average run-time: 40 minutes
Host: Erin Sparks
Listen for: Digital marketing news and the latest trends (including SEO, social media, and content marketing)
Available platforms: The official website, Spotify, Apple Podcasts, Soundcloud, PodBean, Deezer
8. SEO 101
SEO 101 is the longest-running SEO podcast and has had several hosts over the years. Listen for all the latest advice on algorithm updates and industry news.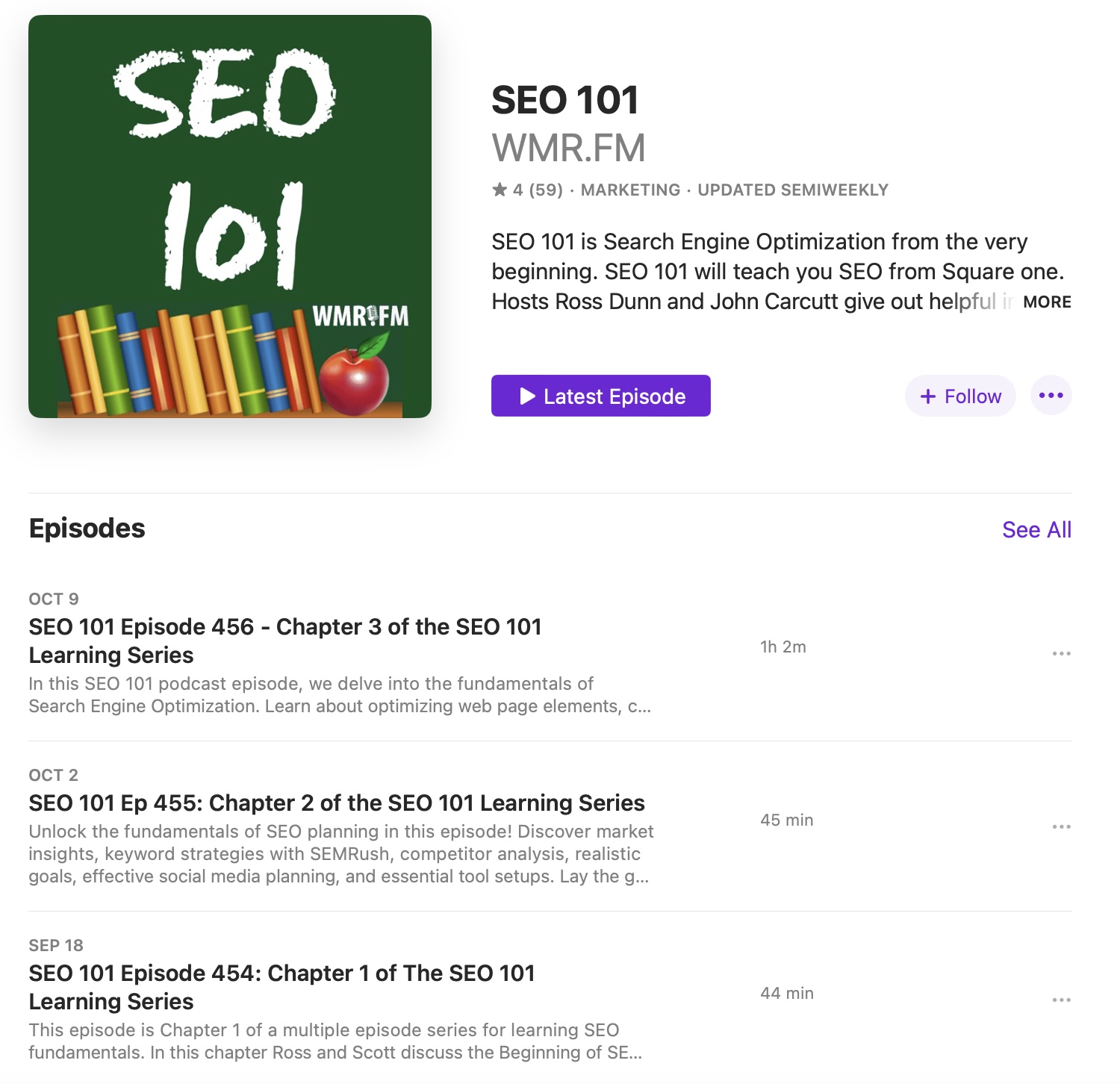 Recent topics have covered confusion about the decline of link reports in Google Search Console and how to use AI-generated content while ensuring you add your own experience and value.
In October 2023, current host Ross Dunn and regular co-host Scott Van Achte also began a series of fundamental SEO learning episodes.
Instead of the most recent features and announcements, the pair cover essential topics for beginners, including:
The birth and growth of search engines
Discovering marketing insights and keyword strategies using Semrush
Optimizing elements on your web pages
Creating original, engaging content
Essential tools you should use for SEO success
If you're just beginning your SEO journey, this new learning series is a perfect place to start. If you're more advanced, you can find more value in the standard episodes.
Average run-time: 40 minutes
Hosts: Ross Dunn and Scott Van Achte (formerly John Carcutt)
Listen for: Specialized strategies and SEO fundamentals from industry expert guests
Available platforms: The official website, Spotify, Apple Podcasts, Soundcloud, Spreaker, iHeart
9. The Recipe for SEO Success
The Recipe for SEO Success is a monthly or bi-monthly podcast from SEO consultant Kate Toon. Listen for interviews and chats with other experts on a wide array of SEO topics.
Kate has had plenty of guests on the show to discuss all kinds of topics over the years—from link-building expert Alan Silvestri to technical SEO whizz Nik Ranger.
For example, one of her latest episodes dives into the environmental impact of hosting your own site. Plus, some tips on reducing your carbon footprint from the founder of True Green, Ray Pastoors.
On top of interviews, Kate has recently started sharing tips and advice on more personal marketing-related subjects. For example, she recently spoke about four of the most common website issues she sees.
For podcast organization, Kate is Queen.
Kate categorizes her episodes in each title so you know what to expect:
"Newbie" is an interview for SEO beginners
"Techie" is an interview for advanced users
"Reality SEO" uncovers how SEO professionals use the field to build their businesses
"Toon tip" is a (roughly) ten-minute piece of solo advice
"Learn" is an extended episode of solo advice
There's even one "rant" on why she's sick of low-quality SEO agencies, and the red flags to spot that'll help you avoid them.
Kate's is one to check out if you enjoy some light-hearted banter and humor with your SEO podcast. Plus, the categorization makes it easy to filter your best-fit episodes.
Average run-time: 30 minutes
Host: Kate Toon
Listen for: All types of SEO basics, with some advanced episodes sprinkled in
Available platforms: The official website, Spotify, Apple Podcasts, SoundCloud.
10. The Search Engine Journal Show
The Search Engine Journal Show posts between two and four episodes monthly, hosted by its founder, Loren Baker. Listen for advanced digital marketing tips and interviews with seasoned SEOs.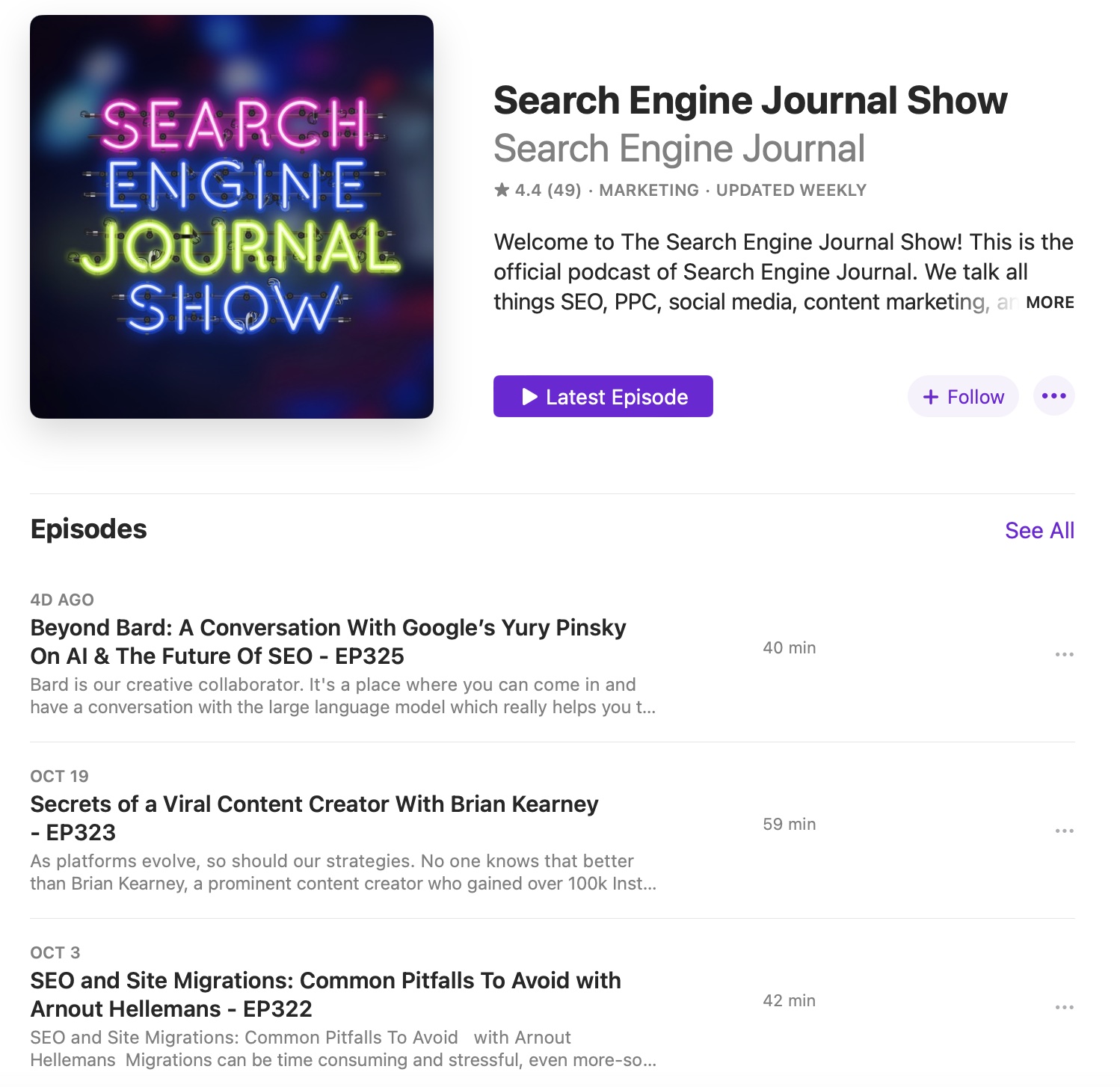 There's a different guest (or two) in each episode. So, Loren can pose questions to professionals in each respective field and allow them to relay their unique insights.
For example, one of the recent episodes teams up with content creator Brian Kearney. In it, he shares his strategies that helped him gain over 100K Instagram followers in a year.
There's a lot of information that beginners will find helpful. But it could be overwhelming as the SEJ Show discusses big, complex topics with experts from the industry.
However, it's perfect if you want to learn about subjects like:
Common pitfalls to avoid when migrating your site to another domain
Extending your reach with multilingual localization
Using generative AI tools (like ChatGPT) effectively
Creating a YouTube content strategy as a business-to-business (B2B) company
The SEJ Show is more informative than entertaining. So, if you want a value-packed podcast with less filler, give it a shot.
Average run-time: 45 minutes
Host: Loren Baker
Listen for: SEO, PPC, social media, content marketing, and digital marketing strategies
Available platforms: The official website, Spotify, Apple Podcasts, Google Podcasts
Get More In-DepthSEO Tips From the Semrush Blog
SEO podcasts are great to digest on the go. But they aren't the best for detailed walkthroughs.
If you've got a little more time, consider spending some time on the Semrush blog for more in-depth insights, instructions, and screenshots.
Here are a few great posts to start with:
SEO for a New Website: 9 Essential Steps
Local SEO: What Is It & How to Do It?