Last week's special edition #SEMrushchat was dedicated to SEO questions that marketers need to answer before the end of 2017. While at Pubcon in Las Vegas, the SEMrush team had the chance to speak to many experts about backlinks, "nofollow" attribute, AMP, and other SEO topics that digital marketers deal with every day. Here are some insights into the world of SEO from experts like Marie Haynes, Patrick Stox, Aleyda Solis, Jim Stewart, Reva Minkoff, and more:
Q1. Would you add "nofollow" attribute to low authority sites, even if you trust the site's content and quality?
The nofollow tag enables webmasters to point out some of their links that search engines shouldn't be counting. Basically, this element is a notice sign for Google and other search engines that says "don't count this link." By using this attribute, you can ensure that your nofollow links will not pass PageRank to another page. Therefore, Google will not penalize you for linking out too much or linking to a low-quality site.
Is it worth adding the nofollow attribute to links that point to a low-authority site, even if you trust the site's content? Our chat participants believe that low quality doesn't necessarily mean bad content. In fact, there's no reason to nofollow any links, because even a low-authority site can be a good source of information and it can grow into a high-authority site in the future.
If the content on the site that the link is pointing to is relevant to your topic and can benefit your readers, there is no use in adding nofollow. Imagine you are reading a post on one of the blogs that you visit on a regular basis and you see a link in the post and you don't know whether or not the author has followed this link, the only thing you probably care about is if it's relevant to the content you're reading at the moment. The author thought it was worth putting the link on their site, so therefore the link must be worth clicking.
You should always pay attention to whether or not a link is relevant and helpful to your site visitors. If it can provide some value to them, you don't really need to add the nofollow element. After all, if the site is questionable and shady, you shouldn't be linking to it at all.

Q2. How do you incorporate user intent into your keyword strategy? How important are longtail keywords for user intent?
User intent has been a buzzword in the SEO community, however, it is still ignored by many website owners. User intent should inform the direction of your content strategy, it is the key to improving your SEO campaign and it gives you the information that users are trying to find when they type in a particular search query. 
To make sure, you incorporate user intent in your keyword strategy, consider using these four tips:
1. Keep in Mind Different Types of User Intent
The intent is categorized into three groups: informational, navigational, and transactional. These intent types can help you to identify your audience persona and which stage your target users are in your funnel. Tailoring your content to one of these categories is vital. In order to do so, you need to look at which keywords your audience is using in their search queries and keep in mind that some queries have different meanings and intents. Bill Slawski gave an example of how "Saturn" is both the name of a planet and the make of a car.
2. Integrate Long-Tail Keywords
Long-tail keywords are highly targeted search phrases that are designed to serve specific user intent. The good thing about these keywords is that they have low competition, but tend to have high conversion rates. By discovering long-tail keywords and building your content around them you can incorporate user intent into your strategy.
3. Optimize for Topics
When searching for long-tail keywords, organize them by topic, so you can find the best place for them in your content. If you already have an existing blog post or article on this specific topic, you can insert your new long-tail phrases into them.
When creating content that you want to rank for specific keywords, it can be hard for users to find the exact information they were looking for. Fix this by using topic clusters; choose the broad topics you want to rank for and then craft your content based on specific keywords related to the specific topics.
4. Search for An Emotional "Hook"
When optimizing for topics, value becomes even more important than ever before. It is important to serve a particular function for your audience and give them answers and solutions they need in a certain situation. Beyond that, you should create an emotional hook because people are driven by emotions. Think which keywords can help you to evoke your audience's emotions, while keeping user intent in mind.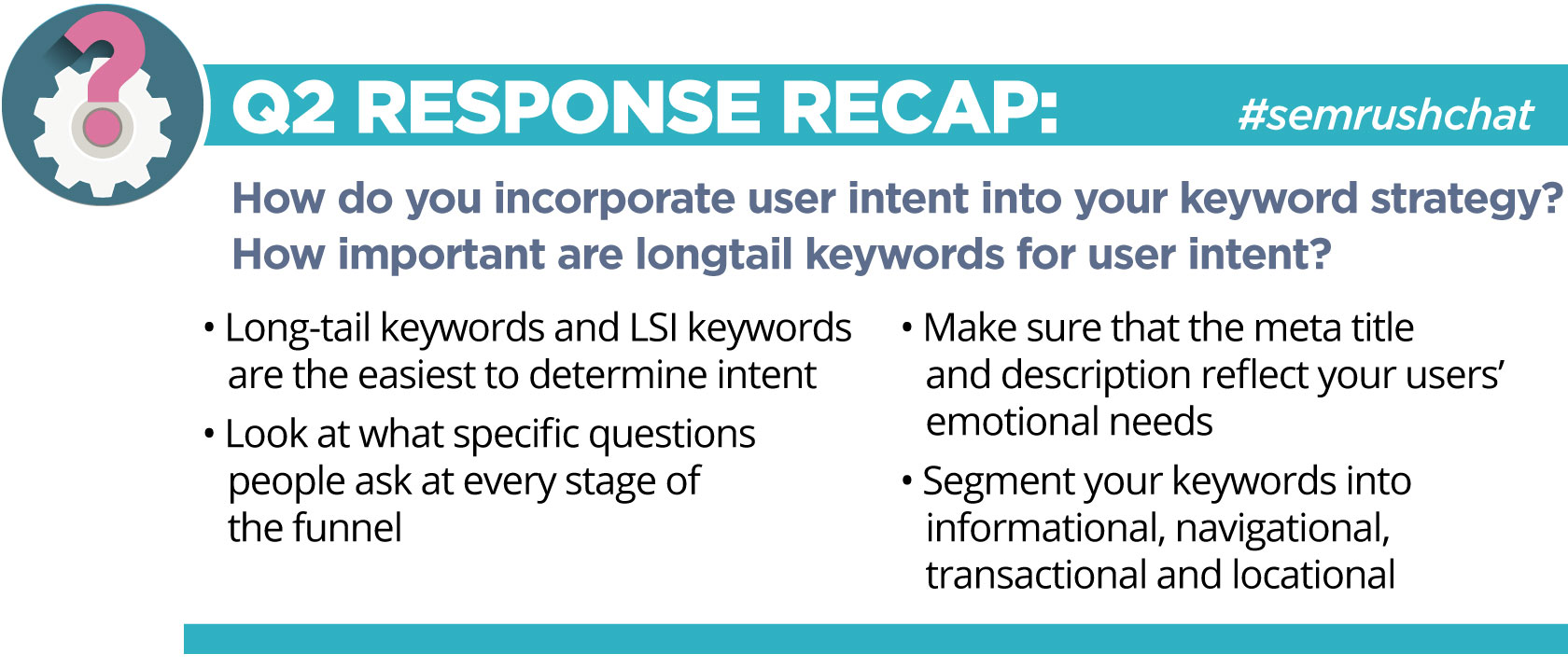 Make sure to use long-tail keywords in your content strategy to address the specific user intent and optimize your copy for particular niche-based topics.
Q3. Is it better to publish new content regularly or release one evergreen piece quarterly? Why?
It can be hard to find the right balance between the need for new content that's posted regularly and evergreen copy that's published quarterly. Even though time-sensitive content won't be relevant endlessly, it provides a few strong benefits and it helps you rank well in search engines and drive traffic to your website. It also allows you to build up your brand, keep your audience engaged, and boost your credentials.
On the other hand, evergreen content is always fresh. It stays relevant years after it was written, so your site visitors can gain value from it over and over again. Evergreen copy keeps your website applicable for the long-run and builds your reputation as an authority in your niche.
Both of these content types are strategically important to your website and blog and if you can provide new real-time posts along with your evergreen pieces of content, you have a higher chance of being noticed and followed. "If I was starting a new blog today, I'd create a handful of evergreen pieces, publish them, then promote them with smaller content on a weekly or monthly basis throughout the rest of the year," tweeted Dale Davies - @daledavies_me.
Nevertheless, some of our chat participants remarked that the point is not how often you post your content, but how quality and relevant it is.
A good balance between new and evergreen content will help you to keep your users engaged and build credibility and trust with your audience.
Q4. Links are important for SEO. What is the top white hat technique you've used for a client/your own website to get high-quality links?
Building relevant inbound links to your website can be hard and time-consuming. Nevertheless, it's one of the sustainable and long-term ways to stay on top of Google search rankings. Our chat participants shared their top white hat techniques for earning high-quality backlinks:
Perform research and create high-quality content
One of the most popular tips is to produce high-quality content that contains real value. If you create great copy that people naturally want to share, you can successfully generate organic links. But before you start writing a new piece of content, you have to invest your time in a thorough research and make sure that your topic is valuable to your potential readers. Matthew Barby suggests performing competitive research every week or month to find new opportunities to take advantage of while they are still fresh.
Produce Data-Rich Content
By amplifying your blog post with data, you can make your story more meaningful and insightful and then visualize your findings to make it more link-worthy. Felix Tarcomnicu points out that visuals, graphs, and infographics are still a powerful tool for attracting links. He suggests reinforcing your copy with facts and a fabulous design.
Identify Influencers and Build Relationships
Link building is just another term for relationship building. The best link has always been a link from a related, high-authority site and the most effective way to earn links from a high-quality site is to build a natural relationship with an influential person who manages it. Most relationships take time to develop, so you need to first identify influencers in your niche and connect with them, share and comment on their content, and deliver value to them by introducing them to people within your network and/or creating content together.
Give Testimonials to Earn Links in Return
If you are using a good product or service that you find helpful, you can provide your review — a free testimonial that the company can post on its website. To show that you are a real person or brand, this company would likely to add a link back to your site on their web pages. This is where backlinks make a move.
Track Your Social Media Backlinks
What other powerful ways do you use to earn high-quality backlinks? Let us know in the comments!
Q5. What is the future of AMP and how is it going to transform the SERPs in 2018?
Over the past 12 months, there has been a ton of hype in the SEO world around the AMP project led by Google. Here are some of our chat participants' prediction about the future of AMP and how it is going to change the SERPs: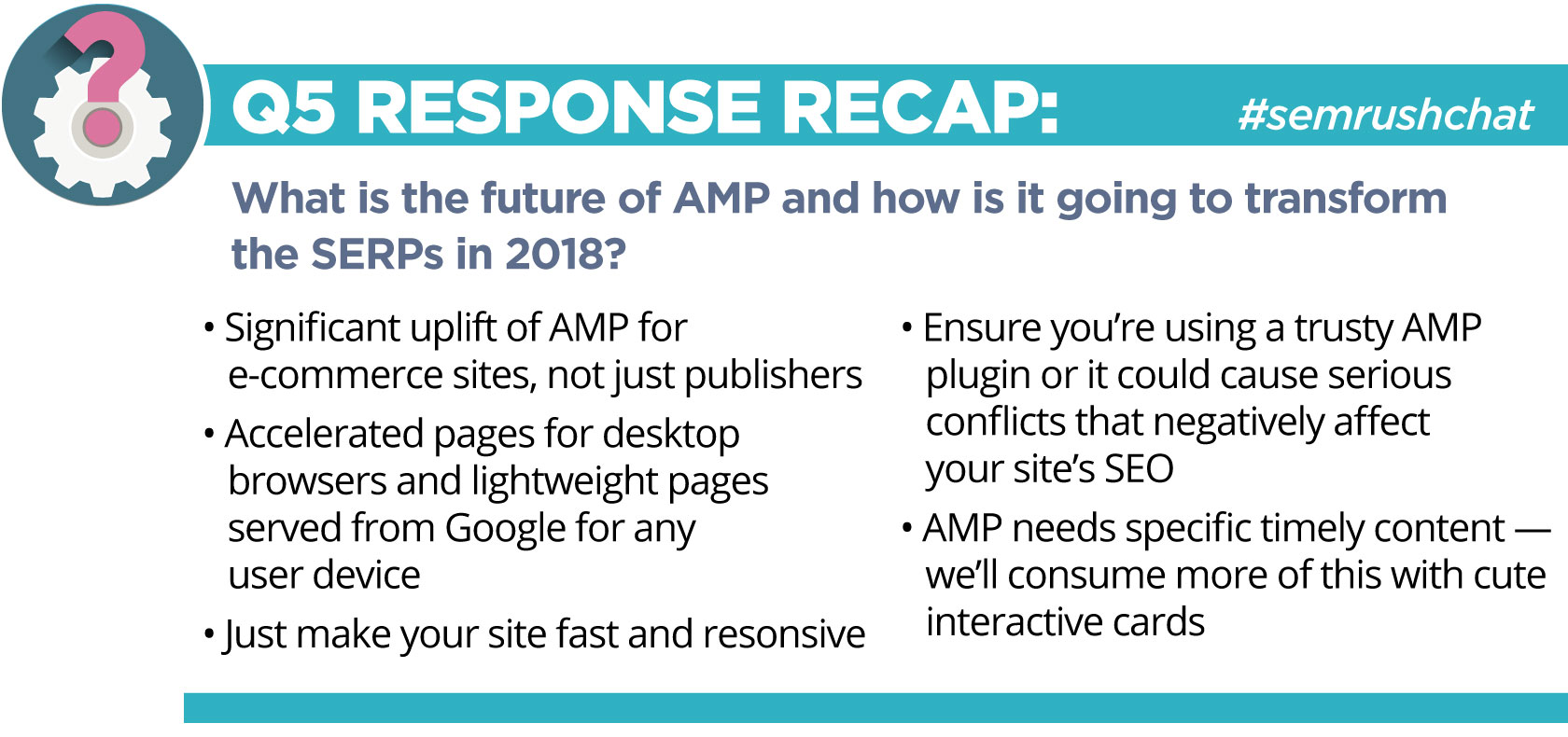 Are there any other SEO questions that bother you? Share them in the comments below!
Make sure to join us on Wednesday as we discuss "Brand Authority as a Ranking Factor" with Jennifer Slegg!