SEOs spend their days grinding it out in the trenches, using tools like Semrush to support essential decisions, boost visibility and beat competitors for high-value searches. Glamorous? Maybe not. But SEO is actually pretty exciting when you think about it. Powerful, impactful, raw — all the things that make great reality TV. 
In SEO Reality Show Episode #3, we check back with the team at Aimclear as they serve the client we paired them with, a powerhouse American trucking firm in the upper Midwest. 
To recap the challenge from the previous episode, Wisconsin-based Halvor Lines is a top trucking company that moves products and materials across the continental US and Canada.
Halvor's value prop for potential drivers is huge:
Competitive pay
Awesome new fleet
Great routes
Driver-focused company culture
Halvor's business challenges are also notable: 
Highly competitive transportation market
Drivers in high demand 
Prospects do a lot of job searching via Google
Ranking in SERPs proved elusive
The Aimclear team opted to help Halvor beat competitors at their own game. Lea, Aimclear's SEO lead tapped Semrush to guide many critical decisions to help Halvor succeed. 
In our previous episode, we learned how Aimclear started tracking and monitoring progress for Halvor Lines and touched briefly on how keyword research set a foundation.
In this episode, we go deeper to look into the stages of the process and demonstrate how tools can be deployed for similar challenges.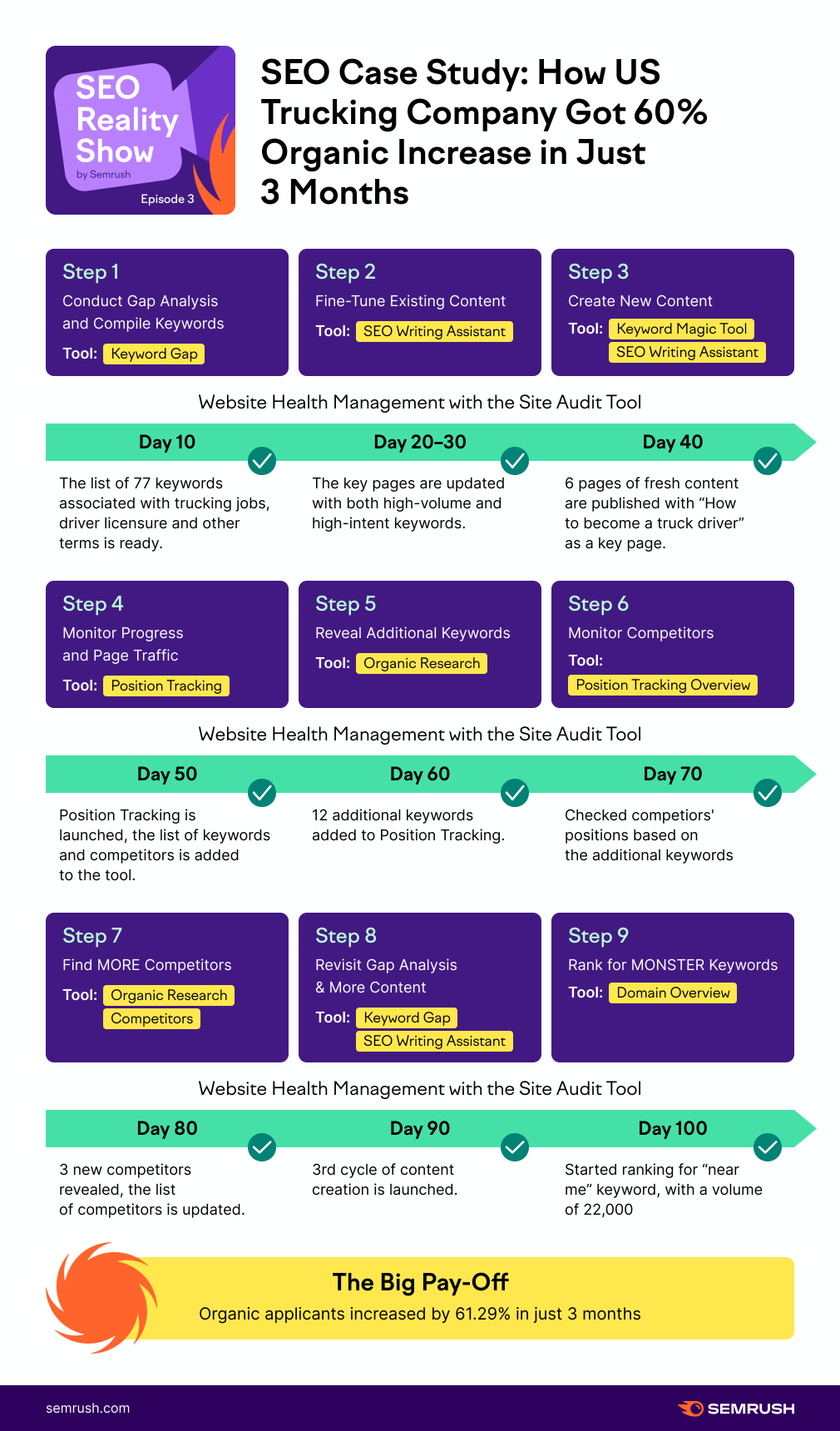 Step 1. Gap Analysis and Keyword List Compilation
She started by investigating specifically what keywords competitors were ranking for in the SERPs. Using the Keyword Gap tool, the team was able to quickly see what search phrases were being used that connected prospective drivers with other trucking firms. By adding the halvorlines.com domain and domains of competitors into the tool, she was able to assess what keywords were missing, which ones were unique, and which ones could offer great opportunity.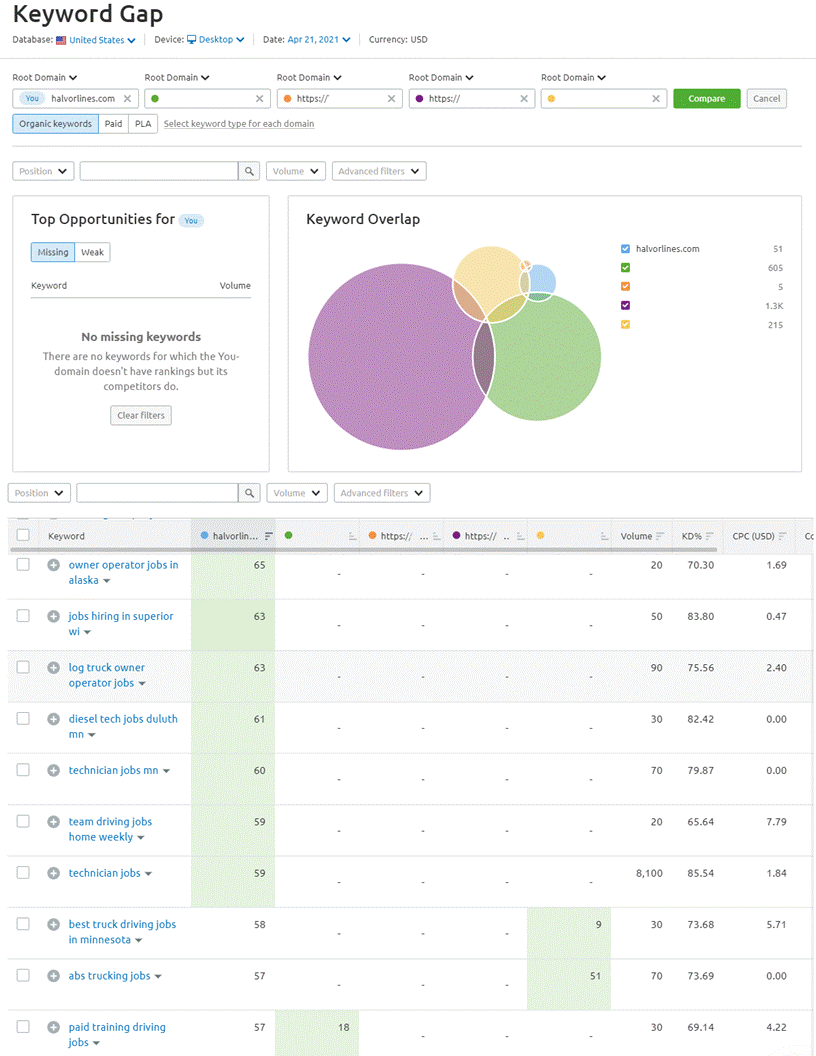 The insight resulted in a comprehensive list of 77 keywords that would help inform content development. 
Step 2. Fine-Tuning Existing Content
With a list of keywords in hand, the team began to fuel key pages of Halvor's site with the new keywords to help connect with truck drivers looking for jobs and those hoping to complete their training and gain a commercial driver's license ( CDL), which is essential for anyone who wants to drive a big rig. 
Lea and the client are both well versed at creating relevant content. They recrafted the existing content to include both high-volume keywords alongside terms that might have lower volume but very high intent. The keyword gap analysis allowed insight into the value of both types of keywords, which helped keep the content creators focused on the right terms. 
Step 3: Creating NEW Content for Halvor Lines
After updating multiple pages of existing content, the team started to create entirely new content. Lea had a burning challenge in mind, "What questions do truck drivers ask that existing content is NOT answering?" Semrush's Keyword Overview tool enabled Aimclear's team to verify the phrase "How to become a truck driver," resonated with high volume and very high intent. 

Equipped with deeper insight, Lea and the client collaborated on specific new content using the keyword phrase in headers and in body content.
In just over a month, 6 pages of new content were already posted and doing well in the SERPs. 
Step 4. Monitoring Progress and Traffic to the Pages
While working hard to update existing content and create entirely new content, ongoing monitoring was critical. Using the Position Tracking Tool allowed the team to really keep close tabs on progress and traffic flow. You can find how the team launched the Position Tracking tool for Halvor Lines by revisiting Episode 1 of the show.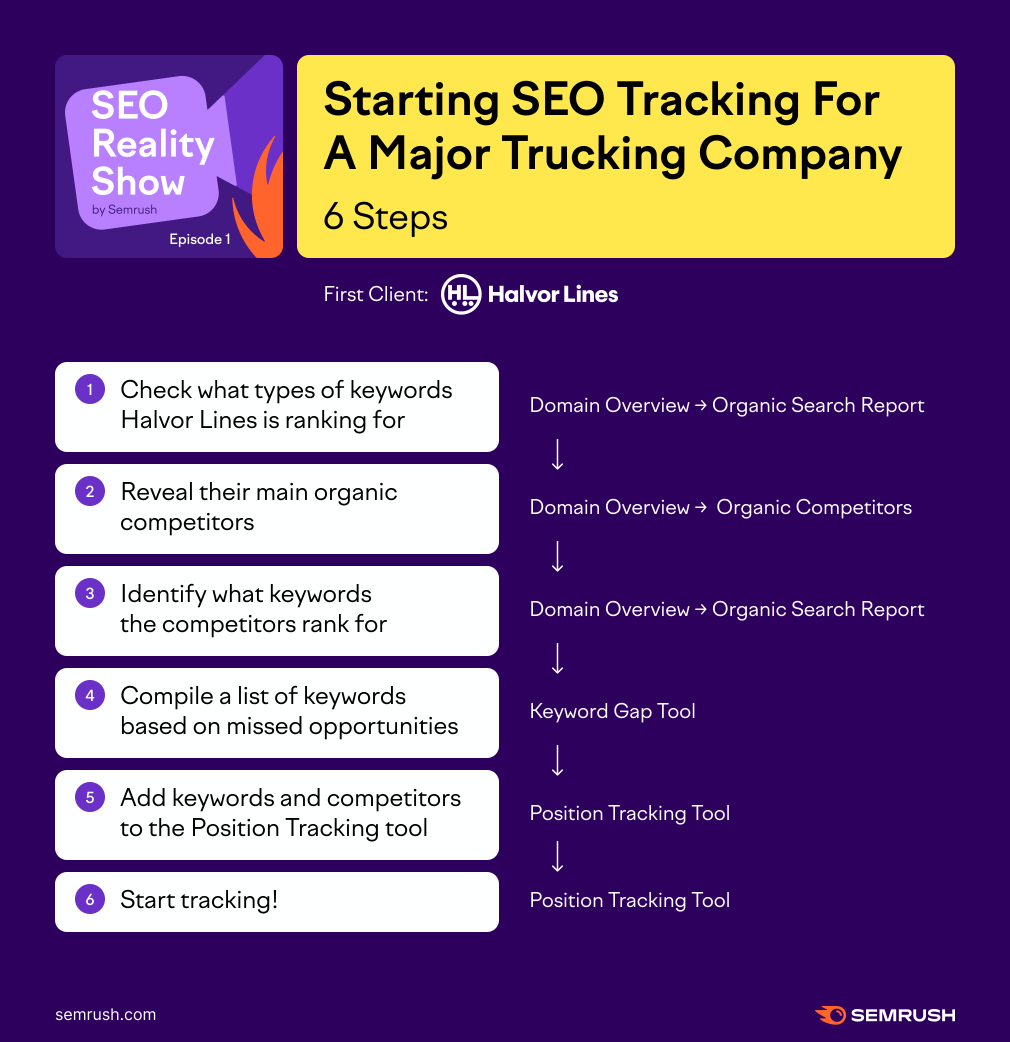 Step 5. Revealing Additional Keywords to Rank For
By day-60, the new content was maintaining its ranking and the search engines were starting to rank Halvor content for 12 additional related keywords. It was easy to notice by simply entering Halvor's domain name in the Organic Research Tool and checking " Positions Report." Now the team began a process of "lather, rinse, repeat" with the content and the tools. 
The repeatable process makes it easier to follow a proven path, with an expanding and keyword-rich site that is well-positioned to keep competitors on their heels. 
Step 6. Keeping close eyes on the competitors
Okay...great progress in the SERPs is always good to see, but it becomes even more essential to keep close eyes on the competitors (in this case, we expect that many competitors started scratching their heads thinking "what the???")
The team added those new keywords to the Position Tracking tool to continually monitor the positions on them to compare with competitors. By auditing sites based on the additional keywords, the team set up the game plan for the next round of fresh, relevant content.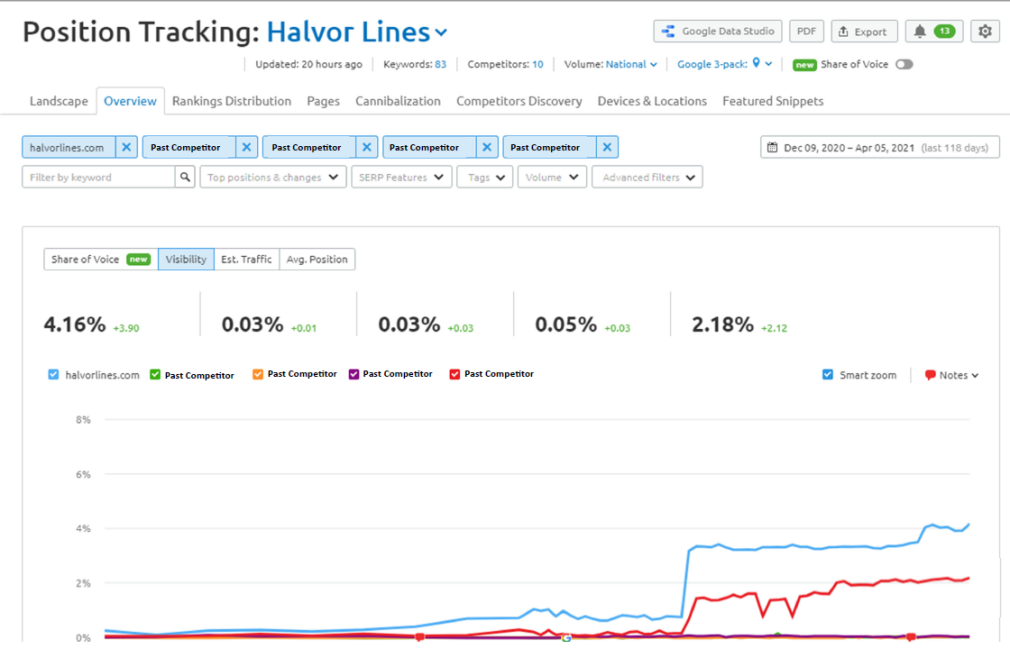 Step 7. Expanding the Number of Competitors 
Within three months (day-90) of launching the program, Lea and the client agreed that Halvor had outgrown its original list of competitors and they were set to take on even bigger competitors and targets. 
The team went again to Competitors report in Semrush Organic Research and dug deep with the client for their knowledge about the competitive landscape. The resulting new list of competitors marked a powerful combination of Halvor's strategic insight, confirmed with Semrush data.
As the list of new competitors was defined, the team has added new competitors to the Position Tracking tool - the monitoring and analysis of dynamics is an essential part of the process.
Step 8. New gap analysis and 3rd round of content creation 
Ten short days later, the team had completed an entirely new gap analysis of this larger batch of competitors for an even deeper set of highly targeted keywords for yet ANOTHER round of fresh content. Remember — time to "lather, rinse, repeat!"
Step 9. Start Noticing Ranking on MONSTER Keywords!
Now the team was hitting on more keywords including specific ones with smaller volume and high intent as well as some monster keywords the search engines' AI deemed as correlated. One of those monster keywords was "near me" term (22,000 volume), related to another core word beginning to rank.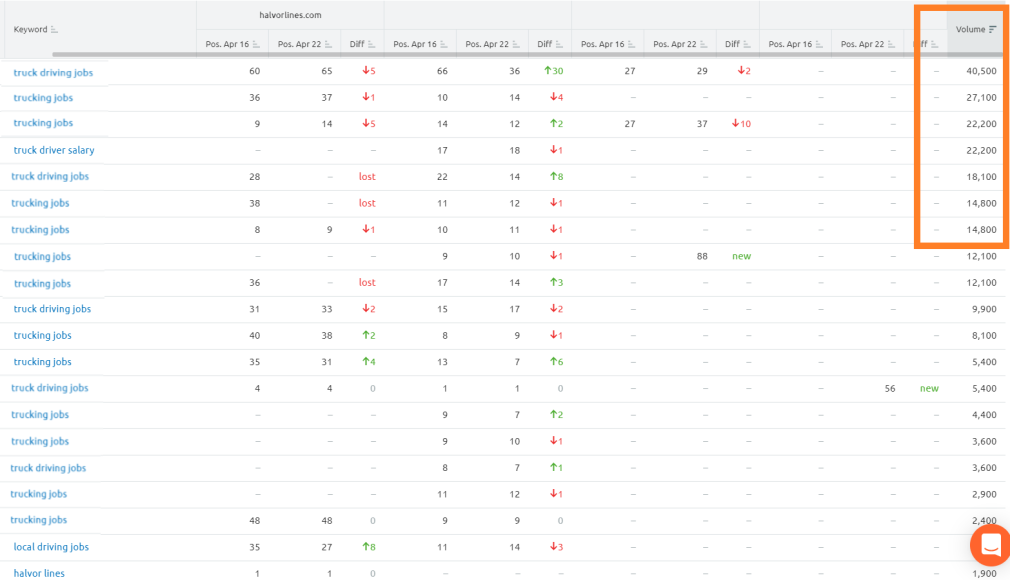 Step 10. Beyond Content — Constant Website Health Improvement
Making new content to align with searches was critical, but Lea and the Aimclear team also advised critical SEO technical updates to the Halvor Lines website, fixing some core issues revealed by the Semrush Site Audit tool. Lea went to Projects Sections in Semrush and went through the setting up process as below. In just minutes, the tool revealed the most critical issues to prioritize, such as:
Addressing speed issues
Auditing for Core Web Vitals
Structuring data implementation
Filling in missing meta descriptions
Completing meta titles
Creating headlines where none existed
Lea went through errors and sent them to Trello to automatically prepare a task plan to fix these issues.
Those updates made an immediate difference but also highlighted a need for a whole new website for Halvor's trucking and logistics businesses, which are up next on the docket!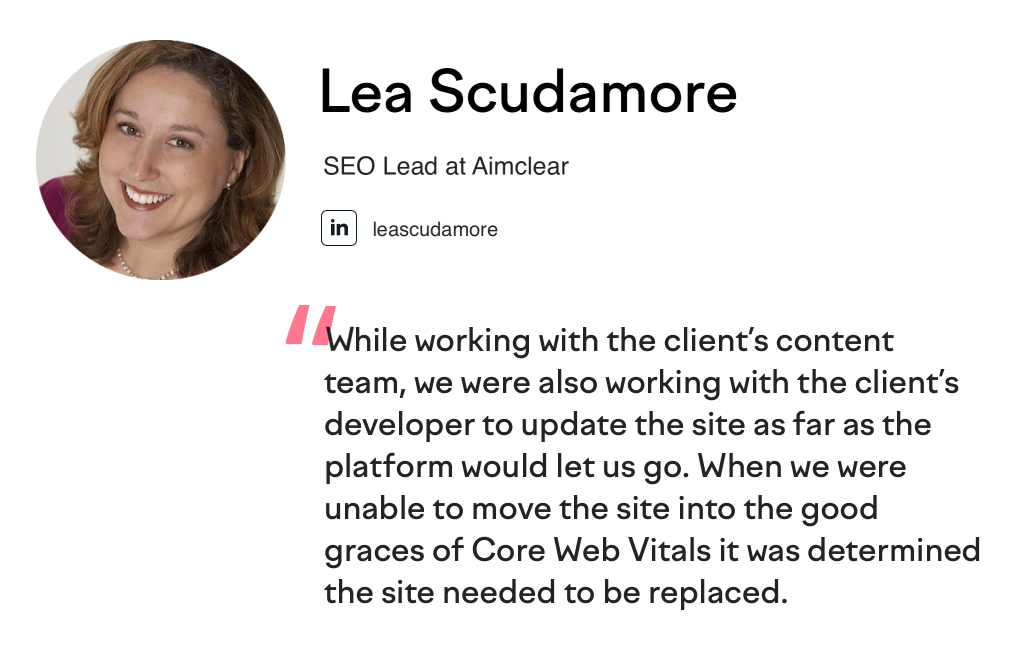 The Big Payoff
Results for trucking companies can perhaps be best measured by….wait for it….TRUCKS and DRIVERS!
Halvor purchased over 225 brand new, beautiful trucks compared to a typical order of 150-200 tractors each year. 
Halvor topped 600 drivers for the first time in company history, an increase of about 8%. 
As for recruiting, Halvor increased organic applicants from 62 to 100 over the previous time period, which is a 61.29% increase in just three months.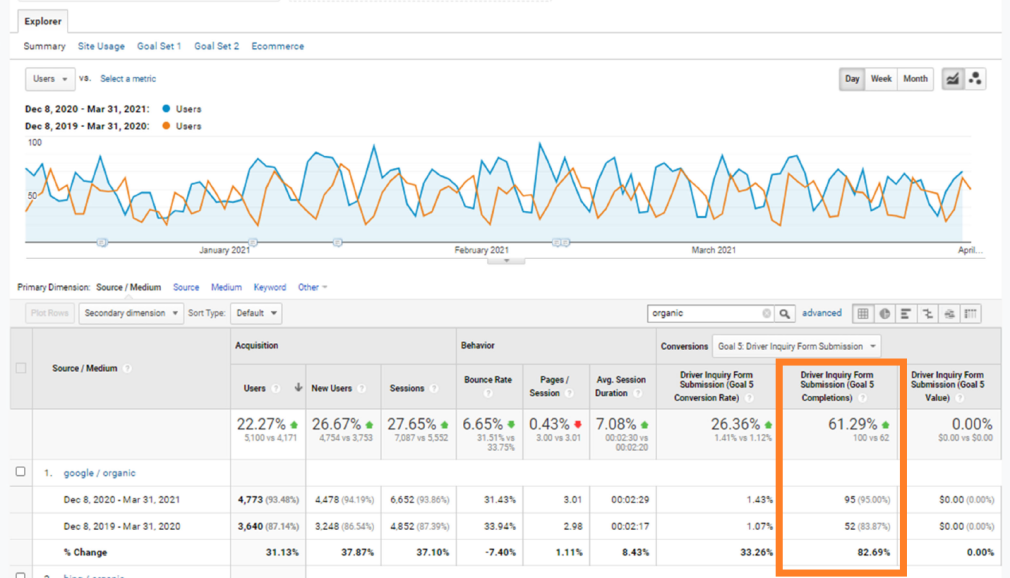 The economic impact of a company like Halvor is tremendous. Great paying jobs with retention that tops regional and national averages is essential for communities. For the drivers themselves, connecting top drivers with one of the best trucking companies around makes for great careers. 
Semrush, deployed by smart SEOs representing brands that are willing to try new things can drive game-changing results in direct support of business objectives. It just takes that willingness to dig in and do the work. And it's super rewarding when it works so elegantly!
You Can Do It Too!
Every SEO and every client is different, with varying levels of skill and SEO experience. Semrush makes it easy for virtually any SEO to master the types of challenges noted above. Let's quickly review the steps above and show examples of specific tools that can help you succeed:
Step 1: Conduct Gap Analysis and Compile Keywords
Tool: Keyword Gap
Find the terms your competitors rank for and make a list
Step 2: Fine-Tune Existing Content
Tool: SEO Writing Assistant (Google Docs plug-in)
Real-time recommendations such as removing long paragraphs and using more keywords
Step 3: Create New Content
Tools: Keyword Magic Tool, SEO Writing Assistant
Keyword Magic Tool — enter an audience descriptor, click "Question Keywords" and find the questions your audience is asking!
SEO Writing Assistant — even more recommendations such as adding image descriptions
Step 4: Monitor Progress and Page Traffic
Tool: Position Tracking
Visual and data-driven context to continually monitor against competitors
Step 5: Reveal Additional Keywords
Tool: Organic Research
Enter the domain name into tool and click "Positions Report" to find additional keywords
Step 6: Monitor Competitors 
Tool: Position Tracking Overview
While monitoring your own progress, keep a close watch on those competitors!
Step 7: Find MORE Competitors
Tool: Organic Research
Check the Competitors report. As you begin dominating your initial competitors, work up-market!
Step 8: Revisit Gap Analysis & More Content
Tool: Keyword Gap
Now with more competitors in the mix, go back to the Keyword Gap tool and see what the new competitors rank for.
Blast out new, keyword-rich content.
Step 9: Rank for MONSTER Keywords
Tool: Domain Overview
Progress in the SERPs means Google's AI will start to figure out other keywords you should be ranking for. 
Step 10: Website Health Management
Tool: Site Audit
Virtually every site needs some SEO TLC. The site audit tool provides an easy-to-understand interface. Many fixes are QUICK fixes!