Before you start: what do you know about SEO split-testing? If you're unfamiliar with the principles of statistical SEO split-testing and how SplitSignal works, we're suggesting you start here or request a demo of SplitSignal. 
---
First, we asked our Twitter followers to vote:
55% of our followers guessed it right! The result was positive.
Read the full case study to find out why.
The Case Study
Greetings, SEO aficionados! One of the areas we've covered before, and which continues to be a winning strategy, is adding persuasive copy to your meta areas, such as title tags.
In this test, we are working with a niche sports retailer to increase clickthrough rates by adding a non-SEO element of persuasive copy to the end of the title tag.
The Hypothesis
It didn't take a lot of guesswork to hypothesize that adding the persuasive copy "Guaranteed Lowest Prices" to the end of the page title would increase the clickthrough rate for searchers reading this new title in the search results pages.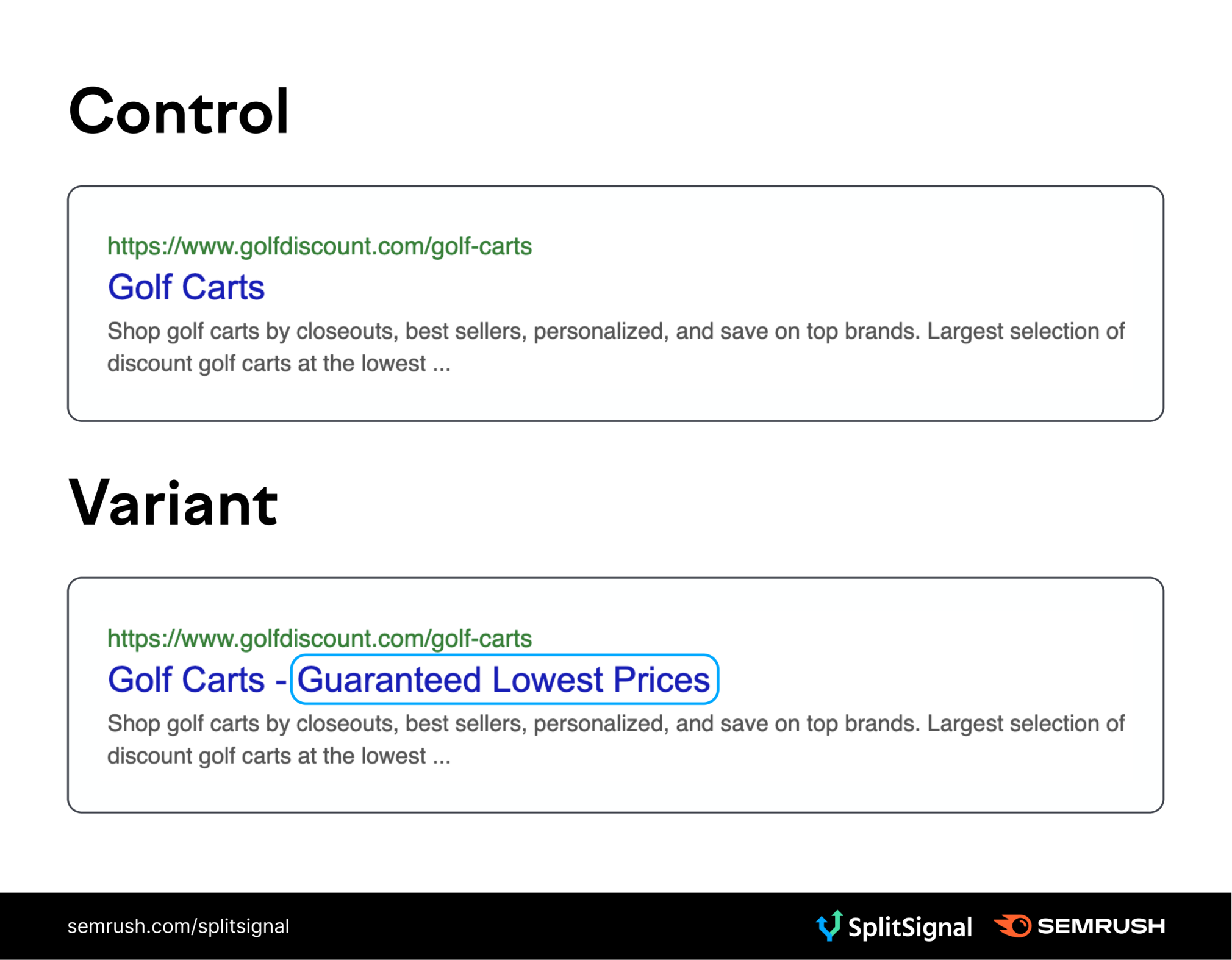 The Test
So, we set up the test using our edge editing & testing platform: SplitSignal. A percentage of the category taxonomy pages within the site was selected as the test variant, while the remainder of the taxonomy pages would serve as the control group.
The Results
SplitSignal ran this test over 21 days, and happily, we found a statistically significant, POSITIVE result for the client. More specifically, there was an 11.4% increase in clicks to the test group when compared to the control cohort over the same period!
We've had a few savvy SEOs and other marketers ask in our last tests: "How many of the pages did Googlebot recrawl during the testing period?" SplitSignal accounts for this, and the answer is a whopping 99%!
The end result is statistically relevant and is not only significantly reflected in increases to clickthrough rates but presumably to overall revenue attribution as well. Happy days!
Why?
We didn't just find an increase in organic traffic to the test group, but I will shed a little more light on that for you. There was a relevant increase in clicks as previously stated, but as you would expect, there was also a measurable increase to the test cohort of impressions within Google Search Console and in click-thru rate (CTR) as well.
So what's going on here?
This particular test is very straightforward and depends on human psychology. We are easily influenced by persuasive copy, in this instance, the drive to save money on the purchase of something we're already motivated to buy (because we're actively searching for it).
When you, as a marketer, can influence a captive audience with a message that will encourage them to complete a purchase, you'll do it every time.
And the great thing about a tool like SplitSignal is that you don't have to spend a lot of development or copywriting time to test your ideas. This test took less than 10 minutes to set up and deploy. 
What do you think? Share with us on Twitter.
Have your next SEO split-test analyzed by the technical SEO experts at LOCOMOTIVE Agency.