Even if you're not in a technical position, you've likely heard of search engine optimization ( SEO). Whether you're a small business owner or run a Fortune 500 company, search engine optimization drives business across all industries in this modern world. By producing high-quality content, you can optimize your webpages to turn up higher in search engine results.
The higher your website ranks for the right search queries, the more traffic you're likely to drive to it. After all, many internet users — a whopping 75% — tend not to look past the first page of search results. With so many people turning to the internet to find what they need, there's no avoiding SEO as part of your digital marketing strategy if you're trying to grow your business.
In our recent State of Content Marketing Report, 67% of content marketing professionals surveyed indicated that improving SEO performance is a top priority for their company. Another 73% said they frequently used their SEO skills and tools to achieve better content marketing results. This means that to remain competitive, you need to understand how to improve your search engine rankings. 
Are you unsure where to start? Keep reading to learn SEO tips and search engine optimization ideas that even newbies can implement in their work. Put these actionable and nontechnical SEO tricks into practice, and you'll see fast results.
1. Create Content Around Primary and Secondary Keywords
At the core of every effective SEO strategy is keyword research. Great content is built around both primary and secondary keywords, and knowing how to use them strategically will lead searchers to your website.
Your primary keyword should be the main focus of your landing page. It should be a strong description of whatever the page is about and potentially connect to what your brand does. These primary keywords should be the focus of your content.
Secondary keywords are supporting words related to the primary keyword and go into more detail. By including these secondary keywords in your content — in a way that reads naturally, of course — you'll likely improve your search rank.
Begin your keyword research by thinking about some long-tail keywords that make sense for your audience. Say you run a DIY home improvement blog. Using our Keyword Overview Tool, you can start by searching for "DIY home improvement" as your target keyword and then expand to include more keywords from there. We'll show you the search volume for your primary keyword and how difficult it is to rank for within your space, as well as related search terms you'll want to consider.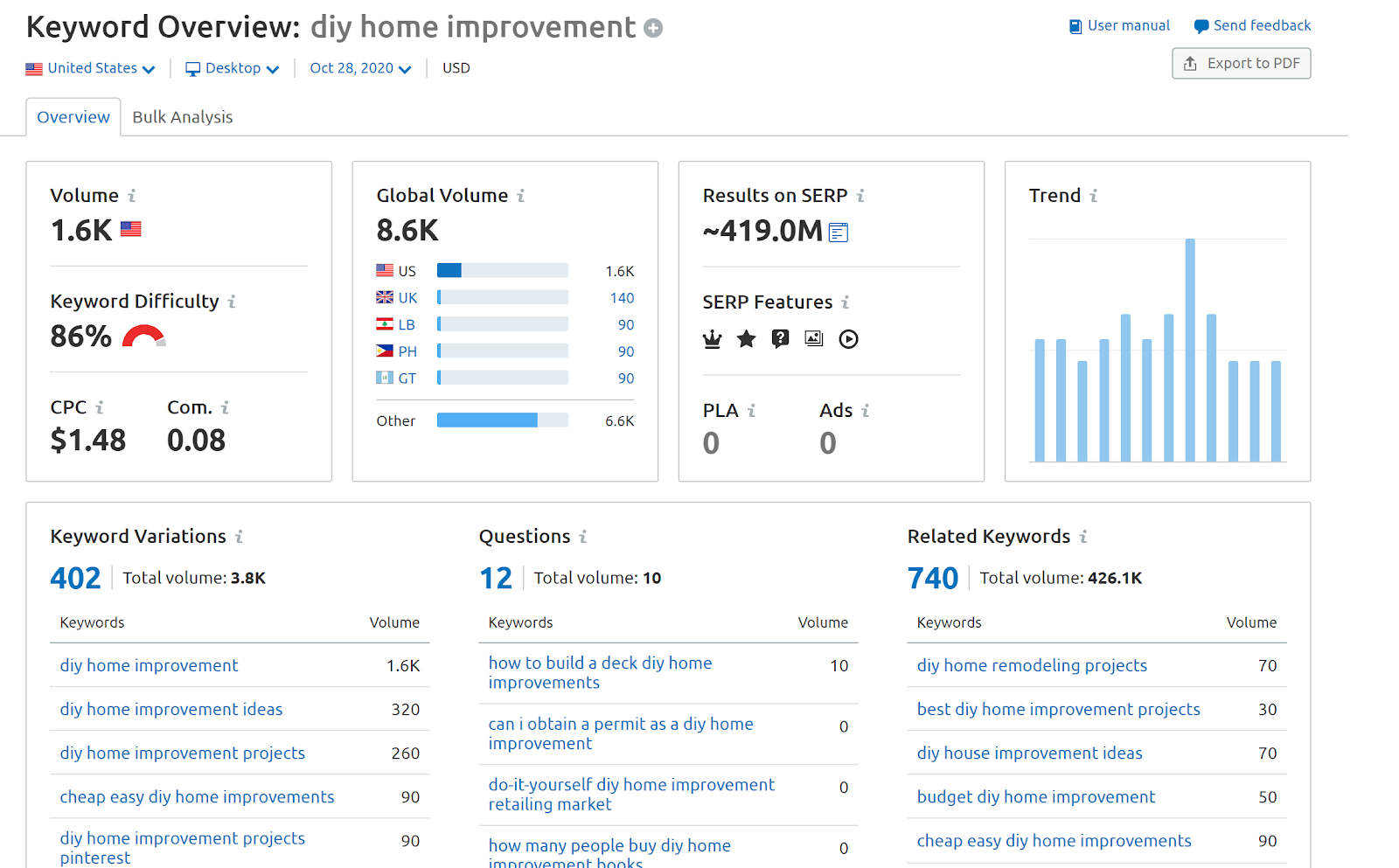 2. Use Short, Descriptive URLs
There are also some not-too-technical ways you can optimize your SEO efforts when it comes to on-page SEO. How you structure the URLs for your content, for instance, can improve your SEO rankings and is relatively easy to do for anyone just starting in SEO. 
An effective URL should:
Use keywords: Your URL should include one or more keywords you're targeting.

Be easy to understand: It should cater to the human eye and make it easy for readers to quickly comprehend what the webpage is about.

Be concise: Shorter URLs are preferable. Keep them around 60 characters. Many search engines can't process longer URLs, which can push you further down the results page.
3. Generate Backlinks From High Site Authority Websites
Link building is another key component of any SEO strategy, and it's a relatively easy tactic to start. Backlinks are a critical ranking factor, and they typically come in two forms: follow and nofollow links, with follow links carrying more weight. 
Backlinking is when other websites link to your webpages as a source of information. These links from other pages show search engines that you're an authority on a topic, one that should be pulled through the ranks. The more high-quality links to your website, the higher it turns up in online searches.
It's great if bloggers, journalists, and other companies automatically recognize you as an expert in your field and link to your content on their own. But that doesn't always happen immediately, and you may need to take matters into your own hands when starting.
There are several actions you can take to build links to your website. Some tactics to consider include:
Offer to write a guest post for other outlets, particularly if you have an interesting infographic or something else to offer. 

Reach out to publishers to cover any original research or data you've put together for your on-site content. 

Find various listings and directories in your industry, and try to get your company added to them. This sometimes means joining professional industry associations, networking groups, or business organizations, but it lends to your credibility.
So, how do you figure out where you want to earn backlinks from? Use our Backlink Gap Tool to compare the backlinks for your site with four competing URLs. You'll be able to see which sites link to you more than your competitor and vice versa. You can also organize the list by authority score to help you identify high authority sites to target with your initial link building efforts.
4. Try to Rank for Featured Snippets
Google's Featured Snippets is a highly sought-after spot that all digital marketers hope to attain when it comes to search engine results pages (SERPs). Featured Snippets appear at the very top of Google search results and have a high likelihood of attracting a lot of organic traffic. To achieve this spot, you need to optimize your content in a certain way.
First, choose which content you want to appear as a Featured Snippet. You want to choose something that compels internet users to actually click the link. Also, carefully study the keywords used in Featured Snippets. Studies show that a piece of content that asks a question is more likely to have a Featured Snippet.
5. Format Your Content for Search Engines
The words you use matter, but how you format your content is just as important. While you want your content to be informative, easy-to-understand, and friendly for readers, you also need to consider tailoring your formatting to search engines. For instance, in addition to keywords, you'll want to use heading and subheadings so that your content is easy for search engines to understand, and you can improve your organic search rankings. 
How you structure your sentences and paragraphs matters, as well. Typically, sentences shouldn't be more than about 20 words. And while you should never have a single-sentence paragraph, you also don't want your paragraph to be too long, either.
6. Don't Forget Your Page Titles and Meta Descriptions
Your keywords impact the content you write, but did you know they should also be used in page titles and meta descriptions? These are two basic HTML components where you can pack a punch with keywords and optimize your page, and they're easy technical SEO edits for beginners.
Typically, whatever platform you use to host your website offers an easy way to edit your page title and meta description. WordPress, for instance, offers two boxes labeled "SEO title" and "meta description." 
Keep in mind these items show up in search results. An internet user might decide whether to click on your page based on these short sections alone. That's a lot of power for so few words. So, make sure they're impactful.
7. Remove Anything That Loads Slowly
Did you know your page load time affects your SEO? These pages tend to have higher bounce rates. The longer it takes to load, the less time a visitor is likely to spend on your page — if they even make it to your webpage in the first place.
Google PageSpeed Insights is a free SEO tool to check the speed of your site. Add your URL, and you'll get a range between zero and 100, with 100 being the fastest. You can even look at the speed of your mobile site compared to your desktop site.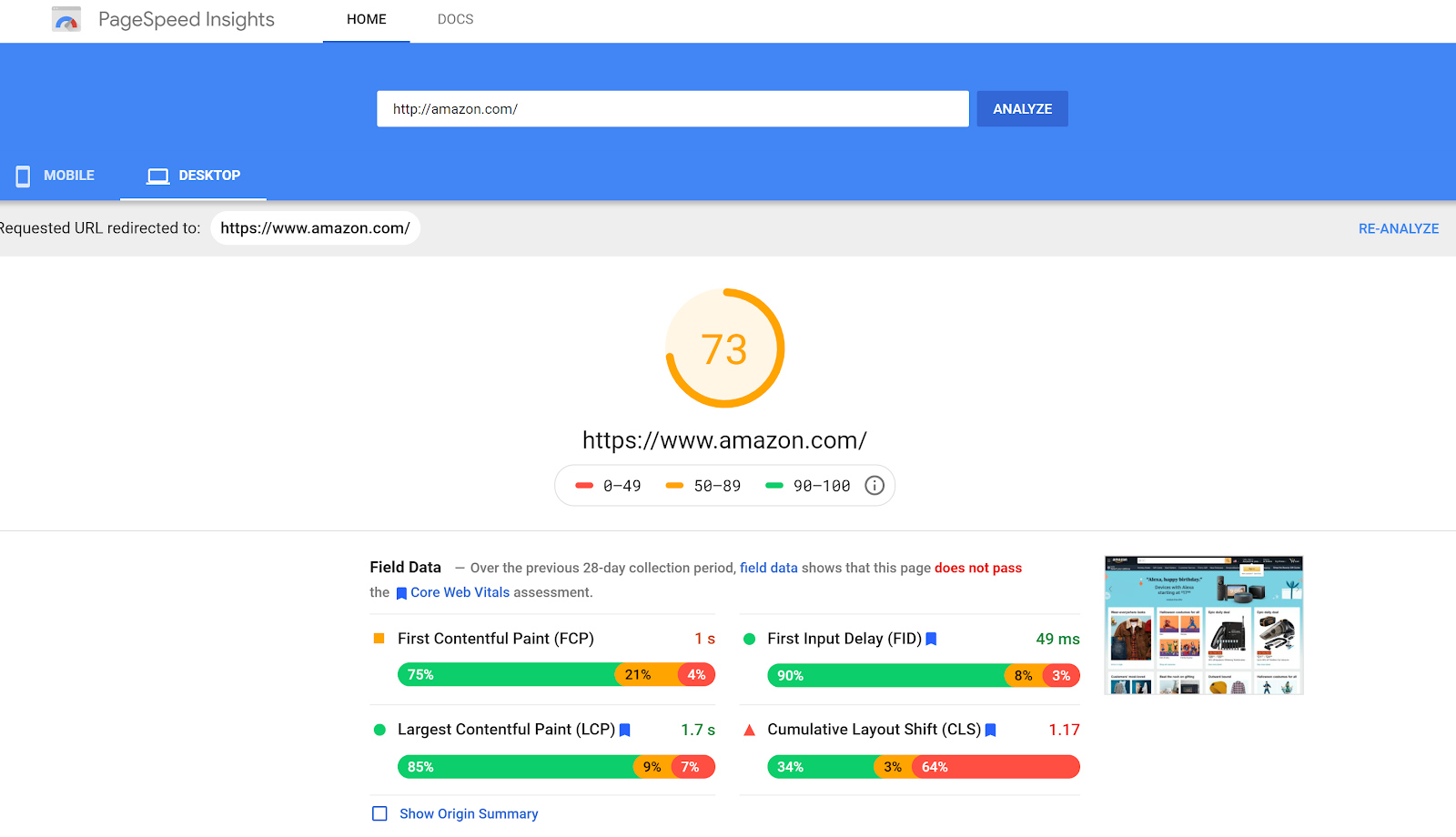 Do yourself a favor and review your website. Are there any elements dragging down the load time, like any unnecessary plugins? Remove or restructure them, and you'll likely see an increase in traffic after optimizing your page.

8. Use a Mix of Internal and External Links
What you link to in your content is important when it comes to optimization. Internal links direct readers to other pages on your website, while external links bring them to other websites and sources. Both impact your SEO, particularly the anchor text used.
By using an effective internal linking strategy, this keeps visitors engaged on your website longer. Remember that you want to include valuable internal links, though, and not necessarily links back to your homepage. To enhance the user experience, provide internal links where visitors can be directed to even more valuable information. Not only will this improve your clickthrough rate (CTR) for pages, but if you're an e-commerce site, there's a good chance it can keep customers on your site long enough to make a purchase.
When it comes to external links, quality matters. You should vet your external links before adding them to ensure that you're not referencing low-quality content. Some good external linking resources are popular websites with high traffic that regularly produce authoritative, relevant content to your brand.
9. Add Links to Your Graphics
It's hard to resist a colorful graphic or an image that perfectly captures the essence of a topic. If you create such images for your website, consider allowing others to use them freely with their own blogs and articles. However, make sure you add a link to the graphics you've created first.
Building up backlinks through images and effective alt text is a great way to build your authority on a topic. The more links you amass, the better your ranking.
10. Increase Your Word Count
When writing a piece of content, it's important to ensure it's comprehensive. This helps search engines understand what your content is about and that it answers everything a searcher might want to know. It also tells them that you're an authority on a topic and should be ranked higher. The higher word count also allows you to include more keywords and backlinks. At the same time, you shouldn't make your piece too long. This could slow search engines down as they crawl your content.
Using our SEO Content Template Tool, you can learn what high-ranking competitor content looks like and the optimal content length for your target keyword. 

11. Publish Original Content
When adding new pages to your website, it's important to publish original work and avoid duplicate content. The more you stand out from similar websites — particularly if there is a heavy blogging presence in your industry — the better you'll do in the rankings.
Search engine algorithms, especially Google, are designed to sniff out unique content. Those who practice good SEO and publish original content are likely to turn up higher in searches. In the past, some websites were removed from search engine listings for plagiarizing content. So, originality is key!
12. Write Evergreen Content
Evergreen content is the gift that keeps on giving for any inbound marketing strategy. This content stands the test of time. It's designed to be relevant today or five years from today. This means its traffic grows continuously over time and helps bring more visitors to your page.
When creating evergreen content, think about what will retain its long-term value to readers. Things to avoid include breaking news stories (or any timely news), anything involving data that changes over time, seasonal content, pop culture news, and fashion news.
13. Conduct a Site Audit
By auditing your site for SEO, you can improve the work you produce. These evaluations are designed to determine what you're doing well and where you can improve. We offer a site audit tool that can help you answer a variety of questions. Is your site indexing properly? Are there any broken links? What are your highest- and lowest-performing pages?
Then, you can put what you've learned into practice. Maybe an audit determined that you need to utilize more links to external sources, or perhaps it showed that you need to improve your keyword game. If you want to improve at SEO, you can't be afraid of regularly evaluating your work, especially as best practices evolve and new ones emerge. 
14. Use a Simple On-Page SEO Checklist
On-page SEO is an amazing resource for improving the optimization of individual webpages. Use our On Page SEO Checker to determine the best keyword for a particular page and make sure it doesn't overlap with any other pages on your website. This will help your page stand out in searches. Then, you can build your page around this keyword. Use it in your title and headers for extra emphasis.
15. Study Your Competitors
By analyzing your competitors' content, you can determine how your website compares when it comes to rankings and learn a thing or two about what's driving their SEO success. This analysis should run the gamut: search rankings, keyword usage, social media mentions, backlinks, on-page content, traffic volume, and more.
While you get a feel for how your website compares when going head to head with your competitors, you'll also discover which areas you can improve in. If you see your competitor blowing up on social media, check out what they're doing, and follow their lead. If you see they're ranking higher, determine which search terms are leading viewers to their website.
16. Continue Learning About SEO
As Google makes thousands of changes to its algorithms, and the web continues to evolve, SEO is constantly changing. Marketers are always determining new best practices. Once you've picked up a few basic skills, it doesn't stop there. New tools are created, and new SEO tactics are being determined all the time.
There are a few easy ways to stay up to date on SEO trends and news. You can sign up for workshops on the topic or find certificate programs. By joining industry associations, you'll have access to new information as it comes out. You'll also connect with others in the field who might have some SEO tips for you.
Reading up on the topic is also always helpful. Many books are released by top SEO experts every year. Pick up some of the most acclaimed titles to learn some SEO tips and hints. Bookmark your favorite blogs on the topic, and sign up for useful newsletters.
Discover the Best SEO Tips
SEO is integral to marketing success, and every digital marketer should know at least a little bit about this important, traffic-driving tool. The actionable SEO tips listed in this article are an easy way for beginners to cut their teeth on optimization. Even these small actions will produce fast, drastic results when it comes to web rankings and traffic.
Learning these basic tips and putting them immediately into practice is a great way to get hands-on experience with SEO. There are also many
SEO tools
on the market designed to give you an edge over the competition, including Semrush's Content Marketing Toolkit. Our SEO resources will help you grow your expertise in optimization, making you a valuable part of any digital marketing team. Use our platform to give your content a boost and improve your rankings.