Often wrongly used interchangeably, SEO and SEM are two different marketing channels that businesses can use to reach their target audiences on search engines such as Google and Bing.
Search Engine Optimization (SEO) is an essential tactic for brands that want to drive website traffic and grow their online visibility. SEO can be a rather tricky strategy to manage if you do not know how to compare or combine it with Search Engine Marketing (SEM).
Arguably, they both sound like the same thing, but in reality, these are two very different approaches to becoming visible on the SERPs (search engine results pages).
The difference between these two is simple to understand once it has been explained to you. This guide will provide a clear understanding of each of the definitions and what the differences are. Here is what we will cover.
SEM vs. SEO: What Is the Difference?
Before you can start planning out your strategic approach to improving your business's online visibility, you need to understand the terminology used and what it means. Using the wrong descriptions in a strategy document distributed to others can be detrimental to your success and getting budgets and tactics approved.
So let's break this down into layman's terms that are easy to understand. 
The two core areas within the search marketing industry are:
SEO - An approach that uses organic methods to appear in search results.
SEM - An approach that uses paid methods to appear in search results.
What is important to understand is that the definition of SEM is often disputed and contradicted. In fact, some sources, Backlinko as an example, cite that SEM is the wider channel of search that encompasses both organic and paid.
The general consensus is that SEO relates to organic search, and SEM is paid. 
But this hasn't always been the case.
In fact, Google's Danny Sullivan (formerly of Search Engine Land), first started referencing the term SEM in 2001, using this to describe any tactics that related to a business's efforts to drive traffic from search engines, including both SEO and PPC.
But over time, the perception of many in the industry has changed and we have seen the definition of SEM move towards a meaning of search engine advertising, with organic efforts falling pretty much exclusively under the SEO umbrella. 
And let's not forget just how much both of these channels have evolved since 2001, some 19 years ago, advancing rapidly and continuing to move further away from one another, as well as the fact that SEO and PPC teams often sit apart within businesses nowadays. In the early 2000s, those teams would have been much smaller and almost definitely have operated together.
To us, SEM is the umbrella term for search advertising tactics, and organic identifies as SEO.
But let's look at these two tactics in a little more detail, specifically looking at what really differentiates these.
What is SEO?
For a full run-down on what SEO (search engine optimization) is, check out this video from Jason Barnard:
Jason also perfectly summarises SEO as:
SEO is the art and science of persuading search engines such as Google, Bing, and Yahoo, to recommend your content to their users as the best solution to their problem.
The Four Core Pillars of SEO
With SEO, marketers optimize their websites by working through technical SEO, on-page SEO, content creation, and off-page SEO to create the best result for a particular query that deserves to rank at the top of Google.
Let's look at each of these core pillars in more detail:
Technical SEO - Technical SEO focuses on improving the technical structure of a website and looks at improving site speed, mobile-friendliness, crawlability, structured data, security, and indexing (just to name a few!).
On-page SEO - On-Page is all about optimizing factors on the web page that clearly help search engines understand the content in context, including things like title, H1 and meta tag optimization, image alt tags, etc. 
Content - Content is one of Google's main ranking factors, and without great content that properly matches the searcher intent, you will struggle to rank in top spots. But content goes way beyond just copywriting, and there needs to be a solid strategy in place.
Off-page SEO - Think of this as authority building, encompassing link building, and other tactics. This approach focuses on improving the trustworthiness and authority of a website in search engines' eyes and its users by connecting it to other high authority and relevant sites. If search engines see that users trust a website, they will be more inclined to rank it in a higher position. This authority and trust typically come from link building, PR, and other similar tactics. 
For an SEO strategy to be successful, a combination of all four of these pillars is required. And that often means working with specialists in each of these to create a really solid strategy that accelerates success. 
What is SEM?
Search Engine Marketing is a strategy using paid tactics to gain visibility on the search engines. It is also known as PPC (pay-per-click).
As opposed to using tactics that help a website rank organically, SEM uses PPC advertising platforms like Google Ads and Bing Ads to use the available ad formats to reach your target audience.
And, as a tactic, it involves everything from setting up and optimizing paid ads, to managing the account to increase conversions and returns.
SEMs will usually begin a campaign with comprehensive keyword research and competitor insights (which you can do with tools like the PPC advertising toolkit) to create targeted campaigns that place their products and services in front of a target audience.
These campaigns include the likes of:
These are all different formats available within Google Ads — all of which can help you to reach your target audience. 
When users search for specific terms that the advertiser is running ads against, they will see a custom ad, usually at the top of the SERPs. Or, in some cases, shopping ads. Every time the ad is clicked, the business pays for this.
The Benefits of SEM
While with SEO, it can often take months to see real results, with SEM, you can be driving clicks and conversions in a very short period of time.
You can take full control over when ads show and who they show to, making the channel perfect for testing out new strategies, sending traffic to a sale, or for accelerating traffic during quieter periods. 
The reality is that SEO and SEM shouldn't be seen as channels in isolation and, ideally, should be seen as two parts of a larger digital strategy that drives visibility, traffic, and conversions from the search engines.
SEM vs. SEO: What are the similarities?
Let's then look at the similarities between these two channels that are often confused.
Both SEO and SEM:
Improve the visibility of your website on the search engines, and both methods will help your site show in the SERPs through the use of targeting and optimizing for keywords.
Drive a higher amount of relevant and quality traffic to your site. Both strategies encourage users to click through to your site — albeit one is a paid tactic, the other is organic.
Help you gain a deeper understanding of your audience. You need to have a good understanding of your audience for both strategies to be successful.
Use keyword research to discover and target relevant keywords. Both require keyword research to understand what your competition is targetting.
Require ongoing testings and optimization. Both require continuous monitoring and tweaking to be successful long-term and deliver a solid ROI.
SEM vs. SEO: What are the differences?
Let's look at the differences between the two channels.
SEM Sees Clearly Marked Ads on the SERPs
You can distinguish a paid placement in the SERPs by the "Ad" icon. Organic listings don't have this, meaning that organic results and paid results look different.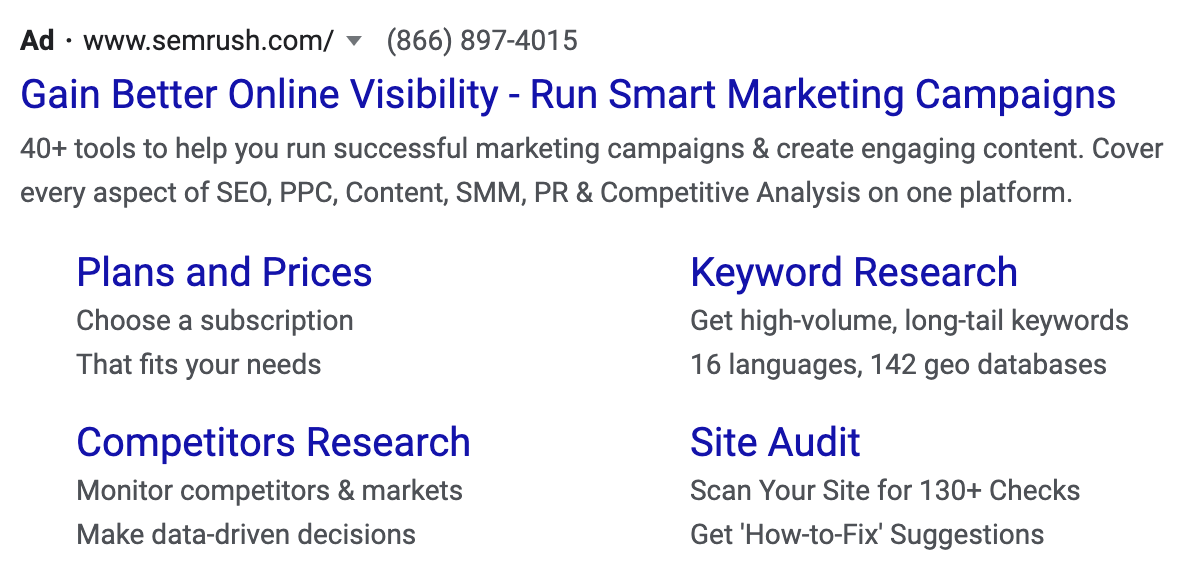 As you have probably noticed in the image above, paid ads offer ad extensions that allow you to enhance a standard search (text) ad with site links, callouts, phone numbers, and more.
That said, organic rankings do offer rich snippets. However, with ad extensions, you have far more control over how and when these are displayed.
You Pay for Every Single Click or Impression with SEM
With SEM, an advertiser pays every single time the user makes a click on an ad (CPC - cost-per-click) or for CPM (cost-per-thousand impressions) depending on the type of campaign that you created. Yet, they pay nothing when a user clicks on an organic listing that ranked due to SEO. 
SEM Can Drive Almost Immediate Results. SEO Can't.
You can instantly see results within a few clicks when you an SEM (paid) campaign is live. Your ads will immediately show in the search results (so long as they are approved, and your bids are sufficient).
SEO, on the other hand, can take time unless you have no competition, which is rare. It can take months to see organic results after starting an SEO strategy. 
SEO Delivers Cumulative Results
Another key point to make on this is that SEO continues to add value over time, and the return on your investment should be cumulative. Your strategy will build over time and will leave lasting results.
When you invest in SEM, this isn't the case. As soon as you turn your ads off your visibility will stop.
SEM Is Easier to Test and Refine Than SEO
Paid advertising always requires testing. Ad copy will need to be revised, new audiences can be targeted, and you will probably have to change the landing page content for your tests to work.
And with the data that is available, all of this can be done quickly, with changes taking effect quickly and test results back in no time at all.
You cannot test in the same way with SEO, given the nature of the algorithm. Of course, testing does remain a very important part of a solid SEO strategy; it is just not comparable in this way to what PPC allows.
SEO vs. SEM - Which Should You Use?
The answer to this question is plain and simple; it depends (as much as it pains us to use this as a response to an SEO-related question).
It depends very much upon:
What your specific goal is. If you want to drive quick traffic to a sale, test a new offer, or kickstart a slow month, SEM should be your choice. If you want to drive long-term growth, SEO may be preferable.
Your existing performance. If you already have strong organic visibility, SEM could be a great way to supplement this with additional visibility. 
Your margins. In some cases, once you take into account high click costs and low product margins, it doesn't make sense to run SEM. In cases like this, SEO is likely the channel to drive much stronger returns. It is worth estimating the CPC (cost-per-click) that you need to pay with the PPC keyword tool and to understand what your conversion rate would need to be to make a profit.
Consider the lifetime value of your customer. When using SEM, you can find that higher LTV (Customer Lifetime Value) accounts for higher click costs. But a lower LTV may mean that SEO comes up as a stronger strategy.
But this assumes that you are only going to use one of these channels.
The reality is that, for most businesses, a successful search strategy should see you integrating both SEO and SEM. 
These two powerful marketing channels together open up a wealth of opportunities to drive growth from potential customers who are searching for businesses just like yours.
Combining SEO and SEM
When you combine SEO and SEM, you have the ability to integrate the channels and:
Use data insights from your SEM strategy to supercharge your SEO approach, including gaining valuable insights into expected conversion rates, performance at a keyword level, estimates around traffic opportunities, and more. In this respect, think of SEM as a testing-bed for SEO. 
You can make your SEO efforts work harder by creating remarketing campaigns as part of your SEM strategy to reach those that previously didn't convert into customers. You can target them with search ads, display ads, and more.
You can take over the SERPs by combining these two tactics, and make sure you are visible both in the ads space and organic listings.
Your Competitor's SEO and SEM
You should also keep an eye on what your competition is doing. You can use .Trends solution to gain an understanding of your competitor's advertising strategies and their SEO performance with the following tools: 
See what your competitors are ranking for organically and formulate a plan that will beat their SERP placements. Look into what paid activity they are engaged in and what keywords they are targeting to send traffic to their brand.
The more you know about your competitors' strategies, the better yours can be. 
Last Point
All too often, SEO and SEM are seen as totally different channels that can't be used together, or they are confused as being one and the same.
It is important that you understand the purpose of each of these as part of your wider marketing strategy and figure out how to use both of these together to drive success and gain a competitive advantage.