In any job, taking a vacation can be hard, but with SEOs, the idea of leaving and something going wrong can be a bit scary. Decisions have to be made — Do you want to be in complete control of everything while you are gone? Do you want to just check in quickly once a day? Or are you going for a complete digital detox? 
"Unfortunately, I'm the first type and my wife hates that about me. That's primarily because of responsibilities and expectations the company has of you once you are in a leadership role; it essentially becomes your duty to ensure the smooth running while you are away. So, I really don't have an option here." — Nitin Manchanda, Global Head of SEO at Omio.
Taking time off is hard, and there are many things to consider:
Which times of the year are the best or the worst for taking a vacation?
How to automate things to keep work going? 
Who will manage my tasks? 
Who will watch out for problems? And if they arise, who fixes them?
To gain insights, we asked experts for their thoughts and got recommendations and stories from SEOs. Based on their experiences, we have created a list of strategies that could be used as a checklist of actions you can use when you decide to take some time off.
And remember, time off is healthy and can help remain productive and creative in the long run. We will also show the SEMrush tools, thanks to which you will feel confident about your site performance.
#1 Synchronize Updates, New Content, and Any Changes Which Can Affect Organic Positions
One of the questions we asked our experts, "Was there ever an SEO emergency that required your attention during vacation? How did you handle it?"
---
Nitin Manchanda, Global Head of SEO at Omio
"Yes, once, and it was because of really bad planning from the management. So, I was celebrating my first marriage anniversary with my wife in Dubai, back in 2016. I was really tired after an amazing but tiring day in one of those crazy water parks there. As soon as we entered the hotel room, I got a message from my manager asking for my green flag for a website release.
Interesting part is, I had absolutely no idea about the release date as no one communicated that to me. The end result wasn't what I wanted, but I reported some POs which they'd to fix before the release of a half-cooked product. And then I took care of the rest of the things after my vacation. Haven't seen anything crazy apart from that."
---
You need to synchronize not only with your SEO team but also with the development team and stakeholders. Before leaving, discuss the current status of projects your team manages and confirm scheduled dates for updates. It is better not to plan major releases just before you go on vacation; you want to be available in case any emergency situation occurs.
If you have a blog, it is best to arrange a schedule for new content with your team to maintain regular traffic on your site. With the Marketing Calendar, you can map out your actions in a calendar, configure tasks to be completed while you are gone and share the plan with your team. 
---
Michelle Wilding-Baker, Senior Marketing Consultant at Oh Mishy ltd.
"By nature, I normally do not switch off from work, and I am very performance-based. I treat SEO as a performance marketing channel. Previously, at a bare minimum, I would always read my emails and respond while on annual leave. And that was until I got married last year in September. I had three weeks off for my wedding and honeymoon, and that was the first time I had ever disconnected from the network — it was a breath of fresh air. I didn't check my work emails as I had a team of eight people to hold the fort, whereas previously I was the only SEO manager.
My secret to a smooth time away was creating a handover spreadsheet which was prioritised by high, medium, and low priority tasks and divided areas of responsibility because it was a big site. 
My team would work on certain directories, so they would know what to do and what was expected each week in my absence. I would outline tasks by frequency (weekly, bi-weekly, monthly), instructing them to pull reports, prepare a deck for the marketing meeting, remind them to make sure they look at search console for test X uplift of test results, and set up reports for X, Y, and Z. So I had it all mapped out and covered.
And when you have a team, you need to trust them to do their jobs. If something goes wrong, that is how they are going to learn. I'm fine with my team to contact me on WhatsApp if something's really, really bad. We both find comfort that they can contact me and let me know what is going on or ask for direction should the pressure get too much."
---
#2 Create Dashboards Containing Only the Most Important Data
Nitin Manchanda, Global Head of SEO at Omio.
"Even when I am vacationing, I am kind of addicted to checking my emails and Slack messages intermittently. I check the position reports as well, and if I see anything alarming then generally I see a slight trend already. I take my laptop with me. I know that about 50 percent of the world is now mostly mobile-only, but I am probably in the other 50 percent. I don't use the Google Analytics Mobile app often, but the SEMrush app is very handy for me because it gives me a basic idea of visibility. 
Generally, I train my team to take care of bits and pieces of my work, and allow them to catch me on Slack/email if they need me for something; I check that intermittently (I know it is a bad habit - I will improve one day). Also, I share my WhatsApp number in case of any emergency."
---
You probably use different SEO dashboards in your daily routine, but you could create a separate dashboard that only included the vital information you must review to ensure all is well while you are gone. This way, you don't start getting lost in tons of data and lose precious vacation time.
You can do this with the help of Google Data Studio, a free online tool that lets you make visual reports that combine data sources. You can bring data from Google-owned sources such as Search Console, Google Ads, YouTube, and Campaign Manager, and pull data from 150 other sources available in GDS. 
SEMrush data can also be added into your reports in GDS — here is the Integration process description. You will be able to pull the data from SEMrush to search statistics about a domain's online visibility as well as track its rankings in Google by a custom set of keywords.
Data Studio is only available in Desktop mode, but you can access your report with your phone's browser. 
In SEMrush, we also have an SEO Dashboard, which provides quick insights into what is currently going on with your or your competitor's website. It contains all of the website's key metrics on one page and has integrations with: 
Google Analytics (it is also possible to switch to Traffic Analytics if you need insights about your competitors' SEO performance)
Google Search Console
Adobe Analytics (to test this feature, write to mail@semrush.com)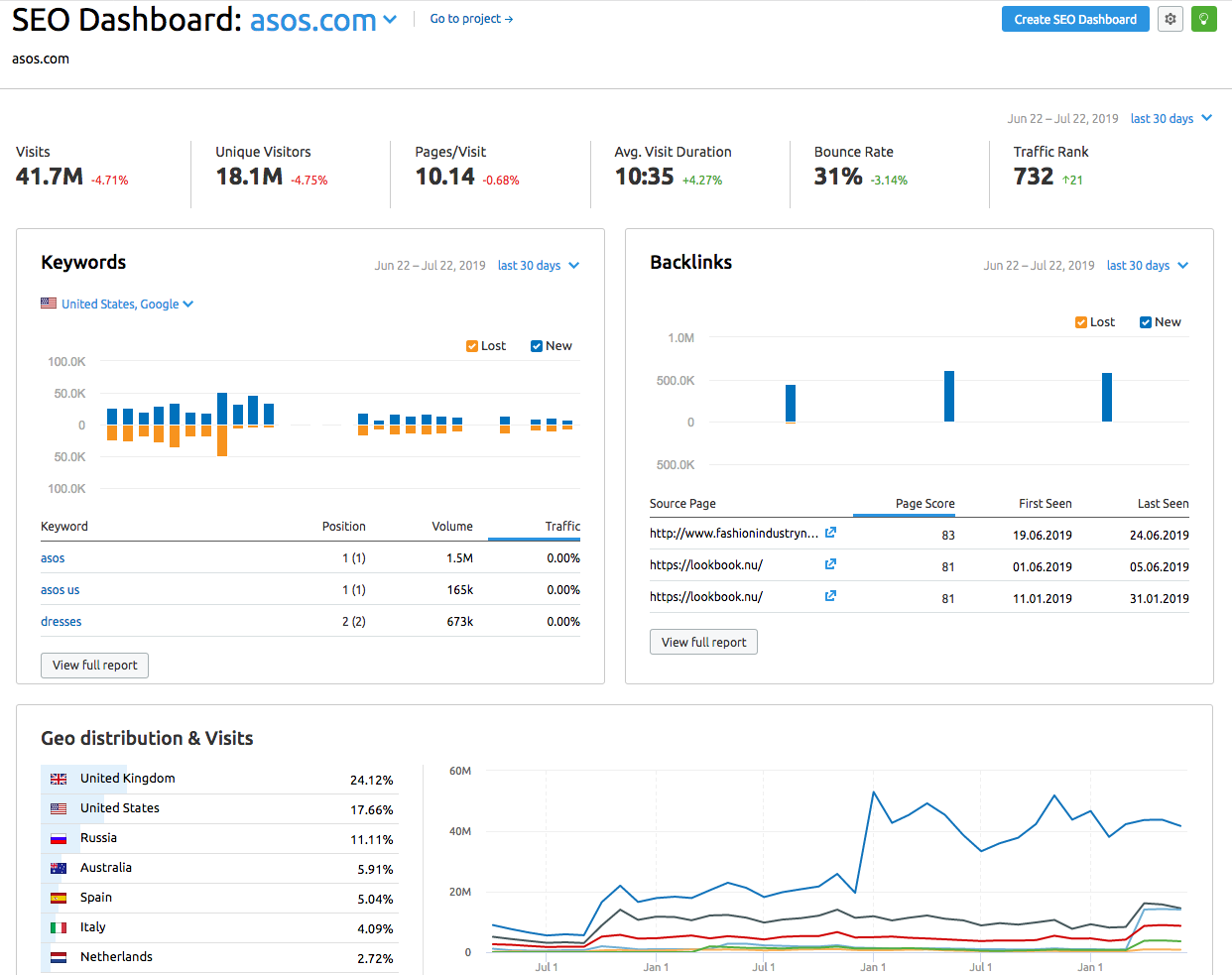 #3 Label Your Emails
"I set up out of office messages and leave secondary contacts, but these are just the usual things and not really specific to SEOs." — Andy Crestodina, Co-founder of Orbit Media
The overall organization of your inbox is quite important in your regular activities, but especially so when it can help you to avoid being distracted every time you see the word "Google" in the subject line.
To not miss important emails and to avoid reacting to unimportant emails, configure the distribution of incoming letters into folders. In Gmail, they are called labels. To set up these labels, you simply create different folders and filters (for example, by the words the subject line contains) for emails to be sent to these particular folders. Make sure that all the important emails will go the folder labeled "important".
---
Simon Heseltine, VP of Audience Growth at Cycle Trader
"Before you leave, sit down with all the stakeholders, with your developers, with product managers, and anyone else you are working with to make sure that they have enough information to get through the time that you are gone, and make sure they have a contact point for any issues. 
I will check my email, even when I tag what I want. I keep checking just to see what is going on, and to see if there is anything that is flagged as important. And, of course, you know we have got all these messaging systems these days, whether it is Gchat or Slack, if people need to get hold of you, they can get hold of you, unless you really take yourself away to a desert island and leave the electronics behind, which is probably something that everyone should do at some point."
#4 Make Advance Payments on Bills That Have Due Dates During Your Vacation
Perhaps the most important thing — check the admin panel of your hosting provider to make sure hosting service is not running out soon. Then, make sure your domain name doesn't expire soon. This information can be checked at Whois (enter the domain there and check the item "Registrar Expiration Date").
Also crucial, the site's security certificate. There is a specific check in the SEMrush Site Audit tool which can show if the certificate is expiring within 3 months of the crawl.
---
Grant Simmons, VP of Homes.com
"There was actually a project a few weeks ago where the client made an update without telling me or their primary agency. The agency reached out to me and asked me what had happened.
It seems they changed hosting providers and foundational platforms without letting anyone outside the company know and now all internal links, canonicals, etc. were pointing to URLs with a trailing slash i.e., 'site-url-here/' and everything without a trailing slash was no-indexed. Google had previously indexed and ranked all the non-trailing slash URLs so they were basically sending traffic to pages with no-index directives (without any redirects). And so their rankings dropped significantly.
First, I needed to tell them what had happened and why, and then I needed to give them immediate action items to make sure redirects were put in place and/or trailing slashes were removed. So there are things that you CAN solve remotely that are technical in nature, where something has gone wrong and you have to tell folks to undo it or recommend something creative that resolves the issue quickly.
As far as penalties or algo updates go, there is not much you can do once they happen, but every SEO should be prepared and try to mitigate either of these scenarios before they actually happen.
[Note: Any SEO who is worried about penalties or algorithm updates should probably go on vacation and stay there.] Today, Google is getting really good at identifying spam and SEO 'tricks', so I steer clear of these to avoid any issues and recommend SEOs stick to 'white hat' techniques so they can actually enjoy their vacations! 
There are some exceptions, of course. When a great site gets dinged on an algo update, but the issues are normally content-related or technical in nature: think site speed and/or thin content as some of the elements Google is focusing on. The example above is a website-driven issue created by a webmaster's actions. As I note below, try to mitigate issues by avoiding updates during an SEO's vacation.
By the way, the best thing that can happen on vacation is to not to be disturbed because nothing is going wrong!"
#5 Keep An Eye on Significant Pages' Health with the Help of Site Audit
Michelle Wilding-Baker, Senior Marketing Consultant at Oh Mishy ltd.
"I have never had problems with Google algorithm updates. There was one situation that really annoyed me. On a bank holiday weekend, I noticed a developer had turned off a lot of new content pages on a late Friday afternoon, and this included a paid landing page (why!?). We were paying money for native advertising, and I happened to look at the campaign. And I thought: Oh my gosh, this is 404'ing. What is going on? When I got home, I was ringing and emailing him. It took a day for me to fix it eventually via the Tech Desk, because I didn't have my work laptop with me and could not remote login to fix it myself, and the developer was not answering his phone or emails.
To this day, some developers and content creators don't understand that if they delete something from the same website, it can cause a 404 error or affect your rankings — and they forget to inform you that they removed the HTML pages. No matter where you go, to avoid 404 errors caused accidentally by wider teams, I usually crawl the website at least once a week - even if it is crawling high priority conversion or product pages using regular expression rules."
Simon Heseltine, VP of Audience Growth at Cycle Trader
"I spoke at a conference in December in New York and the plan was for me to speak and to attend the conference. I ended up spending the entire second day of the conference sitting in a corner pulling data from SEMrush to see what was going on with our competitors. We all know that dev teams, no matter how much training you give them, or why things are a certain way, the moment you are out, they're going to make a change to robots.txt or apply 'noindex' to the entire site. It is just Sod's law that moment you step out the door. Suddenly everything changes and you get that frantic call and you are going to have to fix that."
---
Did you know how the Site Audit tool can help you before, during, and after vacation?
Before You Leave: 
Re-run the campaign to receive the latest data. Check that the most profitable site pages are in order. Go to the Crawled Pages tab → Sort by Unique Pageviews (you first need to connect your GA) → Check the issues detected on the most visited site pages.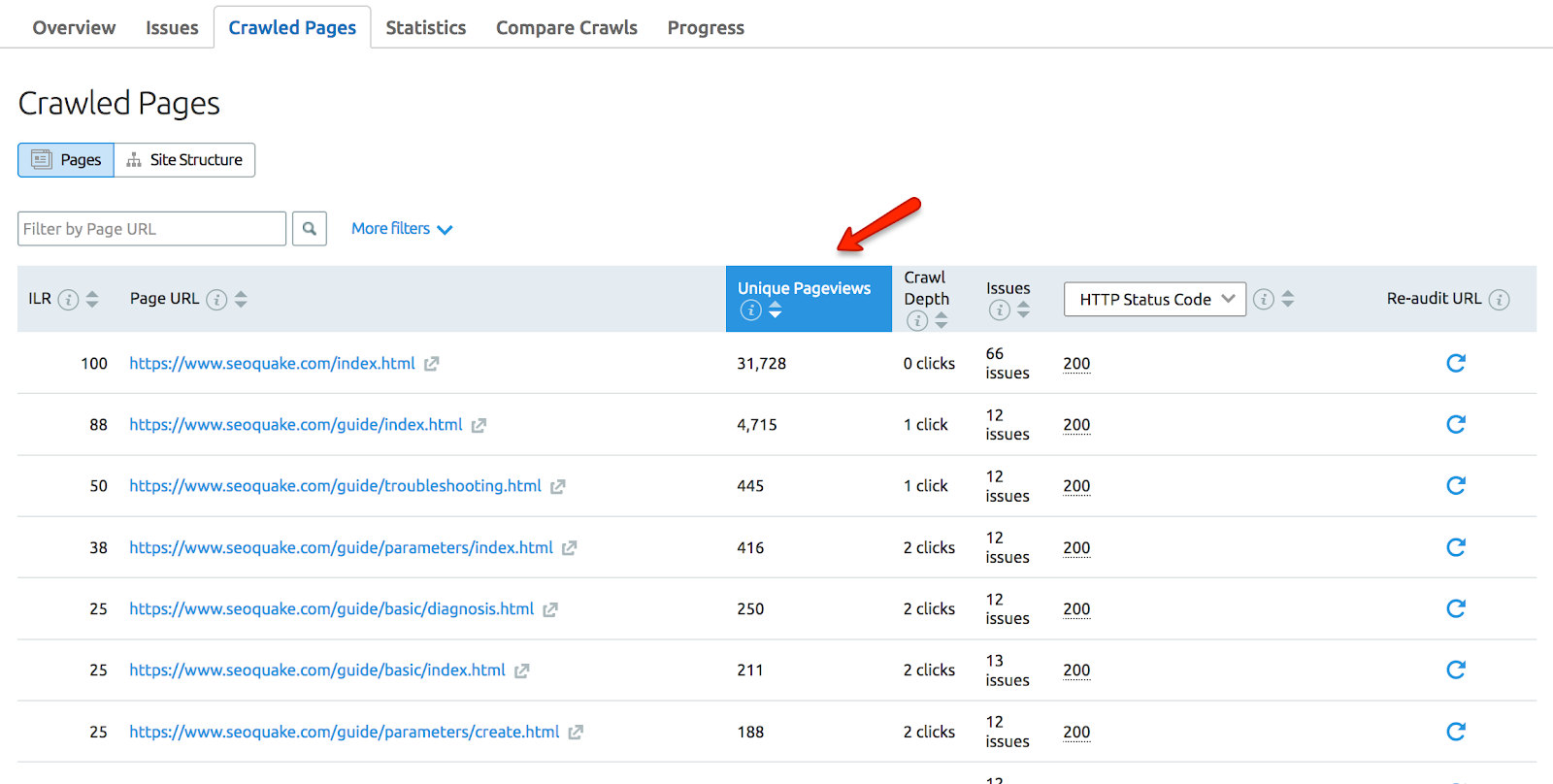 During Your Vacation: 
If you need, you can set up the notifications; choose how often you would like your website to be audited in the settings, and then put a tick in the checkbox to receive an email with results every time an audit is completed.
After Your Vacation:
When you come back to work, the easiest way to discover whether any changes to the site's technical health have occurred is to visit the Compare Crawls tab. It shows any of your past site audits in a side-by-side comparison. Therefore, re-run the campaign once again and find tasks that need to be tackled or celebrate that you can go back on vacation.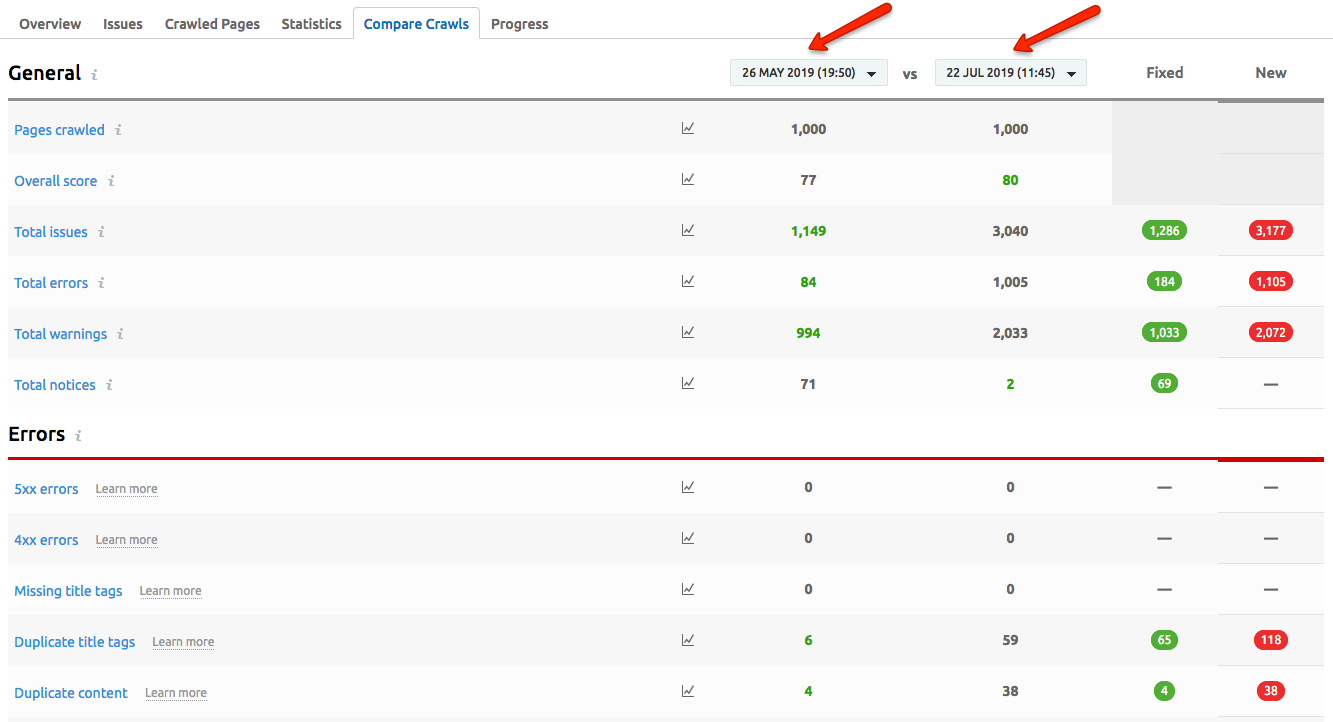 #6 Take a Few Seconds to Make Sure Everything Is in Order, and Relax
Kevin Indig, VP SEO and Content at G2
"Whenever I am on vacation, my people know how to reach me in case of emergency. I have to be honest, though, I never completely shut off. That is because I love my job but can also relax better when I know what is going on. It is something that works well for me. One way for me to get the 5-minute report is the SEMrush mobile app, on which I check daily visibility and average positions. I also make sure that there is always one person available, and not everyone goes on vacation at the same time.
I would love to see email reports that you can receive on a daily or weekly basis with customized high-level reports. It would also be great to get a notification if traffic drops below a certain percentage or rankings for a keyword."
---
Get Alerts in Position Tracking or the brand-new Position Tracking app (Google Play & iTunes)? Both can help! 
With the first one, you can see every day whether any important changes have occurred. With the second, you can monitor your domain ranking using our mobile phone app, even without having to use your laptop.
Alerts in Position Tracking:
These are custom triggers that will send you notifications alerting you if there are any notable changes in a Position Tracking campaign. The Alerts are customized, you can choose any parameters, for example, "Leaves the top 3" or "Loses more than 5".
Download the Position Tracking App:
In April 2019, SEMrush released an app in the Google Play Store (Android) and iTunes Store (iOS). The app lets you follow all of your Position Tracking campaigns on the go, so you never miss a beat in your website's improvements.
Andy Crestodina, Co-founder of Orbit Media
"Yes, Google updates sometimes affect rankings. But the big changes in Google aren't about rankings; they are about click-through rates. They are about SERP features and the pixel depth at which organic listings appear. That is why people should monitor CTR as well as position. 
Aside from SERP features and CTR, I actually get happy and excited about algorithm changes. Algorithm changes usually help the rankings of the best content. So you need to ask yourself: Do you have the best page on the internet for this topic? If the answer is yes, you should be happy when Google rankings change. They will generally benefit you."
Simon Heseltine, VP of Audience Growth at Cycle Trader
"If you try to plan your vacation around Google, you are not going to have a vacation."
#7 Synchronize with Clients and Set Up Automated Custom Reports in My Reports
Before leaving, you will most likely set an email auto-response for the period you are away, but you can also write a pre-vacation letter to your clients with the latest report and status of work. A good strategy is to send it a few days before you leave and include one question, "Are there any important things we need to discuss before the vacation period?". This way, your client's expectations coincide with your actions.
Consider automating the reporting. With the help of the SEMrush My Reports section, you can schedule custom reports that will be sent with data from SEMrush tools to both your and your client's emails. 
You can either use one of the SEMrush templates or create a report from scratch by simply dragging and dropping the relevant elements from the left menu panel into the Report Builder. The settings allow you to set the day and frequency in which the report is being sent (daily, weekly, or monthly). 
Simon Heseltine, VP of Audience Growth at Cycle Trader
"One of the good things is that I have a team here, so I can actually push things at them when I leave, or when they leave I am here, and so we tend to now have somebody that is always covering everything. If I happen to be out on a Monday, the weekly reporting gets done no matter what and distributed to the executive team, so having that coverage makes things a lot easier."
Grant Simmons, VP of Homes.com
"I am in-house, so it is generally different because there is a team here that will take up some of the slack. I still review traffic reports daily via email. Number two, like any SEO person, I do a little work on the side to keep current and informed as to what might be happening away from my in-house sector. From that standpoint, I think sending automated reports is the way to go, for both your client and yourself. So setting those up before you go is important because of the insights they can give you, and the potential issues they might highlight."
#8 Keep an Eye On the Overall SERP Volatility
Luis Rodriguez, Web & SEO Lead LATAM at Uber
"I think that when you go on holidays, it is extremely important that you focus on resting.
I think that it is important to sync up on releases that you may have in those days, so there is at least an awareness. That would be my very first action. The second action would definitely be some conversion alerts when you lose more than a few rankings, or if you have fluctuation of rankings.
I think you need to be aware of whether your main money-making pages are indexed, are crawlable and are still converting as they were before."
---
Google is constantly updating its ranking algorithm as Internet trends and search behavior evolve. SEMrush Sensor is a clever tool that provides insights into position fluctuations on a day-to-day basis. Sensor measures SERP volatility to indicate how much overall change is happening day-to-day. If there is a high score, it means that rankings are fluctuating and you could lose or gain positions. 
Sign up for email notifications with the blue "Subscribe to notifications" button to receive a notification whenever Sensor notices significant fluctuations in rankings. And if you receive one, it is really important to immediately check your rankings in the Position Tracking app.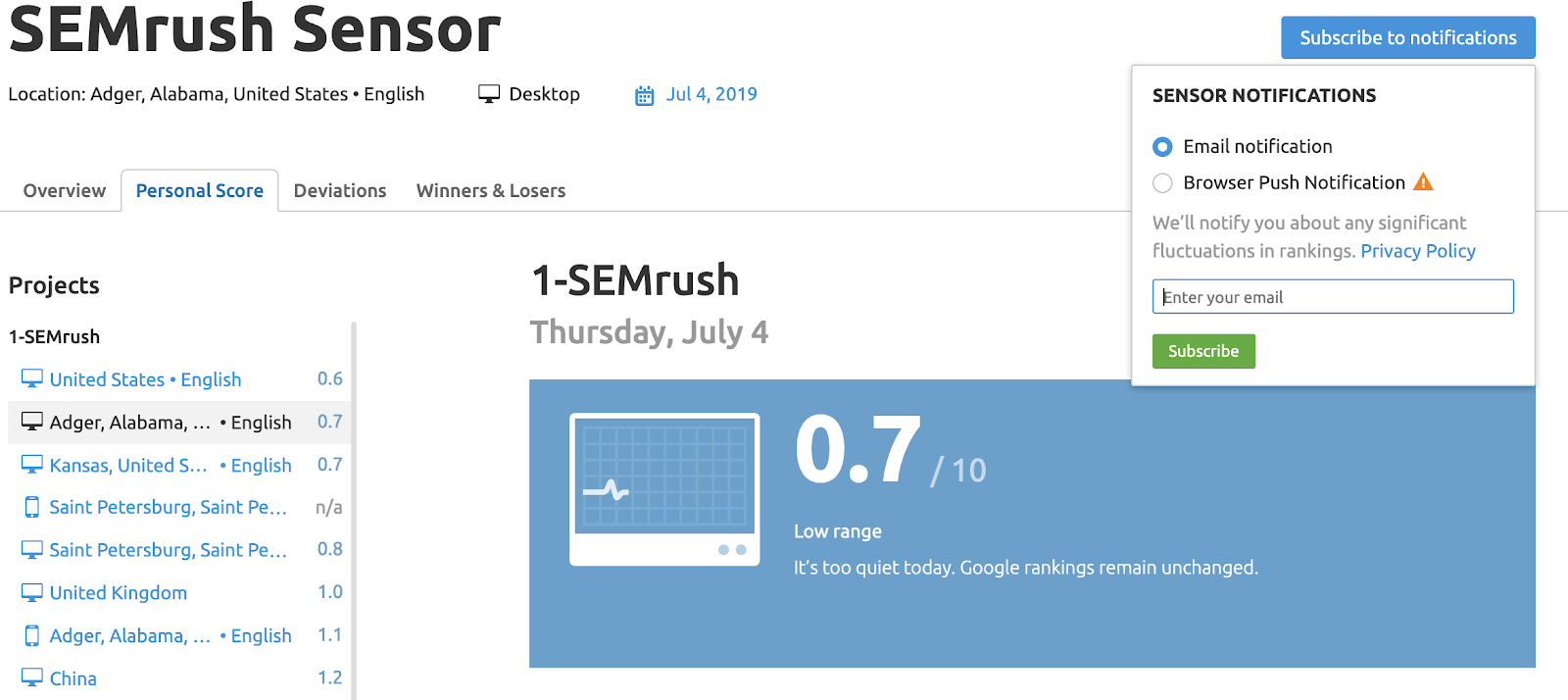 ---
Some of Our Experts Gave Recommendations on the Right Times to Take a Vacation
Grant Simmons, VP of Homes.com
"E-commerce is definitely seasonal. I mean, you have got to be really careful around Amazon Prime Day or other seasonal events like Christmas, New Year, Cyber Monday or Black Friday (which have all morphed into multi-day sales events). For Homes.com seasonality, the worst time to be out is right after Christmas, between Christmas and New Year, and the first few weeks of the year.
Generally, I would recommend understanding the seasonal trends of your business and knowing everyone's vacation schedules. If you know key personnel are going on vacation, avoid major releases. It sounds simple, but for businesses that rely on organic traffic, your SEO folks HAVE TO review everything before releases roll out. If they are not available because of vacation schedules then postpone until they have had a chance to review and approve. The best risk-mitigation is to do nothing. :-)"
Kevin Indig, VP SEO and Content at G2
"Google often rolls out updates in March, April, September, and October, so you want to be cautious with vacation around those times."
Nitin Manchanda, Global Head of SEO at Omio.
"You can't miss the European summer because it is crucial for business. So, better planning is your friend here. Well, for Omio, (focusing on the European market mostly at the moment) probably summertime is very critical as we really need to put out 200% to please users and search engines for better organic performance. So, a close look at the numbers — regular analysis and continuous shipping for better UX is needed during this time of the year. Winter is a bit more relaxed, comparatively."
But remember:
Andy Crestodina, Co-founder of Orbit Media
"SEO emergencies are unusual. We are not firefighters. We are not paramedics saving lives. If you are swimming in a pool and your client is calling, there would be no reason to drop your vacation and start working. It can wait until you are back in the office. If you wanted to answer emergency calls, you would have been a doctor."
#9 Stay in the Loop
Luis Rodriguez, Web & SEO Lead LATAM at Uber
"A few years ago, in a different company, there was a launch of a page in Thailand. And at that time I was basically in charge of all acquisition products. One of those parts was the home page and the sign-up page.
During my holidays the King of Thailand died and the government sent a notification to all websites, basically to all businesses registered, that they needed to change the color code to black and white and that they needed to publish a page with a message saying that the king had died. And that page needed to be indexed, because one of the ways that they needed to check it was if they could find that page. And whenever somebody would search for our company name the message needed to be present.
So that was like total mourning of the country. We needed to start connecting and started speaking with a lot of people to launch the page and to get it indexed and to get it ranked basically. So that was a very interesting experience and that is why I was saying that the search console experience on mobile is just not good. It is very difficult to access different functionality beyond seeing the graphs. So that was pretty interesting at the end. We did launch the page and we were black and white for quite a few days."
---
The SEO Lifestyle: Keeping Up with Changes
Michelle Wilding-Baker, Senior Marketing Consultant at Oh Mishy ltd.
"I can't speak for all SEOs but for most of us it is a lifestyle choice. We love it. You are online anyway so you are always going to think about SEO as you experience the web and social media. It is my life whether I am on vacation, on the tube, or not working on the weekends. I have got a lot of friends related to SEO, so in my WhatsApp groups and Twitter feed, I have got SEOs retweeting things, new articles, etc.
SEO is so fast-paced and forever evolving, so it pays to always be exposed. You learn a lot from your networks."
Simon Heseltine, VP of Audience Growth at Cycle Trader
"If something big happens, even if I try and turn off and not see what Barry Schwartz is tweeting every five minutes, I will hear the big news in those groups anyway."
Nitin Manchanda, Global Head of SEO at Omio
"I am active everywhere. I know the right set of people/handles to follow for the right topics. I have also been going to conferences, attending webinars, reading articles on a regular basis to keep myself up-to-date with what is happening in the ever-changing SEO world.
Knowing what is happening around you in the SEO world is really important. You can learn a lot from others, you can share your learnings, you can discuss any topic where you are struggling to find the next steps, and a lot more. I would totally recommend this if you are an SEO and not yet doing all this."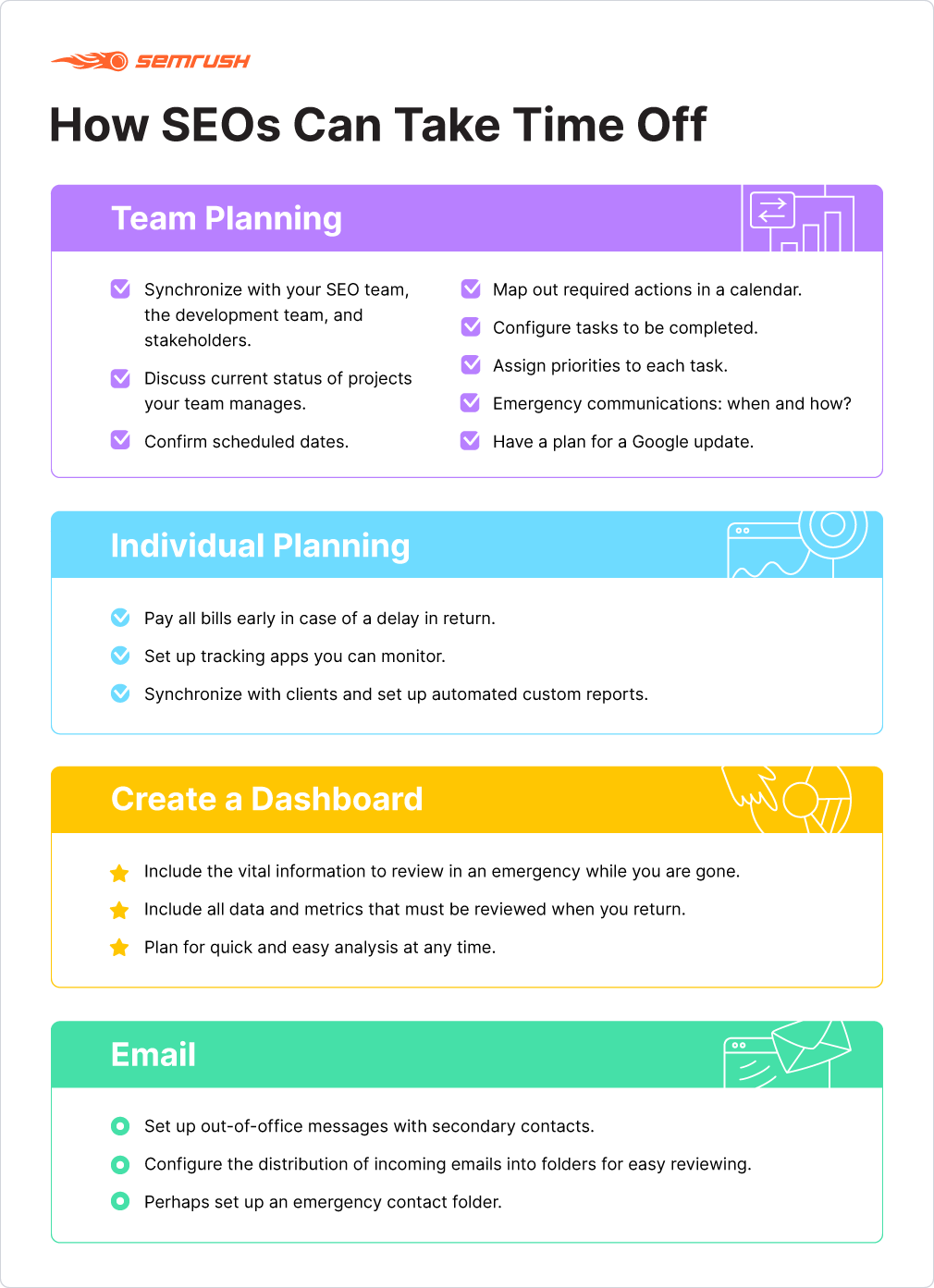 ---
It is great to get a break, especially after busy months of working on SEO, but Google updates can happen at any time. It is difficult not to think of work on vacation, even if you strongly trust your team. But we hope that with this checklist you will be able to set up a system so that your efforts at work are not needed while you climb mountains, swim in the ocean, or do important personal things for yourself.
Thanks to all of our experts for their great tips.
We really appreciate all the insights and recommendations that will help us take a more relaxed vacation.
If you need to rest, set the automated reports, install the Position Tracking mobile app, and put a tick in front of all other items on this checklist. And then, have a wonderful vacation!