Google's site crawlers (or "bots") are a vital component of the SEO ranking process. If you want your website to rank, your site needs to be indexed. To be indexed, website crawlers need to be able to find and rank your site. 
In this guide, let's explore what a website crawler does and why they're important. 
What is a Site Crawler? 
Picture the internet like a massive library loaded with unorganized content. Site crawlers are the librarians of the internet, crawling webpages and indexing useful content. 
Search engines have their own site crawlers; for example, Google has its "Google bots." These bots (known also as "crawlers" or "spiders") visit new or updated websites, analyze the content and metadata, and index the content it finds.  
There are also 3rd party site crawlers that you can use as part of your SEO efforts. These site crawlers can analyze the health of your website or the backlink profile of your competitors. 
How do Site Crawlers Work?
When you enter a search query into a search engine, and you receive a list of possible matches — you've benefited from the work of site crawlers. 
Site crawlers are complex algorithms created with massive computer programs. They're meant to scan and understand a large volume of information, then connect what it's discovered with your search term.  But how do they get this info?
Let's break it down into 3 steps every site crawler takes:
Crawling your website
Scanning content on your site 
Visit the links (URLs) on your site  
All of this information is stored on a massive database and indexed according to keywords and relevance. 
Google then hands out the top spots to the best, most reliable, most accurate, and most interesting content while everyone else is shuffled down the list.
Unfortunately, not all websites will be crawled if they're not "crawler friendly." 
That's where 3rd party site crawler tools like the Site Audit tool can help. The Site Audit tool crawls your website, highlighting any errors and any suggestions you can use to improve the crawlability of your site. 
How Site Audit tools can Help
In the past, SEO professionals would joke that if you didn't have a website, you may as well not be in business. These days, if site crawlers can't find your website, you may as well not have one!
If your site doesn't get crawled, you've got zero chance of driving organic traffic to it. 
Sure, you could pay for ads to gain top spots, but — as any SEO pro will tell you — organic traffic is a pretty accurate indicator of a quality website. 
To ensure that search engine crawlers can get through, you'll need to crawl your own website regularly. Adding new content and optimizing pages and content is one sure-fire way to do this. The more people who link to your content, the more trustworthy you seem to Google.
The Site Audit tool can help by:
Using our specialized site crawlers to check the health of your website 
Checking over 120 issues that may be affecting your website
Showing you exactly what to fix on your website (and why it's important)
Using the Site Audit Tool
You'll need to set up a project for your domain before you can use the Site Audit tool. If you already have a project created for your domain, read further to learn how to configure and run the tool. 
STEP 1:
Log into your Semrush account. If you don't have an existing account, you can create a free account.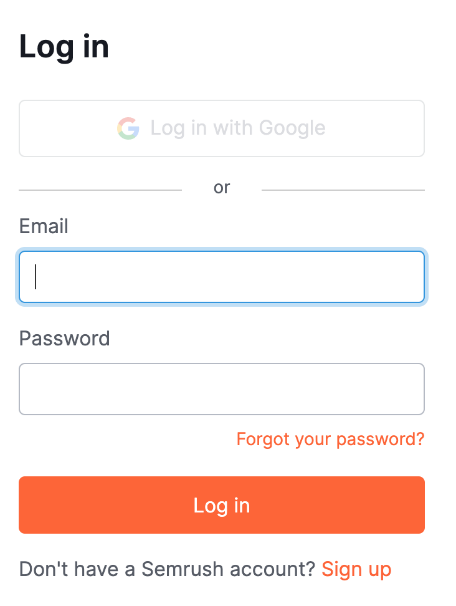 STEP 2:
Once you're in, you'll be greeted with the main page: Select "Dashboard" under "Management" to be taken to your project dashboard: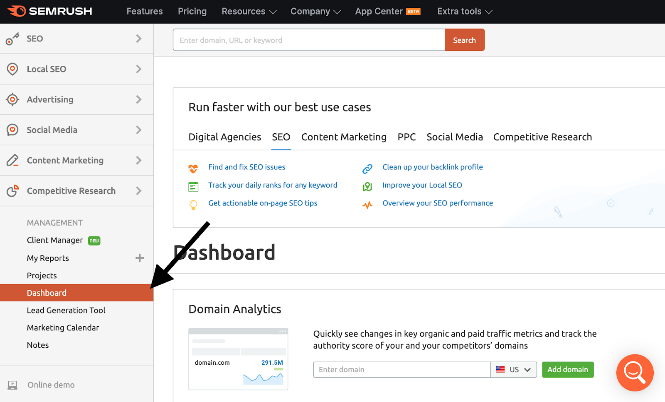 STEP 3:
If you already have a project set up for your domain, you'll see your project dashboard. Select the "Site Audit" card at the top of the page: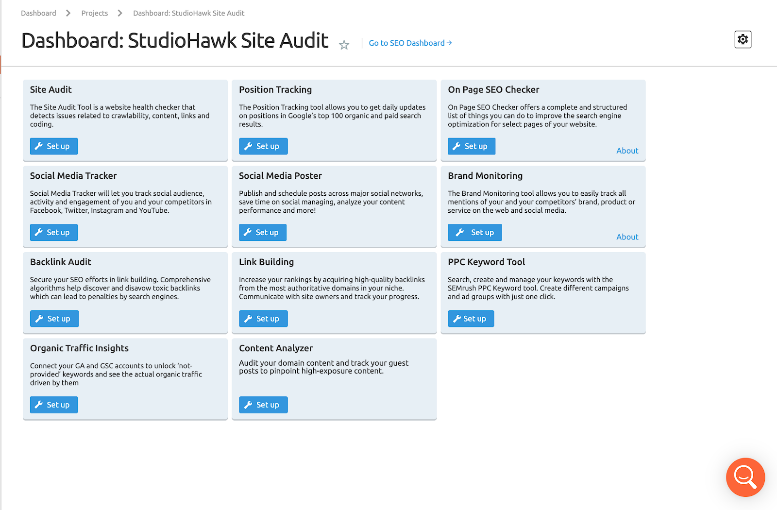 If you don't have a project, you'll set one up by selecting "Add new project" at the top right of the page.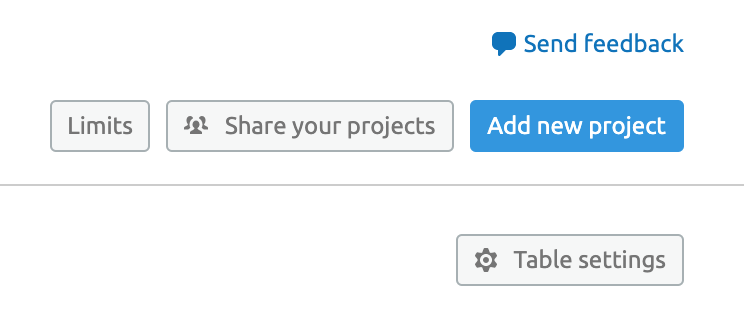 Enter your domain and a name for the project. Select "create project:"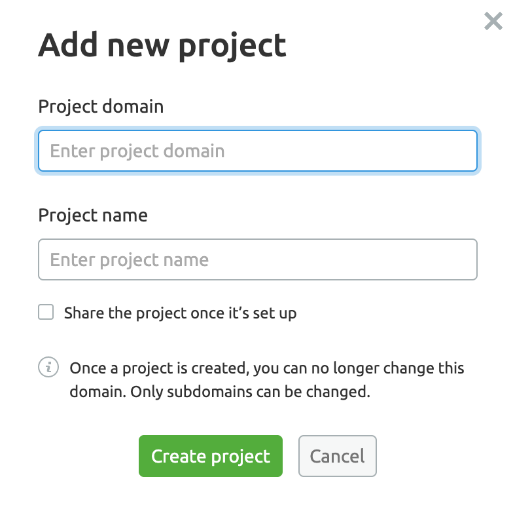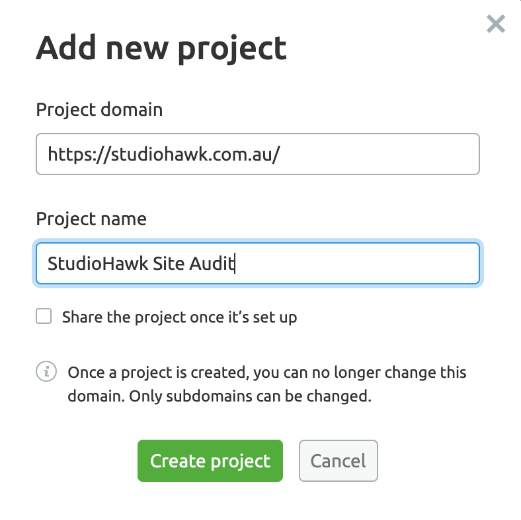 You'll now be able to launch the Site Audit tool by selecting the "Site Audit" card on your new project dashboard (see above.) 
STEP 4:
Once the tool is open, you'll need to configure the audit's settings, including the crawl scope, any website restrictions, and more. Once you're happy with the settings, select "Start Site Audit:"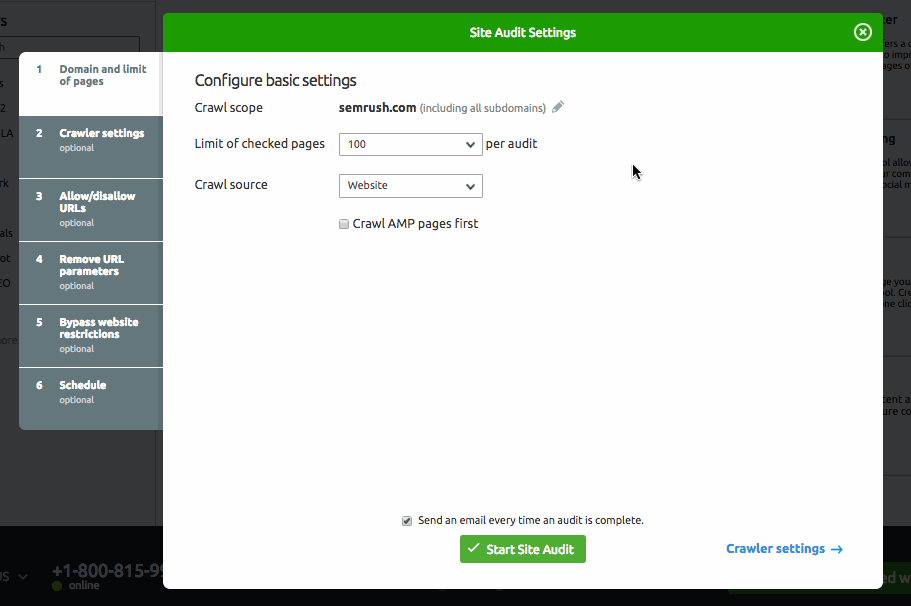 STEP 5
Your website is now being crawled. It may take quite a while to complete the crawl if your site is large, so go about your business and check back shortly.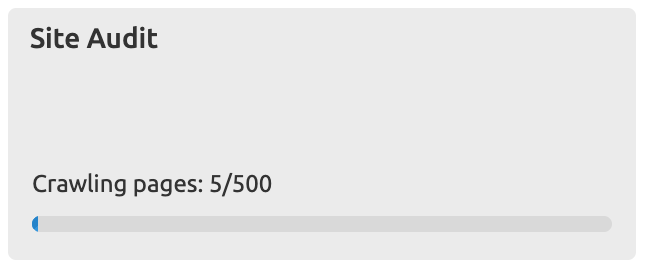 Fixing Errors with the Site Audit tool
If you're new to SEO, don't panic when you see your report! No likes seeing site errors and warnings, but it's important to fix them as soon as you can. 
Once completed, the Site Audit tool will return a list of errors it has spotted on your site. These issues are usually categorized as:
Errors: These are high-impact issues, so treat them like a priority. These are are any major issues that are preventing your site from being crawled or index. 
Warnings: These issues are still pretty important, but not as much as errors. Plan to tackle these next. 
Notices: These aren't serious issues, but they could impact your user's experience. Take care of these when all other issues are addressed. 
The tool explains each issue and offers suggested fixes. You can filter or sort for specific issues in the "Issues" tab: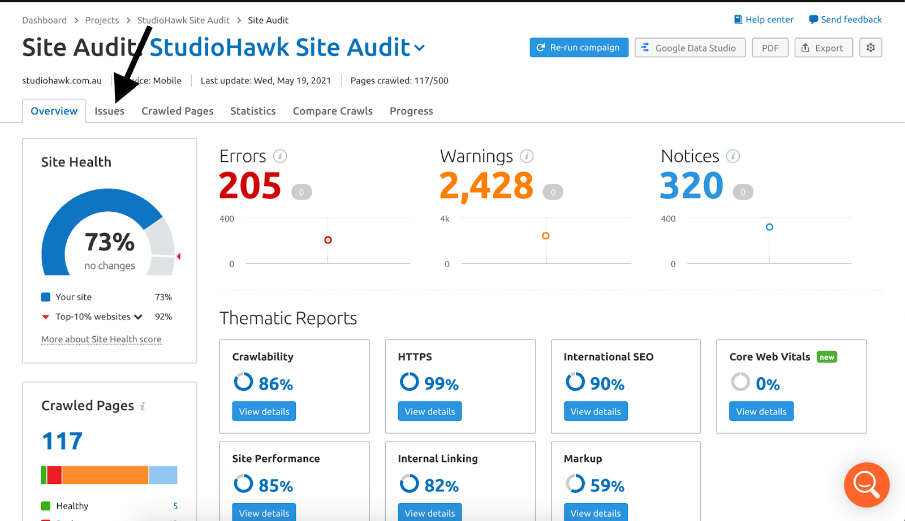 On the overview page, you will see your crawlability score. This thematic report offers an o overview of the indexed pages and any issues preventing the bots from crawling the pages. 
Work your way through these until you've completed each one on the list. If you're a Trello or Zapier user, you can assign any of the tasks to a board or a task manager.
Once you're done updating your site, run another audit. Upon completion, you can select "compare crawls" to see if and how your efforts are making an impact on your website's health.
Check Your Website's Crawlability 
To ensure your site is indexed by search engines, make your website as crawlable as possible. You need to make sure it's set up effectively to allow bots to explore every page they can. 
Google may change ranking factors in the future, but we know that user experience and crawlability are here to stay.
Running site audits regularly helps you stay on top of potential errors that can impact your site's crawlability. Remember: website maintenance is a dedicated process, so don't be afraid to take your time!