What Is the Skyscraper Technique?
The skyscraper technique is an SEO link building tactic that involves finding competitive content other sites link to, creating something better, then encouraging sites to link to you instead.
Website owners want to link to the best possible resources.
By improving on popular content in your niche, you can "steal" its backlinks (links from other sites). And earn more links in the future.
The skyscraper method was invented by Brian Dean of Backlinko. He said the tallest skyscraper in the world is the one that gets attention—just like the best resource is the one that earns links.
What Is Skyscraper Content?
Skyscraper content is content created as part of the skyscraper technique. It's designed to be a better version of a widely linked resource.
For example, it might be:
More comprehensive
More up to date
Created by a more credible expert
Published on a more authoritative website
Presented more effectively
Or perhaps it contains unique insights, tools, and visuals that add value for the user.
Skyscraper content is crucial to the success of the skyscraper method. Without it, web admins have no strong incentive to link to your site.
You'll learn more about creating skyscraper content later.
Why Use the Skyscraper Technique for SEO?
The skyscraper technique helps you earn backlinks that can drive referral traffic and benefit your SEO.
Google treats certain kinds of backlinks like votes of confidence. In general, the higher the quality and quantity of backlinks you have, the more authoritative Google perceives your site (and page) to be.
Unlike other link building tactics, the skyscraper method:
Allows you to inherit links that previously pointed to competitors
Helps you earn backlinks on pages with established traffic and authority
Encourages you to create quality content, which can benefit you in other ways
Is easily scalable
How to Do Skyscraper Link Building
Learn how to do skyscraper link building step by step:
Tip: If you haven't already, create your free Semrush account to follow along with this tutorial.
1. Find Competitive Content
First, find the competitive content you'll improve (and work to inherit links from).
The following content types tend to work best for the skyscraper technique:
How-to guides
Comparison guide
Complete guides
Buying guides
Listicles 
Review posts
Question posts
Cheat sheets
Templates
Infographics
Why? They're more likely to:
Cover topics that are relevant to your brand and target audience
Provide opportunities for you to improve
Have lots of backlinks you want to inherit (and that are possible to inherit)
Analyze Competitors' Content
With Semrush's Backlink Analytics tool, you can quickly find your competitors' most linked pages.
Enter a competitor's domain. Or enter a subfolder that contains their informational content (e.g., "https://www.carmax.com/articles/").
Then, click "Analyze."

Go to the "Indexed Pages" tab to see the number of backlinks by URL.
The list is sorted by the number of linking "Domains," from highest to lowest. 
(Generally, it's better to get links from multiple domains. Rather than multiple links from the same domain.)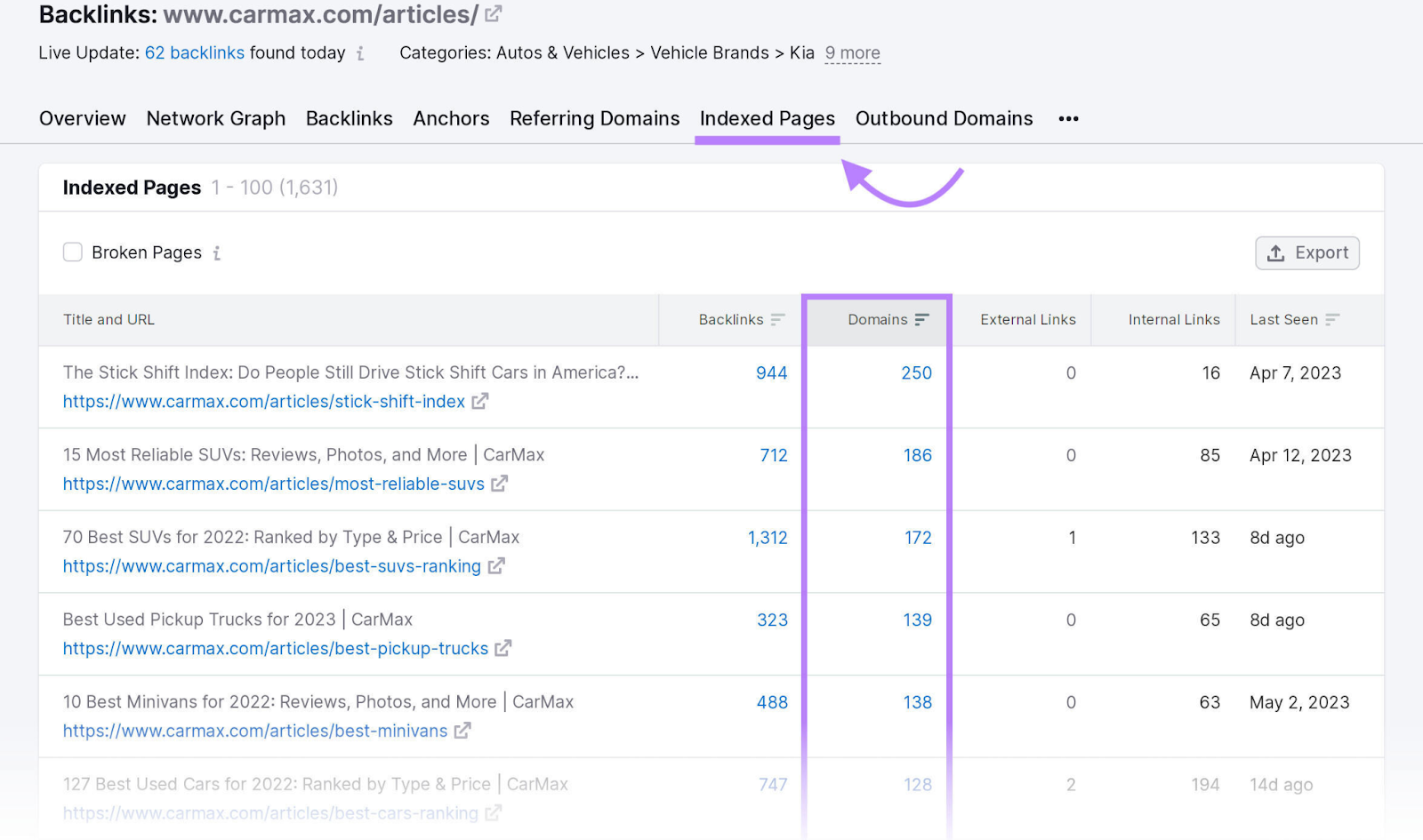 Starting at the top, look for pages that might work with the skyscraper method.
The URL should provide a good indication of the page's content. For example, "/articles/sedan-vs-coupe" is likely a comparison guide. And the topic's still relevant.
Use the "external link" icon to view the page.
To analyze it in more detail.
Review Backlink Opportunities 
Next, review the content's backlinks to determine whether inheriting them is possible—and worthwhile.
Return to Backlink Analytics and click the number under "Backlinks."

To maximize the skyscraper technique's SEO benefits, you need to inherit backlinks with the follow attribute. (As opposed to the nofollow attribute, which tells Google to largely ignore the link.)
Click "Follow" to apply a filter.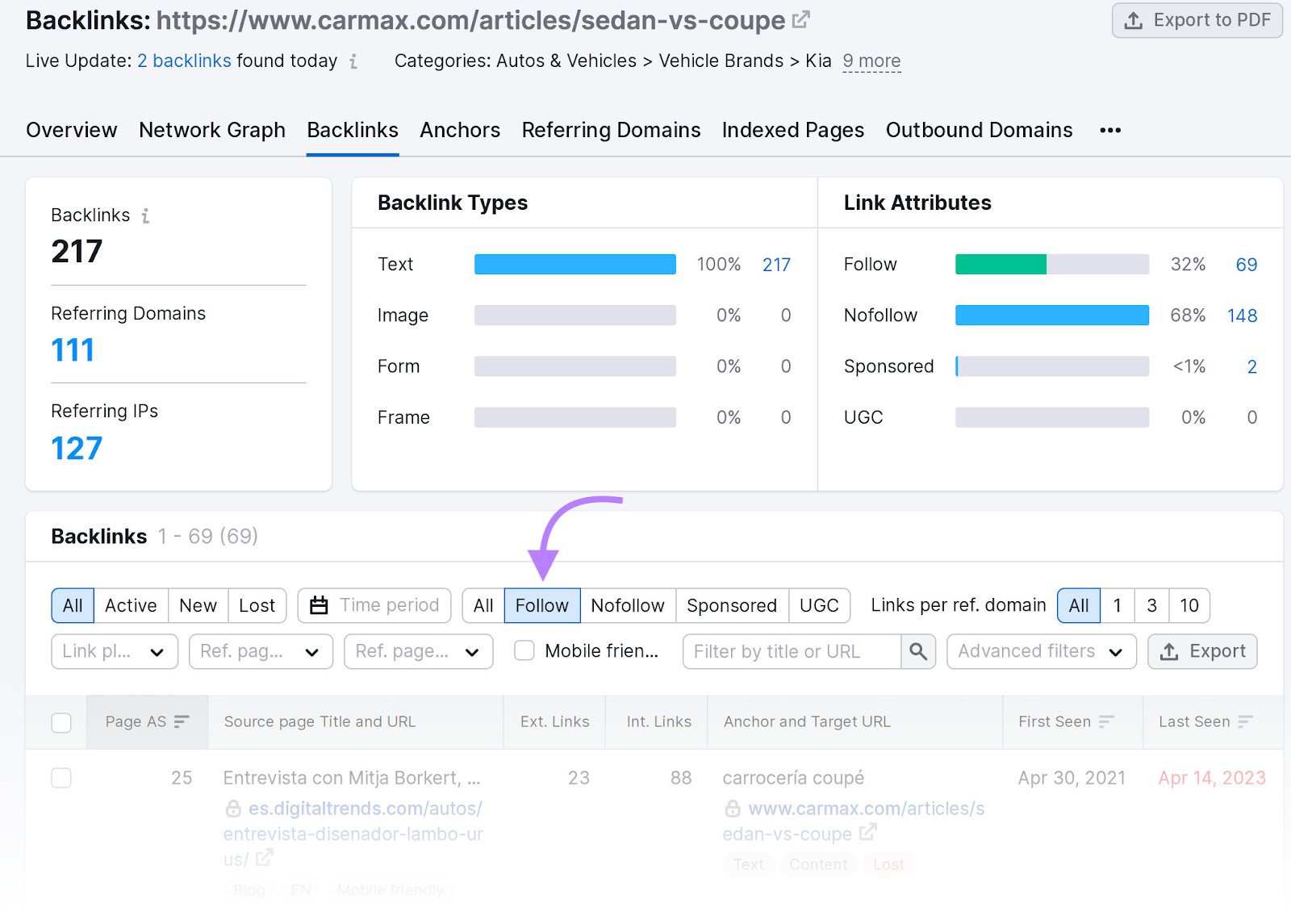 Also pay attention to the "Page AS" column. This contains the source page's Authority Score (AS). Generally, the higher the AS, the more valuable the backlink. 
(Learn more about what makes a good backlink in our link building guide.)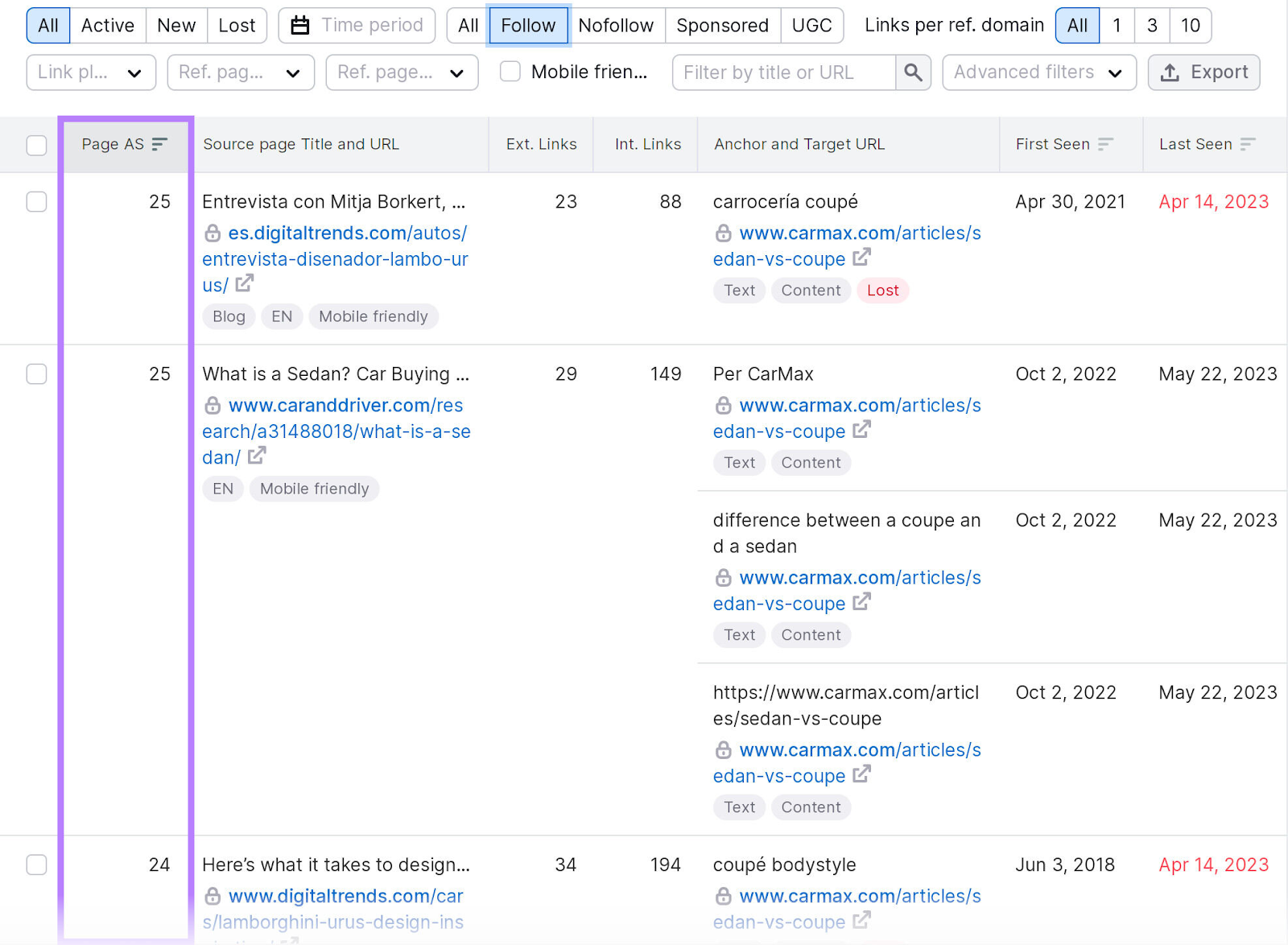 Consider opening each source page to look at the backlink in context. To judge how likely the web admin is to update the link. 
Ask yourself these questions:
Are they keeping this page up to date?
Could your link fulfill the same function, but better?
Do they have a relationship with the linked site?
Would linking to your site present a conflict of interest?
Do they have editorial control over the link?
Would updating the link take a lot of work?
If the competitive content seems like a good candidate for the skyscraper method, add it to a shortlist (along with any helpful notes).
Or move onto the next step.
Tip: Perform this step with multiple competitors to find the best skyscraper link building opportunities. You can find your biggest SEO rivals with Semrush's Organic Research Competitors Report.
2. Create Skyscraper Content
Next, create skyscraper content.
This is not only a better version of the competitor content you've found. But the best content of its kind on the web (by some margin).
After all, the sites linking to this kind of resource need a compelling reason to link to your version instead. 
Outdo the Competition
The best approach to creating skyscraper content depends on the nature of the topic. And the quality of existing content.
But there are a few common ways to outdo the competition:
Be more comprehensive. Add content where it adds value. Try adding new list items, answering more questions, or going deeper into the topic. The most backlinked articles contain 1,201-2,000 words, according to Semrush research. 
Add unique insights. Give users information and ideas they can't find anywhere else. Try conducting original research or engaging in thought leadership. 
Improve user experience. Stand out from competitors by making your content faster, easier to digest, and more attractive. 
Establish credibility. Display author and company credentials on the page to prove that your content is trustworthy. And that you're an authority on the topic.
Create images and videos. Posts containing images and videos are more likely to get links, according to Semrush research.
Let's say you're trying to inherit backlinks to CarMax's sedan vs. coupe guide.
After reviewing this page, you'd search Google to find other quality resources on this topic. And review those as well.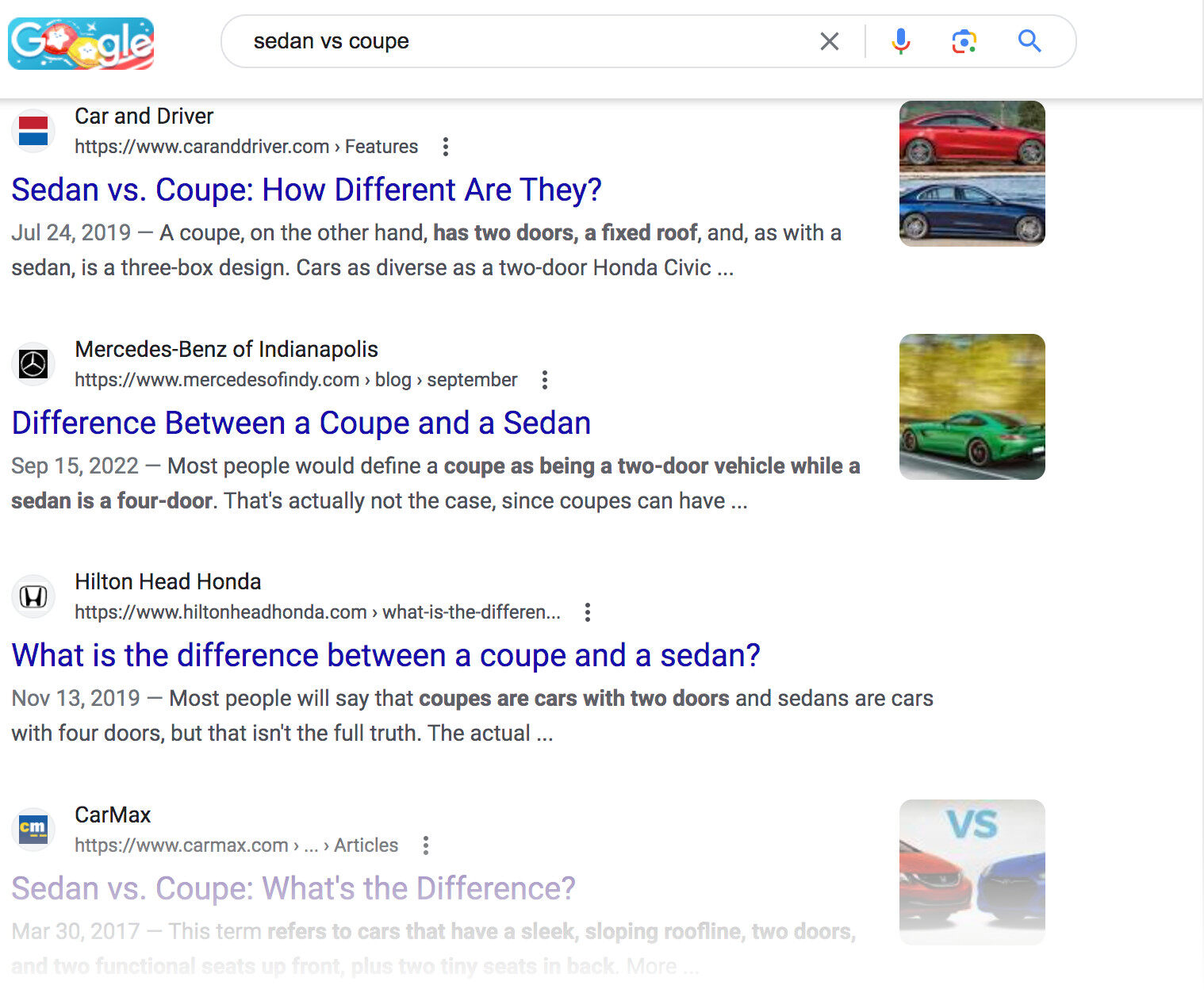 You might find that none of these resources visualize the differences between a coupe and a sedan.
So, adding an infographic to your guide could give you a competitive edge. And help you secure more backlinks.
Tip: Check out our guide for more advice on creating quality content. 
Optimize Content for Search
To help ensure that your skyscraper content ranks well in search—with or without backlinks—optimize for relevant keywords. Using on-page SEO techniques.
You can see what keywords your competitors rank for with Semrush's Organic Research tool. And use the findings to inform your strategy.
Enter the URL, choose your country, and click "Search."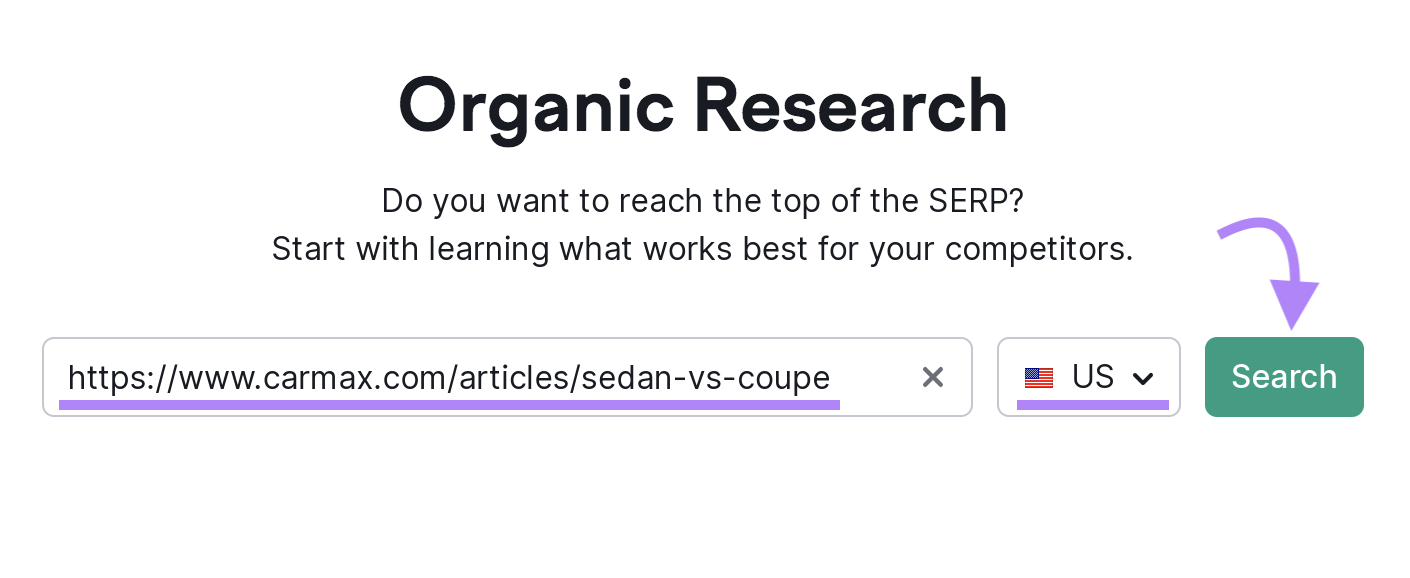 Then, go to the "Positions" tab. To identify relevant keywords you want to rank for.
Keywords ranking in the highest positions tend to be most relevant. But there are many factors to consider when choosing keywords for SEO.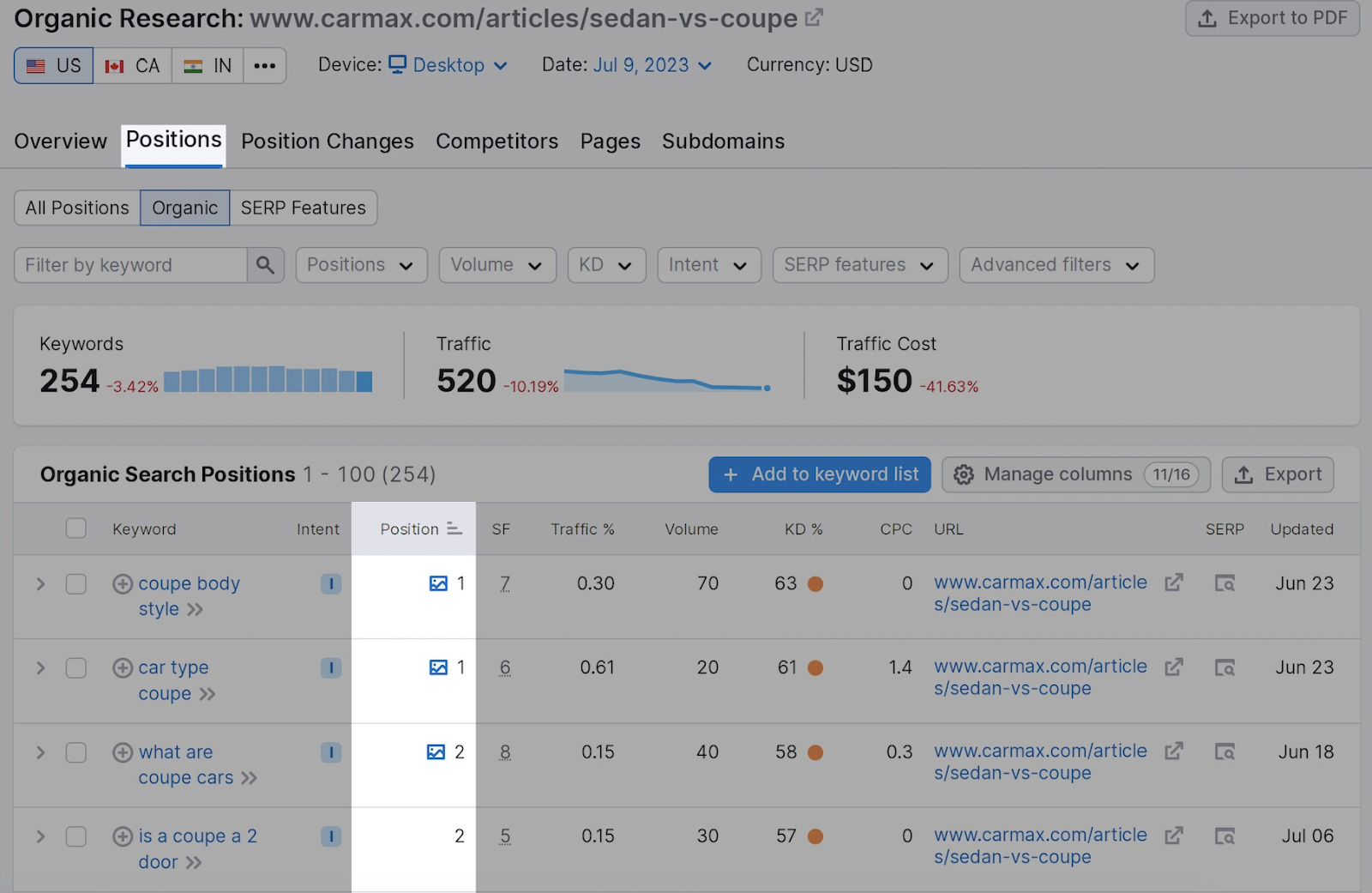 When you've selected target keywords, enter them into Semrush's SEO Content Template. 
Then, choose your country and click "Create content template."

The tool provides SEO recommendations based on the top 10 results for your target keyword(s). 
This includes semantically related keywords, backlinks, readability, and text length.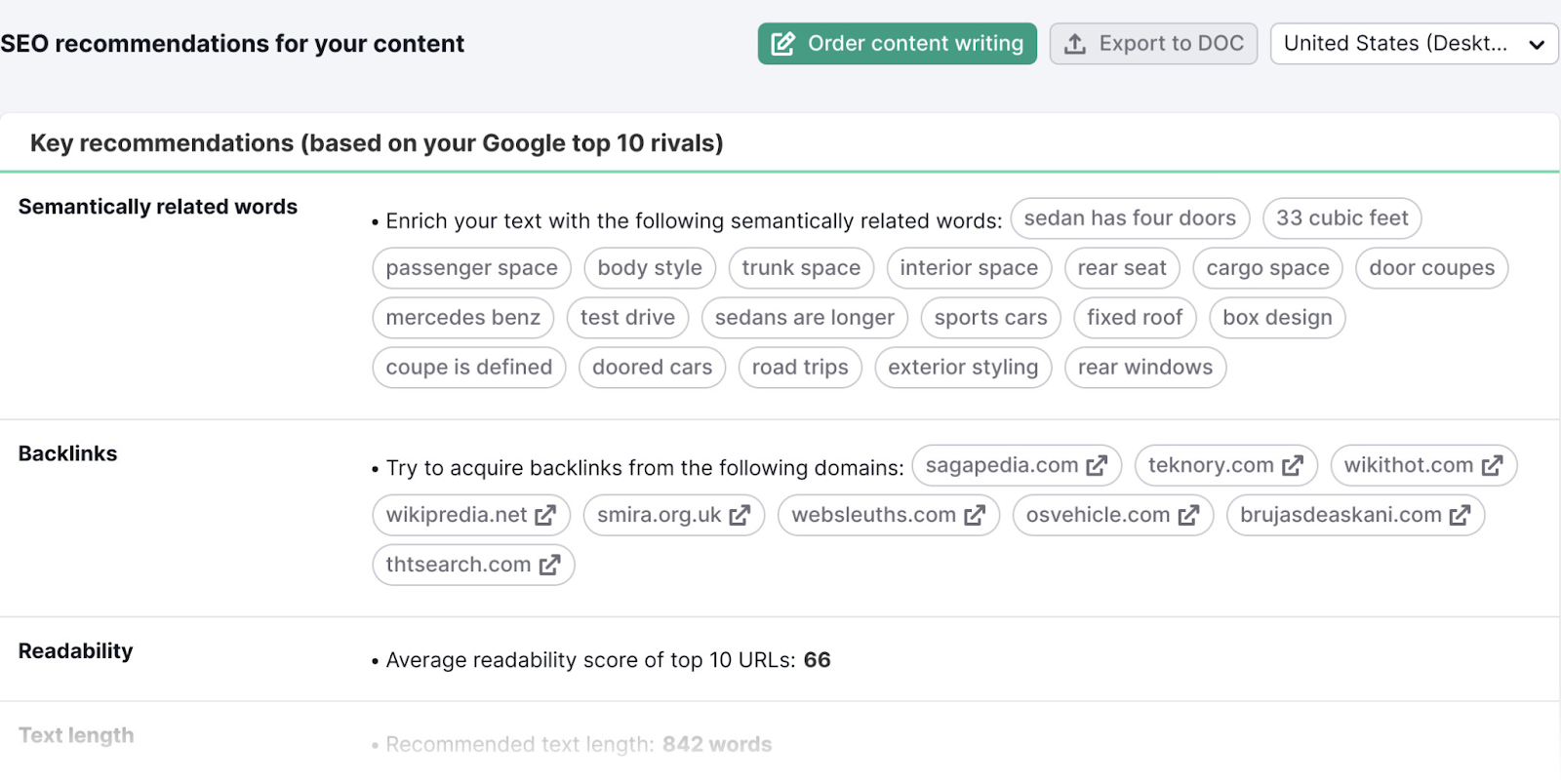 When you're ready to put the suggestions into action, head over to "Real-time Content Check."
And click "Open in SEO Writing Assistant."
The SEO Writing Assistant will score your content's SEO, originality, readability, and tone of voice in real time. Helping ensure the page is rankable, linkable, and engaging.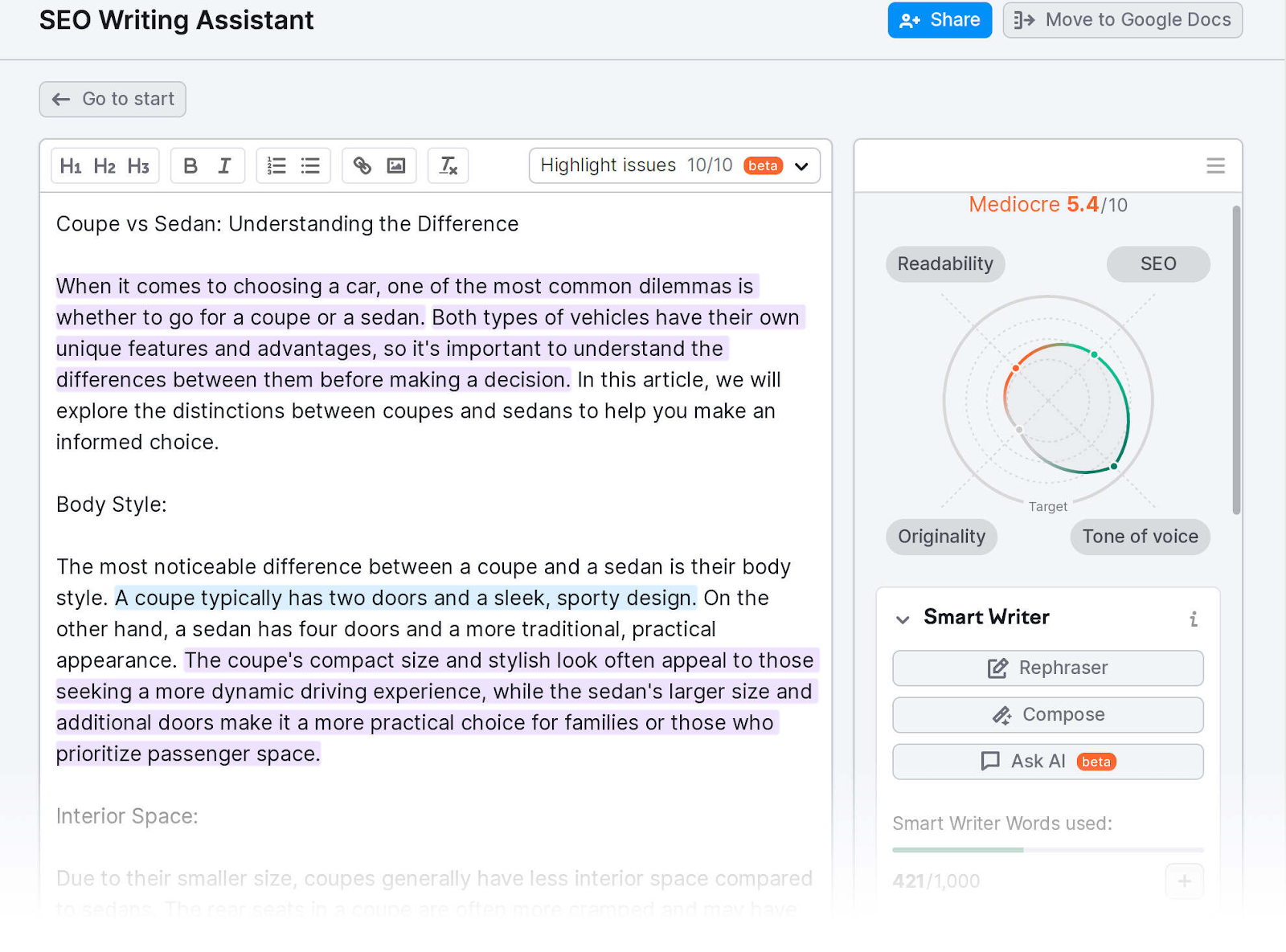 3. Conduct Email Outreach
Email outreach is the process of contacting web admins who might be interested in linking to your content (i.e., link building prospects). And explaining why they should link to your content.
In this case, you're promoting your skyscraper content.
Find Link Building Prospects
The skyscraper technique is primarily about inheriting links from sites that already link to a similar page.
Remember—you can find these sites through Backlink Analytics. 
Just enter the URL of any competing resource. 
Click "Analyze." 

Then, go to the "Backlinks" tab.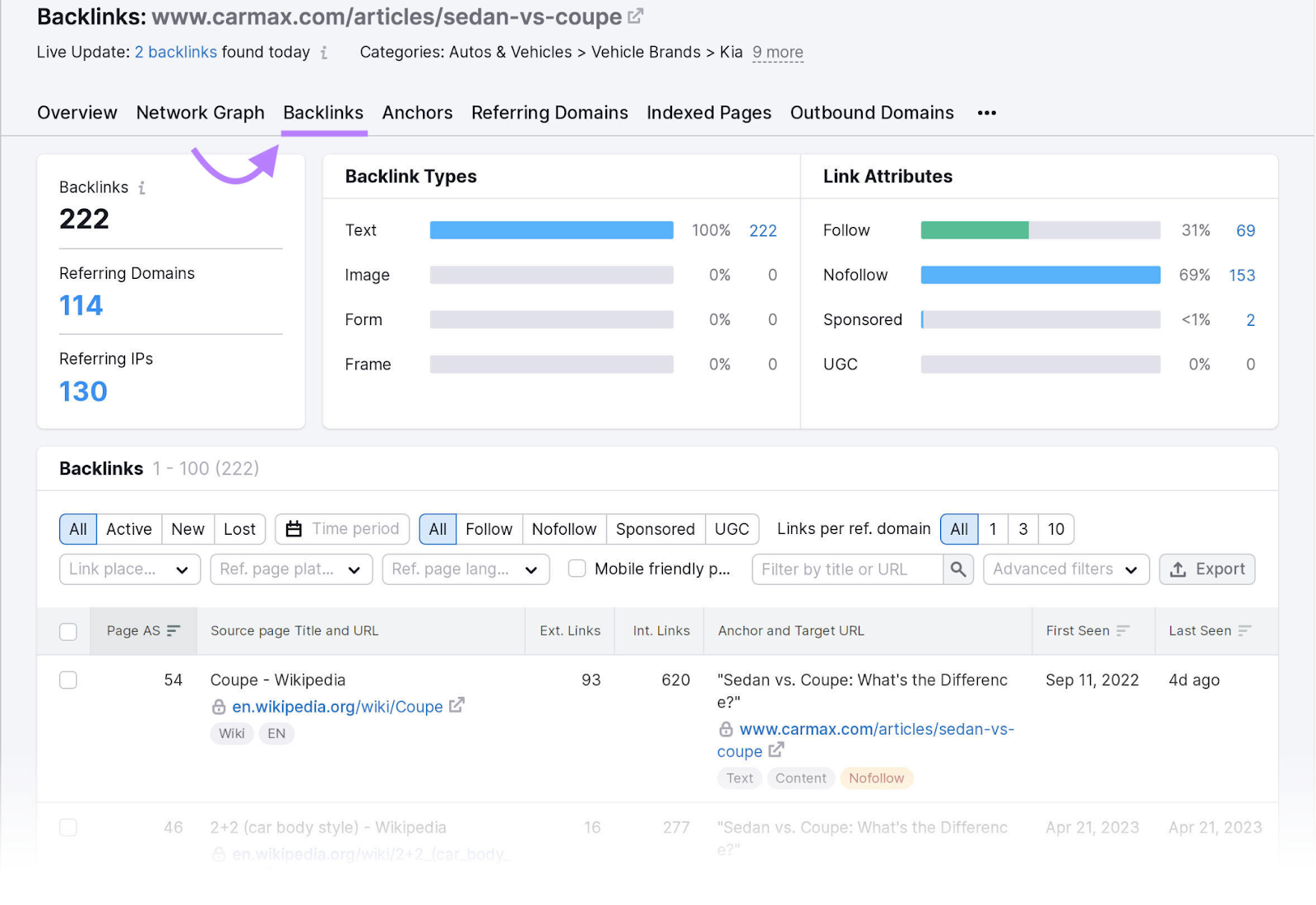 And scroll down to the table.
Use the "Export" button to save your results in an Excel or CSV file.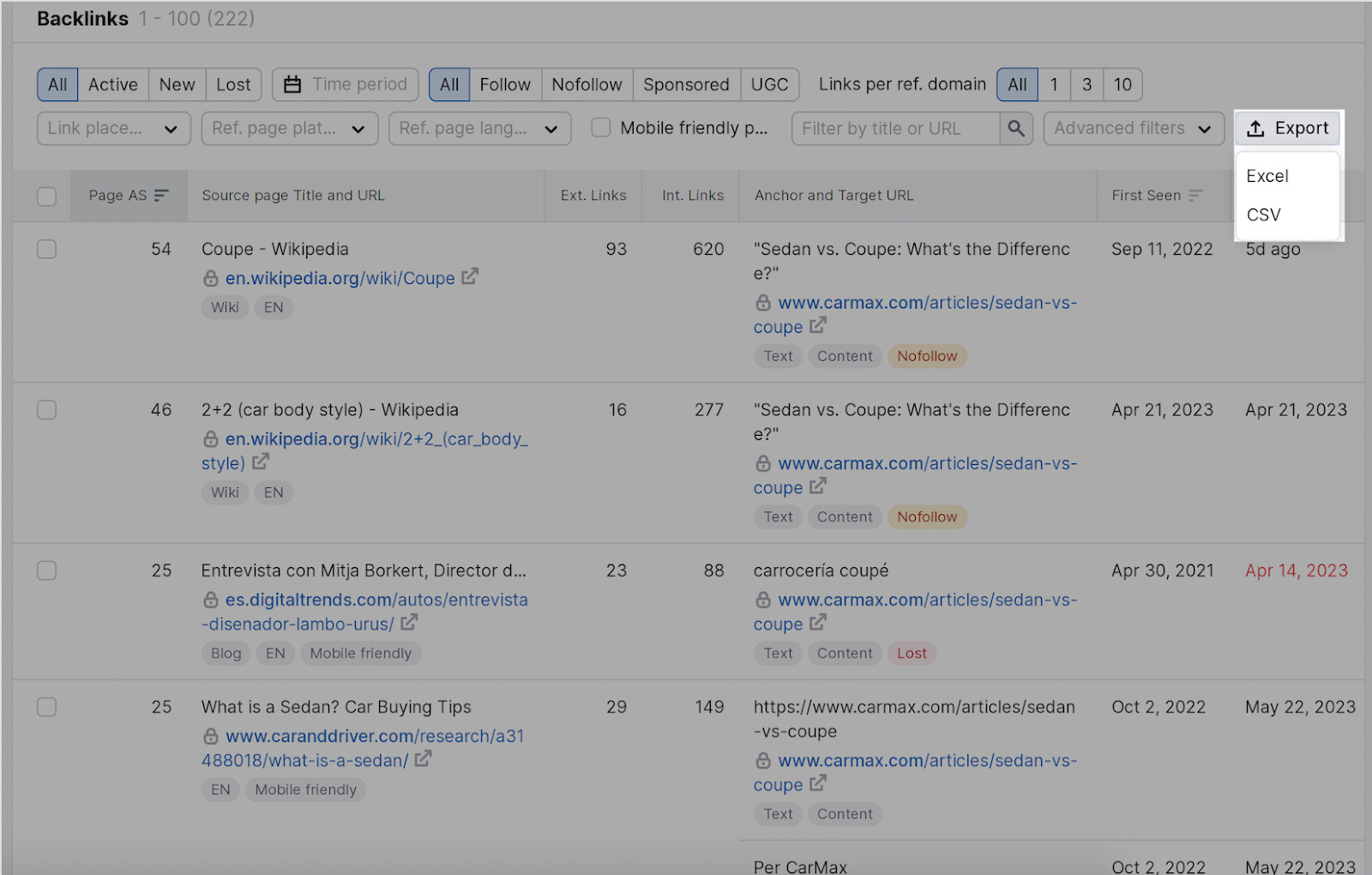 Not every backlink opportunity is worth pursuing. Consider how likely the site is to change their link. And how valuable the backlink will be.
It's also important to educate yourself about potentially toxic backlinks.
Identify Contacts
When you find a backlink you want to inherit, open the source page. To see whether the content is attributed to a staff writer.
Like this: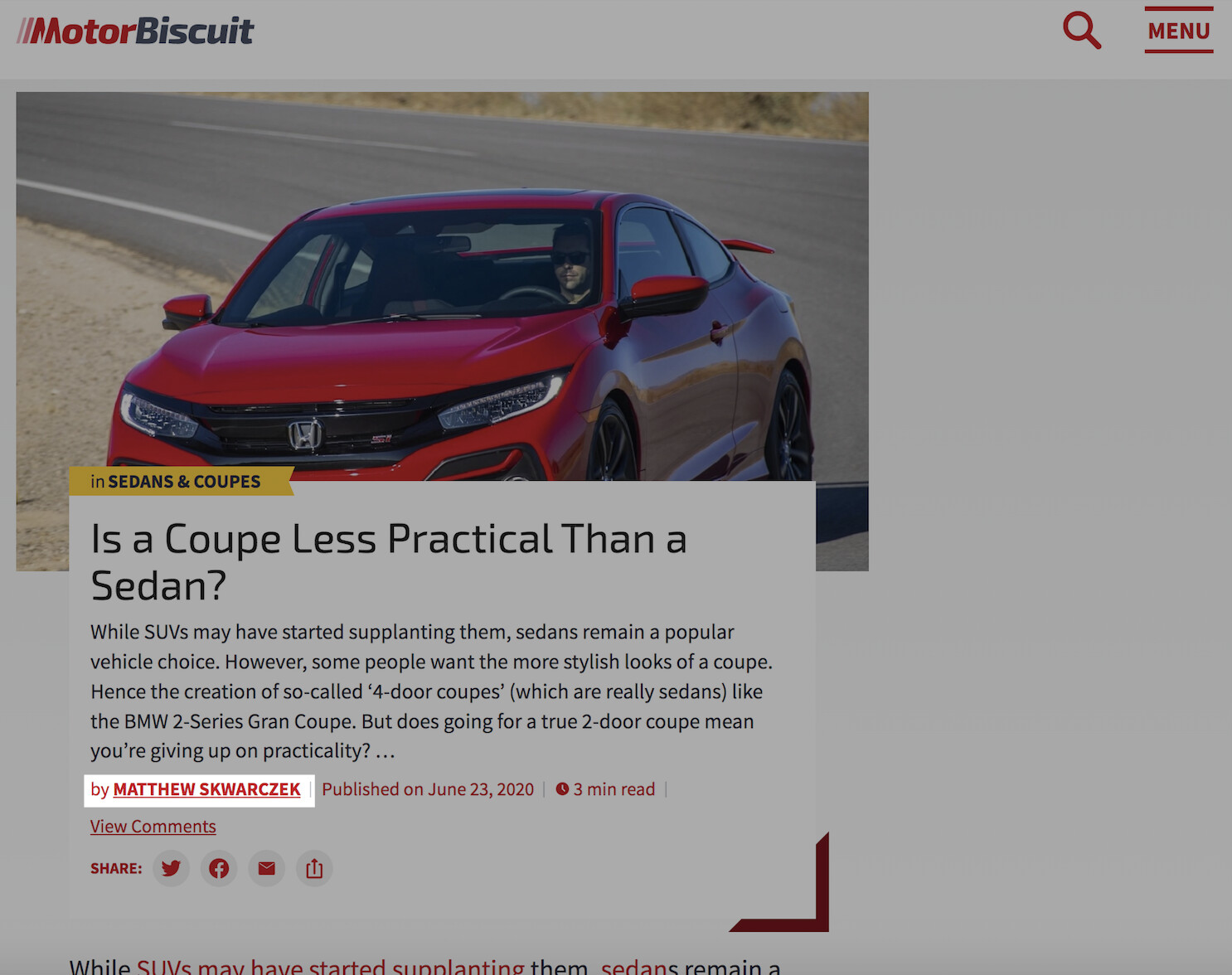 Staff writers often have the motive and power to update links. So they make good contacts for skyscraper link building.
If there's no staff writer, try contacting someone else on the site's editorial team. Generic email addresses like editorial@website.com should be a last resort.
There are various ways to find email addresses. 
FindThatLead is one of the most reliable. And you can try it for free.
Just search a website to find contacts who work there: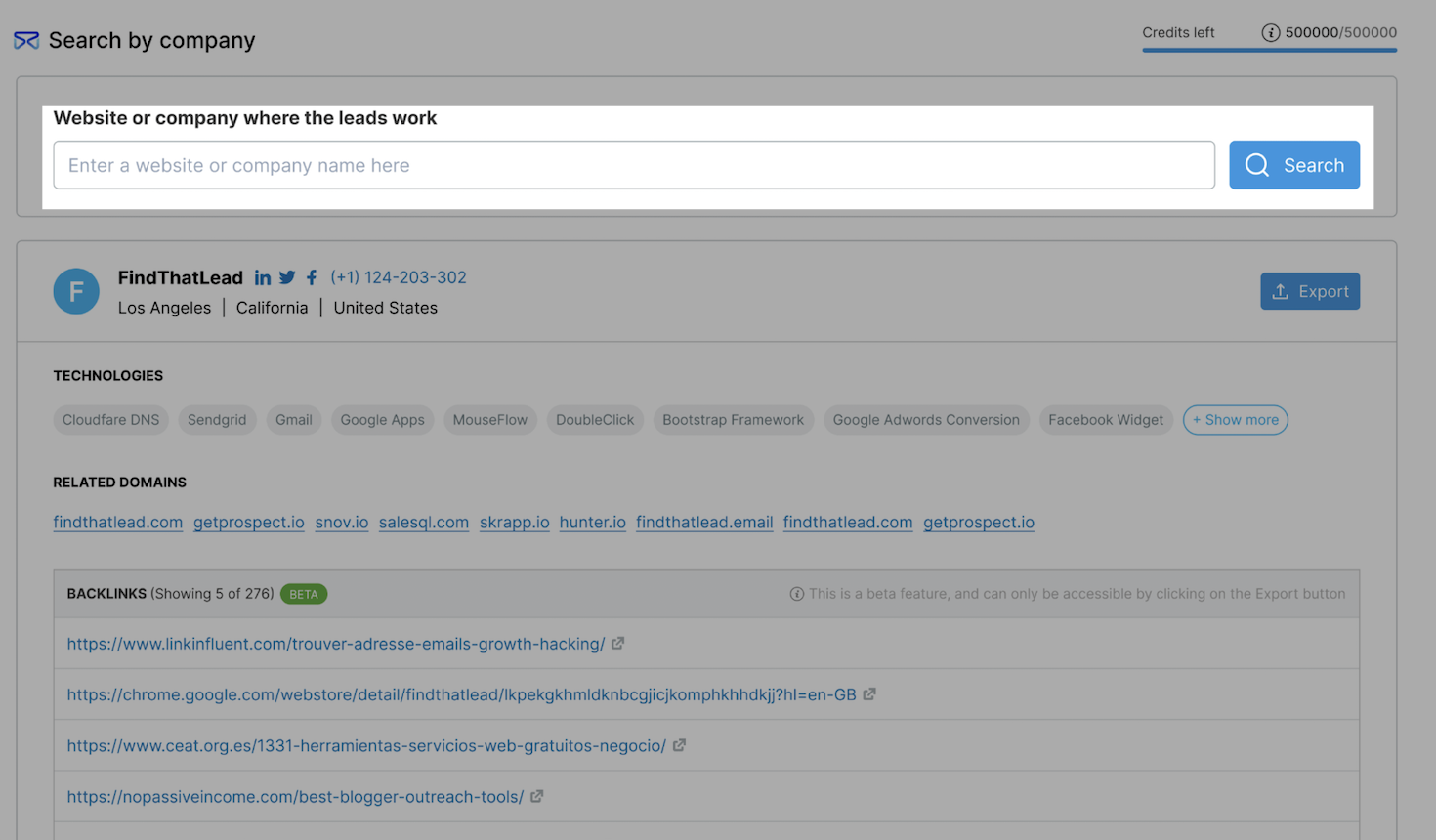 You can email your contacts one by one. Or build a prospect list and send pitches in bulk.
Write and Send Pitches
Next, write your skyscraper email pitch. The goal is convincing the content owner to update their link so it points to your resource instead.
Explain what's in it for them—i.e., how your link will enhance their content.
A friendly, personalized approach helps grab the recipient's attention. And make them more receptive to your proposal.
Here's a skyscraper email example to inspire you:
Subject: Idea for Your Sedan Buying Guide
Hi John,
I found your sedan buying guide and noticed that you referenced CarMax's sedan vs coupe article.
We've just published an in-depth sedan vs coupe guide over at Example Site that could add even more value to your content.
It contains some more up-to-date figures. And an infographic I think your readers will love:
[Infographic here]
If you like it, maybe you'd consider linking to it within your article?
All the best,
Rachel
You can send emails and track your results manually. 
But Semrush's Link Building Tool simplifies the entire process. And makes it easier to scale the SEO skyscraper technique.
After setting up your project and connecting your mailbox, you can:
Import your link building prospects (The tool will give each site a rating to help you prioritize.)
Create outreach emails and templates using placeholders
Send emails to your chosen addresses (The tool also collects contact information automatically.)
Check whether emails have been sent, opened, or replied to at a glance
Monitor the backlinks you earn to ensure they remain active
The tool also finds new link prospects based on your competitors and target keywords. So you can build more links that boost your SEO.
Tip: Skyscraper content can help you earn links on other relevant, reputable websites. Don't stop at inheriting backlinks from competing pages—reach out to other sites that might want to link.