SMB Struggle with Local SEO: Avoid These 5 Common Issues!
Dec 30, 2016
5 min read
On the 4th of September 1998, Google was born. After 18 years, the giant from California has reshaped the way we live and, more specifically, the way we do business.
Although big corporations were quick to identify the commercial opportunities search engines had to offer and have invested millions of pounds in the industry, it seems small business owners have yet to follow the same path.
We are facing a real paradox as 99.3% of all private sectors companies in the UK at the start of 2016 were small or medium-sized, yet only 15% of them actively invested in search engine optimization.
43% of all Google searches are locally driven.
Despite Google reporting that 50% of consumers who conduct a local search on their smartphone visit a store within a day, it's hard to understand why so few small businesses are willing to make the most of what seems like a goldmine.
Here are five common ways small business owners struggle with local SEO efforts and solutions on how to solve them.
#1: What is local SEO?
The problem: A lack of understanding is the number one reason stopping small businesses from investing in SEO.
After working in the web industry for almost 15 years, it's hard for me to imagine that anyone using the internet, and especially anyone running a business, wouldn't be familiar with the concept of search engine optimization (or SEO).
However, following a benchmark study from Experian in 2016, 22% of the top 50 SEMs in the UK still don't know what SEO is - shocking!
The solution: Do your homework first.
When I am trying to get new clients, I zoom in on an industry type (dentists, lawyers, plumbers) and research it in depth paying particular attention to keyword volume, trends as well as competition.
Although not everyone knows what SEO is, everybody uses Google which makes it easy to highlight how important it is to be on the 1st results page for a particular keyword. Using the output of my research allows me to demonstrate the SEO added value and its potential for their business.
The final stage is to show them the various SEO options they can choose from should they decide to hire me.
#2: SEO jargon - What does it mean?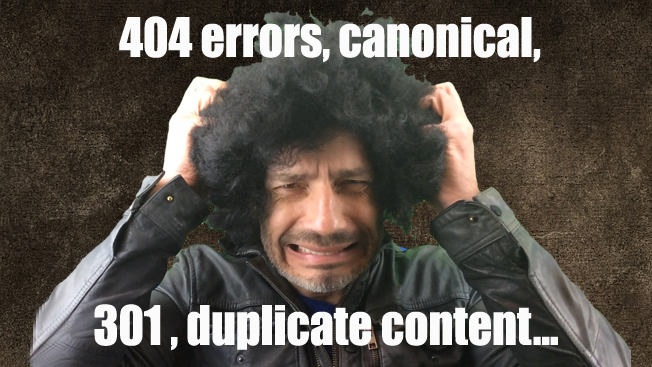 The problem: Have you ever conducted a website audit for a local business and tried to report back to the owner? If you have, I am sure you have come across the same glazed eye looks I have when words such as 404 or 301 came out of your mouth.
For the uninitiated, SEO jargon can be difficult to understand. Using an opaque language could sabotage your efforts at selling your services.
The solution: Easy, don't speak a language only you or your peers will understand.
I don't want to teach anybody how to suck eggs but using vocabulary that your audience can relate to is a much better approach.
My experience has taught me to use a lot of analogies people can understand. I don't talk about 'backlinks', but I call it votes of confidence. I don't say 'canonical', and instead, I say preferred version. The concept of giving your new address to the post office after moving house so you can continue receiving your mail, even when it is sent to the old address, resonates a lot more when trying to explain 301 redirects.
Using this technique also helps to build trust between you and your clients.
#3: Sifting through the SEO spammers
The problem: The SEO industry has been plagued by self-proclaimed search engine gurus and agencies alike who were nothing short of spammers in the quest for a quick buck.
Sadly, this underserved reputation is still very much alive. It is not uncommon for local businesses to be harassed on a daily basis by charlatans promising a number one spot in Google which we all know is unrealistic.
Finding the right professional SEO services for a local business owner is like finding a needle in a haystack; more often than not they will rely on word of mouth before anything else. 
The solution: If you come across someone who is dubious about SEO services, use concrete examples to demonstrate they are mistaken.
If you are a reputable agency or freelancer, and you have been running your SEO business for a while, you should have built a reputation which can be verified through online reviews, case studies and clients' testimonials. And if they're still not convinced tell them they can call some of your existing customers so they can verify for themselves.
All of these should be enough to demonstrate you are a legitimate SEO professional with a proven track record of success and not a spammer. 
#4: Traditional marketing vs. digital marketing tactics
The problem: There is still a big chunk of local business owners who rely on traditional marketing and shy away from anything digital to promote their activity. Although their effectiveness is questionable, local newspaper ads and leaflet droppings are still very popular amongst the "older" generation.These methods have been around long enough to be trusted and can seem a lot more straightforward to implement than launching an SEO campaign. 
The solution: The best way to encourage even the most die-hard traditionalist to embrace SEO is to use the comparison method.
I use a passive versus active comparison technique to highlight the differences between the various marketing methods to cover the following points:
Traditional marketing requires you to wait for your audience to act upon a message. There is no interaction whatsoever.
When it comes to SEO and digital marketing in general, you can engage with an audience through emails, forums, social media, etc. The reach is far wider than any traditional marketing option.
This quick explanation has proven useful to gain new clients. 
#5: No or limited budget
The problem:When comparing traditional marketing costs to SEO costs, the latter may come across as being a lot more expensive.
For someone with a limited budget, investing something like $350/month for a minimum of 3 months is a massive commitment especially when it would cost a fraction of this price to get some leaflets printed at a local printer.
Unfortunately, SEO requires time and patience which both come at a cost. Sadly, most small business owners will choose the cheaper option. 
The solution: The trick here is to make your potential customers change their mindset.
Nine times out of ten, your potential customers will focus on cost and speed of execution. Instead, you must have them focus on ROI and long lasting results is the key.
Using your favorite web analytics tool should help you just do that. Showing some of your existing client's accounts results (making sure you preserve their anonymity of course),should help demonstrate the real value of SEO.
KPIs such as an increase in organic traffic, an increase in email subscriptions or an increase in leads will all contribute to proving that SEO has a better ROI and is better value for money in the long run.
Just like 2015 was finally the "year of mobile," will 2017 be the year of local SEO?
Although many small businesses now understand the importance of creating a Google my business profile, they are still lagging behind when it comes to search engine marketing.
In the meantime, Google has recently made a lot of changes to its local search results. From reducing its snack pack to 3 listings instead of 7 to adding AdWord listings in Google maps and separate its search index making the mobile index its primary one, it is evident Google is paying a lot more attention to an untapped market.
Could these be the signs that 2017 is the year when small business owners finally make the most of local SEO? Tell me your thoughts below! Let's discuss.
Luc Durand
I am passionate about online marketing and more specifically Search Engine Optimisation. In early 2016 I launched my own venture, Ranking Academy, which aims to teach small business owners how to become more visible in local search results.