Social Listening can greatly benefit your business.
You can meet new clients and opinion leaders, create a memorable customer experience, provide some context and manage your brand's reputation online.
Let's see how big brands use Social Listening to achieve their business goals. 
One day, Desi Perkins was shopping online. She found a beautiful coat. Unfortunately, when she was ready to buy it, the coat was out of stock. She was very disappointed. And like any other disappointed person, she went straight to social media and asked with a crying emoji: "Why does @ASOS show this cute stuff on their site when they're sold out?"
This innocent tweet provoked an immediate reaction and got 32 retweets and 771 likes in less than a day.
Desi's case is not unique. People spend a lot of time on social media. They talk to each other. They discuss their problems, they complain about things; they love and they hate. And of course, they discuss their favorite brands, give recommendations and reviews and ask brands questions. And brands ask them questions in return.
The communication between a social audience and a brand is called Social Listening.
So how do big brands use Social Listening?
Find New Clients
Sometimes, people are looking for a specific product and it doesn't really matter what brand it is.
When Desi couldn't buy the coat on one website, her audience immediately recommended at least two other online stores where she could buy a coat of exactly the same design. 
Frequently, people want a specific brand, even if they don't know it!
And, occasionally, customers will even ask you about your competitor's products.
Here's a funny example —
Eric saw some cool boots and asked @Reebok where he could buy them. He didn't notice that the boots were @Adidas, so, apparently he asked one company about their competitor's product, but he got an answer anyway.
If you react quickly to these types of situations, you could win new clients. In Desi's case, Asos reacted in 12 minutes, although, her audience managed to offer the solution even faster.
My point there is that you should react very fast. You have to find mentions quickly and work with them. To do that, you need to monitor your niche, your competitors' mentions and your own brand's mentions.
If you can't solve a client's problem, do not hesitate to recommend your competitors. They can easily recommend you back.
Create a Memorable Customer Experience
Big brands use Social Listening to improve their customer experience, which means that they work with all mentions, both positive and negative.
People usually mention your company when they want to get attention. That mostly happens when they are disappointed with your product. In this case, you have to try and understand what happened in order to solve the problem. Even if there is no problem at all, or especially if a problem can't be solved, you need to apologize for a customer's unpleasant experience.
Don't be afraid of negative mentions. You can always turn a negative experience into a positive one.
Work with Opinion Leaders
Word of mouth is one of the most trustworthy types of advertising because users will always believe a real person's opinion over a company's.
The same thing is true with opinion leaders - audiences trust them. That's why it is essential for a brand to find and work with top influencers.
The easiest way to do that is to sort those who mention your brand or your competitor's brand by the number of followers or total engagement metrics.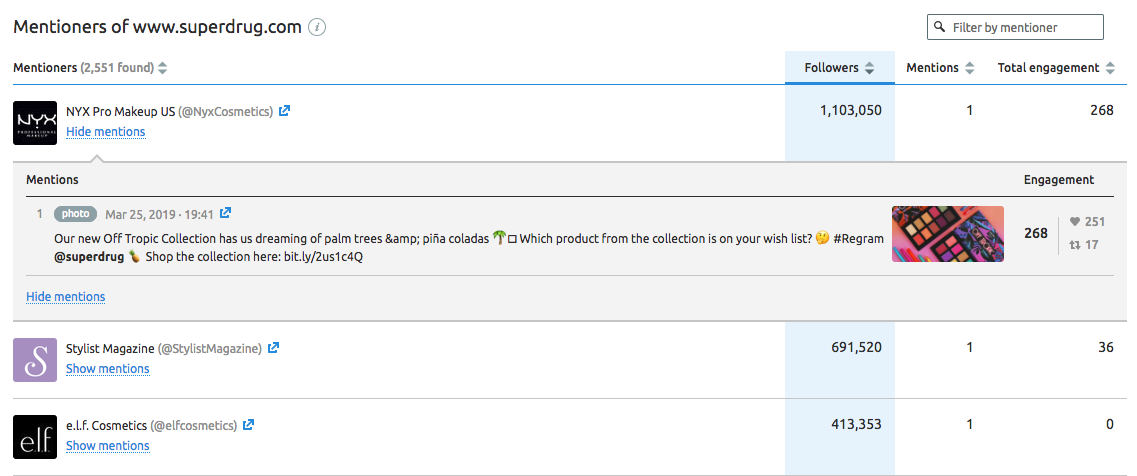 SEMrush Social Media Tracker
Check who mentioned your brand or your competitors' to discover. Follow and collaborate with key influencers in your sphere.
Manage Your Online Reputation
In late February, we witnessed a huge reputation crisis of the Gitlab company, which was caused by an accident. Gitlab's engineer accidentally deleted the company's client's data from the primary database service. Although the situation was really serious, Gitlab managed not to lose its reputation, but to benefit from it. How did they do that?
They simply used Social Listening, which means they talked to their social audience constantly, answered their questions and commented.
And their audience appreciated it. After the problem was solved Gitlab's audience thanked the company, instead of judging it.
Besides commenting on social platforms, you can discover how many times you've been mentioned on blogs and in the media (as pictured below). React to those mentions and use them to develop good relationships with authors of publications.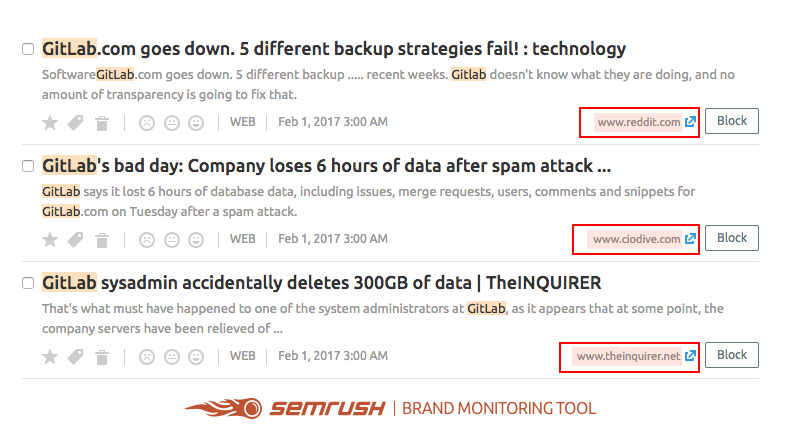 So, to do Social Listening right, you should monitor what is being said about your brand and who says it. Be sure to monitor:
Mentions of your company and your products.

Industry news.

Customers comments that include brand mentions.

Your competitor's activities on social media.
On social media, people mark information with special signs: # and @, which allows you to easily find what you need.
Social Listening is an effective way to get insights and use them to boost your business. So be sure to use your social audience insights to reach your business goals.