Marketers and entrepreneurs need to keep themselves updated with the latest & rapidly changing content marketing trends. To grab customers' attention, it is important that they bring out-of-the-box ideas built upon these latest trends.
The latest content marketing trend on social media is video marketing. Whether you need to publish content on Facebook, Instagram, YouTube, Twitter or Snapchat, the best way to display your content is to share a video.
In recent years, video marketing has taken social media and content marketing to a whole new level.
The following statistics prove it:
YouTube videos get more than 500 billion views each day.
In 2016, about 500 million users were watching Facebook videos each day.
82% of Twitter users watch video content on Twitter.
Snapchat fuels more than 10 billion video views every single day.
As a social media user, you must already know that videos are the best content type to grab attention. So, it is about time you include video in your social media posting schedule and practice it on an ongoing or daily basis.
However, before bringing the video element in your marketing plan, make sure that you have a clear understanding of - which kind of videos work on different social media networks, what is the ideal length, aspect ratio, etc. to create maximum engagement, and so on.
In this blog post, we will answer all these questions, one platform at a time, to help marketers make the most of their social video marketing efforts.
YouTube Videos
With 5 billion videos being watched every day, YouTube is one of the best video marketing platforms for small businesses to gain immense reach with minimum effort. Just create a channel via your official Google (Gmail) account, and you are all set to go. DIY videos, explainer videos, video tutorials, testimonials, behind the scenes, YouTube is an ideal platform to share all sorts of brand-related videos.
Besides that, you can also use it as advertising channels by a) creating video ad clips that run before a video is played, or b) by creating annotation ads that appear as stickers of an in-play video.
Annotation ads on a YouTube video
Keep the Mobile Aspect in Check
Marketers also need be aware of the fact that currently, more than 60% of video watching is happening on mobile devices, and the mobile share is increasing constantly. So, when it comes to YouTube videos, you should be aware of all the tools & techniques at your disposal to create better engagement for mobile viewers. For instance, YouTube recently released features for its mobile app that allows viewers to view videos in portrait mode and adjustable play-screen aspect ratio.
Video Specifications:
Ideal length: up to 5 Mins.
Ideal aspect ratio: 16:9.
Expert recommendations:
Best place for a CTA on a YouTube video is around the 30-second mark.
The most engaged videos on YouTube are nearly 10x longer than the most engaged videos uploaded to Facebook.
When creating YouTube ads before playback, try to keep them short & highly engaging.
Facebook Videos
Think about the last time you logged into Facebook... What was the frequency of video content that you saw in your news feed? Quite a bit, right!
Facebook has been putting emphasis on video content in their news feed for some time, and also
encouraging marketers to produce more of it so they naturally get more organic reach.
Brands can create video content according to the product/service they are selling and keeping mind the audience they are catering to. Videos such as funny video, DIY tips, unboxing videos, product promotion video, etc., videos content usually gather a lot of views, shares, likes, and comments. It is very important that brand interacts with the user on the video by replying to their comments to boost engagement.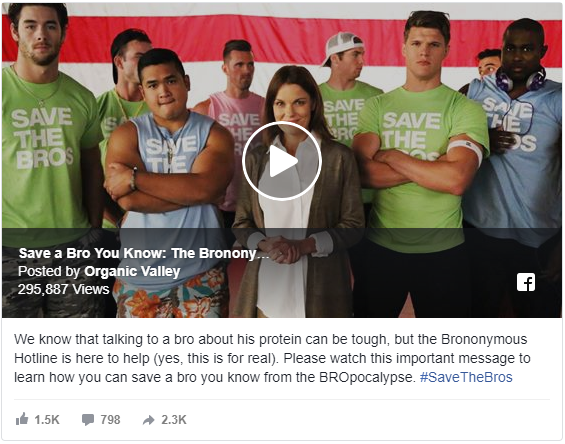 Organic Valley- Save a Bro You Know campaign video
Don't Forget Facebook Live
Live videos allow brands to make videos in real time. The whole point of creating video is branding. When you plan to create a live video, you need to plan it with a lot of strategies and also keep in mind the time when the maximum of your audience is online. Live streaming helps in dropping the corporate veil, connect human-human. Behind the scenes, events, etc., are a perfect type of video content; let the audience get to know you. Be open to experimenting and improvising.
Video Specifications:
Ideal length: 1 min.
Ideal aspect ratio: All standard widescreen aspect ratios.
Expert Recommendations:
Make the first 3 seconds count.
Use a compelling caption for Facebook Live to attract more viewers.
Remember that 85% of Facebook videos are watched without sound (due to default setting), so make sure your Facebook video has self-explanatory visuals.
Instagram Videos
Instagram currently has more than 700 million active users. Recognizing the marketing potential of the platform, many brands are already heavily active on Instagram. 
In 2015, IconoSquare conducted a study that revealed that about 70% IG users (Instagram users) have already searched for their favorite brand on the platform whereas 62% follow a brand because they like it. So, it is safe to say that Instagrammers are mostly shoppers.
The magic spell for Instagram is to post right type of videos. If you get that part right, consumers will easily soak up without any hard sales pitch. So, just focus on just showcasing your product in a creative way, sales will follow. Besides sharing videos, you can also create video ads, which appear amid Instagram organic feed and have quite a good view-rate. For these reasons, Instagram is an effective social media marketing channel for SMEs.
Use Stories for Higher Engagement
Stories - the temporary 10-second pictures/video clips placed at the top of Instagram feeds have proven to be a very effective marketing tool in past few months. Their short life creates a sense of urgency among the audience, which if a brand uses correctly can gain a lot of popularity & business. The best use of stories is for offering something exclusive, taking your audience behind the scenes, showcasing the product in action, a countdown to a launch or event, or even to ask an influencer to take over.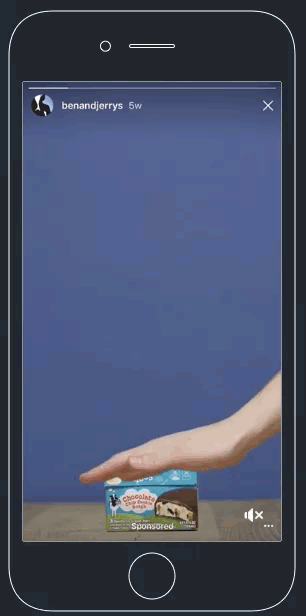 Video Specifications:
Ideal length: 30 seconds to 1 min (10 seconds for stories).
Aspect Ratio: Widescreen & 1:1 (portrait mode for stories).
Experts recommendation:
Optimize caption with Hashtags. Adding one hashtag in the caption results in 12% more engagement. Alternatively, you can also use hashtags in comments.
Go creative; use a third-party tool such as Boomerang, Layout, etc. for Instagram captures, and don't shy away from using filters.
Snapchat Videos 
Since its inception, Snapchat has brought many features that have given rise to innovative social media trends that are changing the digital marketing dynamics. Being a real-time social media marketing platform, Snapchat provides users direct access to live events.
Snapchat users are driven by the so-called FOMO effect (Fear of missing out), which is why there are more than 173 million daily active users. Brands and marketers are using this platform to its full potential.
There are a lot of ways to use Snapchat for marketing. All of its innovative features such as filters, text, emojis, bitmojis, geofilters, etc., bring a fun twist in the marketing and help create better engagement.
Brands can use Snapchat to record videos of launches, events, trade shows, and musical events. Brands can also showcase some private or behind the scene content which will provide something unique to Snapchat followers.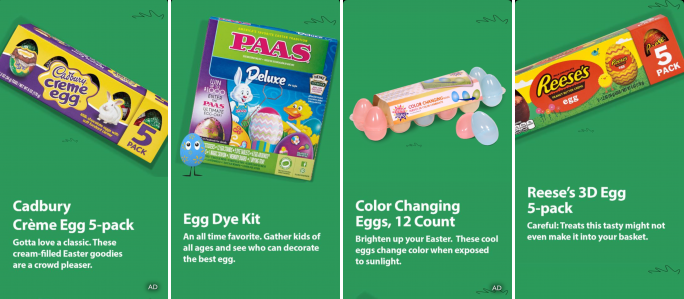 WalMart promoted its Easter festive treat through Snapchat (snapshots from a Snap clip).
Video Specifications:
Ideal length: 10 seconds (though you can record & post back to back videos).
Aspect ratio: 18:9 (but preferably vertical).
Experts recommend:
Make the 1st Snap video count. It has been found that 22% of viewers drop off after losing interest from the first snap.
It is advised to record videos in the vertical format, as it won't require users to tilt their devices to
enjoy the content you share.
Twitter Videos
As we all know, Twitter is more of a news-based social networking platform. And for that reason, it naturally becomes a good platform for sharing videos.
According to a recent Twitter report, native Twitter videos drive more engagement than third-party videos shared on Twitter; figuratively, 2.5X replies, 2.8X retweets, and 1.9X favorites. Most people visit Twitter to stay updated with current trends & information and prefer video format for that.
Twitter videos can be best used to release a teaser, announcement of events, advertisements, respond to reviews, promotions, education, sharing user-generated content, and so on. As nothing gets scrolled past faster than a tweet-feed; it is important for brands to create eye-catching & highly engaging video content.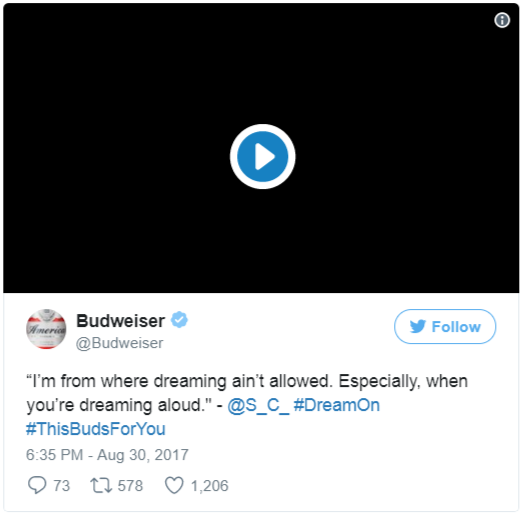 Embedded Camera in Twitter App?
Given the extent of Twitter being used for sharing videos (such as of events, product reviews, live news, etc.), it is about time that its mobile app starts offering an in-app camera to enhance the user experience & to further accelerate the growth of video content.
Video Specifications:
Ideal length: 30 seconds to 1 minute (though by default Twitter allows a max. video length of 2 minutes 20 seconds).
Aspect ratio: 2.39:1.
Experts recommend:
About 90% of Twitter videos are watched on mobile, to make sure that you adopt a mobile-first approach.
Since users primarily go on Twitter for gathering information, your videos should be focused on branding, not promotion.
Let's Wrap It Up
The entire post sums up to the point that video marketing is the best way to create engagement on social media in current dynamics. As a marketing tool, social media videos will continue to evolve, and marketers will play the critical part in shaping its future. So, it is the call of the hour that marketers go creative with social media videos with the help various video marketing tools, do a lot of experimentation & give rise to new innovative trends.