Google algorithms play a key role in how your website ranks in Google's SERPs. The search engine has a very complex algorithm for serving its search results, and the algorithms change on a regular basis, which ensures that its users are offered the most relevant search results. For site owners, this means that they need to keep their eyes open for new trends and environmental changes that happen on the search landscape. So, we dedicated our latest SEMrush Chat to tactics for staying up to date with Google's algorithm updates. To begin with, we discussed some of these changes that have a significant impact on the SEO industry:
Q1: Google is constantly updating its algo. What major or minor changes have affected you/your clients' sites the most?
Quality Filters: Aggressive Advertising
Google is constantly strengthening its efforts to provide more accurate and reliable sources in the SERPs. On May 17, 2017, the SEO community began to notice signs of a major Google algorithm update. Glenn Gabe shared his observations explaining that many websites that were impacted had some quality problems, including issues related to poor user experience, aggressive advertising, and low-quality content.
As Google tries to make users, including your site visitors, happy, site owners need to adhere to the best practices and get themselves familiarized with Search Quality Evaluator Guidelines. You should analyze your site objectively from a user experience standpoint and make sure to eliminate aggressive advertising. If you don't respect your users, Google may take it into account.
Quality Filters: Low-Quality Content
A large number of companies are embracing content marketing today, but many of them are still missing the point by producing content that is solely focused on sales. If your content is too "sales-y", you may see your site dropping in rankings, since Google's core updates are focused on quality.
Penguin 4.0 Update
In September 2016, Google announced its Penguin 4.0 update and it came as a welcome relief to many SEO specialists. It included two major changes:
Penguin refreshes in real-time. Site penalties are now incurred whenever the search engine bots crawl and reindex your page. What's more, you don't have to wait forever for a penalty to be lifted.

Penguin update is more granular. This means that Google now penalizes only your individual pages, as opposed to your entire site.
Local Algorithm Update
Joy Hawkins reported on the "Hawk" algorithm update, which was Google's latest local algorithm update, happened on August 22. Basically, Google filtered out listings from the local results that were similar to other listings and picked the most relevant results. In September 2016, the algorithm update that local SEO experts dubbed "Possum" changed the way that the filters worked and Google started filtering out listings that were physically located near each other.
Google has also refined the proximity filter to make it stricter. According to Joy Hawkins, it still filters out businesses that are located in the same building. However, it doesn't filter out as many businesses that are close by.
Some of our chat guests also believe that figuring out whether or not the algorithm updates impact your site is a difficult task.
"With so many changes to the SERPs design as well getting your head around what's new and why has been challenging!" agreed Simon Cox - @simoncox.
Did you notice any ranking changes in Google for your or your client's site? Share your cases in the comments!
Q2: When you already get to the first page, what ranking signals matter to climb even higher?
You probably already know that Google's ranking algorithm is made up of over 200 signals. While I won't go and list all of them, our chat participants named top ranking signals that come into play, when you are already on the first page of Google's SERPs and want to get higher:
1. CTR and Dwell Time
The results of Searchmetrics' study show that click-through rate has the highest correlation with rankings out of all of the other signals examined. Pages that are clicked more often may get a SERP boost for a particular keyword which means that you need to think about how to make your snippets more click-worthy.
As for dwell time, Google pays careful attention to how long users spend on your page, and when they find it organically, i.e., coming from Google search. If they spend a lot of time on your site, it may be used as a quality signal.
2. User Experience
There have been some debates about whether or not UX can be viewed as a ranking factor. The truth is, Google is collecting and processing user behavior data, including elements like CTR, time, duration, etc., which points out the importance of optimizing your site's user experience. Search visibility depends on how search engines view and interpret UX. That is why you need to make sure that your site matches Google's best practices, in terms of UX.
3. Schema Markup
Schema is recognized by Google and other search engines and is used to label the information on your web page. By adding it to your HTML, you can improve the way your page is displayed in the SERPs and enhance the rich snippets that are shown right beneath the page title. You can markup all kinds of content types, including articles, recipes, products, local businesses, events, and reviews to name a few. "Smarter" search results with extensive rich snippets tend to have a better CTR and can give you a boost in search rankings.
4. Content That Is Optimized for User Intent
Today's SEO is all about user intent. Instead of focusing solely on keywords, you need to pay attention to the intent and needs of your audience. Keyword research continues to be a key element of any SEO strategy. However, SEO specialists should review the way they perform the research and implement keywords.
If you identify the intent of your audience, you can focus your content on it, making it more relevant to your readers. As a result, you can increase your chances of improving your site's performance and positions in SERPs.
5. Backlink Quality
Links remain the strongest authority signal to Google, but only if they are from a number of diverse and trusted domains. When building a solid backlink campaign, you need to create relevant, high-quality content and promote it strategically, so that other industry authorities will read and link to it. Google views those links as a vote of confidence that someone trusts and values your content.
6. Online Reviews
According to a survey conducted by BrightLocal, 84% of users trust online reviews as much as personal recommendations. From a customer perspective, online reviews can influence their purchasing decision. When it comes to search, Google pays attention to customer feedback, because users pay attention to it. That is why reviews on authority review sites, like Yelp and Foursquare, play a pivotal role, in terms of local SEO.
Even though there are more ranking factors that Google uses in its algorithm, SEO is about getting your priorities right. Make sure to focus on the above-mentioned factors in order to get ahead of your rivals in the SERPs.
Q3: Which tools do you use to track Google's volatility and what features you specifically seek for in those?
Google's SERPs are constantly changing as the search engine continues to experiment with its algorithms. However, this doesn't mean that you should stick to the SERPs and manually check for these changes yourself. Here is a list of algorithm tracking tools that can do all that hard work for you:
SEMrush Sensor. This tool keeps track of volatility in search results, monitoring over 20 categories on both desktop and mobile and showing possible Google updates.

A3: Really like SEMrush sensor for the industry split. Also: google grump,awr,rank ranger,mozcast,serpmetrics #semrushchat

— Kevin_Indig (@Kevin_Indig) September 27, 2017

Google Analytics and Google Search Console. To start, you can keep a close eye on your own data from the tools that Google itself provides.
AccuRanker. The "Grump" Rating by AccuRanker points out unrest in Google's algorithm. You can choose between different search engine locations and the device type, i.e., desktop and mobile. The grumpier the mood, the higher the fluctuations in rankings.
Algoroo. This tracking tool points out any changes and updates that took place in the previous month. It monitors about 17,000 keywords to 100 search positions on the SERPs and calculates the data to find fluctuations and patterns. Its flux metric called "roo" indicates whether or not there's been any volatility in the search rankings.
Simon Cox - @simoncox also recommended keeping your eyes open for social media buzz, as you can get wealth of information in social media and forums: "Twitter. When something big happens there is a lot of talk! Otherwise, I am too busy to check the set weather charts."
Do you know of any other tracking tools that allow you to stay up to date with changes in the Google search results? Make sure to share them in the comments!
Q4: Mobile SERPs: how has the traffic from mobile to your site been affected by all the changes Google is rolling out?
In today's mobile-first world, Google continues to experiment with the format of mobile search result pages. The idea behind the mobile-first concept is that traffic is moving to mobile devices from desktop. 
Google has rolled out several changes to the mobile SERP in 2017. Our chat guests shared some of their observations on how these updates affected their traffic from mobile.
AMP Update. The AMP project, a Google-backed technology that speeds up the loading time for mobile pages, can serve as an opportunity to increase page speed and benefit SEO. Many publishers were surprised by Google AMP traffic, such as The Guardian, whose experience showed that 60% of its Google mobile traffic is AMP.
Four paid ads. In June 2016, Google started showing four paid search ads above organic search results on mobile, as compared to the previous three ads. Some SEO specialists express concerns that since ads are taking up more organic property and pushing organic results further down the page, CTR for organic search listing can decrease.
When it comes to mobile SEO, there are several possible approaches to make mobile optimization your competitive advantage:
Responsive web design. This responds to the needs of users and the devices they are using; it means that the layout is based on the screen size and platform. It is not a new concept, but, we still see some websites that are technically responsive, but don't provide a great mobile experience. The reason is that responsive design is just one of the many other elements of a mobile-friendly website.

Clear content. One of the key ingredients of a great mobile user experience is having clear, focused content. When it comes to mobile, minimalism is a good choice, as people on mobile devices are usually in a rush state. Make sure that each of your pages has one central focus and your content is scannable. 
Page speed. Page speed is especially important for mobile users. AMP has been designed to allow the slow and frustrating mobile web to load instantly anywhere; you may want to consider implementing it onto your site.
Q5: SEO + CRO: do you think that user behavior can affect your positions in organic search?
SEO has changed a lot over the last decade. Today, if you want to stay at the top of the search engine rankings and increase the visibility of your brand, you need to better understand your users. Our chat guests agreed that user behavior data has an impact on your positions in rankings. Here are a few answers:
Previously, SEO specialists and site owners only had to consider how Google interacted with their web pages. These days, you need to also consider how your users are interacting in there as well.
First, you need to get more searchers to click on your links by making your listings as attractive and relevant to your key audience.

Second, encourage your site visitors to stay on your site longer. Make sure your web pages provide what people are looking for, offer further reading, other sources, and links on your site that may interest people.
As Google and other search engines evolve, it is obvious that they will pay more attention to how people use search and interact with search results.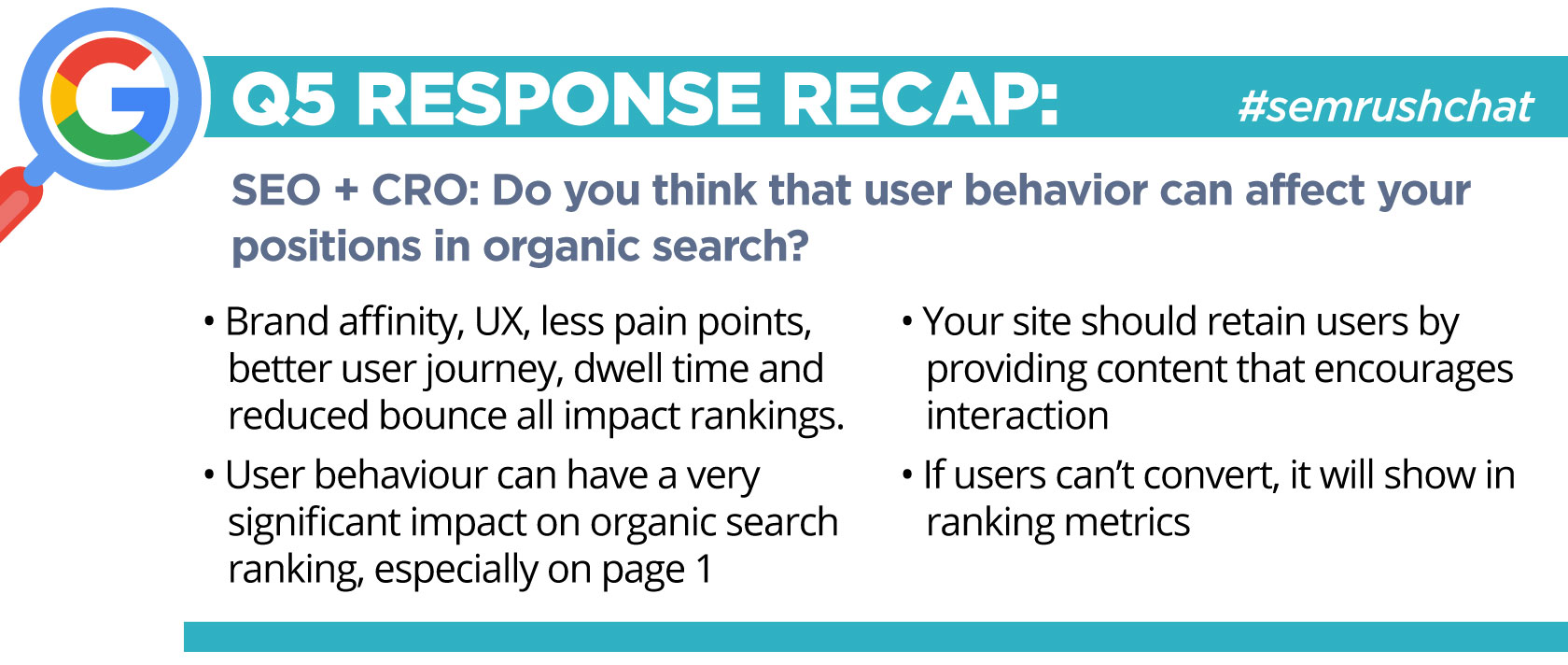 Hopefully, the tips from this recap will help you keep up with all major Google's algorithm updates. Many thanks to our chat guests for making this conversation interesting and productive!
Make sure to check out our Google News Digest for all the latest developments in the world of Google and don't forget to catch our next chat with Patrick Stox this Wednesday!