If you crave Google's attention — and have done your homework — you know the search giant loves an established author.
Google appreciates a considerably decent Author Rank. In fact, Matt Cutts recently tweeted and also confirmed at the Search Marketing Expo that Google is considering how good of an author you are.
However, in competing with other people who are trying to woo Google, this concept has not received its due attention. In this two-part guide, I will show you what it takes to be an author Google loves.
A Simple Formula for Getting Better Results
Google is impressed by good authors and gives them priority in their results over other pages with good PR but no Author Rank.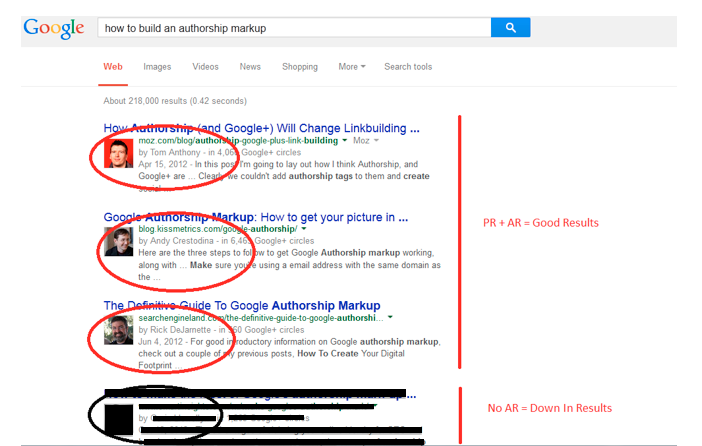 Establishing yourself as a good author in Google's eyes is the next big step. Google is on an inexhaustible mission to provide high-quality and credible content to their searchers. A systematic approach can help you win over Google and make the search engine love you with continuous efforts.
Target your niche
Even in Google's world, where innumerable pages are indexed, there is still a great opportunity for unique content that is strictly based on a niche.
Google loves those who know themselves and know their industry. It is vital to establish your credibility in your own niche for Google to start liking you. Here are some ways you can do that in your content:
Generate curiosity: Continue to learn and share your finding with your readers. 
Establish thought leadership: It is important to make the best use of data and other resources, and help your niche-related readers with the same.
Interest toward others: Leaders build trust when they show genuine interest in their audience. Thought leaders ask questions to their prospects, and conduct polls and surveys.
"Know How" section on your website: It is a good practice to provide some useful information on topics related to your niche. For instance, say you have a website that sells hydroponics seeds. Why not include some information in the "Know How" section on the best ways to ensure you get a good crop?
Find content holes: Filling a content hole drives measurable results. Ask yourself what kind of deep insights your audience might be seeking. Think of ways in which you could be more relevant to their needs.
Implement Google Authorship Markup: You guessed it right! This is the method that brings up your picture on Google's search results. It has been observed that the click-through-rate has risen considerably with the help of this rich snippet.
1. Verify your email address on G+: To let Google know you're legit, make sure you use the same email as the blog domain.
2. Link your G+ profile to the content: If there is a bio page, link to the bio; if the bio page is not there, directly link to the post.
3. Link to your content from the G+ profile:
+ From the author bio section link to your G+ profile
+ If there is an author bio on the site, link with rel=me
+ If there is no author bio, link with rel=author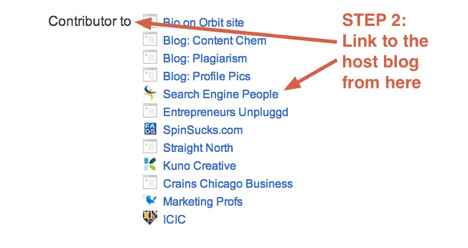 These basic insutructions given by Google, if applied, could yield magical results and establish you as a good author with compelling posts. Each time a user enters relevant keywords, Google will point to you as a good author in that particular space.
Apply snippets
Just like Authorship Markup, various snippets help you rank. Google Authorship, for example, is a form of rich snippets.
Snippets are the microdata attached to your search results that appear as a few lines of text that turn up below the search result. Snippets can be handy when:
As mentioned earlier, you want your picture to appear with the results
You have an awesome video and you want it to appear along the results
You want to add a short description about your brand, products or services
You want to add reviews to your blog posts, products or services
You want to categorize each and every section on your website. For instance, Contact Us, About Us, Our Products, Our Mission — all of this information could be viewed individually and take someone directly to that page with the help of a snippet.
Get Social
Google loves users who socialize a lot. It means meeting up with people who are like you and are relevant to you.
One way to get Google fluttering their eyelashes at you is to establish yourself in the minds of customers as a serious brand. It is possible to cement the brand's success as an authority with social media and press releases.
To do this, you will once again need to prove that you are a good author and that you really strive to get quality information out to your audience. These 7 steps will help you.
1. Target Potential customers: Find potential customers on social media. Companies who know this are better at their marketing efforts.
For Facebook, you can create an ad in the "Create an ad" section. By defining your target audience, you will get an estimated number of Facebook users.
2. Build a great network: Surround yourself with the best, most active and influential followers.
3. Craft unique social media content: Set yourself apart from your competitors with unique and compelling content.
4. Images, graphics and videos are the way to go: Interactive posts really help engage your audience.
5. Create as much as you can: Content marketing can be effective only if it is taken up seriously. Connect with your brand with frequent posts.
6. Increase user engagement: Quality content is the base for the number of likes, shares, tweets and comments that you receive. Make sure your audience is compelled to do the same.
7. Become an author liked by all: Establish an authority with your frequent, helpful posts. Invite influential names to go through your posts and provide insights. Google loves those who are in the company of good people and liked as an author by all.
Determine the audience persona
How could we not mention something that is a valued asset to all authors? Personas. The purpose here is to create reliable and realistic representations of the key audience. It is based on qualitative and quantitative research.
Benefits:
Personas help content developers focus on decisions surrounding the components of the content by adding a real world layer.
Copywriters are sure they are writing the content for a particular segment of the audience.
This particular effort will help establish a quick rapport with the targeted audience, making you (the author) liked by a particular segment and eventually by Google.
Steps for developing personas:
Conduct audience research: Who are your users and why would they read your content? What behavior and assumptions are expected when they read your content?
Condense the research: Look for certain characteristics that are relevant, specific and universal to the purpose of your content marketing efforts.
Brainstorm: Organize the elements into different personal groups that would represent your target users. Name the group.
Refine the personas: Separate the rough personas into primary and secondary categories. You should have atleast 3-5 personas and their defined categories.
Make the personas realistic: Develop proper descriptions of each persona background and what motivates them. Be relevant and straight to the point.
Be creative: In order to impress someone, you need to be creative. Think from Google's perspective. Here are some distinct considerations of a successful, creative author whom the audience likes:

Discover: It is essential to know what the audience needs. Discover the needs of your customers in terms of what is the information they are looking for.
Consumption: Make the content consumable by the audience. Big brands have always made sure their content effectively resonates with their audience.
Variation: There is more for an author than mere writing. All data that has been researched could be incorporated into various other forms such as infographics, videos, how-to-guides, presentations, whitepapers and more. Just as in writing, the author's team has to be creative and surpass all the standards with various forms.
Action: The end result of all content marketing campaigns is propelling the audience to take action. Successful companies are able to inspire their audience to take action that effectively converts social fans and prospects into buyers.
Stay tuned for Part 2 tomorrow!