You're already using SEMRush to find new keywords and analyze your competitors' digital marketing. Below I'll review 5 simple ways that you can keep your Google Adwords Campaigns account running more efficiently to help you reach your goals.
Problem: You have a high volume of mobile placements and clicks with low or no conversions
Solution: Limit mobile placements to specific campaigns using a simple exclusion rule
According to Google, mobile searches surpassed desktop on the search engine earlier this year. However, that doesn't mean that you should bid on both mobile and desktop search in the same campaign.If not properly managed campaigns on Google's Display Network (GND) can skew significantly towards placements in mobile apps.
You can block any type of mobile placement from appearing in your GDN-target campaigns by adding the website "adsenseformobile.com" to a shared negative list and apply to all of your campaigns.
Mobile must be part of your overall digital marketing strategy, however if you want to avoid spending your marketing budget on unnecessary clicks, ensure your ads don't show on mobile by default.
Problem: Your automatic placements have started to drive non-converting traffic
Solution: Regularly review your placement report to exclude websites and URLs 
Automatic placements are a great way to find sites that are relevant to your industry through contextual keyword-based targeting. If not properly monitored, automatic placements have the ability to drive lots of irrelevant traffic from placements that are not even close to your intended targets who don't convert.
To address this, you can run a regular report in Display Network tab > Placements > See Details > All to get a list of campaign performance by URL and easily remove those that aren't working for you.
Once your report populates, check numerous placements and exclude or add as a managed placement if it is converting well for you.
Problem: The "Targeting Optimization" on your display campaigns isn't driving conversions
Solution: Turn off this feature and run campaigns with the exact targeting options you've selected. 
Google offers powerful targeting options towards segments based around criteria such as keywords, placements, topics, demographics and custom remarketing lists. In addition, Adwords users who are similar to those users you are currently targeting with "Targeting Optimization" have "conservative" and "aggressive" options.
However, the challenge that many advertisers face is that this setting is applied by default when any type of new display campaign is created, including remarketing campaigns.
What does this mean? Unless you know where you're looking when you create a new campaign you might miss this and spend a lot of money on unwanted clicks as Adwords tries to find new customers at your existing CPA.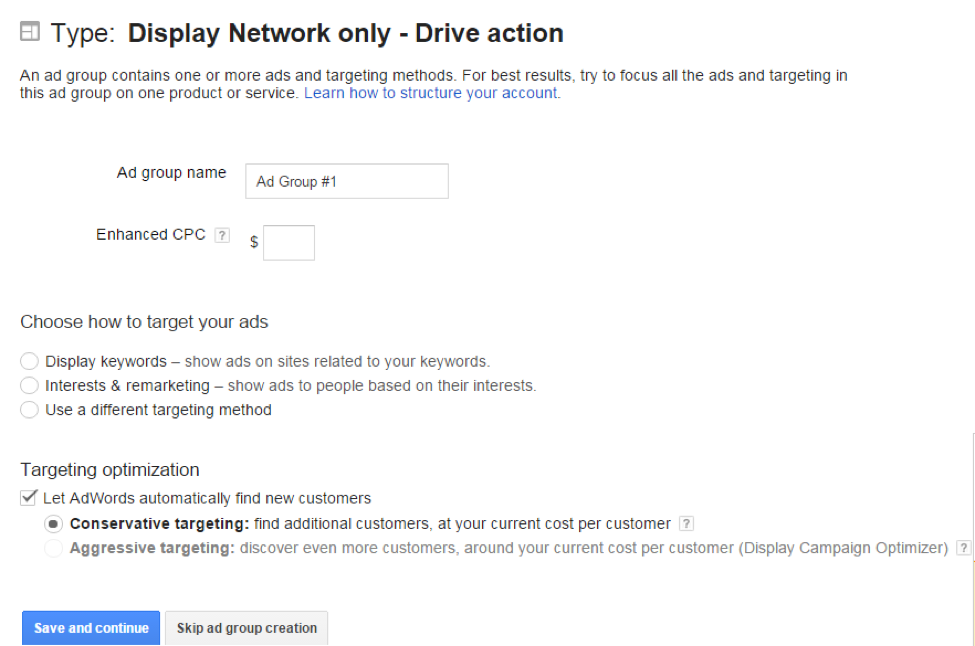 So how can you check and fix this if you already have a campaign set up and running?
Simply navigate to the Display Network Tab > Interests & Remarketing and then press the "+ Targeting" button.Once you've found the option, make sure that all options are unchecked.

Problem: You're getting lots of clicks from search terms that are close, but not related to your business.
Solution: Use negative keywords to exclude search terms 
There was an estimated 1 trillion searches on Google last year. Even if you're careful with your keywords, match types and negative lists, there's still the possibility of unrelated terms sneaking into your paid search campaigns.
To combat this you can find some already-curated lists of negative keywords with terms that are unlikely to be something you'd like to bid on including topics such as employment, education and review queries.
Once you've done your research you can apply bulk lists of irrelevant terms to your account from the Campaign Negative Keywords area within the Shared Library. From here you can add and maintain separate lists of keywords (including match type) and then apply to entire campaigns.
Problem: Your campaigns aren't getting the results you're looking for even though your keywords relate to your business. 
Solution: Use the Search Query Report regularly to find new converting terms and exclude high-spending, low converting terms. 
When you find something that isn't working for your campaign anymore, there's no point to bid on it anymore. Don't let your campaigns keep running with terms that aren't helping you meet your goals. Depending on what match type and the granularity of your keywords, it is possible that many auctions you enter include terms that are not directly related to your business. Even for campaigns utilizing exact match type, Google has started to include "closely related" search terms earlier this year.
You can use the Search Query Report and ad group, campaign and shared negative lists to control what terms you won't show your ads for and save money. For those of you using phrases, broad-match modified and broad terms, the search query report can save you hundreds or even thousands of dollars per month.
The SQR is in the keywords tab. Once you've filtered by campaign, ad group or a custom filter you can click on Details > Search Terms > Selected or All. Once the list populates you can review and add any keyword as a negative on the ad group, campaign or list level. Changes are applied immediately and are edited in the Shared Library negative list referred to earlier.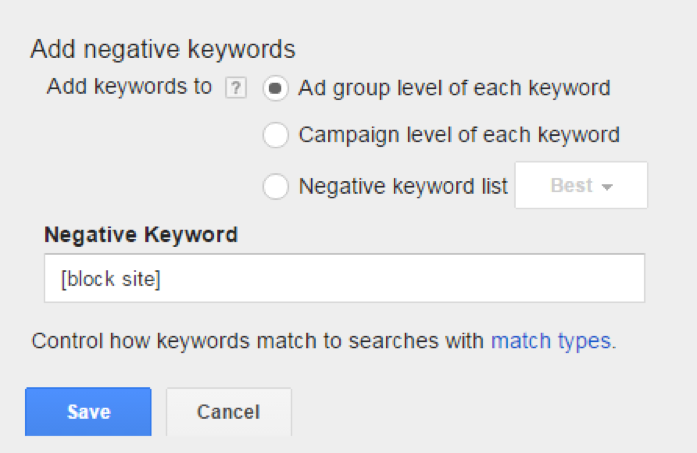 Have you made any of these mistakes with your Google ad campaigns? Share your experiences the comments below!