Storytelling in marketing has a wide variety of forms. This multiformity complicates the definition of what brand storytelling is and how it works. Basically, it is an umbrella term for every brand's media practice that is featured as a story. Sequenced ads, video about the brand offline presence, influencer's post about using a brand product, set of photos for a tweet - are the examples of marketing narrative. I wouldn't define it as a technique because of a wide range of its appearances. It's rather a style of a marketing message, the core of which is extending and sequencing of ad posts so they could shape a story to tell.
For the past couple of years, social media has been adjusting their functionality to push a story-like marketing. Let's see how your competitors use Facebook, Instagram, Twitter, SnapChat and other platforms in 2017 to keep users following the plot.
#1. Sequence Your Ads to Shape a Story
Paradoxically, ads' sequencing is a quite obvious technique, but for most brands is still a vague idea to try. The core trick here is to post your ads not randomly, but according to a particular scenario. The goal is to stepwise turn your readers into customers, so your ad plot becomes a variation of a funnel, the bottom of which contains a CTA button. The classic example is Refinery29.

Source: https://www.facebook.com/business/news/value-of-storytelling-on-facebook
The scheme is the following:
1. In the first post, you introduce your brand and its lifestyle niche. At this stage, you are not only presenting your product but give it a context that helps the targeted audience to associate with your brand.
2. The next step is presenting your product. This post aims to show what you can particularly offer to your audience. How you work for the lifestyle and values you've presented before. It can have a form of a products' page with a clear and stylish description of items. The visual side of the page is critical here.
At this step, you can strengthen your game plan by using ad carousel. It gives a fuller impression of the product since each picture adds new details to an item description. Besides, here you can work with original design decisions. For instance, Primary.com put the shorts in the rainbow-like order, which also shapes a kind of a plot with a development and a final point. To learn more about carousels read the comprehensive Facebook guide on the topic.

Source: http://www.elirose.com/2017/05/best-facebook-carousel-ad-design/
3. At the final stage, tell your audience what to do next. In other words, place a clear CTA that plays the happy-ending role in the whole story. The button should encourage users to participate and make their move: sign up, shop or go to the webpage to learn more.
This year ads' sequencing gains its momentum. The tools for social media storytelling prove the point. For example, the Flighting feature helps to organize sequencing according to the type of storytelling strategy you opt for.
The described 3-steps scheme represents the funnel-based storytelling. Yet, it's not the only way to tell a story on social media pages. 
#2. Try New Social Media Features
Social media platforms picked up the wave. For the past couple of years, the largest of them have released multiple proper tools for creating the story-shaped content. Put it in short, social media features answer to the storytelling trends and you should keep pace as well.
 1. Play with Carousels
A carousel has gone far beyond the frames of the Facebook ads. It can be used not only in a structure of sequenced marketing messages but can also shape a story itself. For instance, in Instagram.

This beautiful example from Airbnb Instagram is also a carousel. Yet, unlike the previous carousel sample, it doesn't contain an advertising information, at least directly. The post shows the uniqueness of the experience that company can offer. This carousel accompanies the text to give the story more voluminous appearance. It is an example of the storytelling for the long run when you work not for the sake of quick results but for the support of the brand otherness.
2. Tell Instagram Stories
The SnapChat-like feature was released less than a year ago, and it almost immediately won users' hearts.
With this feature you can:
Tell about one day from your company's life
Announce upcoming events (sale, new collection, new release, etc.)
Give instructions and set algorithms of using some of your products
Tell more about your products, showing it in details and in action
Set the feedbacks. With the stories, it's quite easy to encourage users to leave comments or advice
Joke and talk to your audience in more informal and casual manner
 One of the most splendid corporate Instagram accounts belongs to NASA. Look and learn.
 3. Go Live on Facebook
Facebook Live is also a great tool for storytelling. Besides, it can be smartly combined with other instruments. For example, if you want to drive a larger audience to your Live broadcast, you can notify people through the Instagram Stories. For this, write a brief and intriguing teaser to announce your Live video event and place a short URL in your Insta post. Check out how Food Network has nailed it: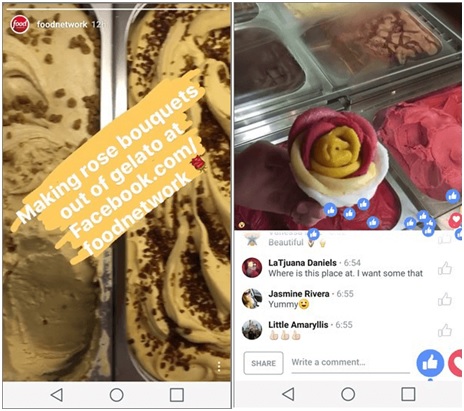 Source: http://www.socialmediaexaminer.com/5-ways-to-use-instagram-stories-for-business/
#3. Don't Be Afraid of Simple Solutions
Sometimes if you want to go for storytelling, you can simply tell a story. Literally. According to the NPR analytics, Facebook posts under 120 characters have a significantly higher click-through rate that the posts above 280 characters. It's true. However, long posts drive engagement and make the audience click 'see more' to read the post till the end. It means that you shouldn't limit your posting strategy to the short post with a link to a landing page. Share stories through Facebook, keep your audience informed, interested and involved in the same informative context with your brand.
For example, look at The Way We Met Facebook page. Most of its posts are long and have See More or Continue Reading button. However, the audience seems to be kept interested and engaged. For a relatively young blog, The Way We Met has quite a large audience. 
Humans of New York Facebook page looks even more convincing in this light with over 17 mln followers.
To tell the right story, you need to know your audience well, and in this matter, you shouldn't rely on your intuition. It's better to appeal to the social media tools that will simplify your search for a right engagement strategy. For example, BuzzSumo will help you to define the trend topics your target audience falls for at the moment.
Conclusion
All the aforementioned examples show us that storytelling is not limited to a couple of techniques. On the contrary, you can tell your brand story in various ways and by using multiple tools. What you need to learn is that these are only instruments. And they themselves don't make the twist - you do. Think of your product in a context of a lifestyle, values, agenda and share your perspective with people. If you create the stories you believe in, your audience will definitely respond.