There are a few important tasks you'll need to complete if you want Google to crawl and rank your website. 
One of those tasks is creating and submitting your sitemap to Google. Submitting a sitemap directly helps Google's crawl bots index your site, understand your website's relevance, and determine your site's ranking.
In this guide, we'll share how to submit your sitemap to Google and some sitemap best practices.
What is a Sitemap?
Sitemaps detail the structure and webpages of your site in a format Google's bots can understand. You can use your sitemap to indicate content hubs and internal links between pages.
A sitemap guides the crawl bots through your site, showing them the most important pages. Remember, you want Google's bots to crawl your site, so the search engine understands which search terms your website is most relevant for. 
Sitemap Types
There are 2 common sitemap formats: 
XML: Only search engine bots can read this format. 
HTML: Bots and users can both browse these sitemaps. 
XML sitemaps indicate the most important pages on your website to Google and can tell the search engine when your website has been updated. 
Regularly updating your website's content with dynamic content like blog posts or a customer testimonial page can help boost your ranking. Updated content signals to Google that your website may be useful and relevant. 
Gary Illyes, Chief of Sunshine and Happiness at Google, confirmed again in 2019 that XML sitemaps are the second most important source of URLs for Google's bots after previously discovered hyperlinks.
HTML sitemaps are made available on the website via a webpage. They often appear as a collection of links to important pages on your site. They'll helpful for attributing PageRank throughout your website, as they link to pages with fewer internal links. 
Check out our guides to XML SItemaps and HTML sitemaps for an in-depth look at each format. 
What is Google Search Console?
Google offers the Google Search Console to help you track your website's indexing status and improve its visibility. 
You'll use it to submit your sitemaps so Google will know to crawl your website. Google will likely crawl your site eventually, but submitting a sitemap speeds up the crawling process. 
You can also use Search Console to:
Review your site post-crawl to discover any errors
Test your site's mobile usability 
Optimize your content with data generated from Search Analytics 
How to Submit a Sitemap to Google
To start, you need a Google account.
1. Sign in or Create a Google Search Console Account: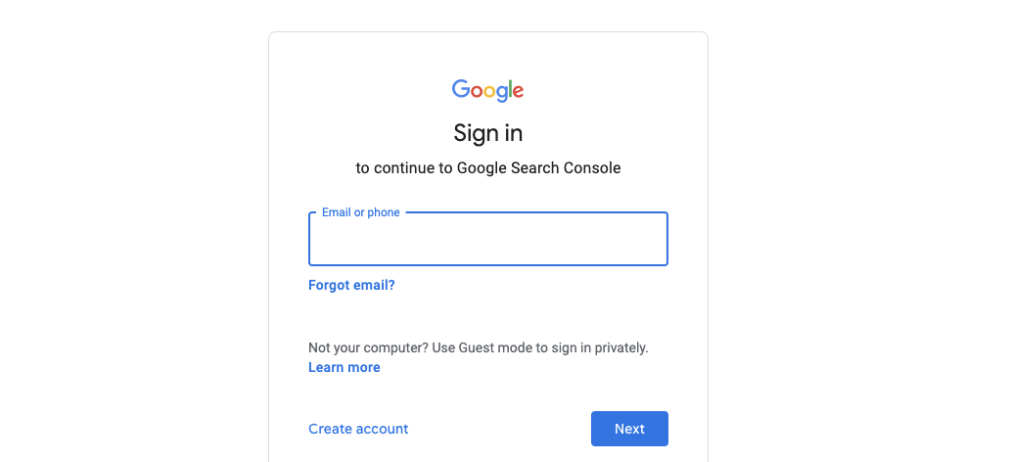 2. Select your website: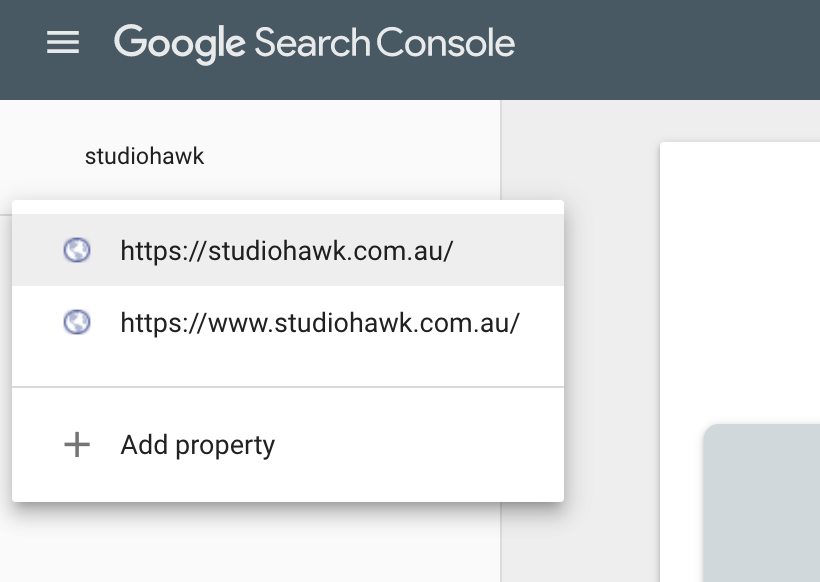 3. Select "Sitemaps:"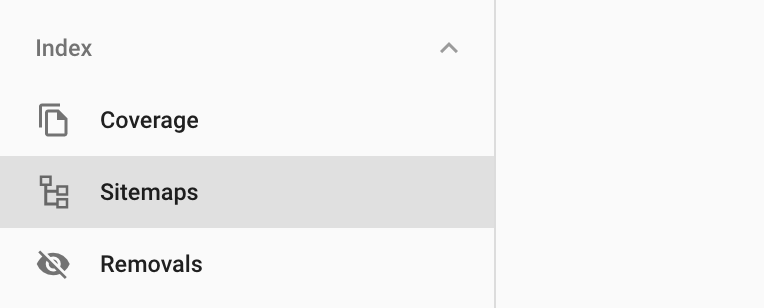 4. Remove any invalid or outdated sitemaps:

5. Add a new sitemap and click Submit:

Using the Site Audit Tool for Sitemaps
You can use the Site Audit tool to generate a report about your crawled pages. You'll be able to review the pages in your sitemap versus the number of pages the bots were able to crawl:

In this example from our knowledge base, the tool shows that quite a few pages in the sitemap haven't been crawled yet. 
You can also use the tool to find and fix issues that can impact your site's crawlability. This tool includes over 120 on-page and technical SEO checks for common site issues.
Some issues that can affect your website's crawlability include: 
Blocking with robots meta tag: If you have a page that is under construction, seasonal, or may affect another page's ranking, you can block the bots from crawling the page. 
"Nofollow" links: The crawlers will still index the page, but any links from this page will not be crawled.
Internal Broken Links: If you have moved pages or link to a page that no longer exists, Google bots won't be able to crawl any further. 
Server errors: If your server is inaccessible or returns an error when robots try to crawl it, it can affect your site's crawlability.
Once you've run an audit with the tool, you'll be able to review a list of any site errors under the "Issues" tab: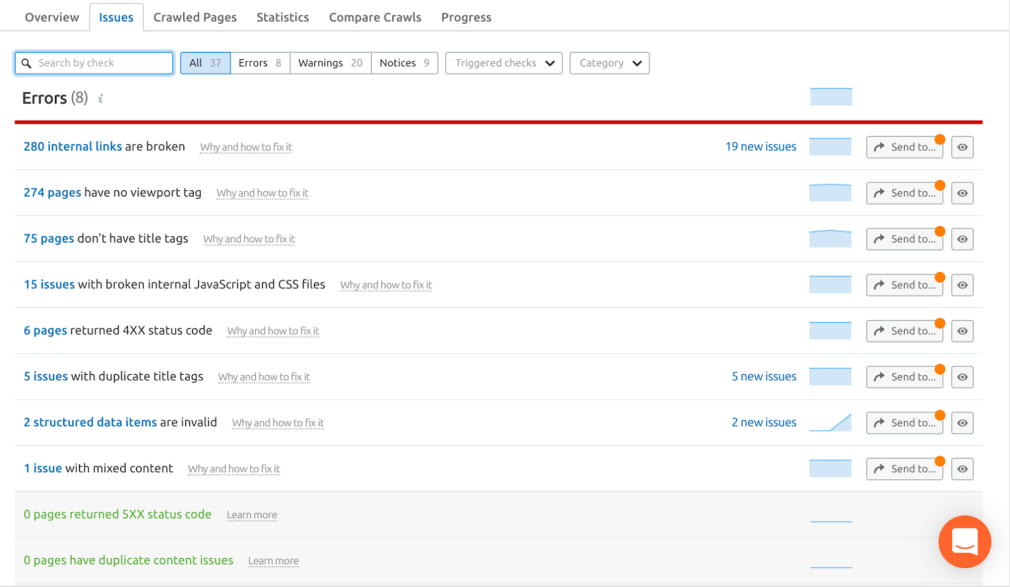 You can read more on how to fix crawlability issues with our guide.
Sitemap FAQs
Do you need to submit a sitemap to Google Search Console?
You should, but you don't have to submit a sitemap to Google. Google's bots will crawl your website eventually; submitting a sitemap just speeds the process along.
Before you submit, ensure that your sitemap reflects what's currently on your website.
You don't want to submit a sitemap when you have broken links, missing images, or orphaned pages. Running a site audit helps you find and fix those errors, so you can submit your sitemap to Google.
What if a sitemap has errors?
If you submit a sitemap with errors, you'll need to address them as soon as possible to avoid hurting your ranking. Use our guide above to resubmit your sitemap file once you're ready. 
What should I put into my sitemap?
You should use your sitemap to indicate important pages or elements of your website to search engines. Determine the most important pages on your website, then include them in your sitemap.
Other best practices to consider: 
Prioritize dynamic webpages: Blogs and other refreshed content should be included in your sitemap. Pages that are more static — like a contact page, for example — shouldn't be as prioritized.
Categorize your Content: Cluster similar content together. If something is a one-off or otherwise not relevant, leave it out.
Don't include "noindex" URLs: These are pages you don't want to be crawled. Including these pages could spend your crawl budget and prevent Google from crawling your website completely.
Should you use multiple sitemaps?
Using multiple sitemaps can be helpful if you have a big website. Sitemap files can't be larger than 50,000 URLs or 10MB in file size. 
Big retail websites often have many product and category pages. Add some blog posts and a lot of internal links, and you can understand how easy it can be to meet the URL limit. 
In these cases, larger enterprises utilize sitemaps for their product pages, categories pages, and their main website. 
Even if your site is under 50,000 URLs, multiple sitemaps can ensure your website is crawled quickly and completely. 
You can also use sitemaps to group relevant content together in a bid to rank higher on Google. For example, if you have a blog with multiple authors, creating a sitemap for each author and their content can better help you rank for keywords that include the author's name. 
If you use multiple sitemaps you need to create a sitemap index file. The index file directs the Google crawlers to each section of your website via your various sitemaps.
Final Thoughts
Sitemaps are considered an important aspect of both your website and SEO strategy, so it's best to have one. Both the XML format and the HTML formats have their advantages and uses, so examine your SEO strategy and choose one or both.
Submitting your sitemap to the Google Search Console, while not mandatory, can speed up the process of crawling and indexing your website.