Learning search engine optimization (SEO) from scratch can feel daunting. If you're on a budget and looking for ways to build your SEO skills, we have just the article for you. 
Here, we will show you the top 10 best free SEO training courses offered in 2022. 
While most of these courses are tailored to beginners, some may offer more intermediate or advanced lessons on different SEO techniques. Nonetheless, these are still great courses to consider as a beginner! You'll get a glimpse of what's to come in your SEO journey, and you'll be able to see which of your skills you need to build and practice most. 
Without further ado, let's dive in! 
What to Learn in SEO
If you're completely new to the practice, an SEO training course can guide you through the basics. The tutorials below are free. We have done our research and you can rest assured taking these guided courses will be worth your time. 
These courses each cover the fundamentals like: 
What SEO is and who uses it
How to perform a basic SEO audit of your website 
Beginner technical SEO tactics 
How to get your website ranking better in the search engine results pages (SERPs) 
How to become an SEO-skilled digital marketer 
Who Can Take Free SEO Courses? 
Basically anyone! That said, your preschooler might find themselves a little out of their depth if they attempted to take one of these SEO courses. But, any professional looking to expand their horizons should consider at least one of these lessons. You don't have to be a web wizard to understand the foundations of SEO. 
Some of the technical elements of SEO can take some practice and patience to learn, but that shouldn't dissuade you from digging deeper into good SEO practices. If you're willing to approach SEO with an open mind and a willingness to experiment, you will likely benefit greatly from any of the courses mentioned on this list. 
Why Business Professionals Should Learn SEO
If you don't work for an in-house marketing company or a digital marketing agency, you might wonder if it's worth investing your time in learning SEO. The short answer is, emphatically, yes! 
If you run a small business or plan on changing careers at any point in your professional journey, you will want to learn SEO. Why? SEO is virtually ubiquitous in 2022. Thousands of businesses from all over the world rely on the tactics used in SEO to gain visibility in search engines. 
Overwhelmingly, search engines help customers along in their purchasing decisions. In fact, Trusttpilot found that a shocking 89% of people read online reviews before committing to a purchase.
Reaching potential customers is just one reason to invest in SEO. Other top reasons include:
Building a hobbyist website for finding other people who share your passions 
Boosting your resume before interviewing for a promotion 
Helping a non-profit organization get their website up and running 
Understanding what your internal marketing department is doing for SEO and why they're doing it
Whatever your reason for learning, there's a good chance that investing in just even one free course can improve your SEO knowledge and give you increased job security. 
What Makes These SEO Lessons the Best
First and foremost, you can't argue with free! But beyond the price tag, these courses are taught by some of the industry's best SEO sources. 
Coursera offers hundreds of courses on different topics, and their SEO topics are often taught in partnership with a university or other highly respected expert. 
You can rest assured that these hand-picked courses will be taught by people with experience and a passion for SEO.
The 10 Best SEO Training Courses 
Below you will find 10 of the best free online marketing courses targeting SEO. The organizations offering these tutorials are well-known and highly respected by SEO professionals and marketers alike. 
Many of these sites offer paid SEO training courses in addition to free resources. Be sure to check out their sites once you finish your free learning!
1. Simplilearn Advanced SEO Course
Don't let the name fool you—the Advanced SEO Course by Simplilearn is an all-encompassing course on SEO, content marketing strategies, tech optimizations, and much more. The course is taught over 36 hours, and you can pick your learning pace! 
This is a great course for someone who wants to get a longer exposure to the world of SEO. You can internalize a lot over the course of 36 hours.
Skill level: Beginner through advanced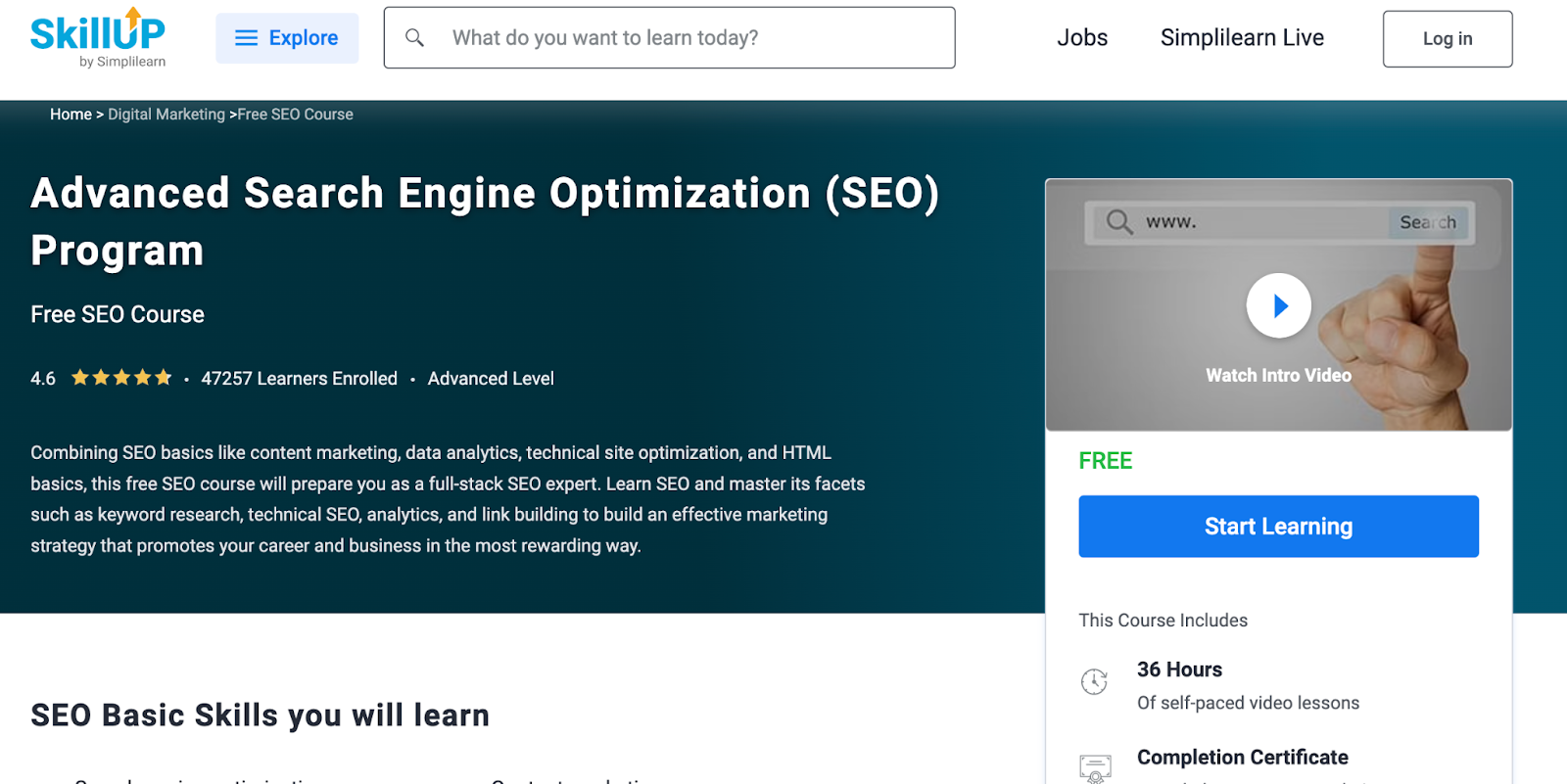 2. Semrush Academy's SEO Crash Course with Brian Dean
If you're looking to be taught SEO by a titan of the SEO industry, check out Semrush's SEO Crash Course with Brian Dean. This free course offers invaluable insights into the very basics of SEO. 
The program is broken down into 5 video lessons for a total of one hour of instruction. You'll learn how to get more traffic from Google using a tested and proven system.
The main (free) selling point of this course is Brian Dean himself. Brian Dean is one of the most respected SEO experts in the industry today. He has a wealth of experience and knowledge for you to draw from. Getting to learn SEO for free from Brian Dean is a huge check in the plus column for this course. 
Skill level: complete beginner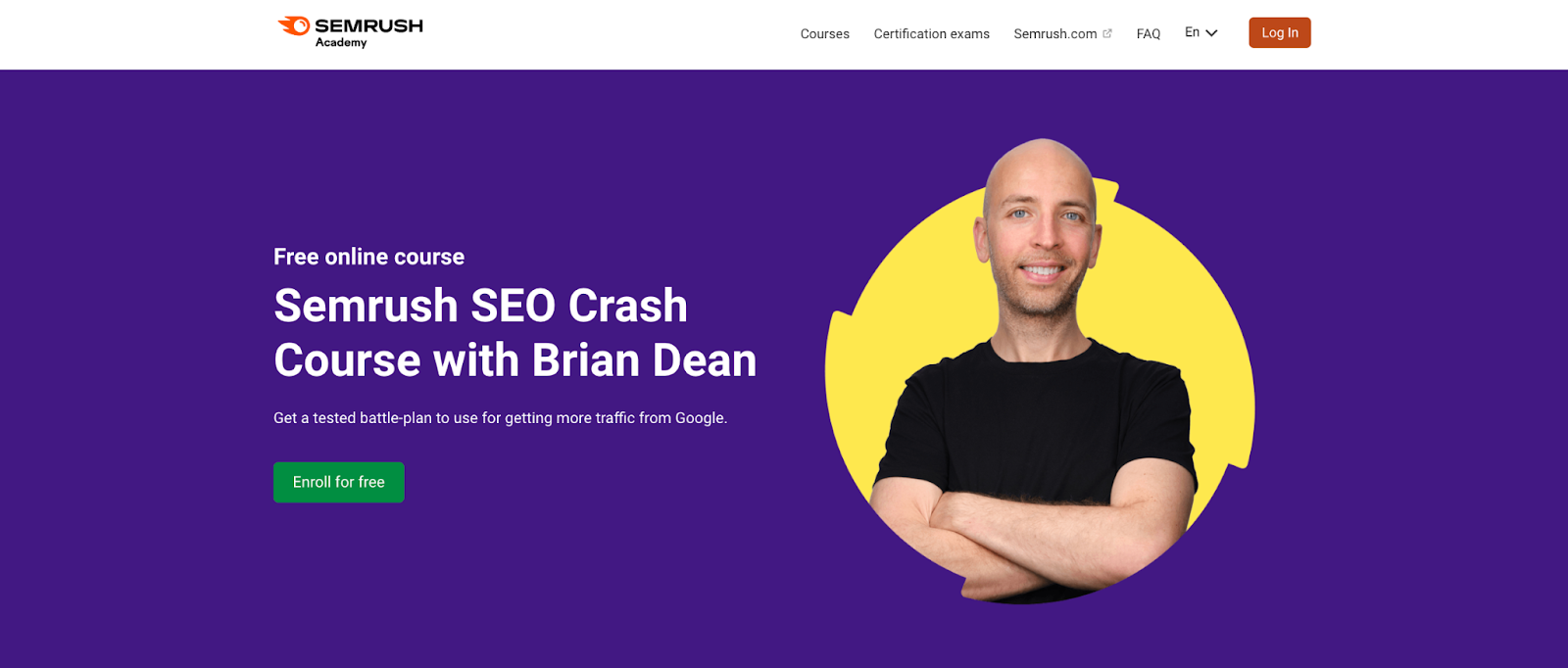 3. Semrush Academy's Content Lead SEO with Brian Dean
Semrush also offers another free course called Content Lead SEO with Brian Dean. This is a longer free course geared toward content creators who want to dive into the world of SEO for the first time. You'll learn how to build content that ranks well in Google's SERPs through 28 virtual lessons taught by Brian Dean. This digital marketing (SEO) course takes around 4 hours to complete. 
Like the course above, this is a great option for people who want to learn from the industry's best and brightest.
Skill level: beginner to intermediate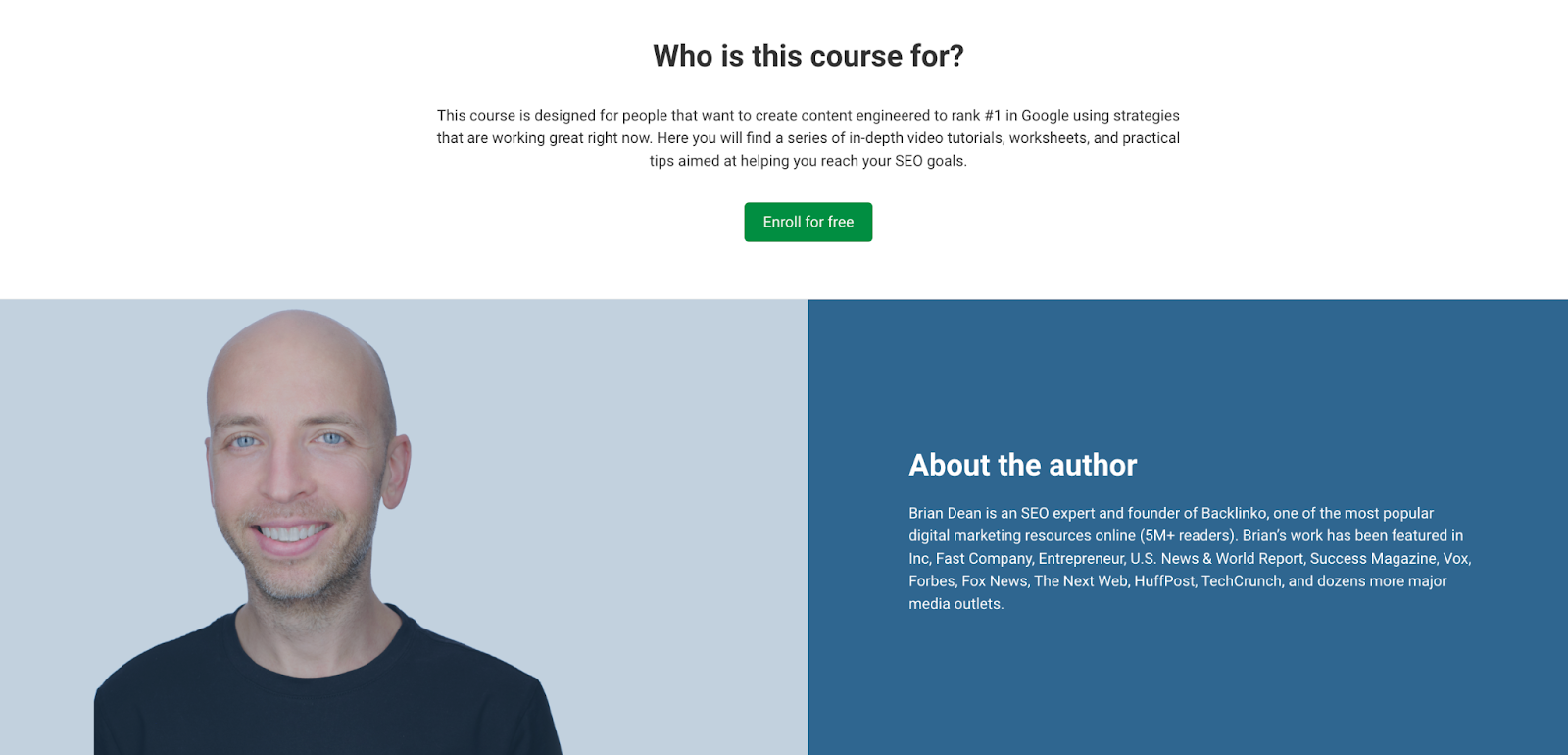 4. Yoast's Free SEO Training for Beginners 
Yoast is a great resource for begginer-level digital marketers. Its Free SEO Training for Beginners course is one of the best out there for people who know little more about the topic than what the acronym "SEO" stands for.
The course consists of 2 hours of lessons broken into 20 bite-size videos. You will take quizzes to solidify your learning and you will walk away with PDFs that you can reference as you build your own SEO strategies. 
Yoast has a reputation for being one of the most reliable SEO publications on the web. So, you can rest assured that you'll be learning from a trustworthy source. 
Skill level: complete beginner 
5. Coursera's Search Engine Optimization (SEO): Specialization
Coursera is a digital learning platform that offers lessons on everything from Shakespeare to coding. Its course Search Engine Optimization (SEO): Specialization is offered in partnership with the University of California Davis. The instructor covers topics like search engine algorithms, keyword research, and how to build your website to be SEO friendly. 
Once you've completed all of the lessons you walk away with a sharable certification. This is a huge plus for anyone who wants to use their new SEO knowledge to bolster their resume or to angle for a promotion. 
Skill level: beginner to intermediate 
6. Coursera's Introduction to Google SEO
Once you finish the Search Engine Optimization (SEO): Specialization course, hop over to Coursera-UC Davis' other course, Introduction to Google SEO. The syllabus includes an introduction to Google, current SEO best practices, how to build your website for the future, and more. 
The course takes approximately 14 hours to complete, and you come away with a certification you can list on your resume or present to your marketing manager. 
This is a great course with a moderate workload—perfect for the busy professional. UC Davis is well known for their technical programs and this is a huge bargain considering what it would cost to go to UC Davis for a degree! 
Skill level: Beginner (the course is geared toward professionals with at least some marketing background)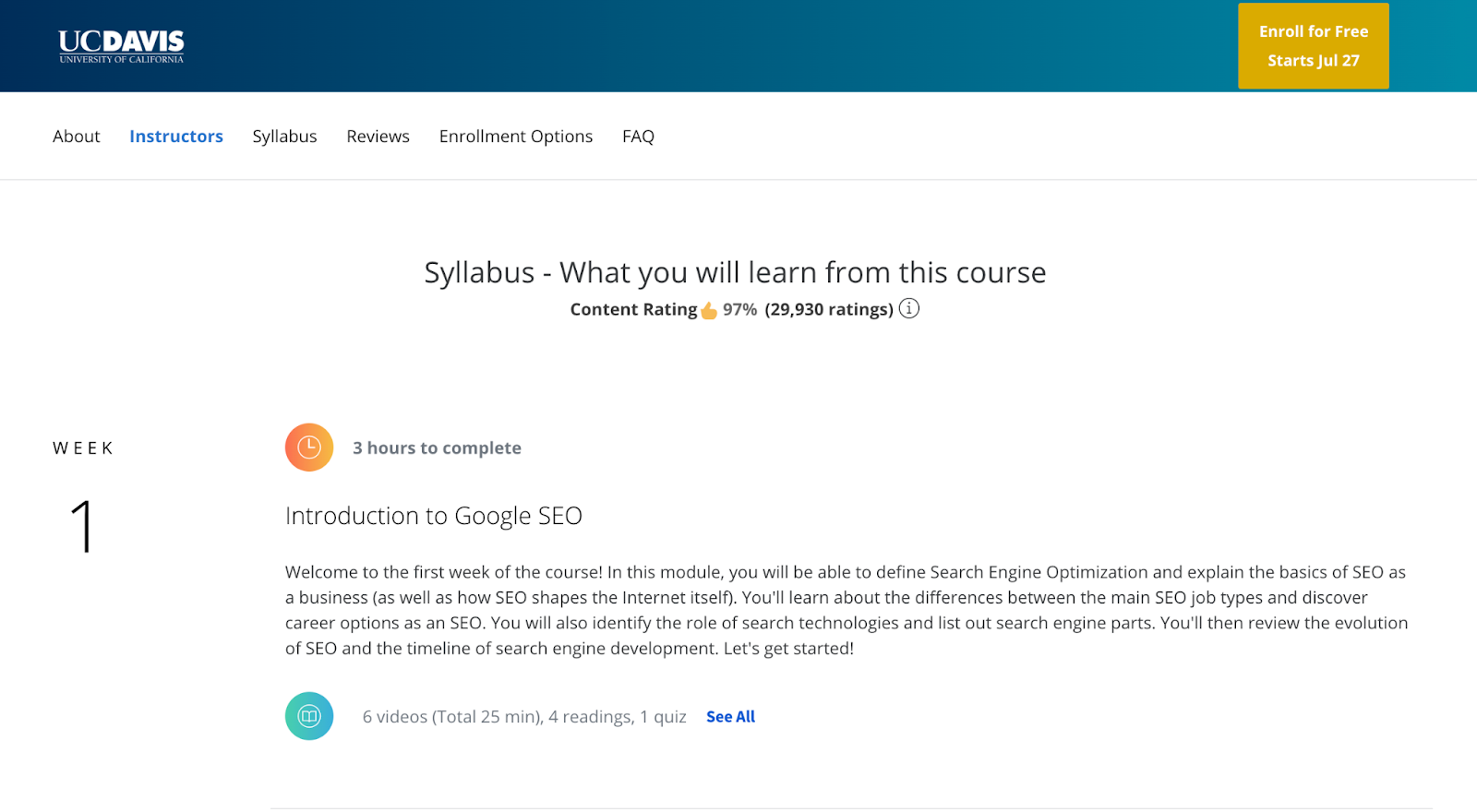 7. Great Learning's Free SEO For Beginners
What's better than free learning, right? Check out Great Learning's Free SEO for Beginners. This certification-based course offers one hour of video content. It is geared toward beginners with virtually zero existing knowledge about SEO. You'll learn analytical skills, Youtube SEO (great if you are a video content professional), and why you should implement SEO for your business. 
This is a great course if you are short on time and need to delve into search engine optimization, fast. The entry-level knowledge also makes this an ideal set of lessons for someone who doesn't want to be overwhelmed with a ton of SEO knowledge right off the bat. 
Skill level: complete beginner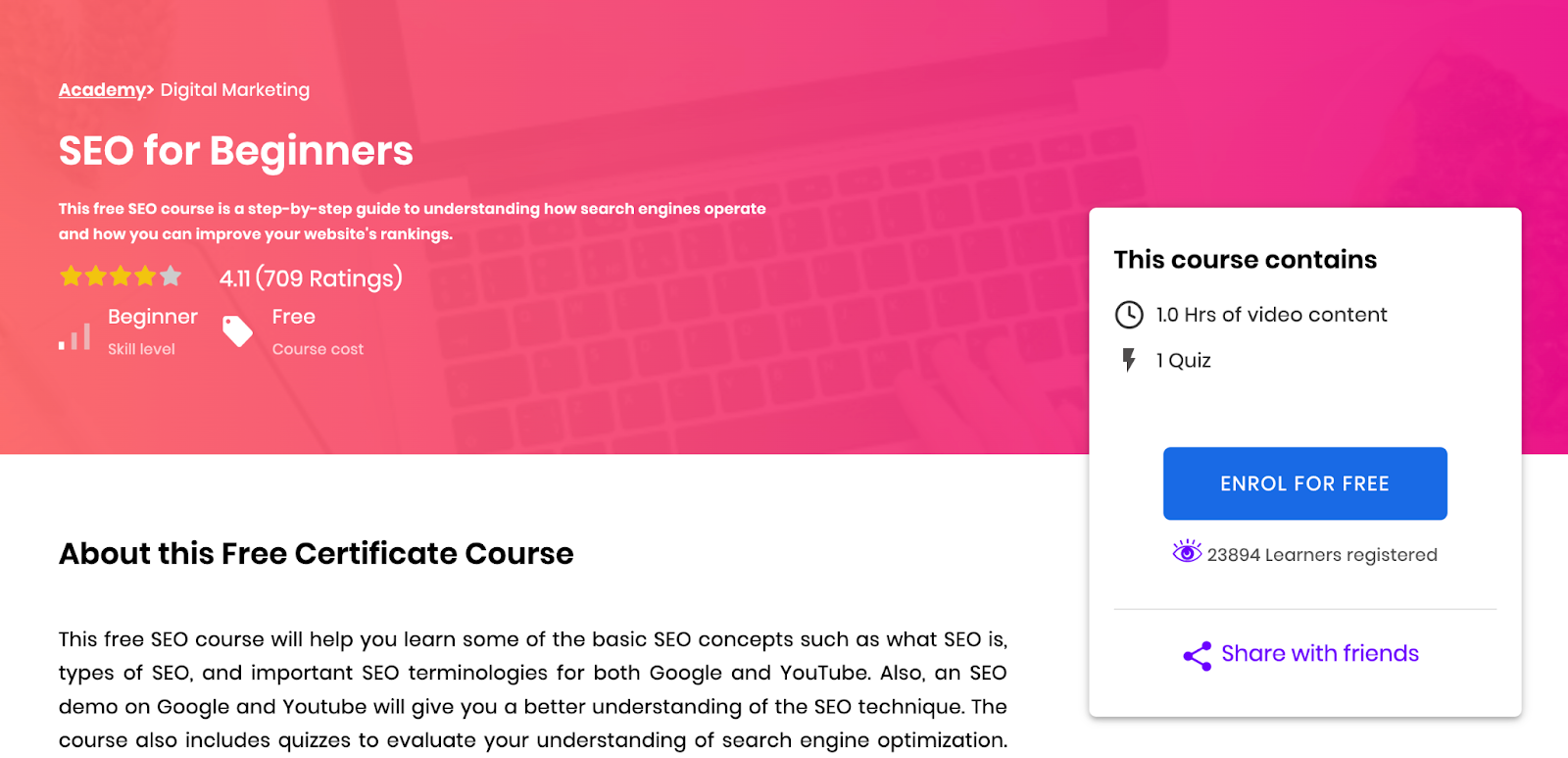 8. Udemy's What is SEO? Learn SEO Basics to Optimize Your Site
Udemy offers a ton of free SEO courses on its platform. One of its most popular is What is SEO. In this course, you'll learn exactly what SEO is, how to distinguish between on-page and off-page SEO, and how to track the success of your SEO over time. 
Over 100,000 students have taken this course and it takes just over two hours to watch all of the video content it has to offer. It's a great option if you just want to get enough knowledge to start working on your website ASAP. 
Skill level: complete beginner 
9. Udemy's SEO Tutorial for Beginners 
If you're looking to start learning SEO from the ground up, then Udemy's course SEO Tutorial for Beginners would be a great fit. You'll learn how to build up authority on your website, how to find the right keywords for your niche or industry, and how to start building your website's visibility in the SERPs. 
Over 270,000 students have gone through this course and it takes just over 40 minutes to watch all the lesson videos. That's not a huge time commitment, making this a perfect course for someone who is on the fence about learning how to do SEO.
Skill level: complete beginner 
10. Coursera's Advanced Search Engine Optimization Strategies 
Coursera (in partnership with UC Davis) offers Advanced Search Engine Optimization Strategies. This is great for both beginners and advanced SEO students alike. 
You'll learn how to find and fix errors on your website, how to improve site architecture, how to conduct data analysis, and a lot more. So, if you have been struggling with maintaining a website, this might just be the course for you.
The course takes approximately 25 hours to complete and you will receive a shareable certificate once you have successfully finished all of the lessons. 
Skill level: advanced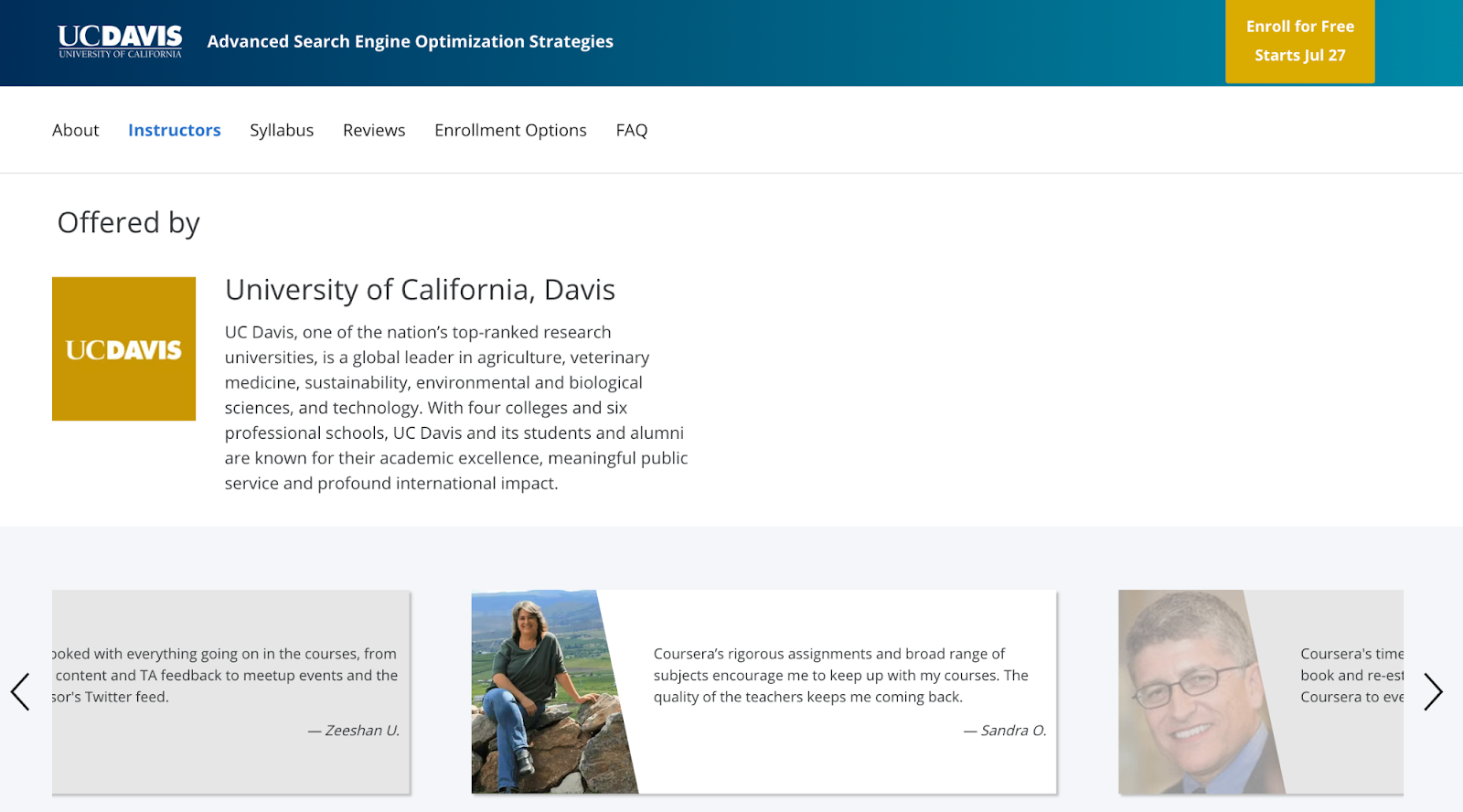 Start Learning Today
The biggest benefit of living in the digital age is just how much information is available with the simple click of a button. You can learn so many digital marketing skills for free thanks to platforms like Semrush and Simplilearn. 
You don't have to struggle alone to learn complex SEO and technical topics. In fact, if you're ready to begin exploring the world of SEO with highly educated and experienced teachers, you can start today for free with Simplilearn.