Three years ago, I didn't know the first thing about making a blog. But when I started to work as a PR and content manager at Ecwid, the need to direct a company blog became an obvious one. It was necessary and sensible way for us to help others, spread the word about Ecwid and share updates and knowledge with our users.
I was excited to get started on a new blog project, but at the start, I was on a team by myself with no real understanding of what to do. Over the years, I've learned a lot about blogging and was eventually able to set up a successful blog with a more established team.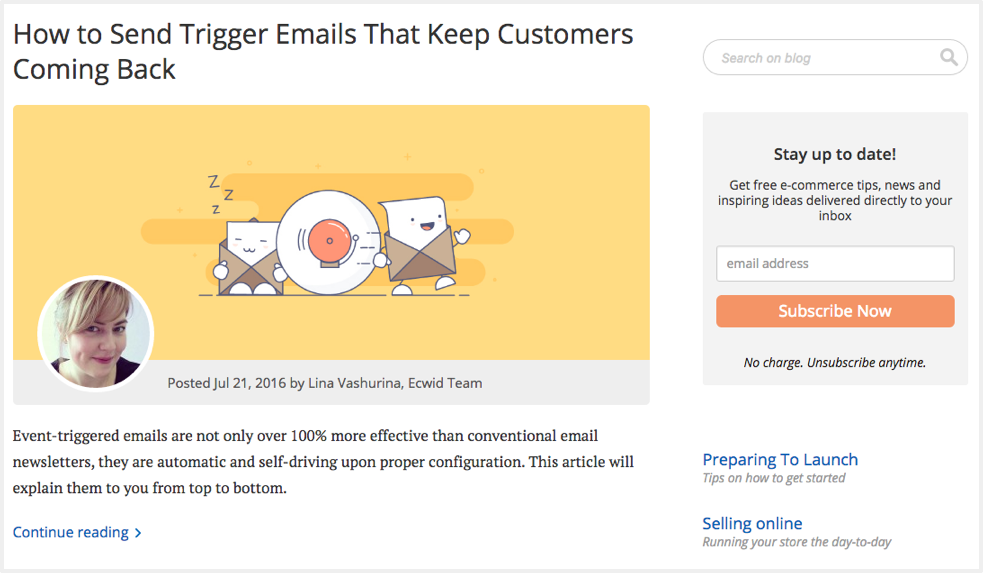 Ecwid's Blog
Today, Ecwid's blog is run by two people who publish four posts per week. Posts are typically between 1,000-1,500 words, and two out of the four are our own original content. It takes about four to five hours to write, edit, and publish each piece. 
Are you curious about how to make a blog? You're in luck! Today I'm going to share with you some tips and tricks I learned in my experience creating a blog for Ecwid.
Blog Process: How We Write Posts
Creating a post is a lengthy process that our team breaks up into several steps. The process looks like this: get an idea, do the research, create an outline, write the content, edit the piece, settle on a design and then promote the post. 
Let's take a closer look at each step.
Get an idea
First of all, you have to decide what you want to talk about. What will be the focus or theme of your blog? This theme is called your niche, and you should have one.
At Ecwid, our theme can be defined as all things e-commerce. We write about how to launch and grow a small business (marketing, promotion, etc.), personal effectiveness, e-commerce news, and Ecwid news, among others.
We use CoSchedule, the content marketing and social media editorial calendar, to keep track of our team's awesome ideas and the posts we're working on. It's an app for WordPress that works well for us; we use it to schedule and publish posts, as well as manage social media postings.
Ecwid's Calendar on CoSchedule
We have planning meetings once per week, which are important because they give us a chance to decide on post topics and choose ideas to add to the editorial calendar. Out of our four posts per week, one or two of them are typically guest posts or Ecwid news announcements.
Do the research
Writing a valuable, credible article takes some work. Here are a few tips and tricks I use when doing my own research: 
Google the topic. I usually scan other blogs and news sources in our niche to see what they're covering and add a unique perspective.
Visit forums or Reddit. This helps me see the questions that folks in my niche and industry are asking. I try to think of post topics that could help answer those questions.
Read the comments. These can be a valuable source of information that helps add points you may have missed to your article.
After nailing down a general idea and writing down the key topics, I can move on to the next step.
Create an outline
Outlines are essential because they keep you on topic and make sure you don't leave out any crucial points. HubSpot has a great post about how to write a solid outline.
I usually try to write my outlines in the same Google Doc as the post I'm writing – that way, the important takeaways are right there in front of me.
Write the content
Some advice for newbies: start by writing down everything in your head. That flow will come naturally and become the base for your piece. You can edit down from there and work your piece into completion.
CoSchedule actually has a great writing blog; you can learn a lot from reading their posts. 
As I said before, two out of four weekly posts for Ecwid's blog are original content, but we have a couple of outsourced authors who help us with post production. However, there are many people involved in the overall writing process. They include the editor, the contributor, the proofreader, designer and social media manager.
Edit the piece
Once I've edited the piece to make sure my points are clear, and the unnecessary bulk is cut from the post, I'll send it over to Dylan or Kristen for thoughts and feedback before publishing.
Settle on a design
This is the fun part. Final adjustments to design will include finding relevant images and creating "covers" for each post.
Ecwid's dear designer, Alex, creates cute, unique covers for each individual post.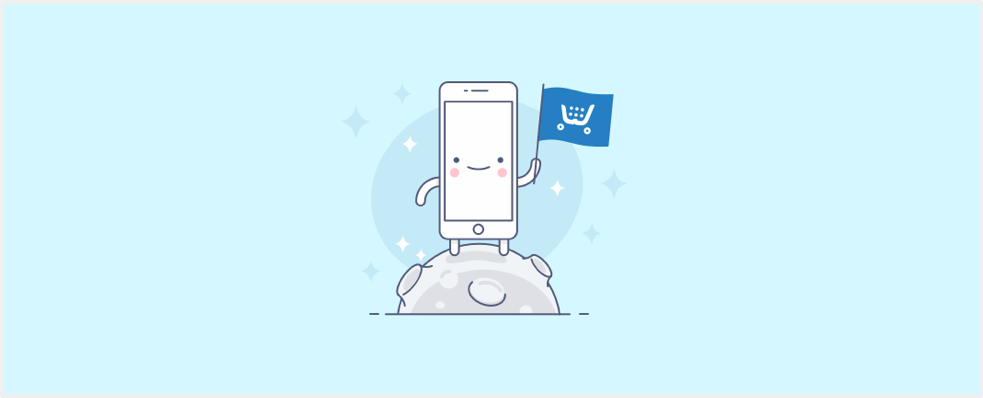 Ecwid Blog Cover Image
If your blog doesn't have a designer, you can use services like Canva to help you make professional designs and graphics that are easily customizable.
Promote your post
Content promotion is paramount. Just because your content is right for a particular audience doesn't mean they'll see it throughout the course of their day. You ought to be using email, social media and SEO to make sure your work is seen.
The Ecwid blog typically posts a blog post to Twitter and Facebook two to three times per month, with different headlines or introduction posts. We use CoSchedule to track this so we can easily compare analytics and identify which content strategies are most effective. For example, we might more readily identify which headlines work better than others. Here's an example of what that looks like: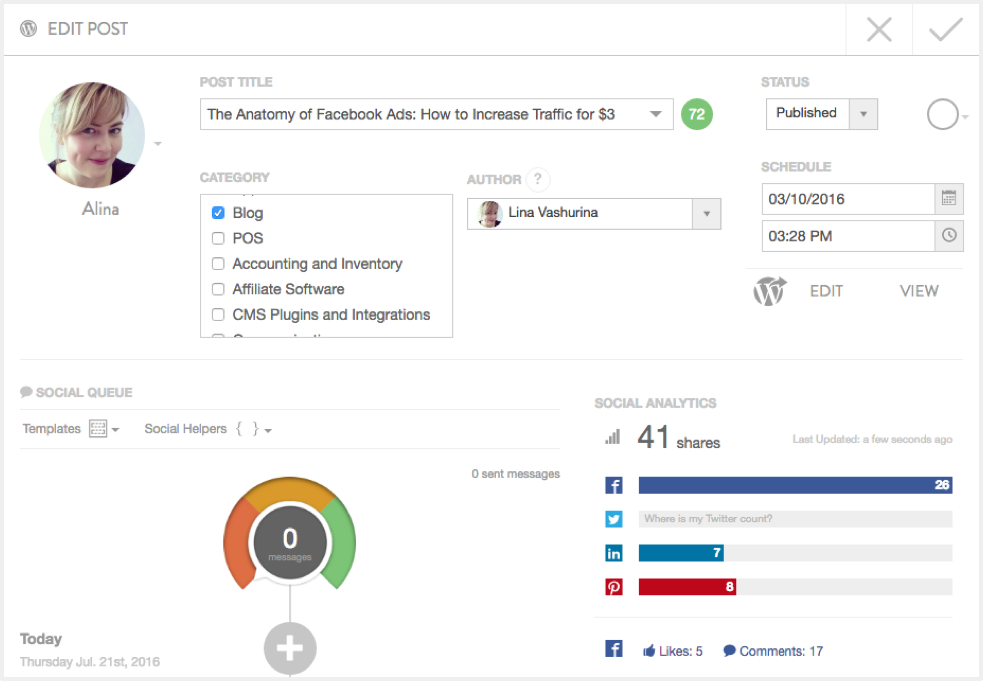 Content Promotion in CoSchedule
We send emails with blog updates and Ecwid tips twice a week. The email always has a text link at the bottom to encourage readers to contact us via email to share their thoughts about the post, or send along other ideas. This link sends feedback directly to my inbox, where I can use it to chat with readers or pass along any technical questions or suggestions.
How We Use Keywords
We make a few SEO tweaks to help our posts perform better in search engine results. This means we choose keywords or phrases from each piece and include those keywords in the post title and image alt tags. We usually use Google Keyword Planner for this, and prefer to keep this step simple so the content can speak for itself. ( SEMrush can also help you find ideal keywords to use for your blog.) 
Our team uses headlines and intros to hook our audience into clicking and reading. The difficult part is not knowing exactly where we'll lose them.
Research shows that most blog readers only read the first 100 words of a post, and just 16 percent of them read the entire piece. So it's very likely that your headline and introduction may be their entire impression of the post!
How We Measure the Success of Blog Posts
As a blogger, your job is to publish content that converts people into paying customers. This is the ultimate end goal of any marketing effort, and content marketing is no different.
As a startup, we try not to waste time by doing things that don't deliver worthwhile results. So, immediately after we publish, I become an analytics junkie and can't stop looking at these things:
Social media shares
Pageviews
Email subscribers
Product signups
Unique visitors
Total pageviews
Average time on page
We meet periodically as a marketing team to talk through the big wins of the last couple of weeks. We typically run through all of these metrics in order to figure out what was successful, and then use that knowledge to improve the next time around.
I hope this helped give you a sense of how we run our blog at Ecwid. It's truly a universal system, so you could go ahead and start a blog for your company or even yourself.
We welcome your feedback in the comments section below!