I'm going to be honest, I needed a very good excuse to write another post about the future of search, as it's likely you're aware there are already a few out there. I mean, it's not exactly the most discussed topic in search ("Is SEO dead yet?"), but it's acquired a fair bit of digital real estate.
Part of the reason that I wanted to discuss this extensive topic is because of an article I came across earlier this month by Emily Grossman at Search Engine Land. The title of the article is "App Indexing & The New Frontier of SEO: Apple Search + iOS App Indexing." Now I'm not sure about you, but my app indexing skills are somewhat lacking, shall we say. But considering that both Google and Apple announced in June that deep app indexing would be firmly on their development agenda, isn't it about time SEOs learned how?
That's when I realized that conceptualizing about the future of search and understanding what might be is a hotly discussed topic for very good reason. The future of anything is always a fascinating discussion, as Emily demonstrates in her informative article. So I wanted to take a look at the technologies that will shape the future of the world of search and understand where we should direct our continual learning to stay one step ahead of the curve.
It's All About the Platform
The growth of SEO has been predicated on the rise of the search engines and our insatiable desire to get accurate information quickly and easily and in the most relevant format to that specific user. For all my SEO career (and I'm sure for many others) that has primarily entailed detailed learning on how Google decides to rank one page over another. We have spent countless hours, pulled out hairs and screamed numerous expletives based on the changes and updates that Google make to their algorithm. We will no doubt continue to do so for as long as they dominate the market as they do.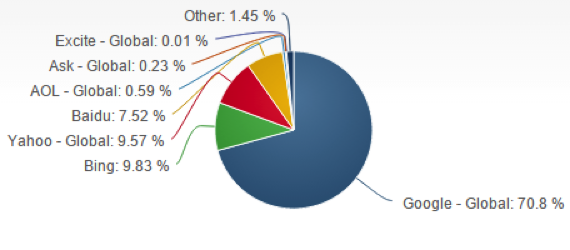 Data courtesy of Net Market Share
However, if the way by which users get their information was to change, it would be our responsibility as search professionals to understand that and focus accordingly. According to Emily's article (which in this instance focuses on Apple), there will be more opportunity in the future to optimize apps to perform in search engines in both an isolated and collaborative manner.
This means search marketers will need to understand not only how to optimize web pages, but also the apps that exist within both the Android and Apple marketplaces. So, if you have an optimized webpage that is top for a specific search term, you could also have an optimized app that sits with this result too. This is all centred on the fact that mobile and tablet usage will continue to grow, especially if you factor in the rise of wearable technology. Take a look at this interesting video by Jarek Wilkiewicz on Google app indexing:
So, Is SEO Actually Dead?
Okay, so I realize I am perpetuating something that frustrates us all, but it's an important point to observe. Since Google launched their beta search engine in 1997, there has been a commercial requirement for SEO specialists who could assist businesses in getting their information found via search engines. With the new platforms, devices and channels by which users can acquire data, it isn't that SEO is dead, but instead becoming more multi-faceted than ever before.
Knowing how to optimize a website is a great skill to have, but I don't have to explain here that the process of optimizing a website involves a much more diverse skill set than it once did.
That progression of skills required to optimise a website yields one truth about the future of search: those businesses and agencies with access to the widest array of skills and expertise will continue to prosper. It is our responsibility as search professionals to study, learn and equip ourselves with as much knowledge as we possibly can, both regarding SEO and the wider digital marketing spectrum.
Personalization and Power of Big Data
If apps and products are the key to Apple's success as a business, then Google's success is built on big data and personalized adverts. Not that they are the only businesses to realize the power of consumer data in the last 20+ years. Companies like Experian and Callcredit have built businesses on understanding your personal data. The contactless payment system for the London underground means Transport for London (TfL), your bank and MasterCard/Visa have access to data about where millions of Londoners and tourists travel to every day.
Understanding consumer behavior throughout the entire purchasing lifecycle ensures that marketing spend is as targeted as possible. Hence why big data and analytics is an industry that is worth billions.
A financial services consultant once informed me that consumer spending patterns are interpreted algorithmically to such detail, that the likes of MasterCard and Visa can predict when someone is having an affair or about to get divorced.
Bottom line, big data matters. Nowadays, it is rare to find a digital marketing agency that doesn't have a data and insight team or plans to develop one. We all analyze data on a daily basis, most likely via Google Analytics. One thing that will continue to be important in search are the skills of analysis and interpreting data in order to create tangible actions based on facts. Make sure you learn packages like Google Analytics as thoroughly as you can by using Google's own videos and courses.
Optimize for Performance, Not Just Results
The world of SEO experienced a seismic shift in May this year just after Google introduced its mobile SEO update. This update meant that websites that weren't optimised for mobile visitors could see their rankings drop in mobile searches. If you extrapolate this concept, then it is evident that Google will continue to ensure that websites that wish to rank high within their SERPs will need to provide a seamless experience for users across all devices. Not just with regards to mobile optimization, but site speed, usability and engagement and security will all play exponentially important roles in crafting a perfectly optimized website.
In order for Google's value to continue to grow, there needs to be more and more innovative and interactive websites available for users to find. It is in Google's interest to encourage webmasters to make the best web experiences possible. You will be rewarded as a webmaster for continuing to produce amazing content built on a seamless and intuitive infrastructure.
More Structured Data
When you think of structured data, you probably think of something like this:
Structured data not only allows webmasters to better control the information served in search results, but also to maximise the presence within those results. Which is why it is such a surprise to learn that less than 1% of websites have some form of schema implemented. Structured data is just one method that will be used to assist Google about the presence of an app that could rank alongside/instead of a web page with the rel="alternate" tag or schema's "ViewAction" syntax.
If you're not already familiar with structured data then make sure you visit schema.org and have a look at some of the examples of mark-up with microdata & RDFa (or JSON-LD, if you know JavaScript). Learning this will not only be key to maximizing your clients' organic exposure now, but will be huge for the range of mark-up opportunities in the future.
Learn to Code
Whilst on the subject of learning, if you're an SEO reading this who doesn't know how to code outside of HTML and CSS (like me), then get learning! There is a huge selection of online courses for learning to code that are completely free and so rewarding. My personal favorite is Codecademy, but there is a plethora of free courses out there.
As Google's algorithm gets smarter, it will become more difficult to rank a website in competitive markets without understanding the code that causes digital platforms to function. Future generations will (hopefully) be encouraged within classrooms to use the vast number of free online coding courses, so it is imperative that we begin and continue our learning in this remit too.
Summary
Only amazing digital experiences will flourish in the new world of search. Search professionals need to learn and grow as the industry continues to break boundaries every day in terms of reach, revenue and the presence of new technologies. Websites and apps will continue to require awesome content, but that content will need to be structured in a way that the search engines fully understand its intent.
Understanding granular details of analytics in conjunction with search trends, user behavior and cross-device performance aren't skills that just rest with the CRO/data analytics agencies anymore. SEOs have always required a diverse skill set to be the best, and that requirement will only continue to increase in this fast-paced industry.
Join My SEMrush Webinar
Are you ready for more discussion on the future of search? Join my SEMrush webinar, a masterclass on the future of SEO, on Wednesday, July 29. See the registration page for local time.