The world of digital marketing constantly changes and evolves. In an effort to stay ahead of competitors, every marketer tries to predict the future of the industry. For this reason, as 2015 draws to a close, we've decided to discuss the future of SEO and content marketing – one of its thorniest problems.
This time we invited to our webinar a talented web strategist – Andy Crestodina, who has more than 15 years of experience in design and web marketing. Andy is the cofounder of Orbit Media, as well as an adviser, speaker, content marketer, author, and environmentalist.
If you want to know how to adapt your content for the upcoming year, watch  this webinar now!
The five following tactics will help you achieve great results in web marketing.
Semantic Search
Semantic search isn't a new thing, but it's more important now than ever. Today, keywords themselves are becoming less important. So how do you optimize a piece of content for a broader topic, not just a specific phrase?
To adapt to semantic search, you need to include broader phrases, the dozens of ones that are related to the topic.
You can use specific tools to find a great deal of words that are related to your topic and should be included in your article.
Keywordtool.io shows you different kinds of phrases. Simply type in your target key phrase, hit enter to search for it, then scroll down to the bottom of the page to find a list of phrases related to your topic and write them down. Also, for the top-ranked page for your target phrase in Google, you'll find related phrases that are semantically linked to your topic. Be sure to write all of them down as well.
A regular user of the SEMrush Organic Research report, Andy also recommended using this tool. Enter a website that ranks high for your phrase in the search bar, then click "Positions," and you'll see the search rankings for that domain. You can filter this report to see only the phrases related to your topic. Then you can write them down.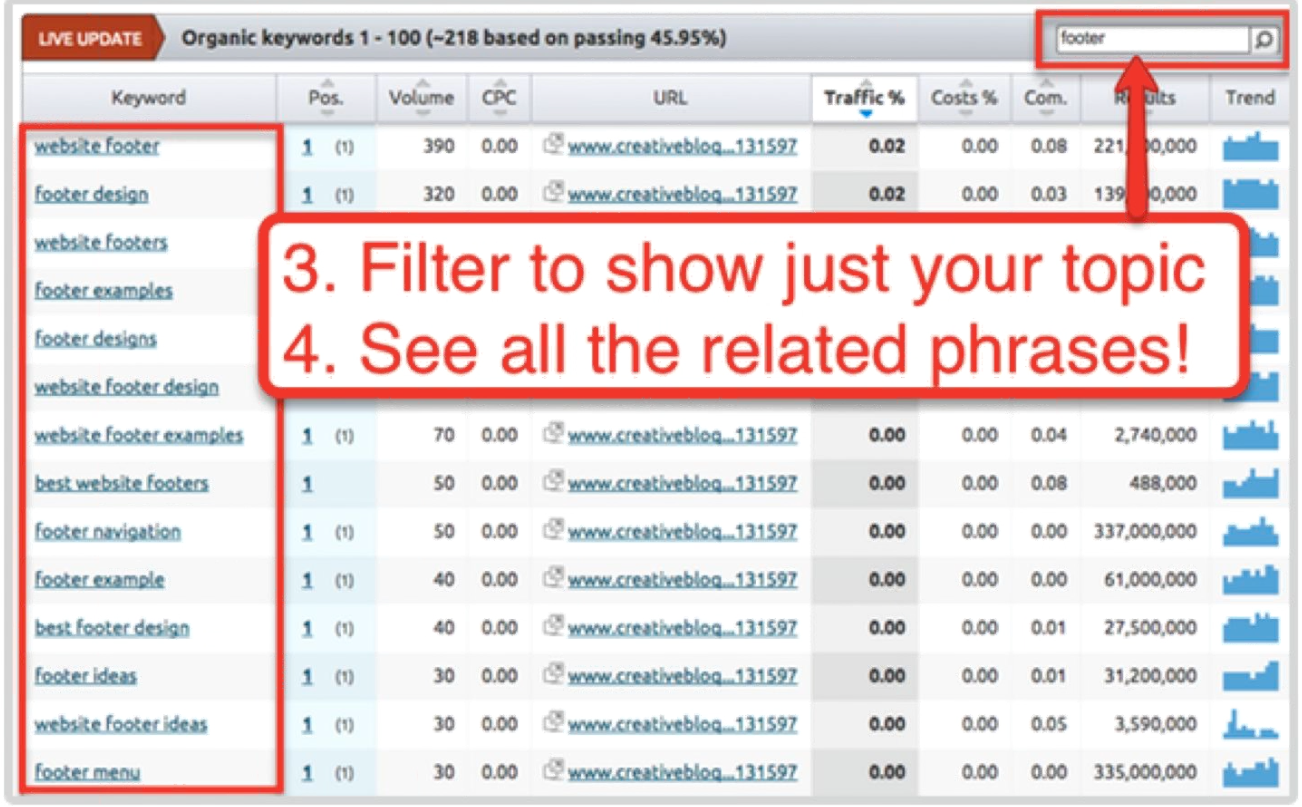 Now you have a whole list of words and phrases that are semantically linked to your topic. You can cross out those that you've already used in your article. This will give you more ideas about what to add to your post.
Takeaways
Adapt to semantic search:
Find the words and phrases that are semantically linked to the phrase you are targeting.
Use those phrases in your content.
Digital Assistance, Natural Language
This topic is becoming more important as more people are using digital systems (e.g., Google Now and Apple's Siri).
Voice-based queries have a different nature. They tend to be longer phrases, complete sentences, and questions.
To optimize your content for the future of SEO, you have to pay attention to how people are searching because this will change. People are now "talking" to their devices.
To adapt your content to how people search now, you should use natural language and you should use sentences that provide both questions and answers. Just make sure that you include complete sentences in your content and make sure that you did the same when answering questions.
Takeaways
Adapt to natural language search:
Use sentences that communicate full meaning.
Include full questions and answers.
Improve User Interaction Signals
There is a big trend in Google right now – its developers have added a machine-learning artificial intelligence system to Google's search ranking algorithm. They call it RankBrain. This is a computer program designed to pick out from a large amount of pages the content is the most relevant for a particular set of queries.
According to the Search Engine Land article, RankBrain can be considered a new ranking signal. Google doesn't use user interaction signals as a part of RankBrain (e.g., time spent on page), but it uses them as a means of testing RankBrain in order to know if it's working or not.
The question is, how does Google know if someone was happy when they found a particular page? Actually, it's not by bounce rate, which doesn't correlate with quality. However, time spent on page does. Time on page correlates with user interaction signals.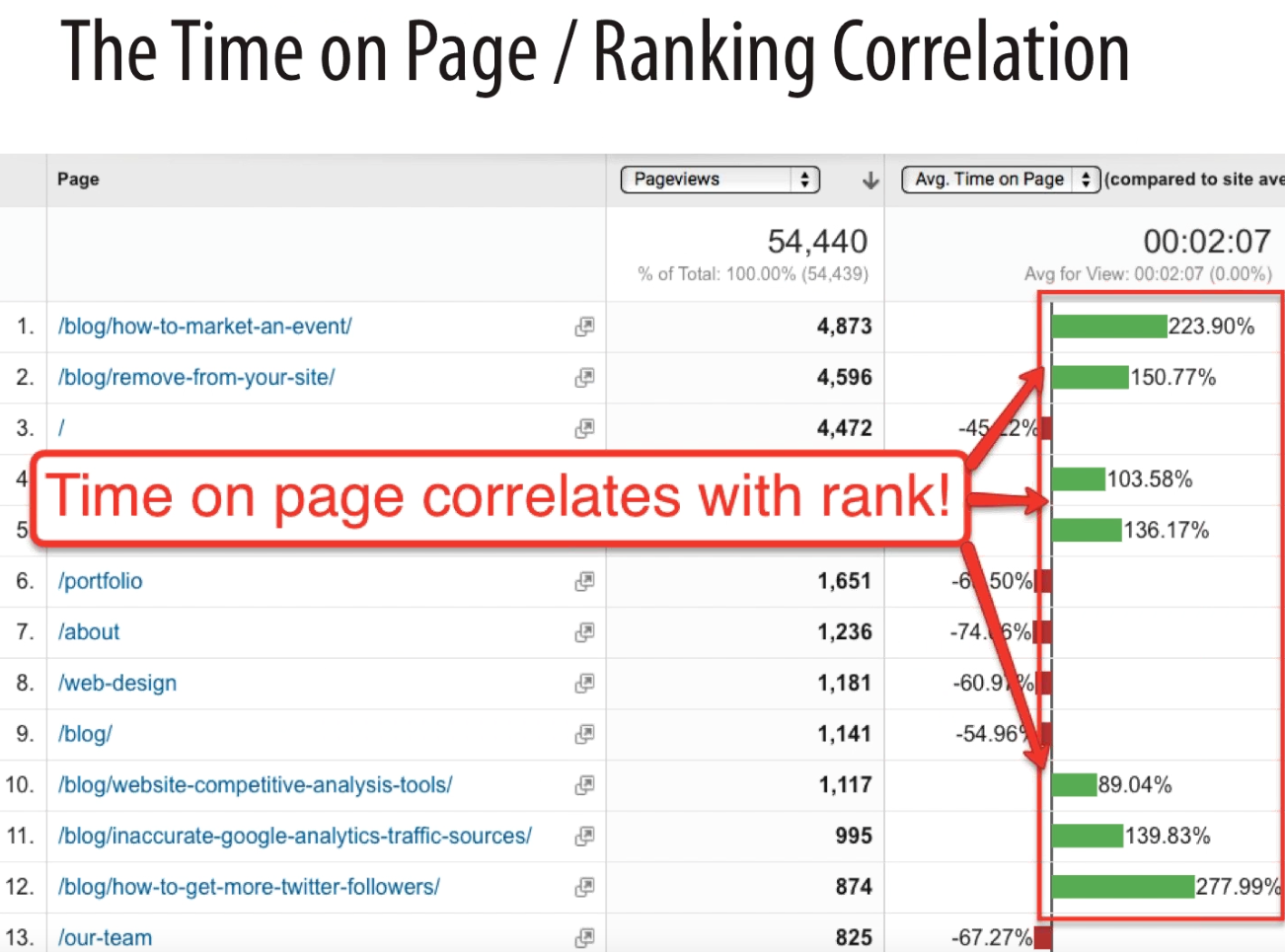 There are so-called "short-click" and a "long-click" user interaction signals. The difference between them is the "dwell time,"* which is the period of time that a visitor spends on a page before returning to a SERP. Search engines pay attention to this and use it as a ranking factor.
So, the next question is, how can you improve your user interaction signals in order to send a search-ranking signal to Google that your page is relevant to the topic in question?
You can use the tactics listed below.
Never create a wall of text – this is an example of a bad page. Break your text up into paragraphs. A good paragraph is three to four lines long. Also, include headers and subheaders.
Use lists. Don't forget to include them in your text.
Use bold and italic fonts.
Include internal links. Never post a blog entry without linking to another one. Also include a deep discussion of your topic – go for long.
Use multiple images. Recent research has shown that, today, many bloggers use more than one image per page. Also, you may want to add a video to the top of your page. Short videos can result in longer visits.
Takeaways
Keep your visitors on your page, and keep them floating through your content.
You can use the following types of formatting:
Header and subheaders
Bulleted and numberedlists
Bold and italic fonts
Internal links
Multiple images
Build a Network of Content Creators
Links and mentions do matter, especially those from authority sites. Links from reputable sites mean much more credibility.
Everything in marketing is based on relationships. Relationships are the key to successful link building.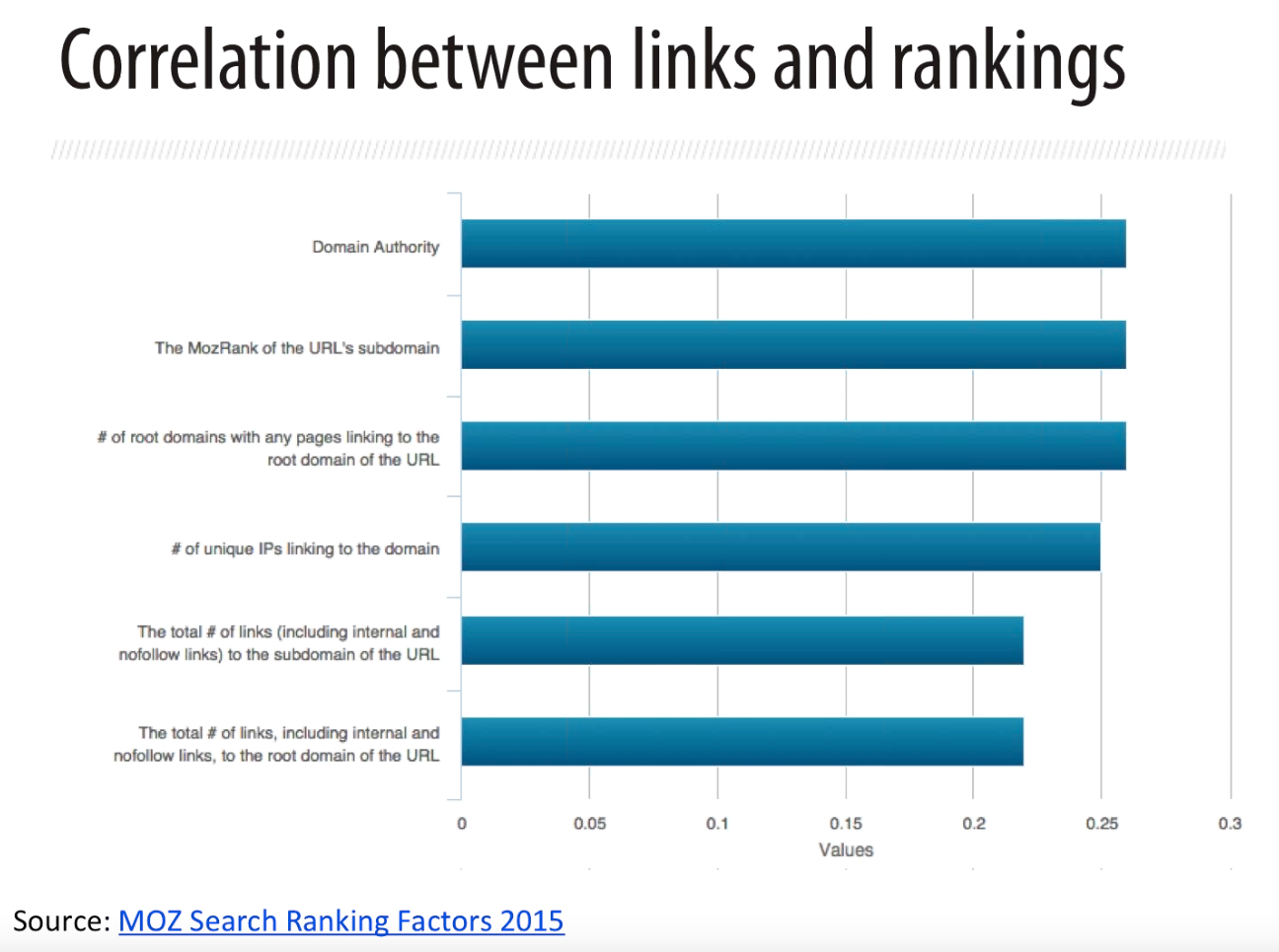 But how can you actually build relationships?
There are two types of users on the Internet: 1) creators and 2) contributors and lurkers.
You can connect with anybody. But are you specifically connecting with the people who will create content?It's important to understand that, today, most relationships begin on social media. You should use many different social networks. This gives you more ways to connect with content producers.
Make friends and build a network of bloggers! It will help you get more links and get the most out of your search efforts.
Takeaways
There are five ways to build your network of content creators:
Add people to your list. Listen to them, pay attention to what they say, and say hello to them.
When you become friends with someone, reach out to them weekly with a call. You only need to do this once or twice a week.
Make real friends. Don't underestimate face-to-face meetings (e.g., coffee, lunch, beer).
Join effective mastermind groups.
Connect with people during your office hours.
Publish the Best Piece of Content on a Topic
This is probably the most difficult part, but also the most important one. The fact is Google is very good at what it does. If you can make your content truly relevant, Google will be on your side. And if you create a bad piece of content, Google will try to prevent you from ranking.
There are three ways to meet Google's guidelines:
Put your content front and center. You should place important information at the top of the page, so visitors can read without scrolling.
E.A.T. This stands for "expertise, authoritativeness and "trustworthiness." Prove that you're an expert, or "borrow" authority by citing reputable sources and other experts.
"Highly meets" vs. "Fails to meet." A page should provide comprehensive answers that truly meet visitors' needs. Create lengthy and in-depth content that covers every angle of your topic.
Takeaways
The most important piece of advice here is to create the best content for your topic on the Internet.
Questions
We received so many questions from our listeners that it was impossible to answer all of them before we ran out of time. Nevertheless, Andy kindly answered the ones we missed after the webinar!
Q: How can you achieve the proper balance between images and text? Is text vital from an SEO perspective?
Andy: Absolutely. Text is how we communicate relevance. Text is how Google understands what a page is about. Unless you are specifically doing video or image SEO, it's critical. No text, no rank!
Wikipedia appears in page-one results more than any other website. That should help emphasize the importance of text!
Q: Just curious – I often read your posts, and since a lot of them are how-tos or "things to check for," sometimes I leave your page open for a while as I'm working through it. Is there a time-out for "dwell time?"
Andy: Whether a "time-out" matters for dwell time, or how important dwell time is as a factor, is unknown. But Google Analytics times out after 30 minutes. So it's likely that if you leave a tab open for a long time, Google stops paying attention and no longer assumes that you're reading the page.
But if you came from a search result, stayed for an hour, a day or a week, Google knows that you didn't hit the back button. This is evidence that the page was helpful. I'm sure that dwell time doesn't matter beyond a certain point, but it's certainly not a short click!
Q: Does it matter if a home page has a lot of text and pictures on it, or is it best to split it up into lots of different pages spread over the site?
Andy: Ideally, every page should be focused on one topic and one main phrase. The question of whether to make something one page or two depends on if one or two topics are being covered. In my example of a website footer design, that became one page because it's focused on that topic. An article about headers would be another page. An article about sitemaps would be a third.
Home pages are sometimes a bit different, because they have the most authority and the best chance of ranking for more than one phrase. Treat your homepage a bit more like a landing page. 
Include concise words that describe the overall product/service, answering the "Where am I?" question. 
Include the specific benefits of the product/service, answering the "How does this make my life better?" question. 
Include evidence and social proof (such as testimonials), answering the "How do I know this is good?" question.
When you go deeper into the site, it becomes clear how each topic should become a specific page. Don't put all of your pages on a "Services" page. No one searches for "services." Make a page for each service offered and target that phrase specifically. It's good for search, good for visitors and good for Analytics.
Below we have provided a list of useful sources mentioned during the webinar with Andy Crestodina:
Again, thanks a lot to Andy Crestodina for his invaluable tips!