Have you ever wondered why Twitter is so addictive?
After existing for a decade, the little blue bird has accumulated quite an audience. For some users, Twitter has become a kind of mirror that reflects changes in culture, fashion, politics and more; for others it's more like a news portal with live comments from celebrities and authorities. Finally, for the third group, it has become a platform for business, and our small survey shows that 86 percent of Twitter users constantly check it for updates.
Today we're going to discuss other perspectives on Twitter with our SEMrush chat participants and our keynote speaker Joel Comm @joelcomm, social influencer and author of "Twitter Power: How to Dominate Your Market One Tweet at a Time," the best-selling book of all time about the social media giant.
Just like any other developing social media platform, the big T constantly updates its features by adding more and more integration opportunities, not to mention new approaches to advertising. So which update would you call the best Twitter update ever?
Joel notices that the quote tweet feature and video have made a big difference; they know allow him to use Twitter like he wants!
Peter Nikolow @PeterNikolow mentioned more cool, including SEMrush Chat. WooRank @woorank also highlighted the changes in the analytics.
And let's not forget about the new targeting options.
How about Twitter's integration with other services like Twitonomy or Tweet Binder? Pat Whalen @2patwhalen also adds livestreaming via Blab to the list of useful updates.
"Without a doubt, the removal of share counts! ..but you can get them back..kinda :)," — says Zadro Web @zadroweb, and Bart Keybergh @BartKeybergh points out the sort URL invention.
Let's recap the most significant updates: the ability to retweet with a comment, the removal of share counts and the new API.
On August 15, 2015, Twitter removed its original 140-character limit on direct messages, and by 2016, there are rumors that the limit will be further increased to as much as 10,000 characters. What's your take as a marketer and a Twitter user?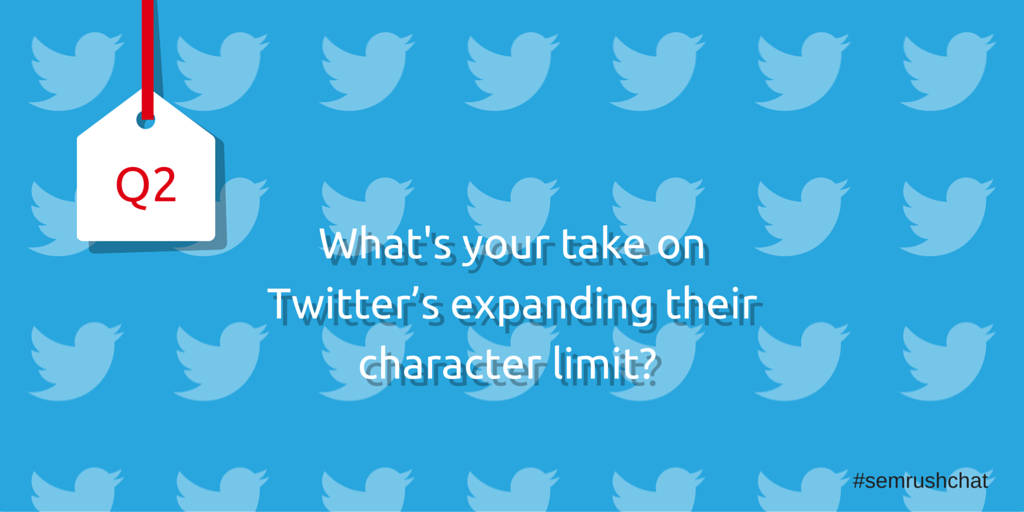 Joel is sure that the limit will soon be increased, but the question is by how much?
"The reason for 140 characters was due to SMS limitations, which are no longer applicable to the platform," he also commented. But Kyna @kynagarrett is concerned that 10,000 is a bit much, especially if users will have to expand tweets to read more. "The point of Twitter is to be concise," she explains.
Amel Mehenaoui @amelm confesses that she is against Twitter's expanding their character limits. "With 140 characters, we think seven times before posting. We say what is important," she thinks.
As we can see the character limit update is a very controversial matter for our participants.
Bill Slawski @bill_slawski suggested that Twitter's character limit is one of its defining characteristics and also said he'd like to see it kept.
As we can see from the hot discussion in this SEMrush chat, the debate on Twitter removing its character limit will become more and more intense in the nearest future. But the majority of our participants are sure that 140 characters is okay and the expansion is only logical after the addition of images and quote tweets.
It's time to remember the advertising opportunities Twitter provides to marketers. What are the key benefits of using Twitter ads and how should you utilize them?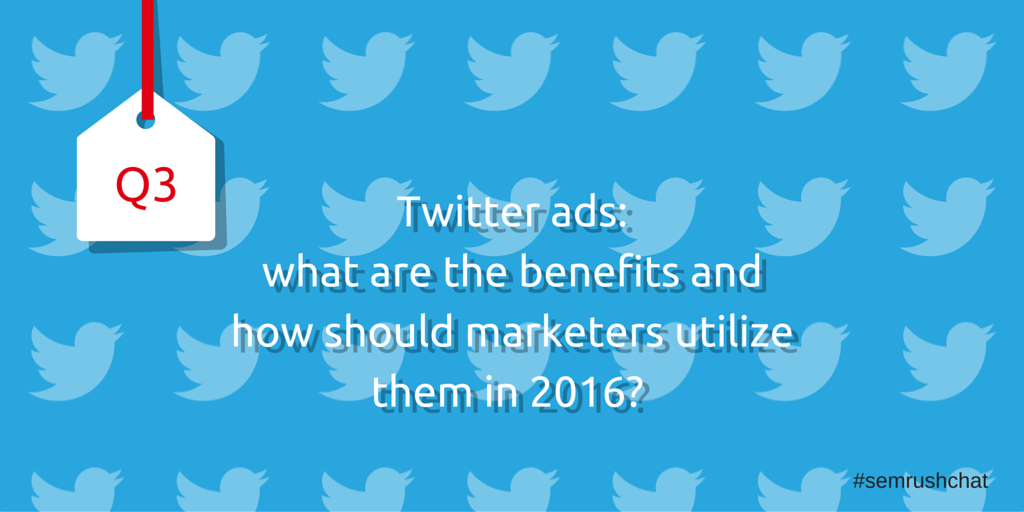 Joel is certain that the first thing you should think of when leveraging Twitter ads is testing the performance before you invest all your remaining funds.
Peter Nikolow @PeterNikolow thinks that Twitter ads are still stuck in the middle of nowhere. "But they're constantly tweaking this," he then adds. Bill Slawski @bill_slawski also agrees that it makes sense to use Twitter ads when you want to give something a boost.
According to Amel Mehenaoui @amelm, the benefit of Twitter ads is that they give you the ability to laser target followers that will see your ad. And, as we all know, better targeting results in better conversions.
Ok, let's summarize – the benefits of Twitter ads are: message match and ultra-precise targeting. But these ads should be used with care (i.e, for brand awareness mostly).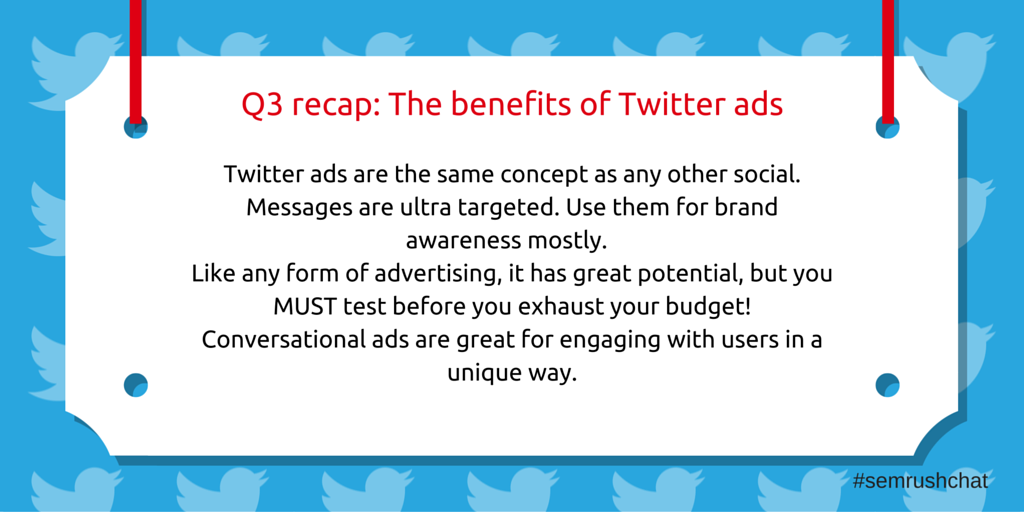 Like any form of advertising, it has great potential, but you MUST test before you exhaust your budget! Conversational ads are great for engaging with users in a unique way.
Live streaming and broadcasting were among the most desired changes we discussed in the first question. Is Twitter really suited for creating these types of brand awareness and generating leads?
Some of our guests think that Twitter is more about chats, quick messages to your users and article promotion.
Some other participants, like Reva Minkoff @revaminkoff, replied that Twitter is a broadcasting platform, but you should remember that users must be watching in real time in order to see a tweet.
"Most importantly, make sure you're taking the time to actually engage with your audience" was the answer from Express Writers @ExpWriters. There's no argument—real engagement is communication, not monologue.
Also thanks, Tony Dimmock @Tony_DWM, for mentioning our humble efforts in developing SEMrush Chat, which happens to also be a Twitter-based broadcasting channel. Lars agrees:
The majority of SEMrush Chat participants view Twitter as a broadcasting platform and encourage marketers to stream interesting things such as upcoming events, webinars, and Twitter chats.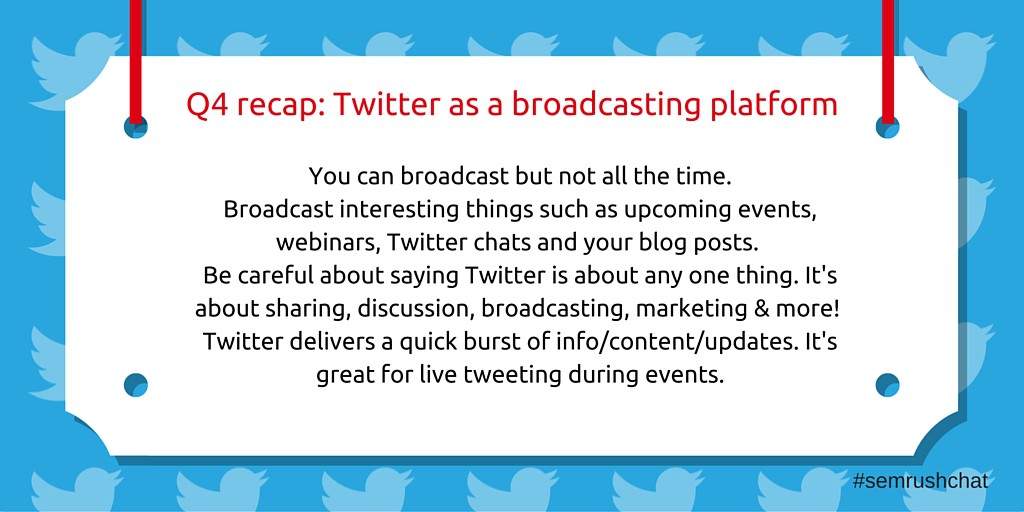 Updates for Twitter always come fast. In the near future, we will definitely see more updates. It's time for our participants to share their predictions of how Twitter feeds will be upgraded in the next 12-18 months.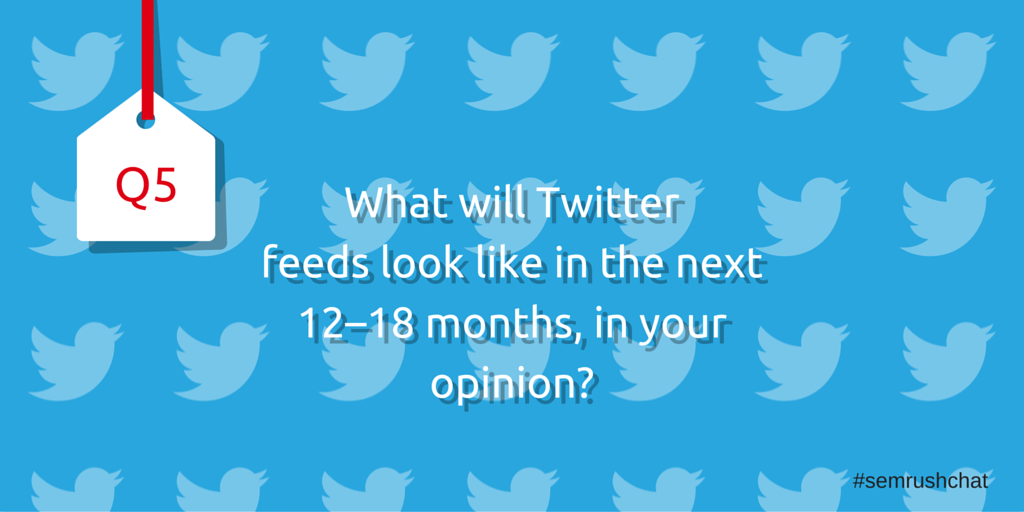 Joel predicts that Twitter will increase its character limit to make it sticky that we will see more live @periscope streams in our feeds as well.
Kendra Bullen @kendrabullen suspects algorithm changes will ensure our feeds deliver more targeted content. It's hard to argue against this since we still see a lot of garbage in them.
David Rosam @writingforseo hopes that Twitter will still be recognizable and won't become a Facebook or Lithium wannabe. We hope so too, as it would be sad to lose such a unique platform!
All in all, based on our participants opinions, the future of Twitter feeds will be represented by an increased number of live streams and images, as well as the integration of interactive ads and videos.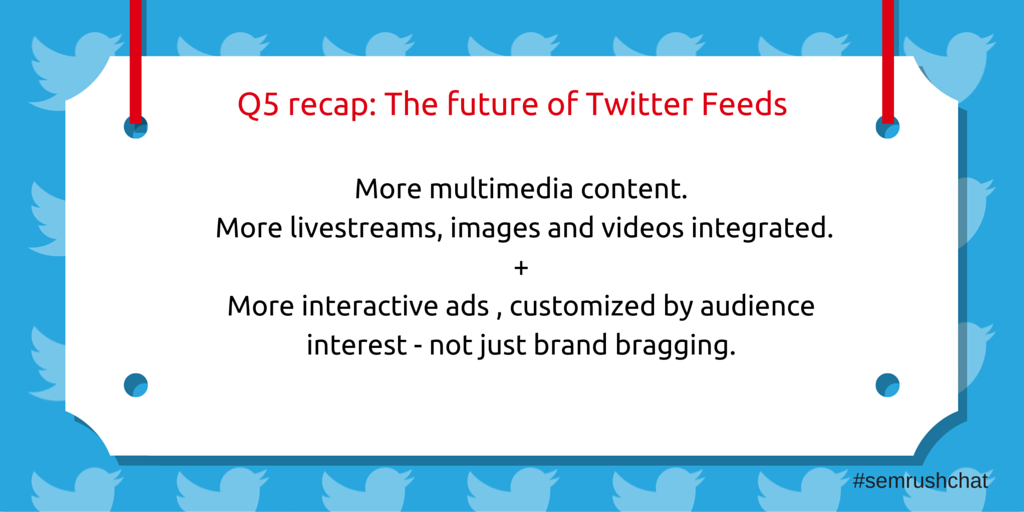 The recent closing of Topsy was a big blow to marketers, as many of them used it for analytics.  In the next question, we open our participants' SMM toolbox, so you can see what alternatives might be used for similar tasks.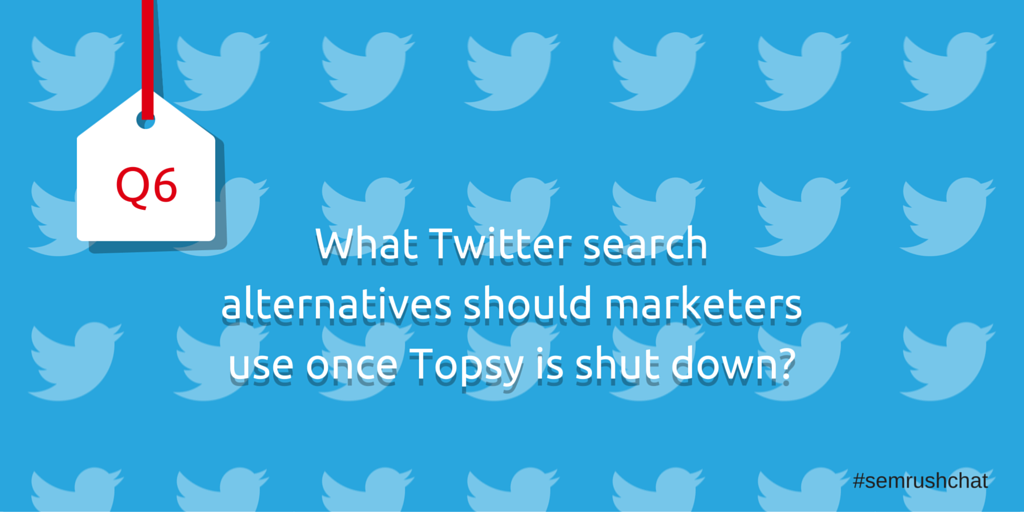 As an expert, Joel advises using native Twitter tools — for example, Twitter's Advanced Search tool — and checking their performance:
Daljeet Kaur @DaljeetkKaur suggests TweetReach and BuzzSumo as alternatives and Andy Vale @AndyVale mentioned SocialBro.
Tweet Binder @TweetBinder voted for the Tweet Binder app, which is not surprising! The rest of our participants, like Joel, are convinced that the native Advanced Search tool is the best option for doing research.
Here's a list of tools marketers find useful: @BuzzSumo, @TweetDeck, Twitter Search, @Hootsuite, @Mention and @Followerwonk.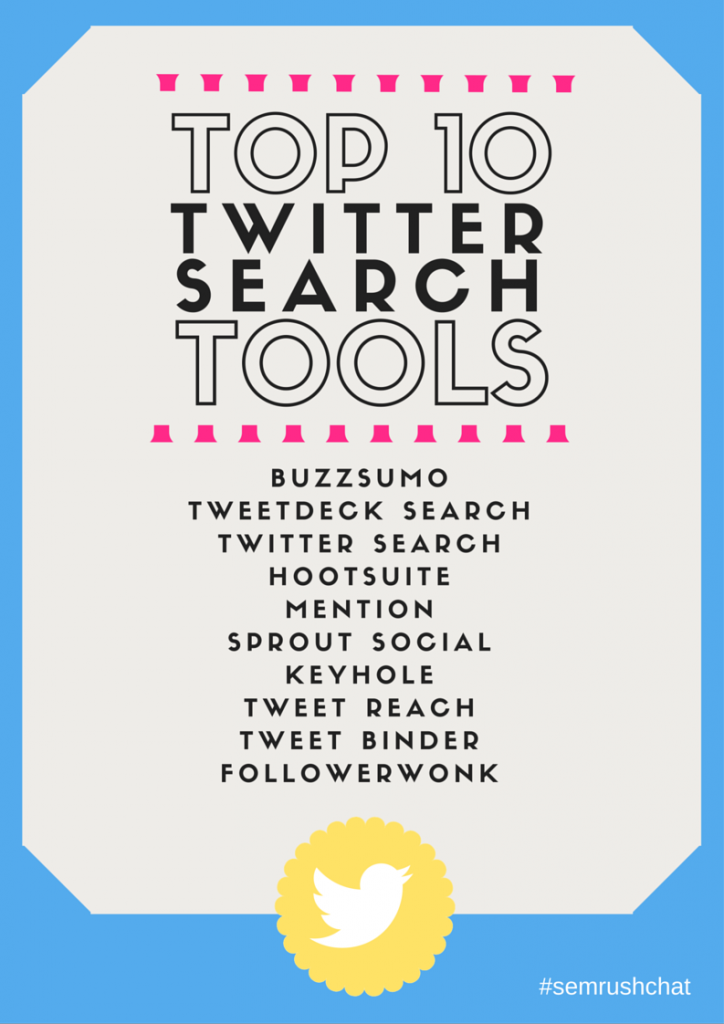 What about our personal expectations? In the next question, we asked marketers to share their suggestions for improving Twitter and engaging more people.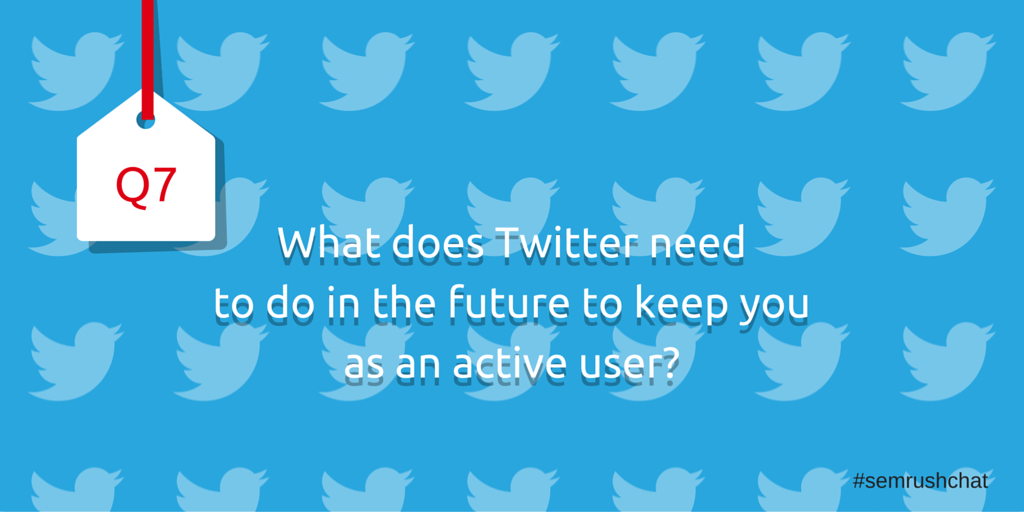 Joel responded quickly: "Open up to developers again! Embrace the community that built Twitter!"
Express Writers @ExpWriters are sure that Twitter won't make any drastic changes and will keep its character limit as it is!
As was mentioned above, conciseness is what makes Twitter different from other social media platforms.
A majority of our participants thought that Twitter is very addictive and engaging. But they also want Twitter to make some changes in the future.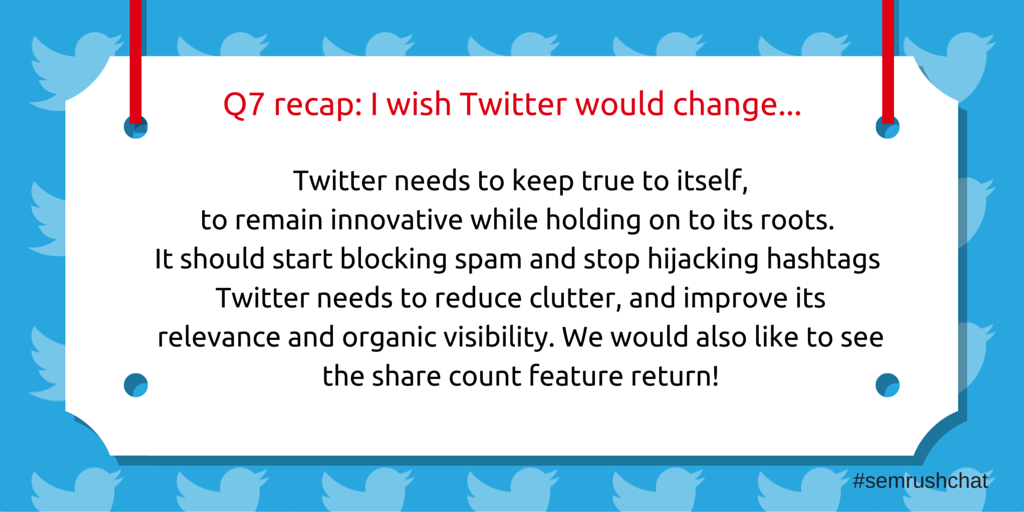 That's it for today! A big thank you to all of our SEMrush Chat participants, and, of course, to Joel Comm @joelcomm for sharing his expertise and predictions about the future of Twitter.
Do you have your own thoughts? Share them with us in the comments section.
And don't forget to join SEMrush Chat next Wednesday!