One thing you can always say about the Internet is that it's constantly morphing.In the late '80s to early '90s, it was a novelty. Not many people owned personal computers, and if they did, they paid a bundle for them. I remember buying my first PC in 1986 and it cost $2,500 for a 20M hard drive. At the time, I didn't even know that the Internet existed, though people were already using it.
In the 1990's, being online was cool…a novelty.Our 28K modems brought us into a global world where people could really connect.Usenet was big at the time, and I remember waking up and being excited to communicate with my writer friends from places like New Zealand, Israel and Michigan. In fact, one friend from New Zealand and another from Miami wrote a book together and ended up married, and they still are to this day. It was awesome!
Then, somewhere in that decade, Internet advertising was born and people began to realize that the online world was a medium where people could actually make a buck or a gazillion. Hence, anyone with a PC could create some information product and be wildly successful online.One of my old friends actually made $800K in his first year of doing business online.
This Internet jackpot milieu continued well into the 21st century, but around 2011, something else happened. People had become so inured to the ads, the hype, and the outright failure of being able to reproduce these wild results themselves that the information marketing world started to unravel. Even the so-called Internet "gurus" were having trouble making ends meet.Does any of this seem familiar to you?
Everyone online, working to build businesses on their own, had to shift and punt. The hypey-crappy tactics and, sometimes, the outright scamolas were no longer working. The Internet matured into a respectable place where only respectable brands were destined to succeed, and Google led that charge. Google has remarkably changed the world of SEO as we knew it, right along with their stance on Web spam.
What's Different?
Unless you're been living under a proverbial rock, you've heard of the Panda and Penguin updates that have been running at Google for the past couple of years.One-page sales letter sites, squeeze pages, and all the old tools of the trade were suddenly spawns of evil.The day of a site existing strictly to sell something is over.I'm not sure it ever started for the charlatans, but in terms of SEO, marketershave had to completely change their thinking.
Today, the customer matters more than ever. Customer experience is primary, and with this move, not only have we had to change our thinking, but customers used to the hypey direct-response approach have had to be retrained, too. But have we been successful?
The answer is NO.Any online small business knows it's harder than ever to make sales from the Web. People want to buy from brands they trust. So, the big guys like Target, Best Buy and Bed, Bath& Beyond, with physical presences are trusted without question now. But even Amazon.com, because it's become a trusted brand, does well, too.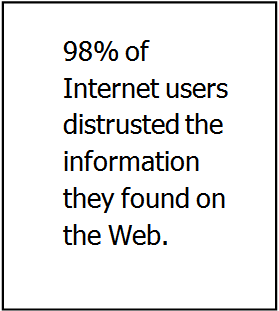 The question is: How do we as small business people turn the crowd around and get them to trust us again?
First, let's look at the stats:
According to a press release from Mancx, in a July 2012 study they found 98% of Internet users distrusted the information they found on the Web
29% said there are too many ads
56% said there is too much outdated information
53% said the information they find is too self-promotional
People are also concerned about getting computer viruses (63%), are afraid to lose money (51%), and the same number worry about Internet fraud. People have been burned orknow someone who has been. Even if the victim was a cousin of someone who knew a guy, they're still pretty tender from the wounds.
How Can We Turn Things Around?
As SEOs, we handle different aspects of clients businesses. Sometimes, we're working at organic traffic, while other times, we're working at paid traffic or SEO design.But no matter what we do, the basis of all of it is diligent keyword research. I never build a site for my clients without that base to work from. That's where converting visitors to customers begins.
Yet, it's not about keyword stuffing, and it never was. Providing the best experience for people who visit our clients' websites should be what it's all about. The navigation should be clear and simple. There should be clear terms of service, privacy policies, and ways to contact the site administrators when customers have complaints or questions. And that information should be in their faces, as in having a big telephone number on the front page. This has also become important to Google in the recent past, and if you look at things from their side of the fence, it makes sense for them to want that from the sites appearing in their search results.
As I explained in a prior article (5 Killer Tactics to Make Your Web Business Perform Better, August 19, 2013), site speed is another HUGE deal. The faster your site is, the better. Plus, if you're not mobile friendly, you totally should be. Compete reported in May 2013 on a Compuware study that 57% of consumers will not recommend a business with a poorly designed mobile site. That could mean a LOT of business lost, just because people can't easily navigate your site on a mobile device.
It's also becoming more and more about the social proof. That's why review sites are doing so well these days. People want to know what other people think about your business before they even consider doing business with you. One way to have the social proof you need is to claim your listing on Google Places for Business or on Yelp. But what if you're not running a business that fits into those models?
That's where testimonials come into play. Publish them. Make sure you have them where people can easily see them. Include pictures of the people respondin, and a location, even if only a website address.That helps add to the credibility. And yes, people have concocted fake testimonials, too, so anything you can do to make your customers' comments real is good.
Social media has become important in this, as well. Facebook, Twitter, and Google + pages help people to understand how your company interacts with its clientele. If you have no social presence today, you're hurting.The old days of simply advertising to make sales are over, and sometimes, ads can hurt your business, too.
Too Many Ads?
By now, most webmasters know it's not good to have more ads than content on their websites. Google hates it, and so do your visitors. Keep the ads below the fold, which is counter to what every marketer online may tell you, even to this day. However, if you want to rank in search, it's imperative you gain your visitors' trust first by providing relevant, engaging content. It will satisfy them and search spiders, too.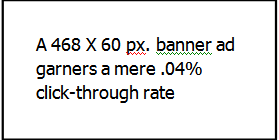 Here are some stats you should know about how poorly those can perform:
Double-Click reported the overall click-through rates on display ads in the U.S. is 11%. Great Britain is at 4.4% and Canada (at 2.2%) are much lower. Asia fares worse, with China coming in at 10.5%, Japan at 5.7% and India at 2.5%.
Double-Click also found that a 468x60px banner ad garners a mere .04% click-through rate.
According to Solve Media, you're more likely to die in a plane crash than to click on a banner ad.
So, do you really need that many? I think not. Visitors probably won't click on your ads anyway, unless you lay some groundwork first.It just stands to reason that if you want people to be interested in what you're selling, you're going to have to fuel that "know, like and trust" factor first.
Advertising should be unobtrusive and sparse. It should give way to content. The days of the "carnival" site with flashing banners are so over. Thank heaven!
But What Happens When You Don't Take Out the Trash?
We all have some outdated information, especially we bloggers, and that's especially true if we're blogging about SEO because things change so quickly. So, what should you do?
You can serve up a killer 404 page, which some webmasters prefer to do. Funny is good, but just interesting with other options is fine, too. Yet, I don't think that search engines enjoy those pages at all. You're telling spiders there are errors on your site, and that makes them shed silk. Don't do that.
You can also leave the page "as-is," but use a disclaimer to explain to people that the information has changed and where they can find up-to-date information on the topic. Of course, you don't want to send visitors off your site, so this doesn't thrill me, either. You can use a javascript or jQuery overlay that gives visitors a choice of other pages to visit instead. In the case of e-commerce, where products go out of stock or out of a line, this will probably work out best.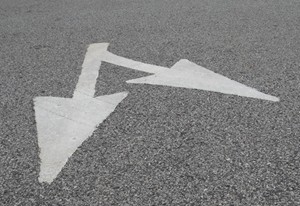 My advice? Update the content and redirect the old URL to the new. This keeps everyone happy. But if you have an enormous site and that's just not possible, related content will do. For example, if your page was about duplicate content and we all know that's a big no-no now, redirect your page to another that talks about the changes in how search engines view duplicate content today.
Just be sure you're giving visitors what they're looking for. Let them know you want to help, and where to find what they need on your site.
Stop Loving Yourself Too Much
If all the posts in your blog talk only about your products or how great you are, people won't be interested. It's like any other facet of life where too much tooting of one's own horn just becomes obnoxious.
Instead, engage visitors with information related to your niche. For example, if you have an e-commerce store geared toward men, your blog might be about manly topics and not your products. Or if you have a health spa, information about diet and exercise will probably work better than only writing about specials and sales.
But you need to get people to your site to establish a relationship. Remember, just because you've built it doesn't mean they'll come.You need to drive traffic, and when it comes to organic search traffic, you also need to think about what makes people click on your SERPs listings to get to your site in the first place.
It's not about keywords, though it has been in the past.
It's true that the title in your <head> section should contain keywords, but where? Prominence (putting keywords at the front of your title) used to be a big deal, but today, it seems much more important to sell that click!So, when crafting Meta tags, you need to think not just about what spiders see but also about what people see when they see your listing on the SERPs pages.
Is your copy (and that's what your title should be, really) going to make people click through to your page? If not, you need to rethink how you're crafting your titles and Meta descriptions. Think persuasion. If you want a good read about that, try Kevin Hogan's book "The Psychology of Persuasion," which is great. Hogan has an amazing sense of humor and you barely notice you're learning. Robert Chialdini's "Influence" is another great persuasion bible, too.
The Bottom Line
At the end of the day, you want your visitor to know you because of the engaging content you've written. You want them to like you. Give them useful tips, charming videos, or even downright funny stuff. (People love funny, but it's really hard to pull off, so be careful. It can just come across as lame, too.) You want your visitors to trust you. Give them what they want to see when they visit your site. That's half the battle, for SEO and otherwise.
Author bio:
Pat Marcello is President and SEO Manager of MagnaSites.com, a full-service digital marketing company in Bradenton, Fla.