I've been running a digital marketing agency (that's what we call SEO firms these days to hedge our bets, just in case SEO actually does die) since 1999. We've worked with several hundred clients. We'd love to work with you, but this post is not a sales pitch. I'm going to be straight with you even if it hurts me and frankly if you follow my recommendations you might not hire my firm, but I'm okay with that. After all, this is about your needs, not mine. Ready? Let's go.
Here are my top tips for hiring an SEO firm so that you don't get ripped off and you get the results you're looking for.
1. Talk to more than one firm.
You could hire the first firm you talk to and get lucky, but that's risky. It doesn't take much time to talk to a few more, and even if you like the first one you might talk to the second and then say, "Wow, I liked the first one but these guys are SOOO much more impressive!" Or you might confirm that the first firm is the right one to go with. Either way, you're better off.
2. Look at case studies.
The ideal SEO firm for you is one that has had recent success working for exactly the type of company you have. But it might be difficult to find. The second best option is to find an SEO firm with case studies that are relevant to your situation. Your first question to an SEO firm should be, "Have you done work for a company like mine before?"
If the answer is no, your second question should be "Have you done work that is relevant to a company like mine?" For example, you might think self storage, multi-family real estate (apartments), and senior care facilities have nothing to do with each other, but when it comes to SEO there are a lot of similarities. A good SEO firm will be able to explain how, even if they haven't worked with your exact type of company before, they are ready to dive in and get it done the right way.
3. Get references – and contact them.
Once I hired an employee I had to fire several months later. I could have avoided it all if I had made a single call to one of his references, but I didn't call any. That was an expensive lesson to learn. A quick phone call or email could save your business a lot of money as well, not to mention a lot of wasted time.
4. Learn about the team you'll work with.
Who are these people? How much experience do they have? How do you know they'll do a good job? If an SEO firm isn't willing to share LinkedIn profiles and other information about the people who will be working on your account, perhaps they're hiding something.
5. Look for a long-term relationship.
At my firm we used to work month to month with all our clients. Now we require 12-month commitments. Why? Because it's good for both us and our clients. If a client signs up month to month we don't know when they might disappear, or if we're even doing a good job. We're not going to make the long-term commitment to hire a SEO superstar to join our team and work on a client's account if that client isn't willing to make a commitment to us.
And we run a risk making a large investment during the first few months. But if a client signs up for 12 months then we know we can pour our hearts and souls into a client's account because they're going to be around long enough to see the results and be convinced to stick with us beyond those 12 months. In other words, you want to work with an SEO firm that requires you to make a commitment, because they'll be making a commitment to you as well.
It doesn't cost you any more, but you end up with better results.
6. Be prepared to pay.
If you're looking for full-service, hardcore SEO, you're not going to get it for $250 USD per month. You probably won't get it for $2,000 per month – trust me, we charged $2K/month for years and it just doesn't work out, unless you're buying a partial SEO offering rather than the whole shebang. Our minimum is $5,000 per month. Yes, we have startups and small businesses paying that rate – and quite a bit more.
That's what real SEO costs. Anyone who quotes you less is also offering you a lower level of service, and guess what? If your competitors are paying more, they'll probably beat you at the SEO game.
7. Consider their other services.
Maybe you just need SEO, but do you ever need web design, programming, PPC management, content marketing, infographics, social media, etc.? Take a look at the other services of the SEO firm you're considering, and think about whether you might need those services down the road. Going with a firm that does one thing really well might be the right choice for you, but if you think you'll need a lot of different things consider hiring an integrated firm that does it all.
Bonus tip: Trust your SEO agency.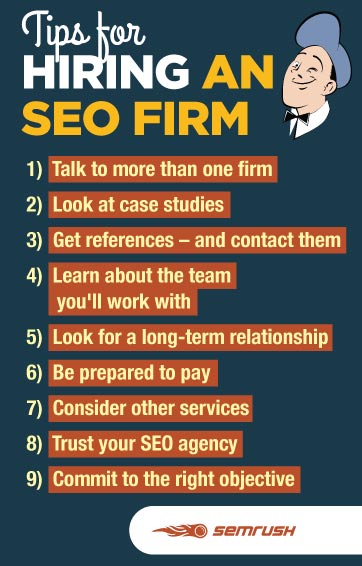 If you do all the above and you're sure you're working with a good firm, then trust them. I've seen too many clients jump in and start micromanaging ("I want you to focus my entire budget on getting to #1 for this keyword!") and that's a recipe for disaster. In military operations there's something called "Overall Strategic Objective."
Because no military strategy survives first contact with the enemy, and leadership isn't always there to give detailed directions, an order is given to "take that hill" and then it's up to the men on the ground to figure out in the heat of battle the best way to accomplish the objective. Good SEO firms operate well in similar circumstances – give them an objective, and let them use their expertise to get there in the best way.
Bonus, bonus tip: Commit to the right objective.
If you give your SEO firm the task of getting to #1 for a certain keyword, they might succeed, but they still might fail. Why? Because you don't really care about your website ranking #1 for a certain keyword. What you care about are the results you think ranking #1 for that keyword will give you. Instead of focusing on the ranking and giving that to your SEO firm as an objective, talk about the results you want. Things like leads, sales, and revenue targets are good objectives. Rankings and even traffic levels can be misleading.
It won't take you a lot of time or effort to follow my tips. It will cost you a lot less to follow these tips than to hire a new SEO firm in six months after the one you hired doesn't work out. Good luck!
Josh Steimle is the CEO of MWI, an SEO firm...err, digital marketing agency with offices in the U.S. and Hong Kong. He is the author of Chief Marketing Officers at Work: How Top Marketers Build Customer Loyalty (Apress, 2016), writes for Forbes, Mashable, TechCrunch and a host of other publications, loves speaking at marketing industry events, and can be found on his blog or on Twitter @joshsteimle.