It is clear that businesses need to actively create a community with social media engagement in order to build solid relationships with customers and expand their reach. That much we know without a doubt, but how exactly do you measure the ROI of your social media marketing?
In some cases, it is easy; we can track the sales that come from people who watched our product videos, getting a definite monetary value from that content. But what about the ROI of everything else i.e., the followers, the likes, the comments, and shares? Last week, Michelle Held, owner of the digital marketing firm MetroNY-- joined us for our #SEMrushchat to weigh in on how to measure and improve the ROI of Social Media Marketing. With great insights from both Michelle and our chat participants, we have a great recap in store for you today.
Q1. How do you measure social media ROI?
This is an exceptionally important question to answer. If you are unable to accurately measure the results and impact of your marketing campaigns, after all, you'll have no idea how well they are working or how to improve them.
There are several different ways you can measure social media ROI, but the method you choose will depend on the goals you have set and what types of posts they are. Because of this, it is important to have a clear understanding of what you want each individual post to accomplish. Once you figure out what you are trying to achieve, you will you be able to measure the ROI.
Some posts, for example, will be entirely focused on driving traffic to lead magnets. Others will be focused on promoting products in an attempt to drive sales. And, many more will likely be focused on building brand awareness and developing stronger customer relations.
So first, you will need to ask yourself what a certain post is aiming to do. Does this post move the needle on sales, leads, traffic, or something else? After you do this, check the reach of your content to see how many people saw the content. Business profiles and pages have access to this information through their on-platform insights, and you can also use third-party tools like SEMrush's social tracker to get this data. You will also be able to monitor information like how many clicks your posts received, how long your videos were watched, how many views they got, and more.
Don't forget to set up UTM tracking codes, which are small tracking codes you can attach to URLs to track sources of traffic, and Google Analytics goals to monitor progress. You need to make sure that you have Google Analytics and Facebook's conversion tracking pixel installed correctly on your site. These tools will make it easier to track not only clicks but also conversions. With these codes in place, you will be able to look at traffic coming from social media and check how that traffic is helping to complete your goals.
What if you just want to measure brand awareness? Bill Slawski - @bill_slawski says that "measuring the ROI of social media can often be based on how many influencers share your message and spread their influence." While reach and engagement are good metrics to watch, it is a good idea to keep an eye on your mentions to watch for influencers talking about you. This is more difficult to calculate in concrete numbers, but it is still useful.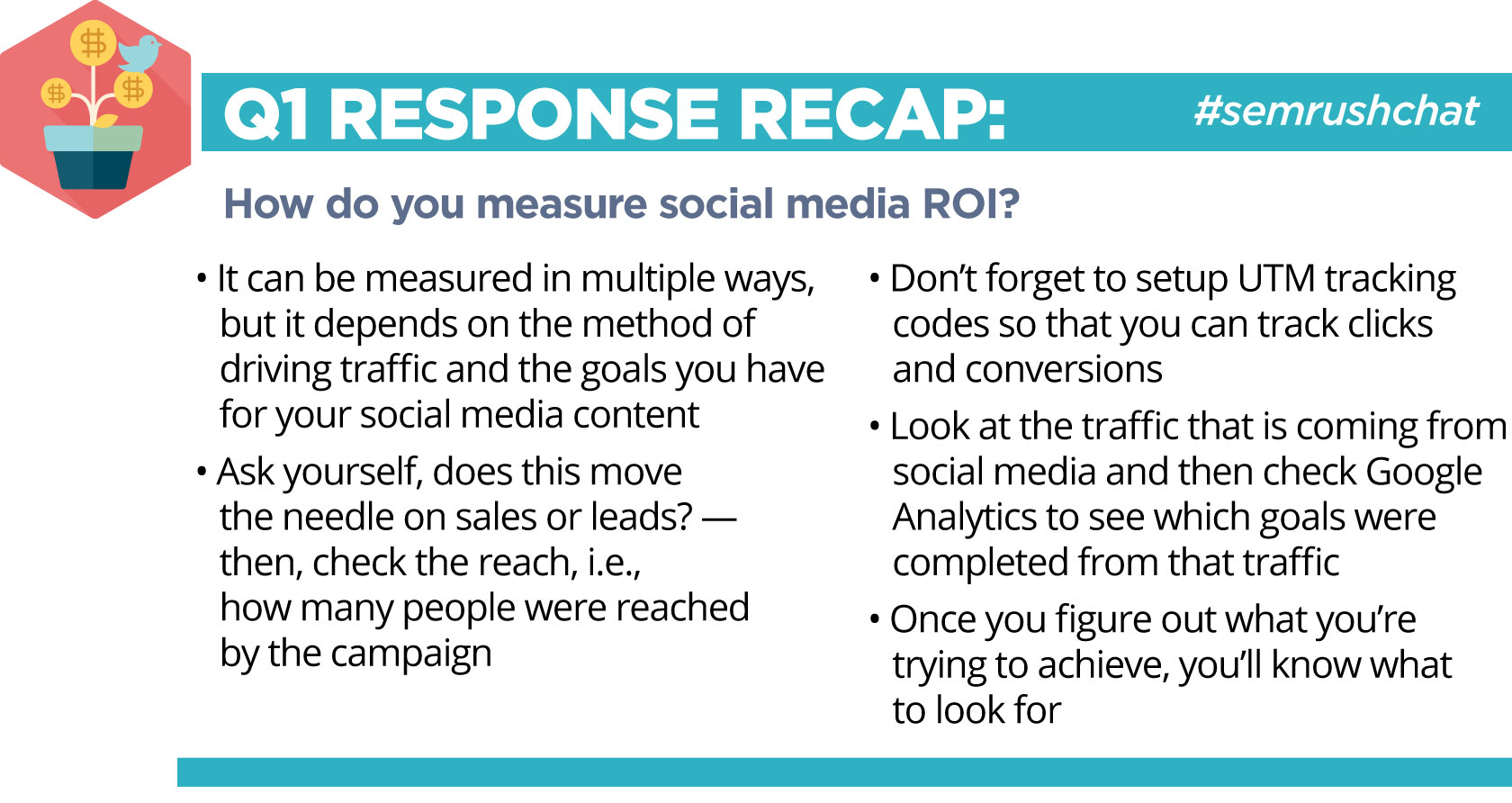 Q2 . Which mistakes have wreaked the most havoc when measuring ROI from your social media marketing?
Since measuring ROI from social media isn't always cut and dry, there is always room for mistakes while figuring out your strategy. Unfortunately, some of these mistakes can wreak havoc on your analytic evaluation, which can make it difficult to assess ROI accurately. This is why we asked our industry experts and chat participants some of the biggest mistakes they have seen when it comes to social ROI:
Not having well-thought-out content. This could mean creating content without any goals on each of your posts. If you want to measure social ROI, this can wreak all kinds of havoc on your strategy. How can you accurately measure it if you don't even know what you are trying to measure?
Using social media incorrectly. Doug R. Thomas - @ferkungamaboobo says that you should treat organic social media as a website direct response platform, rather than a more holistic platform with internal and real-world metrics. It is important to focus on relationship building and to make sure you are not just using social media as a one-way channel to communicate, instead of using it as a channel to promote discussion. 
Not setting up analytics and measuring tools correctly. If you want to measure your ROI, you need to focus not only on the strategy but also the analytical and technical side of things. If you don't have your analytics and tracking tags set up or used properly, you run into the chance of working off of faulty or incomplete data.
Not understanding what you are measuring and why. This can take the form of measuring vanity metrics such as likes, instead of evaluating mentions, reach, or clicks.
Not understanding a platform's conversion metrics or understanding a traffic attribution model ahead of time. It is important to remember that Facebook Ads and Google Analytics both have different attribution models, which helps you to see which sales and leads actually come from which traffic sources. Ideally, you should avoid last-click attribution methods, which only give attribution to the traffic source that sent the user to your site immediately before a conversion, as there is a good chance that there were many touch points the user interacted with before it should be evaluated. Make sure to clear all of this up and get your team on the same page.
Q3. Which exceptional social media marketing strategies have you invested in and why?
Some social media marketing strategies will help send your ROI skyrocketing, giving you the most results (and ROI) for your financial and time investments, one of the best is video. Video is dominating the world of marketing; it is interesting, it is engaging, and more users would rather watch a video on a subject than read about it (which even includes high-level executives, for our B2B readers following along!). Platforms like Facebook are also prioritizing native videos, giving you a much-needed boost in users' newsfeeds.
In order to get the best success with your video strategy, you need to treat it like you would a blog and SEO campaign. This means posting on a regular basis and optimizing every single video for SEO with tags, data, SRT caption files (which are searchable by both Facebook and Google, helping you show up in more searches), and keyword-heavy descriptions.
On that note, your social media and SEO teams should be working closely together. Both will have their own research and marketing preparation, and even though there will be some overlap, having the two teams working in unison could provide you with more opportunities for brand building, link building, relationship building, and influencer marketing.
Investing in PPC campaigns is also a good option. It can help you to spread your message more quickly, connect with new and interested audiences, and re-engage with current audiences.
There are also some best practices that are dependent on who your customers are. For example, B2B businesses can develop Twitter chats (like #semrushchat) and seed it with influencers as a solid strategy. This builds crucial relationships with influencers and can attract their followers to your page.
For B2C businesses, invite-only groups are a good way to go. Start out by only offering exclusive access to current clients and customers. You can eventually consider inviting prospects and leads to the groups. Share high-valuable, actionable information and insider knowledge in these groups; provide value by being available to answer questions, and soon, people could potentially be willing to pay just for access to the group. This is a great way to show your customers that you value them and care about them, which is always a strategy worth investing in.
Don't be afraid to get creative with it. There are a lot of diverse, creative strategies out there: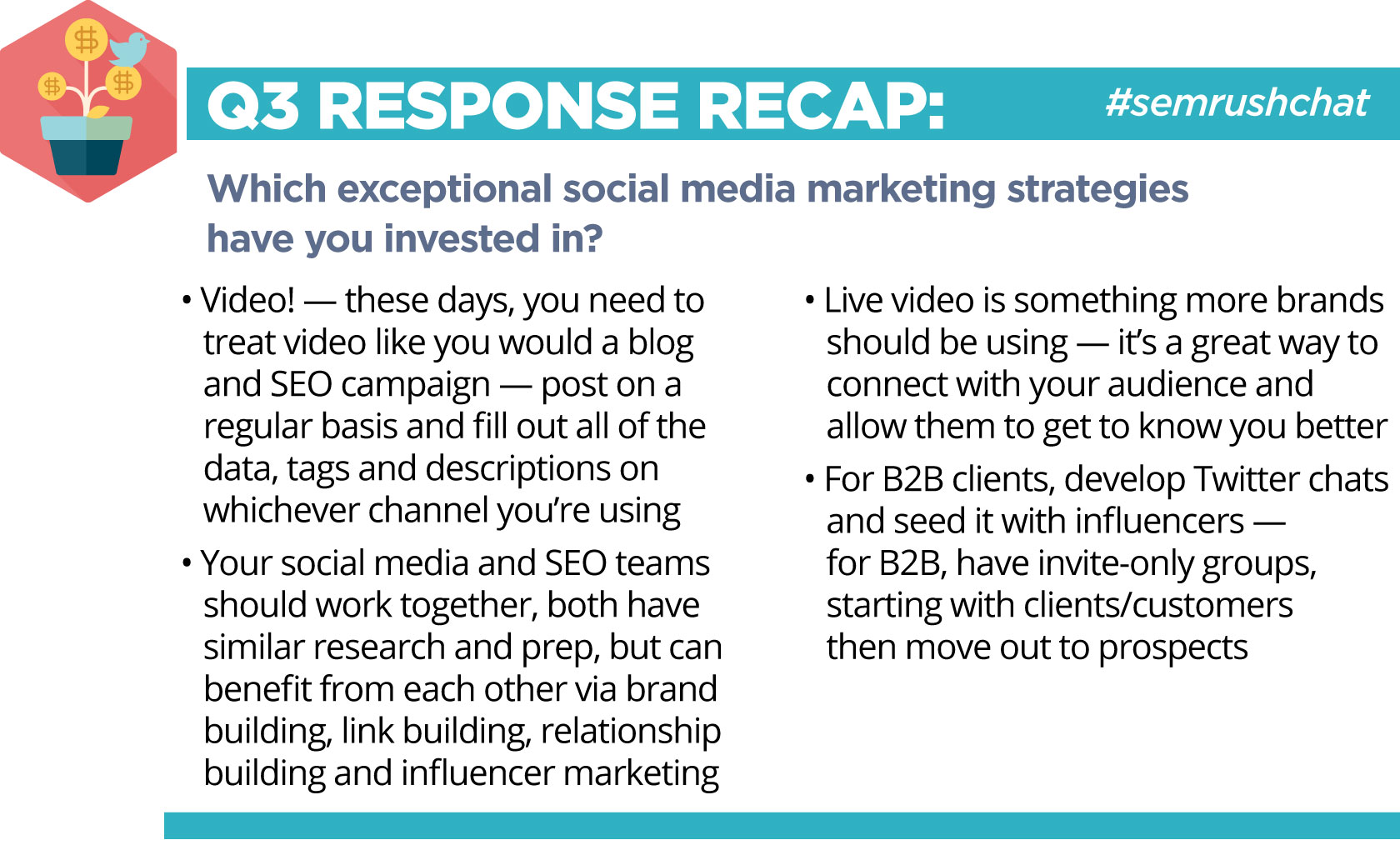 Q4. Is it possible to have a successful social media marketing strategy organically (not paid)? If no, why?
It is absolutely possible to have a successful social media marketing strategy that is purely organic, without any paid advertising. Engaged audiences will be happy to see, engage with, and share your content.
On the other hand, social media algorithms have made it increasingly difficult to stand out and even show up in users' newsfeeds. Facebook's algorithm just became even more competitive for pages, sending organic reach plunging a little further. Because of this, many companies add paid ad campaigns to their strategy.
Without paid campaigns, you will naturally get significantly fewer impressions, and growth will take a lot more time. Only a small portion of your audiences will likely see any given post. Because of this, if you want to skip the paid ad campaigns, you have to use the right tools and strategies to create social content that will have a strong enough impact.
One of the best ways to do this is video. Video is an incredible medium for brand storytelling and establishing emotional connections with your audience, so take advantage of that. Live video takes it a step further, showing the ultimate in authenticity and transparency when you have to engage with your audience in real-time and don't even have a chance to edit the content before it is public. If you create content tailored to certain audiences and then use organic targeting to make sure they see it, this is even better.
Influencer marketing is also a great option to help you to improve the reach and impact of your organic content. Choose influencers who are knowledgeable and prominent in the niches that most appeal to your target audience. Create content that they are most interested in seeing, and you will be golden.
Of course, there's always the argument that no social media content is ever truly free; you are still investing time and money into it, even if it isn't through the official ad system.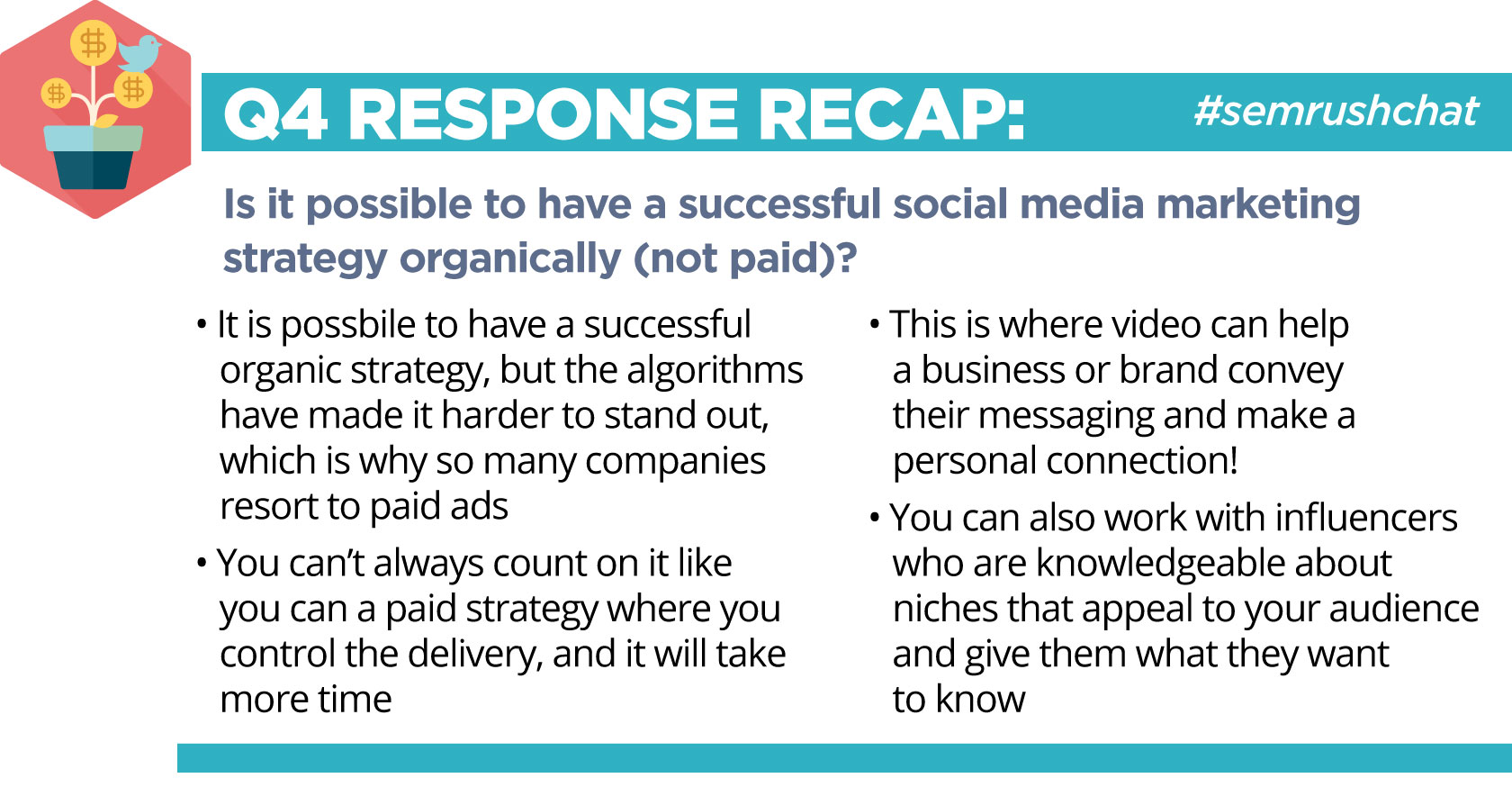 Q5. How can you effectively measure a social media strategy that isn't designed to generate leads?
As we discussed briefly before, measuring your social media ROI becomes a lot trickier when you aren't measuring clear-cut results such as leads and sales, which have a direct monetary value placed on them and are exceptionally easy to track when you have the right tracking in place.
Here is the tricky part: just because you can measure something, doesn't necessarily mean that it is meaningful. Likes, for example, are a good metric to evaluate on-site engagement, but aren't helpful when you're evaluating brand awareness.
When measuring brand awareness, look at metrics like reach, and the increase in traffic to your website. Look at how many people are coming to your landing pages or other pages on your site from social media, especially the number of new visitors (which you can gauge with Google Analytics). You can also watch for genuine on-platform engagement, like comments from real people and shares with commentary. This means that you are building customer loyalty, and they are happy to share your message with their friends.
Likes and shares can be great, but they can easily be happening as the result of bots, so shoot for real life interaction and actual discussions, which will benefit you in the long run.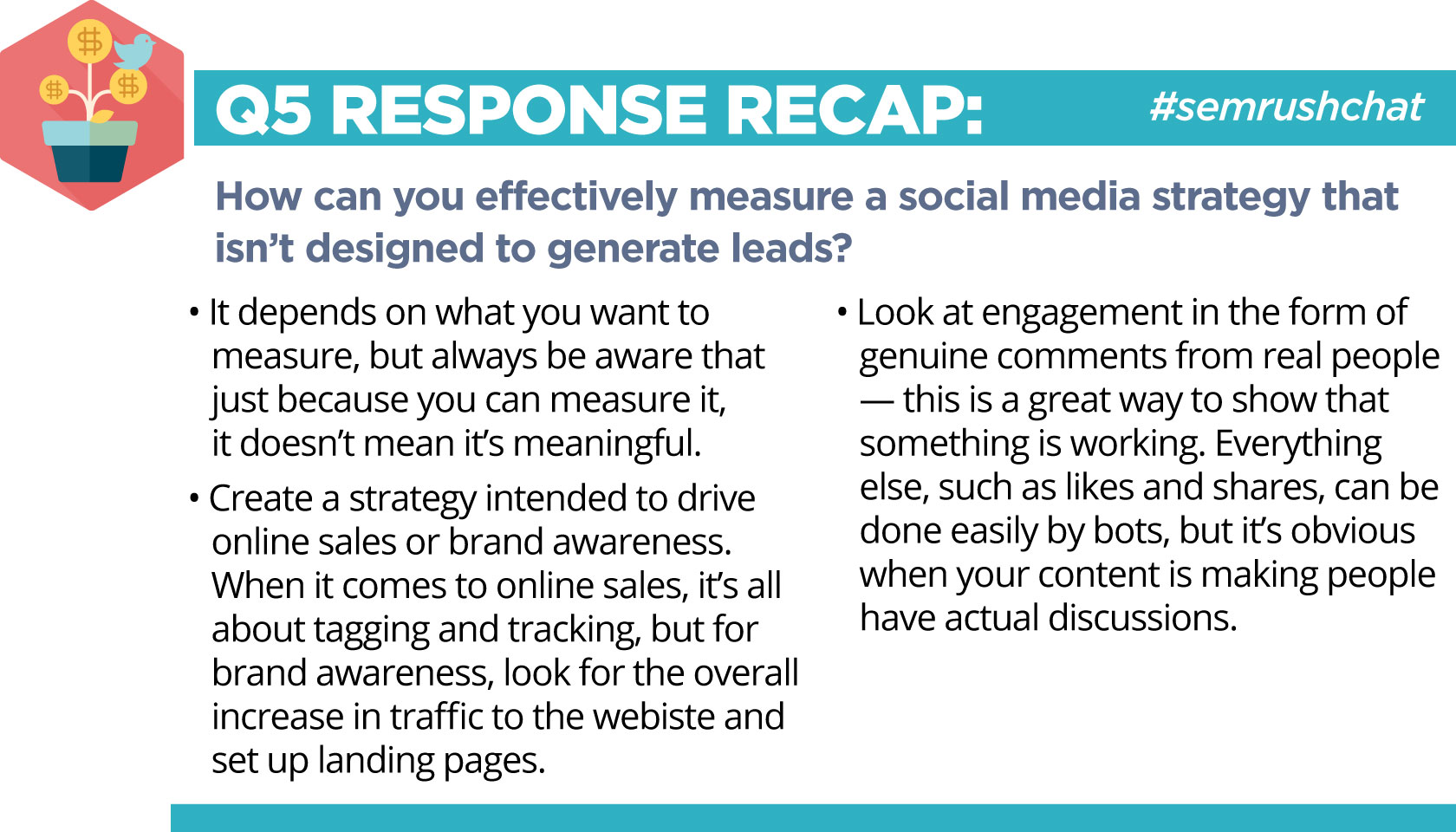 That's all for today! Special thanks to Michelle Held for all of her great tips! Make sure to join us this week on #SEMrushchat we do a Live Content Audit!