Do you have a client that already has lots of content on their site and you're wracking your brain trying to think of interesting topics? You can find unique and relevant keywords to expand the reach of your client by using the stepping stone process.
The stepping stone process is geared towards finding pre-interest keywords. Pre-interest keywords will help your site rank for lower competitive longtail keywords, which will give earlier brand exposure to potential customers. Pre-interest keywords are great for long-form content and blog posts targeted at the beginning of the customer journey. It's also easier to promote and share pre-interest topics without being perceived as self-promotional.
To show you how this process works, I'll be using one of my clients that offers a cosmetology course as an example. But don't think this method is only for "easy clients" like a college; I use the stepping stone process for manufacturing and construction companies like Empire CAT as well.
First, visit AHREFS Content Explorer or Buzzsumo's Top Content section to get a better idea of what direction you want to go.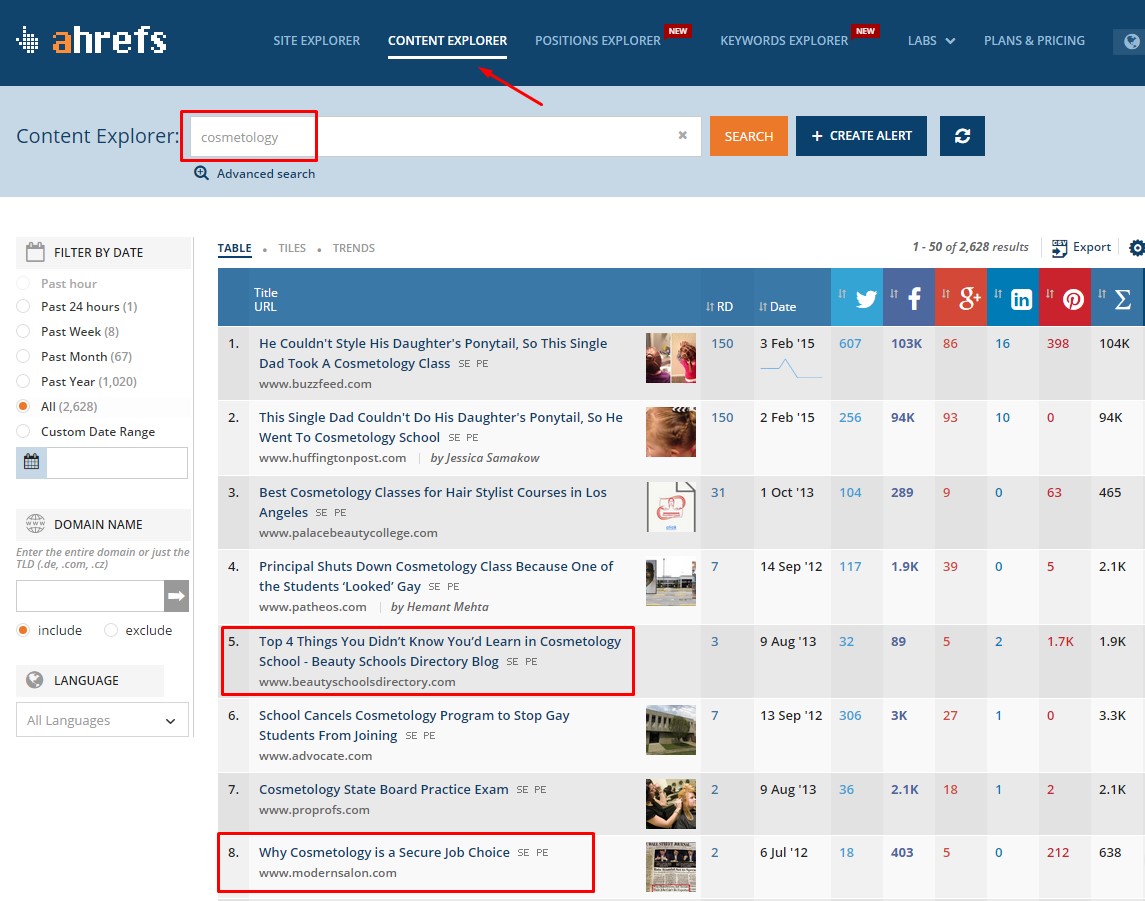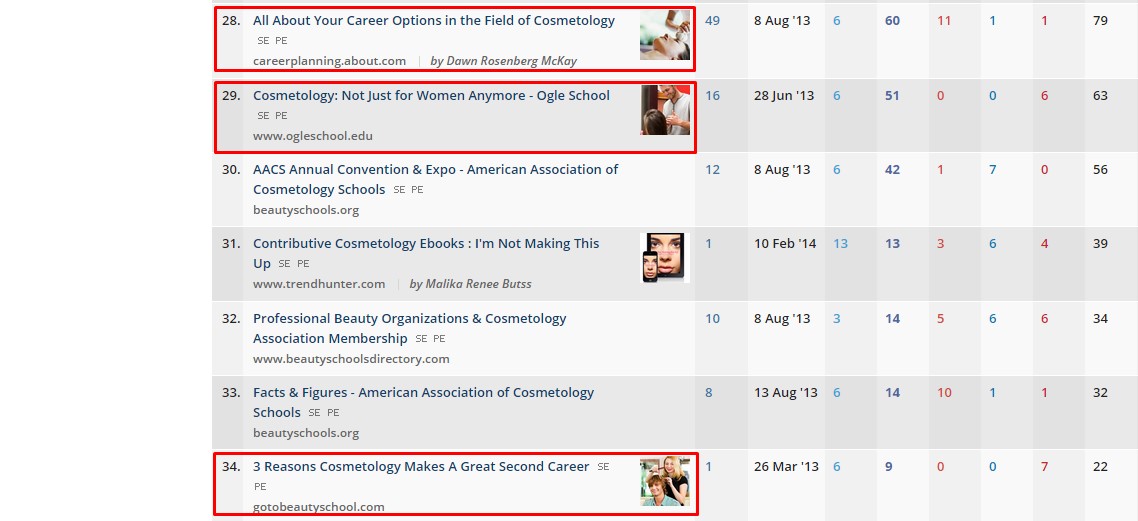 You'll notice in the results a few angles that have excellent potential for pre-interest keywords "secure jobs" and "great second careers." While I would usually explore at least three options, we'll only look at the latter so you can get an idea of the stepping stone process.
Next, let's get a little more insight into "second careers" by using Google suggests in their dropdown and under related searches at the bottom of the SERP. You can also use UberSuggest.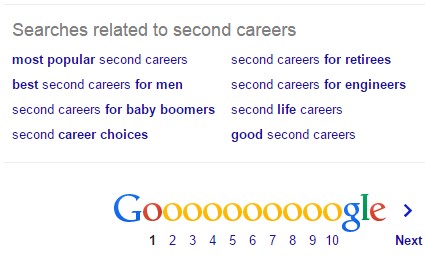 I like to look up a few of their most promising suggested phrases in SEMrush to get traffic numbers and see how competitive they might be. The topic "second careers for teachers" would make an interesting article, it has good traffic, and is suggested by Google.
Don't limit yourself to just one idea. You might miss a golden opportunity. My client offers a variety of trade school programs that would make great second career choices (though I didn't originally think of them that way). Since "best second careers" seems like a popular query for my potential consumers I might want to do a series, which would highlight several of my client's courses.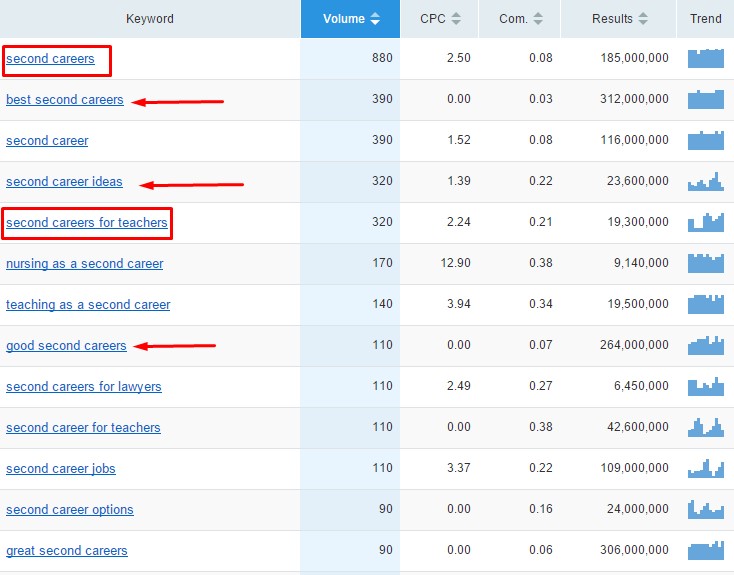 A big factor though is whether or not you can compete with the other articles ranking for the phrase. Explore several keywords in SEMrush to see what articles are ranking in the Organic Search Results section. The top link is to a blog, which I'm pretty confident we can outrank.
While on this page, check to make sure the topic is timely in the Trend section and view the Related Keywords report to see if any other longtail keywords were overlooked or a similar topic that is related (ie "retirement jobs" ) might be a better option.
Lastly, you'll want to see what other keywords those top organic search results are ranking for as it might lead to a better keyword or topic. In SEMrush, right-click the blue URLs of the first three organic search results and open each in a new tab.
Below is a screenshot of the keywords from the first link. While we don't want to rank for "I hate teaching," it does give us insight into what the reader might be thinking/feeling when they search "second careers for teachers."
Notice, we also discover another great longtail keyword for the post: "jobs for ex-teachers." If you click on that hyperlinked keyword, you can view related keywords (ie "summer jobs for teachers"). You can continue down the keyword trail jumping from one related keyword to the next until you find one that fits your product/service as a pre-interest topic and has low competition/high volume.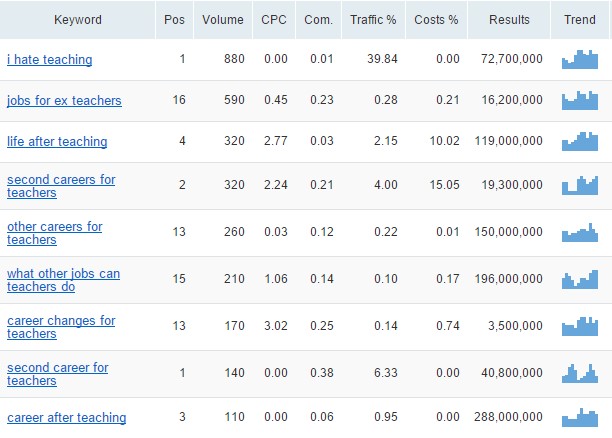 After you've collected several longtail pre-interest keywords, compare them using SEMrush's keyword difficulty tool. You can view of the keywords I found using the stepping stone technique in the screenshot below.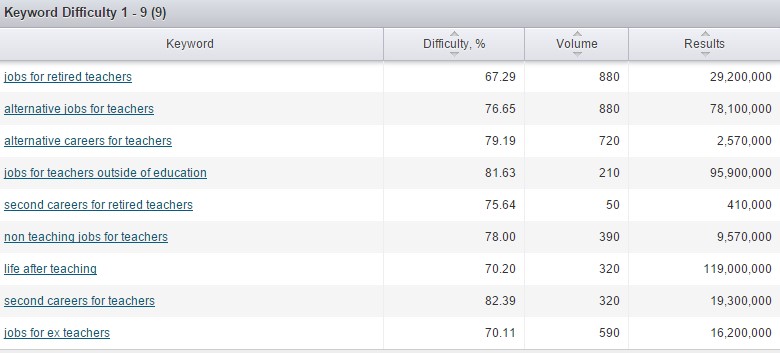 Finally, here are several headlines optimized with these keywords that I can then send to the client for approval:
Top 7 Secure Jobs for Retired Teachers
5 Non-Teaching Jobs for Teachers Who Need a Change
Why Cosmetology is a Great Job for Ex-Teachers
10 Second Career Ideas
Best Second Careers for Lawyers
Even though I'm looking for an article that features their cosmetology program, it doesn't mean cosmetology needs to be in the headline (it can be though).
Throughout this process, it's important to remember your audience personas. In the end, it's all about being in tune with what they are curious about.
Linda the40-year-old teacher who needs a career change but can't afford going back to a 4-year college might not even be thinking about cosmetology as a second career. But when she searches second career ideas or jobs for ex-teachers and reads about cosmetology, she might realize that is what she wants to do with her life now. And since she'll be in need of a cosmetology course to get started, she now knows where to go.