Plenty of businesses and marketers understand the importance of search engine optimization and are willing to spend top dollar and a lot of time to make sure their site is fully optimized. Many, though, forget about mobile SEO, which is one very expensive mistake. Mobile usage has surpassed desktop usage, so if your mobile site isn't just as optimized as its desktop counterpart, you could see your site sinking in SERP rankings and losing both traffic and sales.
During last week's #SEMrushchat, we invited Scott Levy, a 19+ Year SEO Veteran, CEO/Founder of Fuel Online, and best selling author!During this recap, we are going to go over everything you don't know about mobile SEO but should. With industry experts like Bill Slawski and Dawn Anderson sharing their insights, this is one that you won't want to miss.
Q1. If I already have a fast and responsive mobile site, should I implement AMP pages or not? Why?
It can be a hassle to add to a mobile site that has already been worked on a great deal by SEO experts. Even if your mobile site is already fast and responsive, many experts agree that you still want to implement AMP pages if you don't have them already, and especially if you are putting out a lot of content on a regular basis.
Accelerated Mobile Pages (AMP) is a project that was created by Twitter and Google designed to make incredibly fast-loading mobile pages. They work by taking HTML and reducing it down significantly by cutting out components like forms or javascript. They optimize for readability and speed, and that is it.
Nothing beats AMP in terms of speed, and since this is a factor that Google values, it can help you get a slightly higher ranking in mobile SERPs. This combined with the fact that faster loading is directly correlated with higher visitor retention rates and reduced bounce rates will increase your mobile ranking even more.
AMP pages are particularly important for sites with a lot of content, including those in the news and publication industries and businesses that upload blog posts frequently. Google's "top stories" consistently only feature AMP content, so you don't want to risk losing out on that opportunity.
What about businesses who aren't churning out content like crazy? Some experts believing that AMP implementation is not necessary for businesses who aren't regularly pumping out content. Outside of publishing, it hasn't necessarily been proven to be as immensely valuable. What good is a lead page, some experts argue, if the lead form has to be stripped away from it or other elements are cut out? Is a fast-loading mobile site worth it if it's not really usable aside from high readability?
If you do SEO for an e-commerce site, AMP can make life more difficult. On product pages, you want to pull out all the stops to get those conversions. Review and UGC widgets, pop-ups for promos, and even videos can be used to increase sales, but AMP pages can knock all of this away. According to Dawn Anderson- @DawnieAndo, AMP pages could actually cause problems on e-commerce sites. Since small businesses have a limited amount of time, it could be a waste to spend it implementing AMPs on product pages.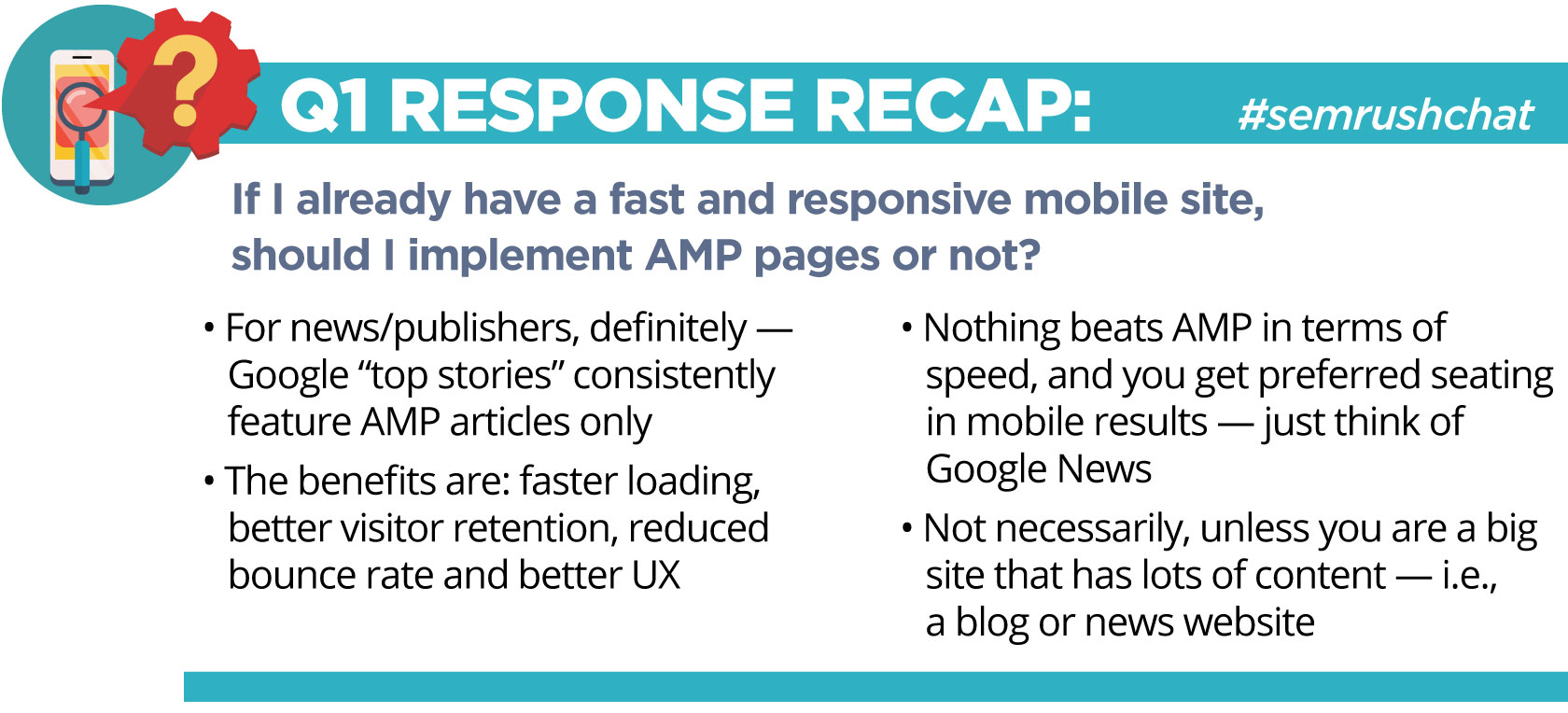 Essentially, if you have to adapt AMP pages to rank well and outshine competitors with your content, go for it. Otherwise, it makes more sense to check if the searches you are trying to rank for feature AMP pages. If not, spend your time elsewhere and make sure the rest of your mobile site is up to speed.
Q2. Let's say your mobile site has less content than your desktop site, is this something to be worried about? Why or why not?
While some sites try to clone their desktop site with its mobile version, it's not unusual for mobile sites to have different content. Even Google understands that we offer different content based on the type of device that the user has in front of them at any given time, which is why they have mobile searches and desktop searches.
Your mobile site doesn't need all of the content available on your desktop site, but it should contain all the information users need to know about your business. Desktop sites, after all, generally have higher conversion rates than mobile sites, so not every single landing page needs to be mobile optimized. So, while you won't need every landing page, customers should still be able to view product pages and get in touch with you from their mobile device.
One of the chat participants also found that, in his analysis of big sites, those with different content on mobile and desktop had different rankings as a result. Because of this, make sure that your highest SERP-rated content is available on both mobile and desktop sites, and that there is as much overlap between the two as possible. While desktop has more conversions, you can't afford to miss out on the massive traffic that mobile can send by sinking in the mobile SERPs.
Creating a seamless, mobile-responsive site is a good way to go. It will reduce some of the bloat from a desktop site and make it much more user-friendly. Both customers and Google will notice. How you serve mobile content matters almost as much as the content that you actually have available because mobile is all about the user experience.
Ultimately, the best way to go is to try to provide the most content possible on your mobile site, but ensure that it is fast-loading and mobile responsive. If you have certain content on desktop, after all, you could still rank if a query calls for it even if your mobile doesn't have it, which can cause one frustrated mobile searcher to end up on your site. Users judge mobile sites very quickly, with itchy trigger fingers reaching towards that back button, and you want to do everything you can to decrease the chance that they click it.
While desktop has more conversions than mobile, after all, having a high quality mobile responsive site can get significantly more conversions than a non-responsive one.
Q3. In which stage of the buyer's journey is optimizing my mobile site most important?
Mobile sites should be optimized for all stages of the buyer's journey, point blank. It doesn't matter whether you want to attract cold traffic to your site in the "awareness" stage of the digital sales funnel, or you want to capture users further along in the consideration stage. Every single stage in the sales funnel matters, so you can't afford to focus on just one.
Conversion rates are generally higher on desktop, after all, but that doesn't mean that your business can't be the exception. Nearly 60% of traffic now comes from mobile devices, so you can't afford to have a mobile site that can reel them in at the awareness stage but is so dysfunctional at the conversion page that you lose them. If customers struggle to purchase from your mobile site, you could potentially lose them for good.
While some might travel over to your desktop site if they are really firm in their decision, it is more likely that they will evaluate your online presence overall to be weak or lacking, and they will go check out your competitors instead. Attracting customers means nothing if you can't get them to convert, or if you can't keep them around for more than just one purchase. Since every stage is different- with different expectations, intentions, potential objections, and value triggers- you can't skimp out and neglect anyone.
Though all stages of the digital sales funnel are important and you want to make sure that every customer finds your mobile site to be functional regardless of where they are in their buyer's journey, it can be particularly important to ensure that you are ranking well at the awareness and research stages of the funnel. Make sure that you are hitting those essential keywords and ranking for them on mobile, just as you are on your desktop site.
If not, see how you can change that; creating AMP pages for these key pages may be a good idea. Other methods of improving ranking for your mobile site includes:
Using HTML5 instead of Flash.

Having more easily scannable content (think short bullet points instead of paragraphs).

Cutting back on images and videos, which can slow down loading times.

Utilizing more "proof terms," or phrases similar to the chosen keyword.
No matter the stage of the user journey, your mobile site should be optimized. Why? Because different users use different things differently. However, you want to make sure you get them at the informational stage, right before they search for a keyword you might rank for at the initial informational stage. Each stage may be different; we have these different stages because users have different expectations, intentions & value triggers for each phase.
If the thought is overwhelming, just ask yourself this: can you afford not to have a mobile-optimized site for any stage of the sales funnel? We are guessing not.
Q4. Which SERP features should I optimize my mobile site for?
The SERP features that you should optimize for completely depends on your individual business and your goals. These should be targeted after you've created a strong, mobile-responsive site in general.
There are plenty of options to choose from, so let's take a look at the nine of the most valuable SERP features you can target and when you should optimize for them:
Local packs should be the first choice for local businesses. Local packs for each search contains three local business suggestions from Google. Each business will show up on Google's map, along with their business name, website, hours, contact information, Google reviews, and directions to the store.

Schema generated review stars can help your business stand out from the rest by showing that your customers love you. Businesses with high reviews can be favored by Google, and will definitely be favored by customers. This is a good option to utilize for most businesses but can be particularly important for businesses in high competition fields establishing themselves online.

AMP, as we discussed above, is a good choice for businesses regularly publishing a lot of content-- especially if it is timely. This content will load shockingly fast on mobile devices and can help increase viewer retention rates.

Google OneBox is a separate display box within the SERPs that shows information in a particular subset; this may include news stories or links to shop products. The separation helps it stand out, and the boxes often contain information that Google believes users are most interested in seeing based on the search. As a result, Google OneBox is a good option for products you are trying to sell through your commerce business. Getting your product featured there can mean a lot of clicks.

App rankings should be optimized for when you are trying to increase downloads of your mobile app. This one is pretty self-explanatory.

Featured Snippets are small summaries of an answer that Google will pull up for questions entered into the search engine. Featured Snippets are great choices to go after when you are optimizing content like blog posts and can help to establish your credibility. Try to answer commonly-asked questions in brief, concise text to rank for these.

Structured Snippets require Structured Snippet extensions and allow you to highlight specific aspects of your products or services that you most want customers to notice. They can be used to provide fast and valuable information to customers, like amenities of an apartment complex or different packages your business offers. You can use these to enhance your Adwords campaign.

Videos are an important part of marketing today, and videos both often show up on the first page of search results and have their own separate tab on Google. Videos are actionable, if you are looking to provide actionable, how-to content, this is a good one to target.
Ultimately, you should take a look at which feature will put you most immediately in front of your target audience on mobile for the keywords and searches you're trying to rank for on mobile. Consider this with how it aligns with your overall content strategy.
Some publishing sites, for example, might try to go for the AMPs to end up in Google's Top Stories, but evergreen content may have a longer lifespan if you go after featured snippets. Look at what's actually showing up in that top spot before you make your choice.
Remember to do this research on a mobile device to get accurate information you can use to choose which SERP feature you want to optimize for.
Q5. Do you have any predictions on the future of mobile website development and optimization?
All of our experts had different predictions regarding the future of mobile websites, but there was one thing many people agreed upon: that mobile traffic will continue to increase. Scott Levy- @FuelOnline even believes that we will see a shift from 60% of traffic coming from mobile to nearly 80% in the coming years.
It is no secret that mobile traffic has been growing quickly, and a lot of our experts believe that this trend will only continue. This has been true, despite the fact that research indicates that we have some security concerns regarding mobile devices. One study by Hitwise found that 72% of searches for the food and beverage are conducted on mobile, but only 39% of searches in the banking industry occur on our mobile devices. This indicates some trust issues that sites should be striving to resolve.
Mobile usability is still lagging behind what it could be. Living in a world where users are reaching for their mobile devices first will require us to change that. Websites will need to be faster and easier to use on any device-- including phones, smart watches, and more. This may result in a shift to more app usage instead of conventional desktop usage, requiring more businesses to create apps for their customers to keep them engaged. It also could mean that we'll become so obsessed with speed that we may end up with much more bare pages that are fast, but not quite as useful. This will all require marketing teams to learn to truly embrace multi-channel optimization.
Some of our experts also predicted that we will see more advanced technology affecting mobile optimization. A few believe that this will come from artificial intelligence (AI) to take over more automation for both users and businesses, and others believe we will see expanded capabilities of current features, like voice search. Voice search is currently booming in popularity and requires that sites are creating content that Google can use to provide a single answer to a voice search query to stay ahead.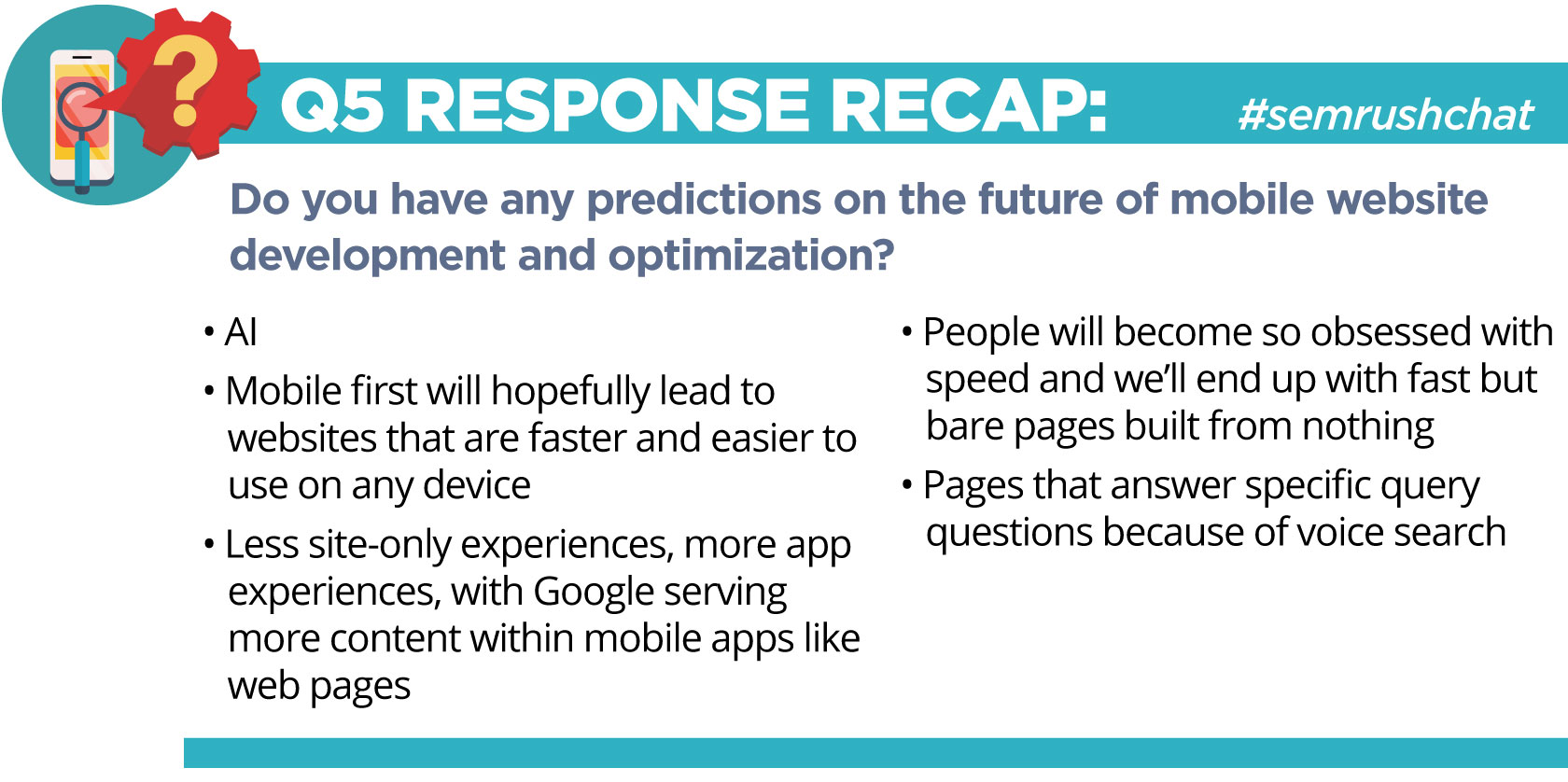 We will have to see what the future of mobile site optimization has in store, but we know one thing for sure: you need to keep a close eye on the current best practices and make sure that your site is functional, valuable, and (most importantly) fast.
Make sure to join us this week on #SEMrushchat as we discuss "Top Tips For Successful Personal Branding On and Offline" with special guest, Mel Carson!