Are you aware that a major battle is brewing? It is bigger than whether or not to join the Dark Side or whether you are Team Cap or Team Ironman. It is the battle over review spam.
Sure, there have been plenty of folks grumbling about the problem and illegal practice - yes, it is illegal. In fact, the FTC calls its consumer fraud. It is also commonly called astroturfing, and it violates the terms of service for all platforms where a review can be left. So why is it still happening at an alarming rate? Is it because we as marketers are only shrugging it off and turning a blind eye to it?
We speak up when somebody mentions fake reviews, but then we go right back to what we were doing. Today is the day to take a stand and pick a side. We either join the fight or we continue to let it happen.
Review Spam
Many marketers/SEOs know Mike Blumenthal; if you don't, you should. Mike has spent a considerable amount of time helping local marketers, myself included, learn the ropes or navigate some local SEO obstacles. Mike has been on a mission to encourage Google to address review spam issues and he has written several blog posts on review spam. They are well worth the read! You will have a good chuckle as Mike exposes fake reviews and the businesses associated with the fake reviews.
Mike took his work a step further, identified over 2000 business, and compiled a list of the top 25 niches for review fraud. What is scary about his findings is that the professions you want to trust - dentists, insurance agents, real estate agents, lawyers, and chiropractors - are among the worst offenders. Pause for a second and ask yourself: would I want to trust my teeth to a dentist that was a liar? What about the people you invite into your home? Would you want a roofer, plumber, garage door company, or house cleaner that you couldn't trust inside your house? That is exactly what is happening to the general public when review fraud continues.
3 Common Patterns with Fake Reviews:
1. I Was Told I Need Reviews to Rank
Everybody wants to get ahead, so many people excuse this practice as the price of doing business. I have heard the argument that you need reviews to rank, but I am on the fence on reviews as a major ranking factor. After all, I have seen countless map packs where a business listed has zero reviews.
If you are trying to use reviews as a ranking factor, you may be doing it wrong. A majority of the businesses I have seen engaging in review fraud all have major technical SEO issues. I see websites that are not mobile responsive (come on! it is 2017, there is no excuse not to be mobile responsive!) I also see page speed scores below 30, missing meta data, broken links, and even robots.txt set to noindex. Guess what? Reviews are not going to help you if your website has these issues.

A little Technical SEO will fix the ranking issues that adding reviews will not address.
2. Fake Reviews for Online Reputation Management 
Too much positivity doesn't sound natural and is obvious to readers, especially if they come after a lot of negative reviews.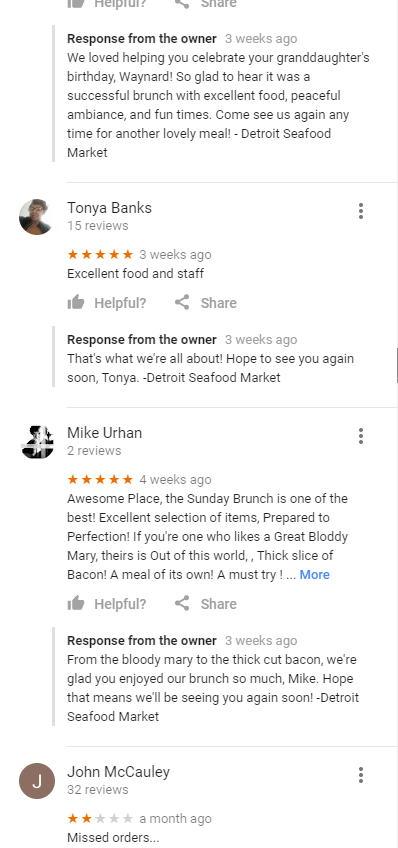 DSM attempting to combat a negative review with positive reviews
3. If I Can't Beat Them, I'll Trash Them
There are businesses that are using fake reviews to slam their competitors. I am so glad I do not work with locksmiths, lawyers or phone repair businesses! I have witnessed one business get a 5-star review while 6 to 12 of their competitors get 1-star reviews. Fake bad reviews are not a marketing strategy. There should be a crash course that all new business owners have to take before getting their business licenses on marketing do and don'ts.
I am currently monitoring a few business accounts where a disgruntled person is using fake reviews to slam these companies. I have counted 23 verified fake reviews posted on all of the companies I monitor in just the past two months.
Fake negative reviews being used to punish 2 companies.
Fake Reviews Using Stolen Identities 
What nobody talks about is the images being used for the fake profiles. When it comes to a stolen identity, I have seen images used of celebrities like Kevin James. I have also seen musicians, lawyers, professors, mug shots, murder victims, and random strangers. I would not want to get caught using a lawyer's image! The fake profiles also use stock photos or the COO of Facebook, Sheryl Sandberg or minor league baseball players. Anybody can have their image stolen and used to leave a fake review.
Kevin James' image being used to leave fake reviews. All the spammer did was reverse his first & last name.
There are trolls too. It turns out the Kim Jong-Un is not a fan of organized religion. In fact, a majority of the reviews for The Church of Scientology of Los Angeles violate Google's TOS.
Kim Jung-in sure travels a lot leaving reviews
The time for change is long overdue.
Google and Facebook started tackling "fake news" once it became a household name. This is the same Google that released Panda and Penguin after TechCrunch published: "Why We Desperately Need a New (and Better) Google." If we are the people marketers and businesses are looking up to in order learn the ropes and best practices, then don't we have a responsibility to demand change by putting our foot downI think of the line from movie Network: "I'm as mad as hell, and I'm not going to take this anymore!"
What You Can Do About Fake Reviews
Notify Google
There are two ways to alert Google to fake reviews:
1. Manually flag the reviews on Google. You will need to click on the flag icon below the reviewer's name.Then add your email address and click the radio button for "This post contains advertising or spam." 
2. Compile a list of fake reviews and create a post on The Google Advertiser Community forum. This process can take 2 weeks to a few months to be resolved. Google gives a lot of push back on these reports. 
Using The Google Advertiser Community to notify Google of multiple fake reviews.
Reach Out to Media Outlets
I have compiled a list of businesses and have submitted them to the FTC. I have also been reaching out to news reporters and have been gift wrapping them a great story in a neat little bow. Russ Darrow is currently being investigated and Milwaukee news anchor Courtny Gerrish ran a segment on them. I have contacted other news reporters and major publications.
What Google is Doing
Google claims they have eight filters in place to prevent fake reviews. It is not working. I have been monitoring the same 14 businesses since December and they keep posting fake reviews. As much as I like the fact that Google is pulling third-party reviews into the knowledge panel, I am seeing that these same businesses are falsifying reviews everywhere. I am not advocating throwing the baby out with the bathwater, but if Google cannot get a handle on reviews, then they need to stop displaying reviews. I would love to see Google post a message on a business listing that this business has been caught falsifying online reviews. 
What Google Needs to Do
Google needs to add more filters to catch these obvious patterns of abuse. Once Google identifies a fake profile, they need to ban the email address being used. Since the profile remains intact, the spammers can log in and continue to post new reviews. Going directly to Google is not the solution, as there is a lot of back and forth on obvious fake reviews. I doubt the spammers or offshore workers even know that any of their reviews were ever deleted.
How We Can Make a Difference Together
Google will not make changes until all SEO's work together and start exposing the prevalence of this illegal and harmful practice. When I was investigating Acteva I discovered that they posted fake glowing reviews, too. The CEO was arrested and the criminal case is still pending. They also just completed bankruptcy and ended up owing NPO's universities and businesses $2.3 million that will never be paid.
A majority of the businesses that are falsifying reviews should not be in business or be able to interact with the public. I am seeing complaints about these same businesses overcharging, people claiming to get food poisoning, and buying faulty appliances or vehicles. Based on their fake reviews consumers are either going to these businesses for service or inviting them into their home. Search engine users need to be able to see true and honest reviews and be able to determine who they can trust. It is time to pick a side and fight back for everyone before somebody we know gets taken advantage of.